How To Start Print-on-Demand on Etsy [2023] – Step By Step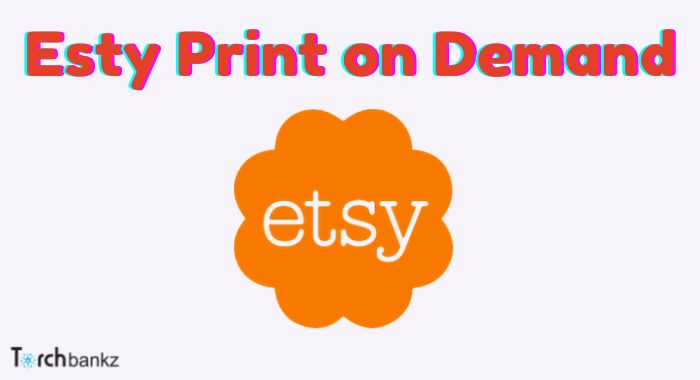 In today's article, we will discuss how to start print-on-demand on Etsy.
Starting a print-on-demand business on Etsy is one of the low-cost business models you can venture into. That is because you only print when orders are made.
You are not incurring any loss from printing on the ground without any buyer.
However, the fact that you only print when buyers make orders does not mean you should not intensify on getting customers to make orders.
You need a platform where you can be seen and people can buy from you.
One great platform that can serve as your marketplace is Etsy. Etsy is a marketplace that connects you with different customers and entrepreneurs around the globe.
Etsy is unique for selling products that are crafts, vintages, or any other handmade design. Therefore, as long as the print-on-demand products are made by you, you can easily leverage them.
Once you have an order from there, you can use any Print on demand platform of your choice to get it ready.
In this post, I will not only show you how you can start your print-on-demand business on Etsy but I will also show you how to set up your store.
More importantly, I will share with you how you can get more sales for your print-on-demand products on Etsy.
Let's go right into it.
What is a Print-on-Demand business?
A print-on-demand business works with a third-party supplier to customize white-label products with your designs.
With print-on-demand services, you can sell products individually with your brand name or a unique design printed on them. You can do this through your website.
There is no need to purchase in bulk or keep any inventory on hand when using print-on-demand because you don't pay for the product's cost until after you've sold it.
As a result, it keeps growing in popularity as a business model in the e-commerce industry.
Your print-on-demand provider will take care of all aspects of an order after it is placed by a customer, including printing and shipping.
Pros of selling print-on-demand Products on Etsy
There are many benefits to selling on Etsy, but the community vibe is the main one for print-on-demand.
Etsy is a very supportive environment with customers who genuinely want to support artists and designers because of how it started.
As a result, you get a welcoming, encouraging market with customers who are kind in their reviews!
Etsy is a sleek, attractive platform that is simple to set up and inexpensive to run.
Quickly produce the desired items. If the mockup for the item is finished, you can make the item and list it for sale in a matter of minutes.
Shipping is not a problem. Your print-on-demand (POD) companies handle fulfilment; you don't. You are only in charge of providing excellent customer service after the transaction is successful.
Greater ease in locating trustworthy suppliers: The majority of POD businesses work with international marketplaces and do not want to be labelled as unreliable. Finding reliable suppliers is, therefore, essential when dropshipping.
Lower risk with less investment. The ability to add or remove products or change your strategy is easier because you are not physically holding any of the items in your stock.
An established audience of built-in visitors: Statista.com estimates that Etsy had 81.9 million active buyers in 2020, an increase from 46.3 million in 2019 (!).
81.9 million is a significant number, which means that a LOT of potential customers who are looking for the products you might be selling could see your products.
That is undoubtedly a very important benefit that you should take into account.
Cons of selling print-on-demand Products on Etsy
There are a few minor drawbacks, including the fact that Etsy owns your customer information and that you must pay to customize your storefront.
Reduced margins: Once you receive an order, you will pay Etsy, the POD provider, and the item manufacturer. That implies that others will share in your profit.
Restrictions on shipping: Given that different print-on-demand products may have different shipping costs, things can get complicated. Most of the time, you are not allowed to design an exceptional unboxing experience.
Limited products: Depending on the vendor and the product, you may be able to customize it. You must therefore restrict your creativity.
You need some graphic design expertise: It may be difficult if you are not close to any graphic tools. Don't worry, though; this process is made incredibly simple by online tools like PlaceIt, Canva, and PicMonkey.
Top Etsy POD Partner
There are many inventive sellers with distinctive designs who have figured out how to scale their offer as the entire platform pushes handmade items to buyers.
Sellers can more easily create one-of-a-kind products with a personal touch thanks to print-on-demand production partners.
Here are the top Esty Print-on-Demand partners;
#1. Printify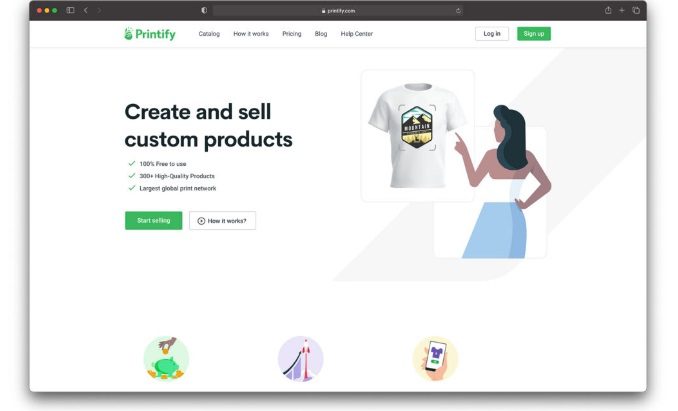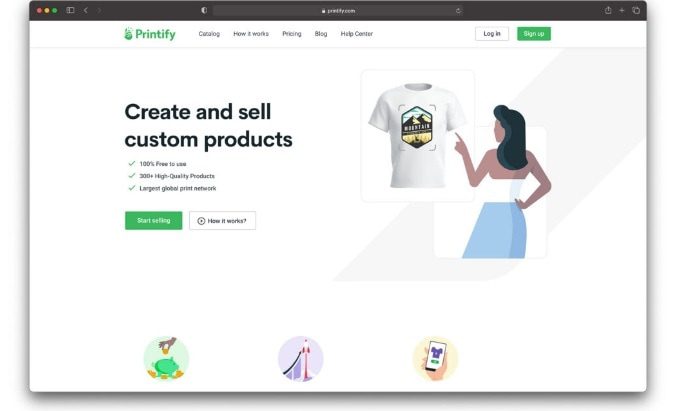 When searching for a dependable Etsy Print-on-demand partner, Printify is a great alternative.
Statistics show that more than 400,000 orders were placed on Printify stores in just June 2020, an increase of 311% over the same period in 2019.
The platform's connections to about 90 print providers around the world are its most notable strength. Additionally, there are an increasing number of production facilities worldwide.
For designers and artists, creating and selling products is made simple by print-on-demand services like Printify.
You can also hire graphic designers to create images for you if you lack artistic ability. Next, decide which items you want to make and list them.
Since products don't print until they are purchased, there are no minimum orders required and no risk involved.
When a customer places an order with you, you can place the order with the printer after creating customized products to list in your online store.
Features of Printify
Printify has some amazing features that make it recognized by Esty.
1. Design Tool and Mockup Generator
With Printify, you don't need to be a tech whiz or graphic designer to create products. The Mockup Generator makes it simple to upload pictures of your designs.
2. Order Routing
The order routing feature kicks in if your print provider isn't available for whatever reason. Your order will be automatically forwarded to a different network provider.
3. Custom Order Import Tool
Even if your store orders don't have any associated Printify products, you can manually import them into Printify using the Order Import tool.
4. Product Migration Tool
There is a product migration tool that you can use to connect Printify to your store
You can import your current products into Printify using this tool. By doing this, you'll make sure that none of your search engine optimization (SEO) efforts are wasted.
#2. Printful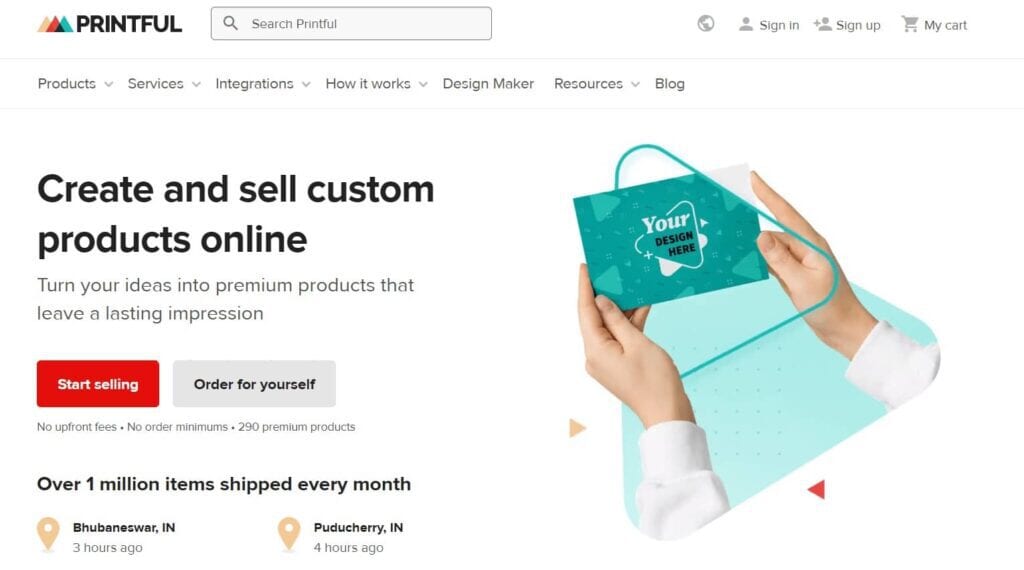 Printful, an Etsy Print on Demand partner with seamless integration with the website.
More than 1 million users have registered on the platform since it launched in 2013, and more than 32 million customized products have been sold to customers worldwide.
So what distinguishes Printiful as the best POD service and what are its main strengths?
One of the most well-liked Etsy printing partners is Printful. Due to how simple it is to integrate with Etsy, many people choose to use it.
The service provider offers a sizable selection of goods. Additionally, their mockup generator is user-friendly. You can use it to see how your designs appear. It can also be used to create a design.
Given that the company partners with numerous print suppliers, their service is appealing. Depending on where your customer is located, you can choose which ones to rely on, which will reduce your shipping costs.
You only need to send orders and order information to Printful, and they will assist you with the rest. Printful provides the products, handles the packaging, and ships to the customer.
You should check out Printful if you're looking for a print-on-demand service that can assist in growing your company.
They have affordable prices and a large selection of premium products that can be personalized with your designs.
Features of Printful
Printful, a well-known printing business, provides a wide range of noteworthy features, such as;
User-friendly interface
Quality Control
Customer Service
Affordable Pricing
Printing Variety
Guarantee policy
24/7 Support
Free mockups generator
White-label products
Product personalization
Designers support
Branding services
How Does Etsy POD Works?
It is obvious to have an Etsy store first before making plans for a POD business. The fundamental steps to creating a POD shop on Etsy are listed below.
Step 1: Create an Esty Account
Simply go to etsy.com and create an account there. Simply click the "sell on Etsy" button and create an account.
Don't forget to specify your preferred shop's language, nation, and currency. You'll finish this procedure in under a minute.
Step 2: Create an Account with Printify
Register by clicking here. Make a password and enter your email address. Go to "My Account" after that and fill out your profile with your personal information.
Step 3: Connect Both Accounts
Create a new Etsy store or connect an existing one. This process is very simple and only takes a minute.
Step 4: Determine Your Product and Pricing
For the setup procedure to be complete, you must add at least 1 item to your Etsy store. Any relevant image from Google can be uploaded and afterwards deleted.
Each time you list a single item on Etsy, it will cost you $0.20; the listing fee is valid for 4 months before it needs to be renewed. Details about the costs and the payment plan can be found here.
Step 5: Start Selling
Once you've set up and connected the two accounts, controlling them both will be a breeze for you.
You must include a few examples of the goods and designs you are selling on your Etsy shop. Include the price, the number of items you have in stock, and an SEO-friendly product description.
The POD Providers will be notified when a customer purchases from your Etsy store by sending them the order details.
The POD firm will apply the chosen design to a purchased item before sending and delivering it to the customer.
How to Boost Your Print-on-Demand Sales on Etsy
It is not just enough to leverage those platforms to sell your products on Esty. There are some things you need to put in place so as to boost your sales on Esty.
Product Description
Your conversion rate will be significantly increased by a strong and engaging product description.
Three basic goals of product descriptions are as follows:
Attract and hold the customer's interest by demonstrating how the product will make their life better or resolve an issue for them.
Taking down obstacles to purchase
Many other Etsy sellers disregard these suggestions and begin writing the information they wish to include, such as the color, size, etc. Although they contain useful information, you must consider what benefits your buyer will receive.
Monitor Your Store Statistics
For wise decision-making, accurate and timely monitoring of your store statistics is vital.
Monitoring shop performance can help you identify potential issues and learn how to grow your company.
It's harder to attempt to interpret and comprehend the conduct of your visitors.
But if you want to succeed in the cutthroat world of eCommerce, you'll need to have a clear understanding of who visits your store.
Only then can you decide how to grow your company and what products and content to add to your website.
Offer Free Shipping
Well, to be completely honest, this isn't as unconventional as some other strategies sellers use to boost cart values. It's one of the most widely used ones.
Set the minimum order amount to receive free shipping, or determine the price of your products such that free shipping won't reduce your revenues.
According to studies, consumers like free-shipping products over those that cost money.
So, to delight customers and consequently boost sales on Etsy in 2022, use free shipping.
Create an Interaction with Customers
Customers have high expectations; if your company can't live up to them, they'll go to your rivals instead.
You already know that the customer experience is an ongoing work in progress that businesses should be constantly looking to enhance and iterate on.
It doesn't end with a sale, you should have interaction with your customers.
Every interaction you have with a consumer is an opportunity to strengthen your brand's reputation, establish a connection, and win their loyalty.
FAQs
Here are some Frequently Asked Questions about selling on Etsy
How many Etsy stores can you have?
Many Etsy shop owners ponder whether they are permitted to have several stores. Yes, of course, you can be the correct response to this. As long as you make different accounts, you can have as many as you like.
Is selling on Etsy worth it?
Selling on Etsy is worth it and the least expensive, and the easiest way to get your handmade goods online and connected to a shopping cart feature. In comparison to creating a website, it's also a low-risk choice.
Is selling on Etsy free?
It's free to sell and launch a shop on Etsy. The listing charge, transaction fee, and payment processing cost are the three fundamental selling fees. Sales from Offsite Ads are also subject to an advertising cost. A listing can be published to the marketplace for $0.20.
Can you do print on demand with Etsy?
Yes, you can, Sellers can offer print-on-demand on the Etsy platform as long as they generate their designs and reveal their printing partners.
How much can a beginner make on Etsy?
The amount of money you can make on Etsy relies on the things you offer, the time and effort you put into making your store successful, and the rate at which customers are buying them. In your first year, you might earn anywhere from $5,000 to $50,000 or more.
Conclusion
We have been able to discuss how to start print-on-demand on Etsy. POD is a good business with a low-capital Startup.
Print-on-demand merchandise is one of the most convenient and customer-pleasing dropshipping strategies.
You should pick one of the popular print-on-demand businesses for Etsy, decide on the POD product you'll sell, set a reasonable price, and showcase your creativity.
These steps must be followed to sell print-on-demand things on Etsy and make money.
Printiful also helps with automation, and the service provider offers a sizable selection of goods.
Depending on where your customer is located, you can choose which ones to rely on, which will reduce your shipping costs.