How to Start a Profitable Information Marketing Business – [Real Guide]

In this post, we'll discuss how to start an information marketing business from the comfort of your home with less to no capital.
Info marketing is actually one of my best because it constitutes a large chunk of my passive recurring income on a daily basis.
This is practically one of the easiest online businesses you can do from the comfort of your home once you've known the in and out.
I've received quite a handful of emails on how to start an information marketing business because people seem to be interested in it.
Truth be told, there's no limit to your income from this business model.
I've seen an informational product that cost $5000 and equally that of $5. It all depends on the value you're passing across.
Now imagine selling 10 info products that cost $5000 in a month which is very doable but can be hard for those just getting started.
However, with experience, I've easily sold info products that cost $15 with an average of 2 per day for just a single product.
Mind you, they are all free traffic, if I intend to do an advert for them I might as well shoot up the product price.
But over time I've discovered that info product around $15 tends to sell well because it doesn't require a lot of money from your customer and it less risky.
Now imagine selling 2 of these products that cost $15 every day for the next 30 days. That should be $900 every blessed month without going to work.
Remember, it's all from one info product, now imagine when you have more!
What is Information Marketing?
Information marketing is the business of creating digital products that contain valuable information that your end buyer is willing to pay for at an agreed price. These info products contain information that can solve a particular problem in any niche or chosen field.
This is basically selling valuable information to people that are in need of it, most especially those willing to pay for it.
Information products could be packed and passed across to the buyer in many ways or formats like the following:
Ebooks
Webinars
Online Video Course
DVD Video Course
Cheat Sheets
Report and Analysis
Seminars
Live Event Recording
When it's passed across online then it's usually in soft copy like most of the listed ones above and seminars for offline.
Unlike any other online business like eCommerce, Info marketing gives you the privilege to scale your business to any length.
A single digital product can be sold for many years without running out of stock. You don't have to worry about selling the entire product because one single digital product can be sold over and over again.
Information marketing is also a low-risk business with almost 100% total profits. You won't have to worry about shipping and delivery cost.
All your customer needs to do is to pay and download their products. Your only cost in this business will be for adverts in some cases and most especially for the business setup.
So, how can you start this profitable Information marketing business?
Hang on… As I do justice to do that in just a few minutes!
How to Start Information Marketing Business:  Step by Step Guide
You see, one of the advantages of this business is the fact that you don't even have to have an info product yourself.
Creating one could be stressful if you're just starting or you just want to make money off the business. However, not having one doesn't mean you can't profit big from the business.
All you have to do is leverage on other people's products. These are the kind of products called (PLR) Private label Rights.
This kind of informational products lets you edit, rebrand and sell the product. However, this right varies based on the owner of the product.
It isn't a complicated business and as a matter of fact, you can get started with these five simple steps:
Choose Your Preferred Niche
Solve a Problem with Your Information
Set Up Funnel and Auto-responder
Drive Traffics to Your Sales Pages or Funnel
Step 1. Choose Your Preferred Niche
This is for those that want to be the creator of the product. I mean, you want to create the informational material yourself.
In other to do this, you'll need to look for a certain area you know you can easily flow.  For example, let's say you're a doctor and you want to write an informational material on how to naturally cure fibroid.
This is going to be easier for you because you know the in and out already. The same thing goes for every other niche and it could be on any topic so far someone is looking and willing to pay for it.
However, it is very IMPORTANT that you go for HOT niches. These are market you know people are willing to pay to get information about.
A good example is health-related products, business set-up etc. Information products around this area are bound to sell well.
Weight loss niche is already saturated by now, try as much as possible to go for the less competitive market.
Step 2. Solve a Problem with Your Information
Now, this is very important. You can't just go over selling articles to people. You must offer them value in return for their money.
This basically means you have to sell a worthwhile value. That is something that's solving an actual problem. The more solution you provide the more value you're creating for your buyers.
There are so many people looking for extra ways to make extra income, some looking for ways to be sexually active, and others looking for ways to shed some weights.
The list is endless, you just need to figure out a niche to come in and create a massive solution that you yourself know you're willing to pay for.
Once you have a valuable solution, you'll need to package it into a digital product. It could be an eBook or Video course and make it ready to start selling.
There are various Free tools online for that you can use for eBook Cover or software you can use to create a neat video course like Screencast-O-Matic.
After your product is ready for sale, the next step is the platform where you can exchange it for money. This is where your website comes into play.
Step 3. Create A Simple Website for Sales Pages
This isn't so difficult because you don't need a special website for this. If you have a simple blog website, trust me you're good to go.
I've written a detailed post on how to start a blog website and equally how to create a simple business website. All you need for this is a domain name and web host.
Bluehost is a reputable and reliable company that I can easily recommend for this. Using Bluehost gives you a free domain name and a free SSL Certificate.
It also comes with a pre-installed WordPress CMS. Using them means you don't have to be worried about how to create your website because most of the work is done for you already.
After having your website, you'll then need to create a sales page for what you're trying to sell. Your sales page should contain the following:
A brief intro of what you want to sell
A catchy highlight of the benefits
How important it is for them to get the product
Price of the products
Bonus if there's any
Your mean of payments (Bank Details)
Your sales page should be where you're sending all of your traffic and make sure the page is highly converting.
A highly converting sales page should enjoy at least 1 – 2 buyers from every 200 website visitors. If you're receiving over 500-page visitors and you're not making sales, you should re-visit your landing/sales page or change the product.
Step 4. Set Up a Funnel and Auto-responder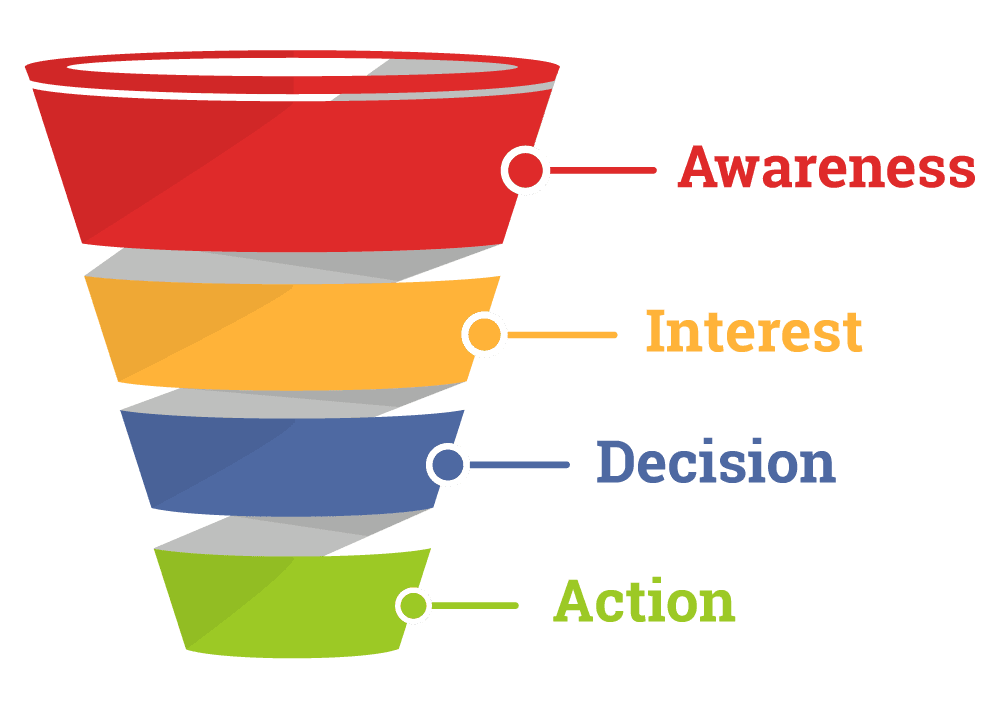 This step is actually what allows me to make money on auto-pilot. It's a process that makes you money with info marketing even while you're not working.
The truth is not everybody that sees your sales page have the money to buy when they saw it. Some might be interested but don't have money at that moment and once they leave they might not come back.
Leading them through a funnel allows you to be able to remind them later through email follow up and auto-responder.
An auto-responder is simply an automatic email sent to your subscribers once they are opt-in to your list. This can be used to send reminders and follow-ups to everyone that visit your sales page and opt into your list.
I've written a detailed article on this, you can check it out here!
Once you've had your funnel in place, it is your funnel that you should be driving your traffic to and get leads as many as possible. A very wonderful tool for this is GetResponse!
Even though they don't have money when they saw your sales page or not interested. You can still build that up via your email follow-ups.
Step 5. Driving Traffic to Your Sales Page
Traffic is needed for any online business so you'll need lots of it. One of the quickest and popular ways to get this done is through Facebook.
You can reach thousands of people on Facebook with as low as $5. However, you may not get it right the first time with Facebook but over time you'll get used to it.
There are so many other platforms at which you can buy traffic as well as free traffic. However, the most popular one we're all used to is Facebook. This, of course, is working perfectly fine.
Once you start generating traffic, you're on your way to financial freedom already.
Conclusion
Information marketing business is one of the best ways to get started with an online business. Once you've been successful with one info product, you can set up another one.
Or create multiple products and increase your source of income. As I said earlier there's no income limit in this kind of business.
This is a kind of business you can scale to over 1 million dollars in income per year. So far you get it right. So that's it on how to start an information marketing business.
Let me know what you think about it using the comment box below.
Learn More