How to Start a White Label Business [Step by Step]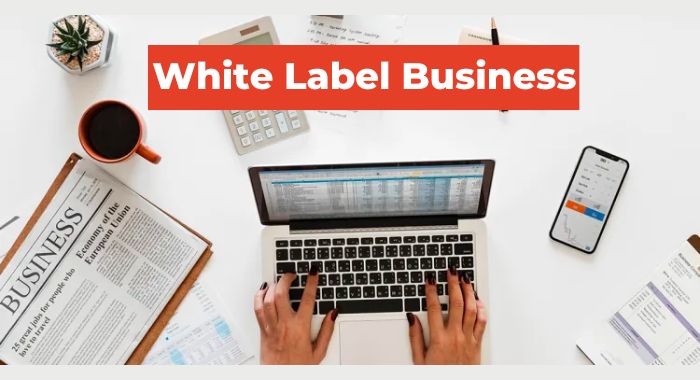 In today's post, we'll be discussing how to start a white-label business of your own without having to bother yourself with product creation.
A white label business is a good way to differentiate your business, brand, and product from every competitor within your niche.
Perhaps, you have always wanted to create your customer base or you love the idea of having your unique recurring-based product, then with white label business, you can have exactly that.
With this business model, you can sell SAAS products, digital services, marketing services, or even membership-based products under your brand and get paid regularly.
But where and how do you start? Admitted you're ready to get started, what then is the next step to take?
In this post, we'll walk you step by step on how to start a profitable white-label business of your own in no time.
What is White Labelling Business?
A White label business is a type of business venture where you can customize your products and services.
This means that you can brand your services to give them a personalized feel.
With a white label, you can purchase any product or service from a different brand and bring them under yours.
This saves you a lot of time from having to build your product or service brand from the scratch. It is like affiliating with another brand.
The only difference from affiliate marketing is that you have your name on the products while marketing them.
In essence, a white label business refers to creating a product or service from one brand and selling it by another.
It is a very easy business model, especially for start-ups. You can create the product from the scratch and sell it to another brand that is already popularly known.
You will not have to spend so much on marketing. If your brand is versed in marketing, you could liaise with the company doing the production and simply sell.
How Does White Labelling Work?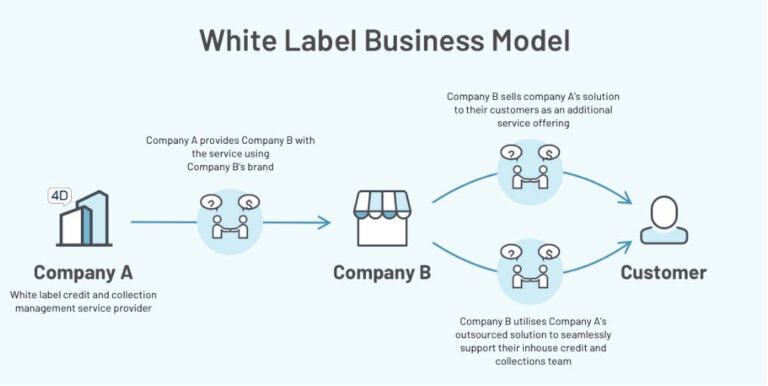 Now that you know what white labeling is about, how does it work?
Generally, in white labeling, there must be a manufacturer and a reseller. The manufacturer creates the products and the reseller rebrands.
You need to locate a white-label technology provider. This means that you need a platform or service provider that allows white-label business
For example, if you are a digital marketing agency, GoHighLevel is a platform that supports White labeling.
You can provide digital marketing services for your clients without them having the slightest clue about what platform you use.
However, you do need to research and be certain of how you want to operate your white-label business.
Do you want to leverage other service providers' platforms and pay a commission to the owner or a complete buyout?
In simple steps, here is what the process looks like;
Step 1:
There will be a service provider or product supplier who makes white-labeled products.
It could be that the supplier decides not to brand the products at all – no brand name, no logo.
At other times, there might be brand names, especially for service platforms. The supplier gives the right to remove the brand name or logo.
Considering the GoHighlevel example I made above, one of the plans allows you to remove the GoHighlevel branding and convert it to yours.
Step 2:
The individual or buyer then customizes the product, services, or platforms to suit his needs.
Here, the buyer already has the right to place his logo, brand name, and general business branding.
Thereafter, the business is entirely yours. Nobody gets to know if you had to rebrand or if you got it from somewhere else.
Your customer believes that the whole set-up is yours. This is because your brand reflects in everything including your website's URL
White Label vs Private Label
You must have probably heard about Private labels as well. Then you wondered if they meant the same thing.
White Label is almost similar to Private label. The major difference between them is that the white label is open to a lot of people while the private label is exclusive.
In white label, the white label service provider makes the option available to as many people that sign up for that agreement.
However, in private labels, access is only made available to you.
Some technology or suppliers make open both options. There might be a product from them that you want to be the only buyer of, so you go for a private label.
Also, in private label, the manufacturer work according to your specifications- how it should look, how it should be packaged, and every other thing in between.
This gives your brand more recognition
However, some of the few disadvantages of Private label include;
You might have to create your design from the scratch
It is more expensive than white-Label.
What advantage then does the white-label business have over the private-Label business?
Why Start a White Label Business?
These are some of the reasons why you should begin a white-label business today.
Low Startup Cost
One of the many challenges that businesses face is the huge capital to get up and running.
To start up a business, you would need to design your product design, carry out a lot of analysis, perform some prototype tests, and other business development strategies.
However, it is very easy to start up a white-label business.
This is because you do not have to worry about the cost of starting the business from the scratch.
The developmental cost is already out. With this, you reduce the total overhead costs. With little funds and capital, your white-label business is up.
Tried and Tested Product
Earlier, I talked about the white label technology provider handling the whole process of developing the products.
One of the stages of product development is to test the products.
They have to put out samples or prototypes and see how receptive it is in the market. They carry out surveys or sensory analysis (in the case of edibles).
Thereafter, the feedback is used to improve the products where necessary.
With this, you don't have to stress out your mind trying to figure out if the product will be accepted or if the product is of good quality.
A good white-label agency will not put out low-quality products. The products are tried and tested!
Generate Recurring Revenue from SAAS products
SAAS means Software as a service. This is a type of software whereby users can access online rather than having to install the software on their devices.
SAAS is made available to users by having them subscribe to it. There are three ways by which you can generate recurring revenue from SAAS products.
Monthly Subscription
In this model, customers pay to use the product every month. This means that every month, you generate revenue depending on the number of monthly subscribers you have.
Yearly Subscription.
In this model, customers pay annually to use the products. It also depends on the number of annual subscribers you have.
One peculiar thing about this subscription type is that discounts will be made available to encourage users to switch to annual subscriptions rather than monthly.
Subscription-based on Usage.
This has to do with the different pricing plans of the products. You could make available different plans according to usage.
Someone who cannot afford the premium plan will be able to afford the basic plan.
Another person whose business needs is beyond the basic plan will prefer to opt for the premium plan. With this, your product will be used by a wider audience range.
Low Risk
Operating a white-label business reduces the risk you are exposed to. First, the risk of creating a product that will not be acceptable in the market is off.
Also, the risk that the products are of low quality will not be there. This is because the white label agency would have taken it upon themselves to fix it all.
The good part of it is that you can do your background check to be sure that other white-label partners have had a good time with the products they bought.
This will help to inform the decisions you make. You are free to do your research to partner with a white-label agency that has the best positive reviews.
How to Start a White Label Business
Choose Your Niche and Product
Determine Your Target Audience
Research Your Product Competitor
Find a Reliable White Label Platform
Start Reselling
In this section, I will explain to you how you can begin your white label business in steps.
Step 1: Choose your Niche and Product
You have to be sure of the type of white-label business you want to venture into. This knowledge will help you determine the white-label companies you want to partner with.
If you have a particular niche in mind, what aspect of that niche do you want to focus on?
Is it the physical products in the niche or rendering services?
In case you are at a fix on what type of white label business to venture into, here are some ideas that could help;
Saas Products
Agency services
Marketing services
Physical Product
All these are good white-label businesses you can begin with.
However, we can easily say these niches are divided between:
Either of these can be white-labeled without you having to create any product by yourself.
All you need to do is streamline them down and choose your niche from either of the two.
Be it physical products or digital. After you've determined your niche, move further and choose your actual products.
Step 2: Determine your Target Audience
White-label business is just like other business models. You need to be sure of who your target audience is.
After selecting the niche and product you want to go for, research to whom that niche and product will be more relevant.
For example, if you opted for agency services, what kind of brands would you love to manage?
If yours is marketing services, what caliber of companies or people do you want to market for?
In fact, what aspect of the marketing services do you want to narrow down to? Is it Digital marketing or Physical?
When you know your target audience, you will be able to craft your offers to suit their needs.
Step 3: Research your Potential Competitor
As I earlier said, the white-label business is still a business. You need to always stay on top of your game to attract clients.
Just like in other businesses, you will also have competitors.
This is why you need to research your potential competitor. Check out what they are doing and what they are not doing.
See how you can leverage the lapses in their offers. You can also learn a thing or two about the operational procedure of the niche you are in.
Some ways by which you can conduct research on your competitors include;
Step 4: Find a reliable White-Label Platform/Marketplace
In as much as a white-label business looks like an easy business model, partnering with the wrong white-label platform can ruin all the chances of success.
It is not every white-label platform that you can trust.
That is why I have put together two of the best white-label platforms to help save you from trial and error.
However, this is limited to SAAS and digital services and products.
For physical products, a good and popular website to source for manufacturers is Alibaba.
There are several manufacturers on Alibaba that can create white-labeled products at a very cheap price and sell with your personal brand.
Shopify on the other hand is easy to use and set up. You can easily set up an eCommerce website with your brand and start selling your white-labeled products.
But for SAAS and digital services we have the following:
Go High Level

Go High Level is an all-in-one software solution designed to help you manage your customer relationships, automate your sales processes and boost your lead generation efforts all inside a single platform.
You can also use GoHighLevel to build a website, track your revenue and build a SAAS platform.
GoHighLevel can be resold as a white label coupled with the fact that they have a marketplace of services.
These services can also be sold as white-label services. Some of these services include;
Funnel Tailored services such as Funnel Migration, Creation etc,
Website Tailored services such as Website Migration etc,
Logo and Branding Kit
SEO services
Advertising services
And many more…
Vendasta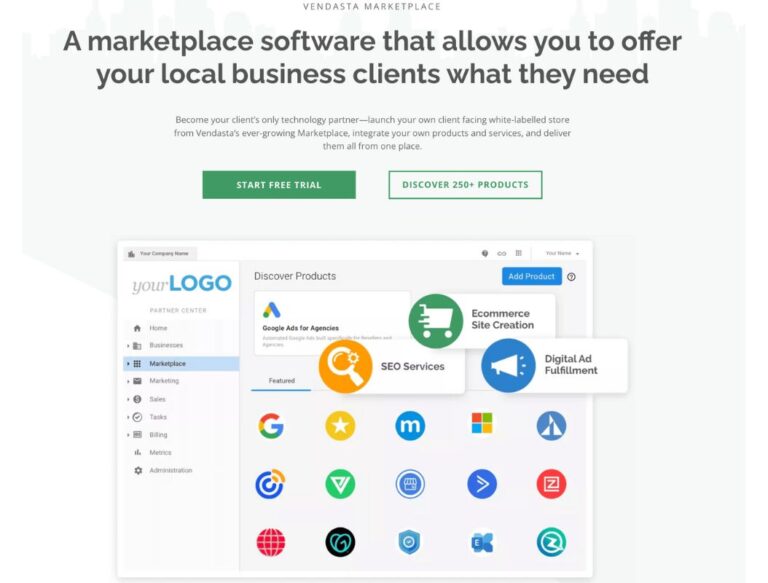 This is another tested and trusted White Label Platform. With Vendasta, you don't have to worry about onboarding fees.
The platform allows you to sign up for free and then pay when you start making sales.
Even if you have no prior knowledge about how to operate a white-label business, Vendasta got you covered.
There is a white-label demo that you have access to guide you through.
Some of the white label services offered on Vendasta include;
SEO Agency
Accounting firm
Content Agency
Website Hosting and Design
Digital Advertisement
And many more…
Step 5: Start Reselling
Once you follow all the steps I have listed, you are good to go. It becomes easier to begin to resell.
FAQs About White Label Business
Here are some of the questions people ask about a white-label business;
Is White labeling profitable?
Yes, white labeling is highly profitable. This is because you have a minimized cost of production. In other words, the revenue you generate is way higher than what it cost you, to begin with. Also, white labeling helps you to earn recurring revenue.
Is White labeling legal?
Yes, white labeling is legal. In any white-label business, the manufacturer has to make the option of white labeling available. Therefore, it is not a case of theft. There is a protocol and an agreement between the manufacturer and the reseller.
Can you sell a white-label business?
Yes, you can. The same way you can be the reseller is also the same way you can be the manufacturer. It's two-way traffic. You can create a product or service and make it a white-label business for other business owners to purchase and resell.
Conclusion
In this review, you must have understood fully what a white label business is and how you can get started.
If you have been looking to venture into a business model with little capital, a white-label business is a good place to launch into.
The most important thing is to ensure that you partner with the right platform. This is what will make the business journey easier and smooth.
Signing up with the wrong platform is like having one's feet stuck in the mire. You might pull out eventually but you would dread that path.
I have been able to recommend two platforms that I have personally tried and I can boldly tell you that it going to be worth all your energy.