Thryv Review: Best CRM For Small Business? [The TRUTH & BAD]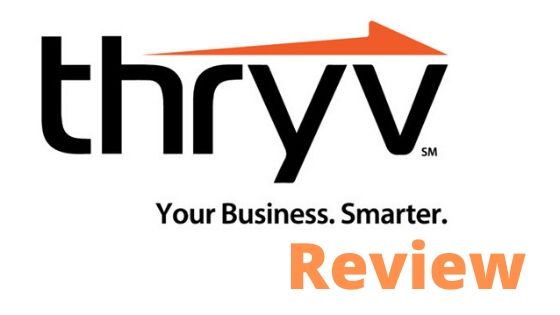 In today's thryv reviews for business owners, I'll cover everything there is to know about the Thryv CRM software, most especially for small business owners in the United States.
Currently, Thryv only works with businesses located in the United States; however, I do believe they will make sure they are opened to more countries in the nearest future.
You'd agreed with me that starting a business is relatively easier compared to growing the business.
At the early days of your business, handling your customer service won't be an issue because you'd only be dealing with a handful of them.
However, as your client list increase so does your customer service relation and you'll need to balance both in other to win your clients love and also give them a sense of value for money.
Your customer satisfaction depends on your ability to offer attentive, personalized engagement with your clients. While your business growth, on the other hand, demands continuous growth of your client list.
Doing all this manually can actually stunt your business growth.
However, with the help of customer relationship management (CRM) tool like Thryv, you can sit back and relax as your business is being automatically managed for the fullest ROI.
Irrespective of your business field, choosing Thryv can help manage your business in any areas not limited to the list below:
e-commerce
Auto service
Animal Services
Beauty Salon
Business Services
Child Care Services
Cleaning Services
Contractors
Government & Nonprofit
Health Wellness
Home Improvement & Maintenance
Insurance
Legal Services
Locks & Locksmiths
Moving & Storage
Pest Control Services
Real Estate
Restaurants
Retail
Veterinarians
Wedding
And Much More…
However, there are 5 main business categories that are restricted from purchasing Thryv.
Thryv Restricted Companies
Pharmaceutical companies
Cannabis-related businesses (includes CBD and marijuana-related businesses)
Adult Services (includes escorts and overtly sexual-oriented businesses)
Dangerous product businesses (includes guns/weapons, explosives/ fireworks, tobacco/vape products, and drugs/drug paraphernalia)
Non-US Business or Businesses that target Non-US Customers.
This review includes a comprehensive breakdown of what Thryv can do and cannot for your business.
It's a software built for small business and in this review, we'll look at the pros and cons and every other thing to expect while using Thryv.
But before we get started, let's take a look at the summary of what we're going to be covering:
What Is Thryv Software?
Thryv is a cloud-based all in one management software program built for small businesses. Although it is designed for small businesses, there is nothing short about what it can do.
It contains amazing features that can enable small businesses to do complicated things in a simplified manner to help them improve their productivity, customer engagement, and experience as well as help them compete with large, well-established businesses.
Thryv is an all in one business tool management, meaning that it combines various features and capabilities into a single unit to make business management simple, more efficient, and transparent.
It's designed to help business owners manage interactions with clients, run and manage activities on social media platforms, synchronize calendars, book appointments for a single location.
Additionally, it also features a simplified payment module that helps businesses send estimates, customized quotes, and invoices to customers and also accept payments through credit card.
It also offers mobile applications for Android devices and iOS and supports integration with third-party apps such as mail chimp, Slack, Gmail, QuickBooks, and much more.
Thryv is the only software that allows small businesses to compete with large, well-established companies.
Take, for instance, Thryv enables small businesses owners to list their business on credible sites and even set up a portal where prospects and clients can engage with them.
Every small business can also market their products and services using paid ads and video content to reach out to more customers.
Additionally, this CRM software (thryv) also provides a feature that makes the process of scheduling appointments convenient and efficient.
Clients can book for services from the comfort of their own house or office using their smartphones, laptops, or tablets.
An Overview of Thryv features
There is so much you can do with your business choosing Thryv, it's easy to use and allows businesses to keep track all their business activities.
This is important because it fosters transparency and accountability. In this review, we shall be looking at the overall features of thryv and how it can bring a positive change to your business.
#1: Enhanced Customer Relationship Management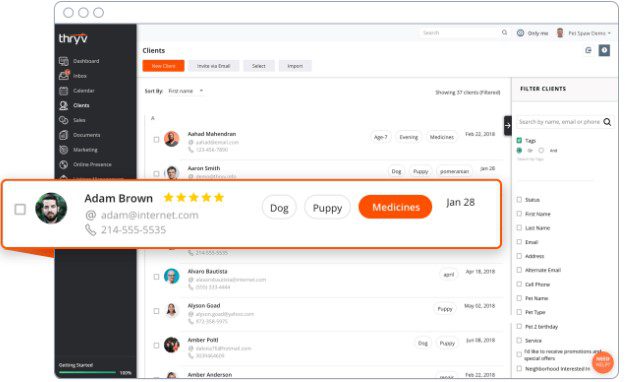 Thryv allows you to upgrade your customer list into an advanced customer relationship management software for a detailed insight into your customers and leads.
This thryv feature allows you to attract people to your business, and use thryv to nurture them into a returning customer.
It helps you respond on the spot, schedule reminders and communications which can help you stay top of your mind.
Thryv will show you exactly where each lead came from and help you seal the deal
Other things you'll enjoy from this feature include:
Engage and nurture leads and opportunities
Find and track sections of your contacts using tags and filter that suits your business model
Offer your target clients a customized platform where they can interact with your business
Provide you with valuable data to help you know more about your customers and prospects. This is important because it helps you know where to focus on when marketing your business.
#2: More Streamlined Sales And Payments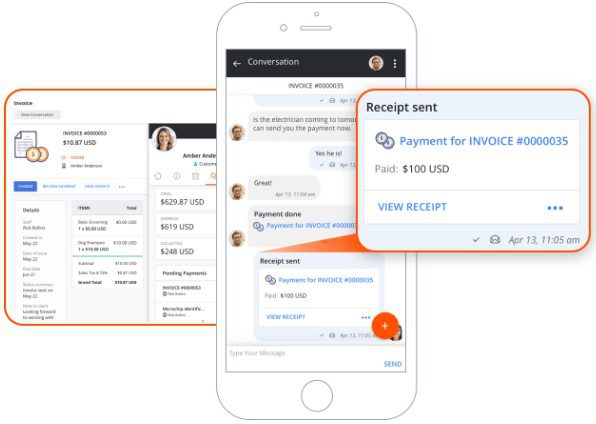 Thryv allows you to send customized invoices and payments to clients and also allows you to accept payments through credit cards.
This can help you win new business on the spot and with their custom electronic invoices; you can get paid as soon as the job is done.
Thryv makes use of the top payment gateways like Square, PayPal and Stripe to make credit card processing easy and perfectly secured.

Their rate starts at 2.9% and $0.30 per transaction!
Some of the other things you will get to enjoy includes the following:
Easy processing of credit card
Send interactive quotes, payment reminders and invoices for anything overdue faster
Scan credit cards instantly via the phone; credit readers are not needed.
Connect to booking quickly and collect payment before, during and after the appointment
#3: Personalized Customer Communication
Thryv will allow you to communicate with your customers using multiple channels, including email, text, phone calls, and much more, from a single inbox.
From your thryv dashboard, you can listen and respond to customers faster than ever before. This will also help you stay organized, respond quickly, and offer personalized customer service.
Some of the things you will enjoy from this feature include
A centralized communication channel
Easy to track and manage the conversation, including text messages
It allows you to give your employees access to the communication channels to enable them to serve your target clients easily
Automated reminders for easy follow-ups.
#4: Appointment Booking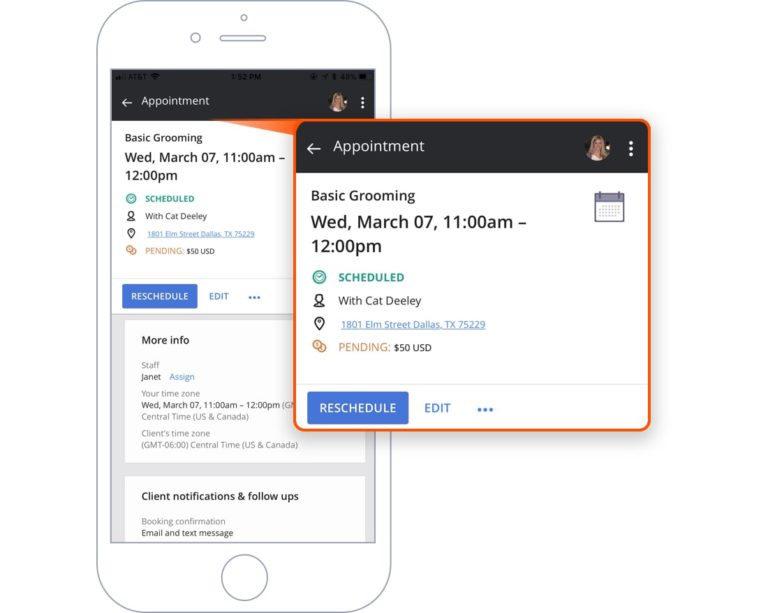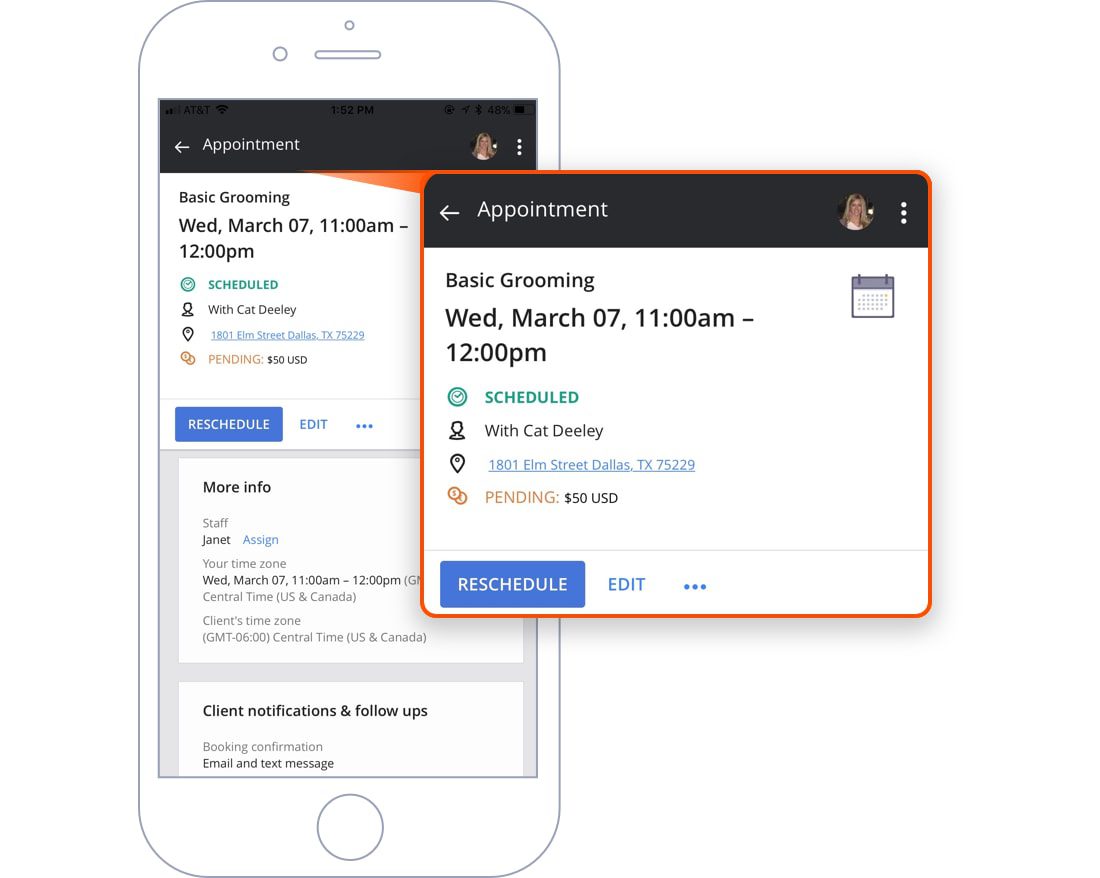 This feature allows you to easily sync your existing calendar, ongoing projects, and much more for better tracking and management.
The appointment booking feature can help create customized classes and events which you can either make private or make them bookable online.
You can easily manage your client's registrations, communication and payment with attendees before and after the event to stay organized and have a professional look.
Some of the other things you will enjoy include:
Ability to create multiple accounts for your staff within Thryv and sync their calendar for better monitoring and processing
The ability to create events and classes where you can discuss crucial details of your project in details
Ability to offer appointment bookings online from any device
Automated reminders for easy follow-ups and better in-app payment capabilities.
#5: Reputation Management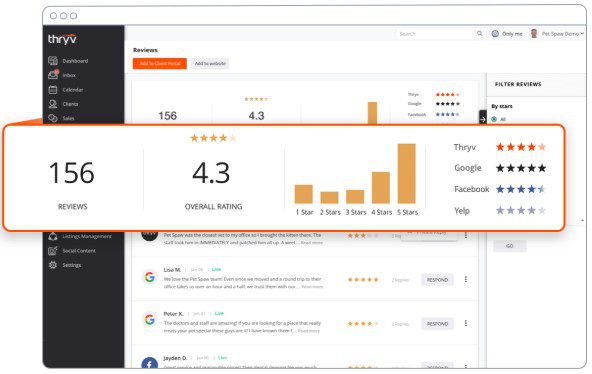 How your target clients perceive your business will determine if you will thrive or not. The Thryv software has a reputation management feature that allows you to control and protect your business reputation online.
Thryv is actually one of the few programs that let you generate the first-party review and reply to all of them from a centralized place.
From your thryv account, you can monitor what customers are saying the second new review is posted on top sites.
To enhance your reputation, Thryv's review acknowledgement service is available to respond to reviews on your behalf usually within one business day.
Other things you'll enjoy includes:
Instant notification when a new review comes in. This is important because it allows you to respond to all reviews on time.
Prebuilt templates that enable you request for review at an ideal time.
An in-depth analysis of your competitors and how to outrank them
#6: Marketing Automation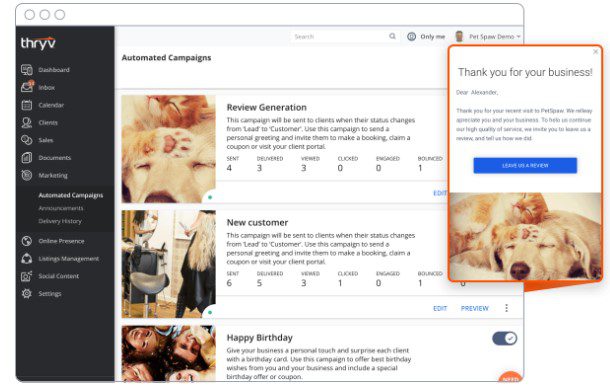 This feature triggers targeted marketing campaigns that allow you to market your business to your clients and prospects.
Perhaps you know you should keep in touch with your customers, but not sure how and when you should?
The Thryv's one-off scheduled announcements help engage customers with timely promotions and compelling calls to action.
You can create them in advance to fit your busy schedule and automate the rest of the process.
This feature gives you the ability to do the following with your business:
Ability to send "happy birthday", "we miss you", or any other meaningful message or make crucial announcements automatically at your preferred time
Send automated emails to your target clients with a single click
Access to multiple, ready to send texts and emails for various occasion or events
Detailed insights and analytics to help you measure the success of your marketing campaign.
#7: Enhanced Online Presence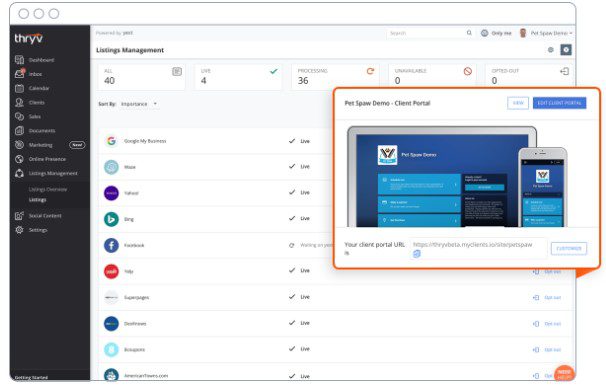 Thryv has an online login area that allows you to interact with your online clients.
It also allows you to sync your business information across multiple listing sites to boost your online presence.
Thryv helps promote your brand online with a custom made website and uses compelling calls to action to get customers to book and buy more.
The Thryv's websites are perfectly optimized for SEO to make you as visible as possible with top search engines.
Some of the things that you will enjoy from this feature include:
Ability to add your business information on numerous listing platforms including Google, Yelp, Facebook and 60 plus tops websites
Create a simple but professional website to sell or book more.
Give your clients a personalized login area where they can pay, book, and even communicate with your staff.
Ability to create a customized video content to market your business to your target audience
#8: Document Storage And Sharing
Thryv enables you to share content with your clients and staff directly for enhanced commutation. We all know how important it is to secure sensitive information and delicate customer data.
With Thryv, you can easily mark documents as private and only you can choose who can see what. You can view the data by clients, in your inbox, or alongside your other documents in a dedicated view.
This will also prevent you from losing track of important documents. Thryv allows you to safely store documents for both internal and external use.
You can easily add documents yourself or request them directly from your contacts and at the same time choose exactly who you want to share them with and when.
Thus, giving you total control over everything, other benefits include:
Ability to share documents with your target audience
Ability to track any changes made to documents
Store private documents safely
#9: Enhances Social Media Presence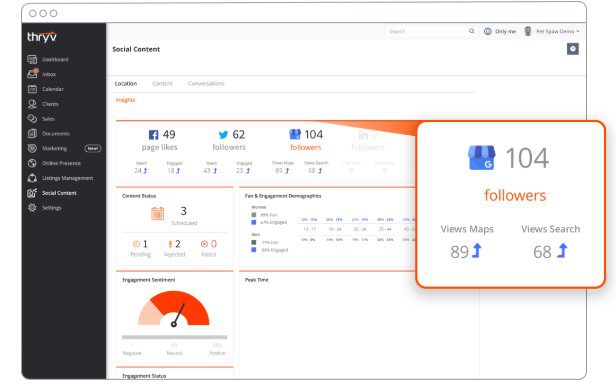 Thryv is keen to help enhance the presence of your business on social media, including Instagram, LinkedIn, Twitter, Facebook, and much more.
Thryv allows you to engage your followers and fans with comments and replies straight from your Thryv dashboard.
With this feature, you can publish content from one place and send it across multiple social media platforms. The platform also has a prebuilt post just in case you need inspiration.
Some of the other things that you will get to enjoy from this feature include:
Ability to manage your social media platforms from one centralized place
Access to more than 525,000 pre-written posts for inspiration to ensure that you never run out of ideas
Full service social
Pros and Cons of Thryv
After close review research, we discovered that thryv software received the following review scores from other review platforms.
They include:
8.5 review from Finances Online
4.8 review out of 5 from featured Customers
4.4 review out 5 from g2
4 review out of 5 from Software Advice
3.8 review out of 5 from Capterra
3.8 review out 5 from getapp
Pros of Thryv
We're also going to be looking into the benefits and pros of choosing thryv software. What makes it easy to use and how it can help you win your clients love.
#1:  It Enables You To Know More About Your Customer
One of the main reasons why many small businesses fail is because they don't have crucial data about their clients and prospects.
Which bring us to the number 1 benefit of Thryv. The Thryv software enables you to know more about your target customers and prospects with ease.
This means that you don't have to spend a lot of money to gather crucial documents about your clients because this software will do it for you.
Thryv will not only collect important information about your customers and clients but will also help you know their buying patterns, what they like the most about your business and time when they are most active.
This is important because it enables you to understand your customers and prospects better and tailor your services to suit their needs to boost your sales and revenue.
#2:  It Organizes Your Contact Information For Easy Retrieval
In addition to giving you more information about your customers and prospects, this software also ensures that all crucial data that you have about your customers and prospects are kept safe in an organized manner.
This is important because it enables you to retrieve information easily when you need them. Thryv has a contact management system that allows you to use tags and filters for easy access of information.
Better access and storage of information will also enable you to make an informed decision when formulating your business policies.
#3:  It Centralizes Day To Day Operations Of Your Business
Thryv is an all in one customer management tool designed to help small businesses manage their day to day activities easily.
For instance, instead of using multiple communication platforms, this software centralizes all your day to day communications for better running of the business. It also fosters accountability by allowing you to track conversations.
Centralizing your day to day operations not only helps to minimize operational costs because it also enhances the quality of service that you offer to your customers.
If your customers and prospects are happy with the quality of service that your business renders, then they are more likely to make a repeat purchase and even refer their close friends and other people to your business, resulting in increased sales and revenue.
#4: Know People'sThoughts About Your Business
Reputation is critical in businesses. If your target clients have a negative perception of your business, then your business is likely to fail.
On the other hand, if they have a good perception of your business, then it will thrive. One great thing is that Thryv will help boost your online business reputation.
It will provide crucial data that will help you know what other people are thinking about your business and also give you tips on how to boost your reputation.
Thryv will allow you to gather feedback and opinions of your customers to help you know how they perceive your business and the necessary adjustment that you need to make to boost your presence and reputation.
This software will also help you to monitor your customer ratings and reviews.
All this is important because it enables you to know if your customers are happy and satisfied with your products or services and if not, then you will know areas that you need to improve.
#5:  It Creates A Level Playing Field
One of the greatest challenges that small businesses face is stiff competition from large, well-established businesses.
Large businesses use financial power to muzzle small businesses. Thryv has created a level playing field by creating a platform that allows small businesses to compete with large established businesses.
This software allows small businesses to offer better and more organized service to their customers. It also enables them to market their business online, making it more visible to their target audience.
Additionally, it also provides in-depth analytics that enables small businesses to learn more about their competitors and what they need to do to outshine. All these features and much more enables small businesses to compete and even outshine large businesses.
Other features Includes:
Knowledgeable staff
Responsive, helpful representatives
Consistent follow-up and communication
Easy-to-use dashboard and services
Enhanced professional image for their businesses
Good customer service
Cons of Thryv
There's no perfect review when there are no cons. equally in this review, we're going to be looking at some of the bad side or shortcoming of thryv software.
#1: Thryv Pricing
Although less expensive compared to other competition, there's no stipulated price for the thryv software on their website.
You'll to request a demo account and have them access your business before knowing what's going to cost you.
The good thing is, the demo is perfectly free, you don't have to pay a dime and you can as well have your demo requested now.
#2: Available In United States Only
Currently, thryv only works with business across united states, hopefully, they will be available for business outside the US in the nearest future.
How Much Does Thryv Cost: Thryv Pricing

Thryv has not published a pricing scheme on its website. This is because it offers customized prices depending and the size and model of your business.
As I said before you can contact the vendor to request a quote that is tailored to your business or simply request a demo for your business.
Who Owns Dexyp?
Dexyp company name is Formerly known as Dex Media, Inc., DexYP is a digital and print marketing company that was created after Dex one and SuperMedia merged in 2013.
Dexyp is the provider of thryv and they've been in business for a VERY long time. So you can rest assured they know what they are doing.
How Do I Cancel My Thryv Membership?
Users are allowed to cancel Thryv at any time within three days of purchase for a full refund. If not, then termination will be effective upon the expiration of your current subscription period.
Why Choose Thryv
Below are some of the reason why Thryv is recommended for small businesses:
#1: It Is An All In One Software
Thryv is an all in one management software built for small businesses. It is the only software that has integrated features such as contact management, email marketing, online reputation, CRM, payment system, and much more.
Having all these remarkable features under one roof make it easy to run small businesses.
#2: It Is Safe And Secure
Thryv is arguably the safest and most secure customer relationship management on the market.
It is equipped with robust security features that are almost important to crack. Since its launch, no client has complained that their important date has fallen into the hands of the wrong people.
It is highly secure, safe, and easy to use.
#3: 24/7 customer service and support
Thryv also has a team of professionals who offer 24/7 support. So in case you have questions or problems, all that you need to do is contact them, and they will respond within the shortest time possible.
Final Thoughts
Adopting a CRM solution like thryv software can really boost your business sales and according to nomalys, on average, every business makes $8.71 for every dollar invested in their business. Trust me, that's a significant ROI!
Equally, businesses using CRM software have also been shown to improve customer retention rates by as much as 27%.
Majority of your customer will see you online and interact with your business online before they finally take action. Using thryv can really ease the process and provide you with the awareness you've always needed.
But you don't have to commit if you're not sure of the platform. You can simply make use of the demo and see for yourself how your business can be run through this platform.
Ready to get started?
Learn More