Toonly vs Animaker: Which Is Best Animation Software?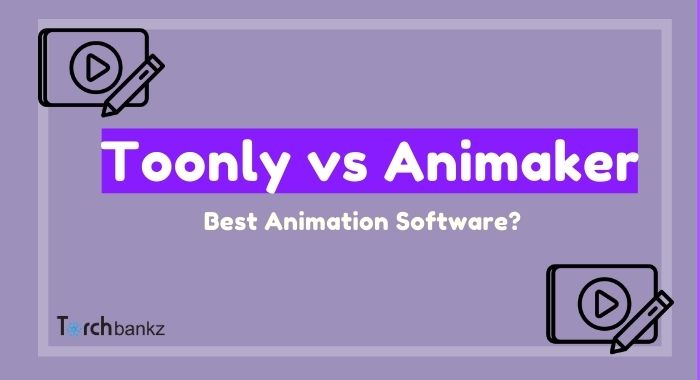 Are you looking for the best animation software between Toonly vs Animaker? You're not alone.
It can be difficult to choose between Toonly and Animaker because both tools claim to be the "best" with various features that make them unique.
Should you use one or the other, or are there other options that might be better suited for your needs?
In this blog post, we'll compare these two popular animation programs in order to help you decide which is right for your project!
Both tools have their unique features, benefits, and drawbacks. Toonly brands itself as the simplest drag-and-drop explainer video creator while Animaker brands itself as the future of video making.
As I said earlier, we put Toonly against Animaker to help you make the best choice. We compare their features, pricing, pros, and cons.
With a lot to cover, let's get started.
What is Toonly?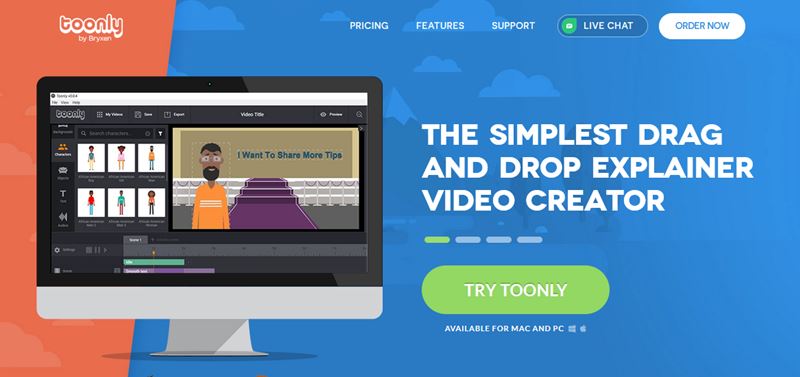 Toonly is a product of the Bryxen company, the maker of Doodly, and is a software used for animated explainer videos.
It isn't cloud-based, which means you can work on the go without an internet connection.
It's straightforward to use due to its sticking to the drag and drop principle. Besides being a video maker, it offers some basic video editing features.
It boasts a library of templates and other features that make animated video creation a breeze. Toonly isn't just another product; it's a product based on demand.
Being a sister tool to Doodly, the highly-accepted doodle software, you can't but expect quality features.
What is Animaker?
Founded by RS Raghavan, Animaker predates Toonly as it was created in 2014 and became the first animated video creator in 2017.
Animaker as software is an all-in-one solution for creating standard videos, doodle sketches, explainer videos, and so on.
However, being an all-in-one solution or the first doesn't necessarily make it the best.
Animaker is cloud-based, which might make you drop it if you have to create videos in an area where the internet connection is poor or even absent.
However, it offers a drag and drop interface alongside a library of templates just like Toonly.
Let's dig further.
Toonly vs Animaker: Features
Let's take a deeper look into the features of both tools in the form of comparison. With this, we'll have a better insight as to how each tool is unique to its users.
#1. Download or Cloud-based
Let's start with the forms both software come with. Toonly is a downloadable software that you install on your PC, while Animaker is cloud-based.
You can use Toonly on both Mac and PC, which means it works with all computers and laptops.
As a desktop application, you don't need to connect to the internet to use Toonly on your computer. Irrespective of where you are, you can use Toonly smoothly without the fear of glitches in performance because of an internet connection.
On the other hand, Animaker as a cloud-based application means that you use Animaker on your browser just like every other web app.
But this means you need an internet connection to make use of Animaker. And in a situation where you are in a location with a poor internet connection, video making can be frustrating.
Given that both let you download your video into your computer and export it to social media channels, then Animaker doesn't offer any advantage with its cloud hosting.
So Toonly is a clear winner here.
#2. Speed (User Experience)
Speed is an important feature when choosing animation software. Nothing frustrates me more than having to wait several minutes whenever you start an application or export your videos.
In terms of speed, Toonly loads fast as it is a desktop application. From launching the application to choosing a template, previewing, and exporting, Toonly responds very fast.
However, it's the other way for Animaker. Animaker loads relatively slow when launching the web app.
And when previewing your video, it loads for some time before rendering the video. So in terms of video rendering, Toonly does a better job.
Animaker's poor performance in speed is because it's cloud-based, and it has to load all codes before rendering. But Toonly already has its codes on the desktop computer and has fewer things to load up.
Anyway, this is another win for Toonly.
#3. Library
Toonly has an extensive library of characters, background scenes, and props in its bid to keep the user from running out of the elements needed in a good video.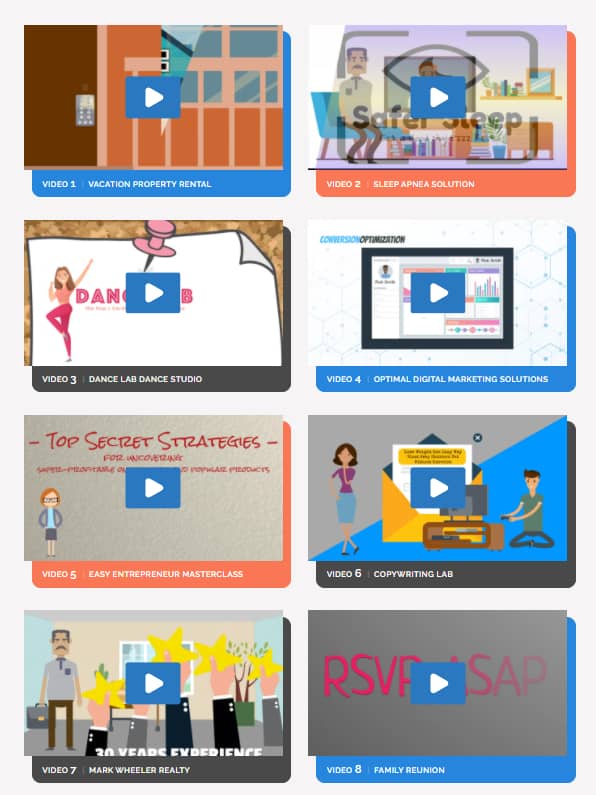 A headcount of the above reveals 30+ unique characters alongside 25 different poses, thus making 750+ characters.
There are also dozens of unique backgrounds to choose from and numerous props covering many topics and niches.
Similarly, Animaker does quite well with its library too. Although it has fewer characters, Animaker compensates with its character creator, which allows you to create custom characters.
Animaker houses several actions for its characters which helps you utilize the few characters to fit your video. It has over 500 actions in its library.
In terms of background scenes, Animaker offers an exhaustive library of scenes. It provides more scenes than Toonly does.
Animaker wins with its exhaustive library of actions for characters. At the same time, Toonly wins thanks to the number of characters and the premium community it offers.
#4. Text to Speech and Custom Voiceover
Text-to-speech is a feature that allows you to turn text into speech which helps you sync a voice to your video.
This feature is only present in Animaker. Animaker offers you a lip-sync syncing the lips of characters to the speech or sound added to the video. The text to speech feature is also available in several languages.
While this might have been a drawback for Toonly, it compensates with customizable voiceovers.
It affords you the ability to either record your voice-overs with the software or import from external sources. Then you can synchronize it with your clip.
The voiceovers also achieve the exact job the lip-sync and text-to-speech do on Animaker. Same destination, different paths.
Nevertheless, Toonly has a lip-sync feature.
#5. Text Templates
It's cool to have a kind of foundation to build on. That's why good software for video animations does not lack them.
Toonly has several font templates and styles that you can use on your videos. Interestingly, it allows you to upload custom fonts to your Toonly dashboard.
Animaker also has a similar offering. It offers you its library of text styles and doesn't restrict you from uploading your fonts.
#6. Background Music
It is often said that music carries 50% of a video's ability to intrigue. I agree with that.
And any video animation software that does not have this feature is not just it.
As expected, Toonly does not deny us of this feature. There are hundreds of royalty-free tracks to choose from. It has over 20 audio tracks available.
So amp up those videos with killer tunes!
#7. Team Collaboration
In case you work with a team or have to show your videos while still making them to someone, both tools allow you to do so but differently.
Animaker lets you invite team members using the email addresses and control their permission to edit or view.
For Toonly, it's a very different case. Your team members have to install Toonly on their desktop. If they have it installed, they can access your videos as Toonly saves it in the cloud.
And if you want to take it a step further, the Enterprise plan allows you to create multiple logins for team collaboration. So you don't have to share your login details with team members; you can make multiple login details under the Enterprise plan.
Both Toonly and Animaker excel in this area.
#8. Number of Videos (Downloads)
This is quite important to know your fate as to the number of videos you can create on Toonly and Animaker.
Toonly lets you create an unlimited number of videos, and that's its win over Animaker. Also, Toonly does not place restrictions on the number of downloads you can perform per month.
So if you run an agency or create lots of videos every month, you will find Toonly fun and fascinating.
On the other hand, Animaker has restrictions on the number of downloads you can perform per month based on the plan you go for.
The premium plan offers you 20 downloads per month. This is very low for someone that lives and breathes videos and does lots of them per month.
To access unlimited video downloads, you need to opt for its custom plan that comes with custom pricing to fit your demand.
#9. Premium Support
When reviewing a product, the support system is a factor worth looking into. Toonly and Animaker are worlds apart in terms of their support.
Although both tools have a support documentation page where they have answered most of the frequently asked questions, Toonly takes it a step further.
Toonly offers a Facebook group that is only accessible by invitation (for paid members). The Facebook group houses animation professionals and experts that have been in the industry for a long time.
Getting access to these professionals can help you advance your career in video creation. Whenever you run into technical problems or need content ideas or how to bring your ideas to life, there's no better place than the Facebook group.
In premium support, the hat goes to Toonly.
Toonly vs Animaker Pricing
Having gone through the features bit by bit, let's review the pricing plans of both animation software.
Let's start with Toonly.
Toonly Pricing Plans
Toonly bills in two different ways for its standard model and enterprise model depending on which one you select, monthly or annually.
With the monthly plan, you pay $39 for the standard model and $69 for the enterprise model or $20 and $40 for the standard and enterprise models, respectively, when billed annually.
The standard model and the enterprise model contain all the features except for access to the Toonly club, which is available only in the enterprise plan.
For the rest features like characters, character animations, prop images, background scenes, premade scenes, and so on, you are getting more than double of them with the enterprise model.
And if you are more concerned about scene transitions and background audio, you have more reason to switch over to the enterprise model as you are getting more than 4x and 7x more of them, respectively, on the enterprise model.
Though cheap for software of its caliber, it doesn't have a free trial. Maybe disappointing, but their 30-day money-back guarantee cushions that, if you are dissatisfied with it for any reason.
So if perhaps, you are not satisfied, Toonly's 30-days money-back guarantee is reliable.
Animaker Pricing Plans
Animaker has a free model that contains some fundamental features.
The pricing structure goes thus:
Basic—$20 monthly or $10 monthly when billed annually.
Starter—$35 monthly or $19 monthly when billed annually.
Pro—$79 monthly or $39/annum in annual billing.
Enterprise—custom pricing
For the free plan, you're limited to 5 free video downloads per month with a watermark for which you have to upgrade to any higher plan to do away with the watermark.
Animaker outro is highly limited on this plan as well, and the same goes with the live animation mix, Animaker lite and, video editing and lip-sync. Security is also not as strong as in the higher versions.
The number of music tracks is limited to 10 and ranges from 50+ to 100+ on the next higher plans. Smart animations and text animations are also limited here.
As for video quality, you are stuck with HD on the free and basic plan, have to upgrade to the starter for access to FHD, and only begin to enjoy 2K and 4K on the pro and enterprise plans, respectively.
The enterprise plan has the tastiest offers as it is the only plan that affords you unlimited GIF downloads, unlimited video downloads, and unlimited custom characters, as well as freedom from extra charges on videos created on Animaker.
Toonly vs Animaker: Pros and Cons
This won't be a detailed comparison between Toonly vs Animaker if we didn't explore both their weakness and strength. Because as you already know there's no perfect tool.
Toonly Pros
It offers a good user experience and fast video rendering.
Supports team collaboration
You can access it even without an internet connection
Offers unlimited video downloads
Offers premium support (plus Facebook group for users)
It offers more characters
Toonly Cons
It has limited character actions
It has no free plan
Animaker Pros
It provides more character actions
Animaker has a free plan
It offers team collaboration
And it gives more background music
It has a text-to-speech feature
Animaker Cons
It has a poor experience (video rendering is slow)
Minimal video downloads make it not a fit for professionals that create lots of videos.
Its features are limited on its free and paid plans, except for its custom pricing plan.
Basic support (Lacks premium support and an active Facebook group)
Toonly vs Animaker: Conclusion
At this point, you are better informed about which would suit your needs between Toonly and Animaker.
Animaker is best recommended if you create fewer videos every month and create different types of videos other than animation and explainer videos.
However, we recommend Toonly if you create lots of videos every month and need a tool with no restriction on video downloads.
We recommend Toonly because of its video rendering speed. This makes the video creation process more fun and enjoyable. Also, there is a Facebook group you would love to be part of.
That said, the decision is still up to you to make. Is it…
or
Leave a comment below; I would love to hear from you about what you feel about this Toonly vs Animaker comparison.
Learn More?