Viddyoze Review 2023: Does It Work? [Pros and Cons]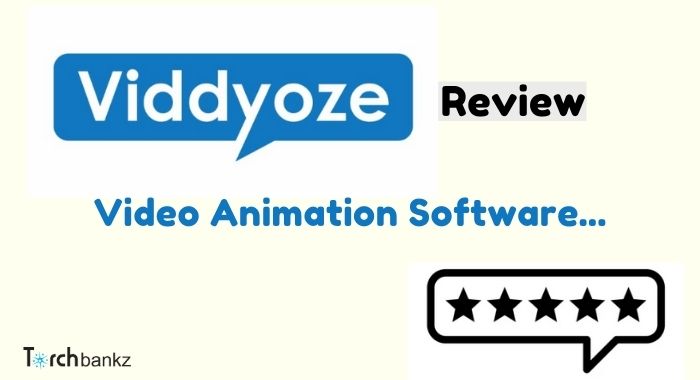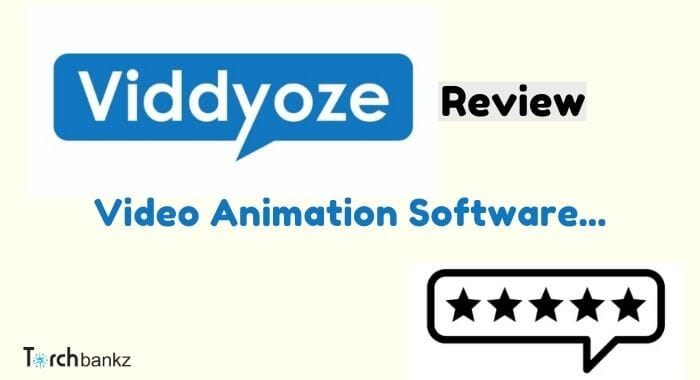 I'll try as much as possible to make this the most in-depth Viddyoze review you'll read about this video app.
If you're a video creator (think: Youtuber) or you do one or two things on video, then chances are you've heard of Viddyoze.Viddyoze isn't a new tool in the industry.
In fact, it has been in existence for over 5 years now. However, there's a tendency that you're just hearing about it.
And if you're, then you probably have questions and doubts of your own about the Viddyoze app for video customization.
If you're a fan of social media, I need not tell you how videos are dominating the social spaces. According to a research by Hubspot, it states that, out of the Six top social channels, global consumers watch videos on Four.
Now, this is to show the impact video creation is making in the social spaces for business owners looking to brand their business.
So if you're not creating videos, now is a good time to start. which is also one of the reasons we're looking into Viddyoze review.
A good way to start is to introduce what Viddyoze is and what it's not.
We'll take a look at its features, price, pro, and con in order to provide you with all the needed information so you can make an informed decision.
But before that, If you want to make videos that will leave your audience amazed, and equally compel them to take action, then you don't need to be anywhere else but here.
With so much to cover, let's get started, shall we?
What is Viddyoze?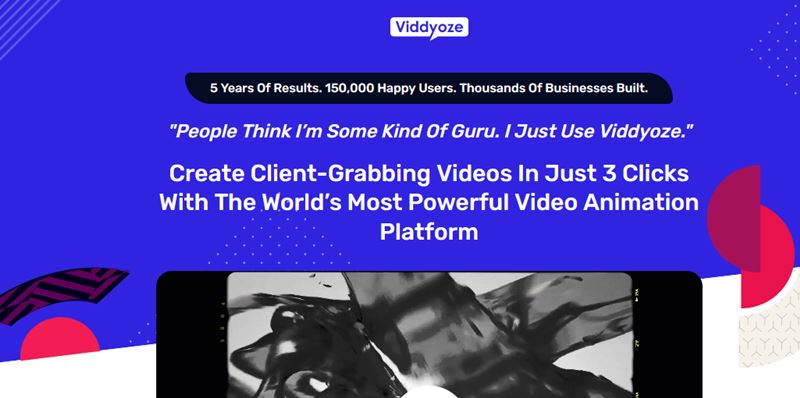 Viddyoze is a video animation tool that aims to make your video creation process simpler.
It does this by providing ready-made templates of logos, Youtube intros, outros, and a lot more at your disposal to implement.
At first glance at the features above, it's clear Viddyoze was built with video creators in mind.
Thanks to Viddyoze, video creation has never been any more fun. You can create videos in minutes and not hours by putting together intros, outros, and animation.
To have a vivid idea of what Viddyoze is, here's a video intro created using Viddyoze.
Who's the Brain Behind Viddyoze
Viddyoze was founded by David Chamberlain, Jamie Garside, and Joey Xoto in 2015.
The main idea was Joey's own. Joey's background in video making led to the amazing idea for video animation software.
Before Viddyoze, Joey was a course creator. He sold courses relating to video making and editing. Due to burnout in creating courses, Joey started brainstorming for new ideas.
And an idea that stuck out was animation automation software.
Not knowing how to go about developing an app for animation automation, he started his hunt for a tech partner.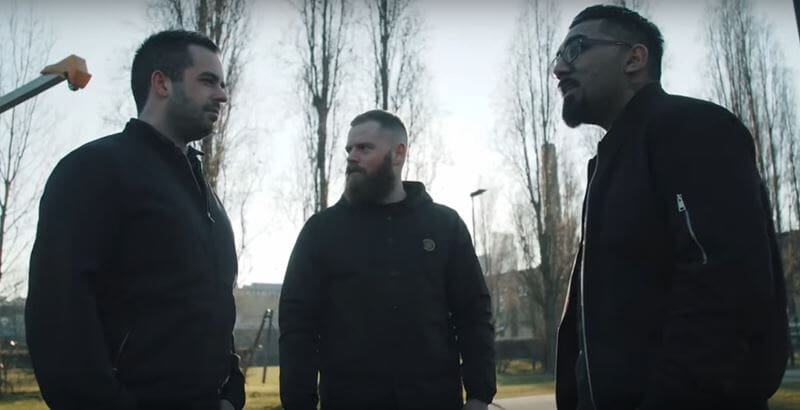 This led to meeting David Chamberlain and Jamie Garside who were friends and business partners.
This was the start of the eight-figure company.
Viddyoze Review: Evolution From 1.0 -3.0
The Viddyoze app as you may know wasn't like this some years back. It is a product of improvement over the years.
The first version of Viddyoze had a lot of glitches and errors. Joey testified about its animation looking shit. That's how poor the first version was.
However, it still got a lot of love from creators because it's the first of its kind.
But thanks to the team, Viddyoze has enjoyed consistent software updates that have made it the best animation software out there for creators.
Here's a quick overview of the evolutions Viddyoze has enjoyed.
Viddyoze 1.0 (2015)
This is the first version of Viddyoze created in 2015. Developed by a freelance developer, it was a big step to achieving animation software automation.
Before the launch date, the founders made a video explaining what Viddyoze would be about and the solutions it would provide.
Although far from being perfect, the first version broke sales on Jvzoo. Viddyoze sold software worth half a million dollars within four days of launch.
The first version of Viddyoze was capable of doing intros and outros for videos. But it couldn't include animations within video content. This led to the second version of Viddyoze.
Viddyoze 2.0 (2016)
Launched in 2016, Viddyoze 2.0 was inspired by the need to offer more animation automation and at the same time leave the competition.
After the first version, Viddyoze started getting some slandering speech from haters and supposed-competitors. Some were trying to replicate Viddyoze which they are away from.
Also, Joey and the team felt the need for Viddyoze to be able to edit the middle of video content, not just the logo, intros, and outros.
It was on this basis that Viddyoze 2.0 was launched. This time around again, they were the first to create a tool that supports in-video editing.
Viddyoze sold triple the first product launch and was well-received.
It was at this point that Joey and his co-founders set out to establish a physical presence (office) for their business.
Viddyoze Live Action (2017)
This was a groundbreaking release done by Viddyoze. It was the first of its kind. It made nearly a million dollars in the first week of its release.
Looking at the innovation put into this version, it deserves it. Viddyoze allows you to customize live videos with your logo which looks so real.
Here's a video that better explains what Viddyoze Live-action offered:
It was beyond what the then-creators expected. That is, it came well before people started asking for it. A lot of templates were created alongside the live-action release.
Compared to other releases, Viddyoze brought in a few of their customers to test and see the behind-the-scenes of the real-life animation shining a light on the effort put into it.
Viddyoze 3.0 (2019)
Finally, this is the latest Viddyoze update. It's the current version of Viddyoze. Launched in 2019, Viddyoze 3.0 is an organized version of Viddyoze 1.0, 2.0, and live-action alongside few other features.
Some of the newly added features include 3D animation and live recorded footage.
Viddyoze Review: Features
Now let's take a look at the features of Viddyoze and see how it stands out as compared to other video customization apps.
#1. Video Templates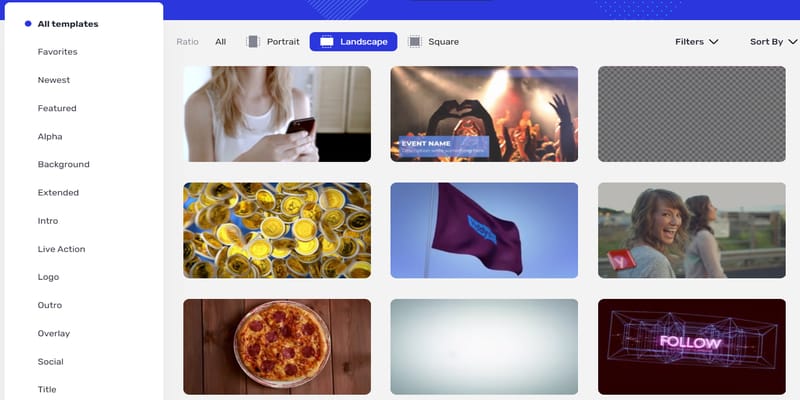 If there's something that Viddyoze is known for, is its templates. Offering video templates that ease video creation is a core of their mission.
And to be honest, Viddyoze excels in this.
There are video templates for any kind of videos you plan to create. From intros, outros, to in between the content, there are templates for you.
These templates weren't a product of rush work. They were created over time with doses of creativity and professionalism put into them.
Here are the categories of video templates you can find on Viddyoze:
Alpha
Extended
Intros
Logo
Live-action
Outros
Overlay
Social
Title
Transition
Under each of these categories are tens to hundreds of templates to choose from. For instance, if you're working on a youtube intro, then the intros category is where to look into.
These templates are customizable. So you can customize the intros, outros, etc.
#2. Templates Clubs Animation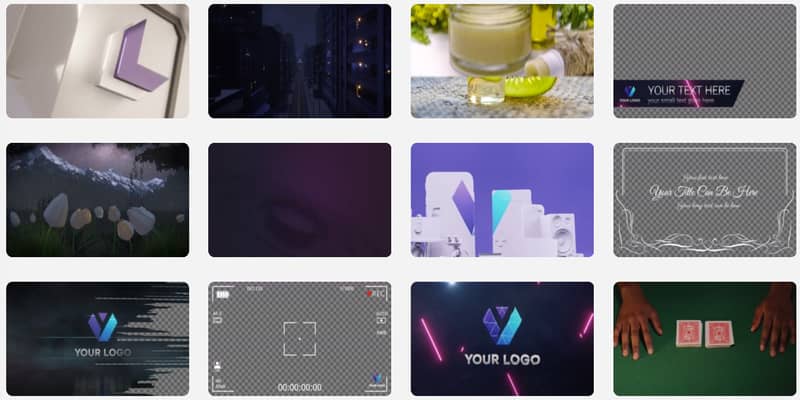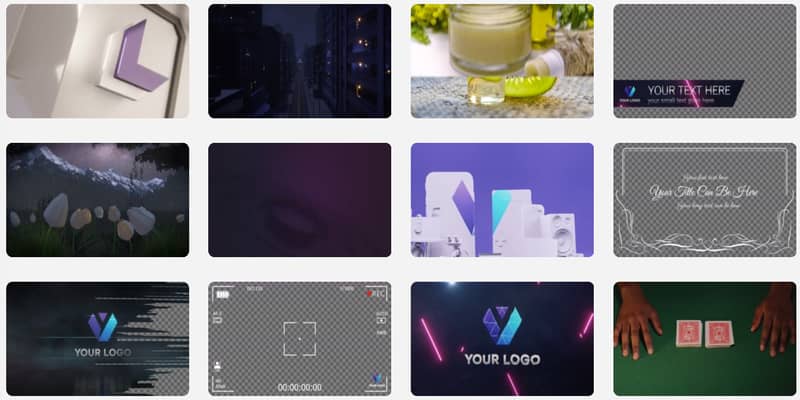 Templates club animation is a monthly subscription that gives you access to all Viddyoze templates.
This also includes templates that are yet to be developed as Viddyoze keeps working on new templates to add to their library.
So far, they have over 1500 templates to choose from. Joining this paid subscription gives you access to all of them.
Besides templates, joining the templates club gives you access to other advanced features like multi-font support, multiple audio options, background removal tools, image editing tools, etc.
#3. Single Account with Multiple Users
This is a feature for agencies. As an agency, Viddyoze empowers you and your team in creating powerful videos for clients without having to get multiple accounts.
With just a single account (business plan), you can create multiple user logins for your team.
#4. White-label technology
Created for agencies and freelance video creators. The white-label technology allows you to add your watermark when showing your work to others.
So in this case, Viddyoze makes it possible to generate a preview with your logo on it as a watermark to prevent content theft.
#5. Simultaneous video processing
With Viddyoze, you can work on videos in batches. This is an awesome feature for agencies and creators that produce a lot of videos.
This feature makes it possible for Viddyoze to process multiple videos. As a result, it speeds up the process.
#6. Bonuses
When you get the commercial plan, Viddyoze offers you two bonus courses:
Reverse Sales Method
Youtube Profits Elevator
The Reverse Sales Method course helps you make money by selling Viddyoze animations.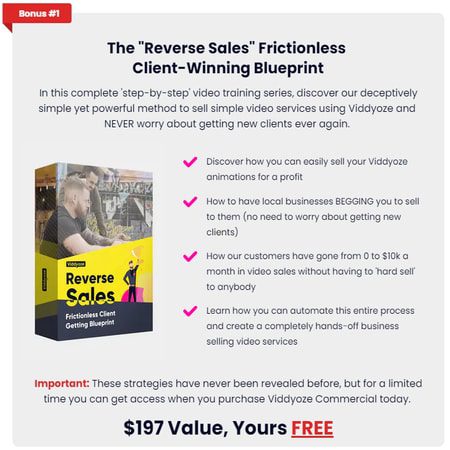 It's best for freelance video creators and agencies looking to get more clients and grow their businesses.
This is a perfect bonus for anyone looking to get into the video industry.
So rather than a tool, as Viddyoze does say, it's a business.
The second bonus, Youtube Profits Elevator, it's a course for YouTubers. Besides agencies and freelance video creators, YouTubers constitute a major percentage of Viddyoze users.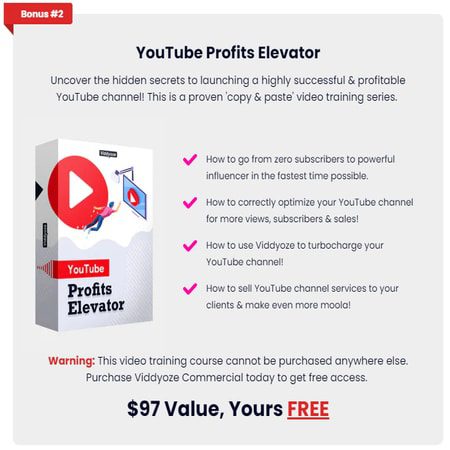 Besides, Viddyoze features are designed to help YouTubers make the best video content.
As for the course, it teaches how to set up and grow a popular youtube channel. It also talks about how to offer youtube channel services to clients.
#7. Tutorials & University
Besides the bonuses offered, Viddyoze has paid courses that teach newbies and veterans how to create top-notch video content.
The paid course, Viddyoze Academy, has over 222 videos across 19 categories and is still counting.
For this, you're in control of how you digest the videos. It offers full rewinds, so you can take your time to practicalize the lessons.
It costs a one-time fee of $997 giving you unlimited access to the academy.
Who Should Use Viddyoze
While Viddyoze isn't one-size-fits-all, it's a great fit for everyone that does one or two things on videos. Professionals that might cut across as a great fit for Viddyoze are:
Social media marketers use visual content a lot to pass their message to their audience. Either through social media ads or organic content, video content is essential.
For social media marketers, Viddyoze will ease their work. As a social media marketer, if you manage social media accounts for clients, then you should consider Viddyoze.
I think there's no point in reiterating that Viddyoze seems to be created with Youtubers in mind.
Viddyoze allows you to create intros, outros, and middle of content for your video content. And this comes in handy for youtube creators.
To some extent, influencers use videos. In fact, almost every digital entrepreneur use videos to convey their message and engage their audience.
As an Instagram and TikTok influencer, you use videos a lot. Why not give your videos a dose of professionalism by using Viddyoze?
Digital marketers run ads that sometimes are in the form of video ads. They also include videos in between their content.
So Viddyoze is a great fit for digital marketers.
Agencies deal with several clients with several needs which most times cut across video creation.
This is why agencies do have an in-house video guy to create videos for marketing purposes.
As a marketing agency, Viddyoze comes in handy in creating client videos in minutes rather than days.
But it isn't a replacement for your in-house video guy but would ease his work and help you deliver on time.
Viddyoze is an animation automation software. So it's logical for animators to be on the list.
With the templates offered, it removes the pain in creating animations.
How to Use Viddyoze
I believe this Viddyoze review won't be complete if I didn't show you how to use it. In case you're wondering what using Viddyoze looks like, it is quite simple and easy to use.
While you can create both advanced and basic videos with Viddyoze, the process still remains the same.
Here are the steps:
Step.1 Choose A Template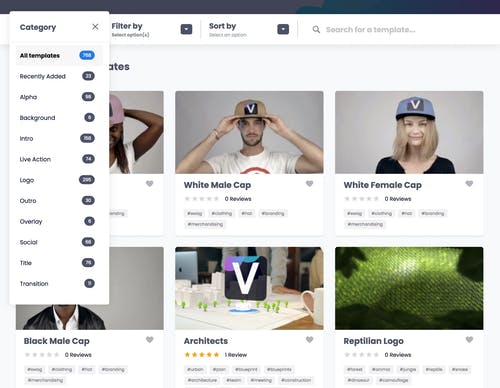 The main way Viddyoze helps you express your creativity with ease is through their awesome templates. To create any video content, you start by selecting the template that best fits what you're planning to create.
For instance, if you're planning to create video ads for a swimming pool, there's a template that allows you to do that.
So the first step to your winning video is to choose a template from the Viddyoze template library.
Step 2. Customize the Template
Once you've selected the template that you love, the obvious step is to customize the template. Viddyoze allows you to customize nearly anything within their templates.
For starters, you need to customize the logo with your brand's logo. Customize the texts (titles, descriptions, etc), and also customize the background, color, etc. You'll get access to the background removal tool when you join the template club.
That aside, there are still a lot of customizations you can do in the basic plan.
Step 3. Preview The Animation
Before downloading the output, it's logical to preview your animation to be sure there are no typographical errors and other forms of errors that could happen.
Preview your animation and make corrections.
Step 4. Render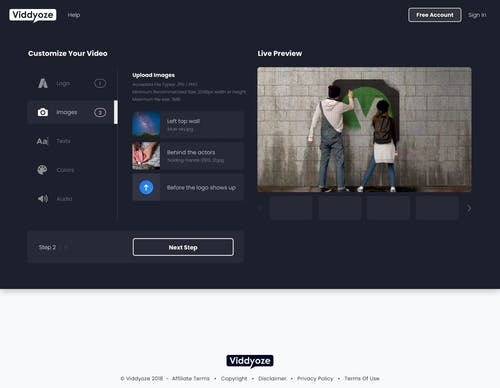 With everything done and corrections made, click the "Render" button to have your video exported. Render is just a way to save the video in your account and have it downloaded.
Viddyoze Pricing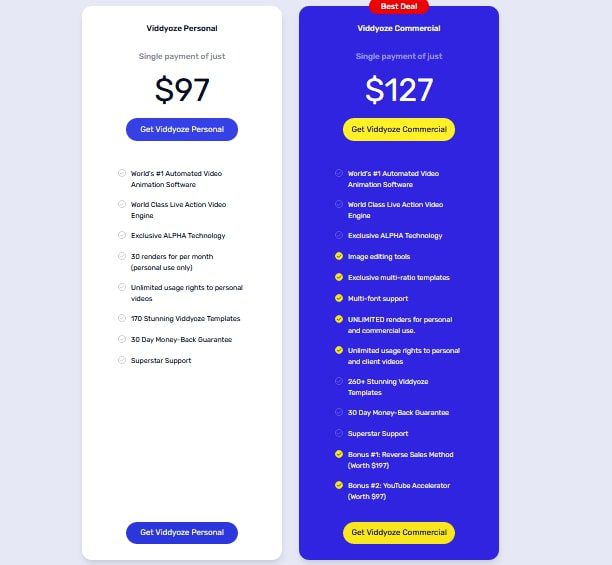 Viddyoze offers two basic plans; Personal and Commercial plans.
Both plans are a one-time fee that gives you forever access to Viddyoze. But just like you guessed, the differences are in the features.
The Personal is the cheapest plan you can get on Viddyoze. It costs a one-time fee of $97.
This gives you access to 170 stunning templates to choose from and allows you to create 30 videos a month.
A good fit for seldom video creators.
In contrast, the Commercial plan costs a one-time fee of $127. It gives you access to over 260 templates and allows you to create unlimited renders (videos) per month.
It's best for Youtubers and heavy video creators. The commercial plan comes with other features alongside the two bonus courses.
Besides these two plans, there's a business plan for agencies and big companies.
The business plan allows you to add multiple users to a single account. It also offers more templates and added features.
Rather than a one-time fee, this is a monthly subscription and costs $297 per month.
Viddyoze Review: Pro & Cons
Let's take a look at the pros and cons of Viddyoze. This way you'll be able to see the bright and not-so-bright side of Viddyoze.
Viddyoze Pros
Below are the benefits of using Viddyoze or what you should expect after making a purchase for it.
#1. It's Affordable
Looking at the pricing plans offered by Viddyoze, it's affordable. It offers a one-time fee for two out of three plans.
A one-time fee gives you forever access to Viddyoze. Besides that, the features offered on these plans are reasonable at that price.
It's more than you could ask for.
#2. Simplifies Video Creation
Viddyoze isn't just a leading video creation tool, it also offers one of the simplest solutions to video creation.
What could have taken you hours or days to do, Viddyoze helps you leverage templates to get the job done in minutes.
As a marketer or YouTuber, you have more time to spend on things that matter.
For instance, you can focus on video marketing while Viddyoze saves you time on content creation.
#3. Consistent Updates and Upgrades
What's worth mentioning is the commitment of Viddyoze to innovation and updates in the video automation industry.
Viddyoze has the record of being the first to introduce new types of animation automation in the industry. They are the ground-breakers when animation automation is concerned.
And they are not stopping at anything but to give the best.
So far, Viddyoze has gone through four different version updates and lots of newly-added features and templates.
Their library of templates keeps growing because Viddyoze stays true to design new templates for content creators.
So it's a tool you can rely on to add creativity to your work even in the future. So there's no better time to lock in your forever plan.
#4. It's a Business
Viddyoze is more than a video creation tool, it's a business for many. There are freelance video creators and agencies that use Viddyoze for their business.
They fulfill client orders using Viddyoze.
So this means, you don't have to get Viddyoze for personal use alone. You can also start a video creation agency just by leveraging Viddyoze.
There are free courses to teach you how to do this on Viddyoze.
Also, if you run a youtube channel, you know how much time Viddyoze can save you. And that means you can create better videos in less time while growing your youtube channel.
So you'd agree Viddyoze is a great tool for business.
Viddyoze Cons
Well, what can I say, not all is sunshine and rainbows with Viddyoze. Now let's take a look at the cons.
1. Absence of Free Trials
Not having a free trial is a No in this present world. Some people won't buy if they can't experience it themselves.
So I'd take this as a demerit.
However, in a lighter sense, there are many positive and amazing reviews about Viddyoze that is enough to make you trust the brand.
Viddyoze isn't just any tool. It's a ground-breaking tool and the very first animation software. So you should still consider getting it.
Either way, not having a free trial is a con.
2. Limited Templates for Personal and Commercial Plans
Wait, don't get me wrong, Viddyoze is the king of video templates. There are a lot of templates on the platform.
However, it offers limited templates on the personal and commercial plan compared to the business plan.
For clarity, it offers 170 templates on the personal plan and 260+ offered on the commercial plan.
But the business plan offers over 1200 templates and counting.
FAQ About Viddyoze
Below are some of the most frequently asked questions about Viddyoze
Is Viddyoze Any Good?
Viddyoze is good for animations. It also allows you to create intros and outros for videos. So it finds its application in youtube videos too.
Is Viddyoze a Video Editor?
Viddyoze is not a video editor. It helps you create animated videos.
How Do I Cancel My Viddyoze Account?
Canceling your Viddyoze account isn't a big deal. Chatting with one of their team members through live chat is the easiest way to get the job done.
What Can Viddyoze Do?
Viddyoze is a video animation software which means you can create video ads, intros, and outros for videos. You can also add some animation in between your content. Also, it allows you to create live-action animation that helps you brand your business as a big company.
How Do I Get Viddyoze For Free?
Viddyoze doesn't have a free plan. So if you must use Viddyoze, you can secure the one-time Personal plan.
Viddyoze Review: Conclusion
Viddyoze is one of the best video creation tools worth adding to your suite of tools. As an innovator, Viddyoze has a bright future that can invariably boost your brand.
It's known for being the first to automate animations alongside other features. With the consistency in adding new templates and commitment to improving the software, Viddyoze can be your best bet.
So what's your take on this Viddyoze review?
Have you used it before or just planning to get Viddyoze? Either way, I would love to hear from you what you really think about the software.
And if you have questions, leave them in the comment and I would be happy to provide answers to them.
Learn More: