Viddyoze vs Doodly: Best Video Animation Editing Tool?
In a more realistic sense, Viddyoze vs Doodly cannot and should not be compared edge to edge because the two have their own separate and distinct characteristics.
For instance, Viddyoze is a video animation software, while Doodly is a whiteboard video creator software.
However, you might want to know the differences between both tools and which is best for your video needs. Maybe a video animation software with templates or a whiteboard video software.
But making a dec can be difficult if you have no idea of both software and its features. While both are video creators, they have different styles and approaches.
In a simpler term, Viddyoze is meant for creating and editing animated videos, while Doodly is perfect for whiteboard videos.
Thus, in this Viddyoze vs Doodly review, we will be discussing the differences, features, similarities, and pricing of the two tools and how each of them might be important to your cause.
So in the end, you should be able to know the right tool for what you need to create for your audience.
Let's begin, shall we?
What is Viddyoze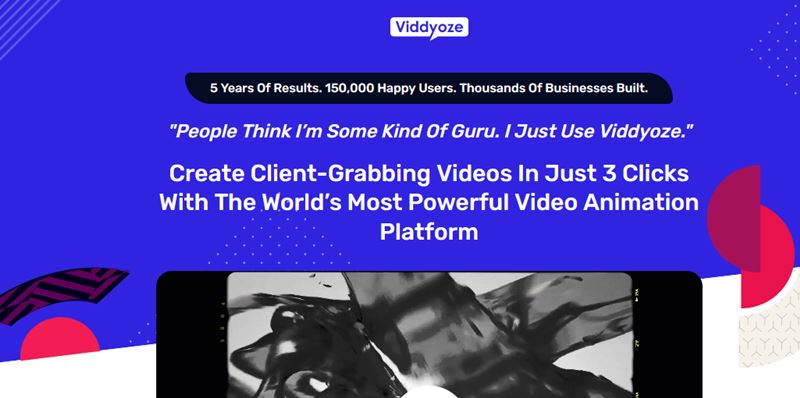 Viddyoze is a cloud-based or SaaS software that allows its users to create video animations,
intros,
logo animations,
outros,
cinematic effects,
video with a call to action features,
video speech bubble effects,
Youtube video animations, and more.
While there are various versions of this Viddyoze (video animation) editing software, one of their recent releases is, in fact, the best seller.
This new tool is known as Viddyoze Live Action; it helps video editors to insert logos on objects that are present already in the video.
Although using Viddyoze for any kind of editing or animation creation entails some certain subscription but yet, this leading software solution comes with a simple and affordable one-time fee, but trust us, it's worth the investment!
With Viddyoze, you can include any astonishing background music to your videos without any negative effect on your work.
And lastly, all kinds of videos created using this tool are usually top-notch and of professional quality.
What is Doodly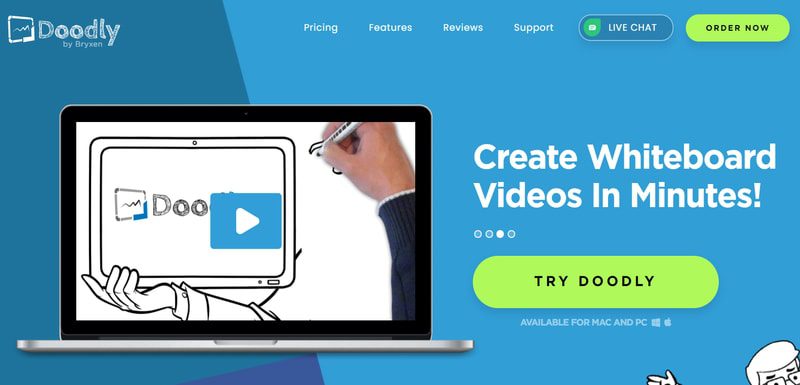 As the name implies, Doodly is a software solution that helps video creators create a Doodle video that generates a huge conversion rate.
It has basic editing tools which make the video creation software very easy to use.
While you might still be struggling to comprehend what Doodle video is all about, it is that aesthetic hand sketching whiteboard video often used for explaining a particular idea.
It entails the use of an animated hand for scribbling texts, images, or logos on a virtual glass board, blackboard, or whiteboard mostly with a voice-over speech or cool background music.
With this leading virtual whiteboard video creation software, you can create unlimited videos using any background music of your choice from its numerous royalty-free music files.
Be that as it may, Doodly unlike Viddyoze is not a SaaS software and as such, it can be downloaded and installed on any computer for use.
To crown it all, Doodly software has proved to be effective in marketing or advertising products and services, most especially by way of Facebook and YouTube ads.
Viddyoze vs Doodly: Differences
The differences between Viddyoze vs Doodly video editing software solutions are not far-fetched. The former is for creating animation videos while the latter is designed for creating whiteboard doodle videos.
So with the Viddyoze software solution, video editors or animators can create top-quality animation in-house video and double their business productivity as well as conversion rate.
It changes everything and paves the way for newbie animators to create powerful and qualitative videos with just a click of the mouse.
Similarly, the Doodly software solution is specifically meant for creating a glass board, blackboard, and or whiteboard videos.
The tool can be used in iOS, Windows, and MAC. It can also be used to create Youtube videos, videos for special events, etc.
The following, are, however, the differences between the Viddyoze video animation tool and the Doodly whiteboard video explainer tool:
#1. Cloud-based solution
Viddyoze is very easy to handle as its users have no reason to go through any tough or difficult stages before using it to their satisfaction.
Unlike Doodly, you don't necessarily have to download any software or tools before having access to it.
That means Viddyoze is a totally featured SaaS or cloud-based solution tool. It is designed with numerous software and editing tools, which can beget any kind of animation.
Moreso, some of these Viddyoze editing tools can be used to generate top-quality 3D animations too.
#2. Virtual Whiteboard/hand scribbling feature
One distinct feature that differentiates Doodly away from the Viddyoze video animation tool is that it is an animated hand scribbling tool feasible on a virtual glass, black, or whiteboard.
The virtual whiteboard and hand scribbling feature of Doodly made the editing software stand out among its competitors in the video editing and creative industry.
Thanks to this feature, Doodly videos record a higher conversion rate with Facebook and YouTube ads.
#3. Very Impressive Compatibility
Viddyoze has a very impressive video rendering facility. This facility solution is designed to convert any animation video into an MP4 format.
This without a doubt is lacking in Doodly.
The value of this particular in-built tool is very great as it can be used to edit contents of any video type as well as any video format present on any web platform.
All these are added advantages apart from the fact that the software renders video files in MP4 format.
#4. Classic Templates
Viddyoze is designed with hundreds of top-quality templates that are effective, flexible, and easy to use. When utilized properly, a very good template can speed up the animation generating process.
#5. Voice-over simulation
Not all video editing software has the voice-over feature. Even the magnificent Viddyoze is lacking this.
However, with Doodly, you can record or import any voiceover file of your own without any issue.
Better still, Doodly allows its users to use their voice (if necessary) or hire a professional to do it for a token.
#6. Viddyoze Live-Action
Anyone familiar with the Viddyoze editing tool will know and understand all the hype surrounding the Viddyoze Live Action feature.
This software may be known for creating top-quality video content with amazing professional touches, but the Live-Action takes Viddyoze to another level.
Viddyoze vs Doodly: Features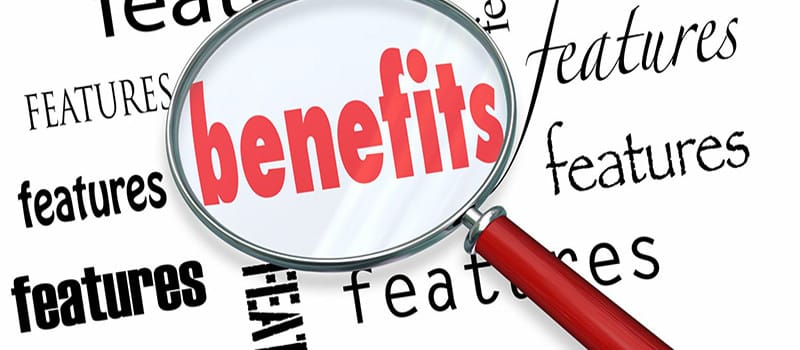 With the Viddyoze software solution, animators stand the chance to create stunning animated video content within a short period with just a few touches and clicks.
The software is used for producing Logo intros, Video Transitions, Cinematic Text, Filters, and more.
On the other hand, Doodly is also used for creating professional and high-quality virtual whiteboard hand scribbling animated videos.
It is so efficient that a first-time user can use it to create an explainer video in no time.
With these software solutions, corporate bodies and video marketing agencies can use them to produce custom-made video animations to attract their target audience.
Features of Viddyoze
One-click alpha animations advantage;
Existence of watermarking facility;
Unlimited customizable animations;
Existence of top quality templates; and
Point-and-click platform.
#1. One-click Alpha Animations Advantage.
One of the features that made Viddyoze one of the leading animation editing tools is the free license the software solution provides, users, for the one-click alpha animations creation.
As a key user of Viddyoze, the tool allows animators to create one-click alpha animations and this means that on-screen video calls and transparent lower thirds can be placed simultaneously on top of videos without any negative effect.
They are also customizable and newbie or aspiring animators can use the feature to their advantage with just a few clicks of their mouse.
#2. Existence of Watermarking Facility
Other than using Viddyoze to satisfy one's pleasure or desire, it can also be used to earn money by creating animated videos with one imprint through the use of the watermarking facility to indicate a copyright and ownership right.
By merely adding a watermark imprint to a video animation content, that video is safe. No one else can remove the watermark effect anymore except you.
By that, you become the original owner and you'll be able to maintain that even if someone infringes your copyright right.
#3. Unlimited customizable animations.
Viddyoze also helps its prosperous users, with unlimited and fully customizable animations within a short while for their business.
It also breathes a new life to the pre-existing content by increasing its engagement rate, retention value, and conversions.
Plus, it also enhances the creative department in boosting their productivity, by making their animated video creation even faster than before, smarter, value-driven, and easier than ever.
#4. Existence of Top-Quality Templates
There are over one hundred top-quality and easy-to-use templates on Viddyoze. Like clockwork, more professional and brand new templates are added to this software solution library every month.
This means Viddyoze has tons of templates that can suit any business organization or video marketing agency's taste in terms of video creation with certain custom palates. Even newbies have folds of professional-like templates to choose from.
#5. Point-and-click platform
The point-and-click platform is designed by the Viddyoze team in order to enhance any animation creator to create high-quality animation videos of their choice that can rival any expensive freelancer, video marketing agency, or professional animator.
This point-and-click in-built tool is user-friendly as it requires no technical know-how but rather ZERO experience from its users.
Features of Doodly
Unlimited custom images;
No technical skills require;
Compatible with any system;
Saving and exporting feature; and
Regular updates.
#1. Unlimited custom images
There are over one thousand custom images on Doodly and they are all meant for the whiteboard video creators' consumption.
The images are there in their original form and not stock images.
So using them to aid your hand scribbling videos will bring out the uniqueness of your whiteboard sketching video.
#2. No technical skills required.
You don't necessarily need to learn how to use Doodly before you can create a video aimed at advertising your business, products, or services on YouTube, Facebook, or any other social media platforms.
Better still, if you choose to learn how to use its salient features, it is very easy too as you are not required to have any tech skills or design.
#3. Compatible with any device
Although Doodly isn't a SaaS tool, it can be installed on many computer systems without one affecting the other.
The designer of this tool places no restrictions as to the number of users that can run the program simultaneously using the same and single passkey.
#4. Saving and exporting feature
You can save all the hand-sketched videos you created using Doodly on your device or Doodly library.
You can equally share them on Facebook, Instagram, Youtube, Pinterest, etc. And you can publish them directly on your website.
#5. Regular updates
Not being a SaaS tool doesn't limit Doodly from regularly updating their software. In other words, Doodly regularly updates its software to stay competitive by providing more features.
Whenever Doodly rolls out a new update, you are automatically notified to update your software.
Irrespective of when you bought the software, you have access to all future updates.
Viddyoze vs Doodly: Pricing
Lets compare the pricing structure for both software and see how they fare against each other.
Viddyoze pricing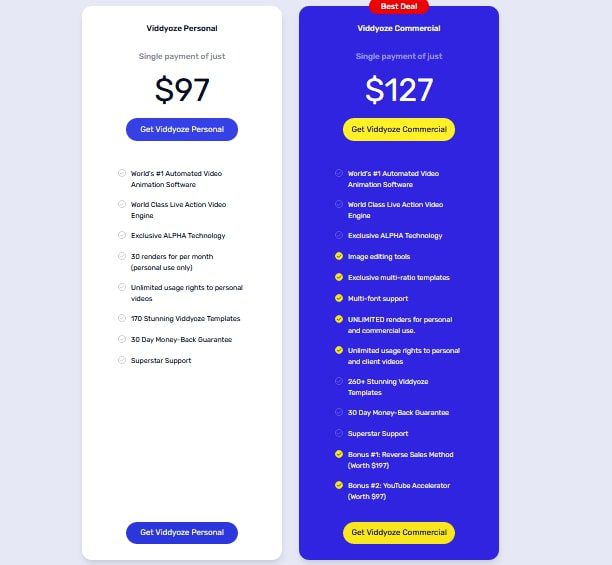 Viddyoze is one of the highly-rated video animation software in the video marketing industry. However, to have full access to all its salient features, you need to subscribe to any of the three plans: Personal, commercial, and agency plan.
The Personal Plan
For one-time pricing, the personal plan will cost $67 and the passkey can only be used by a single person. This plan is purely basic and it is meant for newbie animators, small business owners, and more.
Commercial Plan
The one-time pricing fee for the commercial plan is $97 and the plan is a perfect pick for professional video editors and marketing agencies with tons of clients and more.
Agency Plan
The Agency Plan is the best Viddyoze subscription plan out of the three. It cost up to $500 for an hour session. It is costly but meant for businesses that are committed to something big.
Pricing for Doodly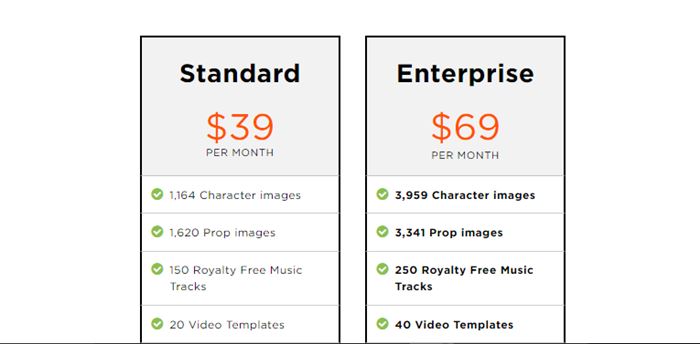 Although much has been said about Doodly being an easy-to-use and easy to download video editing tool, it is, however, important you note that the software solution cannot be enjoyed without a subscription.
Thus, there are two subscription plans available on Doodly and they are;
Standard plan; and
Enterprise plans.
With these two plans, you can choose to pay for either of them every blessed month or save the money and pay it annually.
The Standard Plan
The Doodly plan can be acquired at an affordable price of $39 per month or $240 per year.
This plan allows subscribers to create unlimited animated hand sketch videos using multiple computers at a time.
It also has over 800 characters with more than a thousand props and images. Most importantly, there are 75 or thereabouts music tracks that are royalty-free.
The Enterprise Plan
This particular plan costs $69 per month and $480 per year (if you're billed annually). It also has over 3,000 props and images, more than 3,500 characters with 150 (royalty-free) music tracks.
As an Enterprise plan subscriber, you are given free access to the Doodly Club which offers new brand characters and professional images every month.
Viddyoze vs Doodly: Final Thought
Making a choice between Doodly and Viddyoze doesn't have to be hard.
If you will be creating an advertisement for your new business or you need more conversion rate for your existing business, you should use Viddyoze to create an animation like logo, intro, outros, and more.
On the same note, if you are more interested in making new and untapped videos from the scratch using the virtual whiteboard paper, glass board, or blackboard effect, then Doodly is the best tool for the job.
As you can see they all boil down to what you want for your business and what you really need to create.