Viddyoze vs Filmora: Best Video Customizing Software?
In today's post, I'll be comparing Viddyoze vs Filmora for your video production and also answer the majority of the questions you might have.
Viddyoze and Filmora are two popular video editing software that makes video editing easy. Both tools have their benefits and shortcomings.
While Viddyoze is known to be the king of video animations, Filmora holds the record for being one of the best video editing software. But they both have features that overlap.
For instance, these video editing tools are designed in such a way that you can create or edit the best effect out of any video.
Viddyoze and Filmora let you create or edit videos in a variety of ways and manners which will impress and captivate your viewers' imagination.
Also, with both software, creating a video or any magnificent presentation doesn't require you to break the bank, not with Viddyoze and Filmora anymore.
You equally don't need to have a background in graphic design or animation before you can create or edit videos. Thanks to digital tools like Filmora and Viddyoze. Everything is now as easy as it could be.
As you can guess, they are both amazing in their ways.
And for this reason, picking one of the two amazing software (Viddyoze vs Filmora) can be a difficult decision.
Nonetheless, this article will unravel the differences, features, pricing, similarities, and more between Filmora and Viddyoze software.
Hence, take your time as we paddle you through this comparison post between both tools.
If you are in doubt as to which of the two video editing software will be ideal for your project, going through the following subheadings will provide you with details that fit your needs and budget.
Let's get started Shall we?
What is Viddyoze (Video Animation Software)?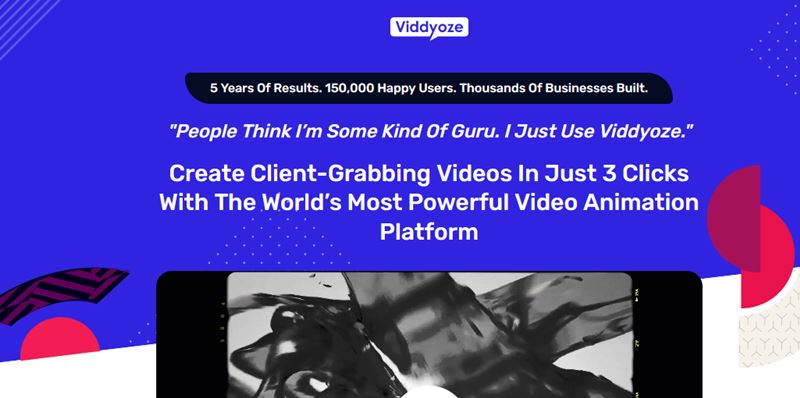 In a simpler term, Viddyoze is a 3D animation software and an online video creation platform that makes video animation creation easier for anybody.
Regardless of not having the technical know-how, you can create amazing professional animations with a few steps and clicks.
Viddyoze as a video animation software was launched in 2015, and the main goal of the designers was to assist businesses, most especially small ones, to create video animations on their own without outsourcing to a marketing agency.
Thanks to Viddyoze, thousands of people are creating video animation on their own without paying any agency for it.
In fact, with diligence, anybody can create animation videos in minutes by putting together an introduction, outros, and animation.
What is Filmora (Video Editing Software)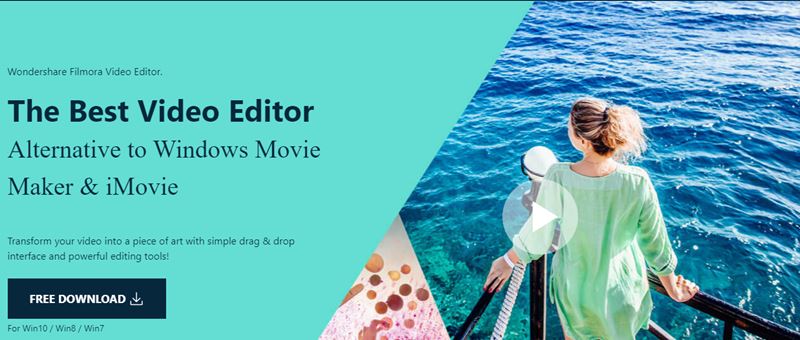 Similarly, Filmora is one of the highly celebrated video editing software designed for the intending users that derive pleasure in editing and creating high-quality videos.
This video editing tool is, without doubt, one of the best in the industry as it enhances editing support for four thousand videos. That is to say, Filmora is a video creation software that can edit nothing less than 4k videos. What a class!
More so, the software is affordable, and it is equipped with tons of tools suitable for editing both video and audio files. Filmora, unlike its counterparts, gives its users folds of options in terms of adding effects, styling, and customizing videos.
It equally gives room for its prospective users to throw in beautiful overlays, come up with nice elements and animations, insert texts and add audio. All these tools among many others are what distinguish Filmora from Viddyoze.
By and large, Filmora is a video editing tool that is specifically designed for those who are interested in making stories, dedication, and tributes videos. Its tools are easy to use, and its voice-over attribute is well scripted too.
Viddyoze vs Filmora: Differences
Although Viddyoze and Filmora are both responsible for video customization, it is not as if they are not without differences.
From the foregoing, Viddyoze is said to be an animation software that allows its users to create top-quality and in-house animations that can enhance their productivity.
On the other hand, Filmora is an intuitive and powerful video editing tool that is mainly designed for creating and editing exceptional videos. It is modern, user-friendly and it comes with tons of tools that can perform several actions like editing, trimming, rotating, video cutting within minutes, etc.
While speed, modern technology, reliability, and scalability are the core factors of Viddyoze, Filmora also has over 300 amazing effects that support more than 50 video formats. Some other differences between Viddyoze vs. Filmora are as follows:
#1. Video Editing
Obviously, Filmora, unlike Viddyoze, is a video editing tool with a plethora of free preset elements meant for adding some aesthetic qualities to your movies.
Also among them are credits sequences, titles, lower third overlays, emoji, and a range of filters.
#2. Screen Recorder
Another difference between Viddyoze and Filmora editing tools is the screen recording advantage.
This feature is only available on Filmora, and its prospective users can use and enjoy it to the exclusion of Viddyoze fanatics.
That is to say, Filmora has an in-built screen recording attribute coupled with mouse click tracking as well as audio with different quality options. This sounds cool, doesn't it?
So if you are doing any kind of on-screen tool tutorial videos, this particular feature can contribute immensely to your project as you won't have to use a different screen capture app in the course of your recording instructions.
#3. Encoding and Exporting
In the same vein, the ability to encode and export video files is another feature that Filmora has but lacks in the Viddyoze editing tool. While there are several ways to encode digital video, Filmora can encode videos of any kind in almost all the available ways.
The encoding bit rate, format, resolution plus audio formats are available for customization of any kind to meet user requirements. Plus, the exporting process is also easy and relatively simple to use.
What's more, the Filmora exporting feature can export videos to Facebook, Vimeo, and Youtube directly which is yet another brilliant productivity booster for young video stars.
#4. Media Importation
Filmora other than Viddyoze supports amazing numbers of file formats in its media sources, and this makes importation of files from the user's hard drive directly into the Filmora media library lots easier.
#5. Extra Income
Apart from the fact that you can use Viddyoze for creating and editing animation videos, you can also earn extra income from it if you are opportune to get a reseller license.
Such is an opportunity that Filmora doesn't offer.
So with reseller license permission from Viddyoze, you can create value-driven and captivating videos and sell them off online using the Fiverr and Upwork job board instrumentality.
#6. Video Animation Templates
Filmora doesn't offer any video animation templates like Viddyoze. If you get lazy and feel like customizing your videos, even more, you can easily contact the Viddyoze support team to put on the remaining finishing touches on your behalf.
As shocking as this video editing software feature is, it is one of the great differences that distinguished Viddyoze from Filmora.
#7. Simultaneous Video Process
If you are having dozens of long videos to create or you are tasked with completing numerous videos in a day, there's the need for you to get a platform that has the features of multi-videos processing.
While Filmora can not offer you this feature, with Viddyoze Commercial and Agency plans, you stand the chance to process the videos simultaneously without one affecting the other.
Viddyoze vs Filmora: Features
Are you looking for the ideal Video editing software solution that suits your specific budget and requirements?
Well, users like you are usually concerned with the features, user ratings, screenshots, and video editing tools integrations.
Therefore, you will be exposed to the various features that make Viddyoze and Filmora the leading video tools in their respective editing class.
Features of Viddyoze
Live-action videos
Availability of professional templates
Presence of white-label technology
The presence of watermark protection and security; and
Reseller license permission.
#1. Live-action videos
One of the available templates on Viddyoze editing software is a live-action feature. These live-action videos are real videos that can be customized to suit your preferences or needs.
While there are dozens of these templates, you can only access them if you activate the Viddyoze Professional Plan.
#2. Availability of professional templates.
Another amazing feature of Viddyoze software is the availability of professional templates that can be used to create or customize unlimited brand palettes with the use of colors, logos, and more to make one-click templates suitable for a whole team.
#3. Presence of white-label technology
White-label technology is a feature that allows users to send the previews of their custom-made animation videos to their fans together with their imprint.
With white-label technology, users of this editing software will be free from multiple edits as well as back-and-forth communications.
Also, this feature is very helpful in a situation where a particular user wants to showcase his portfolio in a bid to attract potential clients or show his customers a preview of his work for them to know his level of expertise about animation video creation.
#4. The use of watermark protection and security
A watermark is meant for inscribing your brand name or imprint on all animation videos you created. Its purpose is to protect your account as well as artistic works from digital theft
The watermark is also a perfect way for young and aspiring animators to showcase their brand, most especially, those that are in dire need of more clients.
However, this Viddyoze feature is only available to users that have an agency account. In case you want to get one for yourself, visit their official website for more details.
5. Reseller license permission
With Viddyoze, you can get a reseller license permission and as such, monetize your great and amazing videos.
Be informed that this opportunity doesn't in any way interfere with your other purpose of creating such videos.
What it means is that your source of making money with the animation videos you created has become two-way traffic.
And if you like, you choose to concentrate on the video (add-on) marketing services or whatever works better for you!
Features of Filmora
It has a simple and minimalistic interface
Availability of user-friendly editing modes
GIF Support
Absolute noise removal feature
Color tuning feature
#1. Minimalistic and simple Interface
The simple, as well as the minimalistic interface of Filmora video editing software, is one of the reasons why it is recommended for aspiring video creators; anybody can learn and understand how to use this editing software in few minutes.
Even the software drag-and-drop interface is very easy to grasp, navigate or use which contributes immensely to the overall workflow in the course of editing.
#2. User-friendly editing modes
Filmora has two "mode" features that are both easy to grasp and use. There is Easy Mode and there's full Feature mode.
The Easy Mode will automatically create a video for you. All you needed to do in this situation is to import your desired clips, preferred music track, and a programmed theme.
Filmora will do the editing, analysis plus any other necessary aspect of the video creation for you.
Both the feature and " Easy mode" are perfect for newbies in the industry that don't want to spend much of their time creating simple but need clients to give video creation gig to them.
#3. GIF Support
There's also a GIF support advantage to all Filmora fanatics. The software gives room for GIF file importation, editing, and exporting freely without any cause for alarm.
#4. Absolute noise removal feature
If you're creating a new video clip with Filmora in a lousy and noisy environment or you have an already made clip full of unwanted background noise…
This feature will facilitate the absolute removal of noise without causing any damage to the video contents and originality.
#5. Colour tuning feature
Equally, this highly sought video editing tool has a color tuning feature that enhances its users to conveniently adjust the dynamic range and white balance of their video clips.
Viddyoze vs Filmora: Pricing
Having succinctly explained the meaning, features, and differences between Viddyoze (video animation editing tool) and Filmora (video editing tool), it's ideal we take a look at their pricing so that you can determine which of the two fits into your budget.
Hence, let's take them one after the other.
Viddyoze Pricing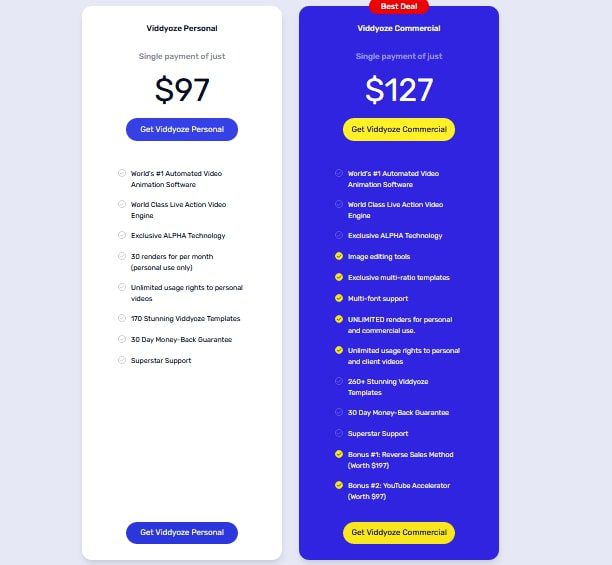 Viddyoze, being an amazing video animation software solution, offers three distinct pricing plans to its potential users and they are:
Personal plan;
Commercial plan; and
Agency plan.
1. The Personal Plan Pricing.
The personal plan one-time pricing is available at an affordable rate of $77. This plan is basic, and it's ideal for newbie animators, solopreneurs, and small business owners.
This is so because of the limited number of services it renders per month.
2. Commercial Plan Pricing
This plan is an ideal pick for marketing agencies that are on the verge of establishing a large-scale profitable venture, solo digital marketers with different clients, social media influencers, YouTube creators, and schools that are willing and ready to up their brand. The one-time pricing of this plan is $97.
3. Agency Plan Pricing
According to Viddyoze, their Agency Plan is said to be the best and perfect plan for businesses that are ready for huge success.
This is because they could pay as much as $20,000 per month or $500 for an hour.
This plan has a 30-day money-back guarantee, 1,200 templates, customizable plan, watermarking feature, white-label technology option, and a host of other interesting features.
Filmora pricing
Being one of the leading videos creating and editing software solution, the Filmora licensing key or paid plan is available in three categories too and they are:
Free plan;
Annual plan;
Lifetime license.
In the same vein, there are other three categories of Filmora plan or license that is based on the class of users, and as such, they are:
Individual license;
Business license; and
Educational license.
1. Individual License plan
The individual license is a plan that is meant for a single user and it costs US$39.99. This pricing is one-time and it has limited features.
Also, it's only a single person that can use the access code i.e. Filmora individual license key cannot be simultaneously used by two individuals.
2. The Business License Plan
The Business license key cost $139.99. Usually, this plan is often purchased for commercial purposes, however music tracks features aren't available here.
3. Educational License Key
Lastly, Filmora educational license key can be obtained at the rate of $59.99. Like the business plan, the educational plan is also flexible, customizable, and can be accessed by several users at a time.
Viddyoze vs Filmora: Conclusion
It's obvious from the above discussion that Viddyoze and Filmora are two distinct editing software, though similar but with differences.
I recommend Viddyoze if you're looking for software that's easy to use and quick to deliver. With its templates, you can get the job done quickly. And it's quite affordable considering the one-time fee.
Best for YouTubers and video creators that are solopreneurs and need to create a lot of quality videos.
And for Filmora, it's best for the video geek that needs more professional and custom touches on videos. Filmora offers more advanced editing features for advanced videos.
It's best for individuals that need more flexibility.
Also, Filmora is likewise affordable too.
So that's it on Viddyoze vs Filmora, the decision is up to you now. Which are you going for, is it
or
Let me know what you think in the comment section.
Learn More: