Viddyoze vs InVideo: Best Video Creation Software?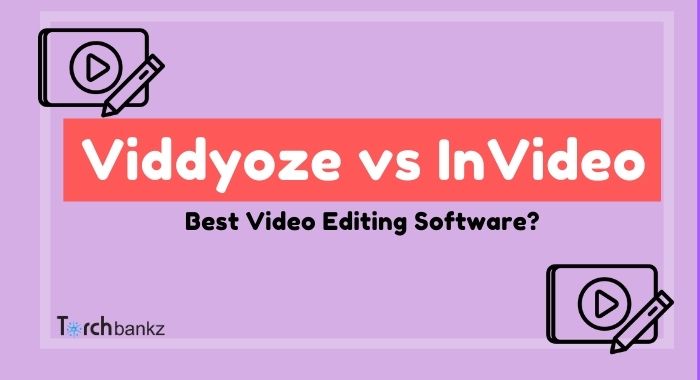 Are you stuck making a choice between Viddyoze vs InVideo? Here's a detailed comparison of both video creation software and a guide to choosing the best tool.
To start with, Viddyoze and InVideo are two of the best video creation software in the industry.
Viddyoze is an online video animation creation tool with lots of professional templates that are user-friendly and work well for aspiring or newbie animators that are just starting.
InVideo on the other hand is another magnificent video creation software solution with unique features such as pre-made templates, image library web, royalty-free music tracks and to round it up, it's pocket friendly.
Both have lots of features that make it difficult to make a decision.
In this article, I will compare them, highlight their differences, analyze their features and pricing tag in a bid to open your eyes to the perfect software solution that will work right for you.
Without further ado, let's dive in.
What is Viddyoze?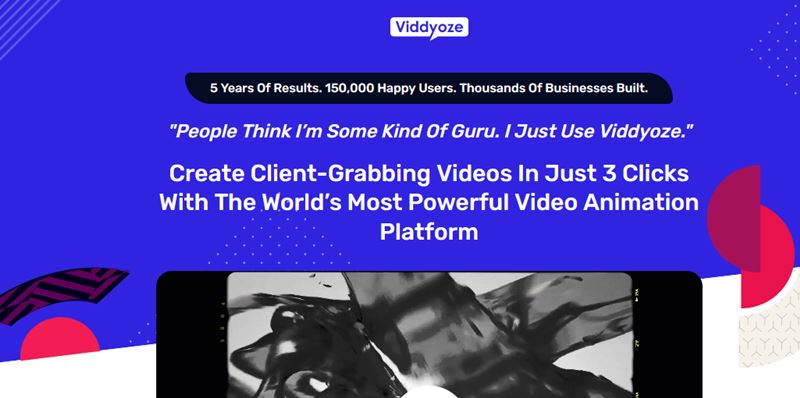 Viddyoze is an animation video creation tool. It was launched by David Chamberlain, Joey Xoto, and Jamie Garside in 2015.
And ever since then, it has gone a long way to be one of the leading video animation creation editing software solutions.
The cloud-based animation software was designed in such a way that a first-timer will be able to create professional and top-quality videos via the use of desired templates stored in the software library.
Before the twinkle of an eye, with the Viddyoze editing tool, you can create a logo video, intro, outro, and personalized animated videos.
All you have to do is to pick your desired design, logo, wordings, graphic, hit render, and voila, you have your video.
What is InVideo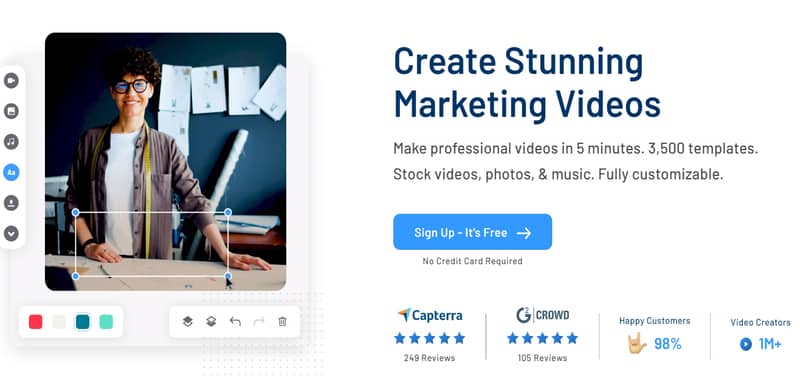 InVideo is an online video creation and editing tool with folds of unique and top-quality features.
InVideo allows its users to create and edit their videos in the easiest way with the use of promo video templates such as the intro, outro, animation video, logo video, and more.
This editing tool enhances small businesses, marketing agencies, freelancers, social media marketers, animators, and lots of others to improve their service engagement with tons of interactive professional videos.
While InVideo was launched in 2017, the editing tool has grown to become a household name in the video creation and editing world.
It has many fantastic features that work well for both professional and aspiring video creators and budding marketers.
Viddyoze vs InVideo: Differences
Making the right choice between Viddyoze vs InVideo may be confusing sometimes. While both have a lot of similarities, here are some differences to weigh your options.
#1. Dynamic nature.
InVideo is dynamic and very flexible to use. With this editing software, you can create any kind of video of your choice without any limitations.
Here, video editors can make an animation video if they wish to, a promotional video, explainer video, and a lot more.
Although Viddyoze is a trusted and complete template-based editing tool that allows its users to pick, personalize, and use any template they like; it is not as dynamic, flexible, and soft as InVideo.
#2. Video Creation without Templates.
The quality of videos made with the Viddyoze tool is usually great and there's no doubt about that, but the options to make new videos from scratch are not present or that effective on Viddyoze software solutions.
That is to say, it is practically impossible for you to make an animated video with Viddyoze without using the templates. Such is one of the downsides of Viddyoze.
#3. Affordable subscription Plan
In terms of better and affordable pricing, InVideo has a great and affordable pricing rate for a one-time subscription plan compared to Viddyoze.
That is to say, the former will be better for personal users while the latter is encouraging for large-scale businesses.
Also, Viddyoze pricing is affordable to some extent.
But should you compare its subscription plans with that of InVideo, then you will realize that it is not worth it that much when you can actually get a similar feature using the InVideo editing tool.
#4. Video length
In this aspect, Viddyoze has an upper hand over its counterparts. It enables its user to make videos for a longer period.
InVideo, however, doesn't allow its user to spend more than 15 minutes (on the maximum) to create videos.
#5. Extra Income
Other than the fact that Viddyoze is perfect for creating and editing video animations, prospective subscribers also stand the chance to earn extra income using the editing tool if you are so lucky to get a reseller key.
This opportunity is not available on InVideo.
Thus, with a reseller license from Viddyoze, the subscriber can create powerful, value-driven, and top-quality videos and sell them to interested buyers on Fiverr, Upwork, iFreelance, and other available video marketing job boards.
Viddyoze vs InVideo: Features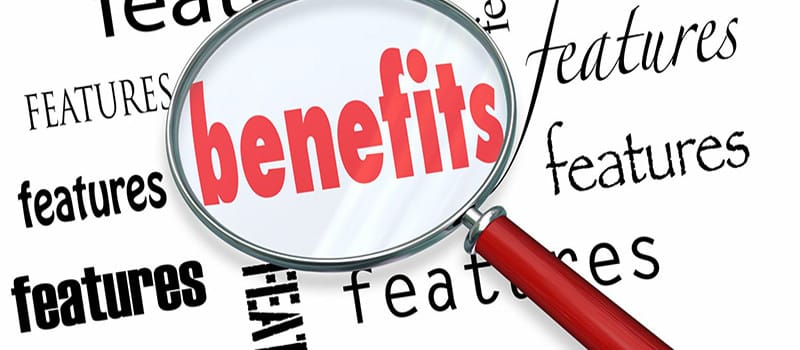 From the foregoing, a lot has been said about Viddyoze being a template-based animation video software solution.
Using Viddyoze as a social media influencer or digital video marketer means you will be able to use numerous templates and media without session.
On the other hand, InVideo is built with folds of excellent templates capable of creating any kind of video; be it logo video, animation, intro stringer, and more.
These universal templates are designed to enhance users to come up with any type of video making.
Features of Viddyoze
Unlimited Professional templates;
Cloud-based software;
Unlimited video renders;
Unlimited usage rights; and
White-label technology.
#1. Unlimited Professional Templates
Within doubt, what makes Viddyoze one of the highly sought animation video editing tools is its web of professional templates.
Subscribers have over 700 categories of top qualities templates to choose from this video software solution template club feature.
#2. Cloud-based software
Another goldmine feature of the Viddyoze editing tool is that the software is cloud-based or SaaS technology and it enables all its subscribers regardless of the plan to create beautiful animation videos from anywhere they deem fit.
#3. Unlimited video renders
With the Viddyoze editing tool, users of any class can create 3D animation videos without recourse to any particular expertise.
The tool aids animators in creating best-in-class animation films in no time.
Thus, if you will be using Viddyoze for the first time, be rest assured that this cloud-based software will enhance your videos with much-needed glamour or effigy to convert your prospective audience's attention into action.
#4. Unlimited Video right
Viddyoze has a tool that can be used to create a copyright imprint on any animation video made using the software.
This particular feature is known as watermarking. With it, you will enjoy unlimited video copyright on every single video you make.
By this, your brand will be known beyond your jurisdiction and you stand the chance of getting sponsored content that will fetch you money or getting new clients that will offer you landmark animation video creation projects.
#5. White-label technology
The White-label technology feature allows Viddyoze users to forward the previews of their personalized or custom-made animation videos with their imprint to their fans as well as prosperous clients.
With white-label technology, animators using this editing tool will be free of incessant edits or back-and-forth communications.
Features of InVideo
Premade templates design;
Text to speech feature;
Live support;
Ease of use; and
YouTube intro and outro feature.
#1. Amazing premade templates design
InVideo has several in-built templates that can be used to create videos from scratch.
It has Facebook Ad templates that are necessary to boost your traffic or lead with professional ads.
So if you are a content creator or brand manager on social media platforms and wish to improve your business brand value, the InVideo is the perfect deal for you.
Not limited to that, there is an Instagram video editor too that enables you to create engaging videos for Instagram marketing or adverts.
Similarly, there's also YouTube End-Screen templates that enable users to access customizable templates to make amazing videos for YouTube
#2. Text to speech feature
Categorically, the text to speech feature is really a great added advantage that you will be getting alongside a video editing tool.
This is a feature that video editors and professional animators are paying extra money to get.
Most often, editors using some other kind of video creation software solution will still have to go for text-to-speech tools like Speechelo before they can perfect their work.
However, InVideo offers this tool on a platter of gold to its subscribers.
#3. Live Support
InVideo has a live Support feature that is easily accessible to its users and prospective subscribers.
They can in the middle of editing or video making contact with the customer care service through Live Support and instant response or help will be rendered.
If for instance you are working on a video project and you are stuck in the middle of editing, you can contact InVideo Live Support for an assistant on what to do next.
#4. Ease of use
The beauty of an editing tool like InVideo does not only lie in the intuitive templates.
It has to create any kind of video from the scratch but also in the easy-to-use built-in tools that make the whole content or video creation process simple and easy to do.
In a simpler form, InVideo's ease of use, user interface, as well as user experience is real and fantastic.
I love the option of using videos gotten from Shutterstock to make and create a better version of it in an easy way and form.
#5. YouTube Intro and Outro feature
In the same vein, InVideo has a special in-built tool or templates specifically dedicated to making sound and energetic intro and outros for YouTube videos.
That is to say, this editing tool is no doubt majorly designed for social media influencers, YouTubers, digital video marketers and then, others.
These features equally don't require any form of experience or level of expertise before users can handle them. Any editor, whether newbie or veteran can actually make the best out of them.
Viddyoze vs InVideo: Pricing
Let's go over the pricing plan for both tools and see how they fare against each other. If you're peculiar about your budget then this is something you want to look into.
Viddyoze Pricing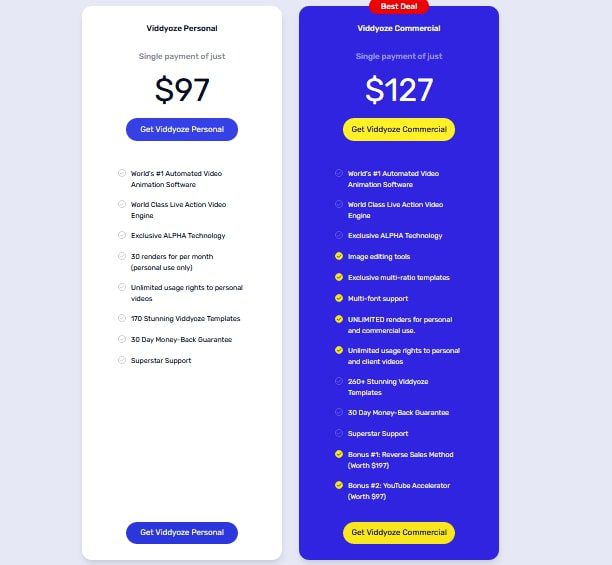 Before subscribing to any plan on Viddyoze, you should understand all your options. There is a separate plan for aspiring editors, newbie animators, and individuals.
There is a plan for commercial purposes e.g social influencers, freelance marketers, and more and there's another one for agencies.
So if you don't understand these options, you might end up paying for a plan you don't need or you don't know how to operate.
Without much delay, the following are the available pricing on Viddyoze cloud-based video editing software.
The Personal Plan
Viddyoze personal plan with one-time pricing is available on the software official page at the rate of $77 and the license key is only meant for a single person to use.
This is means, two users can't access the tool simultaneously using a single passkey.
Commercial Plan
Also, the commercial plan one-time pricing is available on the Viddyoze official website at the sum of $97.
This plan is perfect and an upgrade of the individual plan. It is ideal for marketing agencies, professional video editors, and more.
Agency Plan
The last and most costly Viddyoze plan is the agency plan. Initially, this plan is not designed for individual or small-scale businesses.
Subscribers of this plan are often facing huge projects to deal with. Hence, they are usually obliged to go for this plan. However, Agency Plans cost $500 an hour, huge right?
InVideo Pricing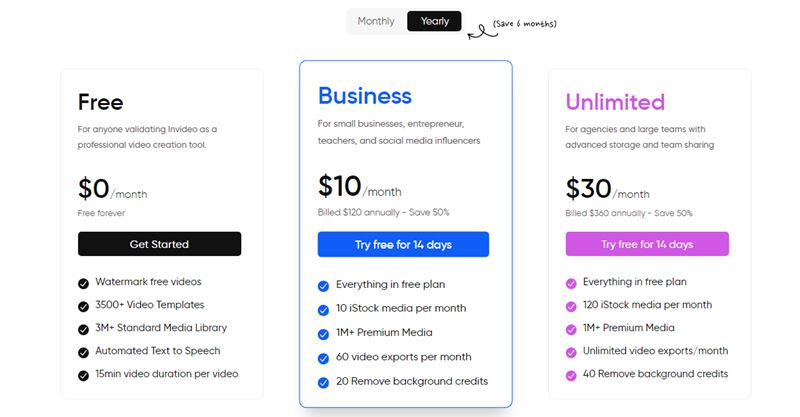 Compared to Viddyoze, the pricing of InVideo is a bit simple and much cheaper than what it offers.
The InVideo business plan is available at the rate of $120 per annum, and if you will go for the unlimited plan, then it will cost you nothing more than $360 for a year.
In a nutshell, a business plan is $10 per month and an unlimited plan costs $30 per month. Not limited to that, you can enjoy a 14 days trial before you finally subscribe.
Regardless of your purpose for buying a video editing premium tool, contracting with InVideo on this is recommended.
It looks like a crazy deal to me. You will be paying less than half of the annual subscription fee of the Viddyoze Commercial plan for yearly unlimited access with InVideo.
Viddyoze vs InVideo: Final Thought
From the foregoing, one can easily deduce that both Viddyoze vs InVideo is video editing tools with amazing professional quality templates.
They are both good for running ads on any social media channel and they can equally be handled by aspiring editors.
However, if you are running a big advertising firm or you are a social media marketing expert with a keen interest in video animation ads, I specifically recommend Viddyoze for you.
It has some other features that can serve you right but are lacking in InVideo. Features like Live-Action, direct importing or exporting of contents to and from social media, etc. are exceptional on Viddyoze.
On the other hand, InVideo is recommended to solopreneur animators or medium-scale advertising agencies.
Aspiring animators or newbie editors, schools, and social media influencers.
The reason being that InVideo has some premade professional templates that allow users to create any type of video from scratch.
Conclusively, Viddyoze is costly but InVideo is relatively affordable.
Yet, they both allow animators or editors to create stunning videos that will help them grab their followers' attention with maximum return.
Over to you now, which one is it going to be?
or 
So what do you think about this Viddyoze vs InVideo? Let me know what you think using the comment section.
Read More: