What is Vendasta? Everything You Need To Know About It
Vendasta is a white-label platform built to help B2B companies provide marketing solutions to local businesses.
In addition, it helps SMBs to expand their businesses, one of the means is to help them create a brand and make it theirs.
Also, it helps build a business and sees it through from the beginning to the end.
Vendasta deals with partners that belong to some digital groups and offers local businesses digital solutions to help them grow and succeed physically and online.
Their businesses would thrive over anything that would seem to be a barrier.
For instance, during the Covid-19 pandemic period three (3) years ago, customers were able to get through to these companies through the Vendasta platform.
What Does Vendasta do?
Vendasta builds software to help small and medium business owners with digital marketing.
It helps them in the promotion of their brands by giving them the possibility of connecting with potential customers.
It helps these local businesses to effectively make use of the basic concept of digital marketing, which are;
Search Engine Optimization (SEO): This strategy is one of the most unique digital marketing concepts that help make a business's website rank high when people search using search engines like Google, Yahoo, etc.
Email marketing: Most people don't know that this is the cheapest, most preferred, and most effective digital medium. Through this medium, you can build a subscriber list with ease and also send emails to your specified audience
Content optimization: Digital experts say content cannot be overemphasized in digital marketing. Consistent content update on any social media platform plays a crucial role, as long as it is fluent enough and does not contain grammatical errors.
Marketing analytics: This includes platforms like Vendasta. Marketing analytics helps you understand your customers and digitally track and analyze their impact on your marketing efforts. 
Who is Vendasta for?
It is meant for people that do online marketing, helping local business owners, including:
Local banks
Broadcast media
ICT
Radio
Brands and multi-location businesses
Telco
Agencies
MSPs
VARs
Newspapers
Martech/ Adtech
Technology platforms (ISVs)
Vendasta refers to these local companies as "cloud brokers" or "trusted local experts" synchronously.
They call them these names because they are the ones (Small-Medium Businesses) SMBs call for help.
This has helped develop a great familiarity between them. They share a lot in common because they've been together for years.
How Does Vendasta work?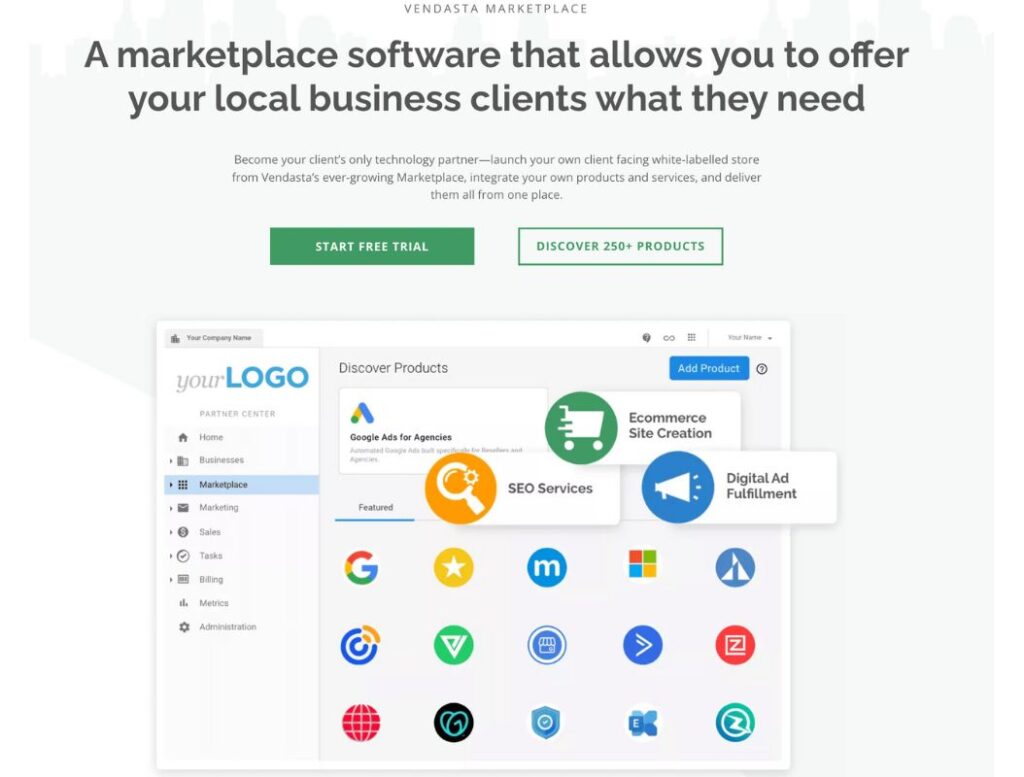 Vendasta is your go-to platform for all your marketing needs. Let's see the breakdown of how it works for your business.
Acts as a Marketing Agency Software
Because it is a marketing agency software, you get to do a lot at one point. Some of these include;
Task management
Automation
Order fulfillment and billings.
All these will help you manage time and resources. It will also help you meet several deadlines, and you won't have to carry out repeated actions.
Most importantly, you will not have to bother about delayed payments as payments are made on the Vendasta platform.
The sales automation features help you to predict what your clients want and the result of the solutions you aim to provide.
Gives you a MarketPlace
Vendasta has a marketplace where you can build your store from. The store has about 250 curated products that you can choose from.
This does not negate the fact that you can also bring in your products.
In the marketplace, you do not have to pay any commission fee or RPFs. Most importantly, you get to build a huge customer base because of the wide range of products you have to offer.
Scales your business at a reduced cost
Vendasta has provided all you need to take your business to the next level. Vendasta provides you with business insights that you can use to pitch to customers.
This is because you can see what condition the prospective client's business is in. With that, you can propose the right solutions to their needs.
Offers you branding
Vendasta has a white label that can help you render all the services that had been mentioned under your brand name.
This means that your client would not get to know that you are operating under Vendasta. This will give your brand more credibility and trust.
In all, Vendasta helps you to deliver the right technological solutions to your clients.
Seeing that most of these services are paid for on either a monthly basis or yearly basis, you get to generate recurring revenue.
How Much Does Vendasta Cost?

It comes in three pricing plans that you can choose from considering the features that each of the pricing plans has.
Individual – $119/month
This pricing plan grants you access to the following features-
1 team member seat. This means that apart from you, one additional user is granted access.
Invoicing and payments.
5 Website Express can be included.
5 Social Marketing Express
5 Reputation Management and custom voice-over Express can be included
For any additional Express product you intend to add, it will cost you a monthly $5 per product.
Access to weekly training and workshops
5 Snapshot reports per month. The Snapshot report is a good marketing assessment need. It makes prospecting for new clients easier. You could look into their marketing tactics and see what they need to do to get better. You then offer them your solutions to those needs.
For any additional snapshot report, it costs $2
Team – $579/month
This pricing plan offers all the features in Individual, including-
5 team member seats
20 Social Marketing Express
20 Website Express
20 Reputation Management and Custom voice Express
White-Labelling
20 snapshot reports per month
Partner Development team support
Onboarding at no cost
Advance – $1159/month
This pricing plan offers all the features in Team, including-
50 team member seats
200 Website Express
200 Social Marketing Express
200 Reputation Management Express and Custom Voice Express
200 Snapshot reports per month
API support
FAQs about Vendasta
Here are some Frequently Asked Questions about Vendasta;
How old is Vendasta?
Vendasta is 14 years old and still counting. It is robust and has over 250 solutions in the Marketplace, multiple user types, control centers, and a lot of settings for the white-label pattern.
Who owns Vendasta?
The mastermind behind Vendasta is Brendan King. He's the CEO, and also the innovative force of the platform.
Is Vendasta a SaaS company?
Yes! Vendasta is a SaaS-based company because it has a website that is available and accessible to all local business owners—everyone, literally.
What is Vendasta used for?
Vendasta is used for diverse marketing functions. Vendasta can be used for tasks such as work automation, white labeling, and CRM. Email marketing. It is also a suitable marketplace for your digital products. 
Can I add a link to my custom product on Vendasta?
Yes. You can do that by going to the vendor center. Select the custom product you want to add a link. By the top-right, you will see an integration tab. Click on it and under it, you will see "Access and SSO". Click on the product access URL and add your link. Thereafter, save it.
Is Vendasta a CRM?
Yes, Vendasta is a CRM where you can manage all aspects of your customer's needs, build a sales funnel and track leads.
Does Vendasta integrate with Social Media?
Yes, Vendasta integrates with social media platforms such as Facebook, LinkedIn, Twitter, and even Google My Business. This will help you to run social media marketing for your clients.
Conclusion
Vendasta has provided SMBs with a reliable platform that builds brands' credibility.
This tool helps local businesses to operate at any period or time of the year; it provides them visibility and recognition.
The digital solutions Vendasta offers help to easily discover or interact with different search engines on various websites without any risk whatsoever.
Their core purpose has always been to drive local economies by making all SMBs' brands accessible to everyone.
This software is not just a marketing platform; it is a business support and growth platform.
What are you waiting for?
Hurry up now and sign up. You could begin with its free trial offer if you are still in doubt.