10 Best White Label Website Builder [Ranked & Reviewed]
In today's article, we will be going through the best white label website builders.
White labelling is a popular concept for professionals and organizations in the web or graphic design space.
Many companies like Shopify and Wix specialize in website-building tools.
A white-label website builder is quite different from these companies.
A white-label website builder provides an open platform for professionals to put their branding into an experience.
They are perfect for site builders or any reseller to build a brand for themselves.
That is why it is important to choose the best white label website builder that will give you a good experience.
In this post, I will not only show you what a white label website is but also show you some of the best white-label website builders.
Shall we begin?
Best White Label Website Builder
What is a White Label Website Builder?
A white label website builder is a platform where websites of different functionality, types, and brand are created.
These sites are created to sell to resellers, agencies, or individuals that want to rebrand the websites with their logo, color, etc.
White label website comes in form of a blank sheet.
It can be purchased and rebranded. Websites created on this platform are easy to use and a major part of the work will have been taken care of.
Some white-label companies even go to the extent of hosting any website you get from them.
Usually, little or no knowledge of coding is required.
The white-label website builder has made the creation and reselling of websites very easy.
It has helped a lot of agencies to increase their customer base and also improve website traffic.
Best White Label Website Builder
Below are the list of white label or reseller website buider you can brand as your own.
1. GoHighLevel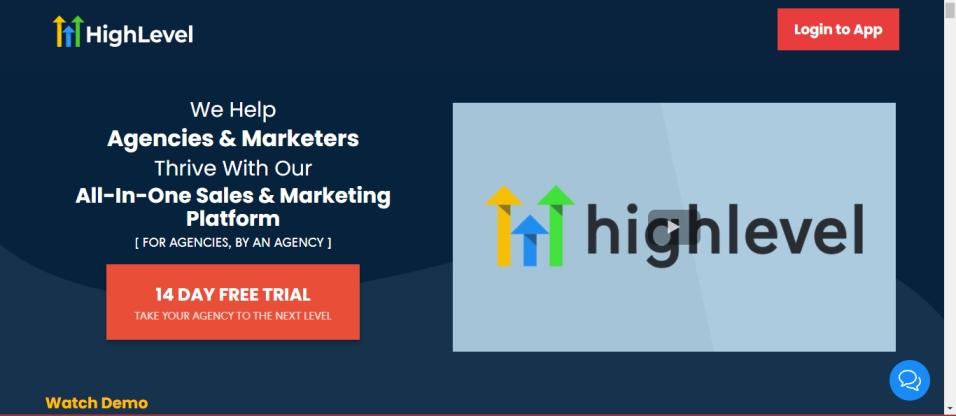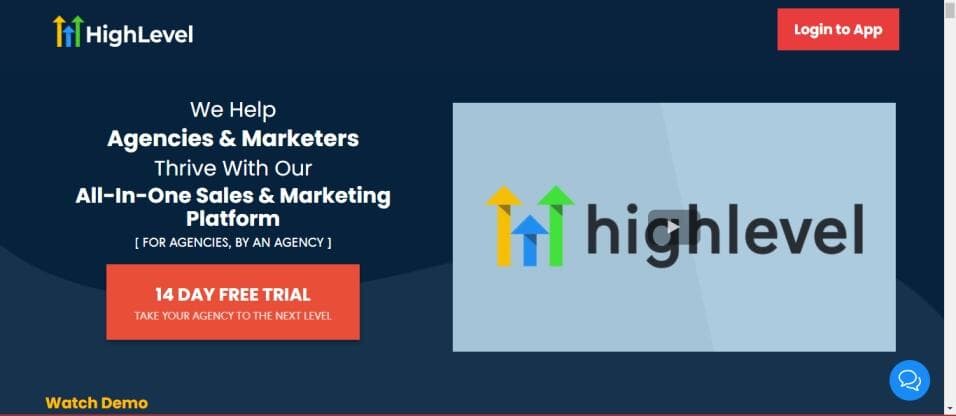 This is an all-in-one website builder that is designed to help you improve customer relationships and boost lead generation.
It also helps you to effectively manage your agency and deliver amazing results to your customers.
Gohighlevel was founded in 2018 to help agencies and small businesses to automate and grow.
People use "Gohighlevel" interchangeably with "high-level" due to the absence of "go" in it.
Shaun was not able to acquire the domain name high-level so he opted for Gohighlevel.com
This tool is very easy to use and allows you to get value for your money.
With the help of GoHighLevel, you can create a website, schedule clients, create landing pages, send broadcast emails and text to contact list, integrates with Facebook for ads.
You can also create triggers and workflow with your clients, etc. it is a perfect option for automation, website designs and also lead generation.
Features
Automated responses
Access to workflow management
There is multi-channel data collection
Customizable branding
CRM is available
Pros
There is a short learning curve
Massive follow-up potential is needed
You can easily track everything including calls, texts, or click responses.
You can white label it easily
Your clients do not have access to the entire system, so they can't steal it.
Cons
It is not a good option for e-commerce
It can be expensive depending on the features you need
Pricing
Go high level offers a 14-days free trial. Then you can choose to subscribe to any of these 3 major categories.
Agency starter account. It goes for $97/month or $972/year
Agency Unlimited account. This plan goes for $297/month or $2976 per year
Agency Pro (white Label mobile App + custom Zap Upgrade). You can get it at $497/month or $4968/year.
2. Simvoly
This website builder is presently the easiest drag-and-drop page builder.
It provides a platform where users can successfully create custom websites, landing pages, etc. with or without prior skills.
You can easily create all you need without many financial implications.
Simvoly allows you to get a creation experience. Things you can design range from online stores to sales funnels.
The sales funnel helps to improve your website design experience. It does not require a lot of HTML or API knowledge to build it.
With the drag-and-drop feature in Simvoly, you can have full control over your web design.
All the features you need to start selling online are included alongside their plugins.
You can go above the basics thanks to a white-label website builder with the help of SEO and design elements.
Features
It allows you to drag and drop when building your website.
There are a lot of beautiful and customizable templates.
Access to SEO management
There is a built-in CRM
You can access custom checkout pages
Funnel creation is possible with A/B testing.
Ecommerce functions easily with Simvoly
Pros
CRM and other cool features are included
There are lots of options to customize your website
The ease at which you can drag and drop builder is commendable
There is little financial implication. The fees are very low
Access to a complete white label package
Cons
It can be complicated in some areas
It is not very popular
Pricing
The pricing start from $59 per month for the white label feature. This subscription varies to $199 per month.
You can learn more about the pricing
Simvoly is significantly affordable compared to other white-label website builders.
There is a free trial that allows users to check it out and see how well it works.
After they have checked it out and had a good experience, they can now decide to invest.
3. Weblium
It is a great website builder that is beginner friendly. Weblium also has a drag-and-drop editor that makes designing easy.
It is perfect for teamwork. You can work alongside your teammates if you choose a paid plan.
Weblium is a SaaS platform that allows you to create any type of website of your choice ranging from landing pages to an online store with a lot of products for sale.
It has an intuitive admin panel, here you can customize your site. You can make the color you want as well as the design style.
Weblium helps to save a lot of time. If you love the idea of building a good and professional website, weblium is a go-to.
Features
Over 300 free customizable website templates
Access to an unlimited number of site pages.
Weblium is known for its high level of speed and advanced SEO setting
Over 250 ready-made blocks are embedded in its flexible page editor.
It can create an online store with just online payments and notifications from Viber, messenger, etc.
Free images are present in its built-in library
It is fully white labeled
Pros
Easy access to mobile-responsive templates
It has an unlimited storage capacity
Customer support is present 24/7
Editing a website is easy
Cons
There is no option for Ecommerce
Available templates do not vary.
Pricing
Weblium has 3 pricing plans ranging from $24/month to $89/month.
4. SellFul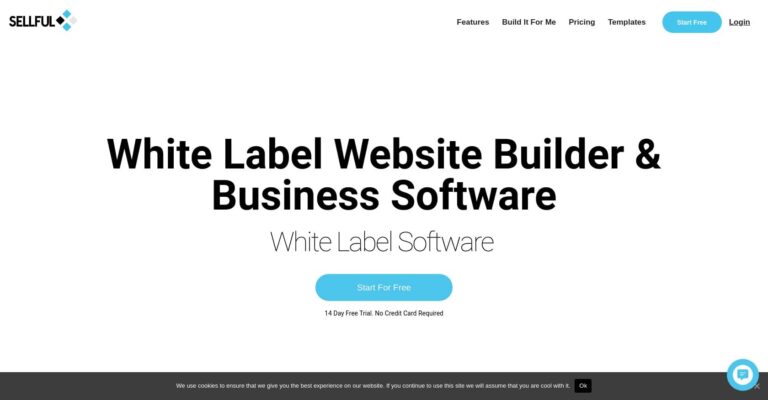 It is a simple website builder that has the drag-and-drop feature.
This feature allows you to create a beautiful and customized site with the help of ERP and CRM functionality.
It has over 200 customizable templates that can be used to create a different type of website desire. SSL is also preinstalled on every account.
Sellful is a good platform that helps you create amazing websites. It also helps you in the management of all areas of your business.
These areas are but are not limited to, project management, appointments, and customer relationships.
Sellful is a white label website builder by default
It has eCommerce management and SEO management. Real-time editing is much easier while creating websites, landing pages, funnels, etc on sellful
Features
Easy access to survey builder templates and themes
You can create a responsive website
Sellful allows you to create landing pages and web forms
SEO management and eCommerce management are available
You can edit your website in real-time.
Pros
It can auto-update itself
It has a user-friendly platform
The presence of drag-and-drop features makes it much easier to build amazing websites.
Cons
The price is on the high side
The sellFul free trial is too short for users to engage it and find out good it is.
Absence of instructions and guidelines especially for beginners
Pricing
SellFul has no free version but a free trial for just 14 days. It has 3 pricing plan
Basic. In basic, you pay a subscription fee of $299 per month.
Small business: a monthly subscription fee of $499
ERP $ SaaS: a monthly subscription fee of $699
5. Duda
This is an impressive website builder that helps you to build your website or an online store.
It has a white-label program that is available for teams and agencies. This program comes with a lot of nice white-label tools.
Duda website is in control of over 450,000 businesses around the world.
It utilizes simple templates and drag and drops editor to create quality and responsive websites for clients.
It is a good option for users that want to design multiple sites. That's why Duda is popular among freelancers and agencies.
Duda allows you to select any template you like so that you can edit it to your taste. It can also host your website for you.
Features
There are landing pages for lead creation
Email notification
Client dashboard for customers is available
You can preview websites
Easy Editing
Client login screen
Pros
several templates are available for use
You can sell sites in your domain name
There are email notifications and updates
A lot of guidance and FAQ support
Amazing white-labeled features.
Cons
It lacks some high level of functionality
The support system has some limitations
Pricing
Duda offers a free trial that allows you to explore its features. After you have seen how well it works.
You can purchase functionality per site. You can also access support at the following prices, $14, $22, or $44 for a month.
There is another custom plan for large companies.
6. Ecwid
This is one of the best white-label cloud-based SaaS solutions.
Agencies can combine Ecwid with their services which include. Software development, marketing, as well as graphic design.
Ecwid is prominent for its ease and fast implementation of instructions.
It provides an affordable platform that allows you to compete favourably in the market.
Ecwid is cloud-based. Its e-commerce hosting is powered by Amazon.
There is no need to bother about updating your software, hidden hosting fees, or the speed of your store.
When you partner with Ecwid, you have the opportunity to customize your website to fit into your brand, pricing plan, and billing schedule.
Ecwid provides strong partner support with training docs, marketing as well as sales tool kits for their top-rated members.
Features
Customizable templates are available to build professional websites
There is an opportunity for credit card and order processing
Different types of management systems exist, e.g, Channel, discount, inventory, SEO promotions, reviews, shipping, etc.
Email marketing is available
Inventory tracking is also possible in Ecwid
Pros
There is a discount pricing strategy
E-commerce and hosting are built-in
There are several ways to build customer loyalty.
You don't need a serious knowledge of coding.
Access to support and service 24/7
Cons
It may be a bit expensive for small businesses
There is priority support for only the Gold membership plan
Pricing
The Ecwid white-label has 2 pricing plans.
Silver membership plan. You can subscribe to this plan for $299 per year. It consists of a partner dashboard. White-label option, 30% discount on subscription plans. 2 demo accounts, regular support, Ecwid co-branded option.
Gold membership plan: This plan goes for $899 per year. There is a 45℅ discount on subscription plans, access to 3 demo accounts, white-label WordPress plugin, priority support, advanced control panel setup, etc.
7. Strikingly
This is a popular white-label website builder that allows people with little or no experience to creating beautiful and professional websites.
It provides users with a good website-building experience.
Strikingly offers a white label solution which is an agency program that allows resellers to build stores and landing pages.
This program offers a competitive bulk pricing method to companies that desire to build a lot of websites.
You can also get access to the reseller tools as well as the full editor suite.
It is perfect for freelancers and agencies that want to build not just a good customer relationship, but quick profits.
Strikingly is a great choice for creating personal and small businesses and also small e-commerce sites.
You need no coding experience to be able to use the custom templates.
Features
An inbuilt editor is simple to use.
You can use your present domain if there's any or get a new one.
The form builder is very easy to use
There are built-in Ecommerce tools
There is a robust functionality
Pros
There is an excellent collaboration option for good teamwork
You can build simple sites and host them freely
Extended pro trials are available.
Access to 24/7 support
No coding skills are required
Cons
It is a bit expensive
It allows co-branding, it is not fully white labelled
Pricing
The pricing plan for strikingly depends largely on the number of sites you can build.
Resellers need to make a minimum purchase of at least 20 sites before they get to enjoy the program.
They can get these sites at a bulk price.
8. WIX
This is a well-known website builder that offers relevant solutions to website builders and clients.
It is widely accepted because of its high level of convenience, amazing simplicity, and ease of customization
Wix isn't a white-label solution by default. Although you can earn money on the Wix site as an affiliate.
You can also partner with Wix, which will allow you to add your brand spin.
Wix partner program allows you to earn points anytime you successfully design a website for a client.
It allows partners to access a comprehensive backend environment that will help them to build better and more professional websites.
You have access to exclusive benefits as a partner. These benefits can go a long way in scaling up your company.
Features
Wix partners have access to a 20% revenue earning a share
You can get reviews and feedback from clients
There is a comprehensive service and support that Wix offers its users
There is support to join the Wix marketplace
Ability to brand in a unique way
Pros
You have access to excellent features
Support from professional developers
There are several ways to serve your customers
Access to custom branding
You can get feedback from customers
Cons
It has limited profits
it isn't a true white labeling solution
Pricing
Wix partner program has not made its pricing transparent enough.
You might have to reach out to their team for comprehensive information as regards their pricing system.
9. Squarespace
This is a tool that helps small business owners to build a viable platform and increase their sales.
It was founded in 2004 to provide solutions by allowing people without good knowledge of website development to manage their websites.
Squarespace is known for its eCommerce features, simple and section-based editor, as well its professional-looking templates.
These features make website building a good experience on Squarespace.
Features
There is a comprehensive community support
Organized calendars
Support for beta tests
An excellent range of features are available
It has global recognition
Pros
It is very easy to use
It has unlimited storage and bandwidth
You get access to over 110 all-purpose templates
There is a free SSL included with all the plans
Strong eCommerce platform.
Cons
It is limited in design flexibility
It is not fully white labelled
Pricing
Squarespace comes in 5 different plans
Personal: when you subscribe to this plan, you get up to 30% off. You have to pay a subscription fee of $16.00/month
Business: you have to pay a subscription fee of $18/month. You can get access to advanced analytics, basic Ecommerce, etc.
Basic commerce. You can subscribe to this plan for $26 per month. Access to eCommerce with no transaction fees when you sell.
Advanced Commerce: you can get this plan for $40/month. Benefits include advanced shipping
10. Weebly
This is an amazing website-building tool that helps smaller companies and website freelance designers.
This platform allows you to rebrand it to suit your business and you don't need to pay any amount before you get started.
Weebly has a design platform that allows you to get templates and hosting free of charge.
You can also use the Weebly back-end editor on this platform.
Features
There is Ecommerce support for stores
Comprehensive client permission is available
Easy use of drag and drop builder.
Comprehensive code control for your website
Free hosting and SSL certifications
There are shared admin access rights
Pros
There are lots of free features
Website administration is shared
Access to excellent codes and also branding controls
It is a great client portal
Adequate Ecommerce support
Cons
It is not built for large agencies
Pricing
$12 a month. If you want extra features, you will need to pay $30 per month.
Conclusion
A white label website builder is a great tool for agencies and individuals that wants to own a website of their own.
Most often, little or no coding knowledge is needed to build websites on these white-label website builders.
These platforms don't work the same way. That is why you have to be careful when deciding on the ones you want to use.
They should align with your brand, client tastes, and pricing plan.
Which of these white-label website builders will you go for today?