WordHero Review: AI Copywriting Tool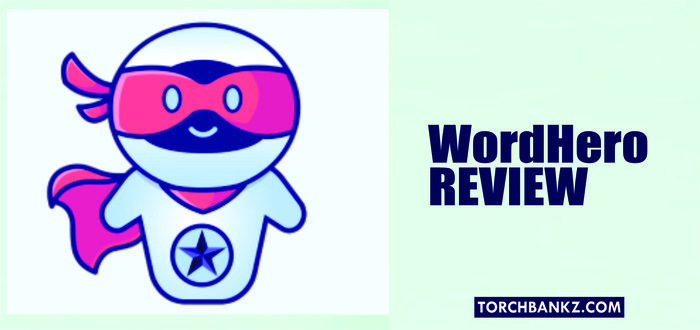 In today's post, we're going to be exploring WordHero Review. WordHero is AI writing software that can help you create content within a very short period.
Do you face any challenges in writing your blog post or reviews and don't know what to do? Then, read this Wordhero Review to see how this AI copywriting works.
Writing sometimes becomes tiresome when you have many tasks waiting for you, and this might result in you having to look for an assistant.
On the other hand, you can maintain your site rank on Google. Therefore, consider writing unique content.
This article shows you the easiest and best AI writing tool you can use today.
Creating content that is of high quality and resonates with your audience is non-negotiable. That is because the world has gone digital.
Therefore, activities are being carried out virtually and you need to establish a medium by which you can communicate with your audience while retaining the human feel.
More than just creating content, it needs to be done regularly. This is where the challenge comes and that is where an AI copywriting tool steps in.
These copywriting tools take the rigor of writing your content from scratch from you. This, they do in producing quality articles.
The challenge still is that we now have so many AI copywriting tools in that you cannot differentiate which is the best anymore.
That brings us to explore the tool, WordHero.
Does WordHero sound like the best article generator for you? How does it work and what do you gain by using it?
These and many more are what we will discuss in this WordHero Review.
Shall we begin?
What is WordHero?
WordHero is a powerful AI copywriting tool that helps you to create high-quality content and articles.
It is also a tool for software owners, writers, and business owners to assist in better and faster writing.
This helps you in creating faster blog articles, ads, social media headlines, emails, product descriptions/ SEO advertising, poetry, and even song lyrics with just one click!
Today, most marketers, copywriters, and small businesses use this tool to make their work faster.
Not only that, WordHero saves your money of hiring a writer
WordHero offers a full suite of over 50 writing tools- more are being added all the time. It is a must-have AI writing software in your toolbox.
It is simple and clever, and it may be used for web monitoring.
You can get an original article drafted that is of high quality. Select a topic that interests you.
Therefore, if you are looking to save time on writing, WordHero is the best tool for you.
WordHero Review: Features
WordHero comes with a lot of features that have made working with it quite easy. These features help you in ensuring your content is of the utmost quality.
Let's look at some of them.
Generator Mode
This is a separate paid add-on that allows you to generate AI content directly into a built-in editor.
You can literally write an article with just 1 click of the mouse.
A computer application called WordHero simulates the operation of the human brain. It offers many suggestions.
So, you don't have to be concerned about running out of words. Using WordHero, you can see how powerful branding and labeling strategies are.
It offers a comprehensive set of more than 40 writing tools, with new ones being added weekly.
You can quickly create high-quality blog entries, social media site captions, emails, advertisements, sales pitches, product/SEO descriptions, and more with just a few clicks.
Editor Mode
The Editor Mode identifies and corrects the faults in the grammar and also makes content creation faster for use.
The editor mode also paraphrases and restructures your content.
One other thing the editor mode does is that you can also review your content with Grammarly Editor for an alternative form of English.
This feature has a Grammar corrector where you can paste your incorrect texts and then they are corrected.
Though the grammar corrector has a limitation which is that it can only edit 200 words at a time.
Keyword Assistant
The secret to a successful blog post is to input the correct keyword search and get it done in no time. Keywords help content rank better on search engines.
This is what people are searching for on any particular subject.
Researching keywords is a task on its own and with an AI tool like Wordhero, the work becomes easier.
Let WordHero turn boring product features into an irresistible benefit by inserting the correct keyword and allowing it to do the job with ease.
Easy-to-use interface
Wordhero has an intuitive easy-to-use interface that makes operation easy. The different features can be easily located and navigated.
It is a tool that is suited for any caliber of writer- the expert and the beginner. Writing with the software is quite easy.
Multiple Languages
This is an amazing feature of WordHero. It features over 60 writing templates and supports over 100 languages.
This easy-to-use AI-powered content generator assists you in writing marketing copy, book descriptions, emails, blog posts, social media content, and many more with the help of translating into different languages.
How Does WordHero Work?
You have to register with WordHero. The entire arsenal of AI writing instruments will show up on the screen.
You can visit the home screen by clicking on the WordHero logo in the top left corner.
On the second screen, you have the editing mode. Use the "editor" button in the top left corner to create lengthier pieces of material, such as emails or blog posts.
The top left corner of the page has the history. By clicking on anything you've created thus far, you can view it.
Simply select a template, input your information, and let WordHero do the rest. It's that easy.
This tool offers many components that make AI work on your behalf and enables you to write with ease leading them to an incredible production in the process.
This helps in accumulating accurate and logical content that is free from committing literary theft.
These tools are definitely worth checking out. The software offers a wide range of features including grammar checking, auto-formatting, spelling checker, and others.
In addition, it is simple to use with a drag-and-drop interface that makes adding images and videos straightforward.
Who is WordHero for?
WordHero is one of the finest content-generating AI tools. They are perfect for Freelancers, Website Designers, Agencies, and Companies to fast-track the copywriting process.
It is modern technology and helps to create more dynamic content that resonates with the audience. It is time-saving, easy to use, and simple.
Hiring a good writer or copywriter can be expensive. WordHero reduces an over-reliance on writers.
You can even let your writers use WordHero to save them their writing time.
For anyone writing in Arabic, WordHero is a must-have. You don't have to be concerned about running out of words.
On the other hand, WordHero is an excellent AI-based writing tool that can help you write better and great content.
It offers a wide range of templates for different types of content, and it is affordable and easy to use.
If you need to write a product description, you can use this WordHero in no time. Are you looking for a great writing tool? Then I highly recommend WordHero.
WordHero Pricing: How much is WordHero?
We have two different WordHero pricing available on the market, with prices ranging from $29 when paid annually, and $49 when paid on a monthly subscription which can generate unlimited content and write over 106 languages with this plan.
Following this, listed below are a few features of the $49/ month plan, and the $348/ year ($29/month paid yearly)
It results in unlimited content
Means of entry to all writing tools
Benefits for a long-term editor with the assistance of the keyword
You can write in over 105 languages
Insert price plan
24/7 support system
Opt out of the plan anytime
As of now, there is no other payment option for it, all payments are made through Credit Cards.
A refund policy is made if you are not enjoying the plan or you wish to unsubscribe within 14 days of the trial.
WordHero Review: Pros and Cons
let's look at some of the advantages and disadvantages of using WordHero
Pros
What do you stand to gain when you use WordHero?
High-Quality Content
WordHero is just a really time-saving and also practical internet that is AI composing tool that will certainly save your time and energy to produce manually high-quality content.
It is reliable and super affordable and still offers the best for your money.
If you're not too confident in your writing skill, WordHero is the best AI tool to get because it delivers the best content for your job.
Just think about how much faster you can produce quality content if you're not going back and forth between your keyword software and your Doc the entire time you're doing research.
This will save the stress, and you'll get done in no time.
Intuitive interface
WordHero has an intuitive interface. It is so easy-to-use that even if you are new to the usage of AI copywriting tool, you will still be able to navigate your way through.
The interface has been designed in such a way that you can easily access any of the features you need.
You can see the dashboard once you sign in to your account. You can also keep tab of your past activities without losing out on them.
SEO Content
WordHero creates fantastic text for SEO purposes. You get full access to an SEO Analyzer, and it writes the description that everybody hates to write but how when it actually comes to assembling your blog posts, WordHero shines.
First, there is a little generator that spits out a bunch of top-notch suggestions in a matter of seconds.
Next, take advantage of the full outline generator, where WordHero automatically generates an SEO-optimized outline for you based on the keywords you've gotten earlier.
Then let WordHero advanced AI writing tool generate lists, or write steps you can fill in the space between your subheads
Cons
From users' experience, here are a few cons of WordHero
No integrated Plagiarism checker
The disadvantage we have about WordHero, for now, is that there is no integrated plagiarism-checking tool.
It is under construction and will soon be ready for use.
No team collaboration
At the moment, WordHero does not give room for team collaboration on its paid plan for now unlike others that allow a third party.
Also, Read WordHero vs Closerscopy
WordHero Review: FAQs
Let's look at the questions people are asking about WordHero.
Who is WordHero for?
WordHero works majorly for Freelancers, Website Designers, Agencies, and Companies to fast-track the copywriting process in addition to marketing, WordHero may be used for content creation, startups, song lyrics, and even poetry.
Does WordHero Have a Lifetime Deal?
Yes, WordHero has a lifetime deal. You can get access to all the features at an affordable price.
What is WordHero?
WordHero is a powerful AI copy writing tool that helps you to create high quality content and articles. It is also a tool for software owners, writers, and business owners to assist in better and faster writing.
Can WordHero create long-form content?
Yes, it works perfectly for long-form content like blog posts and articles.
Is there a built-in plagiarism checker?
No, wordhero does not have a plagiarism checker. Its content are of high quality and there is no form of plagiarism in the content.
Final Thoughts on WordHero Review
We have been able to do justice to everything you need to know about the WordHero review.
Try WordHero now and get started right away- it could either be the best lifetime deal you've ever bought, or the heartiest deal you've ever missed.
If you're not a big fan of writing, WordHero is for you! WordHero is writing software that aims to save you time, stress, and money
With WordHero, you won't have to worry about hiring or paying somebody else to do the job for you with. It is super affordable and reliable.
Grab your WordHero AI, writing assistant, now and see how easy it is to use
At the moment, their lifetime deal goes for just $89. With this, you will get all the tools that you need apart from the editor