WriteCream Pricing: Monthly Breakdown and Lifetime Deal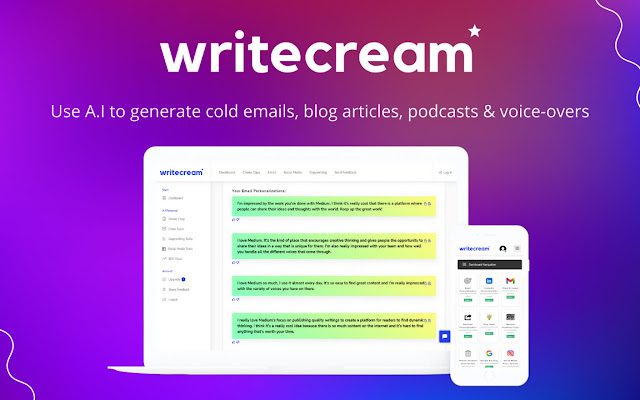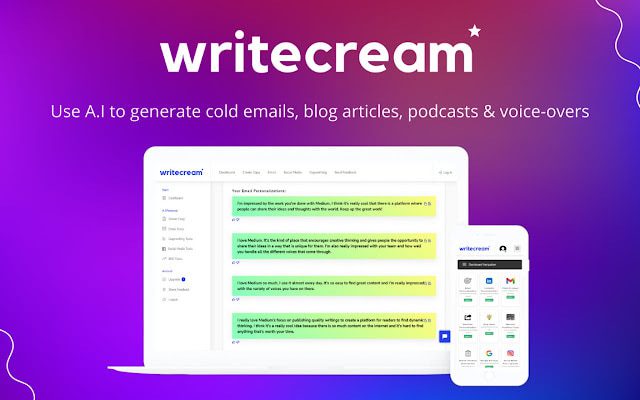 In this article, we will be looking at the complete breakdown of Writecream pricing. Is that what you are searching for? If it is, don't worry; you are in the right place.
Being here is an indication that you want to leverage the use of AI in creating your content.
In a digital world where you regularly have to churn out content so as to keep your business and brand afloat, you will agree with me that you need an AI writing assistant that can do the job.
If you will like to know more about the Writecream tool itself, we have written a comprehensive review for you to learn more about it.
However, the question is which of the Writecream pricing plans and packages should you opt for?
In this post, I will show you the different pricing packages Writecream has and their breakdown. I will also show you can access the discounts available and most importantly, the lifetime deal.
Let's get started.
Writecream Pricing (Monthly Cost, Features, and Breakdown)
Writecream comes in one free plan and three paid plans. We will be exploring the different plans including their pricing and accompanying features.
Also, note that Writecream does not have an annual subscription plan.
Free Plan – $0/month
Here are some of the plans you get to enjoy when using this plan;
40,000 characters. You are only entitled to articles/content of 40,000 characters (alphabets) in a month.
2 long articles of about 5000 words each
4 short articles of about 1000 words each
Content Template. With this feature, you have different content ideas and templates that you can choose from. The templates consist of different content categories of content.
4 YouTube voice-overs and Podcasts
AI writer's community
Email support
Irrespective of the category of the different content you write in a month, everything cannot exceed 40,000 characters. This plan can be enjoyed forever.
Unlimited – $29/month
This is the first paid plan. It is like the bonus plan in Writecream. However, it is a limited offer that will go off soon.
These (including the features in the free plan) are what you enjoy when you sign up for this plan;
Unlimited number of words
Unlimited short and long articles
Unlimited YouTube voice-overs
Unlimited Podcasts
The only clause to this plan is the fact that it does not come with unlimited LinkedIn and email icebreakers.
Standard – $49/month
This pricing plan comes with the following features;
400,000 characters
20 long articles of about 5000 words per article
40 short articles of about 1000 words per article
40 YouTube voice-overs
40 Podcasts
Extended – $69/month
This pricing plan comes with the following features
1,500,000 characters
75 long articles
150 short articles
750 ice breakers
150 YouTube voice-overs
150 podcast
However, if any of the pricing plans do not still meet your needs, you can request the custom plan. It will be customized to suit your business needs.
Writecream Features Included in All Plans
Some features are available in most of the pricing plans. Let's examine them briefly here;
1. Long-form Content Generator
Writecream is one of the AI software that can generate long-form content. That is why it is one of the favorite tools for Bloggers.
To use this feature, you will need to enter some details about the article like a description or a content brief. This will help Writecream understand better what your content is about.
Thereafter, you will select the total number of words you want the Al software to generate. Once you enter all this information, you click on "Write for me".
The content will be generated and you can go through it to make any corrections or adjustments where necessary.
In less than 30 seconds, you can create a 1000-word article.
2. Multiple Languages
Writecream writes in multiple languages. It allows you to translate your copy easily into about 75 languages.
Some are; French, Italian, Russian, Spanish, Sweden and others.
The diversity in language will help you to write a copy that is addressed to any nationality or region.
This is very helpful for those who write ads that are targeted to different countries.
You could also convert content that is already written in English into any of the languages Writecream supports.
3. Icebreakers
Writecream helps you to break the ice with your clients. You are able to send personalized messages that they cannot ignore.
Most people ignore emails and broadcast messages because of the numerous spam messages they also receive.
But with the icebreaker, you can begin your emails with a personalized introduction that they cannot resist.
Another way the icebreaker works is by sending Cold Emails to prospects. Writecream helps you to check and analyze your prospect and then send an icebreaker that will persuade them to reply.
You can also use it on LinkedIn to send InMails.
4. YouTube Voice-Over and Podcast
These are some of the unique features of Writecream. This feature helps you to convert any blog article into a Podcast or YouTube voice-overs.
Writecream gives those voices the human feel such that it looks as though humans recorded them. You can have these voice-overs in over 40 voices.
Therefore, irrespective of your audience, you have them covered.
5. Mobile App
Writecream has a mobile app version that you are entitled to once you sign up for any of the paid versions of the payment plans.
With the mobile app, you can create content as you go. You don't have to log in every time you need to work with Writecream. It is also easily accessible as you can keep them on your screen.
You can download the app from Play Store.
6. Plagiarism Checker
Writecream comes with a plagiarism checker that you can use to confirm if the content generated is unique and not copied from any random website.
This is one of the features that make Writecream stand out. You do not want Google flagging down your content because it is plagiarized.
7. Browser Extension
Writecream has a browser extension that can help you write your articles in various text editors like Google Docs, WordPress, Grammarly, and so on.
The browser extension is not limited to Google Chrome like most other AI software. It also works for Microsoft Edge and Opera.
Read Our Complete WriteCream Review For Features Update
Writecream Unlimited vs Writecream Extended: Which Should You Go For?
The Writecream Unlimited and Extended are the two most recommended plans. This is because of the fuller features they have.
Therefore, you might be confused about which of the two plans is advisable. We will consider the two by analyzing their similarities and differences
Similarities
They both have a content template that you can get content ideas and structure from
You have access to the AI writer's community
For every new feature update Writecream has, it is automatically integrated into yours.
Differences
Writecream Unlimited allows you to create Unlimited content (just as the name implies) compared to Writecream Extended.
While for writecream extended allows you to create 75 long articles, 150 short articles, Podcasts, and YouTube Voice-overs.
Writecream unlimited goes for $29 per month while Writecream Extended goes for $69 per month.
With Writecream unlimited, you can only generate a few icebreakers in a month, unlike Writecream Extended which grants you access to 750 icebreakers.
However, the Unlimited Plan is for a limited time. This means that after a while, the plan will be off. The Writecream Extended on the other hand is available as long as the AI software is up and running.
Therefore, if you are starting out probably after using the free plan for a while, you might want to go for the Unlimited Plan.
The Price is very much affordable and within the little time offer you have, you can leverage the platform to do a whole lot that you could not do with the free plan.
Since it is also unlimited content, you will be able to freely have your trial and error without being concerned about losing credits.
But if you already have a big brand and you have a good grasp of the AI software, the Writecream Extended will be preferable. Especially because of the number of Icebreakers you have access to.
Writecream Lifetime Deal
Here, we will be talking about writecream lifetime deal. If you save costs and enjoy the benefits of Writecream maximally, you should try this lifetime deal.
The lifetime deal pricing goes for $59. That is a one-time payment that enables you to enjoy all the features of the other monthly pricing plans.
Here are some of the features you have access to once you sign up for this writecream lifetime deal;
400,000 monthly characters
Mobile App
Chrome Extension
Product descriptions on eBay, Amazon, and Shopify
Plagiarism Checker
Unlimited Custom-use cases
Facebook and Google Ads
Landing pages headlines and descriptions
Import and Export CSV
200 credits per month and you can stack an additional code for an additional 200 credits per month.
LinkedIn, Email, and Backlink Outreach for Icebreakers
In all, you have access to over 40 tools and features. Not only that, all upcoming features are automatically included in your plans once you update them.
Imagine getting all of these for a one-time payment of $59. There is nothing like a monthly or annual subscription.
The good part about this deal is that it comes with a 60-day money-back guarantee.
This implies that after 60 days which is 2 months, and you feel the platform is not offering you what you want, you are free to demand a refund.
Therefore, you don't have to be worried about getting stuck with a tool you might not love.
How To Get The Writecream Lifetime Deal
To get the Writecream Lifetime deal, (visit this link- www.apsumo) to get to the lifetime deal landing page.
Below the Lifetime deal pricing plan, you will see an icon that shows "Buy Now"
Thereafter, click on it and enter your details for the purchase.
The Writecream Lifetime deal is yours. however, this is limited compared to the actual plan.
How To Get a 10% Discount on the Writecream Lifetime Deal
Note that this 10% discount is exclusively for new users of Writecream. When signing up for the lifetime deal, you will see a discount displayed on your screen.
It will require that you enter your Email. Do that and you get the discount- 10% discount.
Ensure that it is the same ID you claimed the discount with that you continue to use afterward.
NOTE: To continue to access the Writecream Lifetime deal, you must redeem your code within 60 days of purchase.
Lifetime Deal Vs Free Forever Plan
Both plans are more like a forever deal. So what differentiates the two?
The Lifetime Deal comes with a one-time payment plan that you can enjoy forever while the free forever does not come with any pricing plan.
The free forever plan is like a free trial so it does not have robust features like the Lifetime deal.
When you sign up for the Lifetime deal, you are locked in that price forever. However, if you remain too long on the Free-forever plan, prices of the pricing plans might have increased before you eventually subscribe.
For any update on the Writecream software, it is automatically included in yours if you sign up for the lifetime deal. Whereas in the free plan, you do not have access to new updates.
Writecream: Pros and Cons
Peradventure you have some reservations about going for any of the Writecream pricing plans because you are not sure of the software, let's examine some benefits of using Writecream
Free Plan. Writecream has a free forever plan that has no expiry date. You can sign up for that and keep using it till you are certain you want to proceed.
It has an in-built plagiarism checker which is something most AI tools do not have.
Writecream also comes with a lifetime deal- a one-time payment that locks you in that plan forever
It is suitable for long-form content like blog posts, articles, etc.
Easy-to-use interface
Writecream Cons
The credits in the plans are limited
No Free trial on each of the paid pricing plans
The free forever plan has a lot of limited features
Writecream Pricing FAQ
Let's look at some of the frequently asked questions about Writecream
Is there a Writecream free trial?
Yes, Writecream has a free trial in form of a free plan. It has no expiry date. It is a free forever plan.
Does Writecream have annual pricing?
No, it does not. It only comes with a monthly subscription. A better substitute for the annual pricing is the Writecream lifetime deal. Here, you only make a one-time payment of $59. No monthly or annual payments. Just that payment and you enjoy life.
How to cancel the Writecream subscription
To cancel your Writecream subscription, you go to the subscription section and click on Cancel Subscription.  It will ask that you confirm the cancellation. Then you click on it. After cancellation, you will still be able to use the account until that month's duration expires. It is also advisable to do cancellation days before the expiration to avoid automatic renewal.
How to upgrade your Writecream membership?
Upgrading your membership is quite easy. If you want to move from one pricing plan to the other, select that new plan before the expiration of your current plan. Then the plan will be automatically upgraded to the new one.
Is there a money-back guarantee?
Yes, you are entitled to a 30-day money-back guarantee for the regular pricing plans and a 60-day money-back guarantee for the lifetime deal. No questioning, you get your refund.
Do I need a credit card to sign up?
Do I need a credit card to sign up?
No, you do not need a credit card to sign up for the free forever plan.
Writecream Pricing: Conclusion
In today's article, I have successfully shared with you Writecream pricing including lifetime deals, and lots more.
The essence of this rundown is to help you to make your choice of the best version for your brand or business.
Poorly written content leads to little or no engagement. That is why you need an AI tool for your content generation.
If you're seeking to leverage the method of AI in generating your marketing copies, then you should check out the Writecream AI.
In choosing the pricing plans, carefully examine the features of each plan and see which of them your business needs right away.
Not to forget that there is a lifetime deal that you can grab. With that one-time payment, you are free from recurring payments.
If you are opting for any of the monthly pricing plans, I strongly recommend you go for the Writecream Extended.
In case, you are still in doubt, you could begin with the Free Forever plan.