Writesonic Review: AI Copywriting Tool [Does It Work?]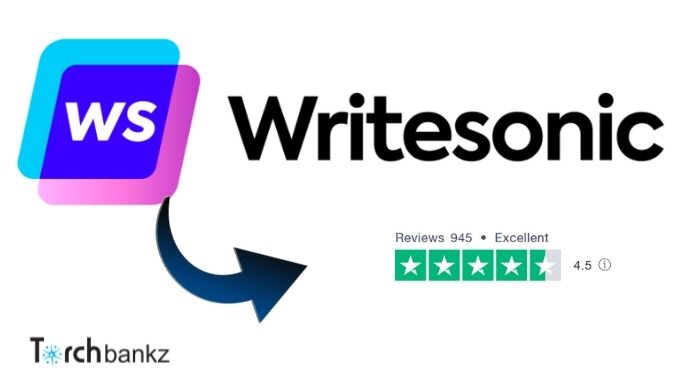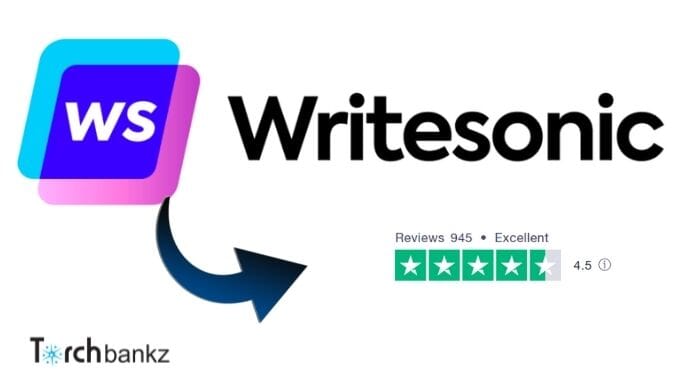 Today we'll be looking at Writesonic review, how it works and whether or if it's the right AI copywriting software for you.
Content creators interested in seeking the services of article generators are nowadays finding it hard to choose the ideal AI because there are so many.
It's like every day, a new article generator is being developed and launched into the market.
However, in a sea full of article generators, Writesonic continues to stand out as one of the most unique AI-powered content writing tools that provide quality and interesting articles.
It has got tons of robust features that can help you as a blogger, affiliate marketer, or even eCommerce owner to create attention-grabbing posts that will drive more leads to your webpage.
Writesonic provides a wide range of article templates ranging from blog posts to Facebook ads. And all these impressive features are available for free.
Yes, you read that right.
Writesonic has got a free plan that gives you access to tools that can improve your content creation abilities.
Does Writesonic sound like the ideal article generator you should be using?
Before you sign-up, you should read our in-depth Writesonic review, so that you can make an informed decision.
What is Writesonic?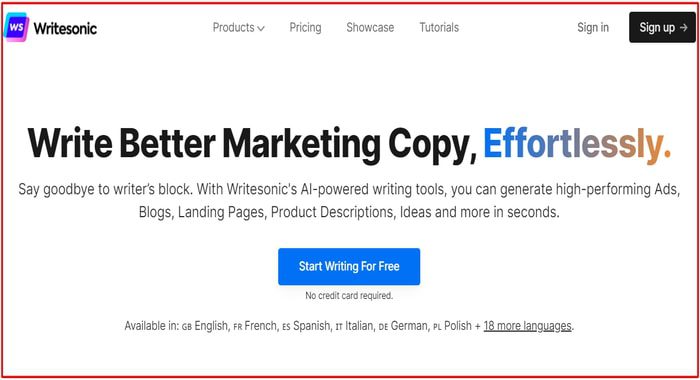 As a content creator, there are times when you are unable to write your own content. You may be busy running your eCommerce store, or you may have multiple ongoing projects.
At times, you may be tired and suffering from writer's block.
If you are experiencing any of the above, Writesonic ensures you are still in the game by providing you an AI-powered content writing tool.
This software gives you a copywriter who is efficient, professional, has got a quick turnaround time, and is available 24/7.
Because it is an AI, Writesonic doesn't get tired as human writers do.
It won't give you any excuses and here is the juicy part – it can write many types of articles as you will see later on.
Be it a landing page, Google ad, or product description, you just have to navigate to Writesonic and key in what you need.
In a matter of seconds, this article generator will craft a quality article for you. And, just because it's fast doesn't mean the articles aren't readable.
Writesonic features robust technology that ensures all articles generated are readable, plagiarism-free, and sound as if they have been written by a human.
This article generator has got many features that give you total control of the type of content that you wish to create. It's also a reputable software that has got tons of positive reviews online from other content creators. It was built to make writing content easier for anyone in the online industry.
This AI writing tool was initially known as MagicFlow. Back then it was an AI-powered marketing assistant.
When the developers saw how useful this tool had become, they rebranded it into Writesonic and tweaked it to offer more types of content such as the ones we are going to list below.
What Can Writesonic Write for You? [Features]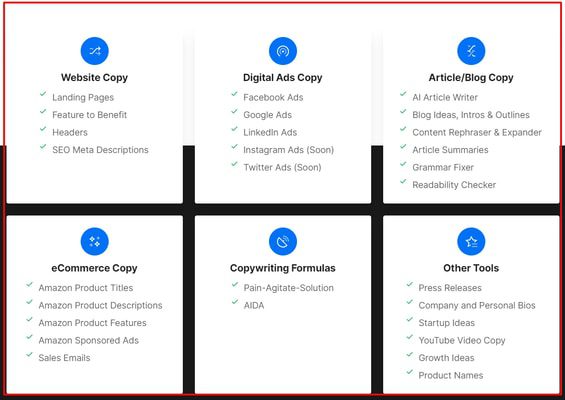 To fully understand how Writesonic works and the different types of articles it generates, let us look at the models it uses to generate content.
Other than its own artificial intelligence, Writesonic incorporates GPT-3 which stands for the third generation of Generative Pre-Trained Transformer.
For those who aren't well-versed with AI's, this is a machine learning model that is trained to use internet data to generate text.
GPT-3 boasts of more than a hundred billion machine learning parameters.
It's even better than Microsoft's NLG model that only comprised 10 billion machine learning parameters.
Back to GPT-3, this model is so advanced that it can create content and make it read as it has been written by a human.
Text generated by this model reads naturally and it can practically create all types of content ranging from articles to news stories.
This model is amongst the reasons why Writesonic has been able to consistently generate quality articles for its clients.
Now that you know the AI and machine learning model behind Writesonic, let's look at the different types of content it can write for you.
Creating website content can be tiring and time-consuming, especially if you are just starting it from scratch.
This doesn't have to be the case if you are using Writesonic. Be it headers or landing pages, Writesonic can generate attention-grabbing content for your website.
Using this article generator, you can create content for all the pages on your website without having to hire a copywriter or sitting behind a computer and creating content by yourself.
If you are familiar with how beneficial social media advertising is, then you definitely understand the need for creating digital ads copy. Currently, you can use Writesonic to generate interesting digital ads copy that will attract more leads to your website.
Momentarily, you can only create Google and Facebook ads copy. Writesonic has however promised their clients that real soon they will introduce a tool for generating eye-catching Instagram and Twitter ad copies.
This is the most common type of content that Writesonic generates. Blog posts are the hearts of our websites.
They are the reasons why you get new visitors every single day.
And for you to ensure your blog keeps on attracting readers and an audience then it is essential that you be consistent with writing and publishing blog posts.
On your own, writing a new blog post every day can be challenging and that's where Writesonic comes in.
It will create blog ideas for you, as well as intros, outlines, and entire blog posts if you wish. You can get a full blog post from Writesonic without any human help assistance.
eCommerce store owners also need to create product descriptions, features, titles, and even ads. Writesonic can also generate this type of content in a matter of seconds.
So, if you sell products online and on sites such as Amazon, instead of using up all your time in creating product descriptions, you can always use this writing tool and use your time to market your products.
These aren't types of content but are more of a formula that AI's use to create content. Writesonic uses two formulas which include PAS, that sands for Pain-Agitate-Solution.
This formula uses the following steps in an article; Identifies a problem – Agitates the problem – Then provides a solution.
Most articles are designed to solve problems and that's why this approach is very effective when incorporated in an AI such as Writesonic.
The other formula used is AIDA which stands for attention, interest, desire, and action. These are the cognitive stages an individual goes through before buying a product or service.
Writesonic is trained on how to use both AIDA and PAS in articles so that it can prompt readers to make a certain action once they are done reading the article.
The types of content that can be written by Writesonic do not end there.
This AI tool can write growth ideas, personal bios, press releases, YouTube video copies, and pretty much anything.
Because of the many types of articles this tool can generate, it is very ideal for freelance writers as well.
How Does Writesonic Works?
Generating articles using Writesonic is very easy and fast. Most people usually think that providing commands to an AI is a tedious process.
But it is the exact opposite. Writesonic is designed to make the process of generating content simple and fast.
Below is an overview of what goes about in the process of generating content using Writesonic.
The first and most important step is to choose the type of content you want to generate. Above, we have already listed some of the different types of copies that this AI can create.
So, you just have to pick the content you are interested in creating. It could be a digital ad, a landing page, or even a blog.
The next step is to provide a description of what you would like in the content.
This step is also very critical because, without guidance, Writesonic AI will provide you with general content.
In the description, you should give the AI the context you expect it to produce in an article. Writesonic will use that description to come up with content that matches the input you fed it.
Having chosen the type of article and inserted a description, you are now ready to generate content. Writesonic will use your instructions to create several copy variants.
When you click on generate the content is created and made available to you in seconds.
On the Writesonic dashboard, you will see the article that has been generated. What's left is for you to edit the article to suit your preferences. Then you can copy it for storage or publishing.
That's how easy it is for you to use Writesonic to generate content.
Who is Writesonic For?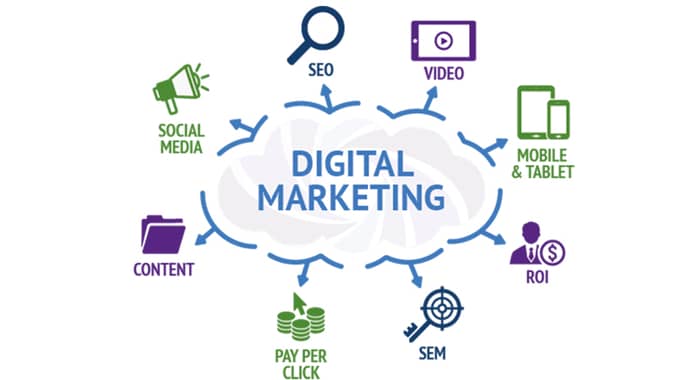 Writesonic was developed for everyone who needs or creates content. By providing you with high-quality articles, Writesonic lessens the workload for everyone involved with content creation.
Here are the main groups of professionals that can benefit from Writesonic.
#1. Digital Marketers
The first lot which Writesonic was created for are digital marketers. Running successful digital marketing campaigns entails more than just writing content.
You have to do identify a product, craft a marketing campaign, and monitor the efforts of your campaigns and a bunch of other activities.
Writesonic helps with an essential aspect of your digital marketing efforts and that is providing you with quality content consistently.
A lot of digital marketers have to outsource writing services because they are so busy. Unlike writers, Writesonic is available 24/7.
It is affordable and it gives you more control over determining the type of content you would like written.
#2. Bloggers
Running a successful blog requires consistent publishing. If you do not regularly update your blog it's very easy for you to lose readers.
Most bloggers find themselves struggling with writer's block where they feel emotionally drained and can't come up with creative content.
Once again, Writesonic gets to make work easier for you as a blogger. Using its quality article generation abilities, you can create new content in seconds.
All you need is to feed the AI a line or two of descriptions and wait for content to be generated. Your blog will always be updated as long as you have got Writesonic.
#3. Ads Agencies
In an advertising agency, the need for ad copies never ends. Because the more clients you get the more copies are needed.
If you are a small ads agency, chances are you don't have the resources to craft as many copies as you would like.
Writesonic can help you with that. This AI is capable of coming up with powerful and captivating ad copies that will help your clients drive more leads to their websites or businesses.
#4. Ecommerce Brands
Ecommerce and content go hand in hand. Even big eCommerce stores such as Amazon, rely on affiliate market reviews in order for them to make sales.
Whether you own or you are working for an eCommerce brand, it is very important that you have the best writing tools on your hands.
As it is, running an eCommerce store is hectic more so if you are doing it by yourself.
An article generator such as Writesonic can be of immense assistance when you are struggling with creating content for your eCommerce store.
And other than blog posts to drive leads to your e-store, Writesonic can help you create product descriptions, social media ads and even landing pages.
All of which will increase your brand presence.
If you read through Writesonic reviews, you will realize that this AI-powered content generator is relied on by thousands of online entrepreneurs.
Writesonic Pricing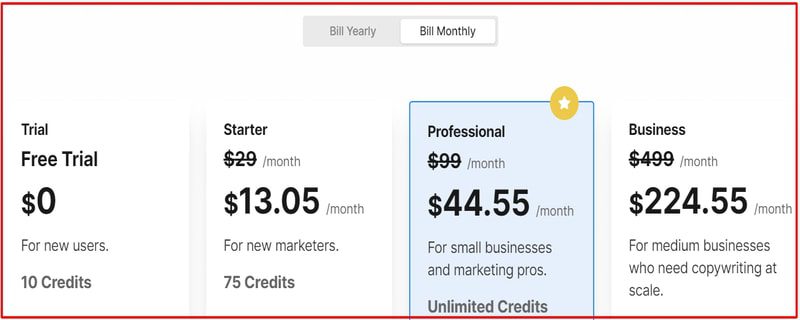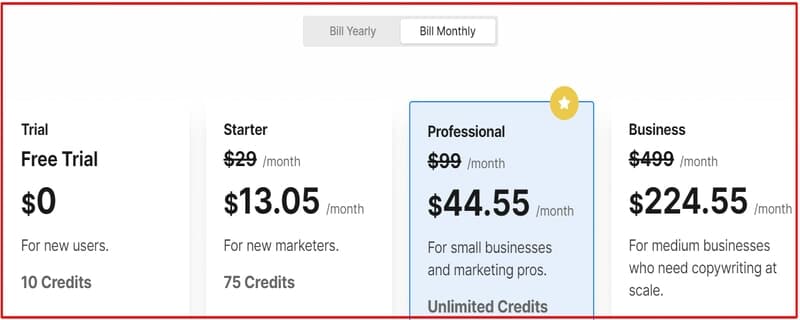 At Writesonic, you can choose from four pricing plans. What we love about this article generator is that it understands people work with different budgets.
That's why they have got four pricing plans ranging from the most affordable to high-end packages that have got more premium features.
Let's look at these packages offered by Writesonic and the features they come with.
#1. Free Plan
The best article generators are those that offer their clients a taste of what their AI can do for them.
Writesonic falls under this category because they offer a free package that you can use to generate YouTube, Growth, Startup, and Listicle ideas.
This free package also allows you to create landing pages.
And to give you a sneak peek of what the premium plans can offer you, Writesonic free package comes with 10 credits that you can use to generate the types of content we listed earlier.
To generate a blog post, you will need at least two credits, but product descriptions and digital ads only need 1 credit.
#2. Starter Plan
For content creators who only need at least three to four copies a month, the starter package is perfect for you.
It costs $25 a month and you get 50 premium credits that you can use to create different types of articles.
#3. Professional Plan
Being worth $89 a month, the professional package offers you unlimited credits to use on the article generator.
You should get the professional package if you are a blogger, eCommerce brand, or advertising agency that needs many copies.
Writesonic also goes the extra mile of adding 100 premium credits on the professional package that can be used on advanced features.
These entail blog outlines, intros, ideas, and their AI article writer. These advanced features aren't available on the free and starter package.
Another perk of the professional package is that you get priority support. So if you have any issues, you will get a timely response if you are on the professional package.
#4. Business Plan
This package was customized mainly for content creators that need access to tons of content in a month.
If you are a blogger or digital marketer that needs more than 20 blog posts in a month then this is the ideal package for you.
It costs $449 per month and you have unlimited access to the AI. Regarding the advanced features, the Business package comes with 1000 credits.
If you do the math, these credits can help you generate up to 100 blogs in a month.
Comparing the costs of the above packages against outsourcing writing services, Writesonic is more affordable and you are assured of quality posts that will help you communicate better with your audience.
Writesonic Pros and Cons
Let's have a look at both the good side and bad side of Writesonic so you can know what to expect before you start using them.
Pros of Using Writesonic
You can be assured of generating quality content with Writesonic. Many AI-powered article generators do not write quality articles. That is the honest truth.
Finding an article generator that is capable of deciphering your descriptions and generating quality articles that match the context you wanted is rare.
All articles that are generated using this AI feature the AIDA and PAS writing formula. Therefore they will engage your audience or readers and most importantly, the content will be unique and plagiarism-free.
It supports a wide range of article styles. Be it landing pages, Google ads, or even full blog posts, you can create any type of content using Writesonic.
Because of that, Writesonic is practically your one-stop shop for all types of content you may need.
Writesonic also supports many languages. Many bloggers and digital marketers nowadays find themselves interested in venturing into other countries.
But because of language barriers, it becomes impossible. With Writesonic, there is no boundary when it comes to generating content. It supports all languages and you will be surprised at how naturally all the articles generated by this AI read and flow.
We can't ignore the free package that Writesonic provides.
Most AI writing tools force you to subscribe to a premium package without testing the level of quality the article generator produces. Writesonic gives you a free subscription with 10 credits that you can use for premium services.
It generates content fast. The overall process of getting content written by Writesonic is fast and simple. In a matter of seconds, you can have a blog copy on your hands. How long would it have taken you to write the same article by yourself?
Cons of Using Writesonic
There is one major con of using Writesonic and that is its inability to write highly research-based articles. This is a problem that all article generators share because AI technology is yet to reach that step.
Unlike human writers that excel at research and compiling information from different sources, Writesonic has limited access to deep research.
Therefore, if you need content that has been deeply researched or you are writing about unpopular topics, you may not get the desired output from this article generator.
Writesonic FAQ
Let's explore some of the most asked questions about Writesonic
What is Writesonic?
This is an AI-powered article generator that can be used to create any type of content. With this tool, it's almost like having 24/7 access to a professional and fast copywriter. You can use it to write any type of content. Writesonic can even give you ideas and titles that you should write on.
Is Writesonic Free?
Unlike other article generators, Writesonic does provide its clients with a free trial. The free package comes with 10 credits that can be used to create different types of content. The reason Writesonic offers a free trial is to allow digital marketers, bloggers, and ads agencies to experiment what this powerful AI can do for them.
Is there a Writesonic Lifetime Deal?
During the period of writing this review, the Writesonic lifetime deal was currently unavailable. However, on certain occasions, third-party sites such as app sumo usually offer lifetime deals on Writesonic.
For a certain fee which starts from around $59, you get unlimited access to Writesonic for life.
Every month you get a specific amount of premium credits to use. To avoid getting scammed, we always recommend our readers to head directly to Writesonic customer support and ask if there are any lifetime deals at the moment.
A lifetime deal can help you save a lot of money in the long run.
Conclusion
Coming up with content doesn't have to be a burden anymore. Irrespective of the reason why you need to come up with content, we can all agree that writing at times isn't as fun as most people think.
There are times when you are too tired or even lack the willpower to come up with an article idea.
Writesonic is a useful and powerful content generator that will provide you with quality articles in seconds. It's efficient, easy to use and it's the best tool a content creator can have.
Even more interesting is the fact that it comes with a free plan. So users can take advantage of this free plan to learn more about Writesonic and how it can help their writing project.
That's it on Writesonic review, do let me know what you think about the platform using the comment box below.