Writesonic vs Rytr [Which One Is Better For Copywriting?]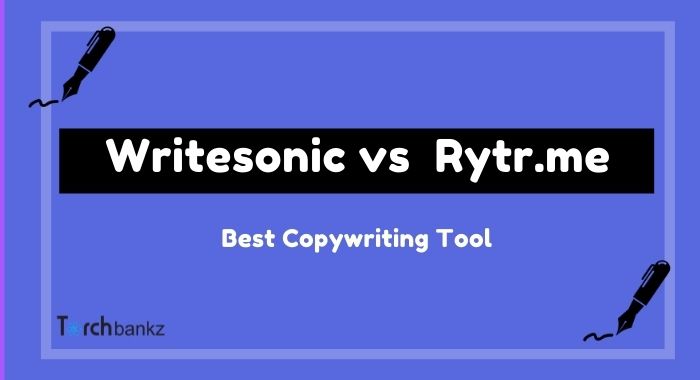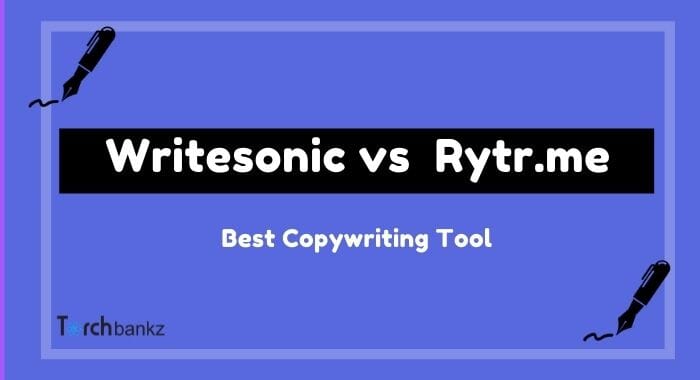 Last Updated: 11th October 2021.
We will be exploring the INs and OUTs of Writesonic vs Rytr so you can make an informed decision at the end of this article.
AI writing assistance software is really great in terms of generating quality and original content for your blog posts and other marketing purposes.
The best part of using article-generating software to automate your writing process is the fact that you can get more done in less effort time.
As a result of this, so many online entrepreneurs choose to use AI to write quality content in order to maintain the reputation they have got.
And since the need for AI software writing assistance is increasing every day, the competition among AI software creators becomes tougher also.
And that makes AI software creators always improve their features in order to meet up the content creators' needs.
We put Writesonic vs Rytr side by side and here is what we found to be true about them.
Let's dive in!
Writesonic vs Rytr: Quick Overview
| | | | |
| --- | --- | --- | --- |
| Software | Pricing | SEO Integration | Long Form |
| Writesonic | $29/month | Surfer | 6/10 |
| Rytr | $29/month | N/A | 6/10 |
Writesonic vs Rytr
What is WriteSonic?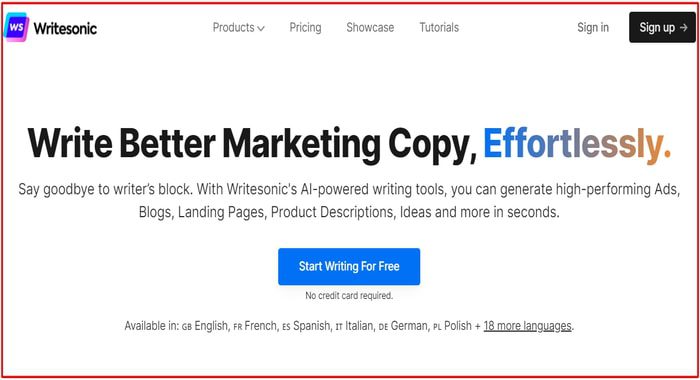 Writesonic is a writing software assistance that is designed to help you generate high-performing content in an effortless time.
With Writesonic you can be bold enough to say Goodbye to writer's block because it basically provides all you need to write an awesome copy.
Writesonic has been in the business for quite a long time now and they have been able to help tens and thousands of bloggers to generate awesome copies.
As a result of the Writesonic amazing performance, it has got a good reputation among online entrepreneurs.
What you can actually write with Writesonic in less effort time are limitless from FaceBook ad copy to a blog post.
Just by typing few keywords into the AI software, like the name of your product and what to include in the keywords.
You can sit back while the AI writing assistance does the needful for you.
Writesonic also seems to be the cheapest and the easiest way to get your blog posts noticed in the noisy industry.
However, you can't write a full blog post with Writesonic but you can always write an intro and outlines that stand in the crowd.
If you however need an AI software writing assistance tool that can write full blog posts for you without breaking the bank. Then check out Jarvis.ai.
Jarvis is not just AI written assistance software but a completely go-to tool when it comes to writing any form of content, you can check out our Jarvis AI Review here.
However, Writesonic has been featured on different recognized media in the industry, and Entrepreneur being one of them.
It has lots of good feedback from its users on Trustpilot also.
Features Of Writesonic
You will be able to generate high-quality and engaging content in 60 seconds. This includes Facebook copy, blog posts outlines and intros, Instagram marketing copy, and all other forms of copy that you might have ever imagined off.
Writesonic offers copywriting formulas. With this, you will be able to stand out among the crowd by crafting a copy that gains your audience's attention.
You will be able to generate eCommerce copy which includes, sales email, amazon product description, amazon product title, Facebook conversion ad copy, etc. With this feature, you can save yourself quality time you do spend writing those copies.
Writesonic supports over 20 global languages making it easy for you to tap into the international market.
Provides high-quality content that is error-free, plagiarism-free and you can't find it anywhere as well.
What is Rytr.me?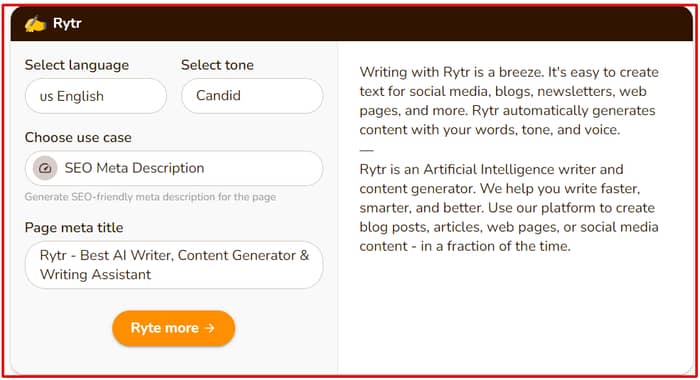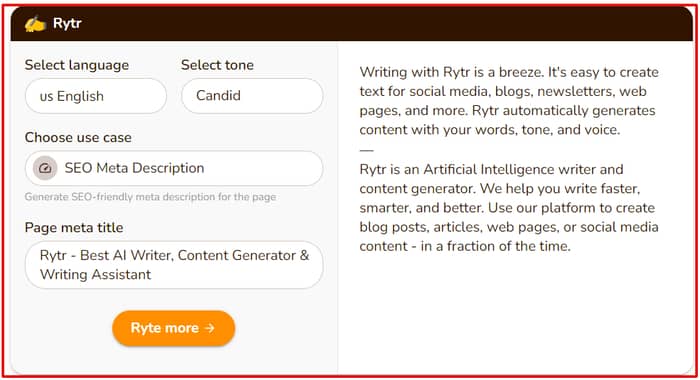 As you might have guessed, Rytr is an AI-written assistance software that is designed to create any form of article within the shortest time possible.
Generating high-quality engaging content with Rytr is not actually that hard.
You just have to type in a few keywords of what you want the software to produce, and in few minutes, it gets it done.
The AI software is designed to generate content that will increase your button line and makes you stand out among your competition.
What also makes this tool awesome among its competition is the fact that any content that you generate through AI software will be 100% unique.
Rytr is can write any copy including sales email, Facebook ad copy, blog post intro, and outline and it writes error-free articles.
In addition, Rytr runs on a very powerful advanced machine called GPT3 software which is the best learning machine for AI software.
However, the software platform is a newly designed one but it is now gaining popularity fast among online entrepreneurs and storytelling writers.
The fast popularity is because it does bring amazing features to its users at all time and this makes it have an active and fast-growing community.
However, you must keep in mind that you can't use Rytr to write long-form content but you can use it to draft out amazing blog post intro and outlines that catch your reader's attention.
Features of Rytr
Beginner Friendly Dashboard – The interface of Rytr is a complete beginner friendly interface that provides ease of use to both beginners and experienced ones.
Team Management – Rytr supports team management to enable you and your team to work together globally without any form of limitations. This can also contribute greatly to the productivity of your brand.
OutPut Variants – This is another very interesting feature about the AI, it provides you with different output variants no matter how many times you use it for a particular topic. If you constantly write the content yourself, you know how hard it is when it comes to coming up with different ideas on the same topic.
Multiple Language and Tones – While the different languages might be underestimated, the tones can't be either because it doesn't save you from writing with thew same voice at all times but helps you stand out in terms of coming up with something unique.
Chrome Extension – It also offers a Google Chrome extension, this chrome extension will enable you to always have access to the tool while browsing the net.
Writesonic vs Rytr (Comparison)
If you have to pay special attention to this Writesonic vs Rytr, you will have discovered that they are both Artificial Intelligence (AI) copywriting software.
Meaning, in the end, you can only go for one of them that you think actually suits you the best and provides the type of functionalities that you need.
So we have decided to include this section in Writesonic vs Rytr, this will help you to make an informed decision.
And as well have an overview of what Writesonic vs Rytr are before making the final decision.
AI Software
Both Writesonic vs Rytr uses an advanced GPT-3 learning machine which is currently the highest technology when it comes to AI software.
With this high technology machine, you can be sure that you are getting high-quality and original content that you won't find anywhere else.
If you want the best out of your marketing efforts and wants to start generating more sales online, then this is the best thing to leverage on.
This is one of the same features both Writesonic vs Rytr shares together which is great.
Save yourself quality time by leveraging AI assistance writing software to generate killer content effortlessly.
Languages
Writesonic and Rytr both write content in different languages. However, you can only write in 12 different languages with Rytr while you can write in up to 24 languages with Writesonic.
This is also a similar feature Writesonic vs Rytr shares together, however, Writesonic carries the best in this form.
The reason is that, with Rytr, you will be able to write in the following languages:
English
French
Arabic
Hindi
German
Italian and 6 others.
Writesonic on the other hand supports more than 20 different languages.
It covers all types of Languages Rytr covers and has more of it to help you even target the international market without looking at the language barrier.
If you plan enhancement of your business, to target more countries and makes more sales, then this is indeed a great feature you need to consider.
In addition, if you just want to continue your business in the general normal communication language (English) then this should not be something tangible feature to look at.
Plagiarism Check
Truthfully, neither Writesonic nor Rytr has a built-in plagiarism checker but that doesn't limit the type of quality content neither can produce.
The fact that Writesonic vs Rytr doesn't have a built-in Plagiarism checker doesn't mean neither software won't produce high-quality and engaging content.
So you can always be sure that whatsoever content that is produced for you from neither software, it is really for you and can't be found somewhere else.
By producing original content, it can really add a good reputation to your brand, individual, or organization.
Long-form Content
Neither Writesonic nor Rytr writes long-form content like a full blog post but it does provide a high-quality blog intro and outlines that catch your reader's attention.
To the fact that you can't get a full blog post with either tool, but you can be sure that you are getting a better intro and outline that stands to rank in SERPs.
In addition, if writing a full blog post is not the main reason why you want to sign up for this tool, then it is perfect for you then.
And that is because it creates an amazing copy for your sales email and as well ad copy.
If your priority is the full blog post either, then it is advisable you check out Jarvis here, it has everything you will ever need when it comes to content creation.
Ease Of Use
Looking at it, neither software provides easy to use dashboard and it is beginners friendly as well.
In terms of the pyramid feature, understanding the software INs and OUts as a new user might be intimidating but you do be good at it as time goes on.
We both can understand how being new to a platform looks like, even though you have experience in similar ones, you won't just get things right from day one.
But with constantly using it, you can be sure that you will soon become a master of it.
User Community
User community plays a vital role in the success of you being new to a platform.
And that is because you might don't really understand how to better utilize the platform as a newbie.
In order to avoid that.
You need to join a group of like-minded people who constantly uses the same tool you are using.
Luckily Writesonic and Rytr have so many different social networks they are active on.
That you can connect with like-minded people to get the best out of the tool.
Interestingly, Facebook is also part of this user community platform which is really great.
Apart from the user community.
There is also an active support system like live chat support, email, and even sending messages on social media.
This will ensure that you get a quick answer to any type of questions that may come as you start using neither tool.
It will make you have a better experience with them and as well increase your productivity with neither tool.
Writesonic vs Rytr: Pricing
We will be looking at Writesonic vs Rytr pricing system in this chapter so that you will be able to see how they differ from each other.
Also, this will help you in determining which one you need to go for since they nearly share the same features.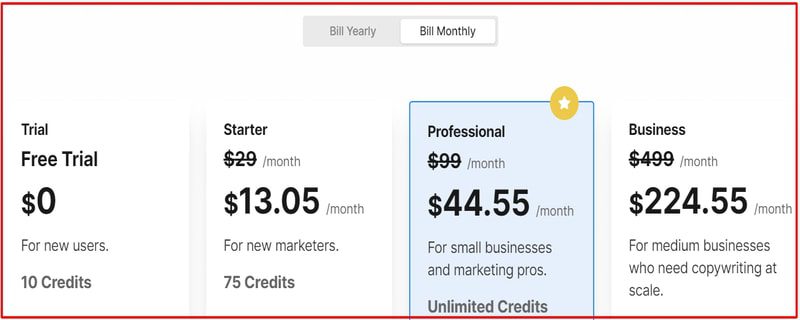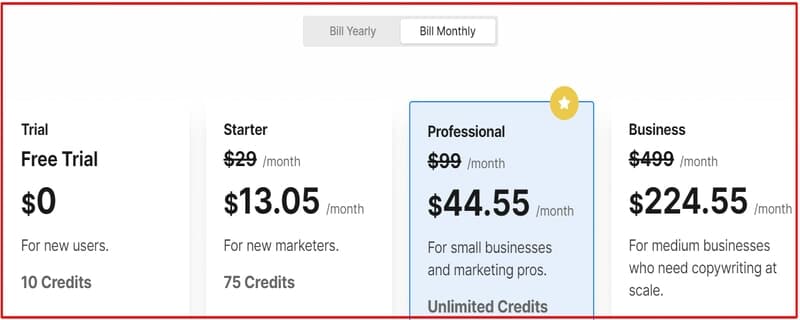 The above chart shows the Writesonic pricing plans. Writesonic have 4 plans, which included:
Free Plan – The free plan is for the new users to test how the system works and to see what they stand to benefit from using the software. This cost $0 and it is just 10 writing Credits.
Starter Plan – This plan is for new marketers who are just starting out online and at least trying to understand how everything works. This costs $11.25 per month and you have access to 75 writing credits.
Professional – This is the plan I personally recommend, not because of its features but you get access to unlimited writing credit. This will enable you to generate unlimited form of articles, write more, and pay less. It cost $40.05 a month and unlimited writing credit.
Business: The business plan is meant for organizations and big businesses that want more and advanced quality writing systems. It cost $202.05 a month and with unlimited credit, plus you are getting more features compared to other plans.
Here is a quick overview of Rytr pricing plans, you seem to be getting more in this although.
As of the time of writing this article, Rytr only offers 2 pricing plans, which are.
Free Plan – The free plan is the first plan on the list which gives you access to all Rytr features. With this plan, you will be able to use all of its features for $0 for 30 days. However, the only limitation to this is that you will only be able to generate 5,000 words in that month which I considered really great since you are just trying it out.
Premium Plan – The premium plan on the other hand costs $29 a month which gives you unlimited access to what you can do with the system. If you plan to use Rytr in the long run, then it is advisable you get started with this. As a content creator, blogger, eCommerce store owner, freelancer that do have projects at hand, this plan can literarily help you fasten the process.
In this Writesonic vs Rytr. Rytr has the best and attractive pricing plans that are suitable for everyone to get started with.
Conclusion
Looking at it, you'd agree with me that both AI writing assistance software is great and offers attractive features.
Rytr.me only seems to outrank Writesonic in terms of pricing and some slightly different features.
They are both beginner-friendly and offer easy to use dashboard for their users,
If you plan to use more functionalities, then use Rytr, if you prefer the features that Writesonic offers which are still great, then use Writesonic.
You should keep in mind that, you can never go wrong by using neither AI software writing assistance tool.
That's it on Writesonic vs Rytr. Which of these AI software are you getting started with? And let me know what you think about them in the comment section
Related Content: