Top 7 YouTube Cash Cow Gigs on Fiverr [Reviewed]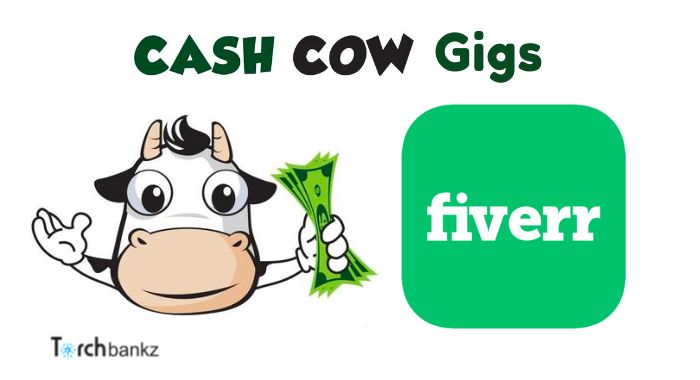 Let's talk about the Top 7 YouTube Cash Cow gigs on Fiverr.
YouTube is a massive industry, with billions of users and hundreds of millions of hours of content viewed every day.
It is no surprise that many people are looking for ways to make money on the platform, whether through advertising revenue, sponsored content, or merchandise sales.
One way to do this is by creating a Cash Cow or Faceless YouTube channel.
This generates a steady stream of income through ads or other monetization methods. It also allows creators to maintain anonymity while still producing captivating content.
These channels, according to experts, are made only with the intention of making money.
Although making money through these channels is not new, it has not yet been fully explored.
Outsourcing video production can be a valuable strategy for rapidly growing a YouTube channel.
Platforms like Fiverr provide access to talented freelancers who can produce high-quality content at a fraction of the cost of hiring a full-time employee.
Also, you gain access to specialized expertise and equipment that would otherwise be costly to acquire.
Whether you aim to create animations, narrated videos, or other types of content, there are freelancers available who can assist you in achieving your goals.
That is why I will be sharing the top YouTube Cash Cow Gigs on Fiverr with you.
What is YouTube CashCow?
YouTube cash cow is a YouTube channel that you can operate without showing your face or getting directly involved.
In other words, you can call it a faceless YouTube channel.
It is very easy to run since you do not have to set up any equipment, dress up, light up the environment, and record yourself.
They can also be outsourced. This means that you can hire someone to handle the whole process of the YouTube channel, from the creation of the channel to the video editing and uploading.
Generally, when you talk about a cash cow, it refers to a type of business or product that generates a steady source of income.
That is why this type of YouTube channel is referred to as a cash cow YouTube channel. With a cash cow YouTube channel, you can generate a steady source of income.
Top 7 YouTube Cash Cow Gigs on Fiverr
Below are our top picks when it comes to finding freelancers on Fiverr to help create your Cash cow videos.
#1. Prostudio9
Prostudio9 is a professional video editor with extensive experience in creating top cash-cow videos. This he does for YouTube and other platforms in any niche.
He offers a wide range of services. They include;
script creation
American accent voice-over,
thumbnail design
SEO-optimized descriptions,
syncing voice-over with the script
clean intros
smooth transitions
royalty-free background music
1080P or 4K quality,
and text animations.
Prostudio9 has been in the industry for four years and is popular for providing complete videos which he delivers on time.
He is also open to revisions and offers 24 hours support to his clients.
According to reviews, Prostudio9's clients have had a great experience working with him.
They appreciate his patience and willingness to improve the quality of the videos. And many have also noted that they can see the progress in each one of them.
Prostudio9 receives great feedback for his ability to give advice and tips to improve clients' channels.
Prostudio9 is highly recommended by his clients, who have described him as professional and easy to communicate with.
They also talk about his ability to deliver ahead of schedule.
One client even called him "artistically brilliant" and stated they would be working with him for a long time.
Prostudio9's gig is known for its quality, timely delivery, and excellent customer service.
#2. Daim Faraz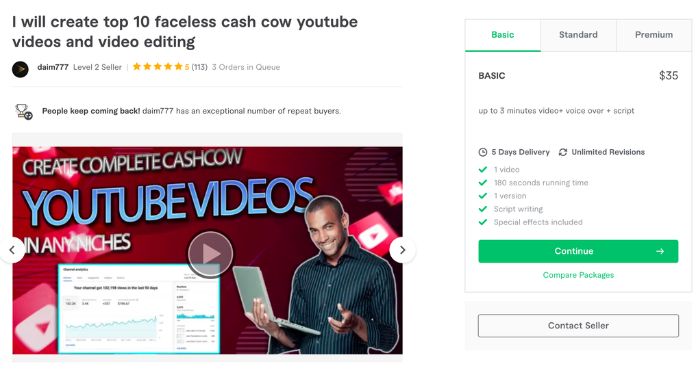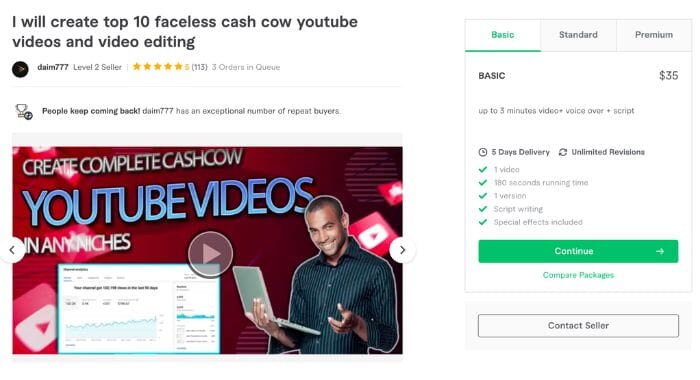 Daim Faraz is also one of the Top 7 YouTube Cash Cow Gigs on Fiverr. He has over ten years of experience in graphic design.
He specializes in creating the Top 10 faceless viral videos for cash cow channels and offers a wide range of niche topics such as the Top 10 Amazing facts, Top 10 luxury cars, and Top 10 tech.
His clients have channels with over a million views.
Daim Faraz's process for creating high-quality videos is simple and effective.
He starts by getting a topic from the client, then his scriptwriter writes a script on it. Next, a professional human voice-over artist records audio on this script in any accent the client desires.
Finally, he edits the video using copyright-free footage and animations.
Daim Faraz's clients have had nothing but positive things to say about his work. They appreciate his use of human voices rather than AI voices, which are increasingly being demonetized on YouTube.
They also note that Daim Faraz is the best creator and video editor they've come across and that his videos are well-presented and got the work right the first time.
Daim Faraz is an excellent choice for anyone creating a cash cow channel on YouTube.
#3. m_kashif9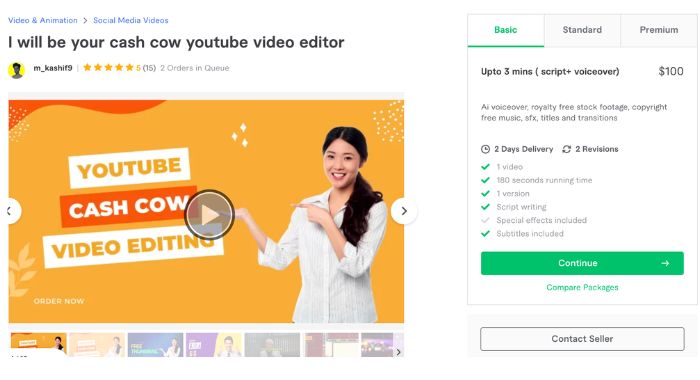 He is an experienced professional video editor and motion designer specializing in creating cash cow videos for YouTube using various techniques such as transitions, sound effects, animated titles, motion graphics, overlays, color grading, music, and special effects.
His objective is to visually communicate a compelling story optimized for more views.
He offers video editing services for voiceover and scriptwriting services for clients without voiceover, which he converts into premium AI voiceover.
He also provides a free thumbnail with the final video.
m_kashif9 is proficient in Adobe Premiere Pro, After Effects, and Photoshop learned through trial and error.
He works with many clients outside of Fiverr and currently scaling his business on the platform, offering a limited-time discount for new clients.
Reviews indicate that m_kashif9 is highly skilled and professional, with attention to detail and the ability to bring the client's vision to life.
m_kashif9 is reliable, prompt, and a great communicator who understands clients' needs and his cost-quality ratio is excellent.
#4. ProCreation9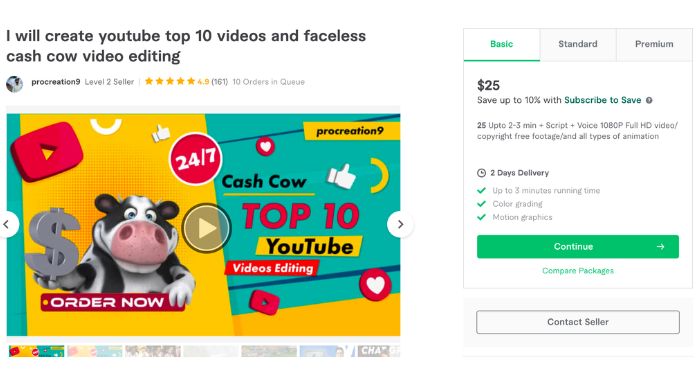 They are a team of skilled video editors that creates the top 10 videos for YouTube channels.
With 4 years of experience, they have built a popular Top 10 Niche YouTube channel with millions of views.
They offer professional script creation, American accent voiceover, thumbnail design, clear introductions and transitions, royalty-free background music, SEO-optimized descriptions, voiceover synchronization, and 1080P resolution.
ProCreation9 delivers complete videos on time and allows for multiple revisions. They also offer 24/7 support and work closely with clients to bring their vision to life.
Customers praise ProCreation9 for their excellent communication, high-quality videos, and professional approach.

Many say the final product exceeded their expectations and recommend their services. Some even call them the best in the business and plan to return for future projects.
ProCreation9 is a reliable and professional video editing team that creates high-quality, engaging videos optimized for YouTube.
With a strong track record and passion for creating interesting content, they are a great choice for anyone looking to improve their YouTube channel.
#5. Zaidarshad817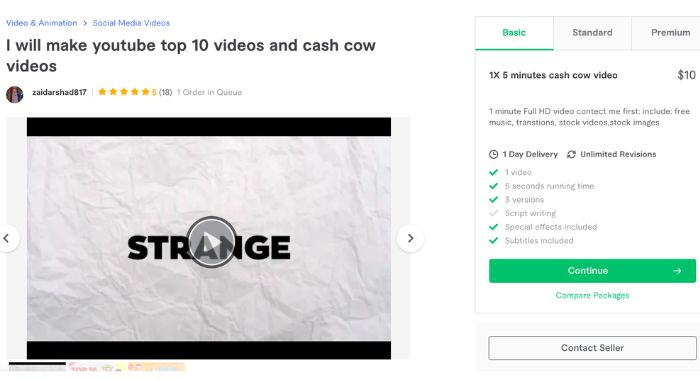 He is a professional video editor who creates cash-cow videos for YouTube channels.
He offers royalty-free background music, animated text and titles, and cool and attractive transitions.
Zaidarshad817 works with Adobe Premiere Pro and Audition to ensure the highest quality of videos.
One of the key services Zaidarshad817 offers is the creation of an engaging script written by one of his scriptwriters.
He also includes an American female or male voiceover and edits in full HD.

One of his aims is to provide clients with a stunning cash cow YouTube video that generates passive income.
He is known for his fast response time and ability to deliver the best quality at the best price.
There are several reasons why you should choose to work with Zaidarshad817. He is punctual, and available 24/7, ensuring that he completes your project on time.
Not to mention his passion for his work.
He offers unlimited revisions to ensure client satisfaction.
Previous clients have praised his communication skills, ability to deliver on time, responsiveness, and willingness to help with revisions.
Zaidarshad817 is a skilled and dedicated video editor who will ensure your cash cow YouTube channel's success.
#6. Fromhamzasadiq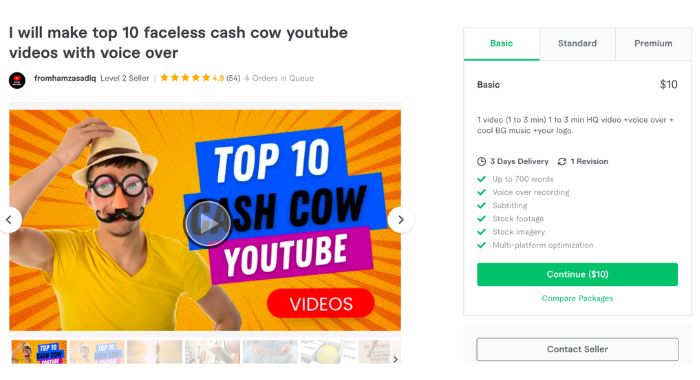 Fromhamzasadiq is a skilled video maker and editor with seven years of experience.

He creates high-quality and engaging top-10 list content for cash cow YouTube channels.

Cash cow videos are extremely profitable, and Fromhamzasadiq helps people by making such videos for them.

He offers various services, such as cash cow video creation, script writing, AI voice-over, 1080p quality, background music, and the ability to add your logo. He also provides unlimited revisions to ensure satisfaction.
According to reviews, Fromhamzasadiq is reliable and easy to work with. customers appreciate his clear communication and willingness to make changes.

They also praise the high quality of his videos, with on-screen captions, stock images, and voiceovers.

Some customers have even mentioned that they have worked with him multiple times and consider him a part of their team.
Fromhamzasadiq is a great choice for anyone looking to create profitable cash cow videos for their YouTube channel.

He has a proven track record of creating high-quality videos that meet the needs of his clients, and his customers have consistently praised his work and professionalism.
#7. af_records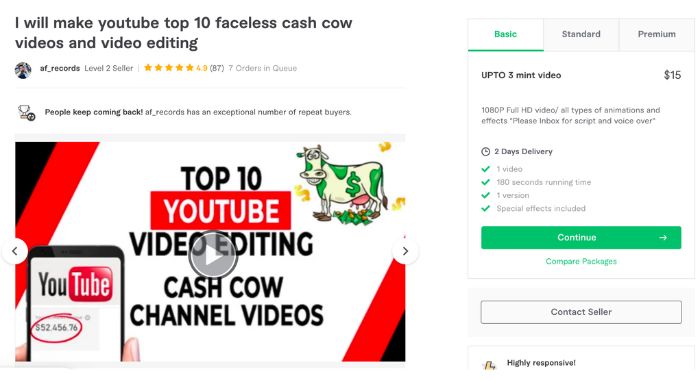 This is a professional YouTube video editor with three years of experience in the industry.

af_records offers a wide range of services, including creating professional scripts, American accent voice over, designing thumbnails, providing SEO-optimized descriptions, syncing voice with the script, clean intros, and smooth transitions

To begin a project, he only needs the title of the videos and the script, the top 10 names, or he can create them himself.

He is an expert in using Adobe Premiere Pro and has 2 years of editing experience. he has skills related to social media management and promotion.
He is passionate about his work and is dedicated to providing high-quality service to his clients.
His clients have had great experiences with af_records and have praised his work as excellent.

They have recommended him to others and have been very pleased with the delivery of the completed projects.

His artwork is said to be amazing, and his clients are particularly impressed with the quality and relevance of the video material used in the top 10 videos they ordered.
Conclusion
I have shown you the Top YouTube Cash Cow Gigs on Fiverr. Cash cow channels on YouTube can be a great source of income if you're willing to put in the effort to create quality content.
One way to achieve this is by utilizing the skills of these top freelancers, who have a proven track record of creating high-quality videos for YouTube and have received positive feedback from clients.
Whether you want to create animations, narrated videos, or other types of content, these professionals can help you achieve your goals.
Remember, to make income from a cash cow channel easy and seamless; you need to take the first step and be ready to go all out.
It's also important to note that while having a cash cow channel can be a viable source of income, it also requires consistent effort and dedication to maintain and grow it.
It's not a one-time effort but a continuous process of creating quality content and engaging with your audience.
Additionally, it's helpful to keep an eye on the trends and updates in your niche to stay relevant and attract more viewers.
With the right approach and effort, you can turn your cash cow channel into a sustainable source of income.