Zendrop vs Spocket- Which Is Better For Dropshipping?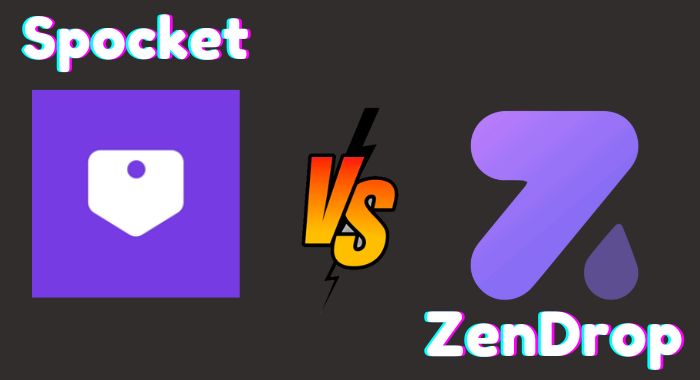 In this article, I will be sharing with you an unbiased review of Zendrop vs Spocket.
Dropshipping is a business model that allows e-commerce entrepreneurs to market their products. They can freely do this without carrying an inventory.
It is a perfect business model for those that want to start an online business with little or no upfront investment.
It is one thing to know different dropshipping platforms another thing is to know the best of them.
Seeing that Zendrop and Spocket are two of the best dropshipping tools, opting for one might not be quite easy.
That is why in this article, I will be showing you an unbiased review of Zendrop vs. Spocket. With that, you will be able to determine which is best for you.
Zendrop vs Spocket: Who Are They For?
Zendrop and Spocket are meant for different kinds of people.
If you pick interest in dropshipping and you want a " completely done for you package" via various integration platforms like 
Spotify and WooCommerce. These tools are your go-to. This article will reveal things you need to know about Zendrop and Spocket and help you to choose the best.
Zendrop Overview
Zendrop is an e-commerce platform that helps a variety of businesses to re-direct their operations.
It helps in connecting reliable suppliers with online merchants as well as dropshipping stores. 
In addition, Zendrop offers a user-friendly platform with necessary features that gives room for the smooth running of a sizeable business.
These features include private labeling, Zendrop financing, Automated fulfillment, fast shipping, etc.
Several E-commerce businesses are more interested in customer service and sales than back-end operations.
This is where Zendrop comes in. It replaces the frustration another e-commerce platform gives with contentment.
Quality has increased, and communication is fast to deliver the best service. Zendrop was created for drop shippers by dropshippers. 
Furthermore, asides from the high-quality products and shorter shipping times it offers.
It has a sufficient amount of reliable and trustworthy suppliers across several countries of the world.
An English-speaking team is available to support customers 24/7
Zendrop is the exact solution to all the problems encountered by other dropshipping suppliers.
Zendrop Key Features
These are some of the unique features of Zendrop that help it perform effectively.
1. Fast Shipping
There are three shipping options in Zendrop, The economy is the cheapest of them all.
The second option is standard shipping which offers shipping times like 7-15 days to the US and 5-10 days to the UK.
It offers about 12 days to Australia.
The last option is express shipping. This is for Zendrop pro users, It is the best option available. Express shipping is carried out within 5-10 days to the US, 3-9 days to the UK, and 3-9 days to Australia.
If you desire to speed this up further, you can make a pre-order of the inventory and stock them in Zendrop's US warehouses.
It will get to you within 2-3 days
2. Automated fulfillment
This is a popular term in the e-commerce industry; Zendrop is widely accepted by many because of this feature.
It has a legitimate, one-click automated fulfillment system. This system, if configured once can run your business on autopilot.
Although there is still a little amount of manual input that is still required. These include adding products to your store or configuring shipping rules.
Zendrop helps to save a lot of time so that you can focus on other areas that demand your attention.
3. Private labeling
When a product is manufactured by a third-party manufacturer and sold under a retailer's brand name, it is referred to as private labeling.
Zendrop gives you the opportunity to private label any desired product.
You can determine what goes on in it, how it's packaged, and what the label looks like.
4. US fulfillment options
Zendrop allows you to save a lot of time by outsourcing fulfillment and offering a faster shipping service.
It helps you to broaden your customer base across the US and this helps to boost your business.
For you to successfully do this, you will have to successfully ship across the country.
Let us say from Portland, Maine, and Los Angeles, California; Chicago, Illinois, and New Orleans as well as Louisiana. this can be done as quickly as possible with an affordable fee.
5. Bundles and subscription boxes
Zendrop provides complementary value by adding products that enhance an existing subscription.
A lot of smart businesses are beginning to adopt bundles as a way to combat churn and keep their subscribers happy.
6. Zendrop financing
As e-commerce experts, Zendrop understands that not having the funds to remain in stock and also market your product is a big barrier to growth for you.
Therefore, Zendrop has decided to offer a new way to help you fund your business online, ranging from $10k to $3M.
7. Affiliate marketing program 
Zendrop is unique as regards commission. It has an Industrial-leading commission.
They know that when your referrals succeed, you also succeed. Referrals are paid a % of every one of their sales.
Spocket Overview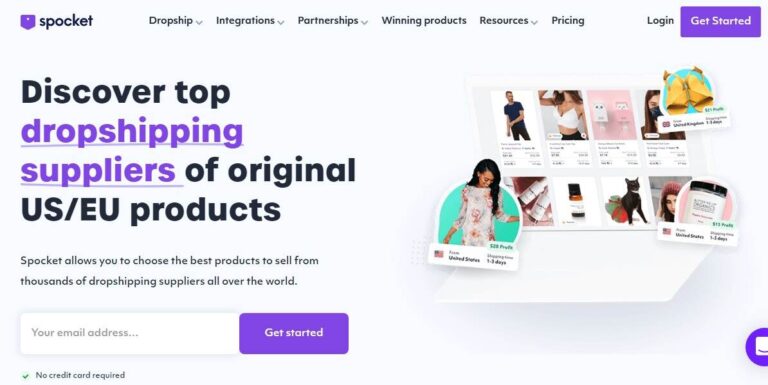 Spocket is a complete package dropshipping app that allows you to start a dropshipping business with a supplier base in the US and EU.
It allows you to easily search and connect with suppliers closer to your customer from their huge marketplace to enjoy the 2 – 14 days shipping delivery.
The app equally allows you to easily search and import products from tens of thousands of their product catalogs across various suppliers on the platform.
With their one-click import button, you can rest assured of having a fully automated dropshipping store with both Shopify and WooCommerce.
Also interesting about Spocket is the fact that you can order sample products and evaluate them yourself before selling them.
Their marketplace is known for high-quality goods with up to 60% discount leaving you with a higher markup on each product.
Spocket Key Features
These are some of the unique features of Spocket that help it perform effectively.
1. Fast shipping
It allows you to enjoy fast shipping of your products and invariably makes your customer happy.
However, the shipping days may vary on different products and supplier locations.
This owes to the fact that more than 60% of suppliers on Spocket are based in the US and EU compared to sourcing for products from other popular dropshipping websites in China.
With this, you can enjoy more purchasing experience with your customers and have their products delivered fasters, which is going to earn your store a better reputation.
2. Global suppliers
It can be claimed that Spocket is extremely serious about selecting its product suppliers. Every single one you see has been conscientiously assessed and verified.
This makes Spocket an ideal platform for well-known and reliable product suppliers.
3. AliScrapper chrome extension
With the AliScrapper chrome extension, you can automate AliExpress Dropshipping for 100% free.
It allows you to be able to import thousands of AliExpress dropshipping products as fast as possible.
Moreover, you can easily filter your shipping destination with a single click.
This helps to save time and also allows one to focus more on building your store as well as your brand.
4. One-click import
The one-click import button saves you the stress of adding products image, descriptions, and many other kinds of stuff that can easily do away with your time.
With the import button, you can easily import as many products as you want automatically.
5. Price markup recommendations
The pricing Mark-Up features allow you to automate the entire pricing process of your store.
You can either choose the option of a multiplier, Percentage, or fixed price. Whichever you do will affect the profit turnover of your store.
For example, let's say you're using the multiplier markup type. A $20 product price with 2.5 markups will automatically change to $50.
You could also set up a cent roundup for your entire products. For example, using .99cents will round up your products to $50.99.
The profit margin on Spocket is another big deal that made the platform stand out. You can make a 30 – 60% profits margin on all products sold by you.
6. Mobile app 
Spocket's mobile app gives you the ability to manage your business well. It now consists of 11 international languages.
You can easily dropship products from global suppliers, including US, European, Canadian as well as Brazilian suppliers.
Zendrop vs Spocket: Zendrop Integrations
Here are some integrations that you can use along with Zendrop
Shopify
Zendrop takes pride in only partnering with the most reputable, high-quality suppliers in the industry.
You can browse thousands of trending products, instantly add them to your Shopify store, filter through products based on your store niche and shipping location preference, and build a highly profitable store with the Zendrop app.
WooCommerce
Zendrop is a complete plugin for WooCommerce. You can instantly add trending products to your WooCommerce dropshipping store.
Also, you can exploit their dynamic customer support as well as their success team to your advantage.
CommerceHQ
With ease, you can now add trending products instantly to your CommerceHQ dropshipping store.
Furthermore, you can utilize the support of the Zendrop customer team. Fast shipping is now available all over the world.
Also, there are over 100K+ trending products available for you to add to your store.
All you have to do is integrate Zendrop with your CommerceHQ dropshipping store, and you can leave the rest to us.
Spocket Integrations
Here are some integrations that you can use along with Spocket
Spotify
The good thing about this is that you can start using both Shopify and Spocket for free! They both offer a free trial to test out the platform.
If you prefer the Shopify platform, all you need do is start your free trial and then follow the Shopify wizard to set up your store.
Once that's done, head over to the Shopify app store and search for Spocket App.
Next, click on the "Add App" button and follow the simple login process to log in to your Spocket dashboard on Shopify.
WooCommerce
WooCommerce allows greater flexibility compared to Shopify for those having experience already.
However, to use Spocket successfully on WooCommerce, you'll need a domain name and a hosting account, which you can easily get using Bluehost as it comes with a free domain name.
WooCommerce is pre-installed with Bluehost, so your account will be up and ready within a few minutes.
Once that is done, you'll need to log in to your WordPress dashboard.
Equally interesting about the app is the welcome video that's done to walk you through the entire process step by step.
BigCommerce
Spocket is an encompassing platform that strives to meet all your Bigcommerce dropshipping needs.
It includes trustworthy suppliers that are ready to deliver unique and high-quality products through fast shipping. 
To boost your business, all you have to do is to dropship products from your BigCommerce store with Spocket.
You can also streamline your online store with a one-stop-shop for both US and EU
Felex
This integration helps you to build a unique e-commerce store and discover high-quality products that you can sell with Spocket.
Choosing from a lot of pre-vetted suppliers in the USA, Europe as well as Asia. From any of these suppliers, you can choose quality products through fast shipping.
Wix
With Wix, you can add a distinct selection of US and EU dropshipping products. Elevating your dropshipping business is now made easy thanks to this Spocket's integration.
You also get to enjoy dedicated 24/7 customer support. Wix's dropshipping business is in good hands.
Ecwid
Start your online business as an entrepreneur with Ecwid. You have access to high-quality dropshipping products and fast shipping.
With Ecwid, Spocket gives you a one-stop directory of pre-vetted dropshipping suppliers and amazing products to sell online.
Squarespace
Build a unique and remarkable eCommerce store with Squarespace. Here, you can choose from thousands of suppliers from the USA, Europe, and Asia.
There's a wide range of unique products and fast shipping with Squarespace.
Square
The square online store is another Spocket integration whereby you can easily build your eCommerce website.
Dropshipping suppliers are also examined to check for their reliability and promptness. The quality of their products will be confirmed before shipping them to customers.
Alibaba
Spocket is a recognized and official partner of Alibaba. On Alibaba, you can conveniently import different dropshipping products directly into your store.
You can also streamline your winning products from Alibaba. 
There's a curated list of winning products of Alibaba products that you can import into your online store.
AliExpress
AliExpress dropships products are completely free with the AliScrapper product importer. You are also able to import thousands of AliExpress dropshipping products.
This can be done instantly. You save a lot of time focusing on building your store and brand.
eBay
With eBay, you can add a unique selection of winning products that will help to elevate your dropshipping business.
USA and EU dropshipping products are also made available with Spocket's integration with eBay.
Zendrop vs Spocket: Zendrop Reviews
On Trustpilot, Zendrop has a 4.7-star rating from 2,256 reviews.
While on the Shopify app store, it has a 4.7-star rating from 2,150 reviews
On G2, It has a 3.7-star rating from 7 reviews. This isn't substantial.
Some of the remarks that stood out on all platforms were the ease of usage and how fast their products got delivered.
Spocket review
On Trustpilot, it has a 4.7-star rating from 1,890 reviews.
While on G2, it has a 4.4-star rating from 67 reviews.
On Capterra, it has a 4.1-star rating from 15 reviews.
A lot of the customers were pleased with the customer support system from Spocket.
Zendrop vs Spocket: Pricing
Zendrop Pricing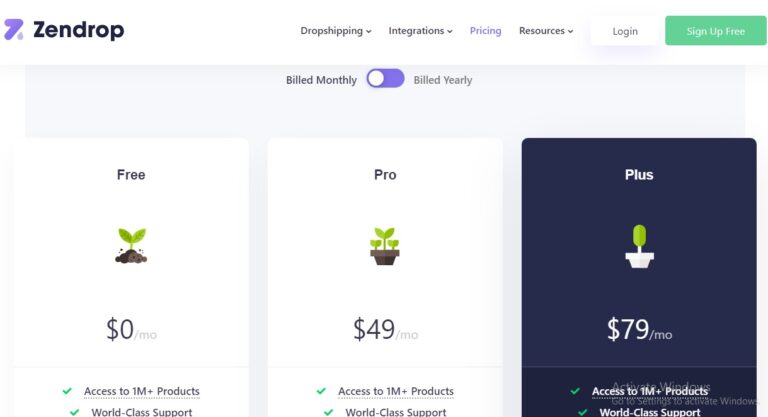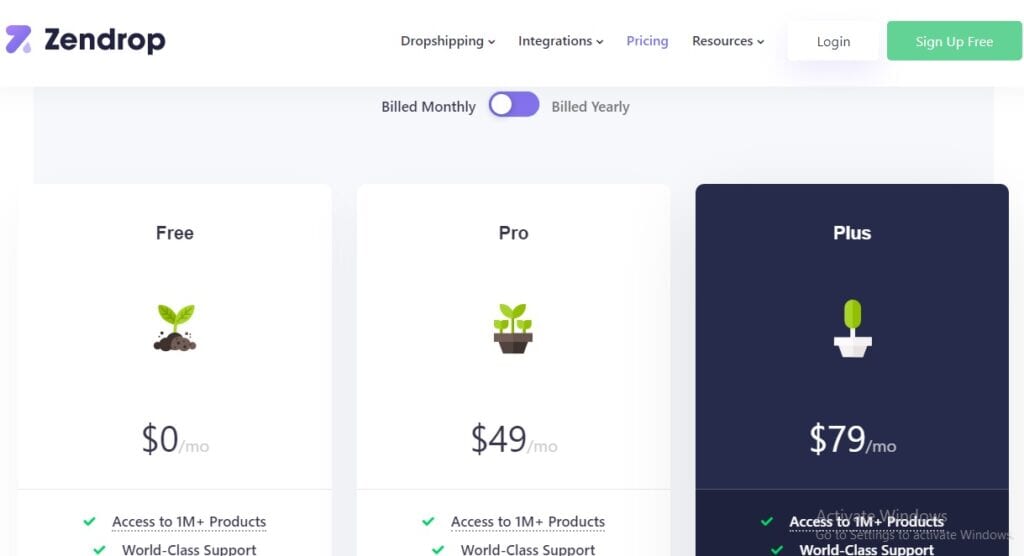 There are three Monthly pricing plans which are free plan, pro, and plus.
There are 14 days of the free trial. However, you can also get started for free if you are not ready to launch your store.
Another good part of Zendrop's 14 days of free trial is that it doesn't require a credit card. 
Free plan
In this free plan, you have access to these features
Access to 1M+ products
24/7 Support
Product Sourcing
Pro
The Pro plan goes for $49.00/month
Unlimited orders Per month
Automated fulfillment
Custom Branding
US products
Express Shipping
All the features of the free plan
Plus
Plus plan goes for $79/per month
Zendrop Academy
Product bundles
Subscription Boxes
Chargeback Management
Private Product Listings
Trending products
$100 Order Credits
And all the features of the Pro plan
Spocket Pricing
There are four Monthly pricing plans which are, free plan, starter, pro, and empire, and three yearly pricing plans which are pro, empire, and unicorn.
You should know that there are 14 days of the free trial. However, you can also get started for free if you are not ready to launch your store.
Another good part of Spocket's 14 days of free trial is that it doesn't require a credit card. 
Free plan
Spocket offers a free trial plan so their users can experience how powerful the tool is. This plan is solely for entrepreneurs who want to browse Spocket's catalog of products. It features include
24×7 Chat support
AliExpress Dropshipping
Starter
The starter plan goes for $29.99/month. it is good for anyone that wants to test the water and later upgrade to the next plan when their business started booming.
Import up to 25 products
Access to unlimited orders
Real-time inventory updates
Currency exchange
Email support only
Global pricing rule etc.
Pro
This pricing plan goes for $49.99/Month
Import up to 250 unique products
Access to Branded Invoicing
25 Premium Products
Unlimited orders
And everything included in the free plan
Empire
Empire Plan: $99.99/Month
10000 unique products
10000 premium products
Branded invoicing
Supplier communication
Image search
And everything included in the free plan
Zendrop vs Spocket: Customer Support
These two dropshipping platforms have great customer support and also an amazing success team to work with.
Which dropshipping tool is best for you?
Both are equally good tools. Spocket offers more integrations than Zendrop.
If a user has an e-commerce store on Shopify, WooCommerce, and CommerceHQ, they must use Spocket. Spocket is cheaper compared to Zendrop.
Zendrop vs Spocket- Final Thoughts
Zendrop and Spocket, amongst other platforms, have been able to stand out. Their fast shipping time, unique discount, and international network are outstanding.
Zendrop and Spocket are viable options for an online merchant who wants to go into dropshipping.
It is one of the best dropshipping suppliers in the world. Although Spocket is loved by many users.
I'm sure you now understand how the two work. You can now make your decision to get the best tool for your dropshipping business.
or