What is White Label Software [How Does it Work?]
In today's article, we will be exploring what white-label software is and how it works. Using white label software helps you brand the software as yours.
That's why anyone that wants to make use of white-label software must be able to analyze to what extent they have control over the software.
As a result, they will be able to understand how they can effectively meet their clients' needs.
White-label software offers great benefits as long as the plans are accurate and updated.
These plans must be able to satisfy the end users maximally.
It is one thing to know what the white label software is about; it is another thing to understand how it works.
That is why in this post, I will not just show you what white label software is, I will explain step by step how it works.
We will also examine what you stand to gain when you use white label software.
What is White Label Software?
White label software is a type of software that is created by a company to help other companies in branding their products.
It is created to look like it was created by the company that intends to use it.
In the creation of white label software, the original developers have full control over the source code and architecture of the whole software.
It helps to address and respond to a well-defined business opportunity through standard processes.
It's a great option for company or brands that don't want to invest so much in software development but still needs to market their software.
A third-party company produces white-label software. They sell it to other companies without branding.
Other companies now buys the white-labelled software to rebrand it as their own personal product.
They can also resell them to customers that want to use them personally.
The main goal of a white-label company is to develop the software and improve them where necessary.
They don't have to expend their energy on marketing and advertisement. That is why companies that get white-label software find it easy to focus on satisfying their customers to get good sales and reviews.
White-label software can be used in different industries. They include;
E-commerce,
banking,
digital marketing,
Agencies etc.
The interesting part about getting white-labelled software is that you can freely customize this software to make sure its features and functions readily meet the need of your business or your customers.
The majority of white-label software is sold on SaaS platforms.
On these platforms, you have the rights and license to this software over a period that your subscription covers.
A good example of this platform is Vendasta
How Does White Label Software Work?
Here's a quick breakdown of how White Label software works
Source For Products
Test the product
Pay licensing fees
Rebrand the product
Sell to customers
In this section, I will explain to you the process of how white label software works.
Step 1: Source For Products
Find a company that has a good track record in your area of interest.
Be very sure this product is exactly what can help you meet the needs of your clients. You have to decide on the white label software you want.
Make research to locate companies that are ready to white label the product you need.
If you want to provide a banking platform, but don't want to build it yourself.
You will find a company that can not only build a banking platform, but that is also willing to white-label the software for you.
Where To Source For White Label Software?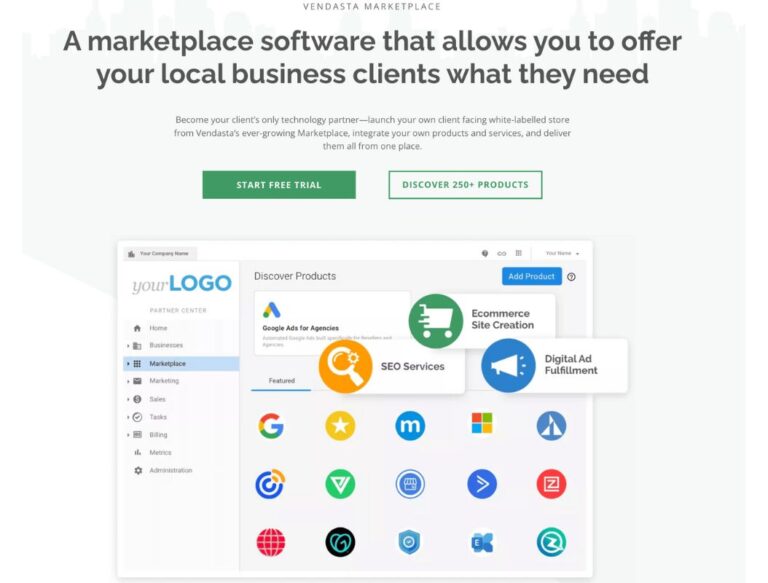 For different SAAS products reseller platforms, one of the best platforms that come to mind is Vendasta
The Vendasta platform is an all-in-one platform for companies that provide digital solutions to small businesses.
So, irrespective of your niche, you can find done-for-you white-labeled digital products of any kind on the platform.
Best part, they also offer white-label services in different niches. Be it in:
Think of Vendasta as a one stop marketplace of any digital SAAS products. Their white label SAAS product cut across the following industry:
Sales
Finance
Fulfillment
Ecommerce
Reputation Management
SEO
Local Businesses Listings
Social Marketing
Web Design & Hosting
Content Marketing
Productivity & Operations
Customer Communication
Scheduling
So based on your chosen industry, you can find white Label product of any kind on Vendasta.
Check out Products Listed on Vendasta Marketplace
Step 2: Test the Product
For you to know how efficiently this white-label software works, you have to run a test on the product.
Be double sure of the software you want to launch out to the public. Either a freemium model or a free trial, you have to test the product.
Some people go to the extent of investing a small amount to get a prototype.
It's better to check out how the product works and functions before subscribing to it.
Be sure the software is worth purchasing or subscribing to.
It helps to prevent embarrassment and it also helps you to understand how it runs before your customers begin to use it.
Step 3: Pay Licensing Fees
After testing the product, you will need to pay licensing fees to the company that wants to sell the white-label product.
One of the financial implications associated with using a white-label product is the licensing fees.
On SaaS, license fees are always on a subscription basis. You will have to pay licensing fee to the company.
It might be on a monthly or yearly basis.
This licensing fee grants you access to use the product, rebrand the product, or resell it as your own.
Step 4: Rebrand Your Product
After you have reached an agreement with your provider and paid the required license fees, you are allowed to adjust the software.
Designing, rebranding, labelling, and adjusting every other aspect you want can be easily done at this stage.
Most especially, ensure you add your logo.
This is very important when it comes to marketing a product. You want to build a personalized feel for your product.
Adjusting font size, color, or page organization will go a long way in helping to embed your company's brand into the product.
Step 5: Resell to Customers
At this point, you have a reasonable amount of control over the software. You can now embark on marketing the software.
This where your marketing plans comes into play. I believe there should be a plan on how you want to showcase the products to your desired audience.
Because making sales or reselling the software is now at your discretion.
Depending on the software, you can also decide to use it personally or give it out freely.
The choice is all yours.
Pros of White Label Software
Here are some of the benefits of using white label software;
No skill is required
You don't have to be an expert or vast in knowledge about building the software you need.
When you see a need in your business and you need software to provide solutions, all you need is this software.
Trying to embark on something you are not professional at, will only lead to a lot of irregularities or a half-baked project.
You get to utilize the expertise of white-label developers, especially if you don't have in-house developers.
You enjoy the benefit of proffering solutions to your client's needs and also doing what you love doing.
Little money and time are needed
For you to develop software that solves a problem from the scratch, requires a large amount of time, money, and resources.
The choice of white label software, to a large extent, helps to eliminate the demand to spend more time and money on testing, R&D, and engineering.
The only expense you might incur is the licensing fee you pay to cover a period.
However, it depends on your agreement with the developers.
In running your business, the amount of time you spend on it is very important.
What's more, you don't have to spend a lot of time thinking and researching how to build software that will meet your client's needs.
You can channel this energy into getting the software right in front of your target audience.
If you don't want to spend so much time and money on building software, white label software is the best option.
Satisfied and happy customers
Identifying the needs of your customers and finding a quick solution to them helps to boost your business growth.
Your ability to meet your customers' needs makes them confident, satisfied, and happy with your brand.
That is the more reason you should adopt white label software.
In addition to that, it encourages you to go all out to get more customers. Your white-label developers will be busy working on giving your customers their best experience.
Accelerating your customers' responsiveness is much easier with white-label software. Your customers are happy, you are happy and everyone is fine.
Sense of ownership
No one needs to know who the original developers of the software are. Your customers are not privy to such information.
This is because the software carries your company's name, label, and logo.
You can also adjust the software to suit its purpose.
The developers grant the flexibility to improve the software. This will give you added control over the software.
Lower risks of maintenance
Owning software completely comes with a lot of challenges, especially in the aspect of maintenance.
With white-label software, you avoid the risk of maintenance.
This software is reliable to start with and it has a team of dedicated developers that gives their best to manage the software.
That is why if any issue occurs, they are proactive about identifying it and resolving it quickly.
SaaS multi-tenant form of white label software offers the benefit of no maintenance.
They are in charge of fixing the bugs and any other improvements necessary. This, they carry out virtually.
Tested and trusted software.
A white label software from a trusted and reliable developer will be a good option.
They carry out tests and analyses on the software before bringing it out to the open. You can also try it to see if it's reliable.
It makes business forecasts to be more reliable. Therefore, it reduces risks and failures to the lowest level.
That is why your choice of white-label software is key.
It is very important to look at their track records and how well their goals align with yours.
Cons of White Label Software
In as much as white label software comes with a lot of advantages, there are a few notable limitations to it.
Limited customization
The biggest disadvantage of white label software is the inability to customize it.
That is because these developers only add standard features in the software that they feel are relevant to the industry.
There might be some little features that are important in satisfying your clients.
You will not be able to add it because you are not the developer.
The developers build the software from the scratch. They usually do not disclose the technical details and information to the buyer.
Therefore, you might have to continuously depend on the developers.
Hence, the customer has to carry along the developers on any change he wants to make which can be very stressful.
Delay in effecting important changes.
When it comes to dealing with a third party to help you resolve your client's problem, any miscommunication or communication gap can be very detrimental to the business.
You have to convey all technical requirements and functionality of white label software.
Any delay or inability to meet deadlines can bring a bad reputation to the company.
Delivering and meeting up deadlines can only be possible if the manufacturers can work on the white label software on time.
The goal is to meet clients' needs and requirements.
FAQs about White Label Software
I have compiled below some of the questions people ask about White label software.
Is white labelling illegal?
No, white labelling is a legal business. It allows different products to be sold or leased by a company. These products can be rebranded to suit the new company's brand and identity.
What is white label SaaS?
A white label SAAS is a software product that is not branded or labeled. This product can be purchased and rebranded to look like their product.
A company can decide to purchase a white-label SAAS from a software company. It can be based on a monthly subscription. This product is given out unbranded and the customer goes further to brand it to fit into his business style. He can then eventually sell it out to the end users to enjoy it.
What is the difference between a white label and a private label?
In White label, products are usually manufactured for different retailers. Products are manufactured just for a retailer's brand in Private label

The white label does not allow retailers to make adjustments to the product. They can only rebrand it to fit their identity. For Private Labels, retailers can modify the product they get.
The white label gives room for easy penetration into the market. Private label products take a while to be sold.

Lower prices characterize white labels. Private label products, on the other hand, are usually expensive.
Conclusion
White label software has always been a go-to for companies that desire cost-efficient software that meets their customer's needs.
Several benefits are inherent in the adoption of white-label software. These benefits are evident if backed up by accurate planning.
It is the best option for organizations that wants good service delivery for clients without sacrificing product quality.
In this article, you have learned about what white label software is, how it works, and finally the pros and cons.
Right now, the only thing left is for you to carefully select the right white-label software to work with.
Before the developers sell out the software, there are some terms and conditions that you have to agree to.
They carry out this legal agreement to ensure no one breaches the contract.
Want to start a white labelling business?