Complete List of GoHighLevel Features – Handpicked (2023)
Let's explore the complete list of GoHighLevel Features and see how beneficial they are to your business.
Checking this out means you're probably looking for a one-stop solution to run your online business or agency.
For such, GoHighLevel has to be the pick of the year. It is an all-in-one platform helping you with everything you need to nurture a cold lead to a paying customer.
It helps build your pages, converts, automates and lets you manage all the online business operations in a single software.
And that's not all! Go High Level has fantastic features that can help you seamlessly run your online agency.
It includes many features, such as sales funnels, web-building tools, SMS and calling capabilities, appointment booking, workflow management, pipeline management, contact management, email marketing, lead communication, landing pages, and more.
All features are accessible via the GoHighLevel dashboard.
It is built to help businesses of all sizes improve their workflow and drive growth.
It is known for its intuitive user interface and customizable templates that make it easy for businesses to get started.
Why Use Go High Level For Your Agency?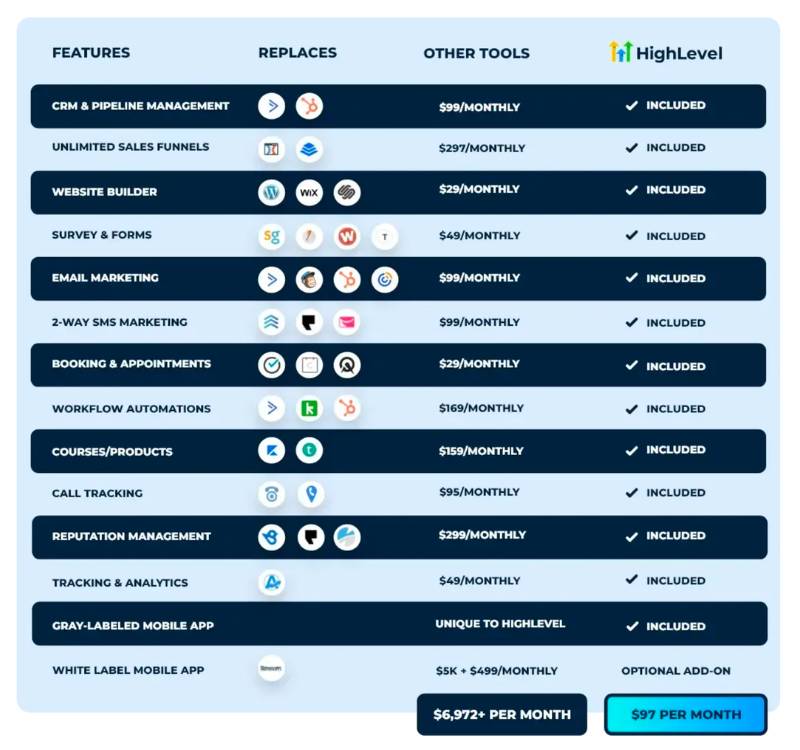 Trying to make the most of an online business can be overwhelming and take up a lot of time. And every online business or agency needs an automated system that can be managed easily in a single platform.
We found GoHighLevel to be the best choice for any business looking for an all-in-one system at an affordable price.
The best part is you can even get Go High Level for FREE with their 14Days Trial.
If that still doesn't convince you to try out GoHighLevel, continue reading to learn why GoHighLevel could be a good option for your agency or online business.
Read Also: GoHighLevel For Digital Agency
#1. Go High Level Is Perfect For Beginners
One of the best things about Go High level is that it doesn't matter whether you are new in the industry and do not know much about an agency or an online management.
It still doesn't matter if you're just starting your business or an experienced entrepreneur in your industry.
With Go High Level, the software caters to both experienced and inexperienced marketers because of its ease of use.
Go High level's outstanding features are easy to understand and use even by a complete novice.
Therefore, making it a convenient choice for any business. High level helps make online business management easy.
#2. Go High Level Saves Time and Money
Depending on the nature of your business, GoHighLevel can save any company a sizeable amount of money and time.
You can choose any plan from the HighLevel packages that suit you best. Go High Level currently has three pricing plans. The plans are:
Agency Starter Account plan for $98 per month
Agency Unlimited Account plan for $297 per month
White Label Mobile App + Custom Zap Upgrade plan for $497 per month
Imagine all of the tools inside one software that can spike the sales of your business. And the best part? You don't have to jug around multiple platforms to fulfil your objectives.
The overall goal of Go High Level is to save time and save you cost that will be rather spent on third-party tools and invariably increase your sales.
#3. Go High Level Is An All-in-One Ecosystem
GoHighLevel is an all-in-one game-changer tool that helps you create your business, keep track your marketing efforts, monitor your brand & generate more leads.
This means that you, as a business, do not have to hire different software or services to manage various aspects of your business.
GoHighLevel has all the essential and most used features required for online management of a business. And that is one of the reasons why any business can use this amazing software.
It combines automation with websites & funnels that will assist you in keeping your existing clients, grow your customer base & increase your profits
All the features your online business needs are provided by Go High Level. This makes High Level your first pick whenever looking for a more pocket-friendly and extensive online business management system.
Check out the most in-depth GoHighLevel Review to learn more about this software.
Here's A Full List Of Go High Level Features
Funnel and Landing Page Builder
Marketing Automation
High level Reputation Management
Reporting & Analytics
Content Management
CRM and Pipeline Management
Booking and Online Appointment Tool
Go High Level SMS Marketing
Membership Sites
Mobile app
Go HighLevel Integrations
#1. Funnel & Landing Pages Builder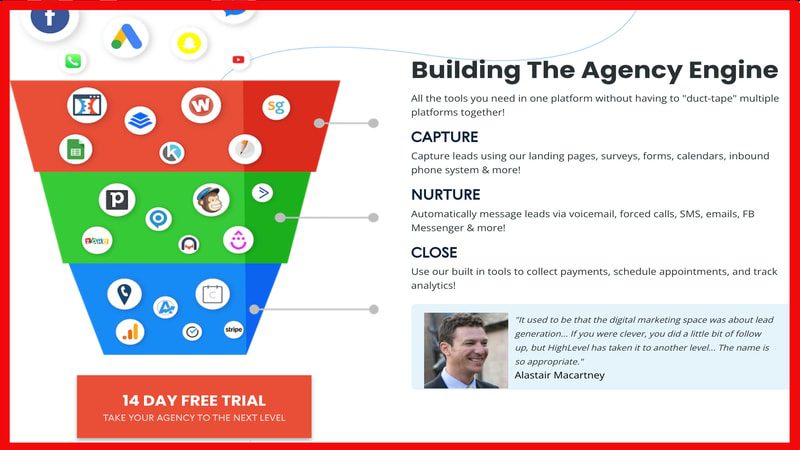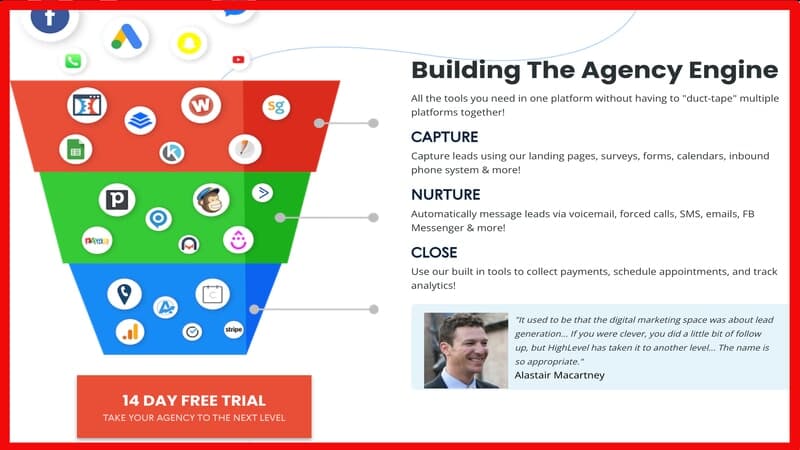 The Funnels & Landing Pages Builder allows you to create beautiful landing pages using one-click templates or your own custom designs. You can also create multiple funnels and send traffic to them directly from the dashboard.
You can make converting sales funnels with Go Highlevel's funnel builder. High level has funnel templates you can choose from and get started in minutes.
You can create a basic website and add navigation with the same builder. Using Highlevel, you can get a custom domain and dress up your funnel and website.
Since it's drag and drop, it's like using a premium funnel builder like ClickFunnels. But compared to Clickfunnels, High Level lacks some features.
Clickfunnels, for instance, lets you share funnels with others. You can't do that with GoHighlevel.
Keep reading for a detailed comparison of ClickFunnels and GoHigh Level.
#2. Marketing Automation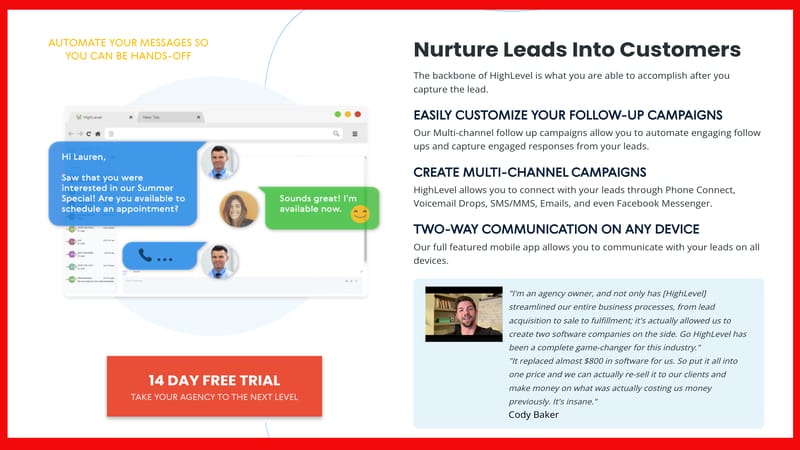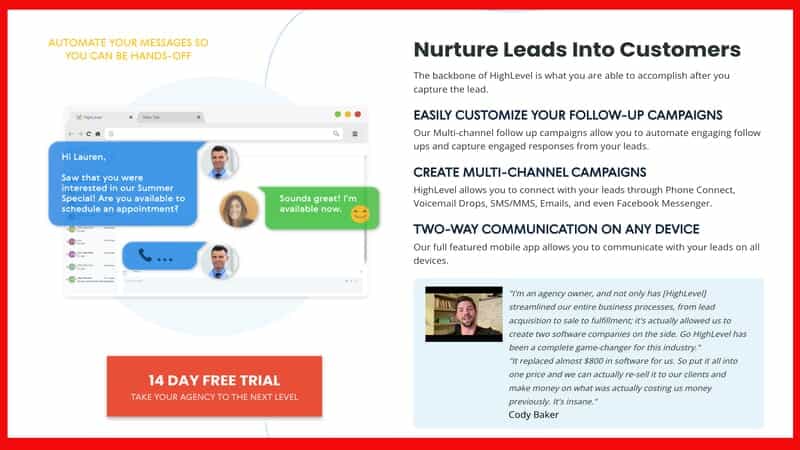 Go High Level offers several different types of marketing automation: email automation, social media automation, and landing page tracking.
Each automation step can be customized with your own design elements, making it easy for you to build the perfect campaign for your audience.
GoHighLevel Marketing Automation is a tool that helps you create and manage campaigns, send emails, and measure results.
By using GoHighLevel Marketing Automation, you can increase your sales by following an organized process of collecting data on the customer's journey towards making a purchase.
Then through email marketing or any other advertising channels, you can market products in a way that will drive more conversions.
GoHighLevel Marketing Automation creates automated workflows to send follow up messages at different stages of the buyer's journey.
Example: Welcome Email > Product Demo Request > Product Demo Download > Product Sales Page> Checkout.
Each workflow has its own tracking parameters, so you know what worked best for each stage of the funnel.
Set up a time window first so that all the marketing messages – SMS and emails go out within a certain timeframe.
Setting this up is really important so that the consumers don't get messages in the middle of the night, which can irritate them and make you look bad.
#3. High level Reputation Management
Go high evel CRM Reputation Management is a feature that enables you to manage your customer's feedback and reviews.
With High level, you have full control over the image of your company.
It allows you to send a "Review request" to your customers, asking them to post a review of your services on the platforms of your choice.
#4. Reporting & Analytics
Go High Level provides you with comprehensive reports and detailed information about your Facebook Ads campaigns, Google Ads campaigns, and website traffic from all sources, including social media, mobile devices, and desktop computers.
You can see where your visitors come from, what they do on your website, and how much time each visitor spends. Allowing you to see how your team is performing, where you need to improve, and what's working.
How does this work?
The Reporting dashboard is divided into five sub-dashboards- Google Ads, Facebook ads, attribution report, call reporting and appointment report.
#5. Content Management
Go High Level allows users to create, edit, approve and publish and store content simply, making it easy for anyone within the company to do so.
Go high level content management system (CMS) offers everything you need to manage your content in one place.
With Gohighlevel cms, you can:
Create new pages and posts with just a few clicks

Edit existing pages and posts with ease

Schedule posts for future publication dates

Schedule multiple posts at once so that your social media feeds are always updated with fresh content.
#6. CRM and Pipeline Management
GoHighLevel CRM and Pipeline Management work in the following way:
It's an integrated platform. GoHighLevel integrates with Salesforce, Pipedrive, and other platforms to give you a complete view of your pipeline across all your accounts.

It's mobile-friendly. GoHighLevel is available on mobile devices to track leads and manage accounts no matter where you are or what device you're using at any given moment. And it has a responsive design, so it looks great on every device, from phones to tablets to desktop computers. You'll never miss another opportunity just because someone couldn't reach their laptop.

It provides data insights for better decision making on the fly!
This feature provides useful information so that sales reps can see how their efforts are paying off in real time without having to wait until after close for an invoice update before making decisions about pricing or which deals should move forward next week versus those slated for later down the road (or even into next quarter).
#7. Booking and Online Appointment Tool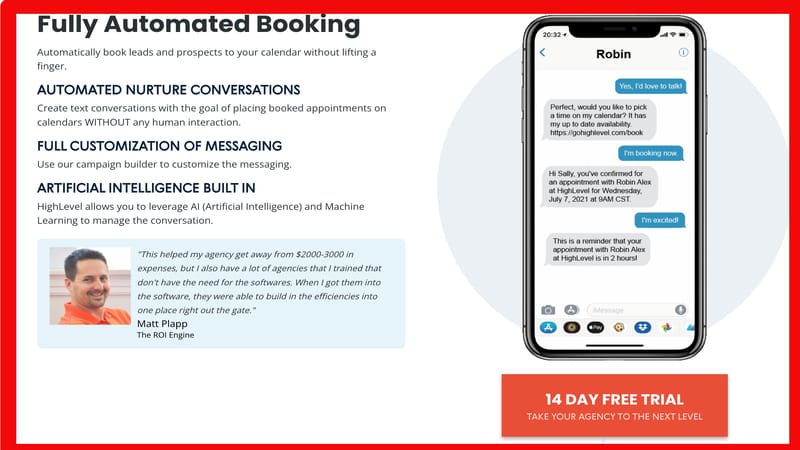 The High Level appointment tool has all the basic features of a regular calendar, but you can also create and share calendars that clients/customers can click around to see all your appointments.
It's easy to make your calendar from your Settings dashboard and embed it in your funnels.
#8. Go High Level SMS Marketing
Go high level SMS Marketing is a feature that enables you to send a message to your customers directly via their mobile phones. The message can be in marketing or promotional content, or it can also be used for customer support.
High Level SMS feature allows you to send messages to clients at once, eliminating the need for a bulk SMS service provider.
With High Level, you can reply and view your message delivery reports right from your account's dashboard.
This app offers a visual text editor that displays a preview of your message in a mobile phone frame on the right-hand side of the screen.
Another amazing feature is the tracking option. You can send, record, and monitor text messages and move clients as they progress in the buyer journey.
As a plus, the SMS interface looks just like Whatsapp, making it easy to use and navigate.
#9. Membership Sites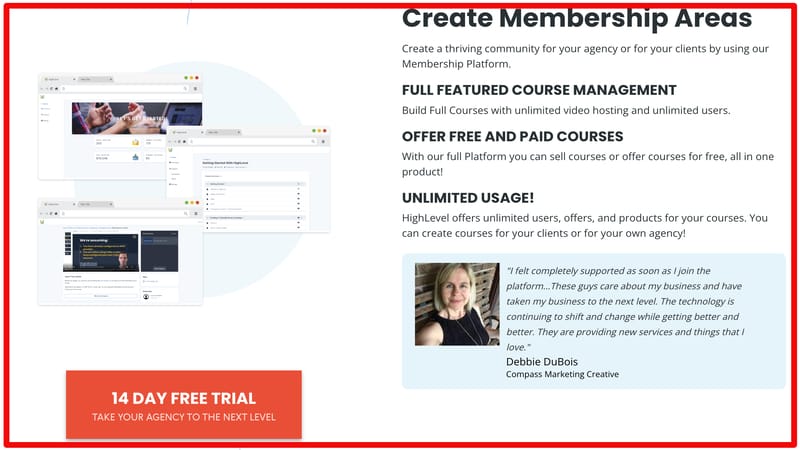 Using Gohighlevel, you can build membership sites to sell your premium products. You can also move your membership site to Gohighlevel if you're a course creator.
The dashboard looks pretty basic, but the results were pretty similar to what you get from Teachable. You can add your own domain to your membership site. There's a visual editor to edit your course outline.
Also, you can customize the design of your membership site landing page. You can even upload video course content. You can include a snippet of an image and your course outline title.
#10. Mobile app
The GoHighLevel Mobile App has been designed with your Agency in mind. It's easy to use and can be used on the go. The app offers the following features:
Build Client Profiles: Easily build client profiles and add them to your GoHighLevel account. This will give you access to their information, such as addresses and contact details.

Create Sales Leads: Use the mobile app to create new sales leads via email or phone. You can also import existing leads into your CRM account from MailChimp, Hubspot, or Ontraport accounts.

Create New Projects: Easily create new projects right from your mobile phone.
#11. Go HighLevel Integrations
Go Highlevel is an all-in-one marketing solution that doesn't restrict you from using apps.
Keep your favourite apps and use them seamlessly with Gohighlevel.
High level lets you connect apps and send data via webhooks.
Webhooks let you connect to Zapier. What's cool is that Zapier works with tons of apps you already use.
Zapier has hundreds of apps. MailChimp, ActiveCampaign, ConvertKit, and many more apps you already know are here.
High level can be integrated with these apps:

WordPress

Paypal

Mailchimp

Calendly

ActiveCampaign

Pipedrive

Leadpages

Jotform

Kajabi

Typeform

Teachable

WUFOO

Call Tracking Metrics

Schedule Once

SurveyGizmo

WIX

Squarespace
Also Read: GoHighLevel For eCommerce
In Summary
Let's face it. Running an agency is hard.
You're juggling clients, staff, vendors, and finances all while trying to grow the business into something bigger. It's not easy to do this on your own, and many agencies fail.
But things become easier when you have a team behind you who are also working hard to help grow the Agency.
That's where Go High Level comes in.
Go High Level positions as the go-to solution for agencies. It is an all-in-one tech stack for agencies or marketers, eliminating the need for other tools.
Many businesses want an online solution that is all-in-one. A platform that can take care of most of the online marketing through a simple automated system.
Go High Level is that platform that can fulfil all your online business needs. It offers amazing features and helps manage every aspect of your online venture.