Phonesites Review: Create Landing Pages With Phone?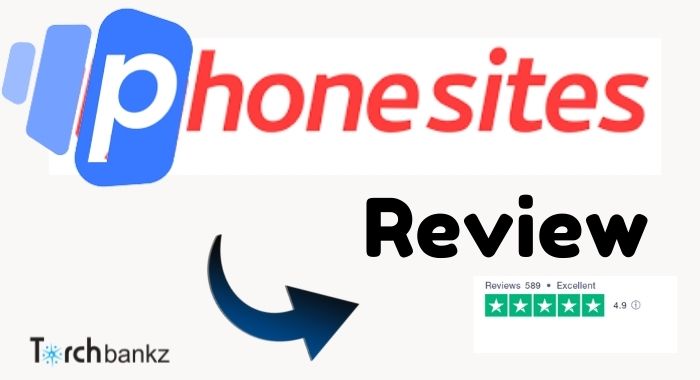 In today's post, we're going to be looking at Phonesites review and what to expect from it for your landing pages and sales funnel.
For years, website owners have had to deal with many lead generation strategies. Some which even entailed reaching out to uninterested audiences.
Fast forward to this YEAR! You don't have to do that anymore. Guests and interested consumers are the ones who visit your website or social media pages nowadays.
It is essential that you know how to make the most out of this opportunity, and landing pages can significantly help you with that.
This brings us to Phonesites, a popular landing page builder. There have been a lot of mixed opinions regarding this software.
Some online entrepreneurs praise how useful it is, and others don't hold such positive opinions.
In this phonesites review, we will dig deeper into the Phonesites software, we'll explore its features, pros, and cons.
Let's get started, shall we?
What is Phonesites?
Basically, Phonesites is a software that can help you build landing pages. One of the reasons it is so popular is because you can use this software on your phone.
Out of the many lead-generating website builders that exist, Phonesites is the easiest to use and helps you build unlimited landing pages faster.
The landing pages built by Phone sites are mobile-optimized, and the software allows you to nurture leads through follow-up texts and emails.
Gone are the days when about us, contact or homepages were used as post-click landing pages. A landing page dedicated to capturing a lead can help you make an excellent impression to your visitors.
Unlike home pages that contain lots of unnecessary information at the moment, landing pages go direct to the point, which is to promote a product, service, or resource.
Therefore, the more landing pages your website has, the more leads you are likely to capture and convert.
Seeing how useful landing pages are, online entrepreneurs have no option but to incorporate them into their websites.
The only problem is that creating several landing pages is a lot of work and requires web developing skills.
Phonesites, on the other hand, streamline this process and allow anyone to create landing pages fast, irrespective of their technical skills.
The biggest advantage of this software is how easy it makes it for you to build web pages without any web development or design experience.
And to make matters more interesting, you can do so from the comfort of your mobile phone.
Besides helping you build landing pages faster, Phonesites comes with follow-up emails and text campaigns which assist in nurturing leads so that you can convert them into clients.
With Phonesites, its usefulness doesn't just stop at landing page creation. It has an AI that can write sales copies for you.
This makes it practically the one-stop shop for all your lead generation needs.
You can utilize their free trial and get the hang of the software, how it works and whether it's right for your online business or blog.
Phonesites Review: Features
Before you head out to Phonesites and check out what it can do for you, it is crucial that you go through the features and determine if it is the ideal software.
Here are the main features of Phonesites:
What comes to your mind when you think about building a landing page?
For most website owners who have no background in web design and development, their minds rush into hiring experts who will code, develop and design a website for them.
Phonesites is here to make this process easy, fast, and simple.
This software introduces you to a mobile website builder. That means that you can create a website from the comfort of your office, home, or even when you are on the train or bus heading home after work.
What can stop you from converting thousands of leads with the power to create a landing page on your mobile phone?
As a mobile website builder with Phonesites, you have to sign up, key in a short description of the service or product you would like to promote on your landing page.
Let the AI writer generate content for you, and in seconds, you will have a high converting copy waiting for you to copy and paste it to the Phonesites landing page editor.
From there, make follow-ups and turn leads into customers or loyal readers.
While we are still on the mobile website builder feature, you need to familiarize yourself with a couple of things.
There are a bunch of settings that will be displayed on your dashboard.
There is the page's tab where you can create, edit or delete pages. A configuration tab that allows you to edit domain information.
A leads tab that will show leads once you start receiving them. Finally, we have a stats tab that offers analytics and insights.
Most of the time, you will be using these settings.
Drag and Drop Website Builder
One of the key features that make Phonesites stand out from its competitors is the drag and drop website builder, designed for mobile devices.
By making building a website or landing page as easy as dragging and dropping website design and content, it should take you minutes to come up with fully customized landing pages.
By incorporating this feature, Phonesites has got tons of pre-made elements that are ready for you to drag and drop onto your landing page.
This includes templates, content written by the AI, widgets, and plenty of other things. Thanks to this feature, there are endless ways to design the layout of your website.
You can personalize it to the best of your extent, and you don't need to have any special skills, knowledge, or experience.
As you use this and more features of Phonesites, you will realize that this software prefers simple tools such as the drag and drop website builder, which makes it easy to use.
As mentioned earlier, Phonesites makes everything easy, starting from the building of landing pages and sales funnel builder.
If this is something you have never done before, coming up with the ideal layout for a new landing page can be quite complicated.
Fortunately, this doesn't have to be the source for your headache, as long as you have got Phonesites on your mobile device.
This software comes with many templates that you can use to build landing pages or websites.
There are more than 70 templates on Phonesites that are waiting for you to choose and customize them.
These templates are designed in a way that they can be used for a wide range of niches ranging from sports, health, fitness, real estate, construction, beauty, affiliate marketing, and many more.
Compared to other site builders, the templates provided by Phonesites aren't the best looking.
You may realize this when you visit their website, but you might want to read the following before you get discouraged.
According to a post published by CopyBlogger, simple landing pages convert the most.
Therefore, you can work with the simple Phonesites templates knowing that they will get the job done to perfection.
Phonesites templates are not only designed to generate leads but can be used to follow up on prospective ones.
Installing and editing templates is also fairly easy as every option is displayed on your dashboard.
Even if you have never created a single website, Phonesites will make the process quite simple. After choosing the ideal template, what follow is entering a subdomain.
Phonesites email Autoresponder is a feature that is often overlooked, yet it is quite useful. Many small businesses or blogs lack a customer service team.
In most cases, it is the owner who manages the sales and other operations. As a result, it is very easy for one to get held up with all these activities.
An email Autoresponder comes in very handy as it automates email replies to your clients. It works by gauging the actions of a user on your site or when they send you an email.
This feature can be used to send emails to readers that have inquiries, those who have bought an item from your store, or if they have signed up for an email newsletter.
All these can contribute to lead conversion.
The Phonesites software also has a section on Follow Up emails where you can add and save details for a massive follow-up campaign.
Another field that has enjoyed technological advancements is that of content generation. With the introduction of AI writers, coming up with content has never been easier.
If you opt to use Phonesites, you will get access to an AI writer who will generate content for you. Phonesites AI writer can write plenty of quality text for you.
Whether you want landing page headlines, Facebook ads, google ads, product descriptions, or blog ideas, this AI writer has got you covered.
The above isn't the only type of content that Phonesites AI writer can write.
This AI uses the Pain Agitate Solution copywriting formula, which identifies problems and offers solutions. Which is an approach your readers and consumers will appreciate.
Using Phonesites AI writer is quite simple. All you need is to add a blog title and generate content.
It is that simple and quick. This AI writer will generate several copies for you to choose from. It is up to you to go through these copies and see whether you like them or not.
If you don't, you can always change the topic.
Obviously, Phonesites AI writer is not perfect.
You can't replace it with the human mind and knowledge. Therefore, every content generated needs to be proofread and edited.
In the world of lead generation, you will need the help of many software, and that's why integrations are so important.
The good news is that Phonesites can integrate with several third-party software, which helps you achieve more.
Examples include:
Aweber,
Stripe,
MailChimp,
Twilio,
Zapier,
and many more.
Phonesites Cost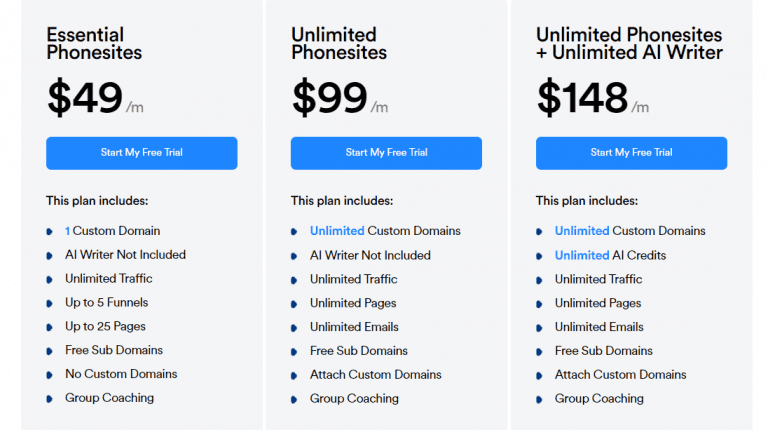 There are three premium plans;
Essential Phonesites ($49)
This is the starter plan for Phonesites. It includes one custom domain, unlimited traffic, five funnels, 25 pages, no custom domains, free subdomains, and group coaching.
This package doesn't include an AI writer.
Unlimited Phonesites ($99)
The following package has more features. For instance, you get to attach custom domains, unlimited emails, unlimited pages, and unlimited custom domains.
The only drawback is that it doesn't come with an AI writer.
Unlimited Phonesites + Unlimited AI Writer ($148)
If you pay for this package, you get all features of Phonesites. First, you get access to their AI writer, and there is no limit to how much content this AI can generate for you.
This package also entails everything available in the previous one.
All these packages have a free trial that allows you to taste what Phonesites can do for you.
How To Use Phonesites To Create Landing Pages
The phonesites software is beginner-friendly and its dashboard is very easy to navigate.
So by just playing around with the app within a few days, you can rest assured that every feature of the software will become very easy to use.
With that, let us take a look at how to use Phonesites to create landing pages.
Creating a New Website
Before you can start using the app, the first thing you need to do is to sign up with the platform 7 Days free trial.
Signing up is very easy and straightforward but to even make it easier, we have included a step by step screenshots below to make this article worth referring to as "how to use Phonesites to create landing pages"
To sign up head over to ===> phonesites.com, you will be redirected to a page that looks like the one below.
Fill in your name, email address, and password as shown above and click on the "Add Payment Details" blue button. You will be redirected to the page to fill in your credit card details.
The next thing to do is to begin your free trial. To begin, input your email and password to sign in.
Once you've logged in, you will see your dashboard that looks like the one below.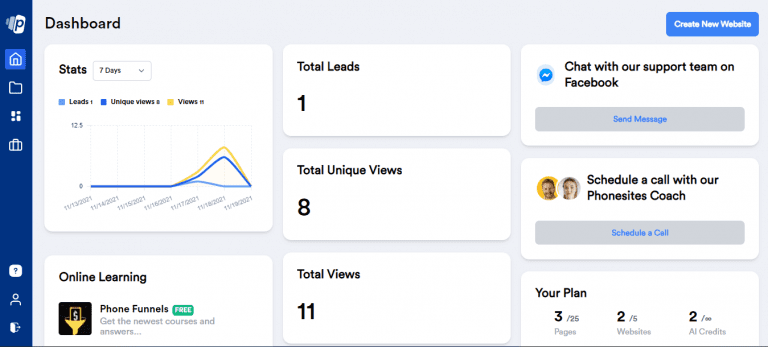 Your Phonesites dashboard contains a quick overview of how your landing pages are performing, the views, unique views, and the total leads your landing pages have generated so far.
Here is a quick explanation of some of the things you need to know on your dashboard for easy access and navigating around it.
Websites: The website's section contains all the lists of websites you have built so far.
Templates: The templates library is a place where you can find pre-built templates that you can quickly tap into and start building with.
AI Writer: The AI writer is a place where you can use an artificial intelligence machine to generate high-quality marketing copies for your landing pages.
Creating Your First Website
To create your first website with Phonesites, log in to your account while on your dashboard. Locate "Create New Website" as shown above.
After clicking on the "Create New Website" you will have 2 options to select from, either a blank website or using a template.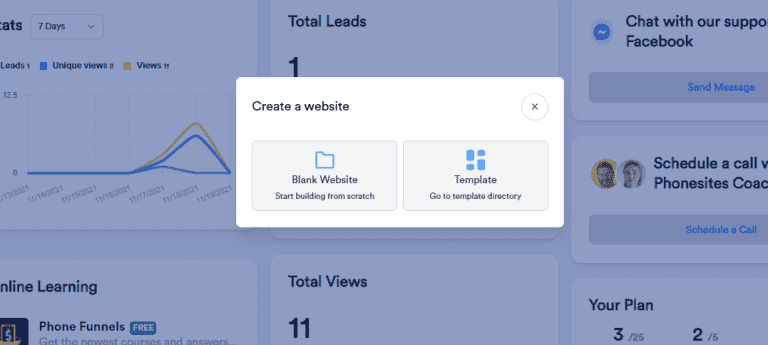 You will have to go for one but I will explain the step-by-step for each process here and basically anything you need to know about using either option.
Using Blank Website Option
In order to use the blank website option, you will need to click on it and you will be shown a new tab that looks like the one below.
Here you have to put your website name and a subdomain that will carry .phonesites.com.
Since this is a tutorial, I decided to use "Tutorial" as my website name and I typed in the tutorial as a subdomain name so at the end my website URL will be tutorial.phonesites.com.
When I hit the "Create Website" button, here is the error message that I got.
It says that the subdomain "tutorial" already exists, please try another one. What it means is that there is another website with this domain name or URL tutorial.phonesites.com.
Then I used torchtoturial.phonesites.com and that goes through.
Although, that example above only applies to the subdomain name of phonesites.com and not to the custom domain name.
After my subdomain name, torchtorial.phonesites.com got accepted by the system, I was redirected to the page below.
The above picture is a blank page that lets you design the website from the beginning to suit your taste.
Here is a quick explanation of the whiteboard and an example of what you can do with each. I will be explaining based on the way I have numbered the whiteboard above.
#1. Design
The DESIGN is the default whiteboard option you are seeing above, you can easily add elements, texts, etc, and tweak around the existing website's designs.
An example of what you can do or what to expect with the design option is the same board you see above.
#2. Settings
The Settings allow you to perform a series of tasks to make your landing page to be more optimized just like I was able to do basic on-page SEO settings from the settings option.
I was able to set my page URL, page title that can appear in SERPs, and also a metal description for my page.
You can also set your page to be redirected to a thank you page when an action is performed on your website.
In addition, you can make advanced settings like a notification that would be sent to you through email for every action performed on your landing page.
#3. Statistics
The Statistics section lets you see how your landing page is performing, the number of views, leads generated, and nearly all the activities that are performed on your website.
The image below shows a quick overview of how the statistics dashboard looks like.
With that, it is time to start designing your landing pages.
Lets Design A Lead Generation Landing Page
For the sake of this tutorial, we will be designing a simple lead generation landing page with Phonesites using the blank setting. For more info more, I've written a detailed content here on how to use Phonesites.
Step 1
While you are on the design interface, click on the four corner box with a plus sign in between as shown below.
Upon clicking, the below menu shows up at the left-hand side of the design interface.
What you are looking at on the left-hand side are blocks that you can use to design your landing page from scratch.
The blocks contain text, heading, images, opt-in form, and the likes. By clicking on the heading section, something like this will pop up.
Where the arrow is pointing to (from the image above) is where you will write your heading. You will also be able to do some modifications to your headline like:
Changing the colour
Changing the size
Making it centralized, etc.
You can also click on the plus button at the edge of the four corner box to add an opt-in form to your landing page.
All you need to do is to click on the form, upon clicking on the form button a form will automatically be inserted and a settings page tab like the one below.
Step 2
From the settings option above, you can tick the phone number, address, change your button write-up from "Let's Go" to something like Optin, or anything you want.
In addition, you can also change the colour of the button, the size of the text, and change the colour of the text itself.
I must say that you should always save your changes to the design before clicking on a view so as not to lose your previous work.
If you click on the view button without saving the design first, you will lose the design permanently.
The save and view button is at the upper right corner of your design interface, you just have to click anyone you need to use and you are ready to go.
After tweaking around the designs for a while, I was able to make the landing page looks like the one below.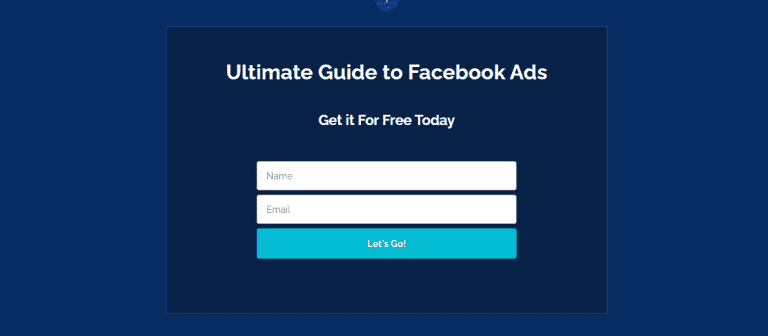 How I made the design above is using the same process that I have explained above, the only difference is that I was able to change the background colour.
Changing the background colour is very simple and straightforward. Click on the 3 dots at the right-hand side of the design interface.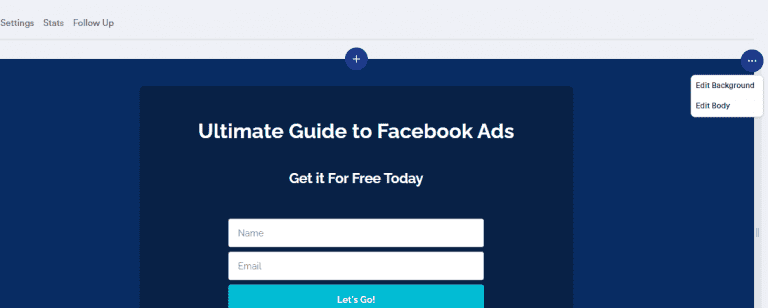 Click on edit background and the page that looks like the one below will show up.
By clicking on the set theme you will get a warning message like "this theme will override your current colour and background settings", just click okay.
You can use the slide button to look for another background if you don't like the default ones that pop up.
You can repeat the same process above to create more landing pages for your business.
Pros and Cons of Phonesites
Because no software is flawless, Phonesites does have its pros and cons and besides, this Phonesites review will be incomplete without it. We are going to look at both before we can wrap up our Phonesites review.
Pros
It's very easy to use. We have to applaud Phonesites for the great job that they have done in easing the process of creating landing pages. Phonesites don't just make this process easy. They also make it convenient. You can do it on your mobile phone, irrespective of where you are.
Phonesites is packed with plenty of templates. The biggest challenge of creating a landing page is coming up with the layout. You don't have to stress over that because Phonesites provides you with a wide range of templates. And they have simple designs which are ideal for landing pages.
They give you access to an AI writer. Website owners understand how challenging content generation is. However, that problem is solved with the presence of an AI writer that is programmed to write content in a wide range of niches.
Cons
The AI isn't very powerful. When you compare Phonesites AI writer to others, it isn't as powerful. Some of the text it can generate for you sounds off. And you may have to edit it.
Conclusion
If you are looking for a simple yet effective mobile website builder, you should go for Phonesites. This software brings all the tools you may need to carry out a successful lead generation campaign on your mobile phone.
It's easy to use, has many templates, is fast, and comes with an AI writer.
Phonesites is a unique landing page builder. Make use of their 7 Days free trial and see how it can help you stay at the top of your lead generation game.
That's it on Phonesites review. let me know what you think in the comment section.