DropshipMe Review – AliExpress Winning Product Tool


In today's dropship.me review, I'll be doing a complete and thorough overview of the plugin, what works and what doesn't and most importantly help you make an informed decision.
The importance of winning products in an e-commerce business cannot be overemphasized. Trust you'd prefer to spend more time making money via selling winning products rather than searching and guessing for a product that might be profitable?
If you understand the ordeal of searching and editing products from AliExpress then you should have a slight grasps what Dropship.Me is and what it can do. Nobody wants to sell outdated products everybody wants what's trending in the market.
But how can you be sure a product is actually going to sell? Most especially even when you're just getting started with the dropshipping business model. I've seen cases whereby I added products with over 2k orders from AliExpress to my store run ads and yet it doesn't convert.
Why? Probably Saturated!
But adding winning products with high potential for higher sales is where this new winning product tool comes into play. Hence, the Dropship me review! But before we go further let's have an understanding of what dropship.me is and how it works
What is Dropship.Me? 

DropshipMe is a revolutionized product sourcing tool for AliExpress dropshipping. It's actually a WordPress and WooCommerce compatible plugin that gives you access to winning and hot selling products.
What it does is that it gives you access to their already curated winning product so you don't have to waste time finding winning dropshipping products to add to your store. All the hard work are completely done for you.
Normally, after finding a product on AliExpress, you still have to edit and rewrite the product description for search engine optimization. But the dropship.me plugin saves you from doing all that.
How this winning product does come into play you might ask? They are all handpicked by their team of expert. So with dropship me you can even sell in a niche you have little knowledge about.
In addition, Let's take a look at a few of the criteria used in picking these winning products for drop shipping:
Market trends for the products
Considerable high buyers demands
High rating and potential in terms of profit generation
Product quality
Feedbacks from previous buyers
Product sold by trusted and reliable suppliers.
Another interesting part with Dropship.me is that all product imported to your store through dropship.me comes with everything you'll need to create a beautiful, attractive and SEO optimized page.
Dropship.Me Pricing & Packages
One thing you must understand about dropship.me is that it's not a subscription-based software. That is, you don't have to pay a monthly recurring fee before you have to access their services.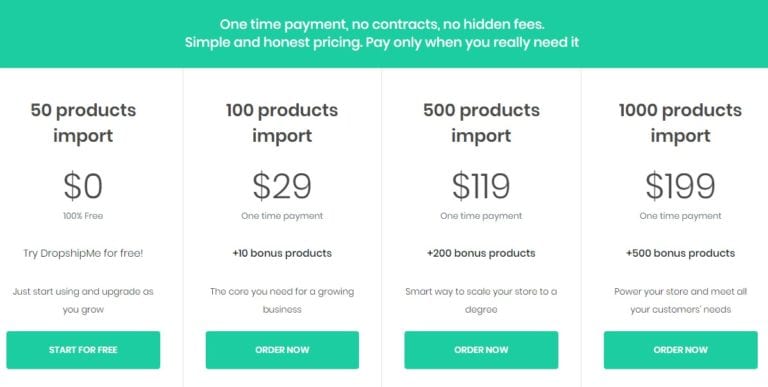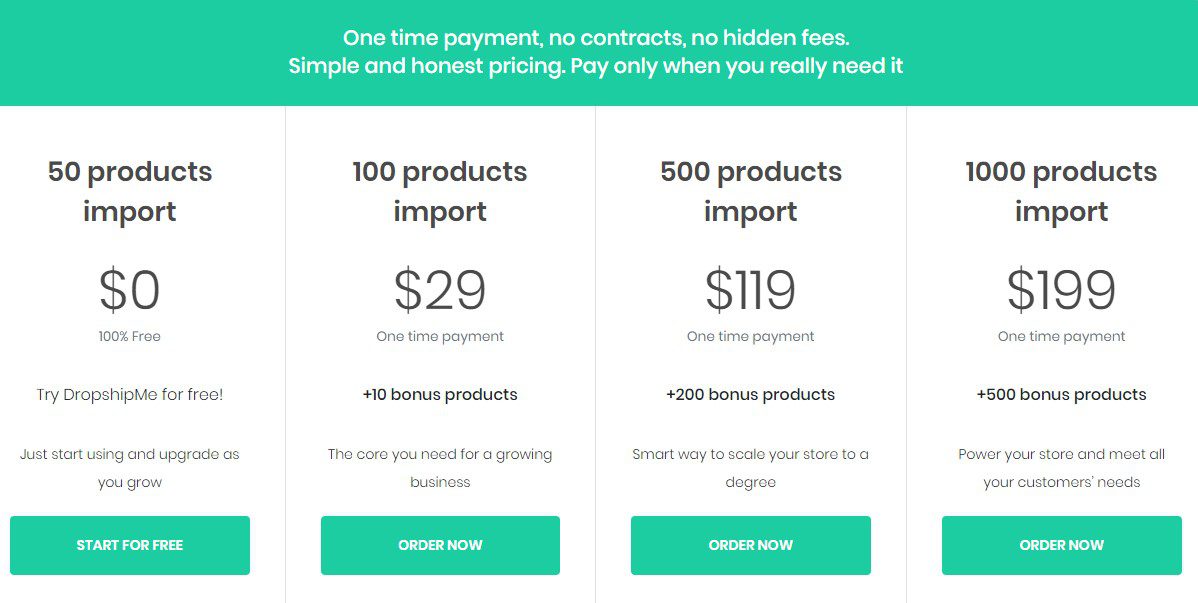 All packages come with a one-time payment only and you can choose any type of products you want, even with the free package.
Now let's take a look at the packages:
50 Products Import (Free Package) No Payment details needed.
100 Products Import ($29)
500 Products Import ($119)
1000 Products Import ($199)
All the premium packages only come with a one-time payment and no future hidden fee. Meanwhile, all packages including the free package include the following:
Over 50,000 top selling products to easily choose from
SEO optimized products
Free plugin
Have access to top and most trusted suppliers only
Import real customize review alongside the winning products
Lifelong support
If you want a new dropshipping website built for you from the scratch loaded with winning product you can also get that with Dropship.me based on your plan. You can see their plans here it start at $299.
Note: Dropship.me is powered by AliDropship so the plugin is only compatible with WordPress website and WooCommerce based store. It's a WordPress plugin built by AliDropship to complement the initial standalone AliDropship plugin.
Features of Dropship.Me
The plugin makes the sourcing for products super easy. You don't even have to visit AliExpress before you import your winning products. They carefully select the winning product from almost all category on AliExpress.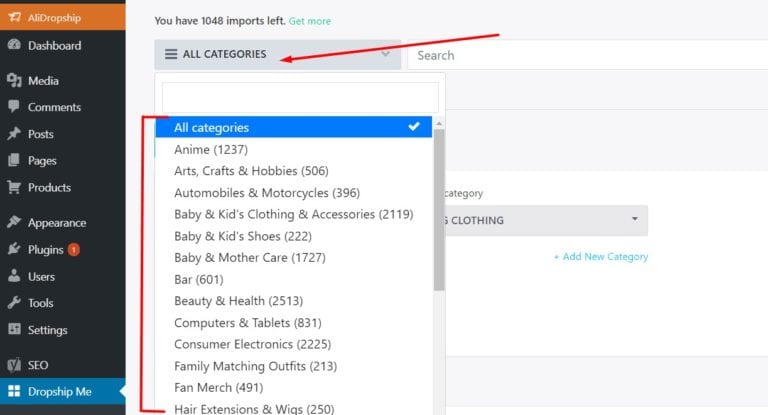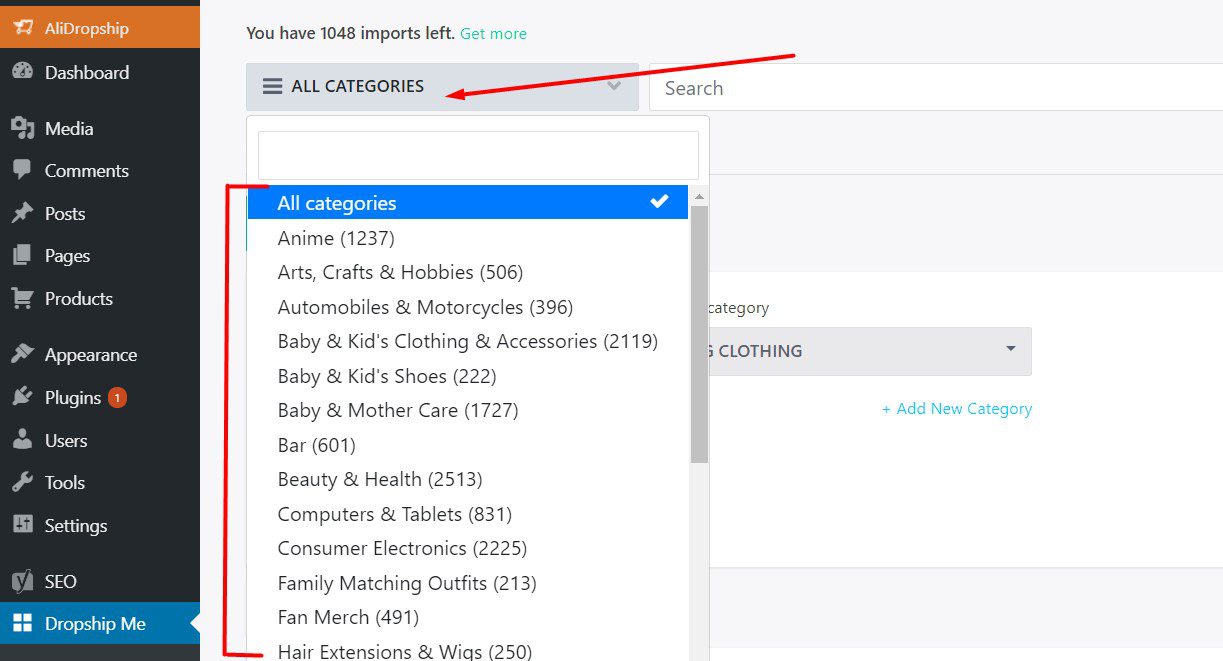 With this you don't have to worry if your store is a niche store, you'll have access to more than enough winning products for dropshipping on your niche store.
This is specifically good for those who don't know how to find winning products for dropshipping.
The import setting also makes it possible to create categories from dropship.me, remove item specifics, publish products and easily import with the recommended price.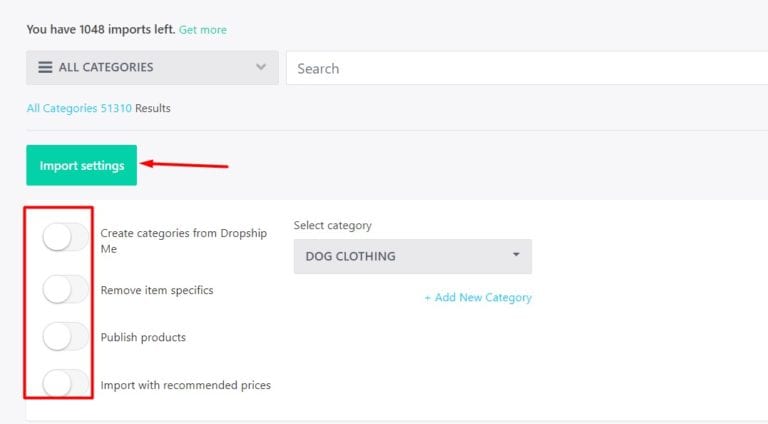 Other features include:
Free version to access up to 50 winning products
Compatible with WordPress and WooCommerce
Recommended price markup
SEO friendly
Import products from reliable and verified suppliers
Carefully handpicked products by experts
Lifelong free update and team support
Easily import products ratings and reviews etc.
Dropship.Me was created to basically handle's you the key to success, by bringing the winning and promising products to you.
So basically, your job is to sell and make money while you forgot about searching for the next winning products.
Is Dropship.Me A Stand-alone Plugin?
Unlike the default AliExpress dropshipping plugin "AliDropship" which is a standalone plugin with varieties of features that makes AliExpress dropshipping super easy.
Dropship.Me on the other hands need one or two other plugins before it can reach its full potential.
The plugin has to be installed on a WordPress site and it works in complementary with the AliDropship plugin. Reason being that it needs the AliDropship plugin for the following:
Inventory update from AliExpress
Built-in dropshipping theme for your website
Fulfilling orders automatically
Auto tracking of orders etc.
So rather than being a different plugin from Alidropship, dropship.me is built to compliment or as a complementary plugin to each other.
Pros and Cons of Dropship.Me
Let's take a look at the benefits and limitation of the plugin.
Pros of Dropship.Me
Over 50,000 Hot Products – You can easily choose relevant products from catalogs of carefully handpicked hot products by experts
Saves Time & Money – Dropship.me will save you the time of searching for winning products and editing after import. Most importantly it saves you from wasting money on adverts for outdated products.
SEO Friendly – Using dropship.me increases your chances of ranking high on search engine result pages. The products pages are carefully created with SEO in mind.
One Time Payment – Dropship.me only support a one-time payment with no hidden future charges. You can rest assured you don't need a monthly subscription before you use dropship.me.
Free Version (50 Free Products) – the plugin is free and it comes with free 50 winning products you can import to your dropshipping store without submitting any payment details.
Cons of Dropship.Me
Not A Standalone Plugin – To enjoy the full potential of the winning product tool you have the get the AliDropship plugin
Limited to WordPress – This means users on other platforms can't use the plugin a good example are users drop shipping on Shopify.
A Quick Installation Guide For Dropship.ME
The Plugin is absolutely free to download with 50 winning products at your disposal. So, download the plugin for free and wait for your activation code which is almost immediately.
Once you've downloaded the plugin follow this simple steps to activate it.
Once in your WordPress dashboard locate "Plugin" at the left-hand side of the panel then click it … then =>> "Add New"
Next thing, click the =>> "Upload Plugin" at the top of the page
Click choose file to locate the file on your computer (dropship-me.zip file)
After selecting the file click on =>> "Install Now" button.
Once the installation of the zip file is completed click on the =>> "Activate Plugin" button
At the left side of the dashboard, locate "Dropship.Me". After that, click it to enter your license key which must have been sent to you.
Enter the license key then click "Activate" to start importing your free 50 winning dropshipping products.
DropshipMe Review Conclusion
To sum it up, I believe the plugin is totally worth it. I have the plugin already in my store and the way it works is truly amazing.
I remember how searching and adding products use to be a time consumer. But with dropship.me I can literally add over 20 winning products to my store all in one day.
The concept makes you focus on selling and improve your marketing strategy rather than keep guessing of what will work.
Best part? It's absolutely free!
What's your thought on this? Let me know what you think about the plugin.
Learn More