How to Create A Dropshipping Website with WordPress: Complete Tutorial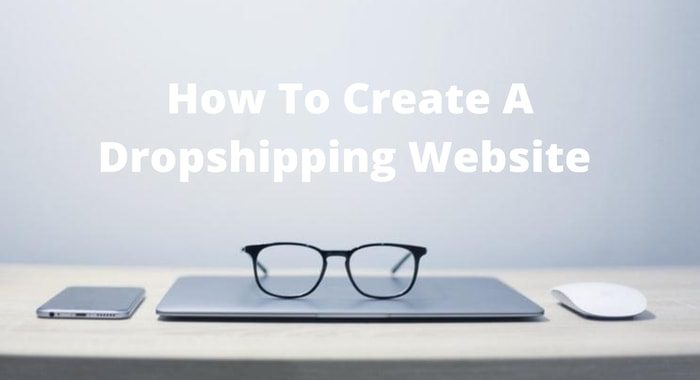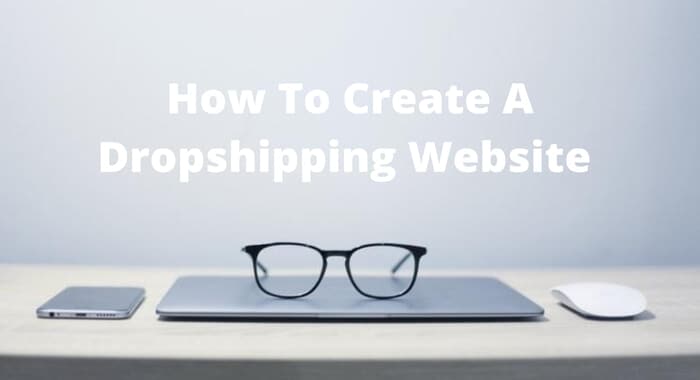 In this tutorial, you will learn how to create a dropshipping website with WordPress or using the WooCommerce plugin.
When starting a dropshipping business, it's true you don't have to worry about the high cost of setting it up. This is right because you won't have to invest in product inventory or worry about product fulfilment.
All you need to do is sell the products, receive orders and make some cool profit. Unfortunately, as good as it may sound, there's more to it than just selling and receiving orders.
To set up a dropshipping business and run it successfully, you'll need to have a standard e-commerce website. And in other to do this, we'll look into the 3 best ways to create your dropshipping website. They include:
Or order a ready-made website for a one-time fee from Alidropship or contact a freelancer to build one for you at a bargained price.
And lastly, create your website yourself with WordPress using AliDropship plugin or with WordPress + WooCommerce plugin using the AliDropship WooCommerce Version.
I'll try as much as possible to make this article an interesting one, so let's get started!
Benefits of Creating Your Own Dropshipping Website
Profitability; do you know an estimate of 27% of online retailers now sees the dropshipping model as an easier path to tread as a retailer?
Creating your own dropshipping website gives you the freedom to do whatever it is you want with your online store
It saves you the cost of running the website, for example, Shopify's basic plan cost $29/month and $348/year
You will have access to various WooCommerce plugins to supercharge your dropshipping business, both paid and free.
Unlimited designs and themes
You can sell as many products as you want on your own dropshipping website at no cost etc.
If you plan on selling more than one product and you don't want to pay a monthly recurring fee to website builders! But you prefer to own your personal e-commerce website. Then this tutorial is for you.
How to Create a Dropshipping Website With WordPress
While learning how to create a dropshipping store, you must understand that you can either create your dropship website with WordPress with the help of the AliDropship plugin for WordPress. Or create it with WooCommerce pre-installed plugin with WordPress using the AliDropship Woo.
So, let's take it a step at a time. First, I'll walk you through WordPress, then after that, we'll look into the WooCommerce procedure so you can choose the best one for yourself.
Follow these 4 steps to create your dropshipping website
Step 1. Get Your Domain Name & Web Hosting
First thing first, what you need to do now is to get a domain name for your website. As we proceed, I'll show you how you can get one for free!
The domain name is your store's unique address. Something like, "www.mystore.com."
While web hosting is a remote server that stores your website data and then makes it accessible to whoever wants to visit your site. Your web hosting is more like the house you are living, while your domain name is the address to the house.
There are hundreds of different hosting and domain name providers but you should know your personal domain and hosting provider has a lot to do with the success of your website. So it's highly important you choose the right one for your business.
For that, I'm going to recommend getting your domain name and web hosting account with BlueHost.
Why do I recommend BlueHost?
Bluehost is a large reputable hosting company that has been in business for a very long time. Their service is good and I'm sure your experience with them is going to be a positive one.
Bluehost is currently hosting over 2 million websites and 850,000 blogs across the world. They also have a special package with WordPress.org and WooCommerce which makes their one-click installation very seamless.
They have a 99.9% uptime guarantee which means you can forget about your website slowing down. Using Bluehost is going to save you time, money and a whole lot of stress. Below is the list of reasons why you should consider Bluehost as your hosting company:
Great customer support 24/7
Established hosting company
Officially recommended by WordPress.org
Free Domain name
Pre-installed WordPress
Free SSL certificate
30 days money-back guarantee
Finally, if you run into any issues in while trying to set up your site, you can call them on phone anytime or use the live chat feature.
Now, let's get you a website.
What you need to do now is visit Bluehost.com and click the "get started button".
Next, you need to pick a hosting plan.
Since you're just getting started the Basic plan is very much ok for you, and you can always upgrade if you want to in the nearest future.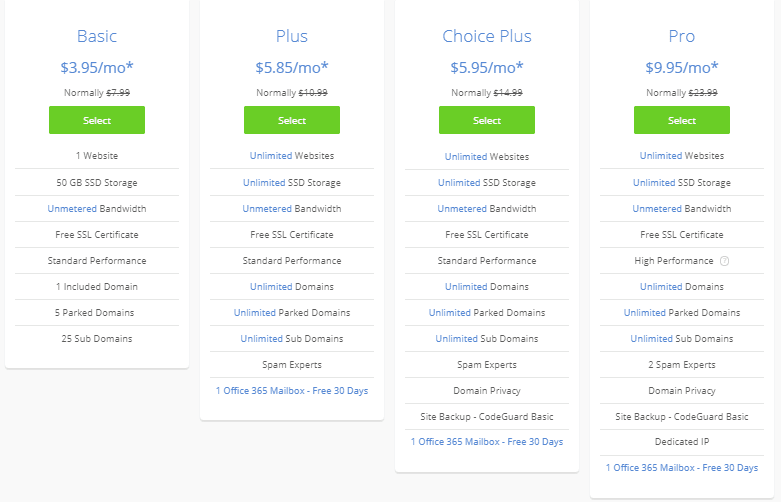 Once you've chosen your hosting plan, you'll need a domain name for your website.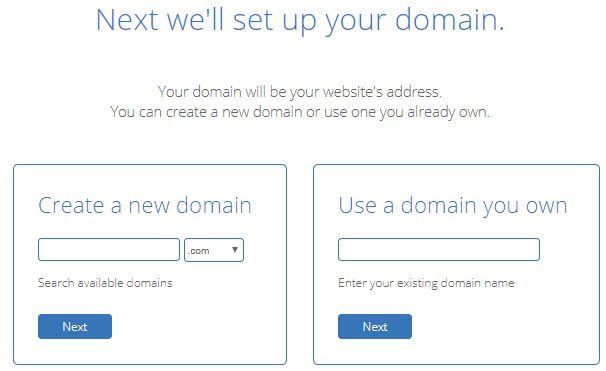 If you have a domain name already, you just need to choose the second box on the right-hand side.
But, you do need to know that you'll have to point your nameservers to Bluehost if you've got your domain name with another provider.
But I'll recommend you choose a new one since it's free. Don't know about you, but I think free stuff always feels good?!
Also, the drop-down menu next to the name will allow you to choose if your domain name is going to end with "dot com" or "dot org" etc. But it's always advisable you choose the "dot com" since it's SEO friendly.
Once you've established your domain name you'll need to create an account with Bluehost for your hosting package.
Enter your personal information while you fill out the form…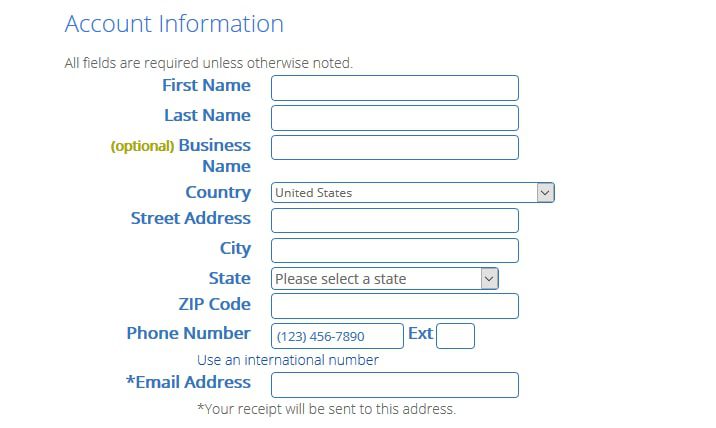 Next is the package information.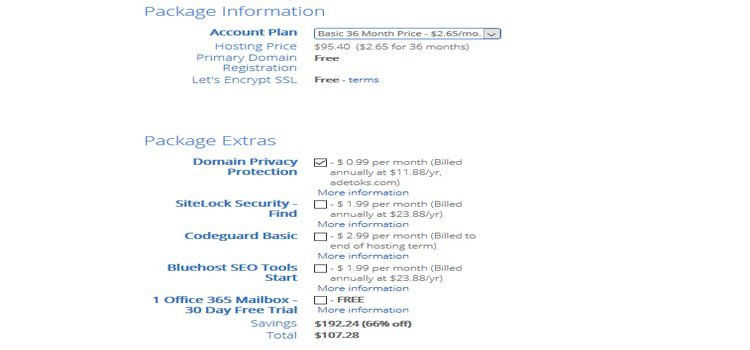 The account plan allows you to choose your plan based on your budget capacity. The plan can be a 12, 36, or 60-month straight subscription.
Also, make sure you uncheck the extra add-on boxes to avoid unnecessary costs. The only add-on recommended is domain name privacy, which is also not compulsory. The domain name privacy will keep your personal information secure and will also protect you against spammers.
Next, enter your payment information and tick the terms of service by Bluehost, then click the submit button.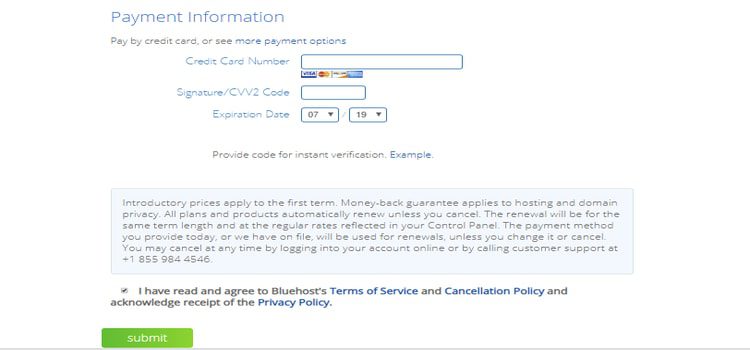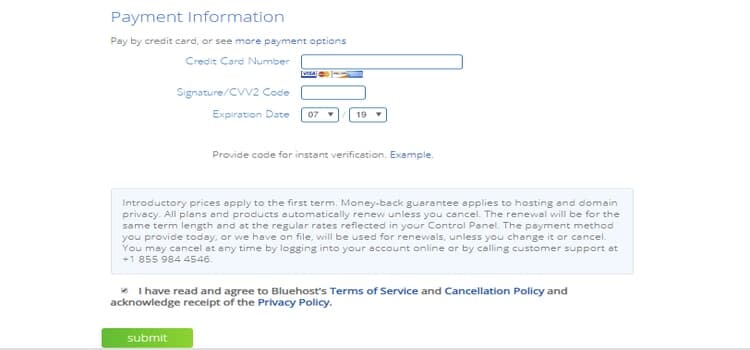 Congratulation, you've just created a hosting account for your website.
If you get your domain name from Bluehost you'll receive a mail notification asking you to confirm or verify your domain name. If you don't, your domain name might get cancelled.
STEP 2. Install WordPress
Bluehost updated its checkout page recently to get your website installed automatically with WordPress. So, you don't have to worry about knowing what to do or not everything is straightforward now.
After the checkout page, you'll need to choose a password for your account.

Do make sure your password is very secure.
The next page will notify you of the successful creation of your password.
You can then click the login button to continue.
After you've login, Bluehost is going to show you some free WordPress theme you can choose from.
But feel free to skip them by clicking the skip button under the page.
You don't need any of these themes for your dropshipping website because you're getting a free theme from the AliDropship theme's archive.
On the next page, which is your WordPress dashboard, you going to see a welcome to WordPress with a question asking if you need any help.
Click the 'I don't need help to proceed'.
At this stage, there should be another tab on your browser for you to log in to Bluehost cPanel. If there isn't one, Bluehost must have sent you your login details into your email address.
What you need to do is login in other to set up your WordPress account.
Once you've logged in, on the left-hand side, select 'my site'  and follow the simple procedure to set up your WordPress site on your domain name.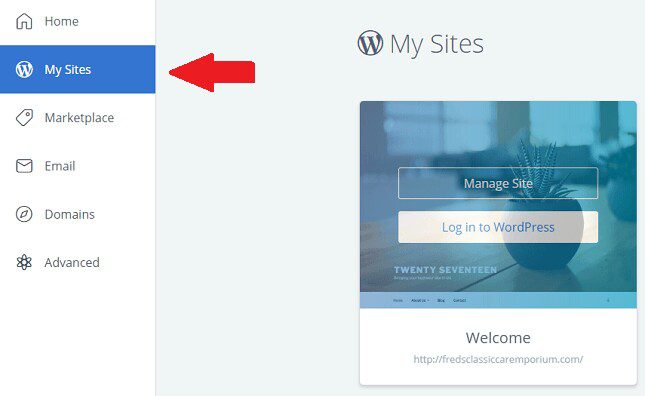 So by now, you already have a fully functional WordPress site and the next thing to do is install the AliDropship Plugin which will help you transform your WordPress site into a dropshipping website.
This will enable you to have all the necessary features to run a successful dropshipping business via your website.
Step 3. Install the AliDropship Plugin
AliDropship plugin is a WordPress dropshipping plugin that allows you to have a semi-automated dropshipping website with AliExpress.
Going through the AliDropship plugin review will let you understand most of its features and educate you more about the plugin.
For you to use the AliDropship plugin, you need CMS WordPress to be installed on your website and a high-performance Hosting Provider that meets the requirement of PHP 5.6 or higher and an ion cube loader.
Luckily for you, Bluehost meets all these requirements. At times, while installing the Alidropship plugin you could see a pop-up that says "ioncube loader not found" there's nothing to worry about.
Simply contact the support via live chat and they will update your PHP for you.
To install the AliDroship plugin, simply login to your WordPress dashboard and click 'Plugin' =>> 'Add New' in the left tab of the WordPress admin area.
Next, click the "Add New" =>> "Upload Plugin" to upload the AliDropship plugin you downloaded on the purchase page.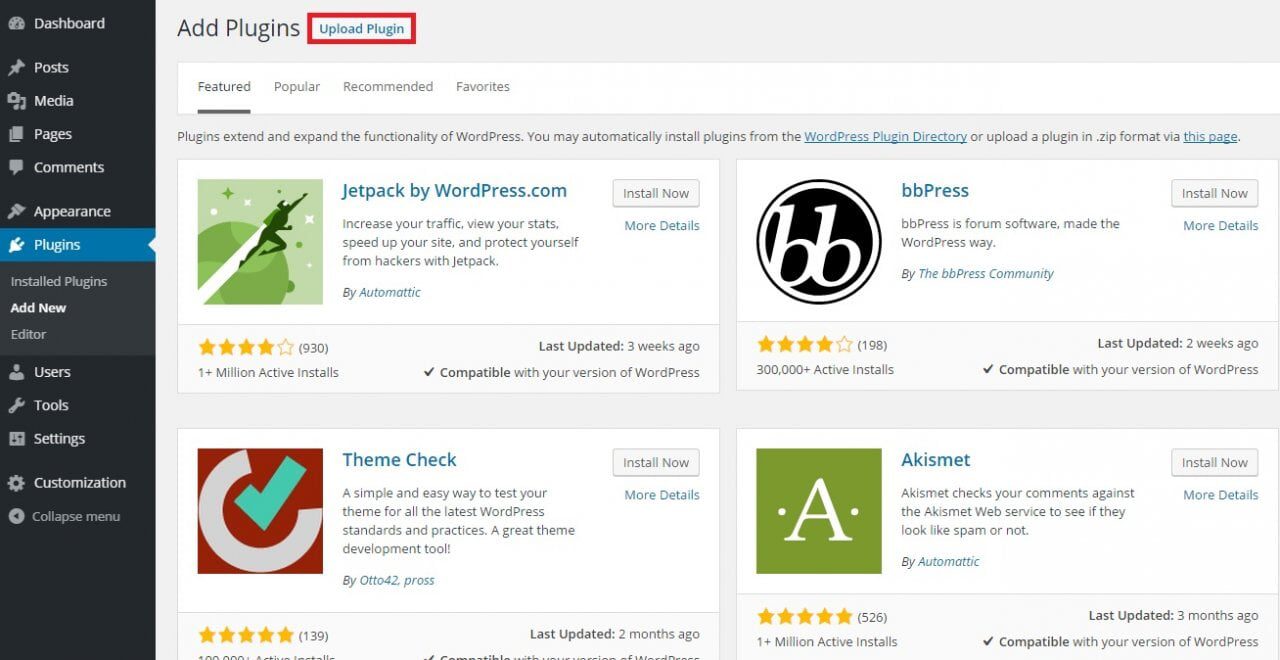 Once you've uploaded the plugin, the next page will notify you to activate the plugin.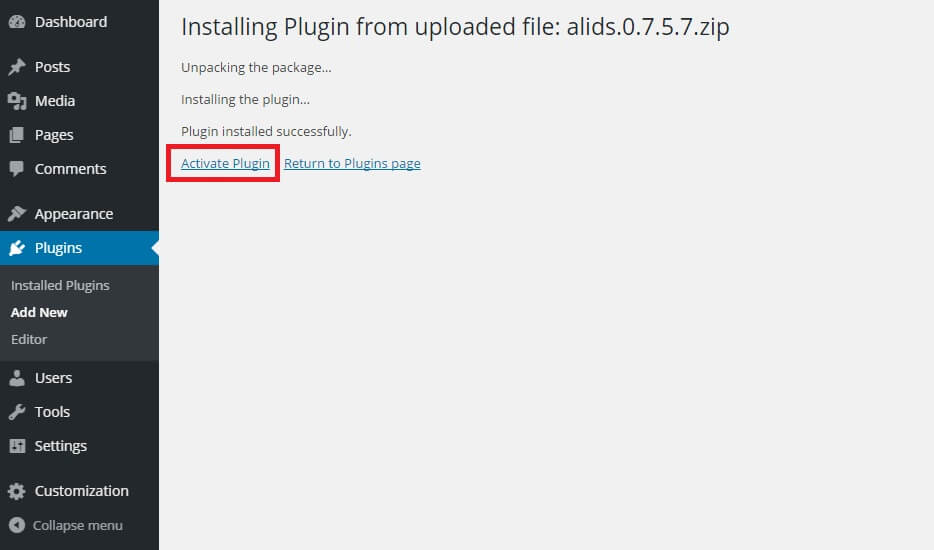 After that, what you need to do is add a new theme and you'll have a fully customize dropshipping website with WordPress.
Step 4. Install a New WordPress Dropshipping Theme
Since you are using the AliDropship plugin, it comes with its own free inbuilt themes you can use. So, you don't need to buy any other premium theme.
Any of the inbuilt themes from AliDropship will do just fine.
However, you must understand that the AliDropship plugin for WordPress or the default plugin is only compatible with its built-in-themes.
It doesn't work with the WooCommerce-based themes. You'll need to install WooCommerce and AliDropship Woo in other to be able to use the WooCommerce-based theme.
To add a new theme, first, you need to download any of your choices among the built-in-themes.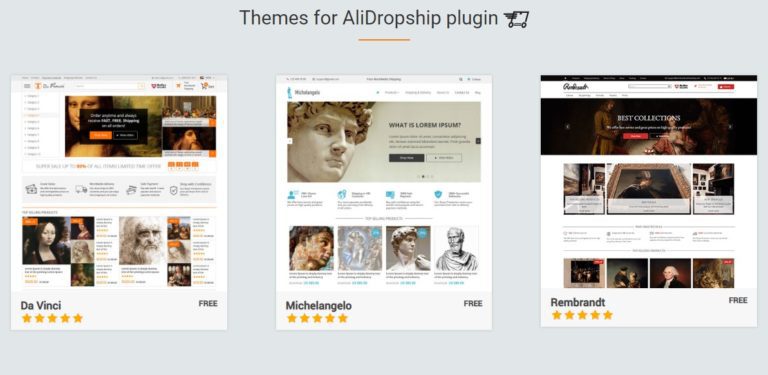 After this, log in to your WordPress dashboard and click Appearance => Themes =>> Add New.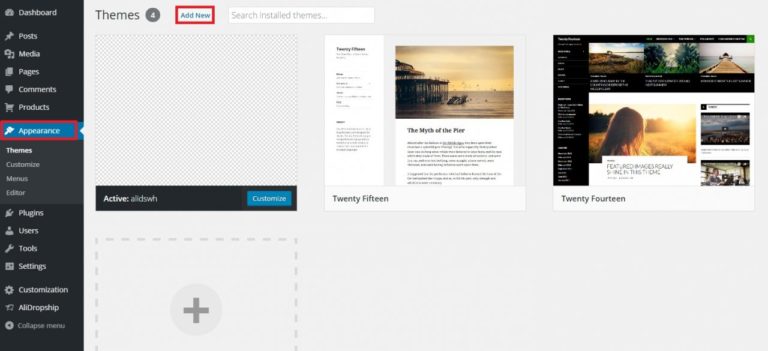 On the theme page, click the 'Add New' button, upload the theme zip file and activate it on the next page.

Finally, you need to activate the AliDropship plugin by entering your license key from the sale page. Or check your email address and copy the one sent to you after your purchase from AliDropship.
To do this, click Alidropship in the left-hand side in your WordPress dashboard to go to the main dashboard of Alidropship.
Once there, scroll down by the left-hand side and click the license button to activate the plugin.
Note: The license key is only valid for one website/domain name. If you want to use it on another website you need to deactivate it on the current store to reactivate it on the new one.
Congratulations, you just officially built your first dropshipping website!
How to Create a Dropshipping website with WooCommerce
Before we begin let me quickly clarify the difference between WordPress and WooCommerce.
WordPress is a CMS (Content Management System) that is built in PHP and MySQL. It's an online open-source website creation tool.
While WooCommerce, on the other hand, is a free e-commerce plugin specifically built for WordPress. The plugin allows you to create a beautiful online store with just a few clicks.
According to 'Builtwith' research, it is stated that over 39% of online stores worldwide are built with WooCommerce. This makes WooCommerce a number one solution tool for building online stores.
I believe that settles it, so let's get started.
#1. Install The WooCommerce Plugin 
Now, creating your online store is getting more interesting.
Here is the breakdown of what you need to do in other to install the WooCommerce plugin.
Login to your WordPress Admin dashboard. You can do that by going to your "storename.com/WP-admin".
Go to Plugins >> Add New.
Search for "WooCommerce".
Select "Install now"
Click "activate" and follow the setup wizard to build your online store.
Next, you will see the WooCommerce on-screen setup wizard that makes the whole process super easy. All you need do is follow the procedure step by step.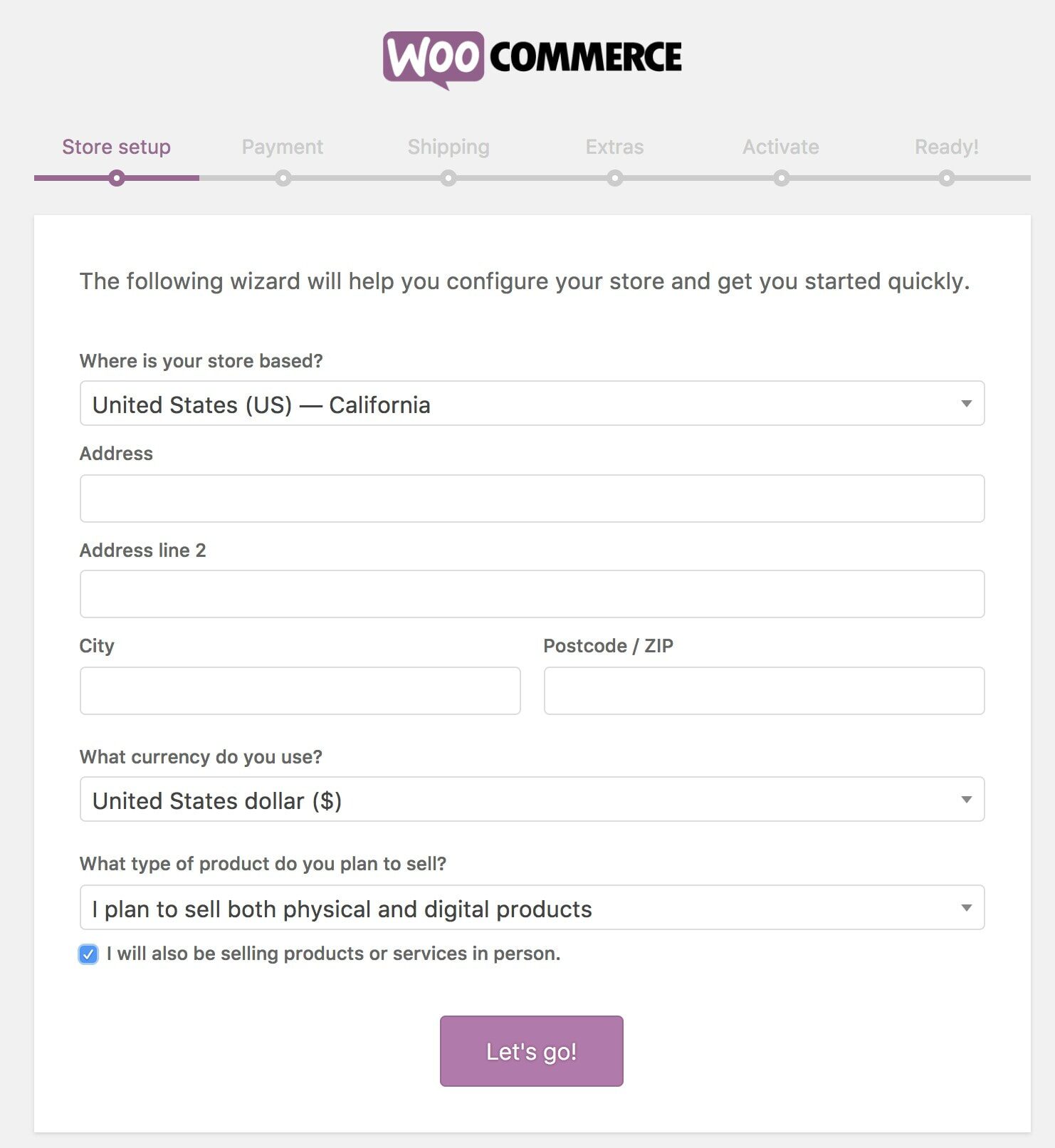 The first page will ask about the location of your store and your currency.
Additionally,  It will also ask the kind of goods you want to sell and if you will be selling in person. untick the box that says I'll be selling in person and click the let us go button.
The next page is for the payment option.
Two of the most popular payment gateways are at the very top, PayPal and Stripe. They are both highly recommended for integration with your site.
Additionally, you could also install and add a different payment gateway that seems to make sense or is available in your target country.
Next, is the 'shipping page'.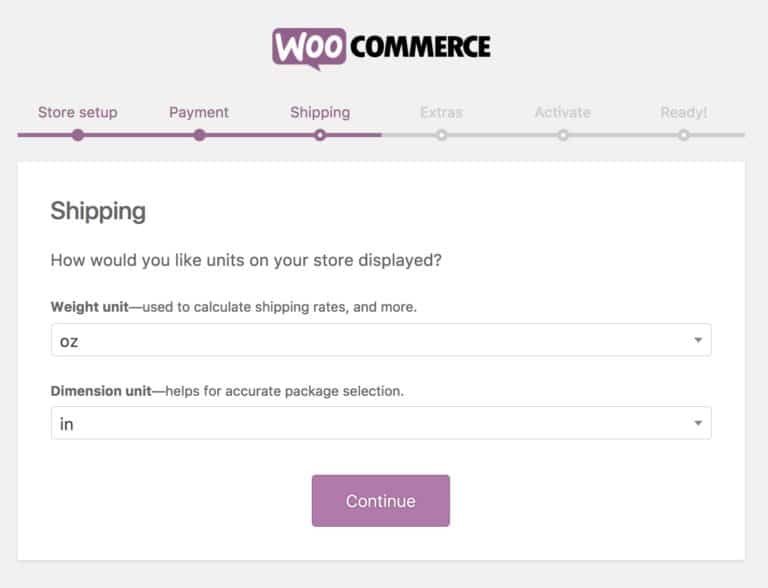 Here, you need to select the unit of measurement for weight and dimension. Don't get intimated by all this, after installing the Alidropship wooCommerce theme most of the job will be done for you.
After this, you can proceed to the next page 'Extras'.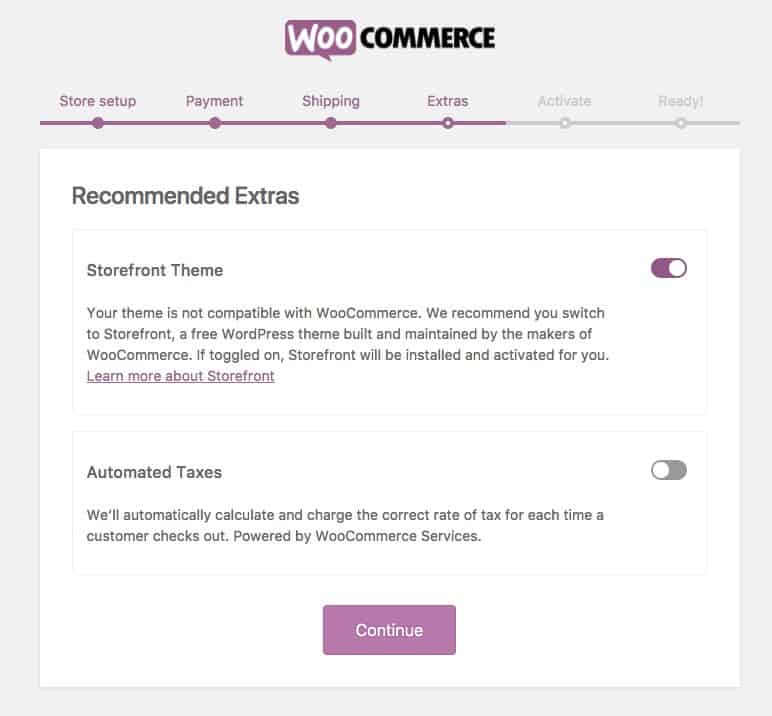 This page is about the Storefront Theme and Automated Taxes.
WooCommerce can automatically install and activate the free Storefront theme for your online store. I recommend you choose from AliDropship recommended themes for WooCommerce.
Additionally, it can also calculate your taxes automatically if you check the box.
Finally, click 'Continue' to proceed to the next page to activate the free Jetpack plugin for site enhancement.
There you have it! You just installed the WooCommerce plugin and your website is almost ready. The next thing to do now is to upload the AliDropship Woo, the WooCommerce version of the AliExpress dropshipping plugin.
#2. Installing AliDropship Woo
This process is very similar to uploading the WordPress version. Below is the breakdown of what you need to do:
Just log in to your WordPress Admin dashboard.
Go to Plugins >> Add New.
Upload the plugin zip file
Select "Install now"
Click "Activate"
You've just successfully installed the AliDropship Woo plugin. The next thing to do is to install a WooCommerce theme for your dropshipping website.
Head over to the AliDropship theme page and download one of the WooCommerce theme. You can go with the Shopper theme, it's free and beautiful.
Download your desired theme and upload it from your WordPress admin dashboard. You can read this article to learn more about customizing the Wooommerce theme.
Next, copy your license key to activate the plugin.
Mind you, if you've activated the license key before you need to deactivate it to reactivate it on your new website. Once activated, your WooCommerce dropshipping store is fully set up.
How to Import Product From AliExpress
Since your dropshipping website is up and running, the next thing to do is to import products from AliExpress and start selling immediately.
Before you begin to start importing products from AliExpress you'll need to install the AliDropship Google Chrome Extension. Click the link and add the extension to your chrome browser.
The chrome extension will allow you to import products directly from AliExpress and also update them. You can also collect tracking IDs and process your orders automatically.
Cool, isn't it?
Once the extension is installed you need to start importing your products. To do that login to your WordPress =>> AliDropship =>> Import Products.
Click the "Use Direct Import" button to add products directly from AliExpress. Once you click the button you'll be redirected to AliExpress in a new tab.
However, make sure you don't close the AliDropship importing section because it needs to be opened all the time while you import products.
The chrome extension settings can be found on the black bar on a product page of AliExpress. You can set search filters by shipping country, shipping method and product description type.
You can also select the category you want the product to be imported to on your website from the chrome extension.
While on the AliExpress category page, the chrome extension will show you the processing time and shipping method available for each product.
To import products, simply click on the AliDropship orange logo to import products one by one.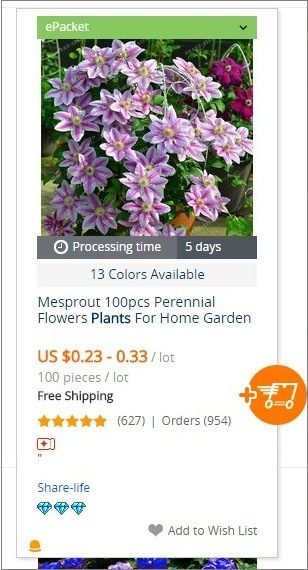 For bulk, import clicks the "Import" button inside the AliDropship red bar on top of the page. In the same manner, the total number of the product you're importing will be displayed on the import button as well as the progress of the import.
Fulfilling Orders on AliExpress
The next thing to do after adding and promoting your products is to start fulfilling orders on AliExpress.
The good thing, here again, is that the AliDropship plugin makes the process easier. 
All you need to do is click the "place order automatically" and the plugin will redirect you to AliExpress and all the shipping details for your customer will be added automatically.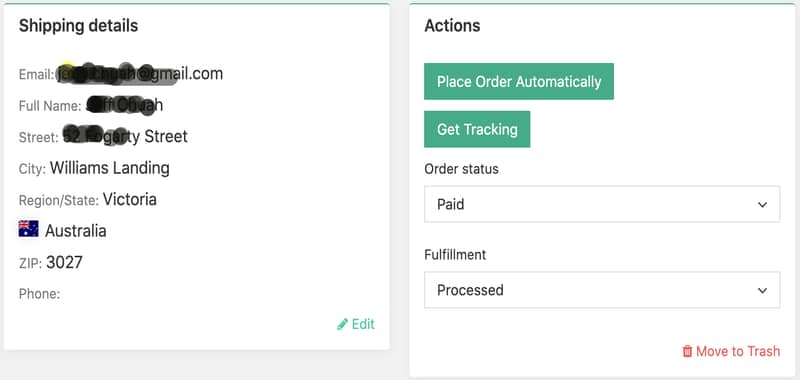 From your dashboard, you can also monitor your orders and see the ones that are already processed and the ones that are shipped.
You can also get their tracking details directly from the order and see how the product is being shipped to your customer.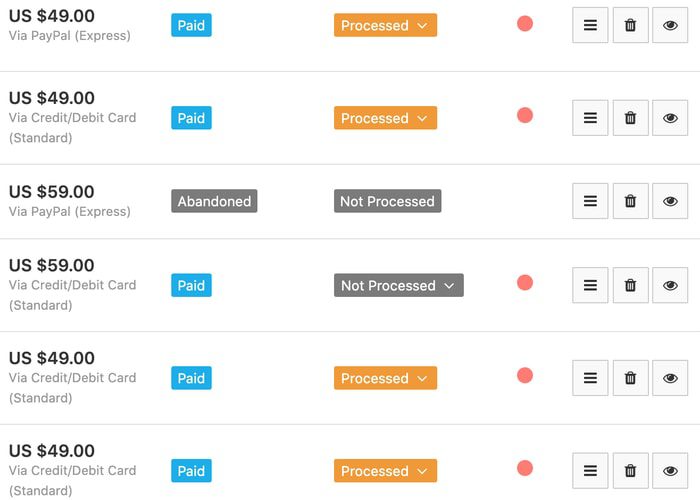 The AliDropship plugin will save you time, stress and energy that would have been exhausted if you choose to do it manually.
Finally, once your products are shipped, the orange round dot will change to green colour and the process button to shipped and green colour also.
Further Recommended plugins to Supercharge your online store
Besides the dropshipping plugins, you can also use other free WordPress plugins to further supercharge your online store. You can check the following:
You can also check from this list of 30 best plugins to further equip and accelerate your dropshipping business.
How to Create a dropshipping website in summary
As you can see, creating a website with WordPress isn't as difficult as it seems.
Although, at first it might seem daunting, but going through it a step at a time makes the whole process super easy.
Here is the breakdown:
Get a free domain name, sign up for web hosting and install the WordPress plugin.
After that, install the AliDropship plugin for the WordPress site. Once installed, visit the themes page to download your free theme from AliDropship.
For the WooCommerce website:
Install the WooCommerce plugin on your WordPress site. Once installed successfully, get the Alidropship Woo and install it. The next thing will be to install your theme and import products from AliExpress.
So, that's it on how to create a dropshipping website with WordPress/Woocommerce.
I hope this article helped you in the setting up of your website. If you think it is valuable let's hear your thought in the comment section.
Also Read:
FAQs on how to create websites with WordPress
Let's look at some of the frequently asked questions people ask about creating websites with WordPress;
Can I dropship on my own website?
Yes, you can dropship on your website if you have an existing WordPress or WooCommerce site!
Which website is best for dropshipping?
AliExpress is the widely sourced website for dropshipping because they have highly cheap products
Is Dropshipping Easy?
Dropshipping is easy if you have the right plugin to automate the entire process!