20+ Best WordPress Dropshipping Themes 2023 [Free & Paid]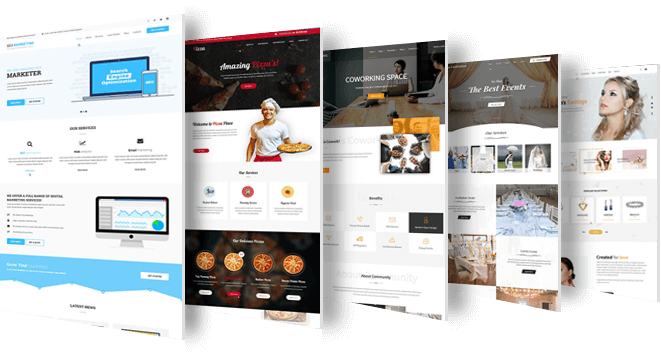 So, you've successfully set up your dropshipping store and you're ready to automate it with the best dropshipping software out there. The next thing you need is a nice  WordPress dropshipping theme.
We all know choosing the right theme for your dropshipping store is very important. This is because it lays the foundation of your store and how people perceive your store in general.
The importance of a good theme cannot be over-emphasis. So, it highly important you take your time while choosing the right WordPress or WooCommerce theme for your online store.
A poorly designed web store will definitely turn your prospective customers off at first glance. Even this research made us understand that Over 70% of people don't trust a poorly designed website.
So, your store theme goes a long way in the success of your business and it shouldn't be taken with levity hands.
In this article, I took the liberty of going through several themes that are best of the best for dropshipping. They include free and premium WordPress themes that are completely optimized for conversion.
I've personally handpicked them and we'll be going through them one at a time. But before we get started, there are some certain features you should be on the lookout for.
These are features that determine the quality of a good theme. And also for you to know if they are worth your investment or not.
Features of Good WordPress Dropshipping Themes
The first impression every customer is going to have on their first visit matters a lot. So, It's very important that your web store looks appealing rather than scaring your potential customers away.
Below are features of what you should be on the lookout for while selecting the right theme for your online store.
A mobile-friendly theme now plays a significant role in e-commerce because more than 50% of e-commerce sales is recorded on mobile devices.
A mobile-friendly website is going to provide a better overall user experience for your store visitors which is definitely going to boost your conversion.
Given this fact, I think it's imperative that you choose your WordPress dropshipping theme with the mobile version in Mind.
Try as much as possible to avoid WordPress or WooCommerce dropshipping themes that have lots of clumsy elements. This may include busy loaders, fancy strollers and unnecessary animation.
The above features may actually look fancy and appealing to your store visitors. But in most cases, it's only going to decrease your page speed. Which is bad for business.
You want a dropshipping theme that makes it easy for customers to land on your store, get the product they want and check-out easily.
This is one of the most important features you must look out for in a theme before getting it. Any theme you're going to be using on your dropshipping store should be quite easy to install.
These are one of the best features of themes on AliDropship. Their themes are fascinating and quite easy to install. Even for a complete newbie.
Any theme that's confusing and requires the help of support from time to time is not a good theme. Try as much as possible to avoid such themes.
Reliable Support and Regular Updates –
This also is another important thing you need to consider before getting any theme for your dropshipping website. You need to confirm if there's a constant update for the theme and as well as a reliable support.
You wouldn't want the situation whereby support won't be available for a premium theme you've purchased when you actually need them.
So try as much as possible to know the version of the theme and be sure you're not getting an outdated theme for your store.
Search Engine Optimize Theme (SEO) –
SEO optimized theme allows you to easily rank for your products keywords via the search engine. This kind of themes gives you the ability to write an SEO optimized product description.
This is particularly good because it gives you the ability to generate free organic traffics via a search engine at no additional cost.
Most SEO optimized theme loads fast and is equally light weighted. So, this is a great feature you have to considered while choosing your WordPress dropshipping theme.
Once your theme is easy to customize, it going to give you a higher degree of control of your store. With this, you'll be a to adjust the look of your store at will.
It will make it easy to create an appealing product page that will be irresistible for your potential customers. It will also help in professionalizing the looks of your store which will totally help you earn the trust of your customers.
Those are most of the important features you should look into while searching for your WordPress Dropshipping theme.
20+ Best Free & Premium WordPress Dropshipping Themes
I've listed over 20 handpicked quality themes you can install on your dropshipping website. The list includes both free and paid themes.
Some are created by AliDropship while the rest of the themes are handpicked on themeforest.com which are equally the best for dropshipping. So, let's go through them one at a time.
AliDropship Best WordPress Dropshipping Themes
Below are the best themes created by AliDropship for starting your WordPress dropshipping business. Each theme from AliDropship company is optimized to work better with their Dropshipping plugin for maximum return on investment.
I listed both the Recommended theme for the WordPress dropshipping plugins and that of the WooCommerce (AliDropship Woo).
The AliDropship WordPress plugin is a stand-alone plugin that transforms your WordPress site into an e-commerce store without installing the WooCommerce plugin.
While the AliDropship Woo is the WooCommerce version of the AliDropship plugin. It works with the pre-installed WooCommerce plugin for creating an online store.
You can check out the AliDropship complete review here!
#1. Andy Warhol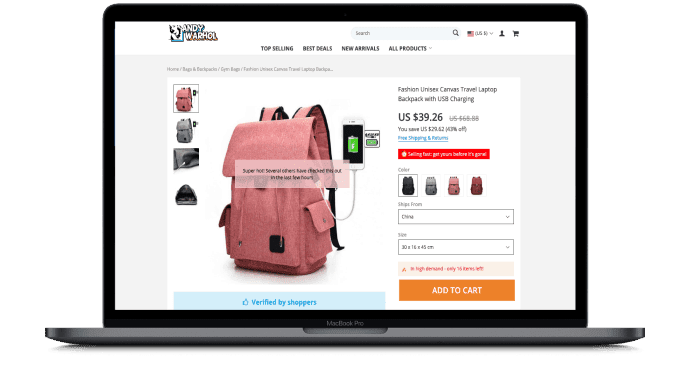 The Andy Warhol is the only premium theme created by AliDropship company and it's actually my favourite with the WordPress dropshipping plugin.
Andy Warhol is a profit-oriented theme with several calls to action, Fear of missing out badges (FOMO) and different trust banners.
This theme is specifically designed to boost your store conversion and help you skyrocket your sales on a daily basis.
The theme is crazily fast and light-weighted, SEO optimized and highly responsive on multiple devices with easy customization option.
It also comes with a constant update and fantastic support from AliDropship and its very easy use.  It's worth your investment.
Download Theme
#2. Da Vinci
The Da Vinci theme is one of the most popular themes on AliDropship and it's equally free to use. You just have to have the AliDropship WordPress plugin to be able to use it.
The theme is relatively easy to customize as it comes with a built-in customizer. You can also translate the theme to whichever language you want.
Finally, it's SEO optimized and equally mobile responsive. It allows your store to stand-out on any mobile devices.
Download Theme
#3. Michelangelo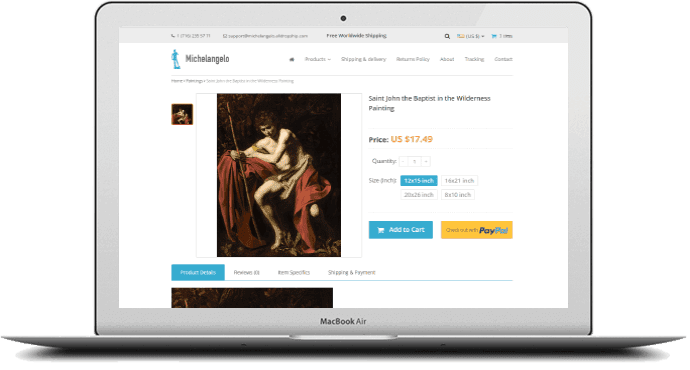 The Michelangelo only works with the default WordPress plugin by AliDropship just like the previous ones. Its SEO optimize and it gives you the option of translating your store in Spanish.
It's fully responsive on multiple devices and quite easy to use and customize. It also comes with an inbuilt customizer that makes customization comes easy with the theme.
The theme is equally FREE to download but only works with AliDRopship Default WordPress plugin.
Download Theme
#4. Rembrandt
Rembrandt is also a FREE theme by AliDropship just like the previous 2 themes. It's a fully responsive theme that works on multiple devices.
It has a built-in customizer just the rest and it's also SEO optimized. The theme can be translated into FRENCH, GERMAN and SPANISH.
It equally comes with constant updates and support, just like the previous free ones!
Download Theme
#5. Da Vinci 2.0 for WooCommerce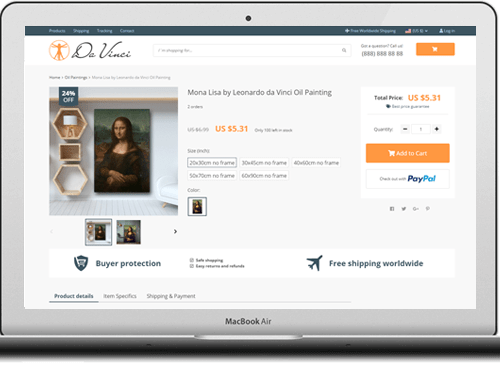 The Da Vinci 2.0 for WooCommere is a free WooCommerce theme for the AliDropship Woo Plugin. The theme comes with rich customization options to edit your store to your own taste.
It has a countdown timer on the homepage to create a sense of urgency and the fear of missing out on your products.
Support for this theme is only available for the AliDropship Woo plugin users.
Download Theme
#6. Dali
The Dali theme is one of the recent FREE themes created by AliDropship for the default WordPress plugin. Dali is an image-focused them that's perfect for a fashion niche.
The theme is optimized for large images and it also lets you create a stand-alone featured product on your homepage.
It also comes with a homepage video that blends in with your store design and several posts on your homepage if you want to blog around your products.
Download Theme
Other Best WooCommerce Dropshipping Themes
The below themes doesn't require the pre-installed AliDropship plugin before they work on your dropshipping store.
But all work with the AliDropship Woo plugin. If you're using the AliDropship plugin or NOT, these are the best theme you can use to transform your website.
#7. Astra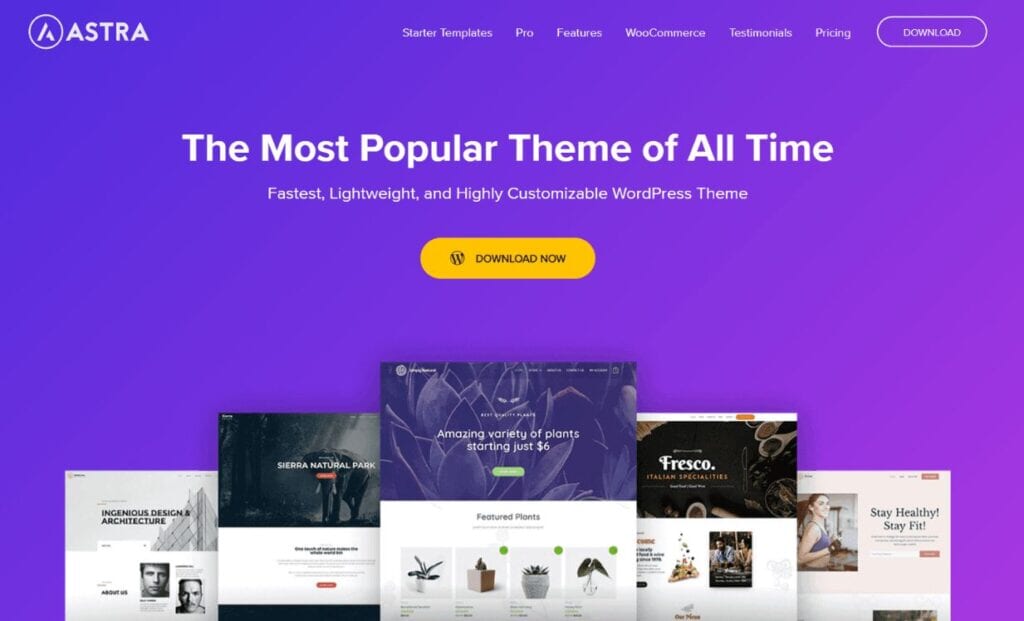 Astra is a powerful multipurpose theme ideal for eCommerce and dropshipping. It's fast, SEO-friendly, fully responsive and delivers the visual impact a store needs to convert.
With over 240 readymade templates to choose from, including several eCommerce store templates, it's easy to set up a dropshipping store. Find a template, install it, customize it using your favorite page builder and you'll be up and selling in no time.
Astra has a feature-rich free version and premium plans that offer a selection of advanced building tools and lots of extra features.
It's also compatible with WooCommerce and leading dropshipping plugins so you'll have everything you need for success!

Download Theme
#8. Flatsome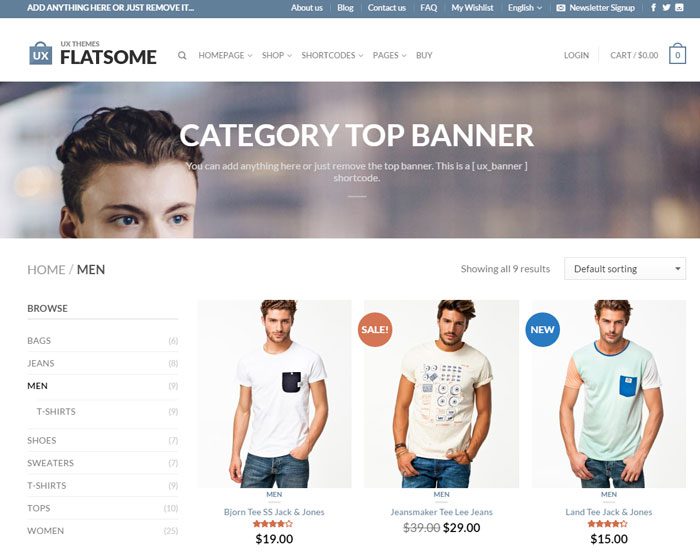 Flatsome is one of the best and popular e-commerce theme. This is because it's widely used and loved by many people. It comes with several great features that'll make your dropshipping store stand-out.
The Flatsome theme is fully SEO optimized with a lightning speed load-time. It also comes with an easy drag and drop option for creating anything without having to know a single code.
Flatsome is rated one of the best as it responsive as across various device and come with a high degree of customization.
This is perfect for anyone that wants a standard dropshipping store and for easy sales conversion.
Download Theme
#9. Avada
Avada is one of the top rated and best-selling theme for e-commerce store on Themeforest with over 500,000 plus users.
It's a sophisticated theme that works with several plugins on WordPress as well as AliDropship plugin. Or other drop shipping plugins you can use to start your dropshipping business on WordPress.
The theme is fully SEO customized with frequent updates and reliable support for all theme users. Avada has been in business for over 6years.
So, they're one of the reputable and trusted theme providers on WordPress.
Download Theme
#10. Uncode
Uncode is another great theme for anyone trying to have an outstanding dropshipping store online. It also comes with several unique feature and element that will make your website stand out in the crowd.
One of its amazing features is the ability to detect your visitor's screen size and then automatically adjust your website to the screen size. This gives all your visitor no matter their device a great user experience while shopping on your website.
With Uncode, you don't have to bother with the size of your picture as the theme will automatically resize them.
Download Theme
#11. Betheme
Betheme is an extremely beautiful theme that allows you to create your e-commerce dropshipping store within few seconds.
It comes with a high level of customization with multilingual support across the world. One the strong point of the theme is the ability to rank your website faster for search engine optimization.
It comes with the inbuilt Yoast SEO plugin which is an SEO plugin for ranking fast. The theme also comes with over 260 pre-built templates for selling any kind of products online.
Download Theme
#12. Bronx
The Bronx is a responsive drag and drop WooCommerce theme for dropshipping and stock inventory. The WordPress theme comes with a 6month full support and unlimited homepage layouts for any kinds of products.
It's an excellent theme that can showcase your products perfectly and also help drive more potential customers to your store.
The Bronx theme is fully compatible with WPML. Thus, giving you the ability to sell your products worldwide and in any currency. It comes with an inbuilt language and currency switcher.
#13. Storefront
Storefront is an intuitive & flexible free WooCommerce plugin integrated with WordPress. It's a FREE sophisticated theme that's compatible with any kind of WordPress dropshipping plugin.
The Storefront theme is built and maintained by WooCommerce core developers. So, you can rest assured that your AliExpress integration or between any other WooCommerce extension is water-tight.
Download Theme
#14. Shopper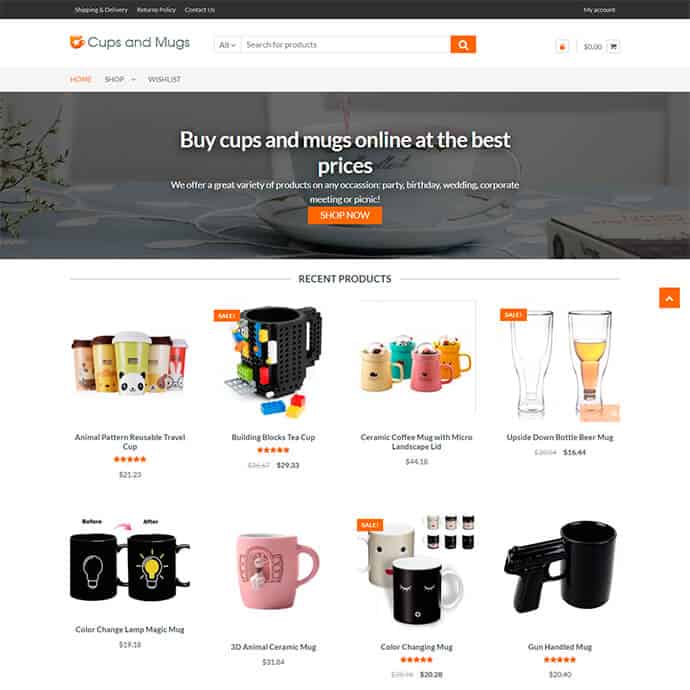 Shopper is equally a FREE WooCommerce theme for dropshipping. The theme provides a cool and clean design that's easy to use and highly customizable.
It is fully responsive on any device with multilingual translation and SEO friendly. It a perfect choice for an online fashion store, sports store, digital store, men and women store, and basically multi-purpose online stores.
It's frequently updated and it's compatible with the latest WordPress and WooCommerce plugin.
Download Theme
#15. Xtore
Xtore is an elegant theme that's stylishly developed and includes several steps of pages that will create a trustworthy and professional looking dropshipping store.
The Xtore is popularly referred to as the KING-SIZE WooCommerce theme. The theme is multi-lingual which makes your store ready to sell to any country across the world.
Another unique feature of this theme is that it comes with $250 worth of premium plugins included with the theme for free.
It's a responsive theme across several devices and it's constantly updated.
Download Theme
#16. Porto
Porto is a WordPress theme that's compatible with both WordPress and WooCommerce plugin. It's a multi-purpose theme that provides several elements and powerful features for customizing your dropshipping store.
The theme is extremely optimized for speed performance and it even works fine on low-level servers including shared hosting.
Lastly, it's frequently updated and it comes with amazing customer support for all users.
Download Theme
#17. Tokoo
The Tokoo theme is specifically built to enhance your dropshipping store. It is designed to help you build your e-commerce store to look like one of the top eCommerce websites.
It comes with the latest trend in a new age e-commerce websites like simpler headers, smaller fonts, cleaner checkout and better navigation.
This theme is particularly good for electronics and Gadget online stores. If you're thinking of starting a drop shipping store around that niche, then you need to check out the Tokoo theme.
Download Theme
#19. Gecko
The Gecko theme comes with lots of great features that will take you several weeks to develop. It's a fully responsive theme that looks stunning on all types of screen and devices.
The theme is optimized for fashion stores, handmade store, organic and furniture store.
it also comes with an easy set up for MailChimp, contact form 7, Product colour and images swatches, products video gallery, social sharing and many other features.
Download Theme
#20. Electro
Electro is also a robust and flexible electronics WooCommerce store theme for dropshipping just like Tokoo theme.
The theme design is well suited for electronics store and vendor based marketplaces. It is built and bundled with the advanced features available in most popular e-commerce websites.
Websites like AliExpress, Amazon, Snapdeal, Walmart, Flipkart etc. This is perfect for a niche dropshipping store with AliExpress.
Download Theme
#21. TechMarket
Finally, the TechMarket theme. This is a well-designed theme built to look responsive across various devices. It is built to look well for electronics store, retail store, shoes store, garden tools store, glass store and various others.
This theme is also bundled with the latest advanced features like the popular e-commerce store like Amazon, AliExpress etc.
And lastly, It comes with great support and it's frequently updated.
Download Theme
Conclusion
There are several other WordPress themes for drop shipping. But the above list as gone through manual review as they are all personally handpicked by me.
As mentioned earlier, they contain both Free and Premium WordPress dropshipping themes. The free themes are equally awesome as you can start with them if you're low on budget.
While the premium themes come with elegant style and professional look to stand your store out in the midst of the crowd.
All plugins work perfectly ok. However, if you have the AliDropship plugin, then I'll suggest you check out the Andy Wahol Theme.
Other Recommended Plugins to boost store Conversion
Below is a 6 in 1 add-on bundle of plugins to boost your store conversion. The add-on bundle plugin includes:
Countdown Timer
Facebook Business
Recent Sales Pop-Up
Google Merchant
Upsell
Social Rabbit
The 6 plugin comes with discounted single purchases on AliDropship and they are bound to boost your dropshipping store. here's a full review of the add-on bundle.
Over to you now!
Which of the above themes do you consider the best for your online store? Let me know what you think in the comment section.
Learn More: