Complete GoHighLevel Review 2023: [Pros and Cons]
As someone who's used GoHighLevel CRM software, I understand the challenges businesses face while trying to manage clients, staff, finances, and growth.
It can feel impossible to do it all on your own, which is why having a supportive team and the right tools can make all the difference.
That's when I discovered GoHighLevel, and it quickly became an integral part of my business.
But is this software right for everyone? This GoHighLevel review aims to delve deeper into its features, pros, cons, and alternatives, so you can decide whether it's the right solution for your business needs.
In this article, we'll cover an overview of GoHighLevel, its usage in various industries, complete feature breakdown, ways to make money with it, pricing, integration, and how it compares to alternatives such as ClickFunnels and Active Campaign.
By the end, you'll have a better understanding of the software and whether it's worth your investment.
GoHighLevel is versatile software designed for various business professionals.
The platform offers an array of features for marketing automation, CRM management, and more.
Weighing the pros, cons, and alternatives will help determine if GoHighLevel is the right fit for your business.
GoHighLevel Overview
What I Think…
I found GoHighLevel to be an amazing software. I've been able to use GHL for a few projects, and the results and automation level are beyond amazing. Personally, I'll recommend GoHighlevel based on my experience with the product.
| | |
| --- | --- |
| Best For | Agency |
| Price | Affordable |
| Trial | Available |
| Value For Money | 100% |
What Is GoHighLevel?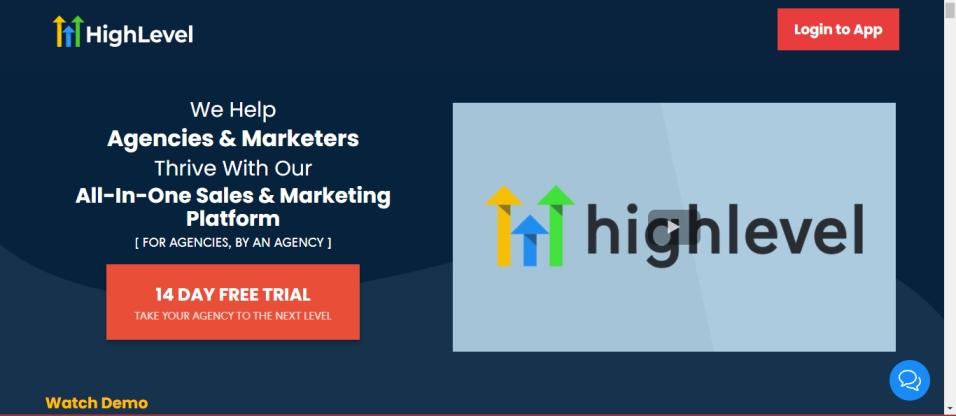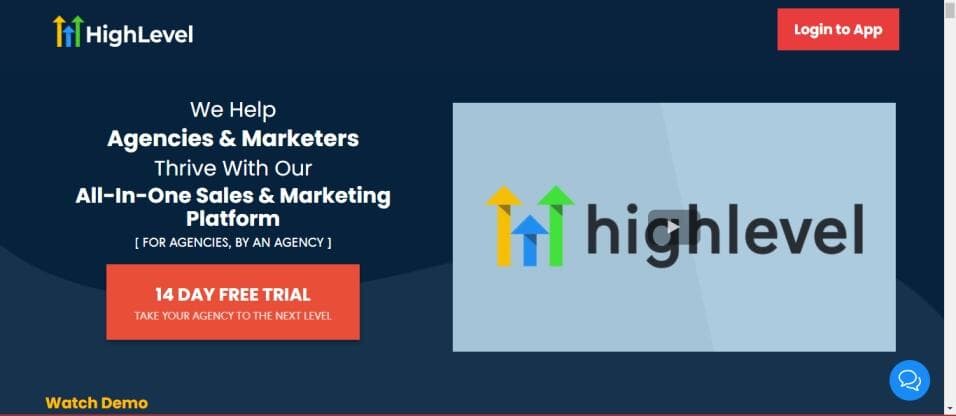 GoHighLevel is an all-in-one software solution designed to help you manage your customer relationships, automate your sales processes and boost your lead generation efforts all inside a single platform.
Sometimes you need an extra set of hands (or, in this case, brains) to get things done, and that's where CRM tools like Go High Level come in.
But this time around, you won't be juggling platforms, everything you need is made available inside one platform.
Considering the number of tools stacked up together inside the GoHighLevel, using the software will probably save you cost compared to getting each third-party tool separately
However, depending on what you want to use Go High Level for you might not be needing all the features but still, pay for it anyways.
GoHighLevel is the brainchild of Shaun Clark. Shaun founded HighLevel in 2018 to help small businesses and agencies automate and scale.
It is common to use "GoHighlevel" interchangeably with "Highlevel" because there's no "Go" in it. Shaun couldn't acquire the domain name Highlevel. So he went with Gohighlevel.com.
Subsequently, in this Go High Level Review, I'll be sharing with you how you can use the software for your business and possible ways to make money with Go High Level.
Till then, let me quickly share with you what you can use Go High Level for…
What Is GoHighLevel Used for?
CRM
Funnel Building
Email Marketing
SMS Marketing
Membership Website
Call Tracking
Pipeline Management
Calendar Booking

Survey Builder

Call Recording

SEO Agency

Business Automation

Client Retention Tool

White Label Software

Client Acquisition

Website Builder

Lead Automation

Saas Builder

Revenue Tracking

Reputation Management

Client Fulfilment software

And Much More…
Based on the above if you're someone trying to grow a business fast and at the same time trying to save cost, looking into this software might just be the right move.
How GoHighLevel Became Part of My Business
Back in 2021, I wanted to sell a digital product (Online Course) and I was looking for an easy way to collect payments, a member area then host and deliver the product all on the same platform.
At that time, there are several popular software out there as alternatives and I tried a few like thrivecart. But the satisfaction was not there.
It comes with some limitations for building sleek landing pages, and you couldn't integrate other sophisticated marketing tools to ease the sales.
I was a bit frustrated by this limitation, so I turned to a product I had been hearing some buzz about.
And after getting a little experience with it, which can be quite overwhelming at first, I decided to write this initial GoHighLevel review for you here to show you:
My favourite part about the GoHighLevel Software
What I don't like about Go High Level
How you can use it for your business
And how you can actually make money using GoHighLevel
Finally, everything else you need to know about the software.
GoHighLevel Review: Who Is It For?
GoHighLevel creators consider it as an all-in-one platform for sales and marketing. Therefore, it is recommended for marketers and agencies.
However, the software offers various impressive features that may benefit people in other professions.
But generally, it is suggested to entrepreneurs who run their businesses online. So, it can be an individual business owner like a dog trainer, photographer, an agency, or a professional marketer.
The platform is suitable for you if you are a;
HighLevel was designed with and for marketers in mind. Therefore, whether you run ads on social media, build websites or offer another type of marketing service, you can take advantage of this program.
You can use it to provide more value to clients as it is a robust CRM system.
It also benefits those who want a new and easy way to get digital marketing or agency clients. You can quickly automate your processes and connect with potential customers.
Once you start interacting with the customers, you can upsell your value by providing top-notch services.
Real estate agents nowadays find most of their clients online. Once customers see and like your listings, they can contact you to work with them.
Go High Level can help you market your business, expand your scope and reach more customers. With more leads, you can expect great profit returns, and soon enough, your company will grow to its full potential.
Affiliate marketing has become a common practice these days. Many people are joining affiliate programs and making a decent income from them.
However, you need excellent marketing and selling skills to succeed in this industry.
That's where sites like High Level come in. With this platform, you can create and manage your marketing campaigns quickly. You can also manage several clients with the available client accounts.
It makes your work easy and allows you to take advantage of all marketing avenues, increasing your success as an affiliate marketer.
The platform has a funnels and websites tab that lets you build funnels and landing pages that your clients can use to collect leads. Once you create your funnels, you can share them with prospects or clients.
HighLevel also allows users to import funnels from ClickFunnels that enable quick switching.
We must also mention that the platform is also helpful to website builders. The tools provided allow you to develop and design your site, and you can connect it to your domain.
GoHighLevel allows you to create and sell courses online or through membership programs. The platform has a membership site suitable for online course creators.
Therefore, if you're in this industry and have a membership site, you can move it to GoHighLevel.
You can add a custom domain to your site. Plus, individuals are also offered a visual editor that they can use for editing their online course content.
Once done, they can upload the content in video form. You can also add a snippet image to accompany your course outline title.
Additionally, we must mention that the site isn't recommended for eCommerce stores with many products and inventories.
But, if you only have a single product or are promoting an offer, you can take advantage of this site.
The platform can also be used by freelancers, consultants, bloggers, drop shippers, and small businesses to manage their customers.
Why You Shouldn't Use GoHighLevel (who it is not for!)
Trust me as bitter as it may sound, there are some people who might not benefit from using the Go High Level software. And to be honest, if you're one of these people – don't bother trying it because this section of the go high level review is for you.
Read on to find out why this tool is not for everyone.
If you're trying to start a blog for your business and looking for a new platform to launch your blog – Go High Level won't be able to help you much because it's not designed for blogging.
There are other platforms designed for blogging that is great for SEO and help generate traffic to your blog. These are platforms like WordPress. So basically, your blog can be built on WordPress and your business funnel on Go High Level.
It's not right for eCommerce stores with a lot of inventory. And I wouldn't recommend it for big eCommerce stores with many products and pages.
But it's great for small eCommerce shops with just one or two products.
This makes Go Highlevel a great match for dropshipping and eCommerce stores with a single-page product. Or people trying to sell physical products with a sales funnel.
But other than that, you're better off with a platform like Shopify.
GoHighLevel Review: Complete Features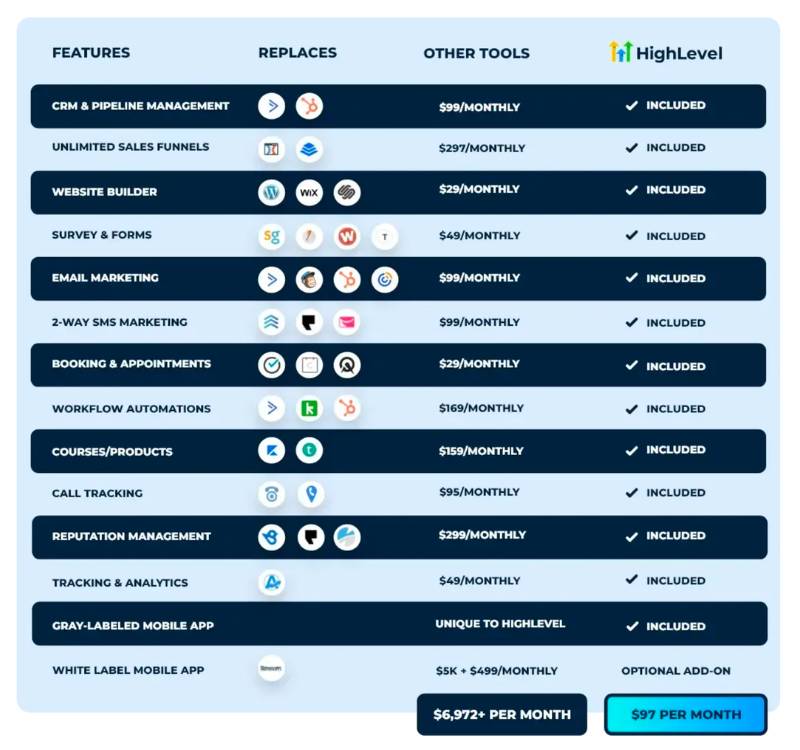 Below are the complete key features of Go High Level
#1. Marketing Automation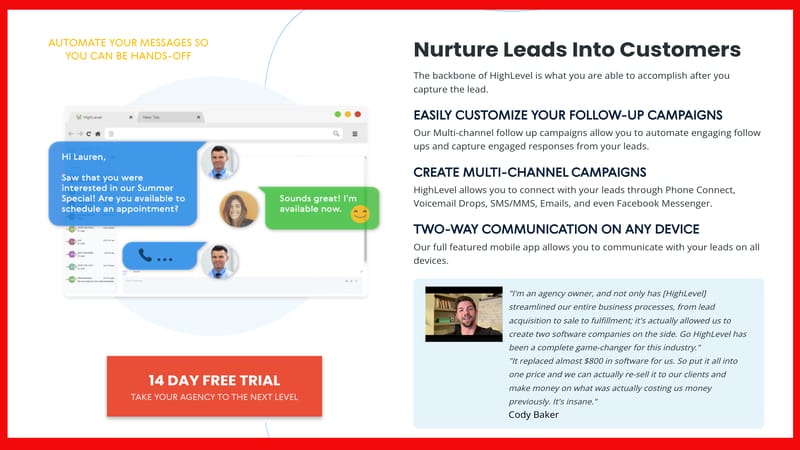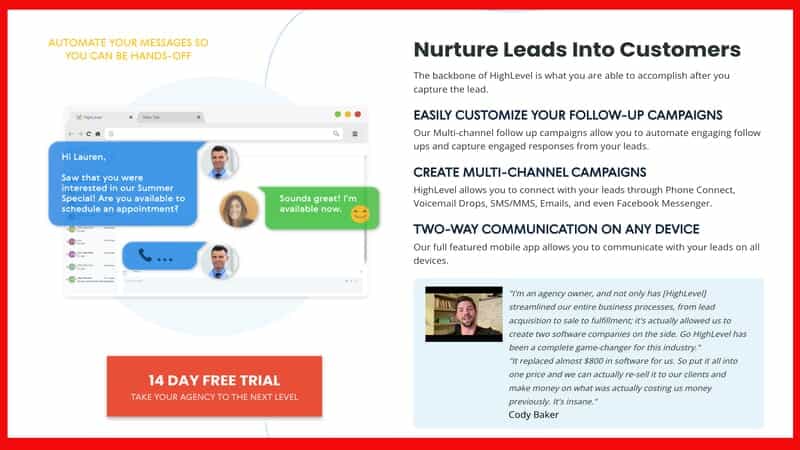 Go High Level offers several different types of marketing automation: email automation, social media automation, and landing page tracking.
Each automation step can be customized with your own design elements, making it easy for you to build the perfect campaign for your audience.
GoHighLevel Marketing Automation is a marketing automation tool that helps you create and manage campaigns, send emails, and measure results.
By using GoHighLevel Marketing Automation, you can increase your sales by following an organized process of collecting data on the customer's journey towards making a purchase.
Then through email marketing or any other advertising channels, you can market products in a way that will drive more conversions.
GoHighLevel Marketing Automation works by creating automated workflows to send follow up messages at different stages of the buyer's journey.
Example: Welcome Email > Product Demo Request > Product Demo Download > Product Sales Page> Checkout.
Each workflow has its own tracking parameters, so you know what worked best for each stage of the funnel.
Set up a time window first so that all the marketing messages – SMS and emails go out within a certain timeframe.
Setting this up is really important so that the consumers don't get messages in the middle of the night, which can irritate them and make you look bad.
#2. Membership Sites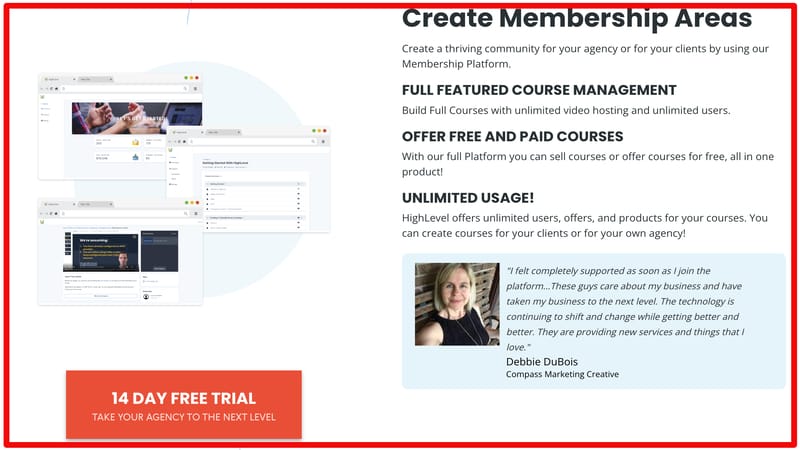 Using Gohighlevel, you can build membership sites to sell your premium products. You can also move your membership site to Gohighlevel if you're a course creator.
The dashboard looks pretty basic, but the results were pretty similar to what you get from Teachable. You can add your own domain to your membership site. There's a visual editor to edit your course outline.
Also, you can customize the design of your membership site landing page. You can even upload video course content. You can include a snippet of an image and your course outline title.
#3. Funnel & Landing Pages Builder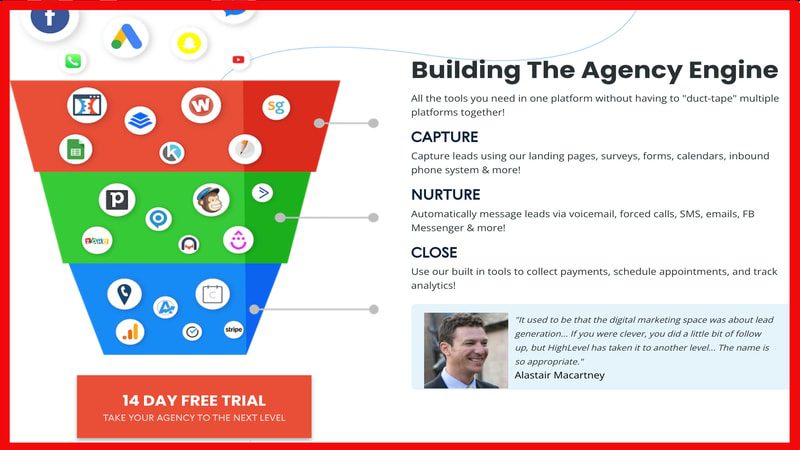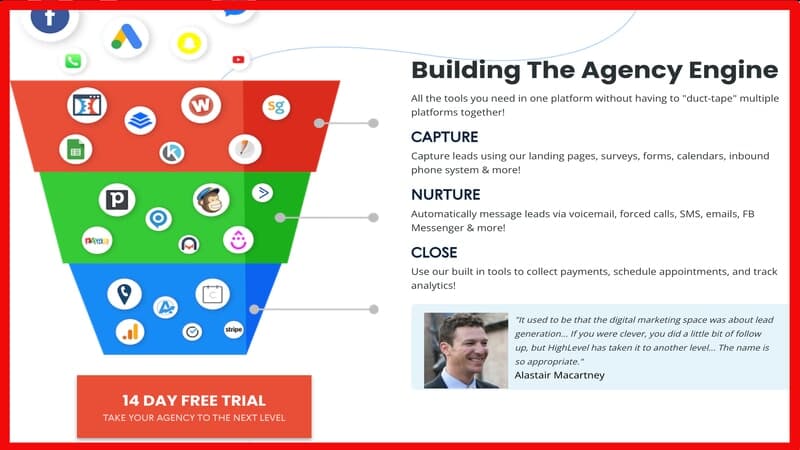 The Funnels & Landing Pages Builder allows you to create beautiful landing pages using one-click templates or your own custom designs. You can also create multiple funnels and send traffic to them directly from the dashboard.
You can make converting sales funnels with Go Highlevel's funnel builder. High level has funnel templates you can choose from and get started in minutes.
You can create a basic website and add navigation with the same builder. Using Highlevel, you can get a custom domain and dress up your funnel and website.
Since it's drag and drop, it's like using a premium funnel builder like ClickFunnels. But compared to Clickfunnels, High Level lacks some features.
Clickfunnels, for instance, lets you share funnels with others. You can't do that with GoHighlevel.
Keep reading for a detailed comparison of ClickFunnels and GoHigh Level.
#4. Booking and Online Appointment Tool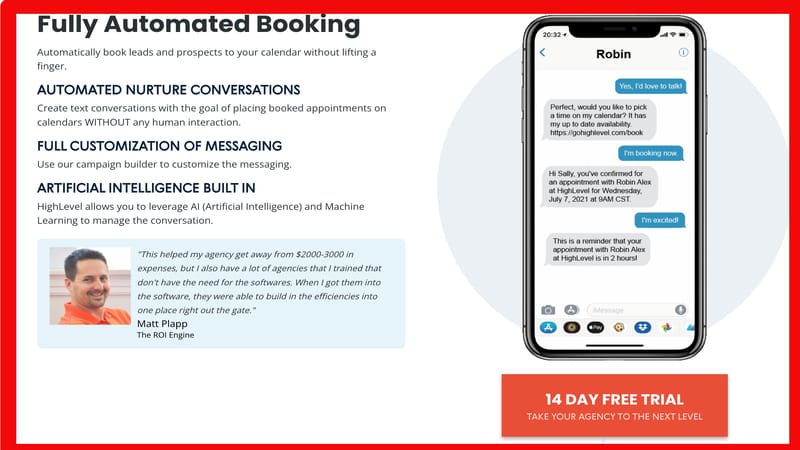 The High Level appointment tool has all the basic features of a regular calendar, but you can also create and share calendars that clients/customers can click around to see all your appointments.
It's easy to make your calendar from your Settings dashboard and embed it in your funnels.
#5. CRM and Pipeline Management
GoHighLevel CRM and Pipeline Management work in the following way:
It's an integrated platform. GoHighLevel integrates with Salesforce, Pipedrive, and other platforms to give you a complete view of your pipeline across all your accounts.

It's mobile-friendly. GoHighLevel is available on mobile devices to track leads and manage accounts no matter where you are or what device you're using at any given moment. And it has a responsive design, so it looks great on every device, from phones to tablets to desktop computers. You'll never miss another opportunity just because someone couldn't reach their laptop.

It provides data insights for better decision making on the fly!
This feature provides useful information so that sales reps can see how their efforts are paying off in real time without having to wait until after close for an invoice update before making decisions about pricing or which deals should move forward next week versus those slated for later down the road (or even into next quarter).
#6. Go High Level SMS Marketing
Go high level SMS Marketing is a feature that enables you to send a message to your customers directly via their mobile phones. The message can be in marketing or promotional content, or it can also be used for customer support.
High Level SMS feature allows you to send messages to clients at once, eliminating the need for a bulk SMS service provider.
With High Level, you can reply and view your message delivery reports right from your account's dashboard.
This app offers a visual text editor that displays a preview of your message in a mobile phone frame on the right-hand side of the screen.
Another amazing feature is the tracking option. You can send, record, and monitor text messages and move clients as they progress in the buyer journey.
As a plus, the SMS interface looks just like Whatsapp, making it easy to use and navigate.
#7. High level Reputation Management
Go high evel CRM Reputation Management is a feature that enables you to manage your customer's feedback and reviews.
With High level, you have full control over the image of your company.
It allows you to send a "Review request" to your customers, asking them to post a review of your services on the platforms of your choice.
#8. Reporting & Analytics
Go High Level provides you with comprehensive reports and detailed information about your Facebook Ads campaigns, Google Ads campaigns, and website traffic from all sources, including social media, mobile devices, and desktop computers.
You can see where your visitors come from, what they do on your website, and how much time each visitor spends. Allowing you to see how your team is performing, where you need to improve, and what's working.
How does this work?
The Reporting dashboard is divided into five sub-dashboards- Google Ads, Facebook ads, attribution report, call reporting and appointment report.
#9. Content Management
Go High Level allows users to create, edit, approve and publish and store content in a simple way that makes it easy for anyone within the company to do so.
Go high level content management system (CMS) offers everything you need to manage your content in one place.
With Gohighlevel cms, you can:
Create new pages and posts with just a few clicks

Edit existing pages and posts with ease

Schedule posts for future publication dates

Schedule multiple posts at once so that your social media feeds are always updated with fresh content.
5 Ways To Make Money With GoHighLevel
Just making sure our Go High Level Review gives you everything you need to know; here are 5 different ways to make money online using Go High Level
#1. Digital Products
Go High Level allows you to create complete courses that you can sell to anyone interested for free.
The platform offers unlimited users and unlimited video hosting. Therefore, you can create classes for your customers or agency.
We should also mention that the site includes a pipeline management feature that lets you track your leads and know their stages in your sales funnel. Also, note that you can collect payments from customers directly using Stripe.
#2. Freelancer/Agency
Whether a freelance marketer running a freelancing or Dropservicing business or even a marketing agency, you can use Go High Level to increase your revenue opportunities.
The site has everything you need to manage your leads, calendars, and other services to retain a customer.
You can use this platform for email marketing or SMS marketing. Plus, it allows you to connect with different prospects, and with the right strategy, you can win more customers to your side.
#3. Coaching/Consulting
If you are in this industry, you probably set many appointments with your clients. Go High Level allows you to book customers to your calendars quickly.
Plus, you can create text conversations on your calendars without needing human interaction, and individuals can take advantage of Artificial Intelligence and Machine Learning to manage their conversations effectively.
#4. Network Marketing
Apart from capturing leads, Go High Level lets you turn them into real customers. You can automate follow-up messages and conversations using this multi-channel platform.
Therefore, you can capture responses from your leads and structure your marketing campaign around them.
Additionally, you can connect with your clients through various channels, including Emails, Voicemail Drops, SMS/MMS, and Facebook Messenger.
Also, note that the mobile app allows you to network with your customers on all devices.
#5. B2B Lead-Gen
GoHighLevel was designed to help agencies and individuals capture leads in various ways. For example, you can create a well-designed website using this platform.
Also, you can make your landing pages creative and high performing using this site.
Additionally, users are offered the drag and drop survey forms to help them generate leads. These forms can be embedded on users' sites or the HighLevel page builder.
Furthermore, you can schedule and request appointments online using the built-in calendar application on GoHighLevel.
GoHighLevel Review: Pros and Con
Just like every other business and product out there, Go High Level also has its good and bad sides. And make this a complete Go High level Review, I'll be sharing everything I like and dislike about the go high level software.
Why I Love Go High Level (Pros)
There are so many things to love about High Level. The dashboard may seem basic, but it offers a lot of functionality that anyone can appreciate. Here are the most impressive things about this platform:
one of the best things I loved about this site was its customer support team. It is ever available to respond to issues from customers. The staff responds quickly via the Live chat.
But, the company also has a Facebook group with professional marketers ready to assist you when needed. The team usually handles tough cases via zoom calls.
Now, customer support isn't something to overlook when using marketing software.
Remember that problems are unavoidable and predictable. But if you run into an issue, you want to work with a company that handles it promptly. Otherwise, your work will stall.
setting up clients can be challenging if you don't have the right tool. Thankfully, High Level Snapshots allow you to do that quickly.
These Snapshots combine your funnels, marketing campaign, and automation in one template.
So, you can install the template onto a different client account and quickly start the onboarding process. You also get to save through this since you can easily create SOPs for VAs and use them for editing within a single CRM.
HighLevel is an all-in-one solution that includes features from several platforms to one platform. Therefore, you will not need to use several marketing tools to perform different jobs.
Instead, you can rely on the features of this site that let you work on your campaigns and goals in one place. So, you will save money as you won't need to pay for various platforms.
And also, it helps make your work easy and keeps it organized.
Go High Level is an excellent tool for a marketing agency. Using this software, you can centralize all your marketing activity on one platform.
Various agencies can use it regardless of size. So, whether your organization is small or big, you can still reap its benefits.
HighLevel has a mobile application that allows you to access and use its features on your phone. This is actually one of the things that make this platform unique. You can use the mobile app to:
Organize your contacts
Check your calendar and your appointment schedules
View and reply to requests
Manage your dashboard and chats
What I Don't Like About GoHighLevel (Cons)
The list of cons for this platform is short. One of my real frustration with this tool is that the platform doesn't integrate with Elementor.
If you create WordPress websites, you probably are aware of Elementor. It is a popular platform that makes excellent websites.
Therefore, for those using it, you will be forced to transfer it to Go HighLevel using Zapier, which means more money.
I feel it would be easy and cost-effective if one could directly transfer contact information from Elementor to High Level.
Learning Curve
It's unfortunate that you can't just sign-up to High Level and master everything about this tool at once; you have to really know how things work before you could be able to connect the dots and set up both the frontend and backend part of your business.
And especially when you're a complete newbie.
I know there are lots of HYPE all around the internet on how possible it is for anyone without prior marketing experience to start using this tool.
I'd have to be frank with you that it does require a bit of practice and learning. Nothing more! It's not that easy to get everything perfectly at first, but it's simple to follow and get good at it.
The good part is there are several training to help you out with all this.
Other cons I observed while using this software tool are;
It lacks a predictive dialer
You can only make payments through Stripe
It doesn't have an in-built A/B testing
While they do update frequently, some features get lost in the process
GoHighLevel Review: All Integration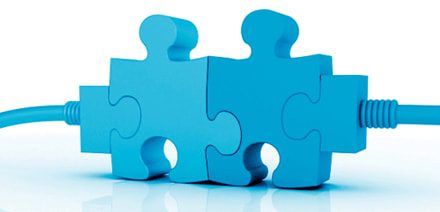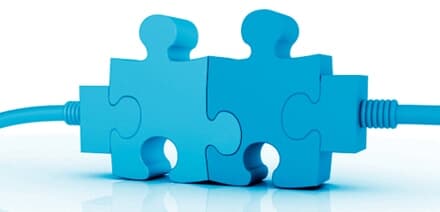 GHL allows you to use all its features on one platform. Therefore, you can combine the features and use them to get exceptional results.
For instance, with GoHighLevel integration, you can use the calendar with High Level funnels quickly. Remember that you don't lose anything when combining several features.
It lets you use your other marketing tools. If you want to maintain your favourite applications, you only need to integrate them with Go High Level.
Users can connect and transfer data from several applications using Webhooks, which connects to Zapier.
Some apps you can integrate Go HighLevel with include
WordPress,
Mailchimp,
Calendy,
ClicksFunnels,
WIX,
SurveyGizmo,
Jotfrom,
Leadpages,
Pipedrive,
etc.
You can take advantage of Go High Level training offered by the company's Support or the online community they have created. Here, you can learn to maximize integration to grow your company and get new customers.
Some of the things that you can handle using this software include;
CRM and Pipeline Management-
CRM is the most impressive feature of this platform. Many sales funnel builders and email marketing tools do not include CRM. That's why Go High Level is unique.
While the CRM component isn't included in the dashboard, the site has various features that can help you manage your customers. You can analyze your leads and prospects' movement using your pipeline.
Marketers have difficulty accessing sales funnel builders. There aren't many of them, and those available are costly. Thankfully, Go High Level has solved this problem.
It includes a funnel builder where marketers can create powerful sales funnels. The site has several funnel templates that individuals can use to create their funnel quickly.
Automate Email Marketing-
Go High Level lets you create your email list and send your messages to them. Also, you can automate the lead nurturing process. Users can create unique emails on this platform as it has impressive templates you can edit and customize.
the platform comes with an SMS dashboard through which you can manage and nurture your customers.
You can quickly write, send and track your text messages. You don't need to purchase a mass SMS subscription to let customers know of your new products or releases with this software, as you can do that through your dashboard.
A visual text editor is included where you can see the preview of your messages before sending them. So it ensures accuracy.
How to Use GoHighLevel for Your Agency?
Now that we've covered the basics, I think this go high level review should include how you can actually use GoHighLevel for your agency.
#1. Lead Generation
Go High Level allows you to build great landing pages, sales pages, and squeeze pages, which enable you to generate more leads for your website.
Additionally, you can use the platform to email or text your leads. The messages can be automated or not. But either way, they will convince more people to check your business or organization out.
#2. Client Acquisition and Onboarding
One of the best things about GoHighLevel is that it allows multi-channel integration. Therefore, you can integrate it with your client acquisition tools like Mailchimp and enjoy quality services.
GoHighLevel for client acquisition will enable you to create and send emails, voicemails, and texts. Therefore, it increases the response from your clients and will allow you to acquire more prospects,
You can provide a link connecting your customers to your GHL account, where they can get your templates emailed.
The only issue is that you have to use Zapier to integrate different platforms into this site which means additional costs.
#3. Appointment Scheduling
High Level comes with a calendar tool that allows users to automate setting appointments. You don't lose control of your calendar and can decide when your clients can schedule an appointment.
Additionally, you can manage your calendar within the Go High Level dashboard.
You can use the calendar feature to send people to the appointment scheduling page, trigger automation depending on your calendar's events, and add widgets to your site.
#4. Conversion Rate Optimization
GHL allows you to increase your conversion rates in various ways. For instance, customers can book appointments quickly via mobile or email.
This will enable them to form a great image of your company and can increase the rate at which people seek your services. Additionally, GHL allows force calling, which means that once a customer fills out the lead form, they get a call that connects them to you.
Such a system increases your conversion rates dramatically.
#5. Client Retention
Retaining customers is any entrepreneur's goal. However, it's mostly easier said than done. But you can use HighLevel to help you maintain your customers.
Remember that customers usually stop working with your business if they don't like you or you don't meet their expectations.
Now, personality is something that you have to work on by yourself. But, Go HighLevel can help you with the latter.
You can track leads, texts, and inbound calls using the platform. Then, you can organize them into a pipe for your customers to see that your business offers value.
Plus, it allows you to follow up with your buyers and stabilize the relationship. When customers feel satisfied with what they are getting from you and appreciated, they will keep coming back.
#6. Business Automation
Many people think that business automation is complex. But, Go HighLevel simplifies the process. You can save the time you'd have spent working on various aspects by automating your business.
The platform has triggers and campaigns that let you automate different processes to fulfil your customers' needs.
For instance, you can send automated emails or voicemails and automate reporting, onboarding messages, nurture sequence, and call tracking.
GoHighLevel Pricing: How Much Does it Cost?
GoHighLevel Pricing is classified into three major categories, namely;
Agency Starter Account
Agency Unlimited Account
Agency Pro (White Label Mobile App + Custom Zap Upgrade)
Agency Starter Account – $97/month or $972/year
Although limited to one account, the Go High Level CRM Starter Account is a great way to start your CRM and get your Agency off the ground.
It includes all the essentials you need to manage clients, projects, and tasks while keeping track of important documents and files.
Twilio is a platform that helps you communicate with your customers via different channels.
These include; two-way texting for both SMS and Email, Voice mails, MMS, Phone connect and Facebook messenger.
This means you can send and receive messages. All you need to do is to enter your API to activate that.
this feature works alongside the two-way texting features to ensure unlimited messages. Just like with Twilio, you also need to enter your API to activate it.
this feature helps you to automate tasks on your website by creating custom workflows. This will give you enough time to focus on other aspects of the business.
with this GoHighLevel feature, you can track all campaigns from google analytics, LinkedIn, Gmail etc. It will make it easier for you to add the campaign parameters to the campaign URL.
Some of the parameters include; campaign name (what the campaign is about), campaign term (e.g. WordPress), Campaign content (the exact content that generated leads)
it is not just enough for you to have customers click on your lead generation link; you need to have a medium of monitoring the process.
With the pipeline management feature, you will be able to track a prospective client from the landing stage till you eventually close the deal.
this is the page where your link directs customers and visitors. There, a detailed advertisement or sales copy is placed to further direct the clients on how to take respective actions. GoHighLevel helps you build this page.
This is a feature that helps you build google forms, from where the details of your visitors, prospective clients and customers can be collected.
Having a form helps you classify each customer according to their needs. You can either decide to integrate the forms while building the landing page or on the website.
The GoHighLevel software comes with an email builder feature.
It helps you to create, design and also send emails. It sends emails such as newsletters, email campaigns, transactional emails, follow-up emails and so on.
Having a website as a business person gives your business a level of authenticity. It speaks for you when you are not there. Building websites can be quite tasking and expensive.
With GoHighLevel, you can get the websites built for you as fast as possible without codes.
in the course of generating leads or running campaigns, there might be clients who request to have an appointment with you. if proper care is not taken, you may miss out on those appointments.
With the GoHighLevel calendar feature, you will be able to capture all appointment requests and schedule appropriate times for them all.
Agency Unlimited Account – $297/month or $2976/year
All the features in the Agency starter account include;
Customized White Label Desktop
with this feature, you will be able to make use of your domain. Not only that, you will be able to give your platform the outlook and interface you desire.
Your clients will be able to see the name of your business or brand and even your URL. It gives it a more personal look.
Memberships and Partner Program
GoHighLevel also provides a platform for networking with other marketers. They have been able to build a community of people right from owners of start-up agencies to owners of large agencies around the world.
Being in a community as such will help you share ideas with others and also learn how those large agencies are maximizing the GoHighLevel.
Also, with the membership feature, you can create your membership community for your clients. On this platform, you can build up courses and sell the platforms.
Chat and phone Support– You are accessible to live chats with the support team where you can ask any question should there be any confusion along the line.
Basic API access– it makes provision for your API (Application Programming Interface) that helps you connect between different software and computer programs.
Unlimited Accounts– This pricing plan offers you the premium opportunity of having multiple accounts. If your business model does not require that you have multiple apps, you can sell those accounts at your price
Agency Pro (White Label Mobile App+ custom upgrade)- $497/month or $4968/year
It includes all the features in Agency Unlimited Account including;
is also referred to as A/B testing. This GoHighLevel feature helps you determine which of the versions of your landing page, home page or web page is performing better.
It could be in terms of conversion rate, form completion or other goals.
peradventure you do not want to install the software on your device, you could access it over the internet with the SaaS (Software as a Service) model.
Another reason for this mode could be that you want to access information on the software from another device that you do not have it installed on, the SaaS mode comes in handy.
Not only that, the SaaS mode is unlimited.
the GoHighLevel Agency pro account provides you with an Artificial Intelligence and Machine Learning feature to help automate some processes. Most especially, to handle conversations. The AI bot holds conversations either as spoken or typed words.
The GoHighLevel Agency Reporting helps you to monitor call reporting- such as answered calls, first-time calls, missed calls, scheduled calls and the average duration of each call.
It can also record your calls. It is very important if you have people working under you as a salesperson. You will be able to see how they follow and convert leads.
The API access in this pricing plan is the advanced form. This plan also includes an E-mail and text Rebilling.
GoHighLevel Review: How to Get a Huge Discount
One way to get a huge discount on GoHighLevel is to switch to its yearly plan.
For example, if you purchase the GoHighLevel yearly plan, you would have successfully saved $192/year on the Agency Starter Account, $588/year on Agency unlimited Plan, and $996/month on Agency Pro
How then do you get this huge discount?
Follow these simple steps to get started on assessing the discounts on GoHighLevel Yearly Plans.
STEP 1: Start Your Free Trial
Click here to create your free trial account. After that, you'll be prompted to pick a plan and go on with the 14Days free trial. Choose your preferred plan and create your free trial account.
STEP 2: Login To Your Account
Now, log in and click on "Upgrade" at the middle-end of your High Level dashboard. After clicking upgrade the pricing page will pop up and you will be able to toggle between the monthly price and the annual price.
For the monthly tab, this is the price you'll have to pay if you decide to pay on a monthly basis… see the image below!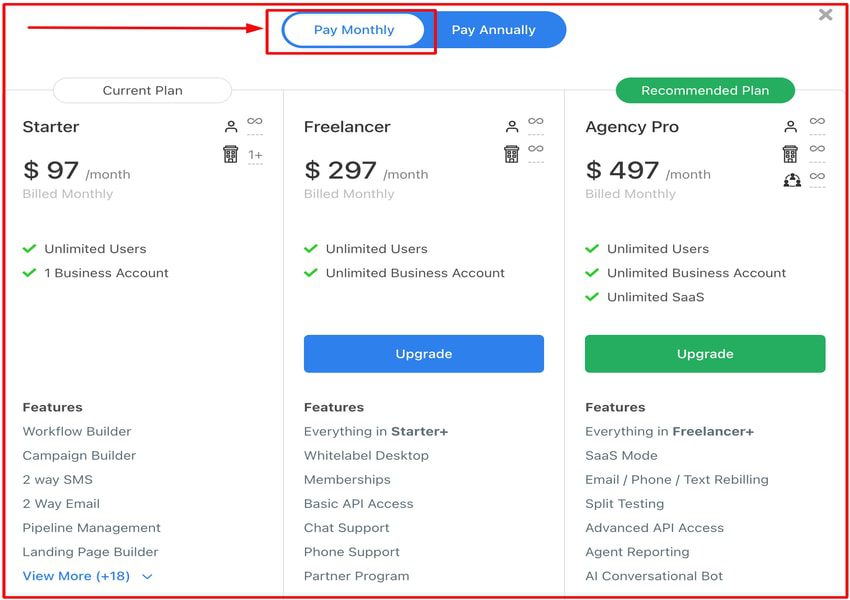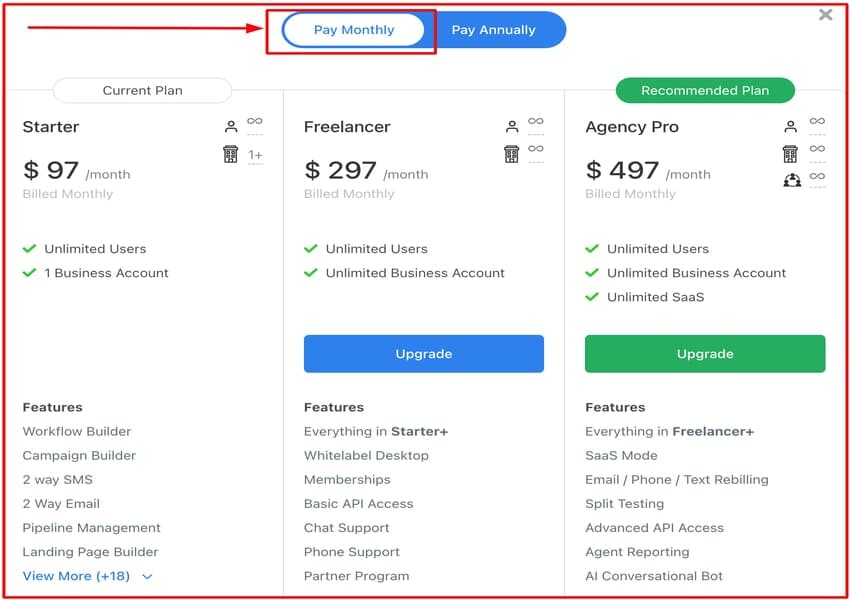 If you'll like the see how much you'll be saving annually, all you simply need to do is click on the "Pay Annually" Tab to toggle around the pricing plan.
Below is how much you'll be saving on the annual plan.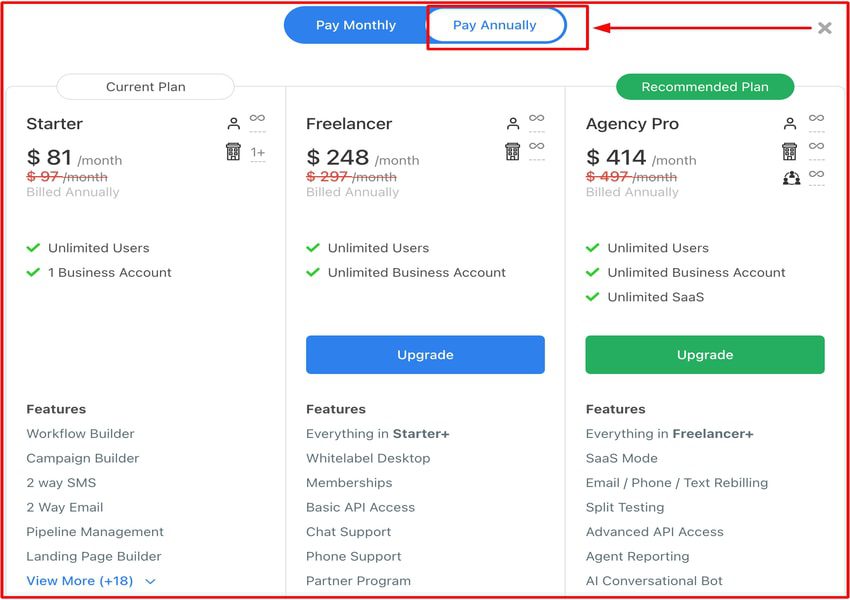 Agency Unlimited Account Vs. Agency Pro
The Agency Unlimited and Agency Pro are the best-recommended plans if you want to leverage the benefits of GoHighLevel.
We shall consider the similarities and differences between the two plans.
Similarities
Unlimited accounts and users
They have the customized white label desktop
Both of them have live chat support
They also both have all the features in Agency Starter
Differences
Agency Unlimited has Basic API access while Agency Pro has the API advanced access
With Agency Pro, you can conduct an A/B or split testing; while in Agency Unlimited, you cannot.
There is no Artificial Intelligence feature in Agency Unlimited but it is present in the Agency Pro
With Agency Pro, you can access your GoHighLevel platform over the internet known as SaaS, whereas in Agency Unlimited, you can only access the platform through the installed software on your device.
Therefore, depending on the size of your business and how many campaigns you run at a time, the Agency pro would do justice more for a bigger setting.
For example, the split testing feature in Agency Pro helps you determine which of the pages convert better. This will help you narrow down your focus. It saves time and money.
You will not have to spend money on a campaign only to realize that it's not yielding the desired results.
One advantage that Agency Unlimited has over Agency Pro is the pricing. Agency Unlimited might be more affordable for some than Agency Pro.
Without mincing words, you have been able to see the complete breakdown of the different GoHighLevel pricing plans. You most likely now have an idea of which of the pricing plans to opt for.
However, for better information on GoHighLevel itself, let's take a good look at its pros and cons.
GoHighLevel Subscription Cancellation
Cancelling your subscription is not as straightforward as other platforms might be. This requires some steps which I will explain in detail here.
STEP 1: Login
Sign in to your account and go to the billing page in the settings
STEP 2: Begin the cancellation process
On the billing page, you will see your account type image. Below it, there is the text showing information about the expiry date of your current plan. you will also have an option to click here in the text.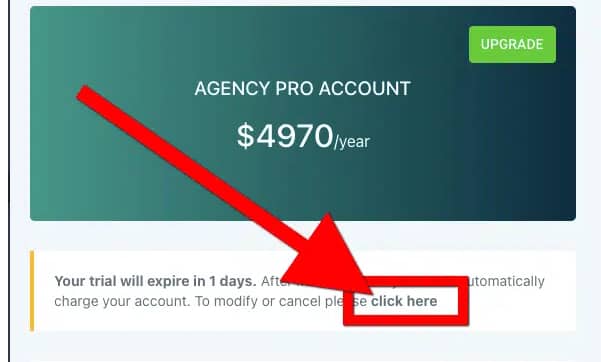 STEP 3: Cancel the subscription
After clicking on that, it will take you to the subscription modification page. There, you will see the Cancel the Subscription option.
After that, GoHighLevel will request to know your reason for cancelling. You will see options, but if none matches your reason, you can simply click on others.
On the next page, you will see the Cancel Now option
It will then take you to a form that you will fill out. After filling it, click on Confirm Cancellation
Thereafter, you will see a confirmation message and how long it will take for the cancellation to be effected.
Though the message will read 72 hours, within 24 hours, a notice of subscription cancellation will be received in your email.
GoHighLevel Alternatives: How Does It Compare with Competition?
This won't be a complete GoHighLevel review if we fail to mention how they fair with their competition. This tool combines the best features of ClickFunnels, Unbounce, LeadPages, and more into one simple-to-use platform.
With Go High Level, you have all the tools to build high converting online sales funnels at your fingertips. From A/B testing to advanced analytics, landing pages, and lead magnets — GoHighLevel does it all.
Go High Level VS Clickfunnels
The biggest difference between GoHighLevel and ClickFunnels is in functionality and target audience. GoHighLevel is targeted toward agencies looking for powerful all-in-one marketing and CRM solutions.
ClickFunnels, on the hand, is targeted toward marketers and online businesses who want a more comprehensive funnel and landing page builder.
Let's explore how both platforms compare in basic functionality, price, support, and training.
Click Funnels' major selling point is the funnels. It gives you really guided beginner friendly templates to help you get started.
Clickfunnels also has a cool split test feature that allows you to build side by side funnels with slightly different variations to help you compare how each performs.
Another thing Clickfunnels does better than most is its training. There are loads of free and paid resources by Clicksfunnel founder Russell Brunson. An example is the one funnel away training.
The conversations dashboard is one of High Level's best features. You can create automated campaigns but still mix them with manual messaging in the conversations dashboard.
Both platforms provide live chat and email support options. But High Level GHL Provides video support for all users.
Clickfunnels outsource their support. And video support option is only available on the $2500 plan or the priority support option. ClickFunner, however, has a group Zoom call.
Both platforms offer multiple payment plans.
ClickFunnels, like high level, start at 97$, but you don't get a lot with this plan.
While you get a funnel builder and domain, you need to integrate a separate software with ClickFunnels to send emails and text messages, which is not ideal.
GHL Agency Starter Plan at 97$/mo includes everything right off the bat.
The difference is the 97$ plan limits you to just one account. So if you are just starting your Agency, this would work for 1 client. Or you could just use this plan for your Agency.
Verdict: If you run an agency GHL is a way better option. GHL offers a lot more at a cheaper price point without sacrificing quality.
GoHighLevel VS Active Campaign
Comparing go high level with Active campaign
On all plans, ActiveCampaign offers chat and email support. However, phone support is only available on the Enterprise plan. All High Level users have access to live chat, live Zoom support, concierge migrations, and a free Facebook community.
ActiveCampaign provides extensive knowledge bases, video courses, and a community forum. A one-to-one training program is available on the Plus plan and up.
Go High Level is relatively new and has a limited number of available resources.
ActiveCampaign only allows you to send text messages but not receive responses. On the other hand, high level lets users send text messages, emails, Facebook Messages, Instagram Direct Messages, Google Chats, and Whatsapps and respond to them.
GoHighLevel Review: Frequently Asked question
Below are few of the most frequently asked questions about Go high Level
What is Go High Level used for?
Go High Level is used for various functions. Individuals can use it for SMS marketing, email marketing, voicemail marketing, appointment booking, nurturing, follow-ups, building a sales funnel, like a CRM, white labeling, building reputation, etc.
Is Go High Level a CRM?
GHL is a marketing platform for business owners and agencies. It allows individuals to offer excellent customer relationship management services. With CRM, you can manage all aspects of your customer's needs, including outbound calls, SMS, lead tracking, sales funnels, meetings, etc.
How do I cancel my HighLevel account?
To cancel your subscription, you have to log into your account. On the dashboard, click on settings, then billing to prompt the billing page. Then below the account type, click o click here, which will take you to the next page.
Then you can click the cancel button and choose why you want to cancel your account or, if you don't have one, click 'other'.
Scroll down to cancel now on the next page, then click on confirm cancellation. Your account will be canceled in the next 24 hours.
Who owns High Level?
Go High Level was founded by Shaun Clark. He started it in 2018 as a marketing solution that integrates all marketing tools under one umbrella. He designed it with small businesses and agencies in mind.
Since Clark is an agency owner, he knows and understands the problems small businesses face during their marketing campaigns, like the high cost of marketing tools.
Go HighLevel helps companies that cannot afford to purchase several marketing software tools.
What is a CRM Tool?
Customer relationship management (CRM) is a tool or strategy that businesses use to organize data from their customers. Individuals can use it to track communications and build relationships with their customers.
Does Go High Level Integrate with Linkedin?
Yes. But you will have to use Zapier to send information from Go HighLevel to LinkedIn or vice versa. This allows your business to grow as you build leads from this platform.
GoHighLevel Review: Conclusion
To round up this GoHighLevel Review, I'll like to tell you that this software is more than a marketing platform.
It is a Sales, Marketing & Business Automation platform that allows you to build and automate your website, funnels, landing pages, SMS marketing campaigns, email marketing, search engine optimization, etc.
With the high-Level CRM and pipeline management platform, you can create pipelines for specific products or services your company sells. Then you can manage those pipelines from lead generation all the way through sales.
You can also build in automated text messaging follow-ups with Twilio integration. And on top of that – it has an online appointment and booking tool that's super easy to use!
So don't just sit there in awe – Go check it out now if you haven't.