How to Start a Drop Servicing Business in 2023: [The Complete Guide]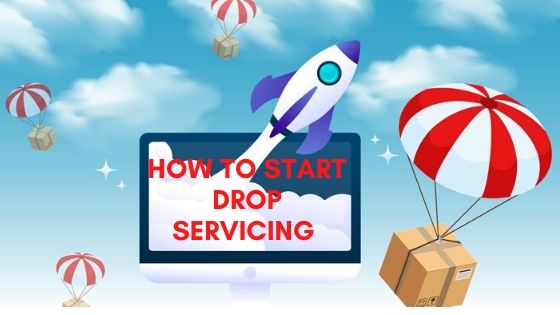 So you've heard about drop servicing, the new online business and you've decided to check it out! Quite intriguing online business isn't it?
I'll try as much as possible to answer all your questions as regards how to start a drop servicing business and be profitable at it.
You'll learn everything about this trending online business (dropservicing) and how you can get started yourself without the help of nobody.
The truth is, you can make thousands of dollars on just few sales and yes, it's highly lucrative!
However, I wouldn't want to sugarcoat you here, it does require a lot of work an effort from your side.
But trust me; once you know how to get started the right way, you're just a step away from closing high TICKET SALES.
Now, before we dig deep I think it's important we understood the business model we're talking about here.
This includes what drop servicing is, how it works, the relationship between drop servicing and dropshipping, as well as the difference between them.
And finally, how you can start and scale one for yourself. Now, if this interests you, then I'll suggest you read on.
Let's get started, shall we?
What is Drop Servicing?
Drop servicing is simply service arbitrage. What this means is that you sell service you can't provide yourself to clients that need it by having it done by other people.
Just think of it as dropshipping. But this time around you're not dropshipping physical products but services. Hence the word "drops servicing".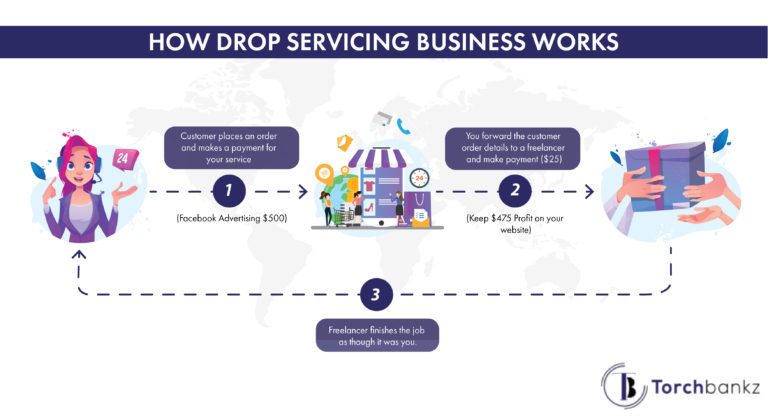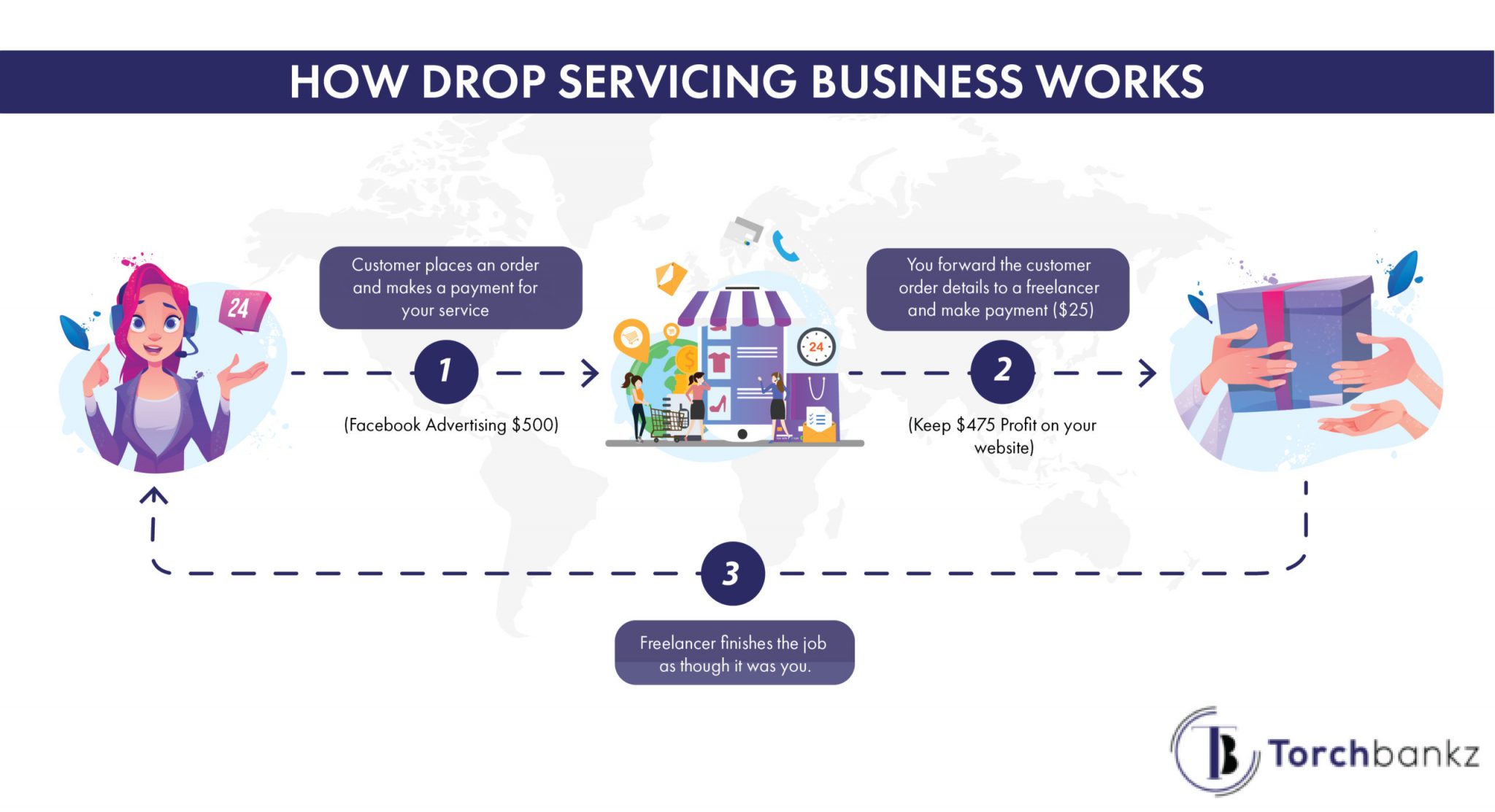 Take for example; you're promoting an advertising agency for small businesses. For each of them that want your service will have to pay you directly.
Now, after receiving payment from these business owners, you can then from the payment pay another freelancer to have the job done.
A good example of this freelancer websites includes, Fiverr, Upwork freelancer.com etc.
And the most interesting part is that you can buy their services at a relatively cheap price compared to how much you're charging your clients.
So basically a client's pay you for a service and you pay another freelancer to get the job done for you.
Your profit, however, will be the price your client pays you minus how much you pay the freelancer who gets the job done for you.
Pretty smart isn't it?
Look at the image below to see how it works and your potential earnings per client…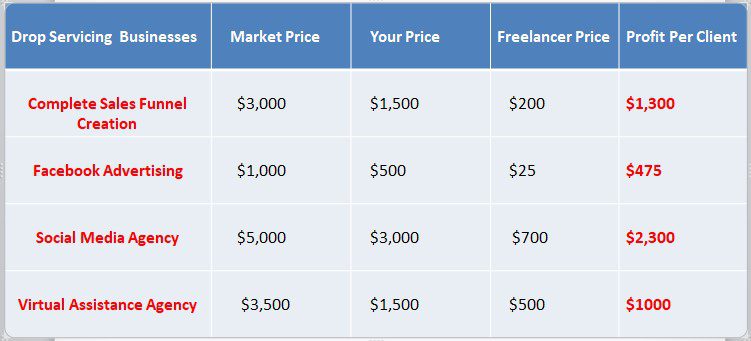 Differences Between Drop Servicing and Dropshipping
Drop servicing and dropshipping works the same way but quite different. Dropshipping requires physical product and logistics while the other does not.
Drop service is relatively easier to do compare to dropshipping and the intended profits are way bigger to what you can make with a dropshipping business.
I'd like to describe both online business models using the picture illustration below, while dropshipping is the Red Ocean Industry and drop service as the Blue Ocean Industry.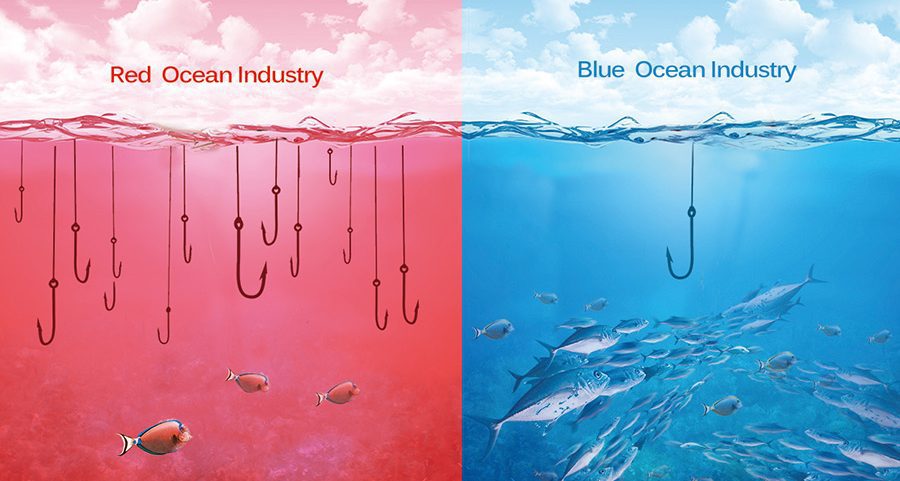 Red Ocean Industry

[Drop shipping]

Like I said earlier, dropshipping is an online business where you're able to sell physical products to your customers without holding inventory.

A customer simply purchases an item from your store at the retail price. You then forward the customer order to your supplier who you pay at the wholesale price.

Once your order is processed by your supplier after receiving your payment, he or she then ships the product directly to your customer under your brand or business name.

So your profit in this business model is how much you retail the product and how much you pay the supplier.

Quite simple isn't it?

All you have to do is create a dropshipping website, using any drag and drop website builder, pull customers to your online store and handle customer support.

The rest of the hard work is handled by your supplier.

However, because of the easy set-up process and low-cost barrier entry, the competition for dropshipping as greatly increased.

Imagine you started your dropshipping business way back 2016 compared to starting now? The competition we have in 2016 is relatively low compared to what we have now.

Which is why it's likened to the Red Ocean Industry because of the competition and several other barriers like selling winning products.
Pros of Dropshipping
It usually requires a lot of capital to stock a warehouse while trying to start a brand new e-commerce business.
However, with dropshipping, instead of stocking a warehouse with products hoping that it sells, you can start a dropshipping business with zero inventories.
Order fulfilment usually requires you to organizes, label, package, track and ship your product to your customers.
But with dropshipping, everything is handled by your third-party supplier. You just have to forward your customer orders to them.
Cons of Dropshipping
Below are a few of the disadvantages of running a dropshipping business:
Highly competitive
Low-Profit Margin
No control over product quality
Very challenging to build brand loyalty
Unusual logistic issues
Blue Ocean Industry

[Drop servicing]

By now I'm sure you must have understood the basic ideology behind the term. It's an online business where you provide service to business owners using third-party service providers.

Why is drop servicing likened to the Blue Ocean Industry?

This is because it's less competitive compared to dropshipping and you can make more money in one day selling high ticket service compared to selling hundreds of dropshipping products in 30days.

Another reason for this is because you have more quality control of your business compared to dropshipping inferior products.

For every job done by your freelancer, you can review it for quality check before accepting it. This way, your clients will see you as a top-quality service provider, which is very good for referral in business.

Thus, allowing you to enjoy more recurring income per month from your previous client.
Pros of Drop Servicing
You don't have to invest in any service skills; everything can be outsourced to a third-party service provider that can get the job done easily.
Your only start-up cost should be for creating your single-page website where you display the service you're providing.
This is one of the beauties of starting this online business. One single sale can make you up to $2000 total profits.
While compared to dropshipping you'll have to sell hundreds of products to make that single sale.
Another interesting part about this is the recurring income. You get to make money online on a monthly basis with no additional cost.
Some client can decide to place you on a monthly payroll for providing a service for them.
And all you do is outsourced it to a third party and get paid per month while doing the same thing over and over again.
You're practically doing nothing in this business because every single process can be outsourced and completely automated.
You don't even have to find clients yourself; you can outsource that to someone else.
Cons of Drop Servicing
Not all is sunshine and rainbows when it comes to running this online business. It also comes with its own set-backs, which is normal for every business.
Your freelancer could have pending works on ground that needed to be done when you have an urgent service to be rendered.
The best way to avoid this is by having more than one good freelancer that can do the work for you.
Also, make you sure you've tested these freelancers or go through their reviews in other to be sure of who you're outsourcing your work to.
Your clients cannot know you're outsourcing the job… so it's very important you deliver TOP quality service.
Now that we understand the relationship between the two online business model, lets go back to our main FOCUS which is drop servicing.
What Can You Drop Service? [Drop Service Niches]
You can practically dropship any service you want to but it will be proper enough if you do your market feasibility very well before jumping in.
Another important thing you should know is that you have to have a basic understanding of the service you're providing.
This way, you'll be able to do better quality control before handing over the service to your client.
Remember, QUALITY is the key FACTOR in drop servicing!
So what really are the services you can drop ship to make good enough money?
Well, there are quite a lot of them and I'll be listing few of the drop service niches you can jump into right now.
List of Best Drop Service Niches
Below are the best drop services niches you can jump into right now and start making money in no time:
#1: Digital Marketing
The digital marketing niche falls around marketing that requires online and internet-based digital technologies.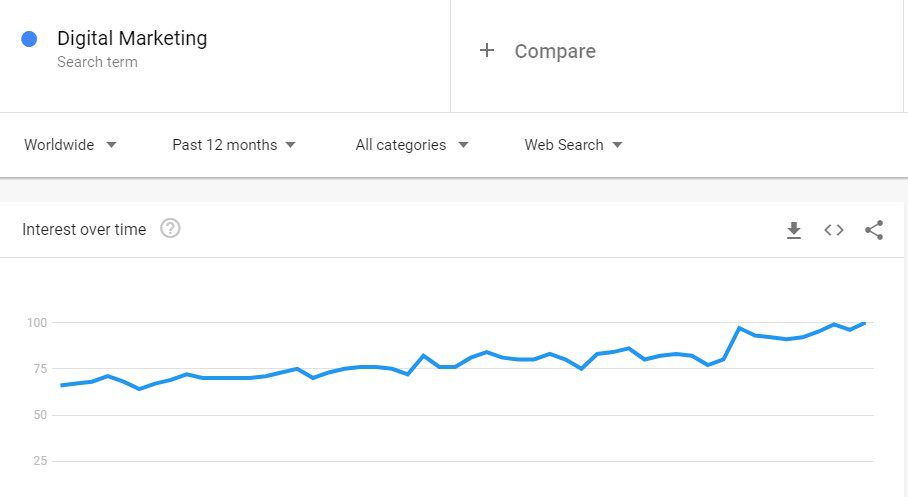 Services you can dropship under this niche include:
Lead generation
YouTube marketing
Facebook Advertising
Search Engine Optimization (SEO)
Google ads
Social Media Marketing
LinkedIn Ads
Content marketing
Instagram Ads
Instagram Influencer
Video marketing
#2: Graphic Design
Graphic design is the process of solving a problem through visual communication, typography, photography or simply illustration.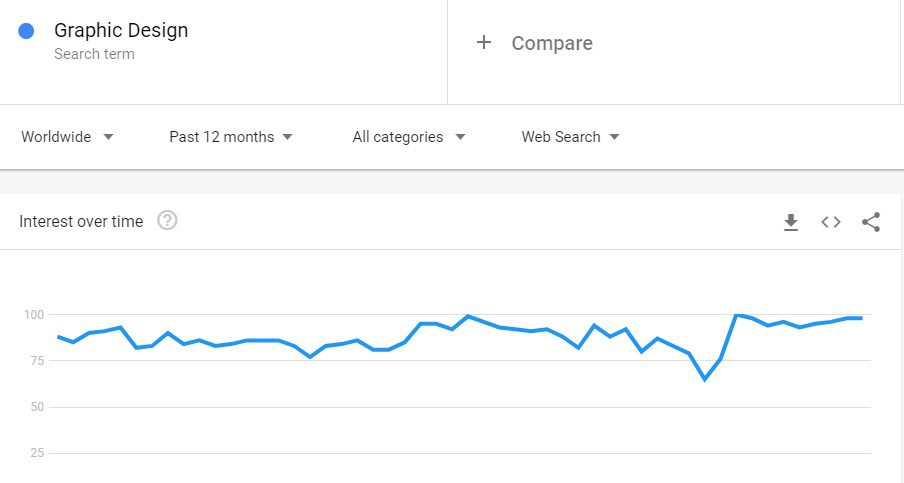 The services you can dropship around the graphic design niche include:
PowerPoint
Ebook Design
Banner Ads
Photoshop
Logo
Flyers
Branding
Business card design
Brochures
Illustration
#3: Programming
Programing is the process of creating and designing an executable computer program in other to achieve or accomplish a specific computing result.
You can drop service the following in the programming niche:
WooCommerce Customization
Plugin Creation
Chatbots
App Development
WordPress Development
Shopify Customization
Web programming
SaaS Development
#4: Writing
The writing niche includes some marketing or simple writings that involve the creation and sharing of online materials in other to stimulate interest in a particular product or service.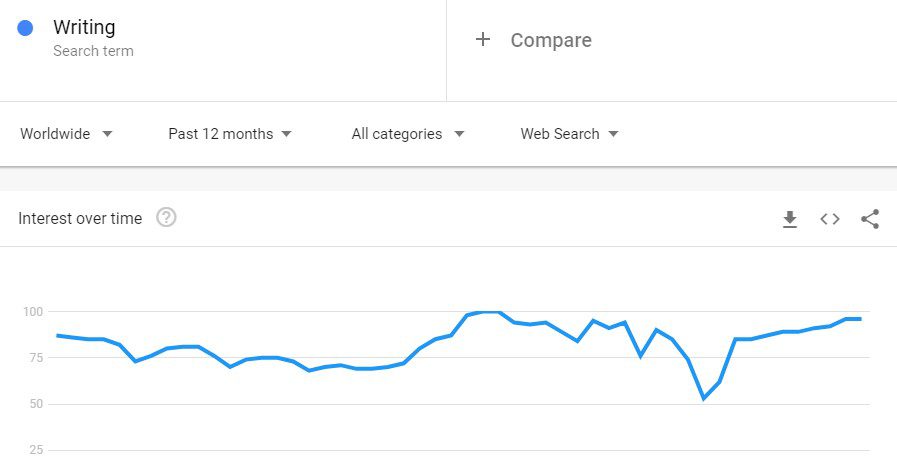 The services you can dropship around this niche include:
Sales copy
Translation
Creative writing
Product Description
Email copywriting
Proofreading
Technical writing
Ghostwriting
Guest post
Ad copywriting
Blog post
#5: Animation and Video Creation
This drop service niche falls around creating an engaging instrument like video cartoons that can help tell your story more comprehensively.
65% of people are visual learners and about 90% of the information transmitted to the brain is visual. Thus, making the animation creation a vital part in online marketing.
The services you can dropship around this niche include:
Short Video Ads
Live Explainer videos
Product Photography
Video Editing
Spokespersons Videos
Whiteboard Videos
Animated Explainer Videos
Visual Effects
With the above list, you just need to choose a niche you know you have a basic understanding of how it works and start selling the services to your clients.
How to Start a Drop Servicing Business in 5 Easy Steps
Since we've understood what the business concept is, how it works and some of the high paying niches you can jump into, our next step will be on how to start the actual drop servicing business.
In this complete guide, you'll learn how to start a full pledge drop servicing business in 5 easy steps.
Choose a Service To Drop Ship
Find Your Service Provider (Freelancer)
Create a Website for Your Services
Pull Customers to Your Website
Deliver Your Customer Projects
Bingo!
And that's pretty much everything you need to start your drop servicing online business.
Step 1: Choose a Service to Drop Ship
As we all know, "Jack of all trades is a master of none". You can't possibly try to provide all the services out there.
Instead, pick a niche and grow yourself as an authority in that niche. This will help build your brand and also increase your customer trust in your business.
However, before choosing any niche, you might want to do your assignment first by researching the competition in that niche.
If the niche is less competitive, you can give it a shot. But if not, it's better you start with something less competitive.
As discussed earlier, these are some of the niches with several sub-categories you can get started with:
Digital Marketing
Graphic Design
Programing
Writing
Animation and Video Creation
Once you've determined your service niche, your next step is to locate a freelancer that can get the job done for your client.
Step 2: Find Your Service Provider (Freelancer)
Have at the back of your mind that you have to have a basic understanding of any services you're going to be selling.
If you don't, there's no way you'll know if the job done by your freelancer is a quality one. But if it's something you know yourself, you'll be able to review it for better quality service.
Take for example, if you're selling link building SEO service for your client and you yourself know nothing about SEO, how are going to review the work?
Perhaps your client is interested in whitehat SEO and what the freelancer provides is Blackhat. How can you differentiate the right from wrong?
So, it very important you at least, have a basic understanding of how it's been done.
Once that's sorted, you can then proceed to outsource your client service to your freelancer.
There are several marketplaces for freelancers that can get your job done at a cheaper price. And one of these marketplaces is FIVERR.
You can find a top-quality freelancer on Fiverr that can get your job done as fast as possible and charge peanut for it compared to what your client is paying you.
However, before you choose any freelancer, take time to review their profile and check their service rating.
Your goal should be about providing the best services for your clients using the best freelancer out there.
Also, it will be better if you have more than one freelancer for one service. This way, you'll be able to find an alternative in time of emergency.
Other than Fiverr, you can also find freelancer using the following website:
freelancer.com
Upwork
People per hour
Step 3: Create a Website for Your Services [Website Design]
Now, you must have a website for the services you're providing because very few people will trust you if you don't.
Plus, it's a good way to grow your brand and package your online business for your clients.
Creating a drop servicing website is nothing difficult you need a single landing page or sales page that includes everything about the service you're selling.
So basically, a good drop service website should include:
#1: Samples or Templates of What You're Selling.
The image below is a drop servicing website example you can replicate.  (Podcast Cover Maker Drop Service Website)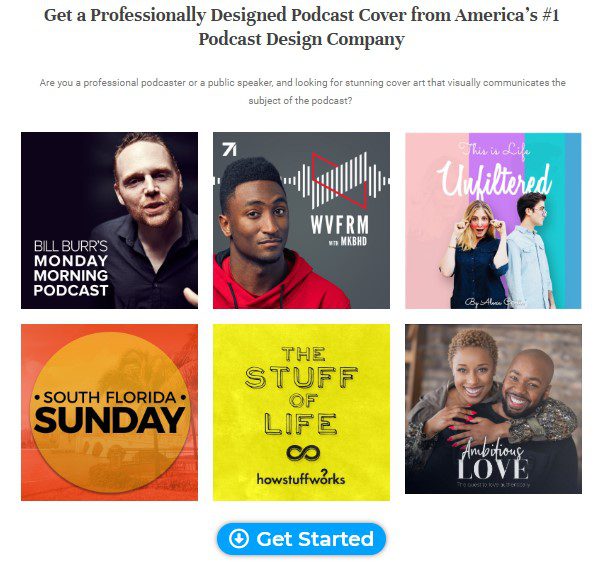 #2: How It Works
This should include the process your client is going to take from the moment they place an order on your website and how their project will be delivered.
See the image below to see how it works…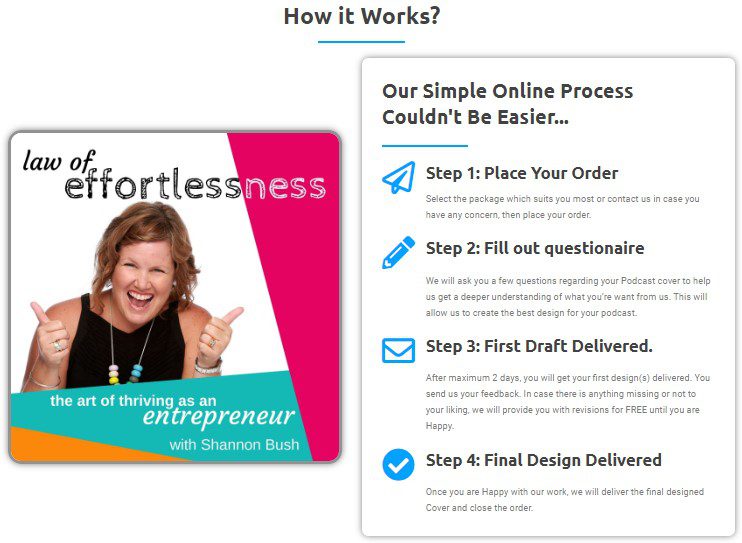 #3: Social Proof (Testimonials)
This should include testimonials of previous clients in other to convenience your potential client to patronize your company.

#4: Services Package (Call To Action)
This section will include your service package and where they make the order for your services. After checkout, they will be directed to the page where they will fill the Questionaire or form to explain in detail how they want their service.
So what do you need to create your website?
You need a domain name and page builder like Go HIGH LEVEL or simple use WordPress + WooCommerce.
Your domain name should be a branded domain name related to the service you'll be selling. Here's a domain name checker, in case you have any domain name in mind.
 For WordPress site, your only cost is going to be for web hosting, which can be gotten for less than $100 per year. But it requires some basic WordPress set up skills.
For WordPress Set-Up, I recommend the following:
Bluehost ( Web Hosting + Free domain name)
WordPress Installation
WooCommerce (Free)
OceanWP Theme (Free)
PayPay Integration for accepting payment (Free)
Elementor Drag and Drop Page Builder (Free)
Ninja Forms plugin for collecting customers order details (Free)
Everything is absolutely free, except for web hosting.
Alternatively, you can use Go High Level page builder to set up your drop service website and its way easier compared to WordPress.
Go High level is an all-in-one marketing platform that includes everything you need to sell under one roof. It includes:
Website Hosting
Email Autoresponder
Sales funnel
Drag and Drop landing page software
Video Hosting
Payment Gateways
Membership sites
CRM
Funnel Building
SMS Marketing
Call Tracking
Pipeline Management
Calendar Booking

Survey Builder

Call Recording

SEO Agency

Business Automation

Client Retention Tool

Client Acquisition 

Lead Automation 

Saas Builder 

Revenue Tracking 

Reputation Management 

Client Fulfilment software 

And Much More…
I recommend Go High Level for building your website if you have low WordPress development skills. It is an easy-to-use drag-and-drop page builder that any newbie can easily use.
You can read my Go High Level Review to learn more about the page builder and how it works.
Step 4: Pull Customer to Your Website
There are several ways to do that; you can either do the free method, like doing keyword research or the paid method. The paid method includes:
Running Google Ads
Facebook Ads
Email Marketing
And much more…
Some of the free methods also include Facebook groups, LinkedIn, Referral etc.
However, today I'm going to be sharing a unique way with you for acquiring clients for free without spending a dime.
For this method, we're going to be selling Facebook ads to our clients and we're going to need the following:
Facebook Pixel Chrome Extension
Google Map
And a Facebook Ads Freelancer
The summary of what we'll be doing is that we're going to be selling Facebook ads services to small business owners, then outsource the service to a freelancer while we keep the profit.
These businesses could be:
Dentist
Accountant
Auto Repair Shop
Plumber
Chiropractor
Etc.
How to Acquire Clients for Free Using Google Maps
Let's get started, shall we?
First thing first, search for the Facebook Pixel Chrome extension and install it on your chrome browser.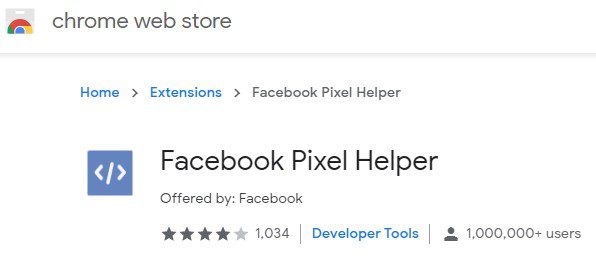 Once it's installed, the Facebook pixel chrome extension will notify you whenever you visit a website that has already installed Facebook pixel.
Which means they're running Facebook ads already to generate traffics. When you click on the Facebook pixel, you should see a notification like the image below.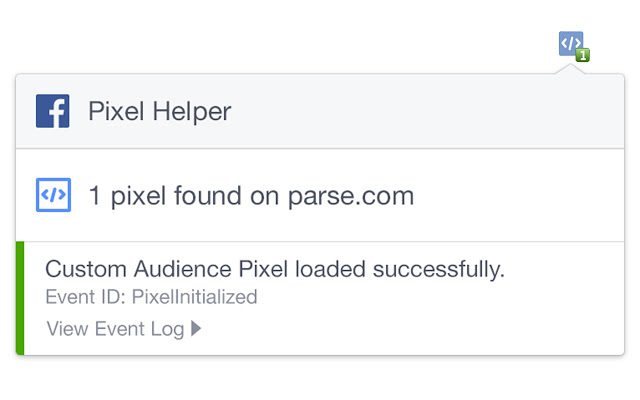 Our goal here is to search for small business websites that are not running Facebook ads yet for their business.
Once we find them, we can then contact them about the potential of using Facebook ads for their business and how we can also set one up for them.
But how do we find these small business websites?
This is where Google map comes into play
So head over to your Google map and search for any of the businesses; take, for example, Dentist.
In this case, what you'll have to do is search for "dentist, your preferred city and state".
The search result should bring out all dentist in that city, their location and website address.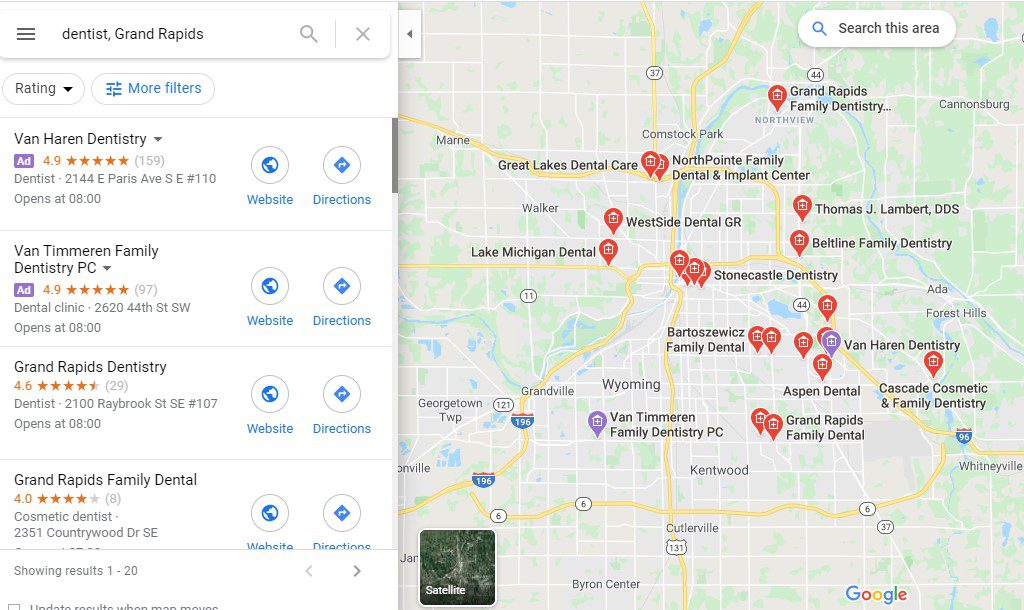 As you can see, all the red icon as seen in the image are all potential clients that can use your service.
What you'll have to do now is open as many as possible and visit their website.
Look for the ones having no pixel code installed on their website and contact them about using Facebook ads for their business.
You can contact them via their website contact page or call them if you're comfortable doing that. But mind you, not all will respond, let say 1 out of every 10 was successful, that's still great, isn't it?
Step 5: Deliver Your Clients Projects
The next thing to do now is head over to Fiverr and outsourced the service to a freelancer at a cheaper price.
Let's say your client pays you $500, and you pay your freelancer 50 bucks, you'll still have $450 profit per single client.
Isn't it amazing?
Once again, check for reviews before you finally pick your freelancer. You'll want to be sure he or she can deliver to your client satisfaction.
Or even to be more sure, you can even order one of their services for yourself, this way, your result will let you understand what to expect from their service.
Conclusion
Drop servicing is still a promising business model with so much to be explored. However, like every other online business out there, it requires your time sacrifice as well as some funds to scale up.
It actually easy to start and even a complete newbie can get started with drop servicing right away. They just need to follow the right track.
Here's the summary of everything;
Pick a service niche and look for freelancers in that niche that you can outsource the service to. Next, build your Website; if you prefer WordPress you can get started with a Free Domain name using Bluehost.
Other than that, High Level is a great platform that can help set up your website easily and faster. Plus, it includes everything you need to sell and scale the business faster under one roof.
Finally, look for clients and outsource their project to a third party freelancer while you keep your profit on each client.
That's it on how to start your own lucrative drop servicing business; let me know what you think? Are you giving it a trial or you fill it's too complex?
Learn More