GoHighLevel Pricing: Costs & Plans [Is It Worth The Price?]
Are you looking for GoHighLevel Pricing? If yes, then you are in the right place.
In this article, I'm going to discuss GoHighLevel pricing plans in detail which will help you decide which of the GoHighLevel plans is perfect for your business.
I'll also compare the Agency Unlimited Plan and the Agency Pro Plan.
I will also explain with illustrations, how you can cancel and pause your subscription.
GoHighLevel is an innovative, all-in-one platform that provides you with all the tools and resources needed to run your business and digital marketing agency.
It comes with a free trial option from which you can eventually decide if it is the right tool for you or not.
GoHighLevel Pricing: How Much Does GoHighLevel Cost?
Based on the GoHighLevel plan you choose, you'll be provided with different features. The pricing plan comes in three types and ranges from $97 to $497 a month.
If you stick around, I"ll also show you how you can get a massive discount on any of the High Level pricing you choose.
GoHighLevel Pricing Overview; here's what we'll cover in this post
GoHighLevel 14 Days Free Trial
Agency Starter Account
Agency Unlimited Account
Agency Pro (White Label Mobile App + Custom Zap Upgrade)
GoHighLevel Annual Discount
Is GoHighLevel Worth The Price?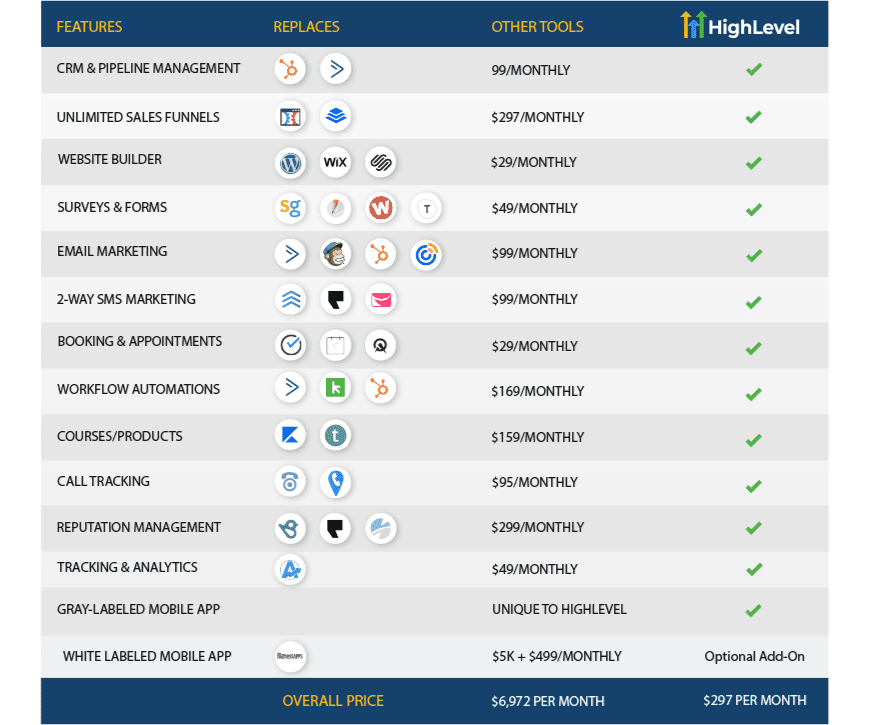 Looking at all the tools consolidated to make a single software at a fraction of the price compared to buying them individually, then I'll say the price is worth it.
When comparing GoHighlevel to its competition it stands out because of the major sophistication of the software.
#1. Agency Starter Account – $97/month or $972/year
Although limited to one account, the GoHighLevel CRM Starter Account is a great way to start your CRM and get your Agency off the ground.
It includes all the essentials you need to manage clients, projects, and tasks while keeping track of important documents and files.
Twilio is a platform that helps you communicate with your customers via different channels.
These include; two-way texting for both SMS and Email, Voice mails, MMS, Phone connect and Facebook messenger.
This means you can send and receive messages. All you need to do is to enter your API to activate that.
this feature works alongside the two-way texting features to ensure unlimited messages. Just like with Twilio, you also need to enter your API to activate it.
this feature helps you to automate tasks on your website by creating custom workflows. This will give you enough time to focus on other aspects of the business.
with this GoHighLevel feature, you can track all campaigns from google analytics, LinkedIn, Gmail etc. It will make it easier for you to add the campaign parameters to the campaign URL.
Some of the parameters include; campaign name (what the campaign is about), campaign term (e.g. WordPress), Campaign content (the exact content that generated leads)
it is not just enough for you to have customers click on your lead generation link; you need to have a medium of monitoring the process.
With the pipeline management feature, you will be able to track a prospective client from the landing stage till you eventually close the deal.
this is the page where your link directs customers and visitors. There, a detailed advertisement or sales copy is placed to further direct the clients on how to take respective actions. GoHighLevel helps you build this page.
This is a feature that helps you build google forms, from where the details of your visitors, prospective clients and customers can be collected.
Having a form helps you classify each customer according to their needs. You can either decide to integrate the forms while building the landing page or on the website.
The GoHighLevel software comes with an email builder feature.
It helps you to create, design and also send emails. It sends emails such as newsletters, email campaigns, transactional emails, follow-up emails and so on.
Having a website as a business person gives your business a level of authenticity. It speaks for you when you are not there. Building websites can be quite tasking and expensive.
With GoHighLevel, you can get the websites built for you as fast as possible without codes.
in the course of generating leads or running campaigns, there might be clients who request to have an appointment with you. if proper care is not taken, you may miss out on those appointments.
With the GoHighLevel calendar feature, you will be able to capture all appointment requests and schedule appropriate times for them all.
#2. Agency Unlimited Account – $297/month or $2976/year
All the features in the Agency starter account include;
Customized White Label Desktop
with this feature, you will be able to make use of your domain. Not only that, you will be able to give your platform the outlook and interface you desire.
Your clients will be able to see the name of your business or brand and even your URL. It gives it a more personal look.
Memberships and Partner Program
GoHighLevel also provides a platform for networking with other marketers. They have been able to build a community of people right from owners of start-up agencies to owners of large agencies around the world.
Being in a community as such will help you share ideas with others and also learn how those large agencies are maximizing the GoHighLevel.
Also, with the membership feature, you can create your membership community for your clients. On this platform, you can build up courses and sell the platforms.
Chat and phone Support– You are accessible to live chats with the support team where you can ask any question should there be any confusion along the line.
Basic API access– it makes provision for your API (Application Programming Interface) that helps you connect between different software and computer programs.
Unlimited Accounts– This pricing plan offers you the premium opportunity of having multiple accounts. If your business model does not require that you have multiple apps, you can sell those accounts at your price
#3. Agency Pro (White Label Mobile App+ custom upgrade)- $497/month or $4968/year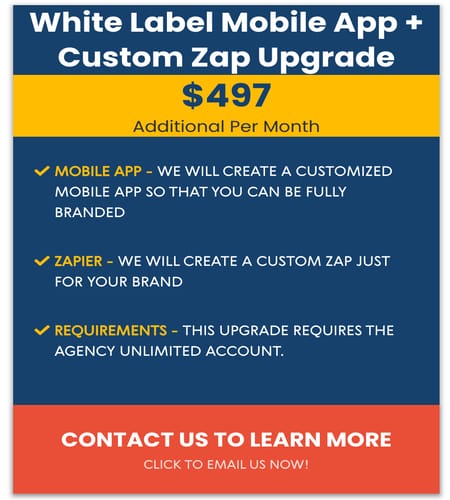 It includes all the features in Agency Unlimited Account including;
is also referred to as A/B testing. This GoHighLevel feature helps you determine which of the versions of your landing page, home page or web page is performing better.
It could be in terms of conversion rate, form completion or other goals.
the GoHighLevel Agency pro account provides you with an Artificial Intelligence and Machine Learning feature to help automate some processes. Most especially, to handle conversations. The AI bot holds conversations either as spoken or typed words.
peradventure you do not want to install the software on your device, you could access it over the internet with the SaaS (Software as a Service) model.
Another reason for this mode could be that you want to access information on the software from another device that you do not have it installed on, the SaaS mode comes in handy.
Not only that, the SaaS mode is unlimited.
The API access in this pricing plan is the advanced form. This plan also includes an E-mail and text Rebilling.
The GoHighLevel Agency Reporting helps you to monitor call reporting- such as answered calls, first-time calls, missed calls, scheduled calls and the average duration of each call.
It can also record your calls. It is very important if you have people working under you as a salesperson. You will be able to see how they follow and convert leads.
GoHighLevel Annual Discount: How to Get a Huge Discount
One way to get a huge discount on GoHighLevel is to switch to its yearly plan.
For example, if you purchase the GoHighLevel yearly plan, you would have successfully saved $192/year on the Agency Starter Account, $588/year on Agency unlimited Plan, and $996/month on Agency Pro
How then do you get this huge discount?
Follow these simple steps to get started on assessing the discounts on GoHighLevel Yearly Plans.
STEP 1: Start Your Free Trial
Click here to create your free trial account. After that, you'll be prompted to pick a plan and go on with the 14Days free trial. Choose your preferred plan and create your free trial account.
STEP 2: Login To Your Account
Now, log in and click on "Upgrade" at the middle-end of your High Level dashboard. After clicking upgrade the pricing page will pop up and you will be able to toggle between the monthly price and the annual price.
For the monthly tab, this is the price you'll have to pay if you decide to pay on a monthly basis… see the image below!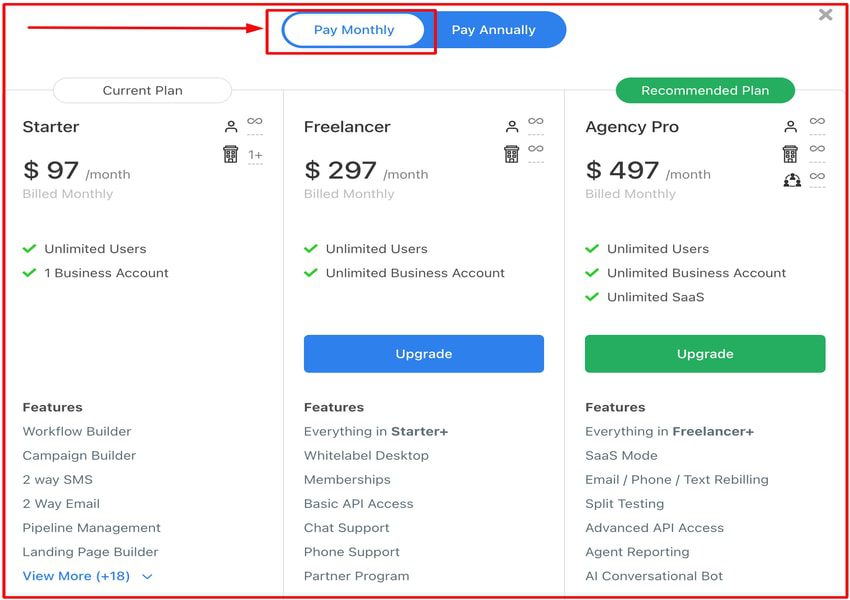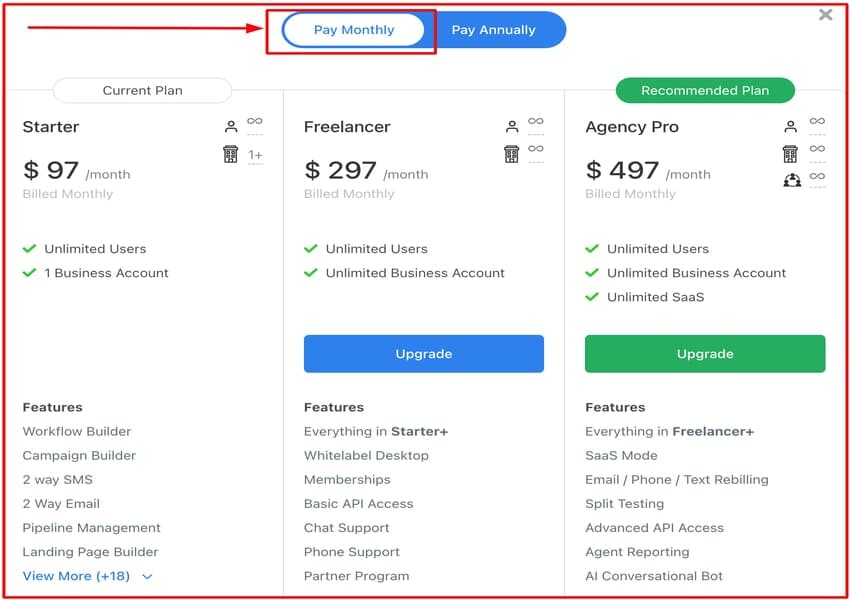 If you'll like the see how much you'll be saving annually, all you simply need to do is click on the "Pay Annually" Tab to toggle around the pricing plan.
Below is how much you'll be saving on the annual plan.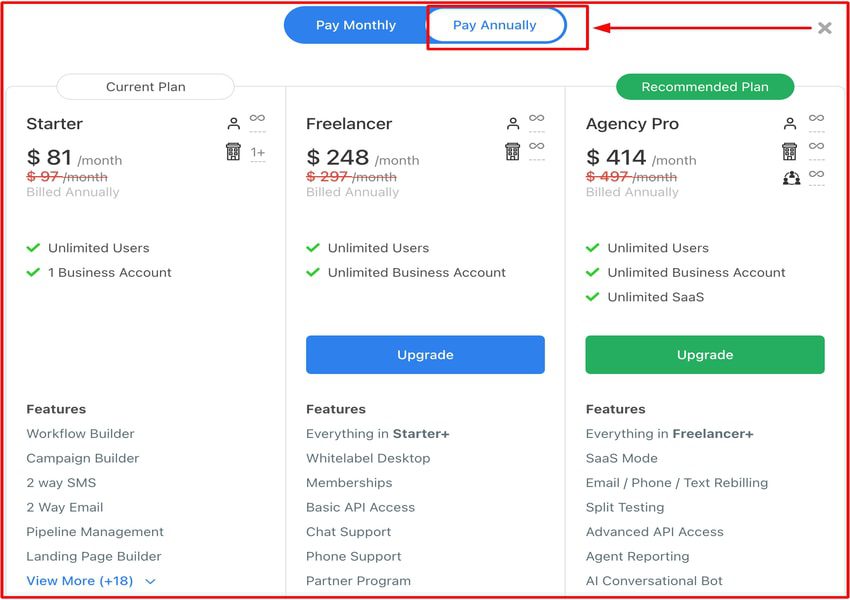 Agency Unlimited Account Vs. Agency Pro
The Agency Unlimited and Agency Pro are the best-recommended plans if you want to leverage the benefits of GoHighLevel.
We shall consider the similarities and differences between the two plans.
Similarities
Unlimited accounts and users
They have the customized white label desktop
Both of them have live chat support
They also both have all the features in Agency Starter
Differences
Agency Unlimited has Basic API access while Agency Pro has the API advanced access
With Agency Pro, you can conduct an A/B or split testing; while in Agency Unlimited, you cannot.
There is no Artificial Intelligence feature in Agency Unlimited but it is present in the Agency Pro
With Agency Pro, you can access your GoHighLevel platform over the internet known as SaaS, whereas in Agency Unlimited, you can only access the platform through the installed software on your device.
Therefore, depending on the size of your business and how many campaigns you run at a time, the Agency pro would do justice more for a bigger setting.
For example, the split testing feature in Agency Pro helps you determine which of the pages convert better. This will help you narrow down your focus. It saves time and money.
You will not have to spend money on a campaign only to realize that it's not yielding the desired results.
One advantage that Agency Unlimited has over Agency Pro is the pricing. Agency Unlimited might be more affordable for some than Agency Pro.
Without mincing words, you have been able to see the complete breakdown of the different GoHighLevel pricing plans. You most likely now have an idea of which of the pricing plans to opt for.
GoHighLevel Subscription Cancellation
Cancelling your subscription is not as straightforward as other platforms might be. This requires some steps which I will explain in detail here.
STEP 1: Login
Sign in to your account and go to the billing page in the settings
STEP 2: Begin the cancellation process
On the billing page, you will see your account type image. Below it, there is the text showing information about the expiry date of your current plan. you will also have an option to click here in the text.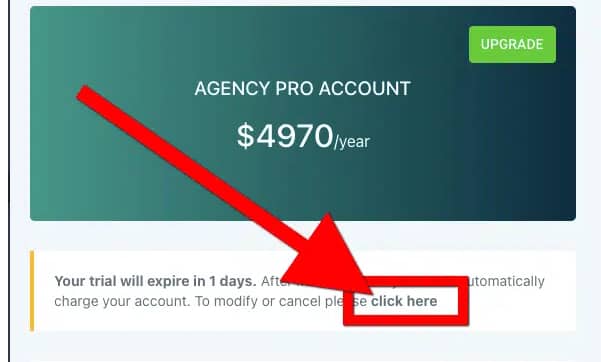 STEP 3: Cancel the subscription
After clicking on that, it will take you to the subscription modification page. There, you will see the Cancel the Subscription option.
After that, GoHighLevel will request to know your reason for cancelling. You will see options, but if none matches your reason, you can simply click on others.
On the next page, you will see the Cancel Now option
It will then take you to a form that you will fill out. After filling it, click on Confirm Cancellation
Thereafter, you will see a confirmation message and how long it will take for the cancellation to be effected.
Though the message will read 72 hours, within 24 hours, a notice of subscription cancellation will be received in your email.
How To Pause Your GoHighLevel Account
The process of pausing your GoHighLevel Account is almost similar to the cancellation process. You will log in to the account and go to the dashboard.
Click on Settings below the dashboard, then click on Billing.
On the billing page, click below the account type image. Then on the modification page, click on Pause Account it will also take you to a form that you will fill out.
Once you are done filling out the form, it will take you to the page where you can Confirm the Pause Request
GoHighLevel Pricing FAQ
Is there a GoHighLevel free trial?
Yes, there is. Each of the Agency Starter plans Unlimited Plan and Pro come with a 14-day free trial.
How do I upgrade my GoHighLevel membership?
After signing in to your account, you will click on the upgrade icon at the middle lower end of the dashboard. Thereafter, it will display the three pricing plans. You can then click on any of the pricing plans to upgrade.
How do I modify my GoHighLevel Subscription?
After signing into your account, go to the settings icon. There, you will see billing. Click on it and it will display different modification options- to either cancel the subscription, pause the subscription, downgrade, upgrade or extend the trial.
What is the GoHighLevel Payment Method?
The payment methods accepted by GoHighLevel are Visa card, Master Card, American Express (AMEX), Discover and Visa-Debit
Conclusion – Is GoHighLevel Pricing Right For Your Business?
This post aims to make things easier when it comes to the breakdown of GoHighLevel pricing plans and everything they entail.
It is no doubt that GoHighLevel is a powerful tool that helps you automate your business processes from the building of your marketing funnel to actual sales. With this in place, you have ample time to attend to other business needs.
What are you waiting for? Hurry up now and choose any of the plans that suit your business needs.
If you are still contemplating if it would serve you or not, you can start by signing up for the free trial right away.