10+ Best AI Copywriting Tools [Compared & Reviewed]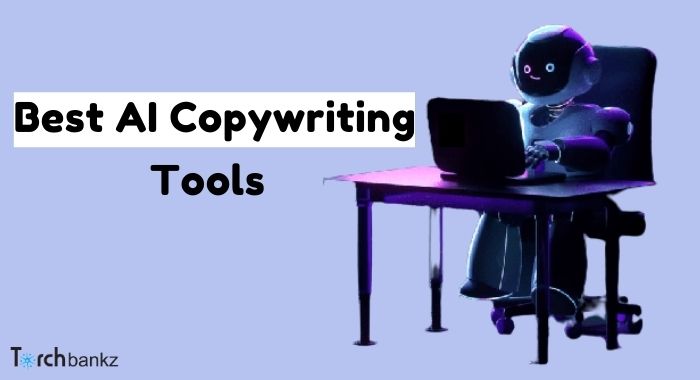 Today, I'll be sharing with you the best ai copywriting tools to step up your copywriting game and eventually do better with your business.
It's tough to write great content, trust me, been there and am still there! Most especially when you're doing it on a regular basis.
The work becomes monotonous and sometimes, the creativity isn't just there.
It takes time for your brain to get into the groove and start writing something that stands out as truly unique and interesting.
Sometimes, you feel like writing all day and everything seems to flow perfectly fine and some other days there's just no motivation.
Copywriting tools are an excellent way to get around this problem because they can take care of some of the grunt work for you while still producing quality content in the end.
Mind you, these ai copywriting tools aren't just for creating and drafting content, you'd be amazed at the sales copy generated with these tools.
Meaning, if you've been stuck on creating a sales letter for your product now might be the best time to get them written with one of these ai copywriting software.
So stop wasting money on copywriters and save yourself time and money while using one of these best ai copywriting tools.
Thus, you have my permission to FIRE your copywriters and embrace this instead!
In this post, we'll explore some of the best AI copywriting tools that could be perfect for your needs! I've taken the time to explore and research these tools.
After research, I've personally found Conversion.ai to be the best and this is what I currently and personally use for my business.
Let's get started, shall we?
Quick Overview of Best AI Copywriting Tools
Perhaps you don't have the time to read the entire blog, you can simply have a look at the comparison:
Best AI Copywriting Tools Compared
Best AI Copywriting Tools & Software
So from the list, you can choose the best one that resonates with what you want based on their features and pricing plan (If you're conscious about your budget).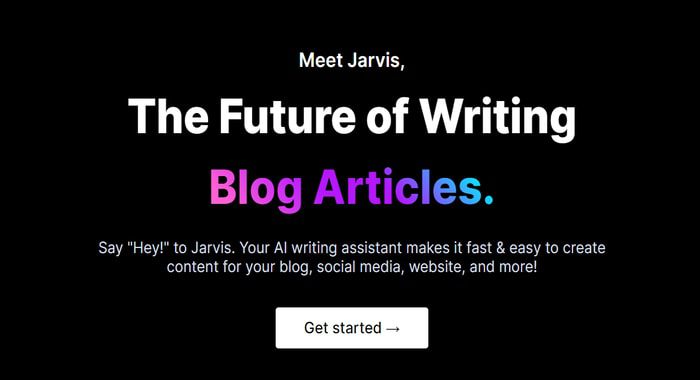 Jarsper.ai is a powerful ai copywriting tool that integrates AI in writing copies. Users can use it to write engaging copies for their social media and websites.
Using this tool, you can define the content you want, the personality that your audience is looking for, and the right words to use that your audience will relate to.
As a result, you can develop unique copies to your brand.
This copywriting tool is powered by Jasper, an artificial intelligence bot. You can easily navigate the interface, and it can be used for both personal and business needs.
The dashboard features well-outlined and named templates, including blog post introduction, stories, blog post outline, attention interest, desire, action (AIDA) framework, etc.
This long list of templates, allows users to write copies for all business types they are running.
Plus, they are categorized into Ecommerce, Blog, SEO, Ads, Website, and Email. Therefore, it's easy to access the type you need.
Once you enter the product details, your target audience, title, and the tone you wish the post to be, this tool generates a copy for you.
Jasper.ai Key Features
Below are a few of the key features of conversion.ai and what you should expect while using the software.
Conversation.ai is optimized to provide a better user experience. Many copywriting tools have an interface that's difficult to navigate.
However, this tool is user-friendly. With an idea of the copy you want to create, you'll only need to find a template that you are looking for.
You don't have to settle for an option simply because it's the one available. Jasper provides multiple options for you to find the tone that you want.
You can favorite an output by clicking the star or add a copy to your post, page, or whichever place.
By selecting the tone, you want, this tool can generate a persuasive copy that will increase your conversion rate.
Readers will not question whether or not you wrote the copy as the words are carefully chosen to match your business's tone.
Now, you're likely to generate several copies on this platform. Thankfully, the content tab stores all the outputs generated. You can, therefore, sort your copies by favorites and delete those you didn't like.
Pros
Generate persuasive messages in a short time
Can be used by bloggers, marketers, and Facebook Ads experts
Offers several ideas, thus you can choose what you like
Easy-to-use interface
Various templates to work with
Help get rid of writer's block
Pricing Plans
Early adopters can take advantage of the limited-time pricing. For 20000 words, your copies will be generated at $29 every month.
Note that Jasper usually counts all the words generated towards the monthly quotas.
If you generate only 500 words, for example, per day with this basic plan, you'll not even reach that monthly limit.
However, the more words you generate, the more money you'll pay.
Additionally, you can increase your word count with 5000 for an extra $10 if you've surpassed your limit.
Jasper AI Overview
| | | |
| --- | --- | --- |
| Software | | GPT-3 copywriting tool |
| Free Plan/Free Trial | | 5-Days Free Trial/ 10k Words |
| Long-Form Word | | YES |
| SEO Features | | YES |
| WordPress Plugin | | No |
| Money-back guarantee | | 30-days |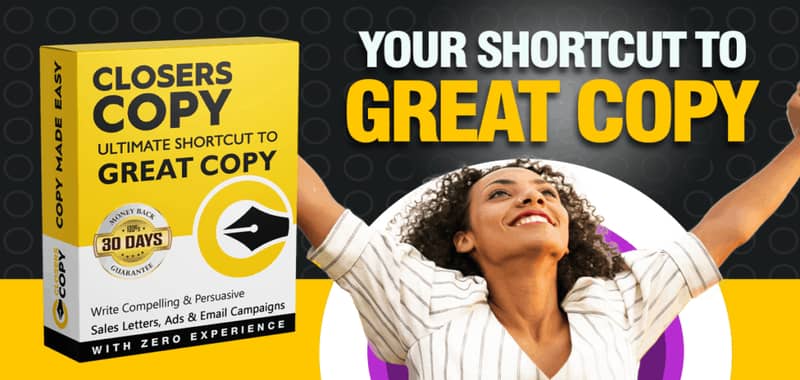 Closers Copy is an incredible copywriting software that lets you create unique sales copies. This tool features an ever-growing copy templates library, which delivers maximum performance. It has more lookup, which expands to avoid repetition of words.
This software comes packaged with other features, like 1000+ power words lookup, step-by-step copy wizard, guidance, & advice.
In case you are in advertising, sales, or business, you should consider this software to deliver maximum performance. It also comes with unique features.
Closers Copy Key Features
Closerscopy also comes with its unique features, let's have a look and see how it is fair with the rest of the copywriting generator tools.
Multi-Lingual
This new AI feature on Closerscopy already supports 24 languages, including:
Bulgarian,
Chinese,
Czech,
Danish,
Dutch,
Estonian,
English,
Finnish, French, German, Greek, Hungarian, Italian, Japanese, Latvian, Lithuanian, Polish, Portuguese, Romanian, Russian, Slovak, Slovenian, Spanish, Swedish.
Once you got your first 3,000 characters, you can use MEGATRON to do a little polishing for your content by using the right-click context menu.
With this, you can use it to do the following:
Expand: It lets you expand your copy based on your selected context.
Rephrase: It lets you rephrase your copy with new words and phrases while keeping the essence.
Summarize: It lets you compress your copy to just a few sentences.
Shorten: This lets you shorten your copy while keeping most of YOUR tone, words, and phrases. Caution: only long sentences can be shortened. "I play football" can't.
Lengthen: It lets you lengthen your copy while keeping most of YOUR tone, words, and phrases. Caution: Only short sentences can be lengthened.
AI-Based Spam Analysis
one problem that many businesses face is that customers regard their emails as spam. However, this feature on Closers Copy reduces the chances of your messages going into spam hence increasing your readership.
Pros
30-day money-back guarantee
Generous discounts on annual plans
Various predesigned emails and scripts
Pricing
Currently, there are two monthly plans on this platform. That is the Freelancer, which goes for $39.99/month, and the Professional one that costs $49.99 per month.
The best part, they also offer a one-time fee for a lifetime plan for each plan. So you can have either of the plans for a lifetime plus subsequent updates.
Closer Copy Overview
| | |
| --- | --- |
| Software | GPT-3 copywriting tool |
| Free Plan/Free Trial | No Free Trial |
| Long-Form Word | YES |
| SEO Features | YES |
| WordPress Plugin | Life Time Offer |
| Money-back guarantee | 14 Days |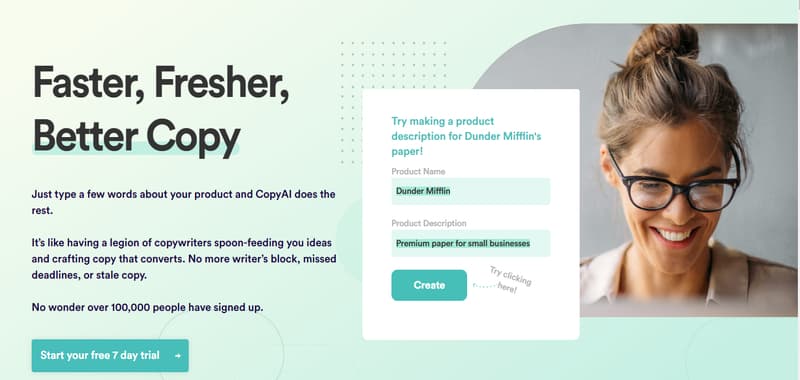 Copy.ai uses GPT-3 by Open AI to generate copies. Although it offers many options once a user creates an account.
It mainly focuses on digital ad copy, sales copy, e-commerce product descriptions, social media posts, blog content, and website copies.
Using the content generated, you can increase your conversion and ultimately, your revenue.
Rather than hiring a human copywriter, using this ai copywriting software will save you the time and frustration you'll encounter working with freelancers.
It generates persuasive content for landing pages, blog, intros, and ads.
It features a smooth onboarding experience with its homepage having all the crucial information that users need.
Thus, one doesn't have to scroll down to find what they are looking for. On the homepage, you'll learn of the site's free trial, writer's block, and there's a visual component that explains how to use this service.
For a great experience, copy.ai uses OAuth that support signing in from Facebook and Google. If you hate remembering passwords, you'll be revealed with this feature.
Once you select the copy you want to write, you then describe your product, and the tool will generate a copy for you.
As simple as that. Some of the copies users can create include; eCommerce copy, website copy, digital ad copy, social media content, and blog intros.
Key Features
Below are some of the key features of Copy.ai
Various Copy Writing Formats– there are several templates on this site that you can use to generate different copies.
Tailored Copies- it can generate copies that include specific promotions and demographics.
Chrome Extensions- which make the site easy to use. You mustn't create another password as you can use Facebook or Google to sign up.
Pros
24/7 customer support through email
Website is easy to use
Can be used by various people, including marketers and ad experts
Affordable pricing compared to some copywriting writing services
High-quality sales copies
Pricing Plans
You're given a free trial for seven days that do not need you to have credit. It includes 100 runs per day and 24/7 customer support via email.
After that, if you like the program, you can upgrade to a solo version, which costs $49 per month.
It gives you access to unlimited runs, all copy.ai's tools, and new features. You also get round-the-clock email support.
If you are a small business, this offer is perfect for you. However, larger teams can pay to get a custom subscription starting from $119.
Copy AI Overview
| | |
| --- | --- |
| Software | GTP-3 Copywriting tool |
| Free Plan/Free Trial | 7 Days |
| Long-Form Word | Yes |
| SEO Features | Yes |
| WordPress Plugin | No |
| Money-back guarantee | 7 Days |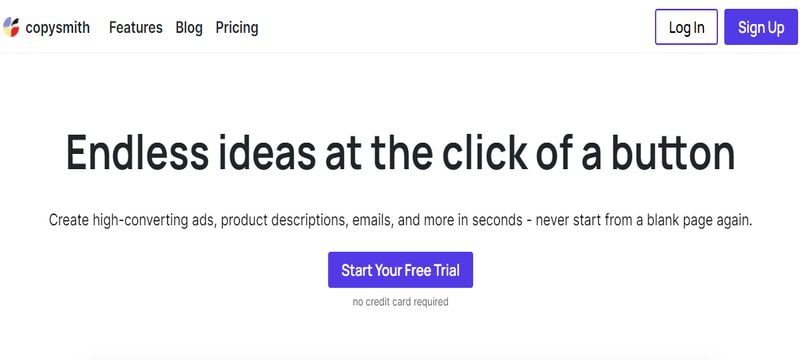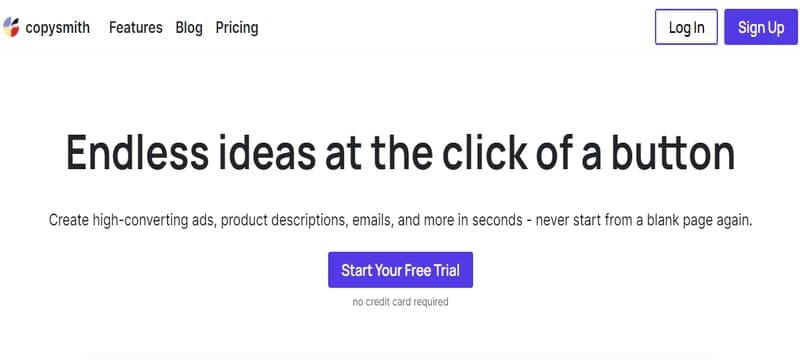 CopySmith was created by Jasmin Wang who created it to help write killer sales copies.
She invented it after struggling to create content for her eCommerce site while still managing other areas of her business.
This tool can be used by entrepreneurs, content writers, and many others to write content for their websites. It's powered by GPT-3, which is among the most powerful Artificial Intelligence models.
You can use CopySmith to create taglines, SEO Metatag, content rewriter, product descriptions, blog posts, etc.
After logging in to CopySmith, you'll see various templates to choose from. Select your preferred content template to see your available options.
Choose an option that you like and let this service generate a copy for you. Also, note that one can favorite the option they like by clicking the heart button on that option.
This will then let CopySmith know the tone and structure of the content you like. If you need to write a product description, blog posts, or any other marketing content, you'll find this tool useful.
Key Features
Below are the key features of CopySmith and what to expect when you use the platform.
Various Templates to Choose from–
CopySmith offers more than 20 marketing templates, including LinkedIn, Instagram, and Google templates, among others.
You can easily try out these templates even when you don't have experience in marketing or copywriting.
Simply select the one you want to use, type in the keywords, and some information about your brand/product into the provided fields.
Then, CopySmith will automatically generate a copy that suits your description.
Users can use CopySmith to generate interesting blog posts. Just by inputting a little information about the content you want, this tool generates the requested copy.
You only type the introductory paragraph, some keywords, opening sentences, and that's it.
But while this is an incredible feature, we advise that you go through your copy first. Should it need editing, use the content writer to correct the selected copy.
the service generates your copy word for word. As such, their content is original and passes plagiarism checkers like Copyscape.
this allows users to log in to CopySmith quickly and conveniently from any webpage using any device.
As such, you can easily share your generated copy on the sites you want. You can download this extension from the Chrome website.
Pros
Easy to use interface. The site is not cluttered. Hence you can navigate through it easily.
Great customer support who you can contact using email or via FaceBook
Data protection. It uses Google's Firebase to ensure that user's data is well-protected.
Generates quality copies fast
Several templates useful for marketing
Help get rid of writer's block
Pricing Plans
There are various pricing packages on this site covering all budget sizes.
You can choose the starter plan, which goes for $19 per month, or the professional plan, the early adopter plan, or the enterprise plan that cost $59, and $499 per month, respectively.
Note that you get a discount on all these plans if you're paying annually.
The starter plan is best for those writing short content. You're given 50 credits per month. With a professional plan, your credits per month increase up to 250.
It is best for all types of content and comes with prioritized customer service and input on the roadmap of a new product.
The early adopter plan includes everything on the professional plan only that credits are increased to 1000 every month.
Those who opt for an enterprise plan get 1000 credits each month and a custom domain that allows them to share the content output.
You're also offered an account manager and prioritized customer service.
Copysmith AI Overview
| | |
| --- | --- |
| Software | GTP-3 Copywriting tool |
| Free Plan/Free Trial | 3 Days |
| Long-Form Word | No |
| SEO Features | Yes |
| WordPress Plugin | No |
| Money-back guarantee | 60 Days |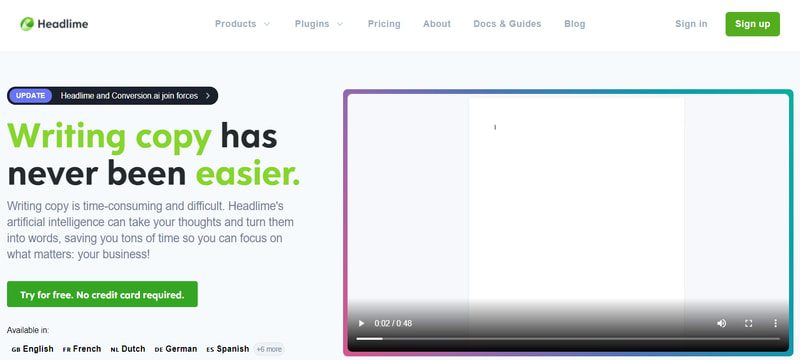 Coming up with a catchy headline or a persuasive marketing copy can be hard. But, with a tool like Headlime, you can relax knowing that it's all handled.
Headlime is powered by Artificial Intelligence making it one of the best ai writing software out there. It is designed to help users come up with creative marketing copies that will increase their conversion rate and revenue.
The tool has many premade templates and hundreds of headlines. By simply answering a few questions, it can generate a compelling headline for you.
Headlime was founded by Danny Postma in 2020. He initially used it for his projects as a spreadsheet.
After feeling how frustrating it can be to stare at the screen trying to write a perfect headline, Danny decided to create this tool to help marketers.
Headlime simplifies the process of writing an effective marketing copy. The homepage is well-balanced and includes impressive features for you to get started.
Signing up is simple as it only requires your name, email address, and password. But, you can also signup with your Google account.
Using this tool, you can write a compelling headline for your website, blogs, product pitch, article, Facebook, and sub-headlines too.
Additionally, you can keep track of the projects you've created as they are stored under "my projects" on the dashboard.
Headlime Key Features
Below are the features of Headlime copywriting software and what you should expect while using the software.
It's Powered by AI- Artificial Intelligence is one of the smartest technologies available. With a prompt of 100 characters, Headlime uses its AI module to give you as close to perfect copy as possible.
AI allows Headlime to generate unique copies that resonate with your audience. As such, it keeps them engaged and interested in your messages.
Running a business is very demanding. But you can save yourself the hustle of creating documents by allowing Headlime to do it for you.
Its automated document generator produces error-free documents quickly. You can use it to achieve accurate data that's free from human error.
Plus, it'll generate different versions of a document. Hence you'll not waste time creating them manually.
Before, individuals needed various tools to perform several marketing tasks. But, thankfully, nowadays many software tools can perform multiple marketing tasks as one tool.
Headlime's dashboard is one impressive thing about this software. It offers an excellent user experience with all the marketing tools under one roof.
As such, you can access the different features with just a simple click of a button. It offers functionality and aesthetics under one shed, hence making things convenient even for those who are not tech-savvy.
Top-notch Customer Support–
you can contact their support team in various ways. Users can use the support chat to get in touch with a customer person during the day.
But, one can also send them an email regarding their concerns or requests through support@headlime.com and the team will respond as soon as possible.
Pros
Many inbuilt templates to try
Regular updates on the available templates
User-friendly dashboard
AI intelligence to eliminate human errors like spelling mistakes or incorrect grammar
Captivating headlines and impressive marketing copy
helps get rid of writer's block
Pricing Plans
The company offers different pricing tiers to capture various budget sizes. If you're starting, begin with the free trial to get a feel of what this site offers.
This free version doesn't require a credit card. If you're impressed, you can then choose one of these subscription plans;
Pro Plan- it's for an average marketer who only wants to increase their conversion rates and sales using headlines and marketing copies.
It goes for $29/month and includes everything you need to take your business to the next level. You're given 15000 AI credits per month, with no own branding though.
Business Plan- for $49/month you're offered 400000 credits per month. It's a more sophisticated approach that's suitable for top-scale businesses.
However, like the pro plan, it doesn't include its own branding, team & members, and team-wide database.
Agency Plan- while it's expensive, it offers many impressive features. Users pay $89/month and get access to 1000000 credits per year.
You can have unlimited teams each with five members. Plus, it gives you a team-wide database that allows you to manage and store copies. Individuals can also do their own branding with this subscription.
Note that all these tiers feature unlimited projects, documents, copy templates, and access to AI copywriters, as well as AI page builder.
Headlime AI Overview
| | |
| --- | --- |
| Software | GTP-3 Copywriting tool |
| Free Trial/Free Plan | Yes |
| Long-Form Word | Yes |
| SEO Features | No |
| WordPress Plugin | No |
| Money-back guarantee | 14 Days |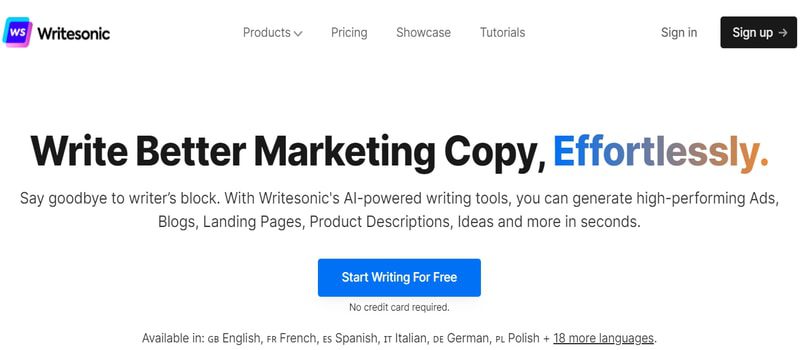 This is yet another AI writing software that can help generate copies within seconds. It incorporates AI that works like humans.
Hence users don't need to worry about writing copies manually. Once you key in some information about want you what it to write, it'll do that for you.
Using this tool can save you time, energy, and money. Writersonic takes a short time to generate copies.
After logging in to this site, enter your target topic. You'll then be given ten subject ideas for your copy. Simply choose the most outstanding.
Then proceed to write the intro with a minimum of 100-150 words.
Writersonic will then generate five different intros. Pick one and proceed to outline. With a topic, intro, and customized outline, you can then instruct the AI to generate a copy within seconds.
Note that the copy can be edited for those who want to make some changes to it.
Writesonic Key Features
Below are the key features of writer sonic and what you should expect while using the software.
The software can suit different people. You can use it to write an eCommerce copy, blog/article copy, or digital ads copy.
Therefore, whether you are a social media marketer, a blogger, or an entrepreneur, you can let this tool generate a compelling copy for your website.
Generates Copies within Seconds
Once you are logged in to the site, choose from the various templates they have the one you want, provide a short description, and press the "generate" button to allow Writersonic to create a copy for you.
Then you can edit if need be, share and launch your copy.
Apart from writing, the site also features other tools great for those in the digital spaces.
These include YouTube titles, startup ideas, analogies, growth ideas, keyword extractors, and product names.
Pros
7-days money-back guarantee
Free trial
Generates great copies quickly
Affordable compared to some AI writing software tools
User-friendly interface
helps get rid of writer's block
Pricing Plans
The company offers a free plan and three paid plans that all come with varying features and credits.
The starter plan costs $11.60 per month. It includes 75 credits and basic features for writing copies for ads, article summaries, landing pages, and product descriptions.
However, you're also given another 75 credits for advanced features for blog outlines and intros as well as Ai article writers.
For businesses, they can opt for the professional plan that goes for $39 per month, which includes basic features and unlimited credit and 150 credits per month for the advanced features.
They can also consider the business plan that costs $199.60 monthly and includes up to 1200 credits each month as well as all other basic features.
Let's understand how credits are used. If you want Writersonic to write a Google ad or a blog intro, you'll need one credit.
But for a blog post, one needs 1-7 credits depending on how many sections they have/want in their article.
2 sections use up one credit. Before signing up, try the free version, which offers ten credits to decide if it's worth it.
Writesonic AI Overview
| | |
| --- | --- |
| Software | GTP-3 Copywriting tool |
| Free Trial/Free Plan | Free Plan |
| Long-Form Word | No |
| SEO Features | Yes |
| WordPress Plugin | No |
| Money-back guarantee | 7 Days |
Snazzy.ai is a new ai writing software powered by GPT-3. It is used to create content for ads, landing pages, product descriptions, etc.
Businesses and websites can use it to generate ideas quickly. Simply by providing your business's name, some keywords, target audience, and description of your product or service, this tool can create a compelling copy for you.
Its descriptions, paragraphs, and content are said to be accurate. But, you can still modify them before using them directly on your website.
Key Features
Let's have a look at the features of Snazzy.ai
Created by Open AI, this smart language produces human-like content using deep machine learning. It is accurate and free of errors.
Therefore, users can trust it to generate unique and engaging copies. As such, many copywriting tools nowadays use it to create accurate content for businesses and individuals.
Snazzy gives users customized, professional, and relatable content using this smart technology.
The platform includes various options for creating product descriptions, blog ideas, headers, selling points, ads, and taglines, among others.
Templates will create content depending on the information you provide when onboarding. It uses information like company name and description to generate a copy for you.
But, you can customize the copy by using the "customize" button.
Content Extender and Remix option
These are extra tools added to this platform to better the user experience. Content Extender turns simple sentences or bullet points into complex creative content.
But, you can customize the tone and length to generate a copy that's suitable for you. The remix option, on the other hand, allows users to create several versions of their content.
Pros
Several templates available
User-friendly site
Fine-tuned Ai technology
Simple and effective website
One can customize suggestions to enhance the output
Pricing Plans
The company offers very competitive pricing. You can try generating a maximum of 5 templates per day with the free version.
If you are a casual user, that should be enough. However, if you need more templates, you'll pay $49 per month to be upgraded.
The paid plan also includes access to new features and same-day support. Let us outline these plans further.
Starter plan- $0/month
Limited support
Five templates per day
Access to all content templates
Growth Plan- $50/month
Access new features early
Same-day support
Unlimited content generation
Access all content templates
Snazzy AI Overview
| | |
| --- | --- |
| Software | GTP-3 Copywriting tool |
| Free Plan/Free Trial | Free Plan |
| Long-Form Word | No |
| SEO Features | Yes |
| WordPress Plugin | No |
| Money-back guarantee | 7 Days |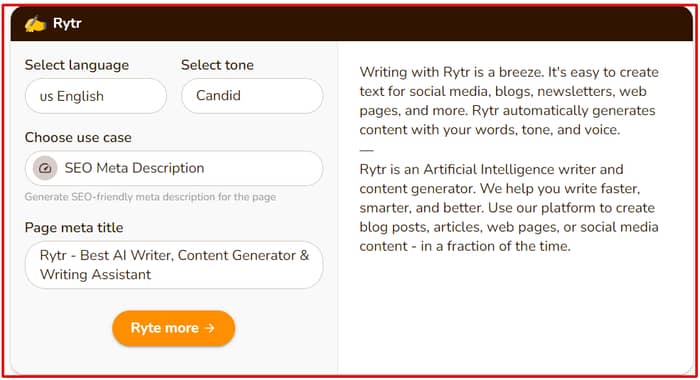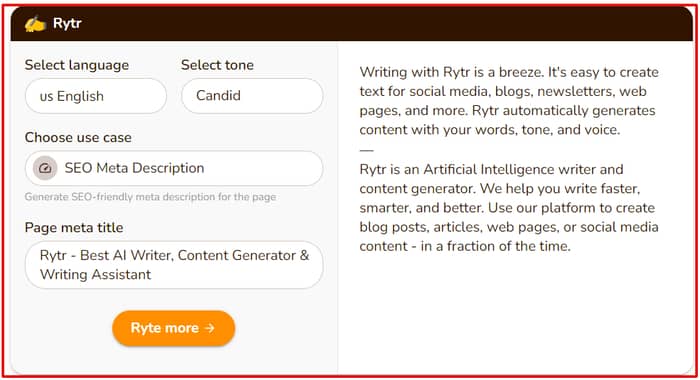 Rytr is an advanced AI Copywriting software that is designed to create all types of content.
This AI software simplifies the entire process of becoming a great copywriter.
Rytr being an AI writing assistance, can help you create any form of marketing article and the best part is that it has gotten templates available to make it easier.
By using this AI writing software, you can be sure that writer's block will become a thing of the past.
It doesn't create unique content for you but the article generated by this AI software will also be 100% unique.
Which you can't definitely find anywhere else.
Rytr is able to do this and more because it leverages the most advanced learning language model, GTP-3.
In order to create quality and effective content with Rytr, you just have to type in a few keywords of what you want.
While the AI software takes it up from there and everything gets ready in minutes.
It is indeed a great tool to include in "Best AI Copywriting Software".
Key Features
Team Management: This particular tool is very powerful and it beautifies the system as well. With this, you and your team will be able to collaborate within the same dashboard. Thus, everyone staying organized.
Languages & Tons: The system can write in different languages that people speak around the world and also it can help you produce content that will match your organization's tone. With this, you get more done in less effort time and your business can also tap into the international market as well.
Easy To Use Dashboard: Rytr dashboard is a very easy-to-use one that even the fewer beginners that are just starting out online can handle effectively, this makes the software greater.
SEO Analyzer: If there is one thing all content creators fight, look and learn everyday. It is likely going to be about SEO. This tool has been specifically designed to easy your SEO journey and makes your content really easy to rank.
Pricing Plans
The truth is that this AI software actually got one of the best AI pricing plans on this list of "Best AI Copywriting Software".
However, because it is cheap doesn't mean it is not effective.
In fact, it is very powerful AI software that you can't avoid using.
It has two plans, where are:
Free Plan
The free plan costs $0 in a month and you will be able to generate up to 5,000 free unique words in a month.
The only downside to this is that it offers very limited features which are not suitable for most people.
And I personally don't recommend this but you can try it out for some days to see what you stand to benefit from before upgrading to the premium plan.
Pro Plan
The pro plan is the most recommended plan because it offers you all you need to create better content with the system.
You also have access to great customer support that will always be there to guide you no matter what.
This plan costs $29 a month and what you can do with this actually becomes limitless.
Another interesting part is that, when you decided to pay annually, you only pay $290 and that is 2 months off.
So it is advisable you pay annually so that you get the free 2 months.
Rytr AI Overview
| | |
| --- | --- |
| Software | GTP-3 Copywriting tool |
| Free Plan/Free Trail | Free Account |
| Long-Form Word | No |
| SEO Features | Yes |
| WordPress Plugin | No |
| Money-back guarantee | Not Available |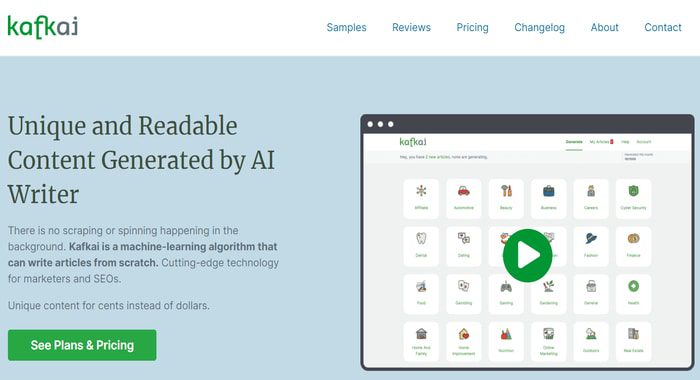 With how great this AI tool actually is, it just remains underestimated and uncared for.
Only the few who understand how powerful the AI software is actually used it on a daily basis to run their businesses.
Kafkai uses a GTP-2 to produce its great and quality content, however, you can be sure that the content generated by Kafkai will be exceptionally great.
The reason is that it is run on the Elon Musk AI project which even makes it even more standout among its competitors.
This amazing AI software has gotten lots of amazing marketing and content production templates available.
Just by signing up, you can quickly pick your desired templates to generate quality content.
It even gets better because the AI software doesn't just provide you with great content but also helps you write top-notch content.
It is suitable for all content creators of any size around the world.
You will never go wrong by using Kafkai because it has been around in the industry for a long now.
And it has gathered enough experience to serve all your marketing needs.
Key Features
It has a module that has been designed that can write general content and the one that can use to create a specific type of content base on the instruction that you give the system.
It supports and writes in up to 6 different languages which are good for business enhancement.
Kafkai can write content in over 20 different niches which mean that no matter where you fall, it will always serve you greatly.
It has a designed WordPress plugin that you can link together with your account and use directly as you work on your WordPress dashboard which is super amazing.
Pricing
Here are the 3 pricing plans it currently has when written this article.
NewsRoom: This allows you to generate up to 25 unique articles per day and costs $29 a month.
Printing Press: The printing press package makes it possible for you to generate 100 articles daily and costs $129 per month.
Industrial Printer: The industrial printer is the final pricing plan on the list, it let you generate 500 articles daily and costs $199 a month.
Kafkai AI Overview
| | |
| --- | --- |
| Software | GTP-2 Copywriting tool |
| Free Trial/Free Plan | 3 Days |
| Long-Form Word | No |
| SEO Features | Yes |
| WordPress Plugin | Yes |
| Money-back guarantee | 30 Days |
What You Should Know About These AI Writing Software
It's highly important to know that these AI copywriting tools are not perfect, you need to feed them a piece of information.
How perfect the content is depends on how detailed your information is. However, based on my experience I believe they make a good tool.
At times, their grammar may be off-key which are not always but with few editing and adjustment you'd be back on track.
Also about plagiarism, you can rest assured that your contents are plagiarism-free.
However, if you're still doubting make sure you check the content generated with any plagiarism tool before you publish them.
But based on my experience so far, they've been perfect and plagiarism-free.
Last on this note, also make sure you use the Grammarly app to quickly and easily fix any grammar error from the content generated.
They are created by humans so you should expect a little error here and there.
GPT-3 OpenAI
All of the listed best ai copywriting tools uses 'Generative Pre-Trained Transformer 3' (GPT-3). This is an autoregressive language model that uses deep learning to produce human-like text.
The GPT-3 is the third generation language prediction software model in the GPT-n series. (Successor to GTP-2) They are all created by OpenAI, an AI research laboratory based in San Francisco. According to Wikipedia.
It was introduced in May 2020 and has been generating high-quality texts since July of the same year, exceeding any expectations for artificial intelligence at this time
GPT-3 automatically learns from data how people write sentences by taking into account what words they use most often so it can more accurately predict which word will follow another.
What's even better about this technology is that its ongoing technological research and the user should expect even better results with what's currently available.
Soonest, the GPT-3 might be replaced with GPT-4 which will invariably produce a better result.
Other Automated Copywriting Software
below are other automated copywriting generator software that can be used to generate copies for your business.
These are not robust like the other AI copywriting software but really good for writing sales copy for your landing page.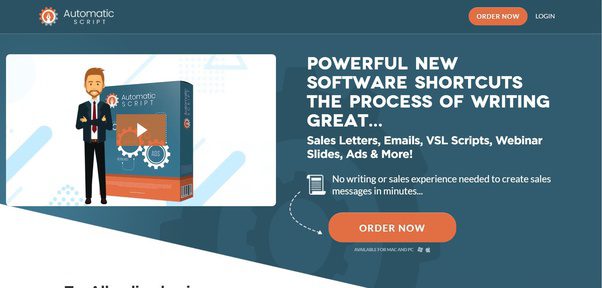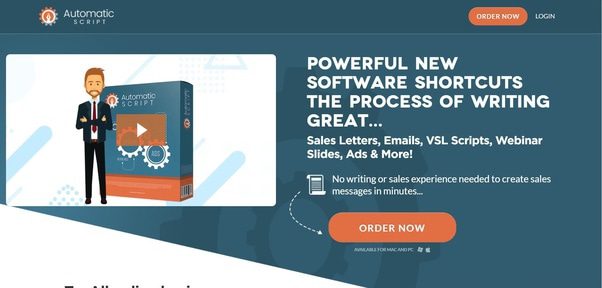 This Copywriting tool automates the process of creating your sales letter. It was started by Brad Callen, a famous marketer known for creating business tools like Doodly and Toonly with his company Bryxen.
Using Automatic Script, you can take advantage of sales writing formulas that have been developed by the greatest copywriters of all time to create;
Headlines
Letters
Full-blown email series
Facebook Ads
Video sales
Call to Actions,
Email subject lines,
Testimonials, etc.
What makes this software unique is that it can be used by all businesses regardless of their niche, products, or services they are selling.
Even if you're giving something away for free and you want help getting someone to take an action, this software tool can work for you.
Automatic Script, like the name suggests, automates the writing process, giving you action-driving sales copy that would have otherwise cost you a lot of money and time in trial-and-error.
You no longer have to stare at blank pages wondering what to write with this tool.
Instead, users get access to many copywriting scripts that have been developed on this platform without wasting time or spending too much money.
By helping businesses create impressive sales letters, this software helps them make more sales on their digital and/or physical products.
Plus, it is simple to use. Therefore, even non-tech savvy individuals can easily navigate through it and create the best sales copy for their products.
Thus, whether you write sales letters occasionally or regularly, you can benefit from the incredible features offered on this platform.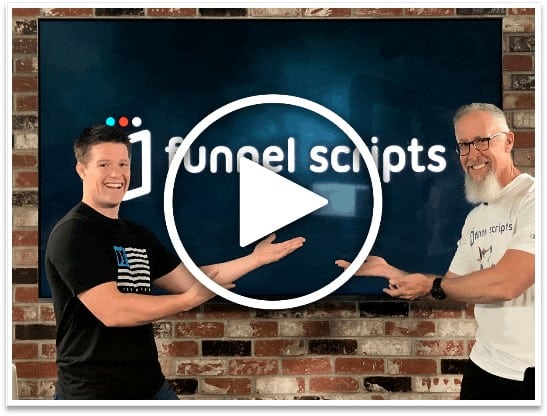 Funnel Scripts was developed by Jim Edwards and Russell Brunson. It aims at helping marketers to save time and money writing sales copies or hiring expensive copywriters.
Funnel Scripts, just like Automatic script is best for individuals who are selling products online or want to capture leads. As it can help them create an engaging sales copy and convert their prospects.
With funnel scripts, you can practically come up with any copy to target any business niche within 10 minutes.
It provides you with sales copy to market any product or service you can ever think of. This includes scripts for:
Email Sequence
Sales Pages
Webinars
Ecommerce
Any many more…
The scripts, however, can be used to create the following:
Sales copies
Ad copies
CTA copies
Blog post title
Facebook ad copies
Product description
Email headlines
And various others
It's a perfect tool for both experienced and inexperienced copywriter to step up their game when it comes to writing winning copies that convert.
Instead of spending hours and racking your brain to come up with the perfect copy to sell your audience, all you need do is head over to your funnel scripts and have it generate copies for you.
It only going to take less than ten minutes and your perfect copy to sell your audience will be generated.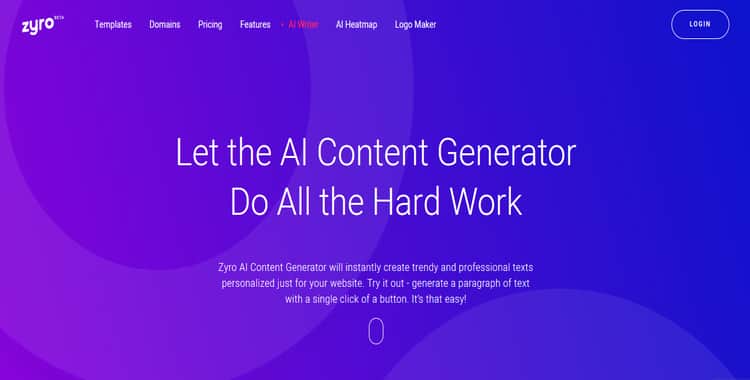 This is a website builder featuring AI branding powers. You can use it to create a business page, a blog, and an online store with the drag and drop feature.
The Zyro AI content generator is slightly different from the rest of the copywriting generator software This copy tool focuses on generating content for the new website you're building.
Be it an eCommerce website or business site, with the power of AI, you can generate content for your pages and the homepage of your newly built website without having to rack your brain trying to come up with the right words.
After gaining access to the software, you'll need to choose a category that matches or is similar to your business niche. And if you seem not to find your business niche, don't worry.
All you need to do is choose 'Go Wild'. Then come up with few sentences that perfectly describe your brand product or services.
After that, click continue to generate text in a couple of minutes or click generate again to get more content options for your website.
The AI bot reads a lot of text in the various business niche then train itself to write something better or very similar to it in other to serve you appropriately.
What's The Best AI Copywriting Tools: Conclusion
From the list above you'll discover all the tools mention are quite outstanding. And they are still on the verge of providing new features for their users.
So investing in any of them will save you time and money. However, as I said earlier, the content created by these tools isn't 100% perfect.
There'll be a need from your own end to read through and edit some minor errors from the text or regenerate them.
Finally, I've found Conversion.ai to be growing faster compared to the rest of the tools. I have an account with them and I'm currently using it.
As a matter of fact, the introduction of this content was written by Conversion.ai. You can read it again to check it out.
That's it on the best ai copywriting tools and software, let me know what you think about these tools using the comment section.