7 Best Automated Copywriting Generator Software 2023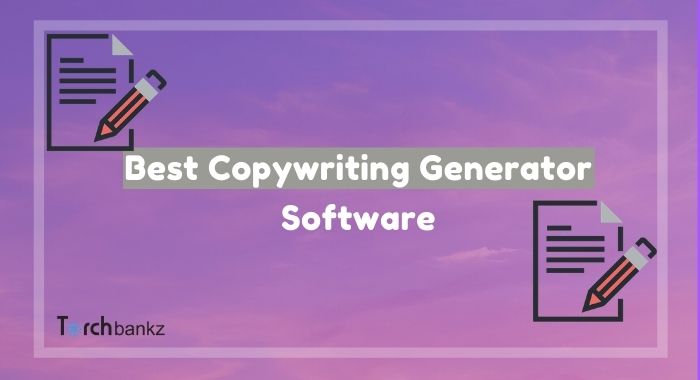 Today, I'll be sharing the best copywriting generator software you can use to boost your copywriting career or for your business.
If you think the difference between a product that sells and one that fails is only the product quality, you are wrong.
A sales letter plays a huge role in the selling of a product. Sellers or business owners who are not able to explain their products or services better than their competition, often lose many potential customers.
Creating a persuasive message is integral in content marketing. However, not everyone is blessed with copywriting skills and that's where these copywriting tools come into play.
They can help you plan, draft and deliver creative content to help boost your marketing efforts and increase your sales in no time.
However, many people including me don't really trust new software and these copywriting tools are not different. Which is why we've handpicked the best and top tools among them for your profiting.
With this, you'll be sure to communicate the right messages to your potential client or customers without having to pay huge amount of money by hiring a copywriter to do the job for you.
So if you're thinking of firing your expensive copywriter by using one of these sales copy generator, then this article will take you through some of the best tools available today.
However, you have to note that all these applications have their pros and cons.
Therefore, consider your budget and needs before choosing one. That said, here are the 7 best copywriting generators.
Best Automated Copywriting Generator Software Compared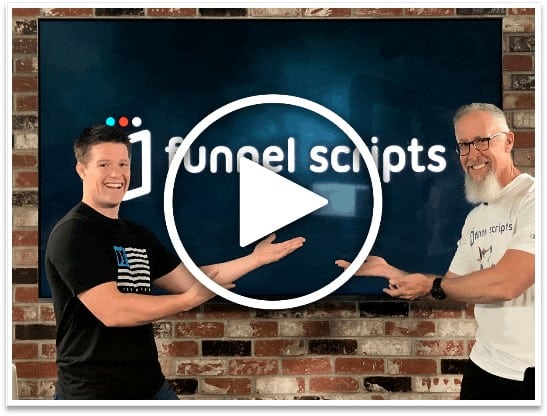 Funnel Scripts was developed by Jim Edwards and Russell Brunson. It aims at helping marketers to save time and money writing sales copies or hiring expensive copywriters.
Funnel Scripts is best for individuals who are selling products online or want to capture leads. As it can help them create an engaging sales copy and convert their prospects.
With funnel scripts, you can practically come up with any copy to target any business niche within 10 minutes.
It provides you with sales copy to market any product or services you can ever think of. This includes scripts for:
Email Sequence
Sales Pages
Webinars
Ecommerce
Any many more…
The scripts, however, can be used to create the following:
Sales copies
Ad copies
CTA copies
Blog post title
Facebook ad copies
Product description
Email headlines
And various others
It's a perfect tool for both experienced and inexperienced copywriter to step up their game when it comes to writing winning copies that convert.
Instead of spending hours and racking your brain to come up with the perfect copy to sell your audience, all you need do is head over to your funnel scripts and have it generate copies for you.
It only going to take less than ten minutes and your perfect copy to sell your audience will be generated.
How Funnel Scripts Works
After gaining access to funnel scripts, you'll be able to choose from among the template that resonates with the offer you're trying to promote.
From inside you can access over 60plus online scripts and 6 scripts wizards and tons of video training on how to use each specific scripts.
Once you've chosen your preferred scripts, you'll be required to fill some questions in other for the software to understand what you're trying to promote.
After you must have done that your scripts will be ready to generate. Just hit the "build" button to have it done.
However, there's a sample form of it too if you would want to see what the result would look like before going ahead and create one.
There's practically a detailed video tutorial for each script on how to use them so I don't have to go in-depth on this again.
Funnel Scripts Key Features
Let's check out the features as compared to the rest of the copywriting generator software and see if you'll get value for your money.
Writing a script quickly and easily is what copywriters want. However, it'll make no sense if that copy doesn't impress your target audience.
Funnels Scripts help you generate a great copy from proven copywriting formulas and techniques. The scripts generated feature a high readability and engagement level all through.
Large Selection of Wizards
the platform features both web-based scripts and offline versions in a downloadable 'Wizards' form. While some templates require one to answer a lot of questions, they're perfect for generating longer scripts.
well, they aren't exactly hidden as they're found at the bottom of the navigation bar. However, it's easy to overlook them.
These bonuses are Funnel Blueprints, 5 Fast Share Funnels, and Inception Secrets. They all include different features to make your copywriting easy.
Pros
Easy to use
Creates a sales copy that converts
Beginner friendly, anyone can use it
Effective for all niches
Pricing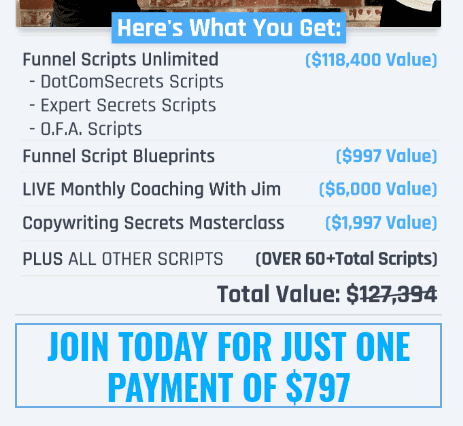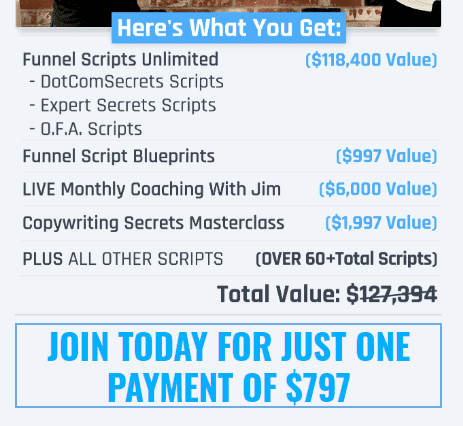 The price used to be $497 per year. However, the company replaced this with a one-time payment of $797. With this subscription, you get lifetime access to this software.
However, there other Funnel Scripts alternatives with more pricing flexibility and pricing structure.
When you hear about AI writing, it's normal to think that the copy will not sound natural. However, this is quite the opposite with Jasper.ai.
This AI software is badass when it comes to writing copy for your business. It can write amazing long-form content for bloggers, email templates, and several others.
You can check out their full templates here.
It can generate a high converting copy that'll help you scale your business to the next level.
If it is not easy for you to figure out which words need to be in your campaign ads, worry less by allowing the conversion AI copywriting software to help you out.
Now, this software is perfect for agencies, marketers, bloggers, and entrepreneurs who want to exponentially take their marketing campaign to another level entirely with crazy results.
Furthermore, it also has the maximum potential to translate your entire content into many languages, and it's very simple to use.
It offers you the best grammar, relevant headlines and makes adjustments to your brand's voice tone.
Therefore, if you have contents that is eating you up and have no idea which software to use, you can opt for Conversion AI; it has almost zero disappointments.
Key Features
Just like the rest, conversion.ai also has its own unique features and we're going to be checking it below and see how it fair compared to the rest.
this tool lets you translate messages to multiple languages. All you do is paste your content on the platform and choose the language you want it to be translated to. As such, you can write emails, posts, or ads in a language that's perfect for your audience.
Adjusting the Tone Is Easy
sure, a business should identify its tone and stick to that. However, there are some instances where this may not work.
In such cases, you can use this tool to give your content more flavor. One can make their copy sound intelligent, funny, friendly, professional, etc. with this software.
Conversion.ai can generate several relevant headlines. You just need to produce a short description of your product, and the platform will instantly generate captivating headlines.
Pros
7-day money-back guarantee
Free trial
Suitable for entrepreneurs, agencies, and marketers
It's simple to use
Pricing
The pricing starts at $29/month for 20,000 words. But higher plans cost cheaper per word. Also, note that they don't offer a free version, but they have a free trial.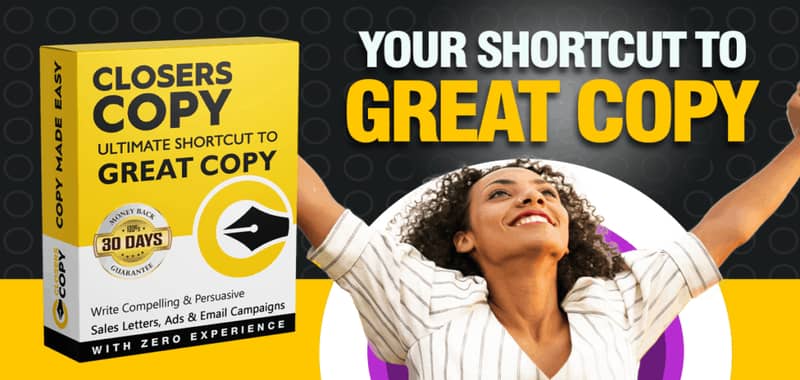 Closers Copy is an incredible copywriting generator software that lets you create unique sales copies. Unlike other copywriting software, this one doesn't let you fill a long-form of questions only to generate a robotic copy.
This product falls among the best copywriting generator software. It is a multi-purpose tool and is suitable for inexperienced users that require to master copywriting.
The blinking cursor can sometimes make you feel less productive. This is prone to happen to everyone whether you are a beginner or a professional in writing.
In case you experience such an incident, you need to start trying out a modern copywriting app like Closers copy and engage your business with a settled mind that your copywriting has no issues.
It features an ever-growing copy templates library, which delivers maximum performance. It has more lookup, which expands to avoid repetition of words.
This software comes packaged with other features, like 1000+ power words lookup, step-by-step copy wizard, guidance, & advice.
In case you are in advertising, sales, or business, you should consider this software to deliver maximum performance.
Closers Copy Key Features
Closers copy also comes with its unique features, let's have a look and see how it fair with the rest of the copywriting generator tools.
Closers Copy is an incredible editor that offers full-text editing. It features several proven templates and emotional analysis that help you hit the right tone with your audiences.
Templates use applicable formulas hence you can easily create a persuasive copy.
one problem that many businesses face is that customers regard their emails as spam. However, this feature on Closers Copy reduces the chances of your messages going into spam hence increasing your readership.
Pros
30-day money-back guarantee
Generous discounts on annual plans
Various predesigned emails and scripts
Pricing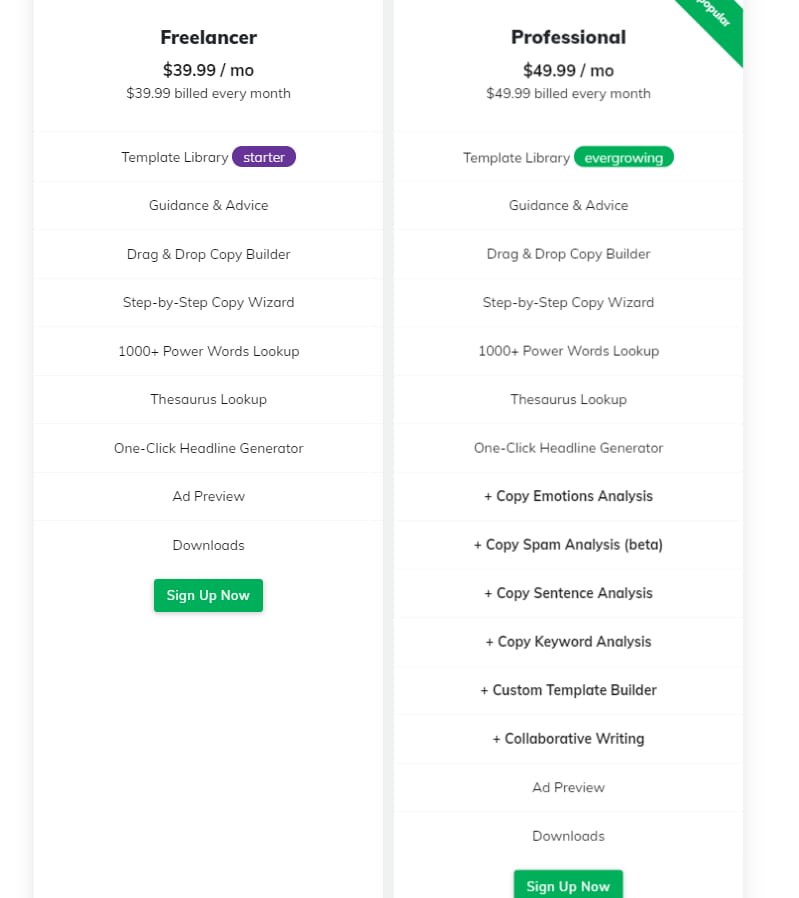 Currently, there are two monthly plans on this platform. That is the Freelancer, which goes for $39.99/month, and the Professional one that costs $49.99 per month.
The best part, they also offer a one-time fee for a lifetime plan for each plan. So you can have either of the plans for a lifetime plus subsequent updates.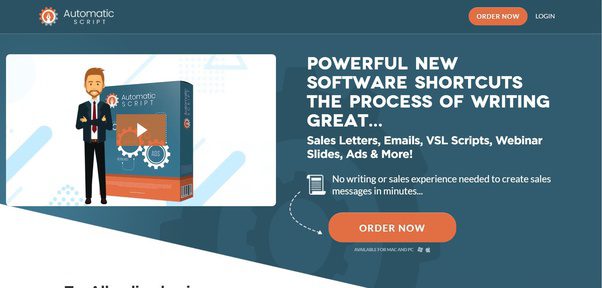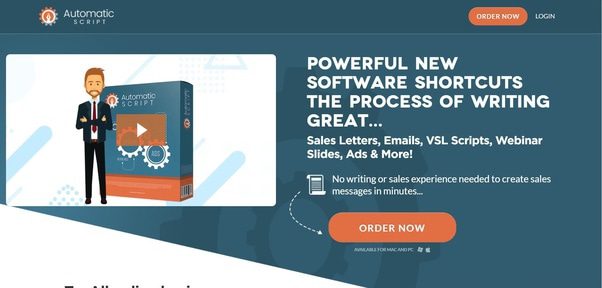 This Copywriting Generator automates the process of creating your sales copy. It can help individuals generate copies fast and easily.
Automatic Scripts was started by Brad Callen, a famous marketer known for creating business tools like Doodly and Toonly with his company Bryxen.
Using Automatic Script, you can take advantage of sales writing formulas that have been developed by the greatest copywriters of all time to create;
Letters,
Headlines
Full-blown email series
Video sales
Facebook Ads
Call to Actions,
Testimonials,
Email subject lines, etc.
What makes this software unique is that it can be used by all businesses regardless of their niche, products, or services they are selling.
Even if you're giving something away for free and you want help getting someone to take an action, this software tool can work for you.
Automatic Script, like the name suggests, automates the writing process, giving you action-driving sales copy that would have otherwise cost you a lot of money and time in trial-and-error.
You no longer have to stare at blank pages wondering what to write with this tool.
Instead, users get access to many copywriting scripts that have been developed on this platform without wasting time or spending too much money.
By helping businesses create impressive sales letters, this software helps them make more sales on their digital and/or physical products.
Plus, it is simple to use. Therefore, even non-tech savvy individuals can easily navigate through it and create the best sales copy for their products.
Thus, whether you write sales letters occasionally or regularly, you can benefit from the incredible features offered on this platform.
How Automatic Scripts Works
Automatic Script uses modern technology to help individuals create effective sales copies and other content by making a few button clicks. But how does it works, you may ask.
Immediately you gain access to the software, choosing what you want to create, this will allow the software to generate in your choosen business niche.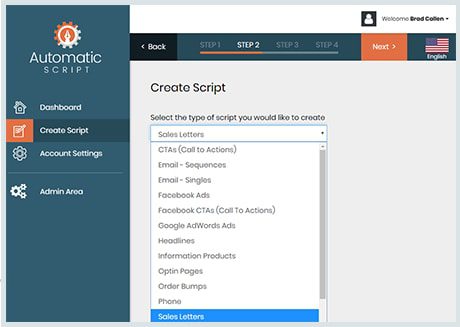 Individuals need to first choose the type of script they want to create. You should decide whether you want to create a headline, an email series, a long-form sales letter, etc.
After that, you need to choose the formula you want to use for the copy you want to create. There are several formulas you can choose from on the platform.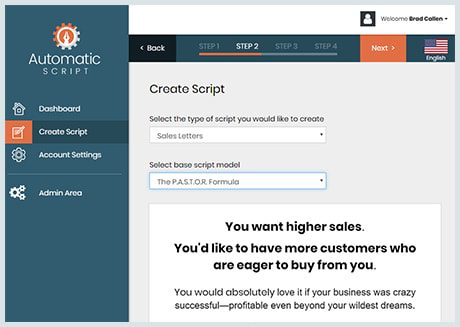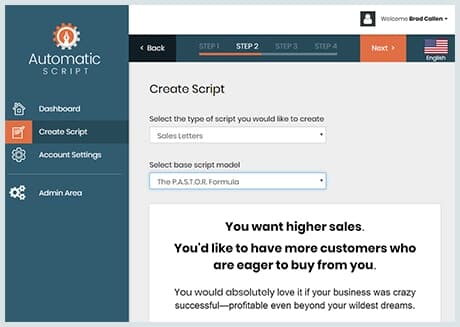 Here you need to decide what formula you'll be using on your script. We advise that you opt for formulas that have been developed after years of trial-and-error with legends.
For instance, you can choose Michel Fortin's formula, which's known for writing the first sales letter that made a revenue of 1 million dollars in one day.
After that, the next step is to fill in series of questions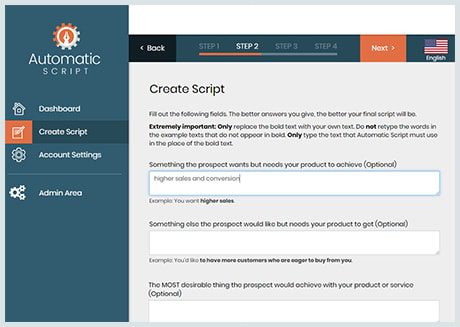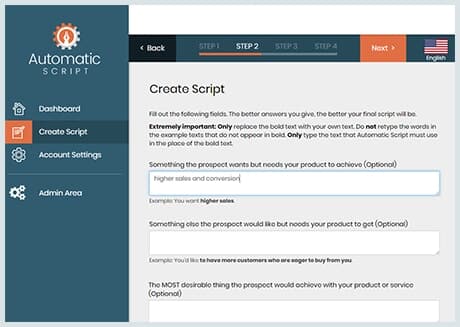 Automatic Script will then take you through a series of questions that require you to fill the blanks.
Some of the things you'll answer include the name of your product, its price, the age of your target customer, etc.
Don't worry as these are straightforward questions that don't need any special knowledge to answer.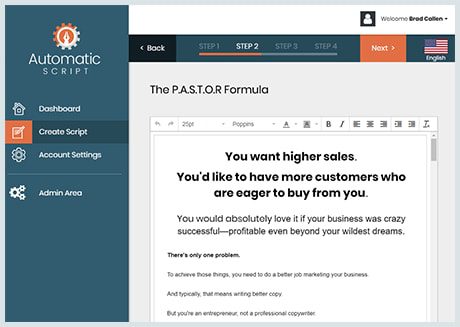 This is the final step that only requires that you click a button and your script will pop-out. You can then edit and review the script generated or choose to download it immediately to your device.
The copy generated is downloadable in three different formats; PDF, PowerPoint, or Word document. You can choose any of the formats to get the job done.
Automatic Script Key Features
Let's have a look at the key features of Automatic scripts and see how they fair compared to the rest of the sales copywriting tools
The platform features quality and classic scripts from established marketers. If you're not an expert copywriter, getting access to these varieties of copywriting content will help you get on track.
Automatic Scripts feature a wide range of inbuilt copywriting templates. Therefore, you can easily find one that your business needs. Some of the scripts available include Facebook Ads, headlines, Email sequences, etc.
Template Builder- this recent addition allows users to make their own script templates. Therefore, you can still make an effective sales copy with a script that's outside the Automatic Scripts platform.
Pros
Several helpful guides
Easy to use
Suitable for many people
Pricing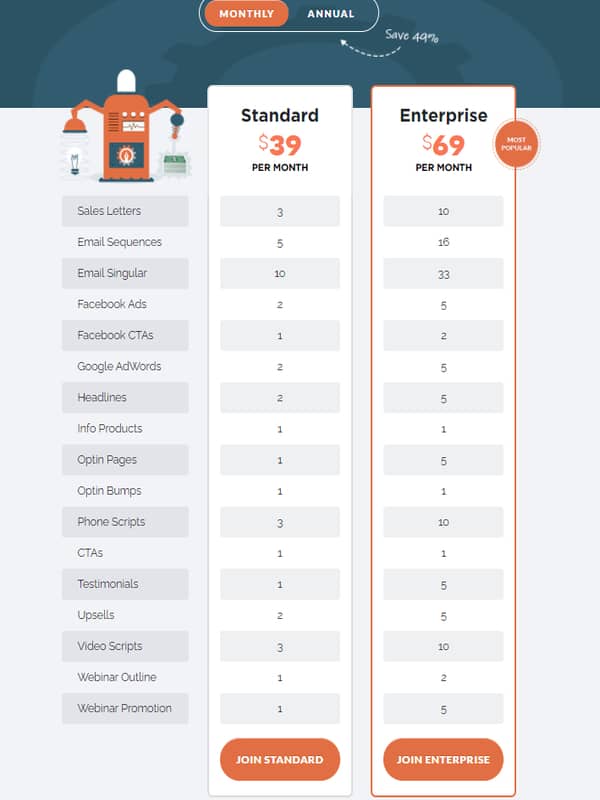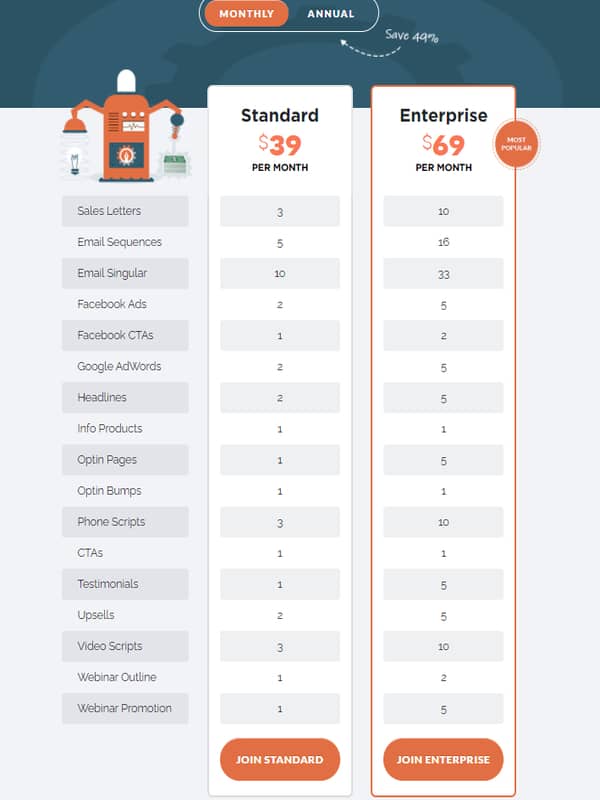 There are two versions on this platform; the Standard version that cost $39/month or $20/month if you're paying annually, and the Enterprise version, which costs $69 monthly and $40 for those paying annually. The difference is in the number of scripts you'll be allowed on each version.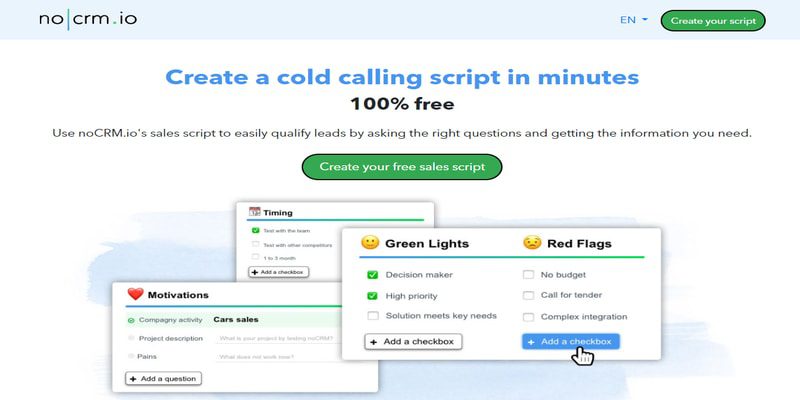 You can use this platform to build an ultimate sales copy quickly. With just a few drag and drops, you'll have your persuasive copy ready.
The site helps you to create engaging content that'll ultimately increase your sales. This website allows you to qualify for leads by helping you ask the right questions and getting relevant information.
With this Sale Script Generator, you can easily come up with free sales script. And besides, when you have numerous leads to call every day, achieving your set goals will come with lots of pressure.
Therefore, this software comes in handy to help since it is easy to use and does not leave any given information.
Additionally, it ensures that your entire calls are structured correctly. In case you require good sales copywriting tools, Sales Script Generator by noCRM.io is also not left out.
Pros
Training and documentation available
Free trial
Mobile and online support
Pricing
It offers competitive pricing between $12-$22 per month. You can also choose to be billed yearly, which gives you two months for free.
#6. Zyro Content Generator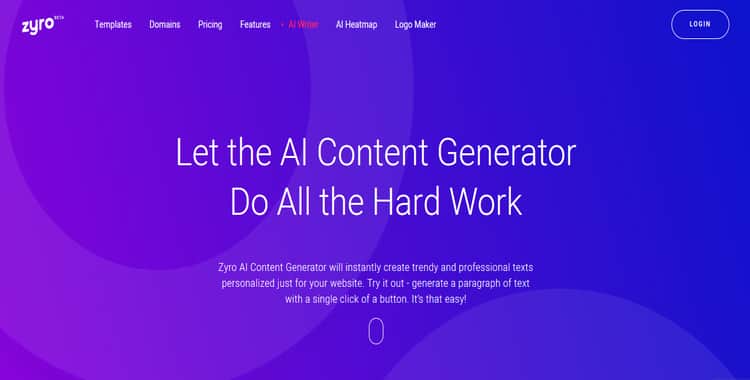 This is a website builder featuring AI branding powers. You can use it to create a business page, a blog, and an online store with the drag and drop feature.
The Zyro AI content generator is slightly different from the rest of the copywriting generator software This copy tool focuses on generating content for the new website you're building.
Be it an eCommerce website or business site, with the power of AI, you can generate content for your pages and the homepage of your newly built website without having to rack your brain trying to come up with the right words.
How Zyro Content Generator Works
After gaining access, you'll need to choose a category that matches or similar to your business niche. And if you seem not to find your business niche, don't worry.
All you need to do is choose 'Go Wild'. Then come up with few sentences that perfectly describe your brand product or services.
After that, click continue to generate text in a couple of minutes or click generate again to get more content option for your website.
The AI bot reads a lot of text in the various business niche then train itself to write something better or very similar to it in other to serve you appropriately.
Key Features
Below are the unique features of Zyro content generator tool and what to expect if you choose to use it for generating content fast for your newly built site.
Generate Content by Category
Zyro allows you to generate content for different niches, including Art & Design, Restaurants & Foods, Events & Weddings, etc.
Instant Generation of Text
if you're not a great copywriter or you don't have the time to write, this platform can generate the text for you. It is easy, quick, and saves you time.
each piece is personalized on this platform based on the user's subject and specifications. Therefore, the text generated will be unique.
Plus, it also produces an SEO-friendly copy, which will improve your rankings on search engines. Within few days, you should expect your website ranking for your business brand as a result of the unique contents.
Pros
Affordable core software
Auto generates website copies
Covers various niches
Pricing
This tool comes with premium pricing plans for building a website. There is the basic plan that goes for $2.49/per month, the Unleashed plan that costs $3.29/month, the Ecommerce for $9.99, and the Ecommerce Plus for $14.99/month.
These pricing plans give you different storage spaces, domains, and products.
#7. Podia Sales Copy Generator
Podia was built by expert copywriters who have experience in writing excellent copies. It is an online course platform offering a collection of tools that help you create, market, and sell courses.
The platform was founded by Spenser Fry, a successful entrepreneur in 2014.
To get this work, you just need to answer few questions about your product and audience and the podia sales copy generator get your copywriting job done for you.
This is however used for sellers on the platform for creating the perfect sales page for their courses and digital products.
Podia Sales Copy Generator Key Features
Podia lets you create email campaigns, membership sites, and resources. All these let you create excellent deals for your customers.
Podia also integrates with other email marketing sites hence expanding your reach. Plus, it features an affiliate marketing scheme, which means you can add affiliates to promote your courses or membership programs.
Pros
A large library of guides, ideas, and tips
Free14-day trial and a live demo on Tuesdays
Simple easy to use design
Pricing
Podia features two pricing plans: the Mover and Shaker. The Mover costs $40 per month and is a basic plan while the Shaker costs $80/month and offers more features.
What's The Best Copywriting Generator Software?
There's no best answer to this, as you want to determine the kind of copywriting generator software you should go for. And you also need to consider the factor of budget.
Choosing the right words that'll appeal to readers immediately is crucial in copywriting. If you're unsure about your copywriting skills, you can save time and money by using the tools we've reviewed above.
Not only are they going to help you with content, but they will also save time, money and exponentially increase your conversion rate.
Since you're appealing to your potential customer's emotion directly with your sales letters. That's a good sales copy can be when you have the right one.
And this is exactly what you can get with the right tools.
If you're still unsure, we'll find out that Funnel Scripts and Automatic Script out-performed the rest of the sales copywriting tools or copywriting generator software.
You might want to check them out.
So that's it on the best copywriting generator software you can use to skyrocket your content marketing sales. Let me hear what you about the tools.