WholesaleDeals Review: Best Wholesale Directly?
I'll try as much as possible to make this WholesaleDeals review detailed by providing you with all the information you'll ever need.
To begin with, you don't need to go too far to find dropshipping supplier's directories. However, this doesn't hold true if you're looking for the best of the best!
Finding a trustworthy platform that connects buyers and suppliers is the number one worry of the dropshipping business.
Numerous platforms offer to link the wholesaler and the dropshipper. The problem with this is that too many bad wholesalers flood the market.
A platform that verifies wholesalers is a lifesaver for those in the dropshipping business. And the question; is WholesaleDeals a great deal for dropshippers?
This post (wholesaledeals review) comprehensively reviews one of the best wholesale and dropshipping supplier websites in the UK for finding quality and professional suppliers, Wholesalesdeals.
So let's get started.
What Is WholesaleDeals?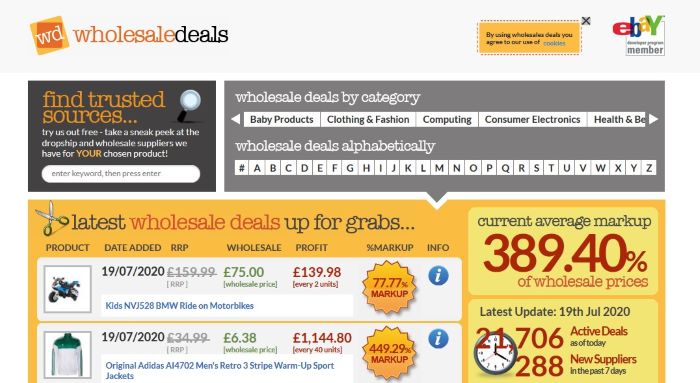 WholesaleDeals is one of the best UK online platforms to find wholesalers.
In the year 2004, the website kicked off as a platform for selling wholesale products directly, such as gadgets and electronics to small retailers.
It's popularly accepted as one of the Uk's dropshipping websites to find the right suppliers after many years of consistent growth and impact.
It has an extensive database of wholesale and dropship suppliers with over 350 thousand suppliers! And they are all verified.
The platform offers a large pool of products. There are over 270 thousand verified products on Wholesale deals.
Some of the product categories include;
Toys and games
Baby products
Fashion
Clothing and fashion
Home and garden
Health and beauty
Leisure and entertainment
Consumer electronics
Police auction and auction houses
Jewellery
Office and business
Sports and fitness
Watches and others.
It's an excellent place to find bargain deals, cheap products, and excellent dropshipping services. Enjoy as much as 95 per cent discount on the prices of products on Amazon and eBay.
It allows you to compete with other sellers and enjoy a profit margin between 45 per cent and 95 per cent.
How Does WholesaleDeals Work?
WholesaleDeals works like any other platform that connects suppliers and buyers. However, you'll need to subscribe to enjoy its benefits.
For those looking for cheap sources of products and trusted dropshipping suppliers, WholesaleDeals is a massive database that connects wholesalers and dropshippers with the buyer.
For wholesale and dropshipping suppliers, it's an opportunity to connect to more buyers.
All suppliers on the platform go through a strict verification process. WholesaleDeals monitor their activities from time to time to ascertain that they are still providing quality services to their clients.
Open the WholesaleDeals' official website for a more in-depth insight into the full range of products it offers. The site goes through a regular update to always provide the latest prices on products.
Also, WholesaleDeals offers you the correct information about the prices of goods and then compares the prices of products on its website to the prices on Amazon to eBay.
This useful price comparison tool helps buyers to get a glimpse of their product margin before purchase.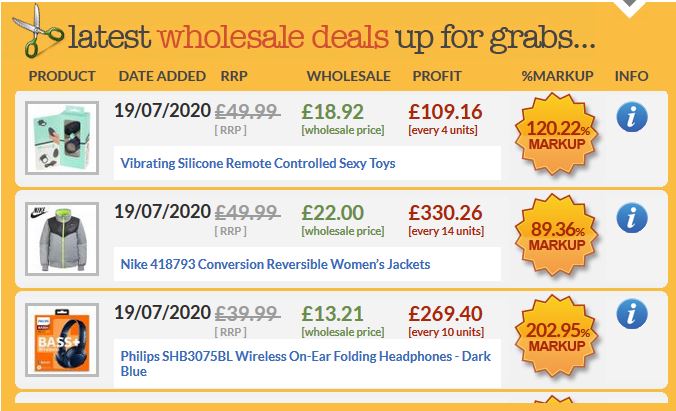 The wholesale deals deal tracker is another feature on the site that shows you cheap products on offer you can buy and make a profit as high as 95 per cent from selling it.
You can also navigate the website for the latest deals on offer, search by product category, by keywords, and profit margins.
It has a free weekly newsletter that offers free trade news, product information, bargain prices, advance notice of hot deals, and links to other valuable resources.
The newsletter is open to all; you just have to subscribe to it. No fee charged; it's completely free.
What to Look for In Wholesale Suppliers
While WholesaleDeals has a strict verification process for their suppliers to go through in order to ascertain their originality, you still have to make a choice for the supplier you want to settle down with.
There are thousands of suppliers on WholesaleDeals and your job is to screen and choose a suitable supplier for your business.
And here's why.
Wholesale suppliers are essential players in the dropshipping ecosystem. There's no way to skip them, except you do not want to use the dropshipping business model.
Choosing the right wholesale supplier that can perform to the satisfaction of your customers is essential. The supplier is as relevant as the customer is to your business.
To avoid losing a customer on account of poor delivery service or shoddy products, invest in the right wholesale suppliers.
Admittedly, finding the best dropshipping suppliers can be hard. The market is full of bad suppliers.
However, there are several key factors to help you source out for the best dropshipping suppliers out of the multitude.
They include available customer care, fast shipping, product order fee, and quality products.
Excellent Customer Care
If you get into problems with the wholesale supplier, does it have available customer care to respond to you and help the problem?
How active is the customer care line? How long before you get a response? It's essential to consider this when choosing among several wholesale options.
Problems occur, which is the reason why you have to consider the availability of customer care when selecting wholesale suppliers.
If a wholesale supplier does not have a functional customer care, it's a sure sign that the supplier is unprofessional.
The ideal customer care is one that you can easily contact and receive solutions quickly.
Fast Shipping
The shipping speed is another factor to look at when choosing a wholesale supplier.
How fast can the supplier ship the product to your customer?
You want the service of a supplier that can ship goods to your customers in a quick time frame, not exceeding 24 hours from the time of the order of the products.
In exceptional cases, 48 to 72 hours is acceptable due to the constraint of distance. Anything more than that, and the customer is unhappy except if it's an international shipping
Customers want to receive their goods quickly. The slightest delay causes them to feel uncomfortable.
They are impatient by nature, and can quickly switch from using your service to using the assistance of a faster alternative if they are not pleased with your service.
The dropshipping market is competitive by nature. There are several options open to your customers.
Poor shipping experience can cause you to lose customers. A wholesale supplier that has a reputation for fast shipping is a fantastic boost to your business. It gives you that competitive edge over your competitors.
Product Order Fee
Wholesale suppliers will charge you a product order fee on your orders. The charge makes good business sense for you and the supplier.
The supplier provides shipping and fulfilment services for your products, using its resources to ensure your customers get the best of services. The fee is the charge for these services.
All wholesale suppliers charge this fee. Some incorporate it into the cost of the product you are ordering while some separate it as stand-alone cost.
While the fee is the standard industry practice, some suppliers will want to take advantage of this to exploit the buyers.
There is no standard for the product order fee. Different suppliers charge different rates. Some charge ridiculously high costs, some charge moderately, and some offer low prices.
To know if the wholesale supplier is charging you high fees, you can compare several options for a rough idea of what the average price is.
To know if the product order fee is costly for you, check how it eats into your product margin. If the cost reduces your profit margin to below what is satisfactory or profitable for you, it's a sign that the product order fee is high.
In situations like this, the temptation is to increase the selling price of the product. There's a limit to how you can raise your price, especially if your competitors are offering lower prices. Instead of doing this, just choose a cheaper supplier!
Quality Products
The quality of the product is essential. There's no substitute for product quality. Customer satisfaction is one way to grow and scale your business quickly.
It doesn't matter if your wholesale supplier of choice passes the three factors mentioned above, if the product lacks quality, dump the supplier.
The quality of the product is the number factor to consider. The positioning as the last factor is a strategic pull to make you focus on it better.
Customers may overlook a later than expected delivery of products, but they can't ignore an inferior product. This single factor can damage the reputation of your business and make you lose customers faster than any other factor.
Quality products more often than not on the high side, but the advantages (satisfied customer, fewer returns of merchandise, good reputation, brand reputation, higher profit returns in the long run and more referrals) is worth it.
However, the cost can lower your profit margin, the benefit of returning customers more than atones for the loss.
Features of WholesalesDeals
The following features make Wholesale deals one of the top wholesale and dropshipping suppliers in the UK.
#1: Access to Reliable Supplier
Wholesale deals offer secure and fast access to reliable wholesale and dropship suppliers.
The suppliers on its database go through a thorough verification process to ascertain their reliability and quality.
Regularly, the website checks and monitors the activities of these verified suppliers to ensure they are meeting the desired standards.
It offers you instant access to a database of 357, 462 verified wholesale, and dropship suppliers.
#2: Top Selling Products
Wholesale deals offer a wide range of top-selling products to dropshippers, which is an important factor in the success of your dropshipping business.
Some of the product categories include toys and games, baby products, fashion, clothing and fashion, home and garden, health and beauty, leisure and entertainment, consumer electronics, and others.
#3: Tracker / Profit Estimator
This is a feature that shows you the selling cost of the product on eBay or Amazon, allowing you to make a quicker buying decision.
It shows you top-selling products on eBay and Amazon and connects you to wholesalers that sell that same product for as low as 95 percent off the retail price on Amazon and eBay.
The tracker helps you estimate your profit per each inventory.
And it does this by comparing the selling price of the product on the store to the selling price on Amazon and eBay.
#4: Business Reputation
With over 16 years in the wholesale industry in the UK, it has earned a name for itself as a top and reputable source to find cheap and quality wholesale suppliers for your products.
Since 2004, the company has risen to be a trusted and valued brand for connecting wholesale and dropship suppliers with buyers.
#5: Money-Back Guarantee
It offers a money-back guarantee. If you buy a deal tracker product at a discount or it's no longer in stock or fixed at a higher price than was advertised—contact customer support for help.
And their customer unit will contact the supplier on your behalf and see if the cost can be reverted or the product can be made available.
In the event where the supplier can't get you the price at that rate, you will get a refund your money in full.
#6: High-Profit Margin
The wholesale deal tracker feature allows you to capture mouthwatering wholesale offers.
You enjoy access to top-selling products at a 45 percent to 95 percent profit margin when you sell for the retail price on Amazon and eBay.
The platform is one of the best sites in the UK for finding cheap and mouth watering wholesale deals. These hot products are already selling successfully on Amazon and eBay.
The wholesale deal tracker shows you the retail price, the wholesale price, and your estimated profit.
WholesaleDeal Pricing Plan
WholesaleDeal has three subscription plans – Deals Database, Suppliers Database, and Combo Database.
Deals Database
The Deals Database offers the following perks – access to 21,000+ live wholesale and dropshipping deals, ability to sell on eBay and Amazon at a profit with wholesale best prices.
You also get access to authentic designer brands only (top quality and no inferior products), and access to exclusive member discounts.
The cost of the deals database subscription plan is £14.99 monthly. You save £54.95 if you pay £34.99 on a six months basis. You save £134.89 when you pay £44.99 annually.
Suppliers Database
The Suppliers Database offers the following benefits – access to over 40 thousand verified wholesalers, UK manufacturers, importers, and distributors in the UK.
Absolutely, you also get access to authentic designer brands and exclusive member discounts.
The cost of the suppliers' database subscription plan is £20.00 monthly. You save £80.00 if you pay £40.00 on a six months basis. You save £180.00 when you pay £60.00 annually.
Combo Database
The Combo Database subscription is a combination of both the deals database and the suppliers' database plans.
It is the most comprehensive plan and offers unlimited access to all the benefits of the wholesale deals website.
The combo Database offers the following benefits – access to all suppliers and deals database benefits, access to 357 thousand plus wholesale and dropship sources, 100% uptime guarantee, newsletter updates, multiple updates daily about products, and fast premium support.
The cost of the combo database subscription plan is £24.99 monthly. You save £99.95 if you pay £49.99 on a six months basis, then save £229.89 when you pay £69.99 annually.
You can unsubscribe at any time.
Pros of WholesaleDeals
Access to 357 thousand plus wholesale and dropship suppliers.
Fast customer support.
The Deal Tracker feature allows you to get the best deals on products from wholesalers
Access to high-profit margins in the range of 45 percent to 95 percent.
Access to top-selling products on Amazon and eBay for as low as 20 times the selling price.
Free wholesale deals newsletters that contain updates on trade news and best wholesale and dropship prices.
Money-back guarantees when you purchase a product at a discount price, and the product either becomes unavailable or the prices change.
Cons of WholesaleDeals
High subscription cost
Doesn't offer integration with Shopify and other advanced eCommerce platforms
Conclusion
Absolutely, Wholesaledeals.co.uk is a fantastic platform to find the best wholesale and dropshipping suppliers.
Offering a huge profit margin on products as well as provide access to wholesalers around the world.
Obviously, WholesaleDeals is not free. However, it's affordable considering the value they provide for your dropshipping business.
Definitely, WholesaleDeals is the real deal for dropshipping trying to source product from the right supplier. So that's on wholesaledeals review!
What's your thought on this? I'll love to hear from you using the comment section!
Learn More