DSM Tool Review: Best Dropshipping Management Platform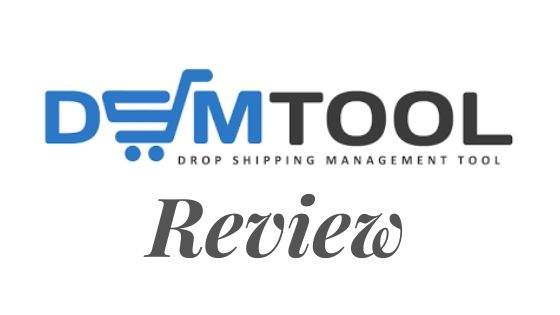 I'll try as much as possible to make this the last DSM tool review you're be reading because you'll be learning the truth and ugly fact of this tool.
Perhaps you own a dropshipping business, or planning to start one in future… You probably know the importance of efficiency and convenience in ordering and shipping of products to customers.
That sh*t can be boring…
But no doubt, dropshipping reduces the risk and cost of maintaining stock inventory but adds other complications which only become worse as you list more products on your store.
Which is exactly why we're looking into the DSM tool review!
The DSM tool helps to automate most parts of your eBay dropshipping business, thus enabling you to runs your business smoothly and efficiently.
Did you know that the Average eBay Dropshipper Processes 969 Orders/Month, whereas The Top 10% Are Handling 4,759 Orders?
Based on our stats on eBay dropshipping.
This is to show you the importance of automation in your dropshipping business.
In this post, we are going to tell you everything about the tool and invariably help you make an informed decision as to whether to integrate it with your dropshipping business or not.
DSM Tool Review
Before we get started let's take a look at the breakdown of what we're going to be covering in today's DSM tool review post.
What is the DSM Tool?
How To Use DSM Tool?
Features of DSM Tool
DSM Tool Pricing
Pros & Cons of DSM
DSM Tool Review Conclusion
What is the DSM tool?
Basically, the DSM tool is a dropshipping software designed by experienced drop shippers for users trying to achieve success in their dropshipping business.
It's designed to help you run an automated Shopify or eBay dropshipping business while integrating your store to several suppliers' website.
Dropshipping business is a risk-free and inexpensive way to sell products online because you don't have to buy stock. Instead, you only pass the order to the supplier who in turn packages and sends the product to the customers.
However, if you are planning to sell any product, then managing and tracking all products yourself can be quite tricky.
The DSM tool being an automation dropshipping tool is designed to streamline all your dropshipping tasks on eBay.
This tool allows you to quickly add products to your eBay store from various vendors including Walmart, Sears, Aliexpress and Amazon US, UK, France, Germany and Canada.
Once you are done importing, this software also helps you in the sales process. It is equipped with many amazing features such as:
eBay Listing Template
Automatic Re-Pricing
Title Optimization
Integrated CRM System
Order Optimization
And Much More,
All of which helps you to run your business smoothly and efficiently. With this tool, you don't have to worry about the normal running of your dropshipping business because it will handle almost 90% of the work for you.
This means that you will have adequate time to do other essential things that can help you drive more customers to your business.
DSM Tool & Algopix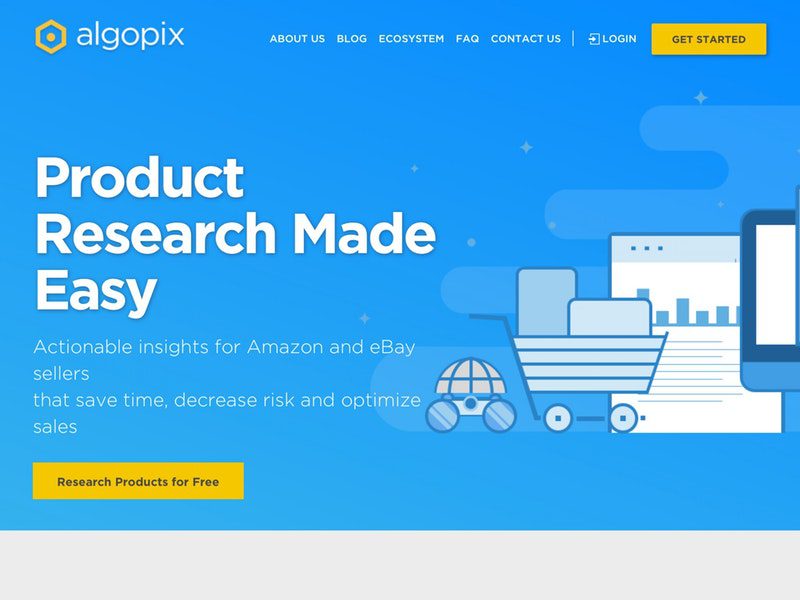 DSM tool is also in synergy with Algopix- a product research platform for Amazon, eBay and Walmart sellers.
This means that Algopix tool users can take advantage of this incredible tool to access and analyze data about the product, cost, margin, market demand, among many other valuable insights to help you maximize on profits.
Algopix provides valuable market insight of all marketplaces that DSM tool supports.
This means that you can research every product that you consider to sell on your store, compare prices, and then identify the vendor that sells the product at the best possible price.
It also helps to determine the eBay marketplace that earns the highest profits for any given product.
DSM complements the data that Algopix provides, allowing you to make an informed decision when sourcing products to boost your sales and profit margin.
Additionally, the DSM tool provides live statistics about your store performance analysis to help you identify areas of your business that needs restructuring as well as areas that you need to focus more.
How To Use DSM Tool
Integrating DSM to your dropshipping business is simple and straightforward. All that you need to do visit dsmtools.com then click on sign up.
Enter all your details on the spaces provided then click submit. You can also log in with your Facebook account.
Once you are done, confirm your email and you'll be redirected to login. Upon your login, you'll be prompted to connect your store.  DSM has two options of connecting with either eBay or Shopify.

Choose your preferred store and proceed to the next step…
Once successful synced your eBay store you'll need to enter your PayPal address to finalize the set-up.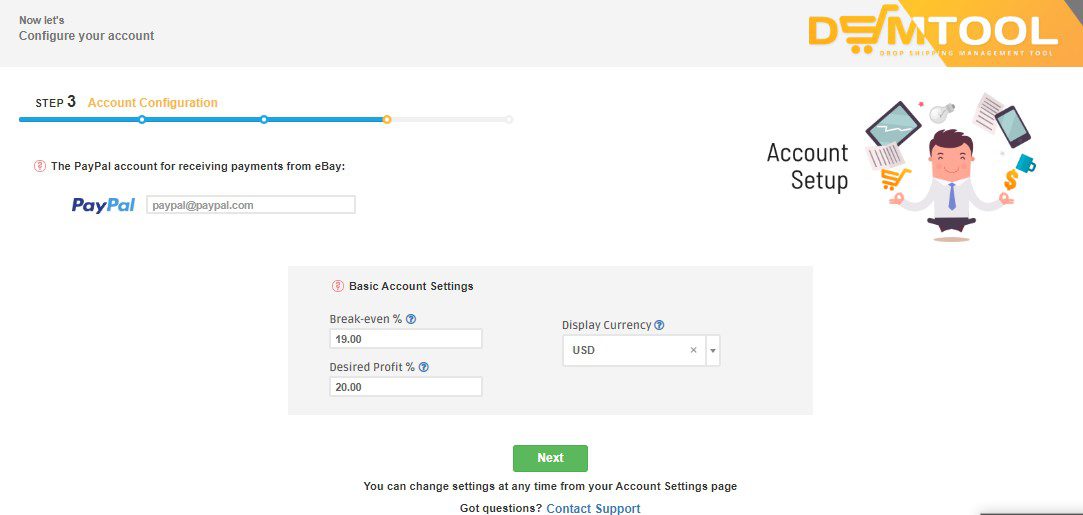 After setting your preferred PayPal, the next page will redirect you to the terms and condition page where you'll need to check the agreed box to finalized your set-up.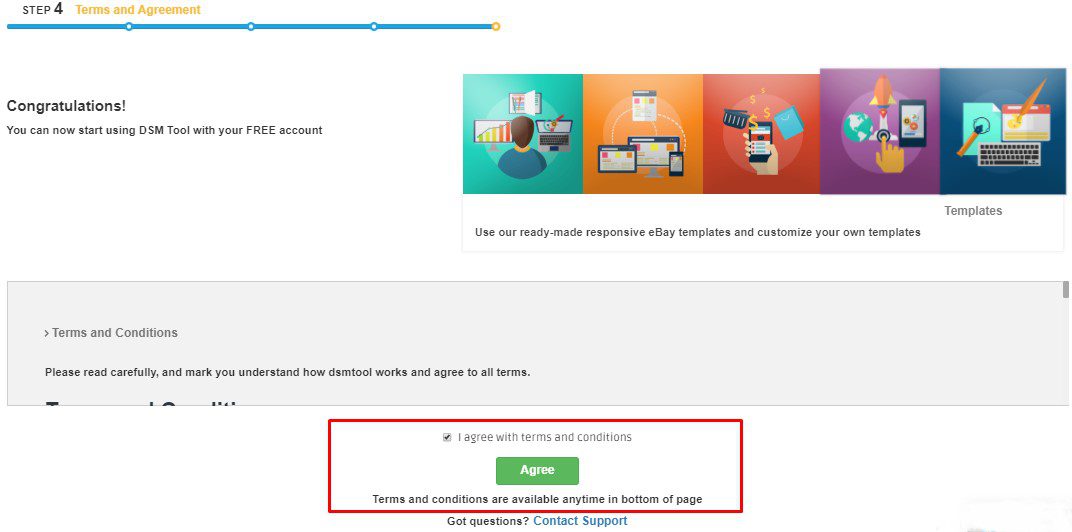 Now that you've linked the DSM tool to your eBay account, you can enjoy all the great features it has to help you run your business smoothly and efficiently. All you need to do is:
Step 1: Find the product for dropshipping
Use the DSM auto past chrome extension to explore over 50 dropshipping vendors. A click of a button does all these.
Step 2: Add Products To Your Store
Add your desired products to your store from suppliers who sell the product at the least possible price.
The software has many features including
Bulk lister
Image editor
Title optimization
Suggestions
And much more
All designed to help you maximize sales.
Step 3: Re-Price and Optimize
How you price your products will determine if you will attract consumers or lose them to your competitors.
Pricing is crucial for the success of any dropshipping business. The DSM tool will help you in re-pricing to help you settle on a figure that is reasonable both for you and your clients.
Step 4: Process Orders
The DSM tool features an auto past chrome extension that saves you the daily hustle of copy and pasting.
This tool is equipped with amazing features that will help you keeps all your orders well organized. It will also help you track all your orders.
Step 5: Provide customer support
The quality of customer support that you provide to your customers is crucial for the success of any dropshipping business.
DSM tool will help you receive a message directly to your DSM messenger centre. You will also access the customized replay templates and automatic messaging system.
DSM tool features
Let's take a look at the features that make the DSM tool a unique eBay dropshipping tool.
#1: Smart Lister And Templates
DSM tool features a long list of customized templates for both free and premium uses. All templates are compatible with eBay and are mobile-friendly.
Also interesting is the fact that you can also create your own template if you don't want to use any of the available templates.
This tool also features a rapid lister that manages your business under one roof; it notifies you whenever there's an issue that needs your attention.
#2: Store optimization
This feature enables you to optimize and tracks your orders to help you maximize sales. It also helps you to set prices as well as make necessary changes on your store to boost profits.
All these can be done on your dashboard with just a click of a button. This way, you'll be a able to scale your with ease and at the right time
#3: Sale builder
Sale builder is a feature that helps to boost your sale. It is fully automated meaning that it will handle all your sales process.
The only thing that you need to do is add the tracking number, and it will do the rest for you. It will send automated messages for better feedback. It will also track the performance of all your sales.
#4: Auto order
This helps you make your orders seamless. When you switch to auto-order, it will take orders from your desired marketplace automatically when the customer orders the product.
This is important because it helps to save time. It also allows you to create auto order from multiple marketplaces including Walmart, AliExpress, Amazon and much more.
Finally, It helps tracks and notifies you on orders that are in stocks and automatically remove the product from your store that is out of stock.
#5: Item search
This feature enables you to search item quickly on the search bar to locate the best products for dropshipping store.
Finding the bestselling product and listing them on your store can help boost your sales. It features an advanced search that is available for premium users.
This feature allows you to find products based on their demand and also enables users to compare prices between different wholesalers to find the best deal.
#6: CRM for dropshipping
DSM tool features an inbuilt CRM that allows you to access customer messages and other updates from eBay in real-time.
This means that you can read and send messages in real-time as well and access important updates from your vendors.
DSM Tool Pricing
The DSM pricing plan is quite affordable and very transparent starting from $24.97 a month.
However, the most important part is that it comes with a free plan with juicy features that can easily get you started.
You'll gain access to the eBay SEO optimization features, access to 50 suppliers around the world and many other features to maximize your profit for free.
But then, if you really want to explore the platform, you'll have to choose from the available paid plan to get even extra juicy plan.
Free Plan
The DSM tool free-plan includes the following features:
Modify settings per supplier
Extended items specifics
Hipshipper Integration
Auto Restock
Orders per Month
eBay customer support, Vero protection, competitor's analysis and eBay templates.
Basic $24.97/mnth
With the basic plan, you'll get all the features on the free plan plus the following:
DSM Tool Support response (Under 1 Hour)
Multiple linked stores (Up to 3 accounts)
Virtual assistant access
Suppliers with wholesales agreement
Pricing strategy
Post-sale Auto messages Image
Personal Logo on images
Collage image creator (Auto/manual)
eBay Hot keywords for title optimization
Additional eBay Templates
Chrome Auto-Paste fulfilment
Chrome supply search
BlueCare express tracking converting
Affiliate program
Business $99.97/mnth
The DSM tool business plan includes the features in the previous plan plus the following:
Multiple Linked Account (Unlimited)
Spin Listing description (limited)
Automatic Order Fulfillment (limited)
Enterprise $499.97/mth
The Enterprise plan being the last plan of DSM tool gives you access to every possible feature on the software. It includes everything on the previous plan and the following:
Automatic Tracking Number Updates (Free)
eBay Dynamic templates (free)
Spin Listing description (Unlimited)
Automatic Order Fulfillment (Unlimited)
Pros & Cons
Let's take a look at the pros and reason why you might want to give DSM tool a trial
DSM tool allows over 50 listing for free subscribers and up to up to 150,000 listing for paid subscribers.
eBay & Shopify Integration
The DSM tool allows seamless integration with both Shopify and eBay selling platform.
All the software features works alongside the two platforms except for "auto feedback & messages" that doesn't work on Shopify.
Excellent customer support
DSM has a very friendly and responsive customer support team. They reply to questions and queries almost instantly.
All that you need to do is you have question or query is send them a message via email, and they will replay within the shortest time possible.
DSM links you to top suppliers
DSM tool connects you to top suppliers such as Ali Express, Walmart and Amazon. You can choose any of the above suppliers and start selling immediately.
Ability to add or remove the product from your store.
DSM allows you to add, edit or remove the item from your store. If the product is not performing or is not in stock, then you can easily remove it from your store.
DSM tool allows you to optimize your product's title to enhance their visibility online. The more visible the product is, the higher the chance of making more sales.
Cons of DSM Tool
Not all is sunshine and rose when it comes to DSM tool. Below are some of their shortcomings.
We've discovered that some users complain that it has limited supplier suggestions
Limits integration to only Shopify and eBay.
Conclusion
Having gone through the tool personally myself I believe there's more than enough to be achieved with this tool.
If you really want to take your eBay store to the next level, then you need software like the DSM tool to automate your eBay account.
It has plenty of amazing features that will help you run your dropshipping business smoothly and more efficiently.
Over to you now, what do you think about the DSM tool? Can help take your business to the next level? Let me know what you think.
Also Read: