Minea Review: All-in-One Dropshipping Adspy Tool [2023]
In today's post, we are going to be exploring Minea Review. Minea is one of the best ad spy tools for online advertisement in dropshipping businesses.
As you already know, winning products is KEY when running a successful dropshipping business.
But how do you gain access to these products? Other dropshipping product research tools claim to provide winning products.
But there's nothing compared to it when you can see a well-performing product generating sales already with dropshipping.
With this tool, you can easily grab what's doing well already and duplicate it on your dropshipping website.
This will not only save you time but most importantly make you more money in return with just a few clicks.
But is Minea really up to these tasks?
This is exactly why we are exploring the platform (Minea Review) to highlight all of their strength and weakness.
And most importantly, discover if you will be getting value back for your money.
So let's get started, shall we?
What is Minea?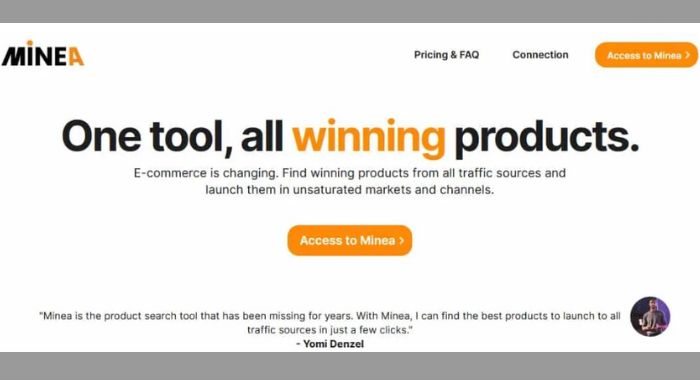 Minea is a product search tool that helps you to locate and select the best products in your eCommerce business.
Minea analyzes all the different social media platforms (especially Facebook, Pinterest and Tiktok) to see which products are most sought after and thereby recommend them to you.
It does not just pop up the products and tag them the best.
Rather, it provides relevant statistics to prove how winning the products are. Minea is also an ad spy tool.
It spies on competitors' ads and reveals all the marketing strategies they use to make them thrive.
Asides from the strategies used, it will also provide the results those strategies generated.
With that, you will have the right information on the best type of products to go for in your eCommerce or dropshipping business.
What Can You Use Minea for?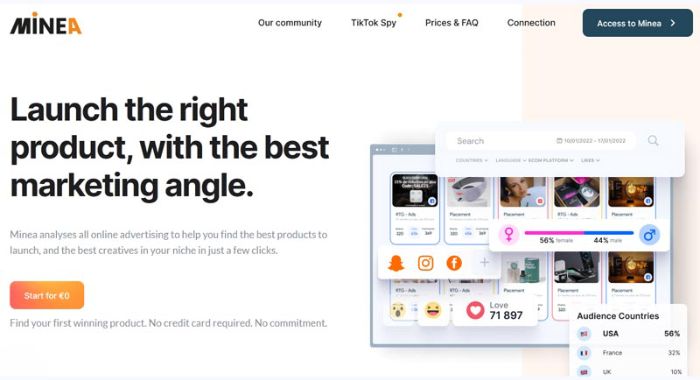 You can use Minea to do the following;
#1. Product Research.
This is almost like the most tedious part in an eCommerce dropshipping business. It is a known fact that the product type determines the business's success.
Therefore, you often want to take all the time to carefully research the best products.
This is one of the ways Minea comes to play.
Minea analyzes the social media platforms and researches winning products for your chosen niche.
Minea furthermore makes this easier by compiling the 10 best products for the day. This you can find on the interface.
This will save you the hassle of manually carrying out these processes.
#2. Get Notified of Any New Products on Minea
Once there is any latest product being advertised on Minea, it indicates in the promotion folder.
You can check out the product's analysis to see if you want to include it in your catalog.
It is necessary to know when there are new products because they might be trendy ones.
You, therefore, want to quickly add such a product to your catalog to make good sales.
#3. Analyse Competitors' ads.
The essence of analyzing your competitors' ads is that it helps you to leverage them. Not only that, you do not have to figure out how to go about the ads from scratch.
You spy on their already existing ads and imitate them while adding your creativity.
It allows you to see what products are better for your region or the eCommerce platform you use.
In analyzing their ads, you can see the following details;
Interactions, such as likes and shares
Number of views
#4. Search for Influencers to Market Your Products.
If you are familiar with social media, you will realize that influencer marketing is also a great marketing strategy.
Various brands now result in influential marketers helping them promote their products and services.
Minea understands this concept and that is why it made provision for accessing Influencers right on the platform.
As it stands, Minea is the only product research tool that offers access. It is not just about selecting any influencer for your products but getting the right one.
On Minea, you can filter your search to get the right influencer. It could be according to the niche, the country or region, age or gender.
In all, Minea helps you to ensure that you are selecting the most influential persons that suit your needs.
#5. Find the Best Niche
One of the things Minea does for you is to help you discover the best niche to launch into in your dropshipping business.
Dropshipping requires that you have a specific niche that you are focused on.
After checking through the various ads being placed on the different social networks, you can discover the niche that has more required products.
In selecting your niche, it is also important to note that you should not go for an over-saturated niche (that is, there are too many marketers in the niche).
You want to minimize competition as much as possible while still going for the best option.
Minea Review: Features
Here are some of the features of Minea that make them stand out from other Adspy tools.
#1. Find Winning Products
Minea helps you to find winning products for your eCommerce and dropshipping business.
It collates searches from Facebook, Tiktok and Pinterest and brings out the best products from them.
Right on the interface, Minea generates a list of the 10 best products for the day. You can then make your choices from the list.
Better still, you can have an individual product search on each of the platforms.
In the search for these winning products, you can filter your search. The filters could be according to niche, eCommerce platform, country, keywords or according to the most recent ads.
There are advanced filters that help you find a winning product. You will see that on the advanced settings of the interface.
To conclude that a product is winning, you check the date the ads were created. Look at how many days the ads have been running.
Check out the number of likes and other engagements for that duration of time.
You also need to consider the ad format. Video ads do better with dropshipping.
#2. All-in-one Tool For Your Dropshipping Business
To begin a dropshipping business, proper research has to be done.
You will need to look through the different social media platforms to know what your target audience is looking for.
Minea is an all-in-one tool that has helped to save you from that rigorous process. It works with Facebook, Instagram, Tiktok, Pinterest and Snapchat.
Therefore, it gathers all the data from all these platforms that will be needed to thrive in your dropshipping business.
#2. Creative Strategy to Develop Your Brand.
It is much easier to mimic a strategy that is already working than to develop a new idea from the scratch.
With the adspy feature of Minea, you can spy on competitors who are hitting it big in their eCommerce business to see how their ads are faring.
You get to see their marketing strategies and implement them in yours. You might also notice some lapses in their marketing tactics.
This will help you fix them in yours so that your ads can stand uniquely.
Minea Advertising Platform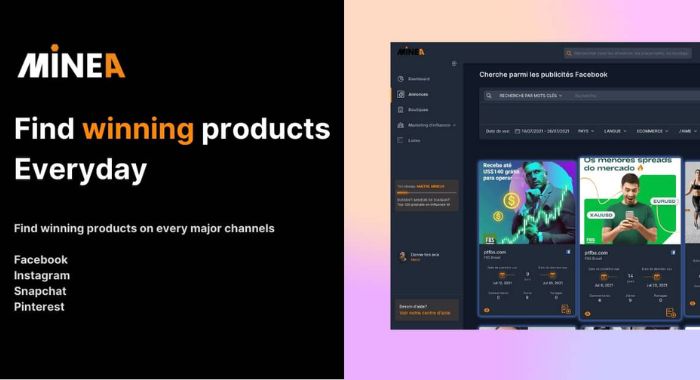 1. Facebook
This platform is one of the largest places you can find marketers and customers for your e-commerce business.
Research shows that you can find about 93% of marketers on Facebook. Therefore, it is a social network that helps you gain access to a wider audience reach.
Not only that, Facebook helps you to create different advertising campaigns for different products.
The same way you can run ads on Facebook through Minea is the same way you can also spy on other competitors' ads.
You will see how they work around the Facebook policies to successfully run ads that generate results.
2. Instagram
Instagram is another platform that works well with an e-commerce business, especially the ones that deal with physical products.
Instagram has an average of 1 billion monthly users. Therefore, you have a very wide audience reach using Instagram.
With Instagram, your clients have a clearer view of the products. You could edit the product images to make use of high-quality graphics.
Instagram is also a good platform to leverage influencer marketing.
Right from Minea, you can advertise your products on Instagram and also check out the insights to see how the ads are performing.
It is much easier to reach your target audience through Instagram Ads. This is because of the many features that aid visibility.
3. Pinterest
A research was conducted in 2019 as to the number of users on Pinterest. The following result was generated-
Pinterest has 335 million users every month. It was also found to be the sixth largest social media platform in the world.
One other thing that stood out with this platform is the fact that it has 80% of its users as women.
Out of that 80%, 42% are adult women. Therefore, if your products are targeted toward women folk, Pinterest would be a good place to reach your target audience.
Pinterest works like Instagram in the sense that it makes use of pictures and images or carousels.
Now imagine a tool that combines these three powerful platforms. You can run ads on the three, right on Minea.
Minea Pricing: How much is Minea?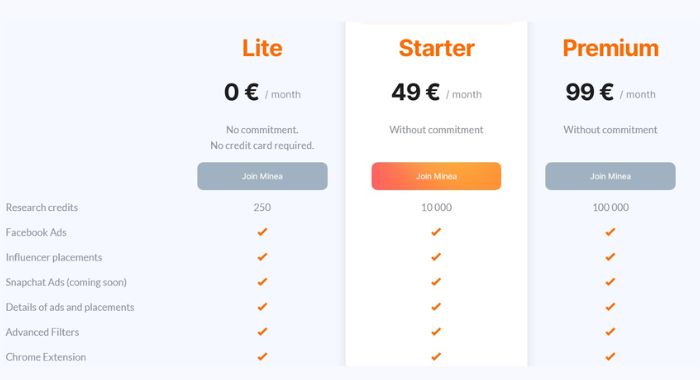 Minea Pricing comes in 3 different plans
Minea Lite – 0€
This is the free version of this software. Here are the features of this plan-
250 Research Credits
Facebook Ads
Advanced Filters
Chrome Extension
Influencer Research
Ads Details
Minea Starter – €49/month or €474/year
It consists of all the features in Minea Lite, including;
– 10,000 Research Credits
Minea Premium – €99/month or €831.96/year
It consists of all the features in Minea Starter, including;
100,000 Research credits
Shop Analysis
Tiktok Ads
Pinterest Ads
Minea Lite and Minea starter have almost the same features. Therefore, you might not be able to enjoy the fullest advantage of Minea until you upgrade to the premium version.
Minea Pros
It saves time
It is an all-in-one tool
It is affordable compared to other adspy tools
Ease in finding winning products
Up-to-date with the latest products
Has a chrome extension that enables its usage on smartphones
Minea Cons
It only has one user
Poor customer service
Not easy to conduct your product search as a result of the different large platforms
Not suitable for digital products
MINEA FAQ
Below are the most Frequently Asked Question on the MinEA platform.
Is Minea free?
Yes, Minea has a Lite plan which is free. After that, it also has a Starter plan at 49€/month and a Premium plan at 99€/month.
What does Minea do?
Minea analyzes all the different social media platforms (especially Facebook, Pinterest and Tiktok) to see which products are most sought after and thereby recommend them to you.
Can I share my Minea Subscription?
No, Minea only supports 1 user. Therefore, it does not support sharing. Minea can suspend the account once it notices any suspicious acts.
Can I cancel my Minea subscription?
Yes. Once the subscription for the month or year is almost getting expired, you can cancel the subscription before the next deduction is made.
Does Minea Come With a Free Trial?
Yes, it does. Minea has a free plan that you can continue to use till you are ready to upgrade to the next plan. No pressure.
Minea Review: Conclusion
When it comes to Product search, Minea has been able to position itself as the best. This includes its all-in-one features among the other dropshipping and ad spy tools.
Once the rigour of searching out for the right products for your niche has been settled, the remaining part is a walkover.
Any tool that can help you run your marketing ads on Facebook, Instagram and Pinterest should indeed be every dropshippers one stop.
If you have been having challenges with starting your eCommerce or dropshipping business because you do not know which products to go for and how to achieve the best marketing strategy, Minea has got you covered.
What are you waiting for?
Hurry up now and sign up on Minea to begin the easy route to your dropshipping business.
You could start with the free plan till you are sure that your business needs the upgrade.