AliDropship Hosting Review – [Optimize for WordPress Dropshipping]
AliDropship is one of the largest platforms for starting a very lucrative dropshipping business. They offer various tools and services for dropshipping business and Web hosting is currently one the service they render for WordPress website owners seeking to start a successful dropshipping business.
The company was actually voted the top WordPress based solution for by the international dropshipping community.
In this detailed Alidropship Hosting review, I will analyze all the features and promises for you to really know what they offer before using it.
Following are some of the areas I will look into:
Reliability: Will your website be available 24/7 without any downtime using Alidropship Hosting?
Performance: How fast will your website load on Alidropship Host?
Features: Do their features help you create and manage your dropshipping website?
Pricing: Alidropship hosting plans are they worth the price?
These and more are what we going to be looking into in this Alidropship host review. In the end, this will let you know and figure out if the Hosting by Alidropship is right for your website.
So, let's jump right into it.
About AliDropship
Alidropship is more of an IT company (International) working in the global market to develop solutions for AliExpress dropshipping.
They are a team of developers and drop shippers themselves who decided to convert their common experience into creating a WordPress solution for AliExpress dropshipping business.
The company team draws its experience from diverse professional backgrounds tailoring its services to each client's individual business objectives.
Simply put, you can say it's primary goal is to help drop shippers around the world earn money through eCommerce. These are done via their Plugins and add-ons.
Pros and Cons of Alidropship Hosting
Like you know already, hardly will you see a product or service without it pros and cons. So, like every other service here are the pros and cons of Alidropship Hosting.
Pros
Reliable hosting: Alidropship hosting guarantees an uptime of 99.99%.
Free SSL Certificate: Each of the plan… Silver, Gold, and Platinum come with a free SSL certificate for securing your website. This will save you some cost that might have to add up to your expenses.
Optimize for Alidropship Plugin: the hosting server is perfectly optimized for the Alidropship plugin. Simply making your dropshipping business a perfect one
Easy to manage Cpanel: The hosting package comes with an easy to manage Cpanel and a complete newbie-friendly
Cons
Domain Name not included: One of the downsides to Alidropship hosting is that it doesn't come with a free or paid domain name. What this means is, users need to purchase their name elsewhere and later change the DNS to Alidropship hosting. However, users can always purchase a cheap domain name at NameCheap.com
Upfront billing periods: you can only pay for a straight year which is rather not flexible. 
Alidropship Performance
A web host performance is always important while running your website. It won't be so good for you to sign up for a web hosting account and later found out that your website is crazily slow and often disappears.
You'll probably be furious and later decide to change your hosting account. Not alone will this be painful, it will also cost you time and money.
This is especially why you need to choose your web hosting carefully, you need a web hosting that is reliably fast with a stable performance record all around.
So as a result of this I did a little test on Alidropship hosting using one of their biggest dropshipping stores as an example.
The store has over 800 products and ton and tons of images.
Alidropship Hosting Response Time
You should probably expect less with a huge dropshipping store like Hokagestore. This is because the content of every website significantly affects the page load time.
Most especially when a website has too many images. This will no doubt increase the page load time.
So, to beat my curiosity, I actually want to see how Alidroship hosting will respond to this kind of situation. To do this I use a tool called Bitcatcha.
Bitcatcha works differently from other website speed testing tools. Instead for it to load the website entire content it only tests the response time of the site server.
You should know the tool also run test from multiple locations spread around the world to get the average response time for each location.
So, after the text, the image below shows what Alidropship score.
From this, I was able to deduce that Alidropship Hosting is actually fast.
The next screenshot is an Alidropship hosting Uptime image showing Alidropship at 100%, from this also, you should rest assured that your website isn't going down.

Alidropship Hosting Plans and Features
Alidropship has three different plans, starting from $48/yr. The first plan is Silver, while the second is Gold and Platinum respectively.
One of the best parts about this plans is that they all come with a free SSL Certificate to secure your webstore.
Following is the breakdown of each plan:
Silver $48/yr.
The Silver plan comes with a free SSL certificate, unlimited bandwidth and can host up to 5 websites
It also has a 3 GB disc space with an IonCube Guard Loader and up to 20 email addresses
Gold $86/yr.
The Gold plan has up to 8 GB of disc space, 40 email addresses and can host up to 10 websites.
Just like the rest, It has a free SSL certificate, an IonCube Guard Loader, and unlimited bandwidth
Platinum $220/yr.
The platinum which of course is the biggest plan has a disc space up to 17 GB
Email address up to 80 and can easily host up to 30 other websites
It has its own free SSL certificate, IonCube Guard loader and also comes with unlimited bandwidth.
Learn More
Since Alidropship is not offering a domain name, you can always get your domain name elsewhere then later change it DNS to Alidropship hosting.
Getting a domain name from NameCheap is relatively cheap and just in case you already have a hosting account you could always get your SSL certificate from NameCheap SSL. They offer the cheapest you can see out there.
Otherwise using Alidropship Hosting will save you the cost of purchasing and new SSL certificate.
Alidropship Hosting Support
Alidropship hosting support is relatively good and their service is on a 24/7 basis. They are equally ready to set up your website for you.
Users can either contact the support using the support email or start a live chat using the chat widget.
Upgrading Alidropship Hosting plans
Like you already know, the hosting plans come in three types. This means you can always upgrade your plan for additional features.
To do this login to your WHMCS account. You can always do that via https://whmcs.alidropship.com/
Enter your login details and proceed to your dashboard. Once inside click on the "services"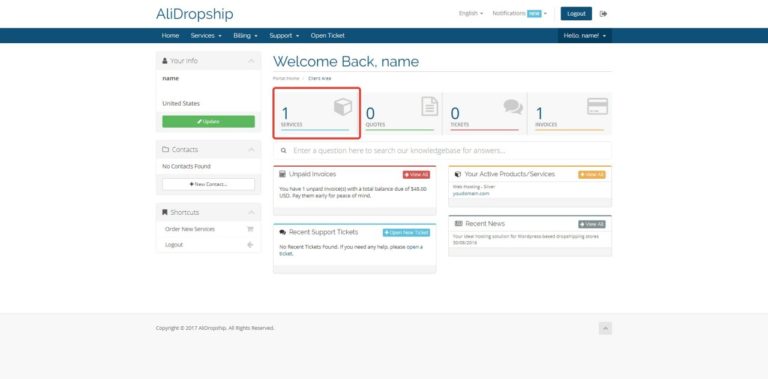 After that, choose the service you will like to change.

At the left-hand side click "Upgrade"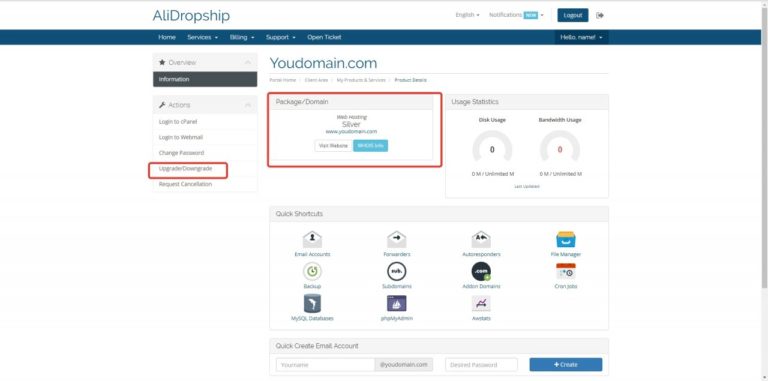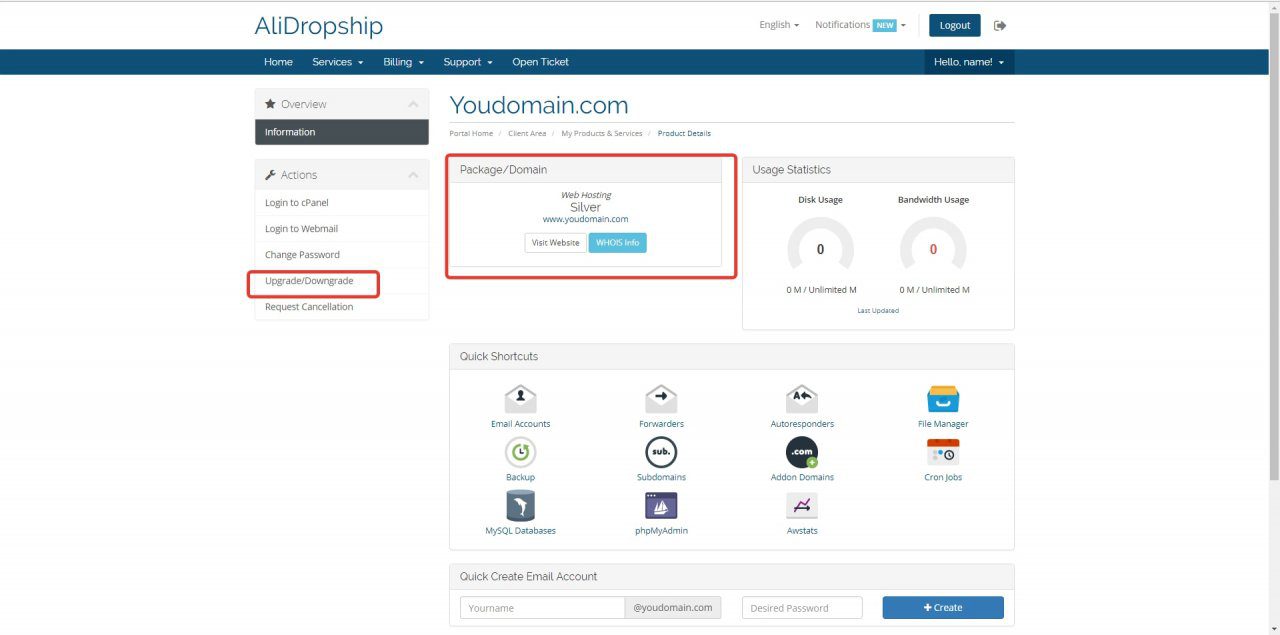 Next, choose your preferred hosting plan and click the "choose product" button.

Once the cost is calculated, it will bring out the payment methods. Choose your preferred method and the hosting plans will be upgraded as soon as the payment is processed.
Conclusion: Is Alidropship Hosting the right choice for you?
What do you think? I think you should go for it since it is perfectly optimized to work with the Alidropship plugin.
Using this will also give your dropshipping business a necessary boost. It doesn't matter if you are a seasoned Internet pro, or a complete newbie, you definitely find Alidropship helpful in taking your dropshipping business to the next level.
What are your thoughts on this? Let me hear them in the comment box.  
Learn More