Sellfy vs Gumroad: Best Ecommerce Selling Platform?
Looking for the best eCommerce platform sell your physical or digital products online? If yes, then probably might have come across Sellfy and Gumroad.
These two eCommerce tools are designed to help you sell your products online without much of an effort from your own part.
They are all equipped with many incredible features aimed to help you sell more products online and make more profits.
But which among these two eCommerce selling platform should you choose? If you have been asking yourself that question, then you're exactly where you should be.
In this post, we are going to review these two eCommerce selling platforms (sellfy vs Gumroad) in detail to help you make an informed decision.
Sellfy vs Gumroad: Platform Overview
We're going to be exploring the two platforms by understanding how they work and also considering their strength and weakness.
This will, in turn, help you make the right decision for your business and equally get you value in return for your investment.
So let's get started, shall we?
What is Sellfy?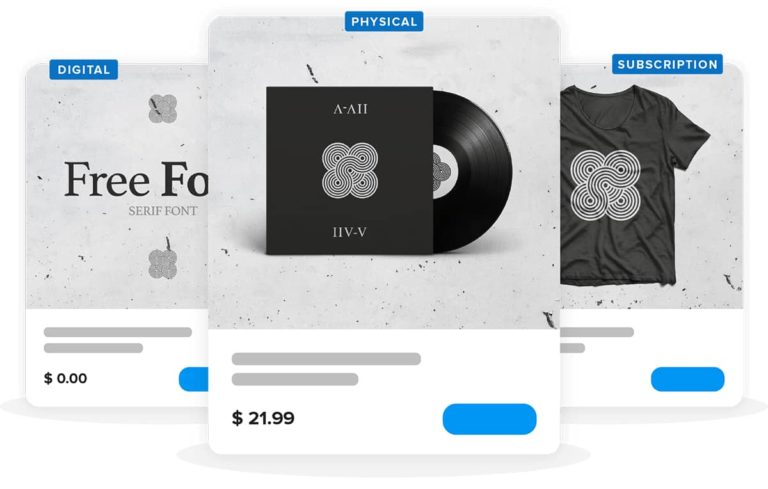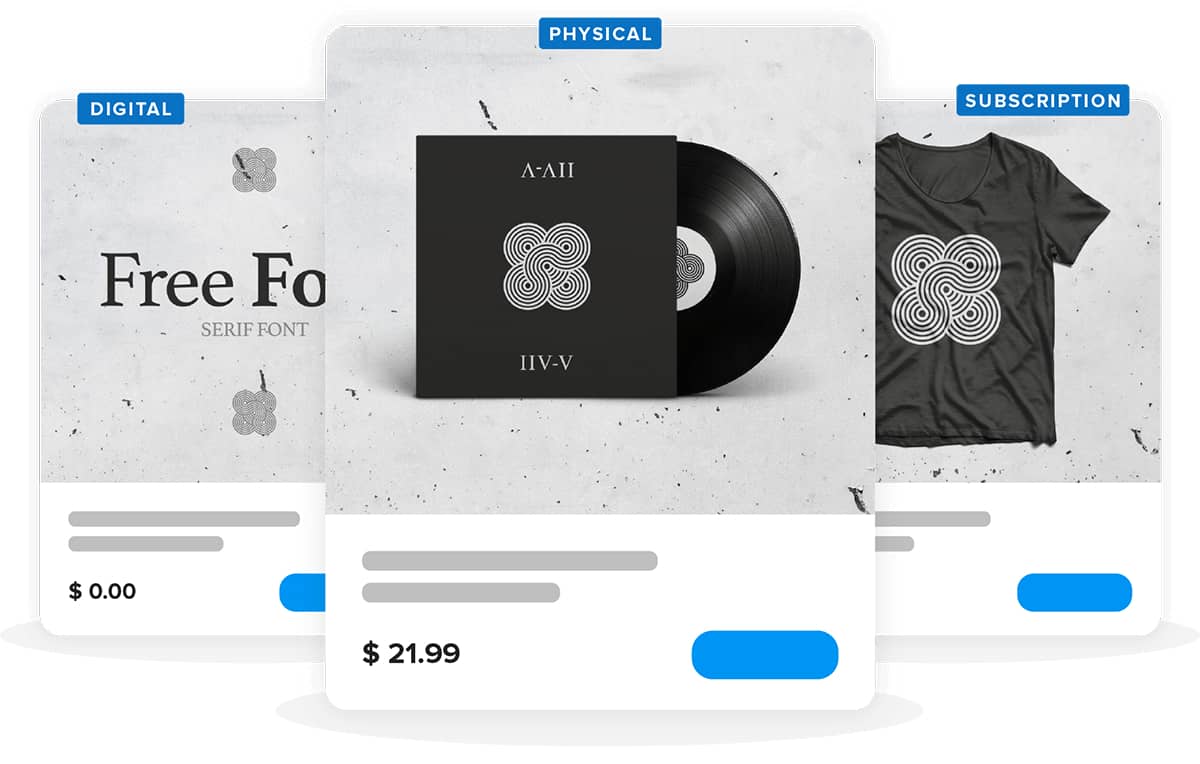 Sellfy is an eCommerce tool designed to help you sell physical and digital products online with ease and make more profits.
This eCommerce platform allows you to sell products on your existing website or create your own store of Sellfy.
The Sellfy platform is not only secured and easy to use, but it's also equipped with many fantastic features that will help list and sell your physical and digital products with ease.
It also provides a checkout functionality and product delivery once an order is confirmed.
However, if you are planning to sell physical products on Sellfy, you will need to handle product delivery yourself.
Sellfy only supports product delivery for digital products and some of the products that you can sell on this eCommerce platform include software, audio files, digital assets, films etc.
Although highly sophisticated, this software is easy to use and does not require you to have any experience selling products online to use it.
This means anyone who wants to sell products online; including those who don't have prior experience can take advantage of the eCommerce selling platform to list and sell their products online.
That been said, now let's take a look at what Gumroad does for you as a merchant…
What is Gumroad?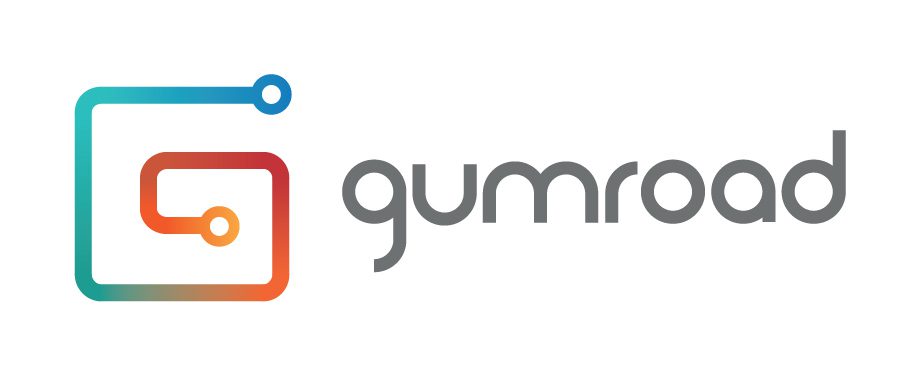 Gumroad is a simple and easy to use shopping cart platform designed to help sell your products online with ease.
It has many incredible features and charges you a percentage of the transitions that you process, making it an ideal eCommerce platform for startups who don't make a lot of sales.
Gumroad was founded in 2011 and has quickly grown to become the go-to platform for artists, writers and bloggers who want to sell products online.
Gumroad is not only a selling platform but also a marketplace meaning that entrepreneurs can list and sell their products and services.
Having that out of the way let's go over the features of both the eCommerce platform
Sellfy vs Gumroad: Overall Features
In this section, we are going compare features to these two giant eCommerce selling platforms to help you determine which platform works best for you.
#1: Ease of use
One of the key selling points of Sellfy is how easy to use the platform is. It's equipped with a modern interface that is simple and straightforward.
Everything that you need is made available on their easy to use dashboard. It features artificial intelligence that asks you questions about your goals before you start creating your online store.
Some of the questions asked include your niche, what you are planning to sell, your target audience size, and much more.
This is important because it enables the platform to create an online store that matches your specific needs.
Additionally, Sellfy gives a detailed explanation of their features and gives users tips on how to get the best from their platform.
it also allows users to preview their stores in live mode, allowing them to see changes instantly if they make any in their stores.
Sellfy is very user-friendly and can be used by anybody, including those who have never used an eCommerce tool before.
While Gumroad is also very easy to use, most feel its simplicity is because it does not have many features as Sellfy does.
Features such as click upsell and in-depth analytics, the Gumroad dashboard is not too impressive compared to that of Sellfy. It looks outdated and slow.
Additionally, Gumroad does not give its users a detailed explanation of its features, meaning if you want to get the best from the platform, you'll have to do the research on your own.
Plus they are a little short in customization as compared to their competition Sellfy.
#2: Features
Features are important factors to consider when choosing your eCommerce selling platform. Both Sellfy and Gumroad are equipped with many amazing features.
They share some of the features, while some are unique to each eCommerce platform.
Similar Features
Below are similar features that can be found on both e-commerce selling platform
Selling digital and physical products.
Affiliate system
Membership integration to websites and social media
Creation of custom product and checkout pages
Mobile responsiveness
VAT reports
Pay what you want feature
Sales report
Minimal price set
PDF Stamping
Email integration
Overall we found that Sellfy has more unique features compared to Gumroad.
Gumroad Shortcomings
Below are the top features available on Sellfy that is not available on Gumroad. Thus making Sellfy standout as compared to the other.
#I: Storefront builder
Gumroad only works when integrated into your existing website or social media platforms. This means that you cannot create your own store from scratch on Gumroad.
On the other hand, Sellfy allows its users to embed shopping carts on their existing website and social media platforms as well as build their own storefront from scratch on Sellfy.
#II: Upsell feature
This is a crucial feature that you can't find on the Gumroad eCommerce platform. This feature allows users to engage with their customers to increase their sales.
The fact the Gumroad does not have these features means that it is difficult to make more sales.
Sellfy, on the other hand, is equipped with upsell, and that alone increases the chances of making more sales drastically.
#III: Customization Features
Gumroad has limited customization features unless you know how to use CSS, you won't be able to customize your products and checkout pages.
Sellfy, on the other hand, has a WYSIWYG editor that gives you plenty of customization features that you can take advantage of to make your store look unique and more appealing to your clients.
#IV: Integration features
Again Gumroad does not offer much when it comes to integrations. You won't enjoy crucial features such as Google Analytics, Twitter conversation tracking, Facebook pixel, Patreon integration, or Facebook chat.
The only integrations that Gumroad supports include ConvertKit, infusion soft, and Drip. Sellfy, on the other hand, supports all features mentioned above that Gumroad does not support.
So when it comes to features, Sellfy has the upper hand.
The fact that Gumroad does not have crucial features such as upsells, storefront builder and enough integrations and customization features makes it very difficult to make a lot of sales.
#3: Payments Gateways
Payments are a crucial part of any eCommerce platform. You, of course, want an eCommerce platform that offers payment options that are secure and flexible.
Now let's discuss in detail the payment options that these two eCommerce platforms provide.
Sellfy Payment Options
Sellfy only supports two payment options. They include;
One good thing about Sellfy is that once payment is made, the money is credited straight into the seller's account.
This means that neither Stripe, PayPal nor Sellfy will hold the funds for a while before crediting it to the seller's account, as it is usually the case with most eCommerce platforms.
It is also important to mention that Sellfy does not charge a transaction fee for sales made. This makes it an ideal platform for established entrepreneurs who make a large volume of sales.
Gumroad Payment Option
Gumroad accepts a direct payment from major credit cards such as;
MasterCard
Visa
American Express.
Additionally, they also accept payment via PayPal but does not support Stripe. The fact that it does not support Stripe means that it does not support payment options such as Skrill, Authorize Net, Payoneer, Google Pay, digital currency, Braintree, and Apple pay.
Both Gumroad and Sellfy however cover vast majority of payment options
Sellfy vs Gumroad: What Does It Cost? [Pricing]
Pricing is also a crucial matter to consider when choosing an eCommerce platform. Both eCommerce plans have different pricing plans.
Let's discuss the pricing plans of these two platforms in detail.
Sellfy Pricing Plan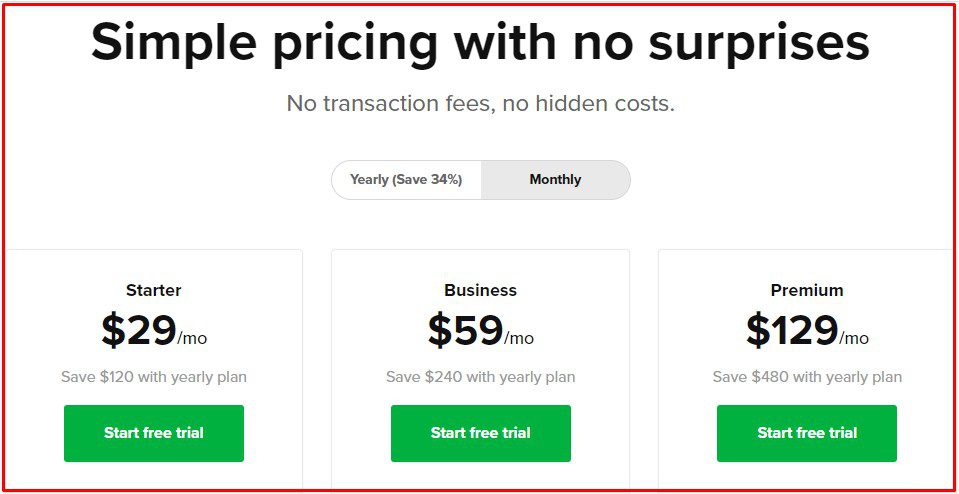 I think it's proper you know that Sellfy offers a 14 days free trial on their platform.
This is important because it gives you time to check its features and how the platform generally operates before you subscribe to a suitable plan.
As soon as the free trial ends, you will be required to pay to continue using the platform.
Sellfy has three pricing plans. Below is a detailed review of each plan
Starter plan- $29/month
This is the entry-level plan; it is suitable for those who are just starting out. This plans cost $29/month and have the following features:
Up to 10,000 in sales per year
Unlimited products
0% transaction fee
Custom domain
Store customization
Business plan- $59/month
This plan is ideal for businesses that have a fairly large number of customers; then, this is a great option to choose. This plan costs $59 per month and offers the following features.
Up to 50,000 in sales per year
Product upselling
10,000 email credits
Custom domain
Store customization
Discount codes
0% transaction fee
Premium Plan – $89/month
This plan is great for businesses that make huge amounts of sales each month. This plan cost $89/month and offers the following features:
Up to $200K in sales per year
Discount codes
Store customization
50,000 email credits
Discount codes
Priority support
0% transaction fee
Unlimited products
Custom domain
Free migration
Gumroad Pricing Plan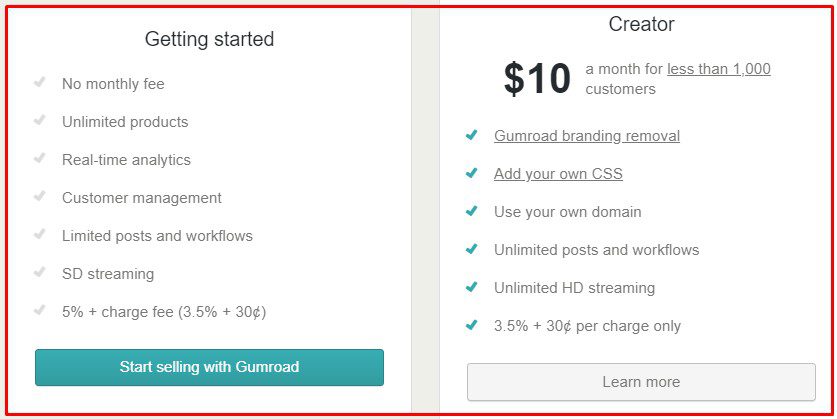 Gumroad is one of the cheapest shopping carts on the market. Additionally, it's also the only shopping cart that has a free plan.
Even though the free plan has some limitations and a higher transaction fee, it is a great option, especially when getting started.
Gumroad has two pricing plans. Below is a detailed review of each pricing plan.
Getting started
No monthly fee
Real-time analytics
Unlimited products
SD streaming
Customer management
Limited post and workflows
5%+ charge fee (3.5%+30¢)
Creator plan
This plan costs $10 a month for less than 1000 customers. Some of the features that you will enjoy from this plan include:
Use your own domain
Gumroad branding removal
Add your own CSS
Unlimited workflows and post
5%+30¢ per charge only
Looking at the overall pricing plan I'll say Gumroad is quite affordable here as compared to sellfy plus it also comes with a free plan while Sellfy do not.
Final verdict
Both Sellfy and Gumroad are great eCommerce platforms for selling products online. They are all equipped with incredible features that will make your online selling experience seamless and profitable.
They are also both easy to use. However, from the above review, it is evident that Sellfy is superior to Gumroad in terms of functionality and features.
But in terms of pricing and affordability, I'll say the best pick is Gumroad. Plus it also works best for beginners who attract a small number of customers.
So that's it on Sellfy vs Gumroad
What would it be…

Or
Let me know your reason for picking either of the two eCommerce platforms.
Learn More: