Sellfy Pricing [2023] Monthly COST, Subscription & DISCOUNT
Today, we're going to be exploring Sellfy Pricing and how much it actually cost to sell on the platform.
Also, we'll look into the best plan you should start with if you're a beginner or you're looking to scale up your business in a short period of time.
Sellfy is actually one of the most popular eCommerce selling platforms because they make it easy to sell physical and digital products online.
Thousands of music producers, writers, designers, filmmakers, retailers, and much more currently use them.
The main goal of this software is to help you grow your business by enabling you to make more sales with your digital or physical products.
You can either choose to create a Sellfy storefront or embed a Sellfy shopping cart in your already existing website.
So, basically, you can call it an all-in-one platform that does everything for you. All you need to do is create your online store, which will take about five minutes to complete.
They provide product storage, checkout functionality, and product delivery once they confirm payment, as well as providing you with tools to help you build and grow your online business with ease.
However, one question you're probably asking yourself right now is how much does Sellfy cost for running your business?
Or perhaps which of the plan you should start with or how can you save cost using the Sellfy e-commerce platform to sell your products online?
If that's the case you have nothing to worry about as we're to be exploring and comparing the Selly pricing against one another.
New to Sellfy? I've written a complete in-depth review on Sellfy that you'll want to check to learn more about the e-commerce platform.
Sellfy Pricing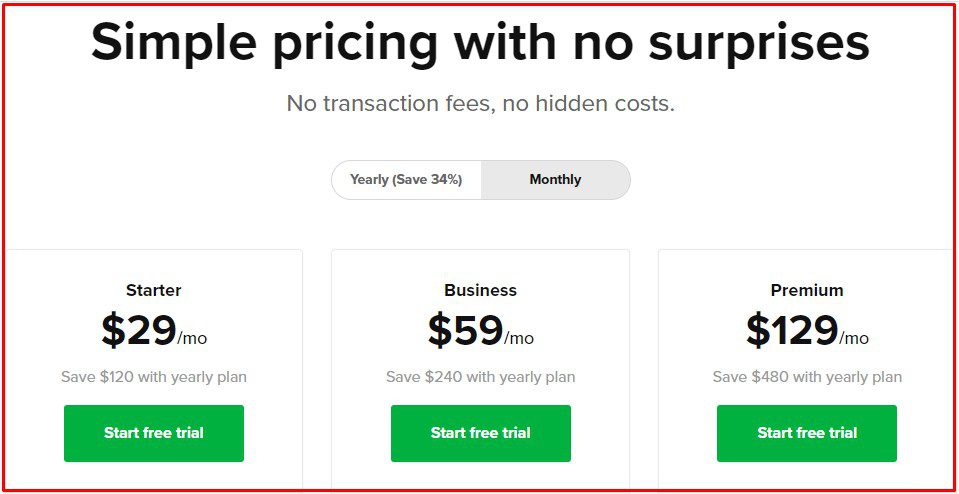 You should know that Sellfy is one of the most affordable eCommerce platforms out there, which is one of the reasons why many people love it.
It offers so many exclusive features at a very reasonable price. Additionally, this cloud-based eCommerce platform does not have any hidden or fixed costs, as it is usually the case with many other similar platforms.
It also comes with a 14-day free trial period to help you get the chance to explore the features that this software offers.
So, basically, Sellfy has three plans, namely;
Starter Plan
Business Plan
Premium Plan
The starter is the lowers plan while the premium is the highest plan. Right now, we are going to discuss in detail what each plan entails.
#1: Starter Plan- $29/month
This is the entry-level plan and is suitable for people who are just starting. This plan cost $29/month and offers a wide array of features including:
Up to 10,000 in sales per year
Unlimited products
0% transaction fee
Custom domain
Store customization
#2: Business Plan- $59/month
This plan is ideal for businesses that have a relatively large number of customers. The plan costs $59 per month and offers the following features.
Up to 50,000 in sales per year
Product upselling
10,000 email credits
Custom domain
Store customization
Discount codes
0% transaction fee
#3: Premium plan – $89/month
This plan is ideal for businesses that make huge amounts of sales each month. This plan cost $89/month and offers the following features:
Up to $200K in sales per year
Discount codes
Store customization
50,000 email credits
Discount codes
Priority support
0% transaction fee
Unlimited products
Custom domain
Free Migration
Sellfy Discount Pricing

If you opt-in or subscribe to the Sellfy annual subscription you'll save 34% on all the plans.
Starter Plan – should be $348 normally but you get it at $228 billed yearly and $19/month.
Business Plan – This plan should be billed at $708 normally per year but will be $468 billed yearly and $39/month if you subscribed to the annual pricing plan
Premium Plan – this should be billed at $1,548 per year but

$1,068

with the yearly plan discount and $89/month
Try Sellfy For Free
Features included in all plans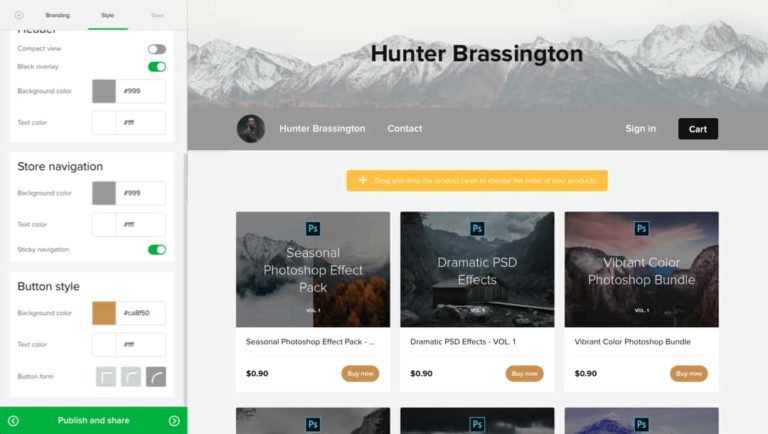 The features below are included in all plans irrespective of the one you decided to go with.
#1: Mobile optimized
The Sellfy e-commerce platform also offers mobile-optimised stores with a flawless checkout experience for both desktop and mobile users so your customers can shop at your store on any device.
#2: Embeddable Buy Now Buttons
This feature allows you to embed the "Buy Now" buttons for your products.
It can either be an individual product widget or your entire store on your website or even your blog in other to sell from there.
#3: Shopping Cart
All stores on Sellfy come with a shopping cart for easier and faster checkout. You can also embed it on your own website together with the buy now buttons.
#4: Multiple Payment Options with Instant Payout
Sellfy also makes it easy for you to connect either PayPal or Stripe or both as the payment gateway for your store.
All money paid by customers will be sent directly to your payment account without Sellfy interruption.
#5: Digital Product, Sell physical and Subscriptions
Irrespective of your plan, with Sellfy you can sell any kind of product you create whether it's a downloadable product like an e-book or a monthly subscription for your software or a t-shirt.
Whichever it is, Sellfy supports it all.
#6: Powerful analytics
This feature allows you to see products that are selling the most and where the buyers are coming from.
It's a simple yet powerful tool to analyse your store and understand your product performance.
Which Sellfy Pricing Plan Should You Start With?
All Sellfy plans have great features. However, when determining which plans suits your online store, you'll need to determine the unique needs of your business first.
For instance, if you are starting out with fewer sales, then the Starter Plan is an excellent choice for you.
You can upgrade later to another plan when you start making more sales.
On the other hand, if your business attracts a large number of customers, then the Business Plan is a great choice too.
It has a higher sales limit (up to 50K) and other additional features that can enable you to run your online business smoothly.
Lastly, if your online business is already well established and makes a lot of sales each year, then the Premium Plan is the perfect choice for you.
It has a higher sales limit (up to 200k) plus other exclusive features that will enable you to run your online store smoothly and make more sales.
Try Sellfy For Free
Frequently Asked Questions
Let's look at some of the questions people have about Sellfy Pricing.
What is Sellfy?
Sellfy is an eCommerce tool designed for entrepreneurs who want to sell their digital products and physical products online in a simple and efficient manner.
Is Sellfy com legit?
Sellfy is a legit platform with over 30,000 sellers around the world currently using the platform to sell their products online.
How much does Sellfy cost?
Sellfy pricing is actually affordable, however, the actual cost depends on which of the plans you choose. The first plan has been the Starter plan costs $29 per month, or $19 per month if you subscribe for an annual subscription. While the Business plan costs $59 per month and $39 per month for the annual plan. Lastly, the premium plan cost $129 per month or $89 per month for the yearly plan.
Are there any other costs that I will be required to pay?

Sellfy does not have any hidden or transactional fee, as is usually the case with other eCommerce platforms. Once you select a plan that suits your online store, then that is the only amount that you will pay, with no hidden fee. The only expenses that you will be required to cover are Stripe and PayPal (which is about 2.9%+ 30¢) depending on the payment option that you select.
How will I get paid?
You get paid instantly once a purchase is confirmed. Payment will be sent immediately to your Stripe or PayPal account.
Is it possible to sell without a PayPal account?
Yes, it is possible. You don't need to have a PayPal account to sell products on this eCommerce platform.
Sellfy has two payment options, including Stripe and PayPal. So if you don't have PayPal, then you can use Stripe.
In the case that PayPal and stripe payment is not allowed in your country, and then you can only use this platform to offer free products.
Do I need to have a website to sell on Sellfy?
No, you don't need to have a website to use Sellfy.
You can build your store on Sellfy and start selling immediately on YouTube, Instagram, Facebook, or any other social media network.
But if you already have a website, then you can embed Sellfy anywhere on your website.
What will happen if I exceed my yearly sales limit?
If you exceed the sales limit of your plan, then you will be required to upgrade to a higher plan.
The platform has unique features that will inform you in time when you hit the limit of your plan.
However, if your account has no further upgrade which is the case with the premium plan, then you will be charged an average of 2% for the sales that have gone above your sales limit.
Conclusion
We've discovered Sellfy to be a very affordable eCommerce platform for selling your digital downloads and physical products.
If you're still not sure, the 14days trial allows you to use any of the Sellfy Pricing Plan for having a quick grasp of how the platform works and if eventually, you don't like it you can cancel your plan at any time.
Try Sellfy For Free