Social Rabbit Plugin Review 2023: FULL GIST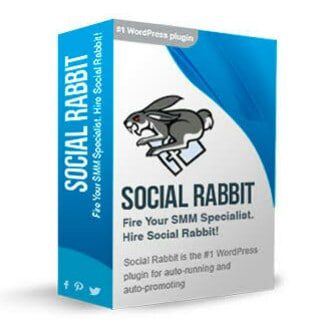 In this Social rabbit plugin review, you'll find answers to questions you might have about the social media automating tool.  How it works and what it has to offer for your business!
We all know that every business online needs a social media awareness. It doesn't matter if you're running a drop shipping business or stock inventory.
It could even be a simple blog or a small local shop. The fact is, all business needs a social media presence and it vital for the success of your business irrespective of your business niche.
Your social media platforms help you connect with your customers, increase your social awareness and boost your sales conversion.
I believe not investing in social media around your business could have an adverse effect on your business. This is quite true judging from the fact that we have over 3 billion people around the world using social media.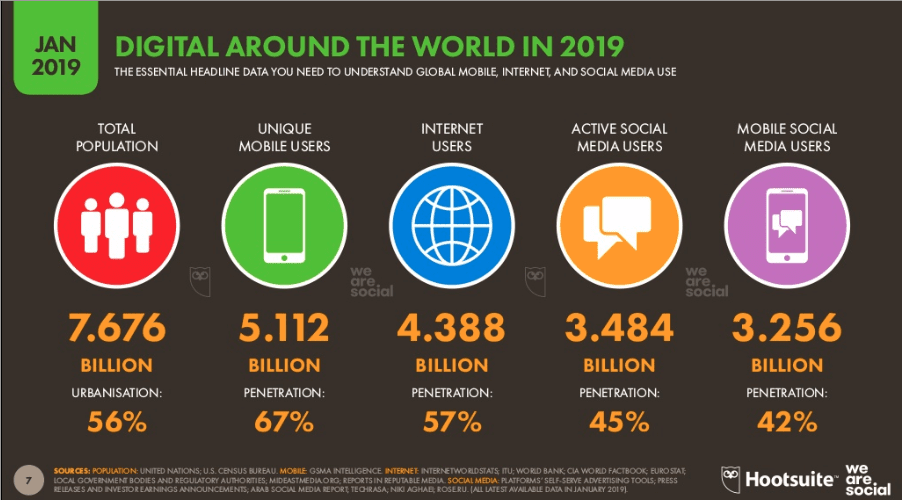 Before we get started with the social rabbit plugin review, below are a few reasons why you should take your social media platforms very serious:
Build Awareness Easily – Social media boost your visibility among potential customers and allows you to reach a wide audience. Plus, it's free to create a business profile on all major social networks.
Encourage Engagement – Social media allows you to post engaging content that triggers communication among you and your customers and also boost your sales. You could also post an educative content e.g. video about a product you're selling.
Free Traffic – this is one best feature of quality social media accounts. You can get a lot of values for your adverts on your social media accounts. Most especially ones with a large following.
Easy Support – Social media has bridged the barrier between customers and companies. Now, instead of searching for the company's service line, customers can now easily turn to Facebook to solve their problems.
Sounds interesting, isn't it? Yeah!
However, keeping your social media accounts updated to meet the above standard is a whole lot of works on it owns. And this is why we are looking into social media automated tool like the social rabbit plugin.
What is the Social Rabbit Plugin?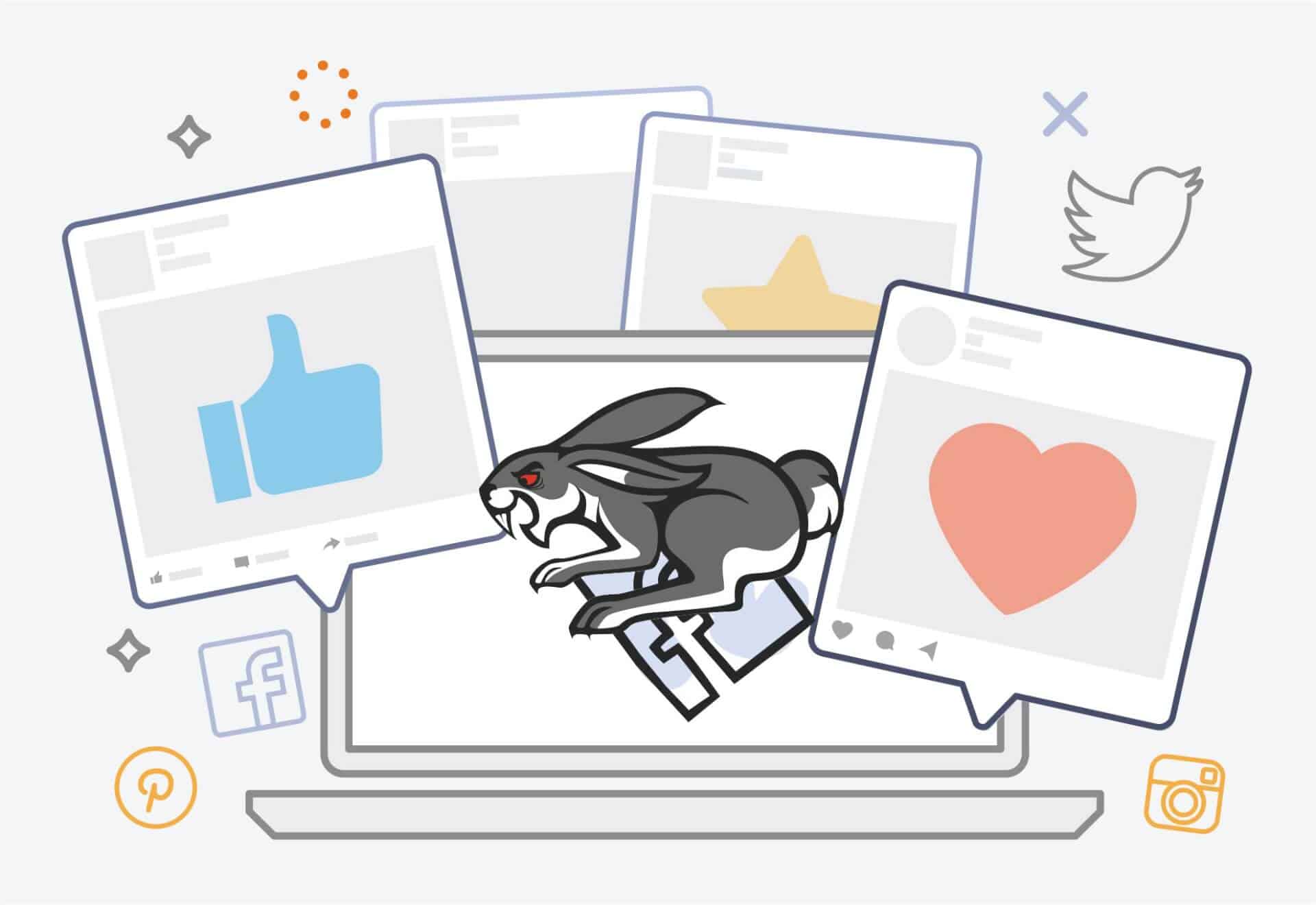 The social rabbit plugin is basically a WordPress plugin that integrates your site with several social media platforms. Which includes:
Facebook
Pinterest
Instagram
Twitter
It's an automated tool that helps you by saving you time and stress of posting content on your social media platforms. The plugin makes your social media platform organized as though they were managed by a social media specialist.
Imagine running four social media accounts for your business that needed to be updated every day! This is probably going to take more than 24hours of your time to be effectively organized.
The plugin, however, does this within a few minutes by working according to basic setting you scheduled for it. This, in turn, can make your followers highly engaged and makes your occasional reader buy your products for the first time.
Even when your social media platforms are properly managed, your loyal customers can keep coming back for the latest content on your social media platforms. It could even be for a funny post or just a fancy new item which will invariably drive traffic to your store.
With a social media automated tool like the social rabbit plugin, you can have enough time to work on what matters most for your business.
And as well know that your social media platforms are constantly updated without having to pay tons of money for social media marketer.
Social Rabbit Plugin Review: How Does it Work?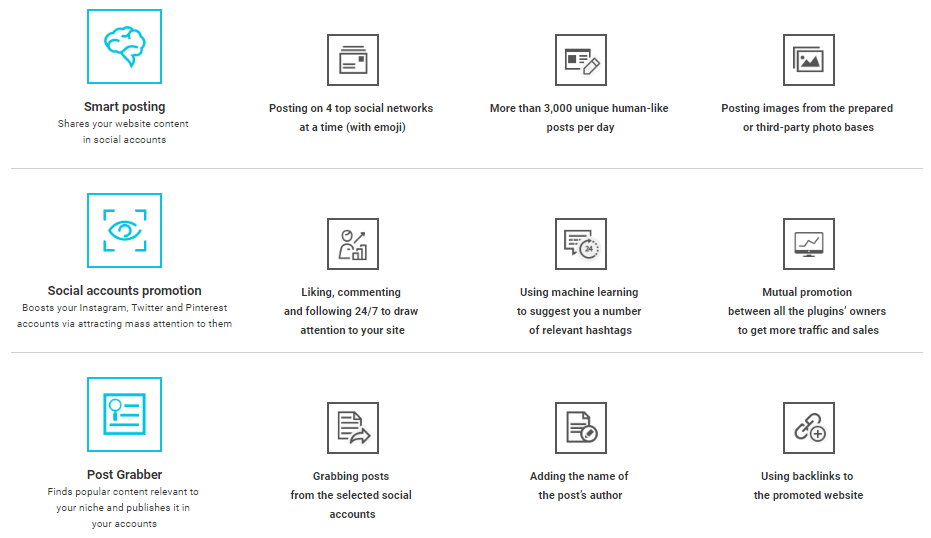 The plugin allows you to enjoy the human-like posting of your content, products or services on social media. Thus, giving you a hassle-free promotion of your social media platforms on a 24/7 basis.
The social rabbit bounces around your niche communities and draws attention to your business by following and liking user's posts and account.
Basically, it worked with 4 major social networks; Instagram, Pinterest, Twitter and Facebook. So, based on the setting you choose, it can perform any of the following:
#1. Publish Your Products & Services
Based on your settings, you can dedicate several posts to particular products or services on your dropshipping store or business website.
So, in this case, the plugin can then automatically publish a random product image or item image alongside its price, title and link.
This will then allow you to enjoy social awareness across the various social networks and equally enjoy free organic traffic.
#2. Search for Shout-out Partners
This feature applies to only Instagram account. The plugin helps you to search for potential Instagram pages that can be used as a shout-out partner and messaged them.
However, for this to work effectively, you need to specify the keywords related to your products and services. After that, write a unique template message that the plugin will use to ask for a business partnership without looking spamming.
This will allow the plugin to do it works as though they were done by a real person. It going save you a lot of time and stress of searching for a potential shout out partners.
#3. Boost Your Social Media Account
The social rabbit also works by going through several social media pages that contain keywords related to your store niche.
The rabbit plugin automatically follows these pages likes their post and even comment. Thus, helping you to attract attention to your social media platforms and profiles.
These are options that can be on and off though. There are several options that comes with the plugin and you can as well turn it on at once or simply use one at a time.
Everything is totally up to you on how you want it done.
#4. Entertain Your Social Followers
The rabbit can also entertain your social media followers with an entertaining post if you want. This could be done using the text template and pictures you've previously added to the plugin.
With what you've added to the plugin database, it can then create a catchy and attractive post across your social media platform.
All these can be done automatically while you're sleeping or eating, but only with what you've previously added.
#5. Post & Repost Blog Articles
If your business or e-commerce store has a blog, you'd want your social followers to read more about what you're selling. This is where the social rabbit comes into play.
The social rabbit plugin can randomly pick one of your blog article with relevant information like title, link and a short description of the product and post it on social media.
#6. Shares Other Users Content
The social rabbit plugin can automatically search several social media platforms for posts containing keywords you've specified.
It finds the post and reposts them within the same social media platforms. However, Post copied on Twitter won't be posted on Instagram. They can only be reposted on the same social network.
Is The Social Rabbit Plugin Spammy?
Obviously, it's common to think that a tool that works automatically will only be spammy. Well, the social rabbit has a different angle to that.
This is because every job done must have been previously set up by you. It is you that determines how good enough you want the content shared by the plugin to be.
You must have prepared a database of several messages options you want to use because the plugin only uses the phrases you specified.
Also, when it comes to images. You must have uploaded high-quality images dedicated to your e-commerce store or business which gives the plugin the privileged of posting quality images.
Mind you, once the plugin is set up, you don't just start following random accounts on social media. You only follow niche account related to your store.
This will give you the control of deciding the type of people that are interested in what you're selling. This way, your social media account won't look spammy and scary to your potential followers too.
Additionally, the rabbit plugin allows you to customize your posting frequency so as not to make your social media accounts look spammy.
You can easily schedule post within several time frames you've set and enjoy constants update on your social media accounts.
How to Use the Social Rabbit Plugin Correctly?
Once you've installed the plugin correctly on your website, you need to integrate it with the major social media accounts. Facebook, Twitter, Instagram and Pinterest. You can equally create the account if you're yet to have them.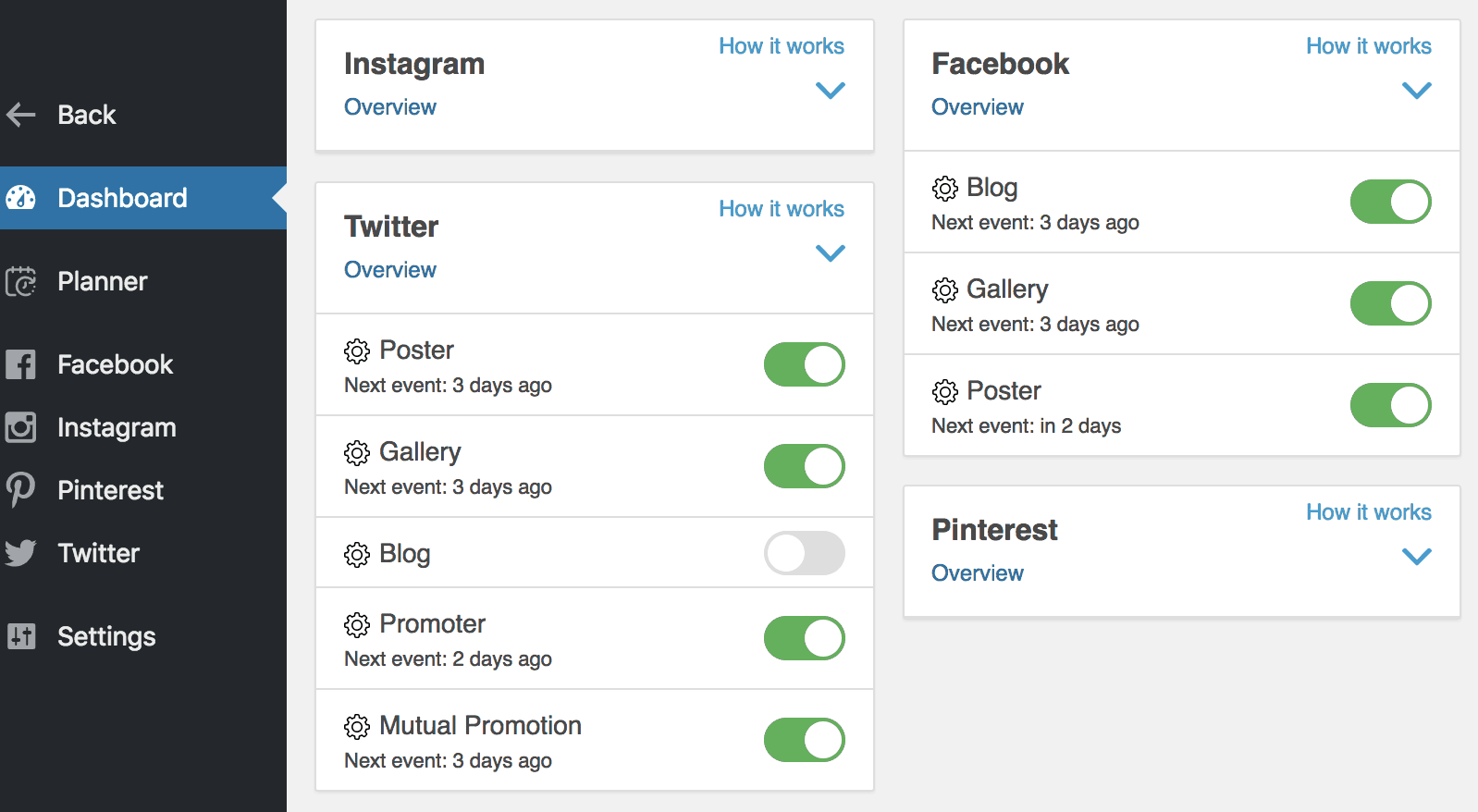 Next, you'll need to start adding templates of what the plugin will begin to work with.
For images, you'll need to add quality images to the social rabbit Gallery on Instagram, Facebook, Twitter and Pinterest.
This should be of high quality and attractive images. This will give your social media account a branded and professionally looks.
Also for publishing, you need to assign an individual posting setting for each of the social media networks. But in general, they all cover the same parameters.
The settings include:
This setting allows you to set a specific amount of days, hours and minutes that will be the periodic sequence of the post.
Your social updates won't be spammy if you've set specific sequence for each of your posts.
The Post Time Randomizer –
The posting time randomizer makes the post even look more real. This setting allows you to pick a deviation time period that can be used to publish each of your post on a slightly different time.
The reason for this is that, if each of your posts gets published on the same exact time, your followers might think it's a mechanical action.
So this method keeps it real and not spammy.
The hashtags settings allow your post to reach a wider audience of people interested in your products based on your hashtags.
So, on the social rabbit plugin settings page, you need to write the hashtags that are relevant to your store or business niche. The plugin makes it even easier by suggesting the right hashtags based on it learning features.
The text template is very important because this is what the plugin will automatically work on. And sorry, it's not yet an artificial intelligence, so you need to work on the text template.
The main reason behind this is to make the posting and commenting features as human-like as possible. This will make your post free of spam and looks standard.
Additionally, you can also write tags alongside your text while each of the tag is a shortcut for a specific action. For example, the %URL% tag will display the product link in the post.
For the price, it's going to be %PRICE%, and this will contain the product price.
Pros & Benefit of Social Rabbit:
Convenience – with the help of the Social Rabbit Plugin you can create content and schedule it to appear at a specific time on multiple social media accounts.
Reaching more followers – the plugin allows you to schedule your post for the most valuable time throughout the day. it helps you post when your follower is most active and engaged; thereby leading traffic to your site.
Content delivery – It helps update your followers on a daily basis. The consistency helps to build a loyal follower of your business.
Increase in Conversion up to 1000%
Full hands-off automation
Rapid indexing of your website by search engines
Free life-long support and updates
Reduce work-time by 70%
Enjoy constant traffic
Cons of Social Rabbit Plugin:
It could lead to spammy if not properly schedule
Limited to 4 Social media platform
Conclusion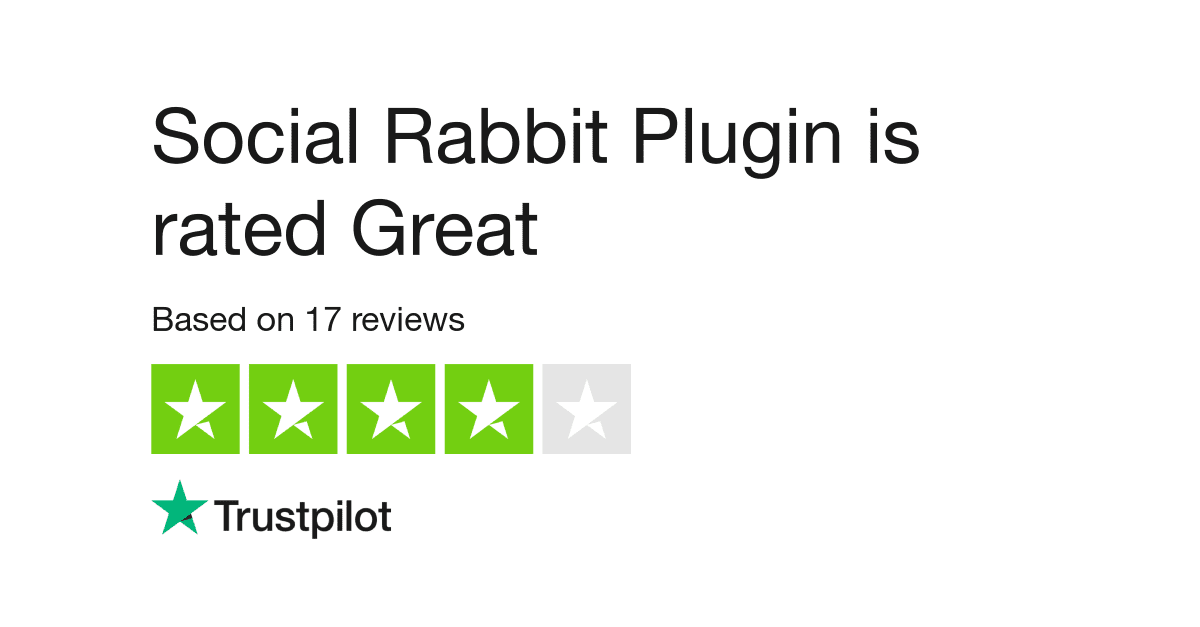 The Social Rabbit Plugin is a great investment for your e-commerce business and several other brands you have online. It will give you plenty of time to use on what matters the most for your business and also save you the cost of hiring an SMM specialist.
The plugin costs a one-time fee of $69 for a lifetime, plus support and frequent updates. You don't have to worry about recurring or subscription fee as it yours for a lifetime.
That's all for it about the social rabbit plugin review!
So, what do you think about the PLUGIN? Let's me hear what you think in the comment section!