Toonly Review: Animated Video Software [Working or NOT]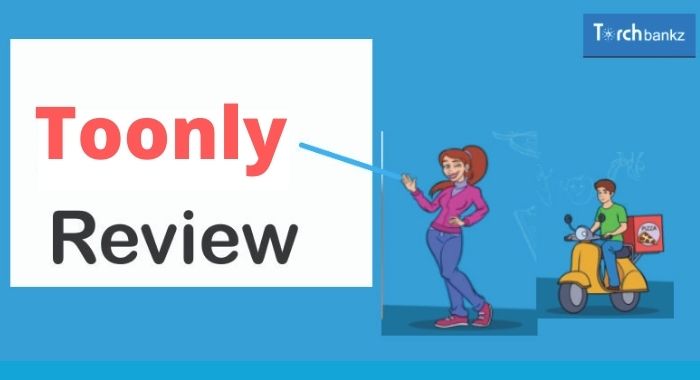 Here's a detailed Toonly review and every other gist you need to know about the software before you go ahead and start using it.
In making a list of the best animation explainer software, you can't but mention Toonly. Toonly isn't a new tool in the video software industry but has recently been making waves in the industry.
Since it is known as one of the best-animated explainer software, it comes bundled with lots of exciting features for video creators and marketers.
One exciting fact is that it's a sister tool to the renowned Doodly. That is, both Toonly and Doodly are created by the same company, Bryxen, Inc.
Though they have some features that overlap, they are both created for different purposes.
Toonly focuses on creating animated explainer videos while Doodly focuses on doodle videos.
Looking for a brutally honest review of Toonly? In this Toonly review, I cover the features of Toonly, price, pros, cons, and how it compares with Doodly.
With a lot to cover, let's dive right in.
What Is Toonly?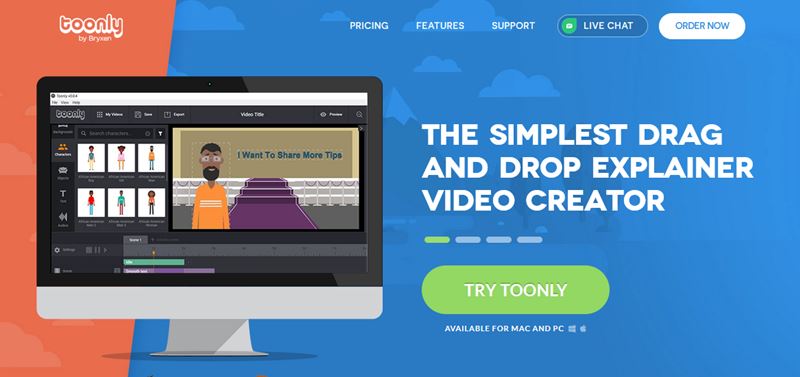 Toonly is an animation video explainer software that allows its users to create stunning video contents that are capable of gaining people's attention in the course of passing or explaining a particular idea.
This animated explainer video creation tool can also be used to edit or make simple videos. These videos could be ones that provide step-by-step instructions on how to go about a certain concept or marketing a particular product, service, and lots more.
Therefore, Toonly as a video explainer software is designed in such a way that its users don't have to be knowledgeable about coding. Not only that, you do not need to have previous knowledge of animation video creation.
That is to say, the steps to make an explainer video with Toonly are simple.
All you have to do is to drag and drop your desired dialogues into your desired picture, attach a specific motion, and movements, and you will be good to go.
Be that as it may, Toonly explainer software has numerous amazing in-built features and the animated tool can be used and enjoyed by video marketing agencies, business owners, schools, corporate organizations, and the likes.
How Does Toonly Work?
A lot has been said earlier on how Toonly works, but I'll repeat it but this time, as a more comprehensive guide.
So if you need a video animation explainer tool that you can jump into and make a thrilling video quickly, then you will want to check out Toonly.
To begin with, the first thing in your sojourn to using Toonly video explainer software is to choose your preferred scene or background for the proposed video content;
Yet, If you are still not sure of where to begin, you can start by using an already existing scene that has most of the necessary bones, but you will still have to add some of your preferred customizations;
Now, make use of the drag-and-drop buttons to add images, people, dialogue, and audio that you want to include in the animated video. If you like, you may even export or record a voiceover soundtrack into the video too;
At this stage, your animated explainer video is ready but you can just play and replay it to see if it is customized to your taste and liking;
Once you've figured out everything and you are sure that you are satisfied with what you created, then approve the video, save and kindly export it down to your desired library or destination.
Toonly Review: Features
If you are on the verge of starting a video marketing agency or you are already an established agency but will like to switch to Toonly to make better-animated explainer videos, then you might want to consider the following features.
Easy to Use Intuitive Interface
Massive Library
Create Professional Video for Any Niche
Custom Voice Over
Premade Scenes for Your Video
Royalty-Free Audio Music
Video Tutorial
#1. Easy To Use Intuitive Interface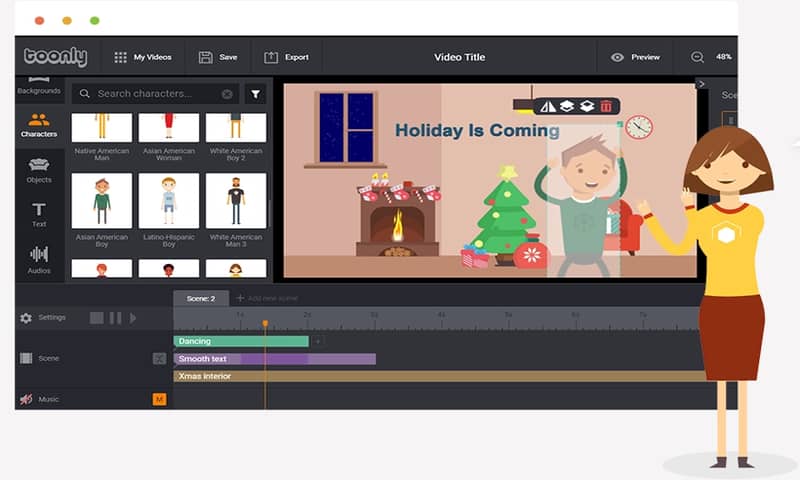 Oh! You are not a professional video designer? Well, that is not a problem, with Toonly, you can create your first stunning animated explainer video.
All you need to do is to select a decent background for your proposed video, then use the click-and-drop characters as explained above, and boom your video will be ready.
This means that without an intensive tutorial on how to use this explainer tool, an aspiring or newbie video animation creator can use Toonly as a result of its easy intuitive interface.
#2. Massive Library
Toonly has a web of images in its library and as such, it doesn't use photos or stock images. This means that all the available images on Toonly were personally drawn by their professional graphic designs.
You can't find any better or higher-quality animation images anywhere in the world better than what Toonly offers. With this software, you will be exposed to over 500 character images with 17 distinct poses on each.
#3. Create Professional Video For Any Niche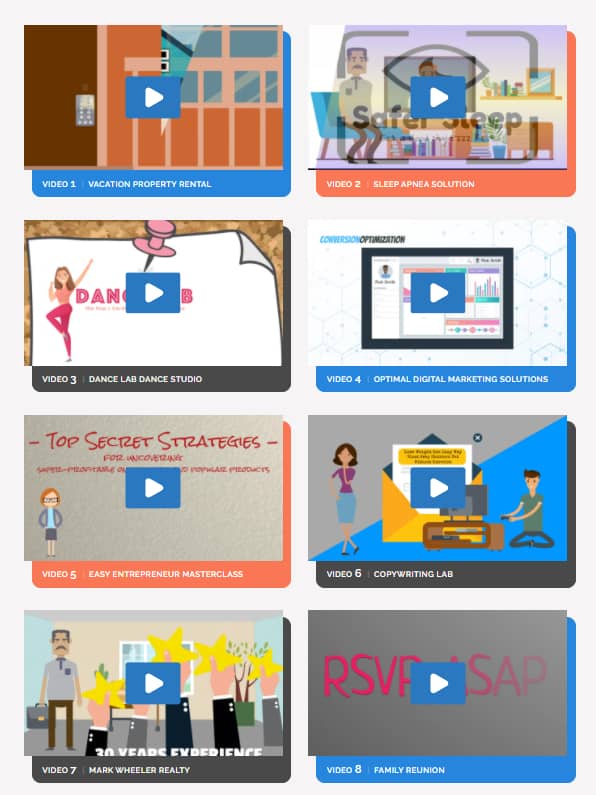 The props, background, and folds of characters on Toonly were designed for the consumption of all industries. This means Toonly is created for everyone regardless of the niche…
It is immaterial whether you are a B2B, B2C, marketing agency, freelancer, or digital marketer selling a particular product and service. Even, if you are doing or selling nothing, Toonly is there to serve you better.
#4. Custom Voice Over
If the available soundtracks on Toonly are not compatible with the animated explainer video you are making, you can easily add or customize a voiceover into the video.
To do this, click on the record button and start talking or voicing your desired dialogue. As you are speaking, Toonly automatically adds the dialogues to the video.
In the same vein, if you would rather upload a more quality voiceover file or audio content exported from another file, you can as well do that on this explainer tool.
#5. Premade Scenes For Your Videos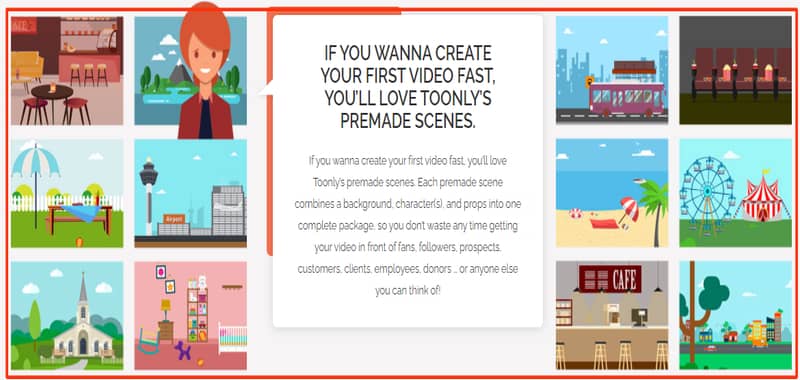 There are tons of premade scenes on Toonly that are specifically designed for the newbies who are making their first video with the cloud-based software.
Each premade scene has an ocean of characters, background, and props combined into a single complete package,
As a result of this feature, you don't have to waste much time making and getting your first animated video ready in front of your fanatics, followers, prospects audience, customers, donors, clients, employees, or any other degree of audience you can think of.
#6. Royalty-Free Audio Music
As a user of this amazing explainer video tool, you will be exposed to dozens of royalty-free music tracks. Just use the drag and drop button to add any background music of your choice to the video timeline.
Trying adjusting the volume (whether up or down) with your mouse to ensure that the music volume flows well with the video.
Doing this will ensure that your explainer video is created by one pricey animated explainer video professional designer.
#7. Video Tutorial
There's a particular section on the Toonly official website with a video tutorial on how to make the best use of Toonly.
It contains all the steps to understand the nooks and crannies of the cloud-based animated video explainer videos.
This feature is so apt, detailed, and precisely made that anyone can refer to it anytime during the cause of making, editing, or creating an animated explainer video.
Who Can Use Toonly?
Toonly is an animated explainer video software that is meant for all. Regardless of your business model or niche, Toonly can serve you better in promoting your goods and services to your prospective audience in a stunning way.
So whether you are a B2B agent, affiliate marketer, video animator, or online entrepreneur, though not limited, below are other classes of individuals or businesses that can use Toonly.
Small Business Owners
Digital Marketers
Presenters
B2B Sales
Human Resources
Information Technology
Non Profits Organizations
1. Small Business Owners
Animated explainer videos will work well for any business-minded person that sells physical products.
Or anyone that provides a decent service such as coaching, dentistry, fitness instructor, chiropractic, real estate, and the like.
This is because most of their audience derives pleasure in watching explainer videos. Hence, using Toonly as a small business owner will be a great means of introducing your new customers to your goods, products, or services.
2. Digital Marketers.
The online marketplace is so stuffed that the competition for potential clients is fiercer these days compared to before.
So if you are determined to be successful as an online entrepreneur, there's a need for your business to stand out amidst competitors.
Hence, animated explainer videos can serve that purpose well.
Other than the fact that explainer videos are fantastic for marketing physical products, they are super-effective, too, for all kinds of agencies that offer search engine marketing, Facebook advertising, and email marketing.
Plus all other kinds of digital marketing.
3. Presenters
Toonly is also perfect for presenters and trainers.
As a presenter, you can use Toonly to create animated explainer videos whenever you're saddled with the responsibility of discussing important points, liven up a presentation, or explaining complex concepts.
With this software, you will be able to add an animated explainer video for a better illustration of what you are presenting. As such, your presentation will be engaging, and your viewers will be listening, watching, and reading.
4. B2B Sales.
Most times, people see B2B as a boring enterprise. So as a B2B agent, how do you change people's perception of this?
Well, this can be done by presenting information about your company using an animated explainer video tool like Toonly.
Toonly will help you create a clever and scintillating animated explainer video that will pass engaging messages to the world about what you do and what you offer in your company.
You might attract the attention of your prospective C-level executives through it, too.
5. Human Resources
There are numerous ways by which the human resources team can also benefit from the use of the Toonly animated explainer video creation tool.
It can be used to create ads in a bid to pass information across to your target audience, job seekers, recruits, etc.
Even, this software can be used to train recruits on the nature of the job that is expected of them and it can equally be used to design presentation topics in a workshop, seminars, etc.
6. Information Technology
In reality or to an average person, reading stuff about Information Technology stuff can be as boring as boring can be.
And that is where Toonly will come in to play a role by creating animated explainer videos that everybody will want to watch till the end.
Such is a perfect solution for IT companies' external issues. It can also be used to create ads or sales pitches thereby standing out amid desperate competitors.
7. Non-Profits Organizations
Not-for-profit organizations can also use the Toonly animated explainer tool to create a compelling and engaging story about their mission, vision, and what they strive to build or want to be in the few years to come.
Also, a non-profit organization can create explainer videos to explain what the organization does, recruit, announce upcoming fundraisers, request donations, increase social media presence, etc.
Why Invest In Animated Explainer Videos?
It Informs & Educates Your Audience
Great for Story Telling
Highly Shareable
Reduces Hard Marketing
#1. It informs and educates your audience.
Spending a fortune on cartoon explainer videos can be quite effective in grabbing and sustaining the target audience's attention.
It can also be used to enlighten, inform, and convert them into prospective clients and frequent visitors.
#2. Great for storytelling.
You can also invest in animated explainer videos in other to gain your audience's attention by using them to tell stories that touch.
At times, using words or dialogue might not help in gaining your audience's attention, most especially when they are a bunch of individuals without a flair for reading.
But with animated explainer videos, they will be forced to watch (since it's fun), listen and read your sales stories as they unfold.
#3. Highly shareable.
Investing in animated explainer videos may rake in dollars into your pocket if you know how to use and monetize the tools.
Since there's room for creating videos of all kinds, you can create a thrilling cartoon video, share it to your YouTube channel and start earning through it.
#4. Reduce hard marketing
Digital agencies charge thousands of dollars to create a small animated explainer video. Some are even known for charging several thousand dollars just for a minute animated explainer video.
Why not invest in the tool and cut off the chase of investing heavily in digital agencies?
Toonly Pricing – How Much Does Toonly Cost?
Toonly Standard plan subscription costs $39 monthly, while the Enterprise plan subscription is valued at $69 per month.
The Standard plan offers:
Premium support
79 background
Unlimited videos
716 prop images
20 background audio
30 characters
The Enterprise offers, even more, features and they are:
Toonly Club
Unlimited videos
Premium support
68 Characters
360 Facial expressions
Toonly Facebook page
What Can You Create with Toonly for Your Business?
As part of our Toonly review, we've also included what can be achieved for your business using the Toonly Software.
So if you have much respect for animated explainer videos for all that they offered but not sure of where to use them to your advantage, then this is meant for you.
kindly check out how some of the digital marketers and small business owners are using Toonly cloud-based software to increase their conversion rate.
Landing Pages
Facebook Ads
Social Media Videos
Sales Video
Email Marketing
Webinar/Presentation
Product Page
1. Landing Pages
You can create an animated explainer video and place it on your business's official website landing page to reduce the bounce rate on an average, say by 34%!
With the video, prospects are likely to be engaged, and as usual, likely to stay longer on the site for other interesting things to watch.
2. Facebook Ads
With Toonly, you can create a short animated explainer video for Facebook ads and patiently watch how the user engagement and click-through rates will soar higher.
3. Social Media Videos
Animated explainer videos have a higher entertainment value and they equally have all it takes to go viral within seconds, using Toonly to create explainer videos will be a perfect fit for social media.
With it, you'll be able to attract more attention, likes, shares, and followers, too
4. Sales Video
An animated explainer video can combine emotions, storytelling, and engaging props and characters to grab prospects' attention till the very end.
Digital marketers can use it to sell products to their prospects while rebutting typical buyer objections.
5. Email Marketing
Equally, you can use Toonly video to explain, in detail, how your product or services works and it can also be used to reconnect with lost or old customers via video email marketing.
6. Webinar/Presentation
As boring as a presentation or webinar might be to some people, animated explainer videos will breathe life back to them.
That is to say, Toonly is great at creating enjoyable and engaging videos to watch. Not only that, it is perfect for commanding and explaining complex concepts, increasing learning retention, etc.
7. Product Page
Some products page needs complex explanations; Toonly animated explainer video tool is there to come to your rescue!
These cartoon but unique videos are ideal for illustrating and explaining products' benefits in easy-to-understand and fun ways.
Toonly Review:Pros & Con
While creating an in-depth Toonly review, I believe there's nothing with advantages that don't have its disadvantages and as such, as beautifully designed as Toonly animated video explainer software is, it has some ups and downs too.
That is to say if you're buying Toonly because it has a web of images, easy to use interface, royalty-free music, and more, be informed that it has some other sides that might frustrate you, a bit, too.
Therefore, let's take them one step at a time.
Pros of Toonly
Easy to Use
Free Software Update
Unlimited Video Export
30 Days Money Back Guarantee
1. Easy to Use
Toonly makes it easy for a first-timer animator to create professional-like explainer videos. This advantage alone is okay to make the video creation tool flourish in the industry amidst stiff competitors.
2. Free Software Update
Toonly loves feedback. This is one of the reasons it updates its software every week to meet its user's wants and demands. So if you're using the Toonly video explainer tool, you have access to the weekly software update free of charge.
3. Unlimited Video Export
While using Toonly, you can create a personalized animated explainer video to your satisfaction. With this, you will be able to save and export the video file in various resolutions. It could be from 480p, 720p, 1080p and down to a customized resolution to any library or destination of your choice.
4. 30 Days Money Back Guarantee
Even though there's no free trial on Toonly. However, you have a money-back guarantee. You can subscribe to any plan of your choice and if after 30 days, you are not satisfied with the service, you get a refund. All you need to do is to write to customer service about it.
Cons of Toonly
1. No free trial.
While this is not a disadvantage really, Toonly does not have a free trial feature and as such, passionate users that can't afford to subscribe for the first time won't be able to use the software.
2. No autosave.
This side of Toonly is disappointing. If you put in more effort to create an explainer video without saving, should you mistakenly leave the editing page or if anything unusual should happen, then you've labored in vain because Toonly has no automatic save feature.
Toonly vs Doodly – How Do They Compare to One Another
Toonly vs Doodly shouldn't create many arguments as there's a great distinction between the two. Although they are both created by the same individuals, yet they have their differences.
Toonly is an animated video explainer tool which helps to walk people around in completing actions or doing things. Doodly, on the other hand, is a hand sketch or virtual whiteboard animation video software that is used for drawing out explanations of things.
If your digital marketing project involves many words on the screen, you should go for Doodly because it's spacious for wording and dialogue, but if it's for grabbing attention, training, recruiting, or presentation, then use Toonly.
Toonly FAQs
Below are some of the Frequently Asked Questions (FAQs) about Doodly;
Can I use Toonly offline?
Yes, Toonly can be downloaded for offline use.
Which is better: Doodly or Toonly?
Depending on the type of project you'll be doing with each of them. If you need to grab your audience's attention by presenting a particular business opportunity or idea to them, then use Toonly. But if you will be pitching investors for your business, then use Doodly.
How long can a Toonly video be?
It can be as long as five minutes, depending on the purpose of the video.
Is Toonly any good?
Yes, Toonly is a very beautiful animated explainer video tool with lots of amazing features. It has numerous advantages that overshadowed its other sides
Are Doodly and Toonly the same?
No, Doodly is hand sketching or whiteboard animation video software while Toonly is an animated explainer video tool.
Toonly Review: Conclusion
Without a doubt, Toonly is one of the most highly celebrated explainer video tools in the market right now. It's so easy to use and doesn't require any professional knowledge or previous skills to create thrilling videos that would wow even the veteran's animation video creators.
We, therefore, recommend this explainer tool to any person who would like to make animated explainer video content for any purpose. Be it to advertise, present an idea, grab the audience's attention, or just for fun. Toonly get you covered!
So that's it on Toonly review, let me know what you think about this post using the comment section
Learn More: