eSources Review – Uk Wholesale Dropshipping Supplier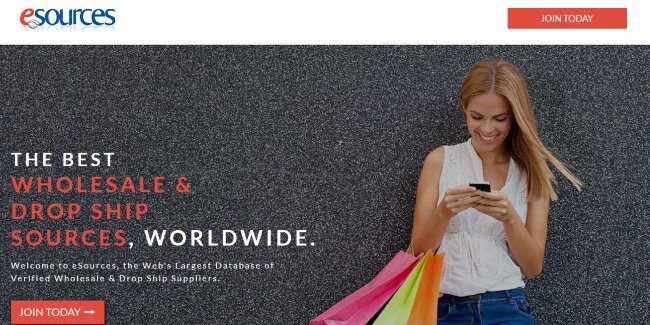 This is a detailed eSources review.
To begin with, when listing one of the best suppliers for dropshipping, you cannot but mention eSources.
However, it's crystal clear that eSources isn't the only supplier in the industry. There are many other suppliers in the dropshipping industry.
And that's why it falls back to the question – how does eSources compare with other suppliers? Is eSources really worth it? What is their best feature and what's the catch?
Absolutely, there are a lot of questions to be answered in order to vet if truly eSources is the right platform for you.
And in this post, I'll be doing a detailed eSources review with an in-depth look into its features, pricing, and supplier database.
Before we dive in, put in mind that there's no tool without a glitch. So it shouldn't come as a surprise that eSources has its own shortcomings.
Okay, let's dive right in.
What Is eSources?

eSources is an online supplier of products and wholesaler directory which is composed of wholesalers, manufacturers, dropshippers, and retailers across the United Kingdom, and internationally.
It has walked its way to become one of the largest resources of verified dropshippers and distributors in the UK.
The directory service was established in 2005.
Since then it has been growing at a fast pace. Today it has over 110,000 verified Wholesalers and Distributors. Therefore, you won't need to worry about credibility with eSources.
eSources is reputable for its ability to guide new retailers through the right path when it comes to the starting up and running of the eCommerce industry.
How Does eSources Work?
eSources basically works in two ways. You can either use eSources as a buyer or a supplier.
To begin with, eSources is a B2B wholesale platform that does not support selling to consumers. Being quite an old platform, it isn't as sophisticated as most of the recent drop-shipping sources.
For buyers, eSources offers two different access to them. Offering both the free and premium buyers plan.
In order to use the platform, eSources gives you full access to their wholesale suppliers with their contact details.
eSources doesn't play any role in the transaction, because your transaction will be made outside the platform.
And that's why you have full access to their suppliers' contact information. In essence, eSources is a directory for suppliers and dropshippers.
However, not all suppliers support dropshipping. But the majority of them do generally. Research made us know that suppliers earn 18.33% more profit if they sell to dropshippers. 
So eSources made it easier by having an entire category for dropshippers. If you're looking for a dropshipper, you can easily pick from the dropshipping category.
While you can easily find a supplier using the free plan, the premium plan offers you the full list of suppliers on the platform.
Obviously, the free plan doesn't give you access to all the suppliers on eSources, but the ones provided should do the job.
Both free and premium plans work the same way. You need to select a product from their database and you'll find a list of suppliers offering the product.
Select any of the suppliers then you will be welcomed with a page that contains the details of the suppliers.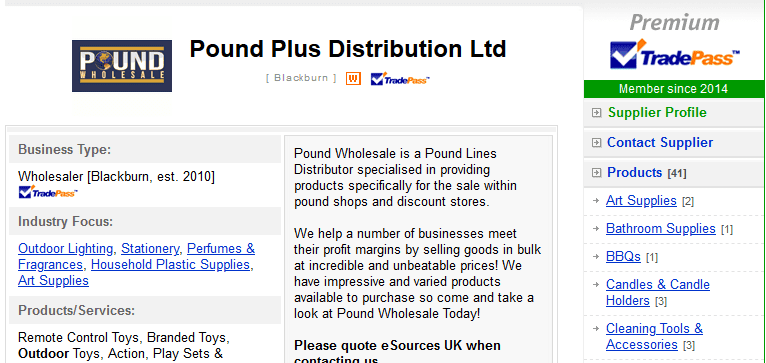 At this point, you need to ascertain if the supplier is a fit for your business. And here's why eSources is a UK wholesaler directory but supports international markets.
However, each of the suppliers has a focus market that covers the countries they can ship to. Go through their focus market and confirm if your focus market is included.
If your focus is the UK, then you don't have any problem because the majority of the suppliers are based in the UK.
The next important thing to confirm is the minimum order. You need to know if the supplier supports small-scale orders.
You'll find the minimum order on the supplier's contact page.
As a supplier, eSources only offers a premium plan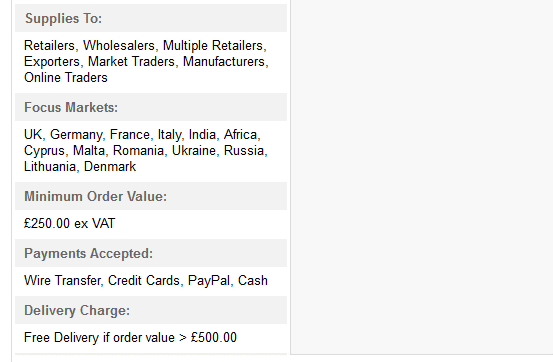 And the premium plan is in two packages for UK businesses and international businesses outside of the UK.
The listing package allows you to list your business on the platform.
eSource will ask you to provide information about your business ranging from the business owner, your contact details, your products, focus market, and identity verification.
eSources reviews all applications to reduce the risk of fraud.
As said earlier on, there are two different categories on eSources.co.uk. The first is UK wholesale Suppliers and International Suppliers. All these suppliers are all verified.
Under each category, you'll see different options like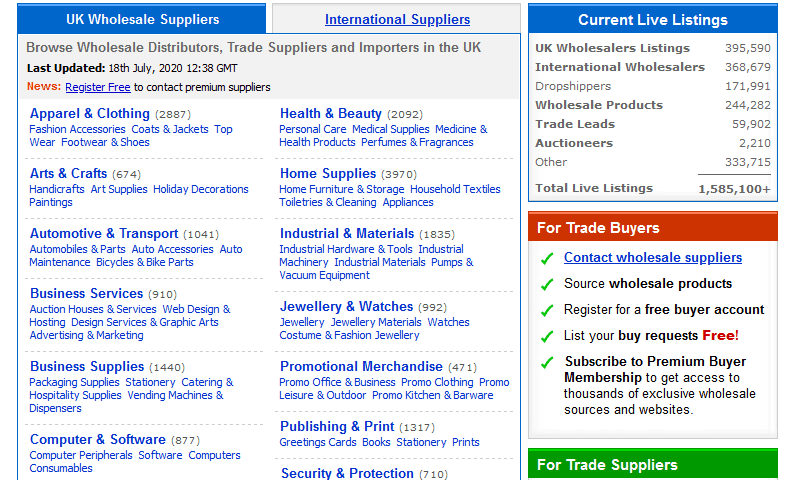 Apparel & Clothing (2865 UK Suppliers and 8045 International Suppliers)
Arts and Craft (672 UK Suppliers and 1455 International Suppliers)
Industrial & Materials (1830 UK Suppliers and 4707 International Suppliers)
Jewellery & Watches( 981 UK Suppliers and 3287 International Suppliers)
Dropshippers and Dropshipping 2026 UK Suppliers and International Suppliers)
and many more
What To Lookout For In a Wholesale Supplier on eSources?
eSources provides all the information you need to know and a long list of suppliers for your products.
However, it's your duty to select a supplier that will fit rightly for your business. As it is, eSources does not provide support when it comes to selecting a supplier.
The only help they offer is to ensure the suppliers on their list are real brands with good products.
#1: Customer Care Service
One of the foremost things to watch out for in a wholesale supplier is customer service. Is customer service reliable?
Will they be helpful if there's a need to make inquiries? Are they capable of handling minor issues? How do they prioritize customers?
However, sometimes the customer service might not be able to provide answers to inquiries right away. It's paramount that they are willing to find answers and get back to you afterwards.
#2: Speedy shipping
The dropshipping business is a competitive business. The faster your deliveries the more edge you'll have over your competitors.
Lengthy and delayed shipping will only have an adverse impact on your business. Therefore if the shipping of your suppliers exceeds 24 hours to 48 hours, I don't think they'll be a good fit for you.
It is advisable to test the water with a couple of wholesaler suppliers before you make a final decision on which one to settle for.
#3:Quality Products
The quality of what you sell will determine the growth of your business.
What does it mean to sell high-quality products?
It means a few returns. When your customers are satisfied with a product they'll retain it and not return it.
They wouldn't ask for refunds, they will give you reviews that will attract more customers. Therefore, the more the quality of a product, the lesser the returns.
Through customer reviews online, you should be able to know if a dropshipping supplier delivers quality products.
#4:Pre-Order Fee
The pre-order fee is a fee you pay when you place an order with Wholesalers.
And it's only natural for the dropshippers to charge this fee. Because they have to take extra resources and time for the package and shipment of your products.
Sometimes, Wholesalers take advantage of this by charging outrageous fees. The fee ranges from $2 to $10 per order. Without proper consideration for your profit margin.
It's advisable to calculate if you will still have any left profit for you after an outrageous pre-order fee. If the answer is no, keep looking out for another Wholesaler.
eSources Review: Features
With 12 years of selling experience, eSources have become reputable. There is a guarantee you'll find suppliers within your niche.
It is important to note that eSources has been active in revealing scams, which makes them a safe platform to use.
Some general features are:
#1: Expertise Advice
When you become a premium member of eSources, you'll get direct support from expert traders in your niche on the best strategies and processes to succeed. Saving you about £1000 to learn the secrets of reselling.
#2: Unlimited Satisfaction Guarantee
With eSources, there's a maximum guarantee that you'll get the wholesalers and Dropshippers sources you need.
#3: Unlimited SEO Optimization
You get to enjoy unlimited SEO optimized for Facebook and other integrated eCommerce-related websites.
#4: 100% Verified Sources
eSources has over 150,000 verified Wholesalers & Drop Ship Suppliers from Canada, the United Kingdom, The United States, Asia, and across Europe. And about 3,000 verified Dropshippers across Europe.
eSources does a thorough check on suppliers before they list their products. Hence, they have a verified status quo.
Once you become a premium member, you enjoy access to verified wholesalers and Dropshippers.
eSources Pricing Plans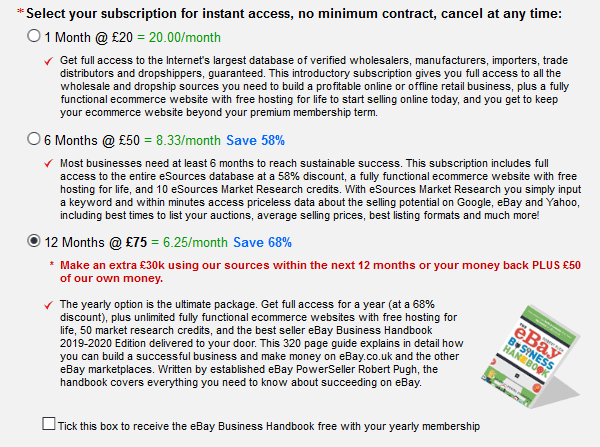 eSources offers basically two pricing plans for buyers and two pricing plans for sources.
For buyers, eSources offers a free membership plan and a premium buyers account.
eSources Free Membership Plan
The eSources free membership account is accessible to everyone throughout the world. With this account you can:
Contact the Tradepass Suppliers and view their product prices.
Place orders with premium Suppliers
Receive Supplier's emails on exclusive offers and deals
Subscribe for free eCourses and training, and learn about new deals.
But there are limits to the free membership account for intending buyers.
You'll have to upgrade your accounts to a premium membership account to have full access to the database of verified dropshippers and wholesalers.
The premium service has other exciting features.
eSources Premium Buyer Account
eSources offers a flexible premium buyer account for businesses. The premium plan gives you the option of choosing a different payment duration.
The First Plan Allows You To Pay Monthly £20
This monthly subscription goes £20, with a validity of 1 month. This plan gives you access to all the features. There's basically no restriction. The main thing that differentiates this plan from the rest is its duration.
So, basically, you get to enjoy:
Full access to the database of verified Wholesalers and Dropshippers.
Full access to the sources of Wholesalers and Dropshippers. You need this source to build a profitable online/offline retail business.
And a functioning eCommerce website with free hosting to sell online.
The Second Plan Offers a 6-Month Duration.
This plan is suitable for businesses and growing companies. It goes for £50 (£8.33 per month), with a validity of 6 months.
The biannual subscription does not only include a 58% off discount, but it also gives you full access to the entire eSources database, a free hosting website, and 10 market research credits.
With these credits, you can input a keyword and have a priceless amount of data within minutes on Google, Yahoo, and eBay. Data includes the best time to auction, best listing format, average seeking price, and many more.
Lastly, The Annual Plan (£75 per year).
The annual subscription gives you a whopping 68% off discount. Other features include:
A best-seller eBay business handbook (2019/2020 edition). Written by the eBay power seller, Robert Pugh.
The 320-page handbook covers everything you need to know about succeeding on eBay and other eBay-related marketplaces. The handbook will be delivered to your doorstep.
Alongside the aforementioned, you get to enjoy:
50 market research credits
And an unlimited eCommerce functioning site with free hosting for life.
When you post your premium buyer request, all relevant suppliers will automatically receive your inquiry. Saving you months of pricier research and guiding you straight to profits.
The suppliers you'll find are not only dropshipping suppliers who are based in the UK. It also includes Suppliers in the diaspora, seeking to increase the exposure of their company's products in the UK and trade buyers in other parts of the world.
You can make payment options for these accounts with PayPal or an eSources secured payment gateway.
Also, the eSources service is not limited to the UK but to any part of the world.
Pros of eSources
Buyers get to test the waters before investing money in the premium service. With the basic (free) buyer membership you get to contact their Tradepass Suppliers and view their product prices to a degree.
Although, when you visit eSources.co.uk, it obviously has a very old interface, it is very easy to find your way around it.
As a premium member, you will get prompt updates on every new deal and exciting offer.
No matter how unpopular you think your niche is, there's a Supplier on eSources for you.
eSources is known to have uncovered a lot of scams over the years. In short, it is a reliable platform.
Access to real case studies that can help you replicate the success of other million-dollar enterprises.
Cons of eSources
It is indisputable that the benefits of using eSources overshadow the downside. However, some of the downsides include the following:
The platform is old-fashioned and had a bad user interface
Some of the listings are outdated.
Doesn't provide advanced features to automatically synchronize products with your store.
The membership package can be a little confusing.
There's nothing like a trial period for intending suppliers to test the waters before investing money.
Orders have to be done manually which makes them unscalable.
Although it serves international Buyers and Suppliers, its services are still better suited for UK-based Suppliers and Buyers.
eSources Frequently Asked Questions (FAQ)
let's go over some of the frequently asked questions on esources.
Is eSources worth paying for?
Of course, it's worth paying for.
However, you don't have to start with a premium account. It is fair that you can use the free account to try out their services before investing.
It's pretty hard to find a good Dropshipper. With eSources, you don't have to go through a lot of trial and error. eSource is unarguably good at what they do.
The premium accounts give you limited access to the eSources database of verified Wholesalers and Dropshippers. It also has a mentorship side to it. It gives novice buyers opportunities to be groomed to build a profitable online business.
How do I cancel my eSources subscription?
Cancelling your eSources is very easy.
For subscriptions, you processed with PayPal. You'll go to your profile and select recurrent payment and select the Cancel Subscription options for the eSources subscription.
Who are dropshippers?
Dropshippers are a set of suppliers you buy from and entrust with the fulfilment of your deliveries to designated locations.
They ensure products bought by retailers are delivered on behalf of the retailer.
Needless to say, you need to buy your product from a supplier that does dropshipping.
Luckily, eSources has a separate category that groups all the dropshippers in order to make it easy to locate a dropshipper for your product.
Is eSources good for dropshipping?
eSources is regarded as one of the largest resources of verified dropshipping Suppliers.
With their services, they render premium service and they openly protect their members from scammers.

Also, it is worth noting the way they ensure the maximization members make profits.
So, yes eSources are very good for dropshipping.

But you would need to keep a record of your orders manually yourself unless the supplier has a platform to automate that for you.
Because as of the time of writing this, eSources doesn't automate accounts or orders taking for you.
You would need to do that manually for every single order, except your supplier has a platform that does that.

Another alternative is to use eSources to locate a supplier and then broker your deal on a platform that supports automating the sales.
eSources Review: Conclusion
From every special feature we've touched, eSources is unarguably doing everything to become the best dropshipping Supplier in the UK.
The eCommerce hub has walked its way to become a platform where Dropshippers. Manufacturers. Wholesalers and retailers work together in syn, to ensure nothing disrupts the flow in the supply chain.
As a retailer, the dropshipping Suppliers to a large extent are determinants of the growth of your businesses. ESources gives your customers an ideal customer experience for ordering with you.
And to all Intending retailers with no start-up capital, eSources is where you should be.
What do you think of the esources review? Have you tried them before or this will be your first time, let's hear your thought in the comment section.
Learn More