Spocket Review 2023: Next Day Dropshipping Delivery?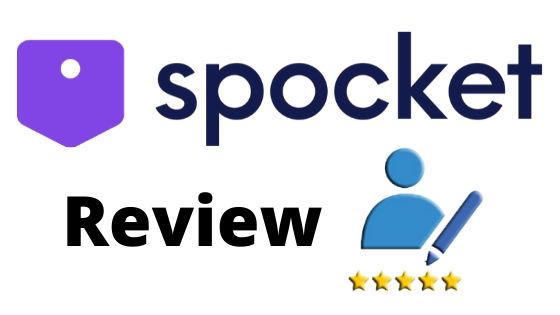 In today's post, I'll do a thorough Spocket review for both Shopify and WooCommerce dropshipping to help you make an informed decision.
If you've come across any dropshipping advertisements, you'll notice they sound simpler than they are in the actual sense. The ad copy is usually "a business with no capital" and that's what most people want.
A fast buck with less effort. However, in the real sense, dropshipping is quite promising. But there are various factors that'll determine the success of your business.
Factors like the quality of your products, your shipping time, supplier quality, selling hot products and finally your selling platform.
This and more are usually some of the factors that determine how successful a drop shipping business is going to be.
In today's Spocket review I'll be unveiling the FINE and UGLY truth about the dropshipping app and basically everything you need to know.
But before we proceed, here's the summary of what we'll be covering and a jump link to each of the paragraphs:
What Is Spocket?
Spocket is a complete package dropshipping app that allows you to start a dropshipping business with a supplier base in the US and EU.
It allows you to easily search and connect with suppliers closer to your customer from their huge marketplace so as to enjoy the 2 – 14 days shipping delivery.
The app equally allows you to easily search and import products from tens of thousands of their product catalogues across various suppliers on the platform.
With their one-click import button, you can rest assured of having a fully automated dropshipping store with both Shopify and WooCommerce.
Also interesting about Spocket is the fact that you can order sample products and evaluate them yourself before selling them.
Their marketplace is known for high-quality goods with up to 60% discount leaving you with a higher markup on each product.
How Does Spocket Works?
If you're familiar with Oberlo dropshipping then you should have an idea of what Spocket does (Oberlo and Spocket Are Quite Similar). However, this time around, you don't have to dropship with AliExpress and its long shipping time.
Instead, Spocket allows you to search and choose products based on where you want to ship products from and where the products are going.
That is, if your targeted customers are based in Canada, you'll have the opportunity to source products from Canada-based suppliers and have the products shipped to them as fast as possible.
This way, both you and your customers go home happily ever after.
In addition to this, you can easily search for products you want to import to your Shopify store based on keywords or the price filter.
Either way, the app is built to give you an automated business that requires little effort on your part.
The product fulfilment is completely automated whereby everything is done on your behalf, you can then focus on other important aspects of your dropshipping business while Spocket handles the rest.
Spocket For WooCommerce Dropshipping
With Spocket you can equally have your store set up on WooCommerce if you don't prefer the Shopify platform.
If you're the type that prefers WordPress to Shopify, you have nothing to worry about because you can equally have your store set up within a few minutes using Spocket and WooCommerce.
WooCommerce allows greater flexibility compared to Shopify for those having the experience already.
However, in other to use Spocket successfully on WooCommerce, you'll need a domain name and a hosting account, which you can easily get using Bluehost as it comes with a free domain name.
WooCommerce is pre-installed with Bluehost, so your account will be up and ready within a few minutes. Once that is done, you'll need to log in to your WordPress dashboard.
From there click on the "Plugin" button then "Add New" and search for "Spocket"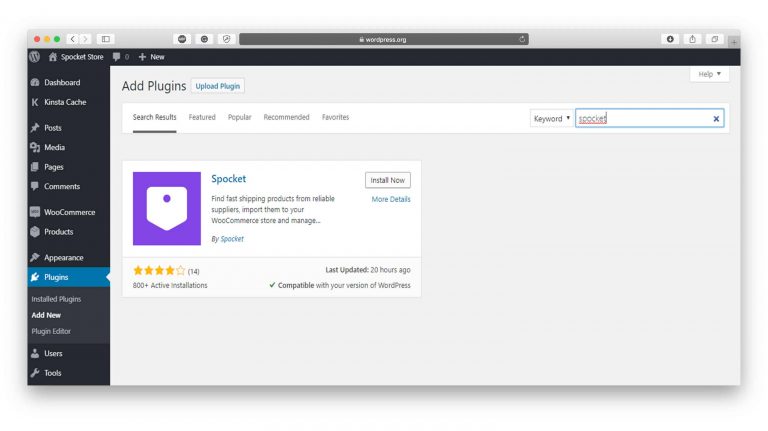 After you must have seen it, click on install and activate and you'll be ready to use Spocket with WooCommerce.
However, you do need to connect your Spocket plugin with WooCommerce for seamless integration. immediately after you activate the Spocket plugin, the next page will prompt you to connect Spocket with WooCommerce.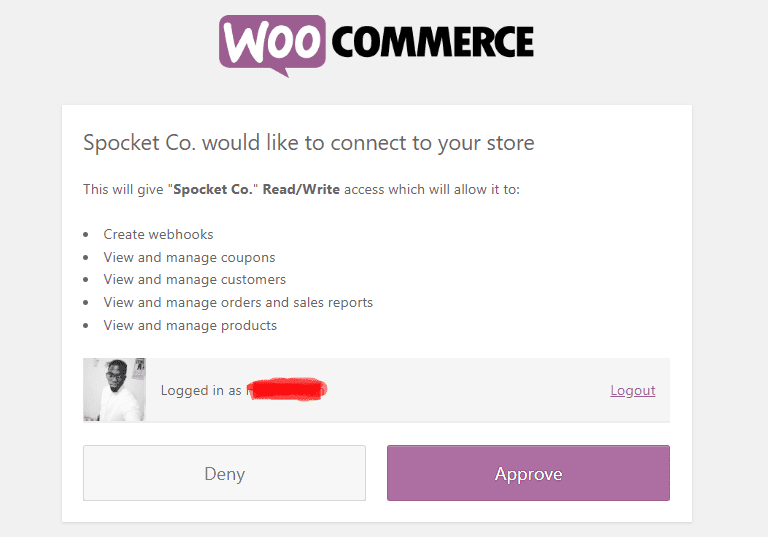 Once you click on approve, you'll be able to log in to your Spocket account from your WordPress dashboard.
You can now start adding further WooCommerce dropshipping plugins for customization. I've written a complete guide on how to use Set-Up your dropshipping store using the Spocket WooCommerce plugin.
You can as well check it out here!
Shopify Dropshipping With Spocket
Spocket was created to be used on Shopify by default. This means using the Shopify platform will equally allow for seamless integration.
The good thing about this is that you can start using both Shopify and Spocket for free! They both offer a free trial to test out the platform.
If you prefer the Shopify platform, all you need do is start your free trial and then follow the Shopify wizard to set up your store.
Once that's done, head over to the Shopify app store and search for Spocket App.
Next, click on the "Add App" button and follow the simple login process to log in to your Spocket dashboard on Shopify.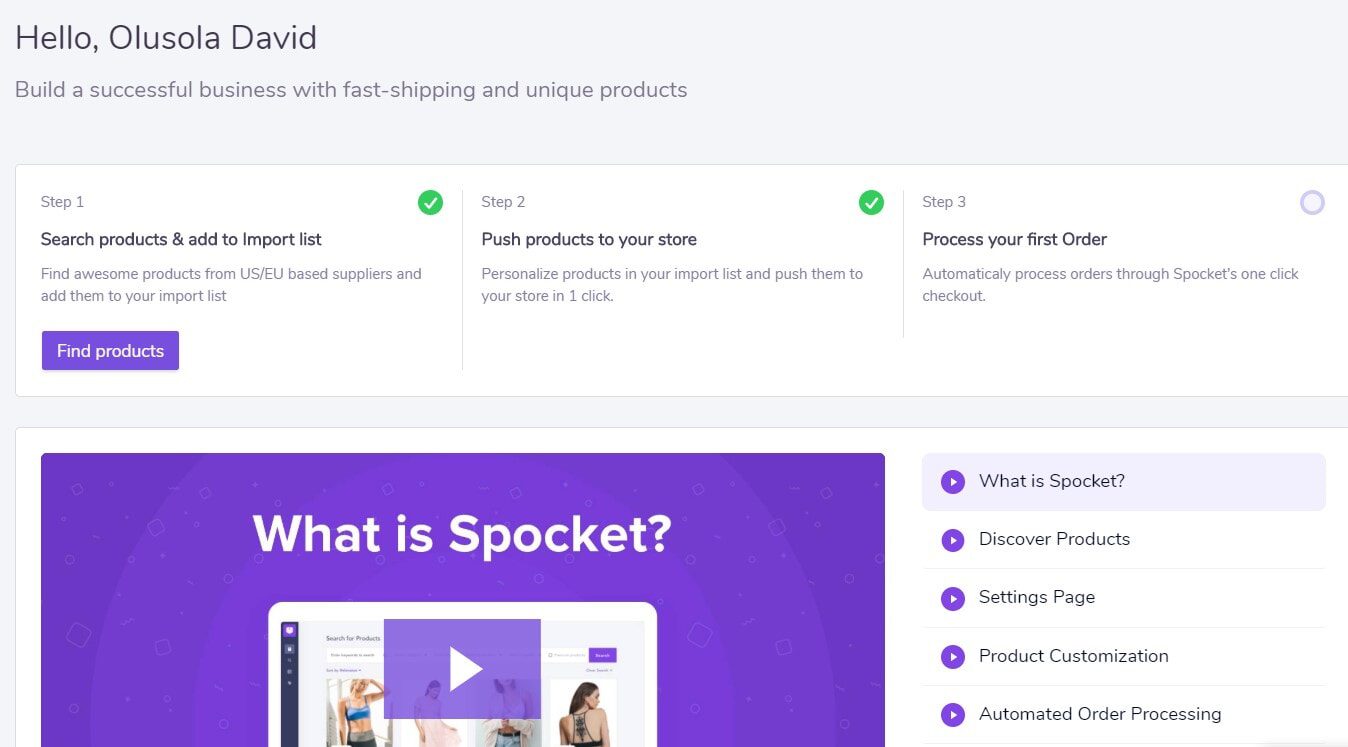 From your Spocket dashboard you'll be able to:
Search product by price filter
By keywords
Check all product category
Select supplier by location
Also, choose premium products
This will allow you to choose products based on your specification and have them pushed to your store with just a click.
Equally interesting about the app is the welcome video that's done to walk you through the entire process step by step.
So, I don't have to walk you through this again, since they've got you covered.
Spocket Review: Best Features
The primary feature with Spocket that makes it stand out is the fact that you can have less than 5 days of shipping of products from various suppliers scattered around the US and EU with up to 60% discount on each product.
Amongst other features you'll enjoy while using the Spocket app includes the following:
Huge Catalogs of Products
From the Spocket marketplace, you'll have the ability to search for varieties of products from their hundreds of thousands of products catalogues that fit specific store niches. You could search with keyword option or use the price filter.
At the same time, you also have the option of sourcing products based on supplier location across various part of the world.
Not just that, Spocket have been able to stand out because of their high-quality products catalogue. All merchants are especially verified with intensive screening procedure before their products can be listed on Spocket Marketplace.
All these are to ensure Spocket users have a quality relationship experience with their supplier as well as selling high-quality products.
Faster Shipping Time
This is one of my favourite parts with Spocket. It allows you to enjoy fast shipping of your products and invariably makes your customer happy.
However, the shipping days may vary on different products and supplier location. But you can always check this before importing the store to your Shopify or WooCommerce store.
This owes to the fact that more than 60% of suppliers on Spocket are based in the US and EU compared to sourcing for products from other popular dropshipping websites in China.
With this, you can enjoy more purchasing experience with your customers and have their products deliver fasters, which is going going to earn your store a better reputation.
One-click Product Import
The one-click import button saves you the stress of adding products image, description and many other kinds of stuff that can easily do away your time. With the import button, you can easily import as many products as you want automatically.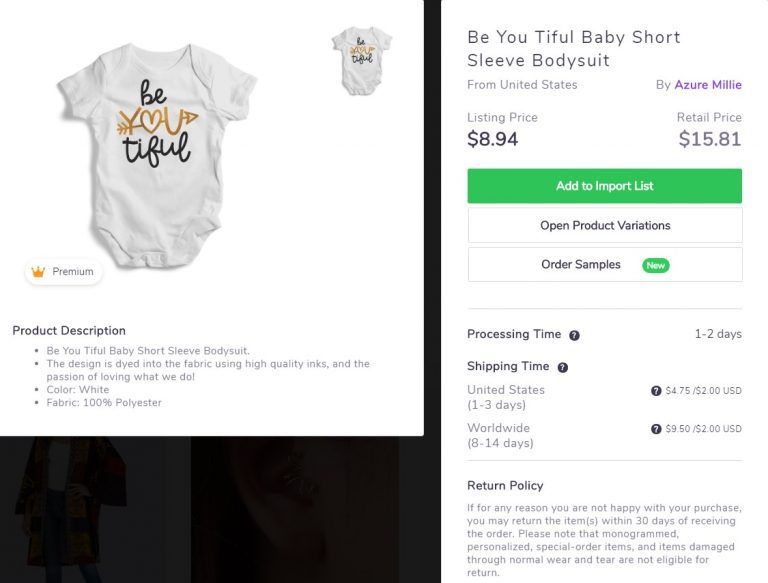 Also, from your import list option, you have the chance to edit products to your own taste before you finally pushing it to your Shopify store.
This will allow you to re-write products description for SEO purposes and as well change products price to suit your own profit margin.
Automated Order Fulfilment
Once your customer made a purchase all their data's such address etc. will be generated on your checkout page which will be sent over to the supplier.
Immediately orders are sent, you'll receive an email confirmation and your supplier will get started with shipping of the products to your customer.
Immediately the order is shipped, you'll see a track order button on your dashboard with details of stats and location of the products, which is automatically sent to your customer as well.
This feature makes the whole process easier and allows no room for mistake since it's automated and not done manually.
With this, you can run your day to day activities with more peace of mind without having to bother on several tasks to do about your dropshipping store.
How to Cancel Order on Spocket

Perhaps, you feel like cancelling any of your processed order on Spocket before they are shipped. Here's how to do it.

First, email your cancellation request to support@spocket.com
Secondly, include the order number and the name of the product
Finally, give a short reason why you need to cancel the order.

Once you've done that the customer support team at Spocket will review your request and do as right. However, they can only cancel Order that has not been shipped.
Price Mark-Up
The pricing Mark-Up features allow you to automate the entire pricing process of your store. You can either choose the option of multiplier, Percentage or the fixed price.
Whichever you do will affect the profit turnover of your store.
For example, let's say you're using the multiplier markup type. A $20 product price with 2.5 markups will automatically change to $50.
You could also set up a cent roundup for your entire products. For example, using a .99cents will round up your products to $50.99.
The profit margin on Spocket is another big deal that made the platform standout. You can make a 30 – 60% profits margin on all product sold by you.
Which is unlike other dropshipping platforms.
Product Customization
Product customization allows you to edit products before you finally publish to your Shopify or WooCommerce store.
From your import list page, you can rewrite the product's title, add tags and edit the products description page in other for your products to get index faster by the search engine.

Equally, you can also go through the product variant and check out variants you don't want to sell. Lastly, you can edit the product's image by adding "alt" text in order for it to get indexed quickly and rank higher on various search engine results.
Branded Invoicing
This is one of the options and features available on Spocket that can't be found elsewhere. Using Spocket gives you the ability to customize yourself as a brand by the virtue of adding an invoice to your product package.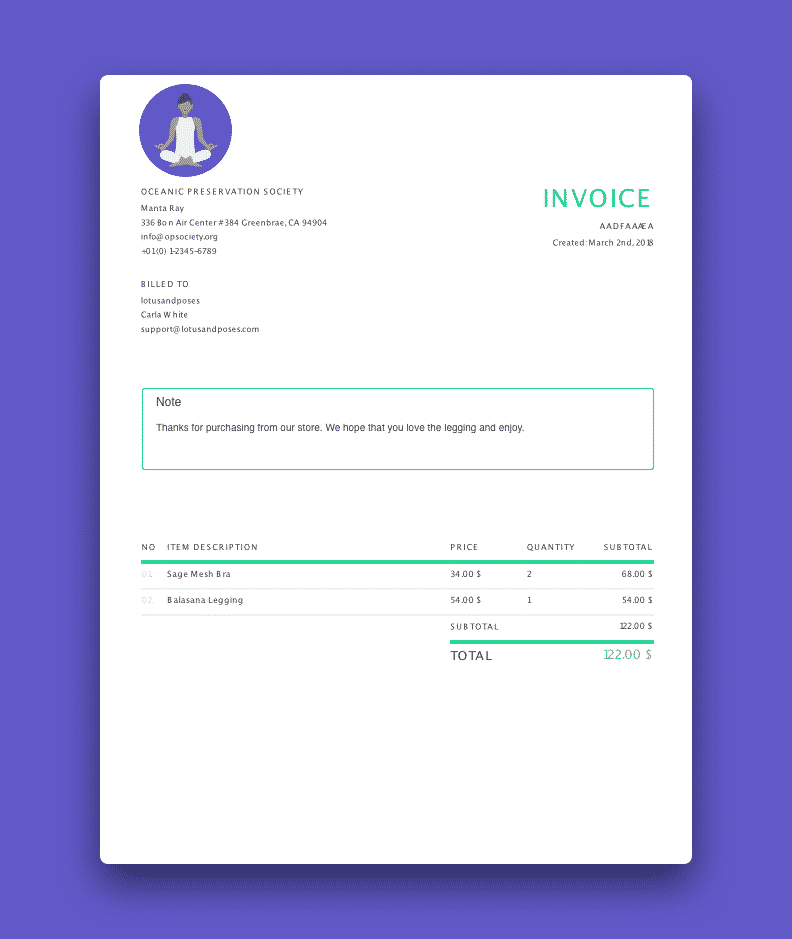 This will create more trust in your customers toward your store and as well make your products stand-out and more authentic.
Sample Product Orders
Just to assure you about your product quality, Spocket makes it easy for all users irrespective of your plan to order for sample products.
This will allow you to personally examine the product yourself if it's what you expect it to be. Knowing the quality of your product will also help reduce product refunds.
This is just another factor on Spocket that makes the platform standard and unique. No matter your business model, you should have a personal experience with the product and services you're pushing to your customers.
In case you want to order for sample products, you can always do that from the product page. However, you can only order a minimum of 1 and a maximum of 5 products.
Once you're set, just follow the procedure as if you're buying the actual products. The supplier will be notified of your order as soon as the payment went through.
Supplier Screening Process
Spocket have some strong measures every seller has to meet before they can be accepted as a seller in the Spocket Marketplace.
Which happens to be the reason why products and supplier in Spocket marketplace are the best of the best. Let's have a look at what the process looks like:
#1. Through Application
Sellers trying to be a part of the supplier based on Spocket Marketplace have to apply through their application form.
And this can only be approved when they meet the required standard of Spocket marketplace. Like how fast the supplier is willing to ship, the kind of products, product quality etc.
#2. Interview with Supplier
An interview is also scheduled with any supplier interested to be a part of the Spocket Marketplace.
This will allow them to thoroughly investigate the supplier and learn more about their business like history of their sales and every other important aspect of their business as a whole.
#3. Supplier Product Test
This is done to finally examine the product of the seller before they can be listed as a supplier on the Spocket.
The product test will allow the Spocket team to know what their platform users should expect from the supplier.
Expectation like how they package the product, how long it took the supplier to have it process, the shipping time and various other important factors.
All these are put in place to allow merchants to enjoy the best user experience on the Spocket dropshipping platform.
Premium Product
As part of Spocket review, I think it's important you know that Spocket equally offers premium products which are carefully curated products that are proven to convert the most.
The premium products are only available to the paid members of Spocket both on Shopify and WooCommerce.
Other unique attributes of the premium products include:
Faster Process and Delivery Time
They are highly discounted product with amazing profit margin
Regularly updated; this means more and more of the products are being added on a regular basis.
And much more…
Automatic Inventory Update
As a dropshipper, you can't have access to your supplier inventory and of which it's important to know if your supplier products are up to date or not.
This will protect you from selling a product that is out of stock. However, you don't have to worry about any of this as they entire process is automated by Spocket.
Your product inventory is constantly updated and as soon as a product is out of stock you'll be notified immediately. This way, you can quickly and easily change supplier to one having the product in stock.
Customer Support
Spocket offers great support to all its users. However, the quality of their support is based on your subscription plan. The free plan has access to email support only. While the paid plan enjoys chats and email support and even calls.
How to Find Products to Import on Spocket
Once you come on board as a Spocket user, the next thing is to start importing products to your online store.
Spocket actually made this very easy as you can use the several filter option on your dashboard to your advantage.

You can decide to search for products to import using:
Keyword Search
Product Category
Price Filter
Select by Location
Supplier
Basically what this filter does is that it makes the entire product search easier. Let's say, for example, you want to search by "Location".
This feature allows you to choose products based on your supplier location. With this, you can easily have your products sourced within your customer location and have it delivered to them as fast as possible.
Before you finally import your product, if you want to know more about the product, you can just click on the product and it'll bring out everything pertaining to the product.
Data like:
Listing price
Retail Price
Shipped from country
Product variant
Shipping cost
Product images
Once you're satisfied, you can then click on the "Add to import list". Every product added to your "Import List" can still be edited before you finally push them to your dropshipping store be it Shopify or WooCommerce.
Spocket Review: Pricing & Membership Plan
The Spocket app is available in four pricing plan. The starter which is the first Plan, Professional Plan, Empire Plan and the newly added Unicorn plan.
You should know that the paid plan comes with 14 days of free trial. However, you can also get started for free if you are not ready to launch your store.
The free account allows you to get familiar with the platform.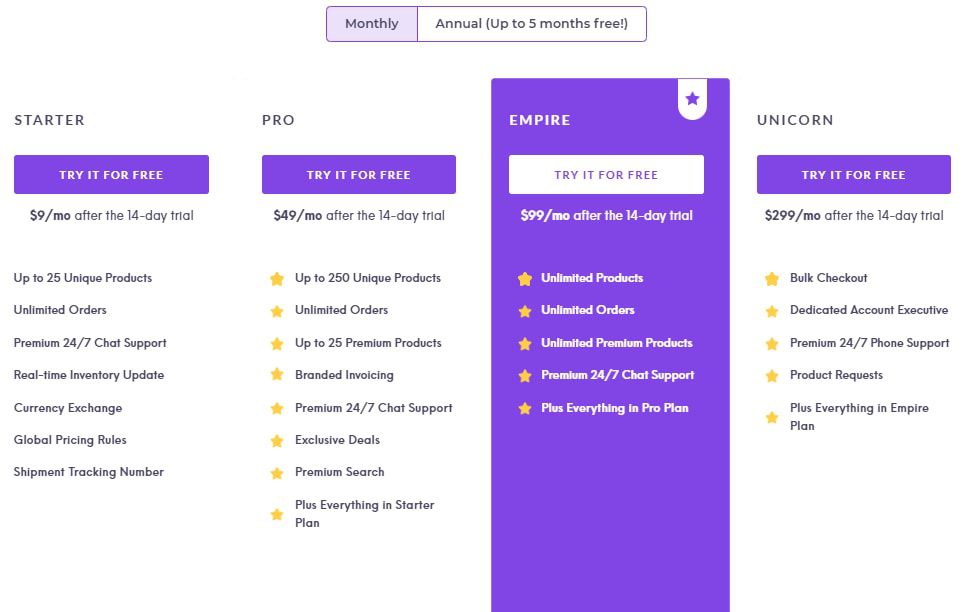 The Starter Plan ($9/Mnth)
The starter plan is good for anyone that wants to test the water and later upgrade to the next plan when your business started booming.
Import up to 25 products
Access to unlimited orders
Real-time inventory updates
Currency exchange
Email support only
Global pricing rule etc.
The Standard Plan: $49/Mnth
Import up to 250 unique products
Access to Branded Invoicing
Premium Products
Chat and email support
Unlimited orders
And everything included in the free plan
Empire Plan: $99/Mnth
This includes unlimited products and everything on the other plans.
This is a perfect plan for anyone that wants to scale his/her business!
Unicorn Plan: $299/Mnth
Bulk checkout
It comes with a dedicated account executive
premium 24/7 phone support
Product Request
Plus everything in the previous plans
Spocket Review: Pros & Cons
Let's take a look at the pros and cons of the Spocket App.
Pros of Spocket App
One-click Importation
This reduces the redundancy of adding products manually. With their one-click import button, you can simply have as many product imports directly to your store either on Shopify or WooCommerce.
Automated order-fulfilment
The same thing goes for order fulfilment. Whenever you have an order you can have it fulfiled automatically with just a hit of a button. All customer info will be pushed to the supplier and he or she will have the product fulfilled for you.
Fast shipping time
You can source for products in Canada and sell to customers in Canada. The same thing goes for the rest of the countries. Thus, increasing your shipping time compared to using AliExpress.
Suppliers are being added on a daily basis
New Supplier new products. Their product catalogues increase alongside supplier on a daily basis. And there is one thing to be sure of while using Spocket, it's going to be their quality products.
Product discount up to 60%
You'll also get to enjoy product discount up to 60% which is going to skyrocket your profit margin.
Cons
US & EU Supplier base
You can only have access to suppliers within the confine of the above countries and while shipping products outside US & EU will increase your shipping cost and as well as the shipping duration.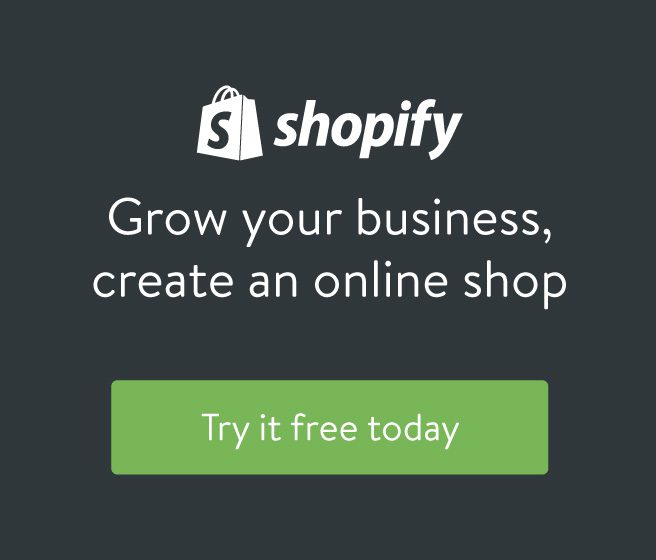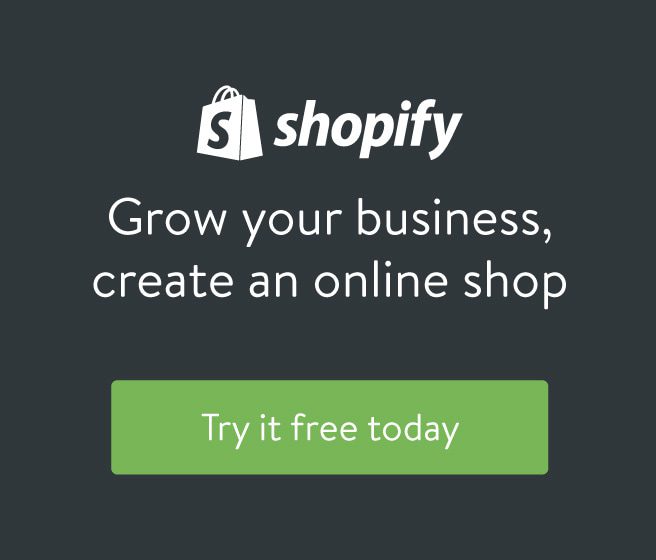 Frequently Asked Questions
Let's go over the Frequently Asked Questions about Spocket and see if you'll probably have an answer to a question you might want to ask:
Do Spocket Offer Free Trial?
All Spocket monthly paid plans have a 14-day FREE trial. You can try the Pro and Empire Plans for free, for up to 14 days and you won't be charged if you cancel before your trial ends.
Can I Get A Free Plan On Spocket?
You have the free plan by default as you register on the platform. You do not need to take any extra steps to get the free plan. If you install Spocket and do not upgrade, you are on the free plan.
Do I Have To Pay To Use Spocket?
You only need to pay if you select the paid plans i.e. only on the Starter, Professional and Empire plan. Besides that, you're on the free plan and you don't need to pay a dime.
What Countries Do Spocket Works In?
Spocket is available for use in any country in the world. As long as you have an online store and a credit card, Spocket is good to go.
Can I Cancel My Spocket Plan At Anytime Time?
Spocket is available for use in any country in the world. As long as you have an online store and a credit card, Spocket is good to go. All monthly subscription plans can be cancelled from the account settings page. However, annual subscription plans cannot be cancelled prior to the end.
Who Should Use Spocket App?
Spocket is meant for various kind of people. If you're starting out with dropshipping and you want a completely done for you package via Shopify or WooCommerce then Spocket App should be your go-to app.
With the help of Shopify or WooCommerce and Spocket, you can have your dropshipping store up and running within a few minutes.
It's obvious that some of the products on AliExpress are compromised and you want nothing close to that. Then give Spocket a trial and see how it goes.
They are known for quality products and reliable supplier. So, using them means you're completely covered on both supplier quality and that of products.
Ready To Give Spocket a Trial?
Let me know what you think about the Spocket review. Also, if you have any questions concerning the review simply drop them in the comment section, will get back to you!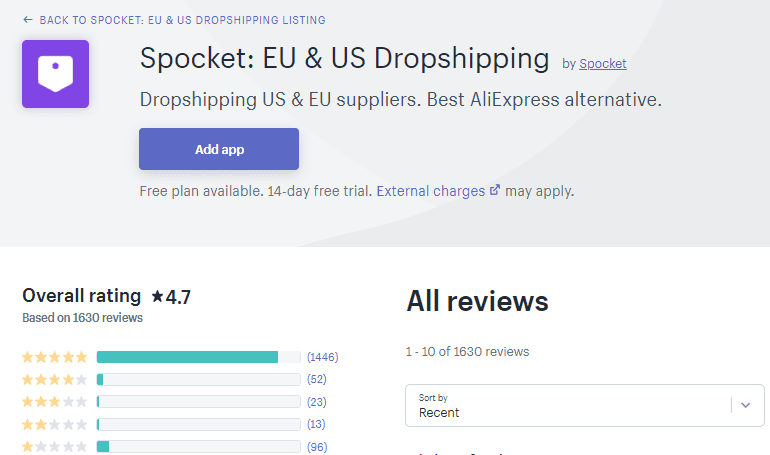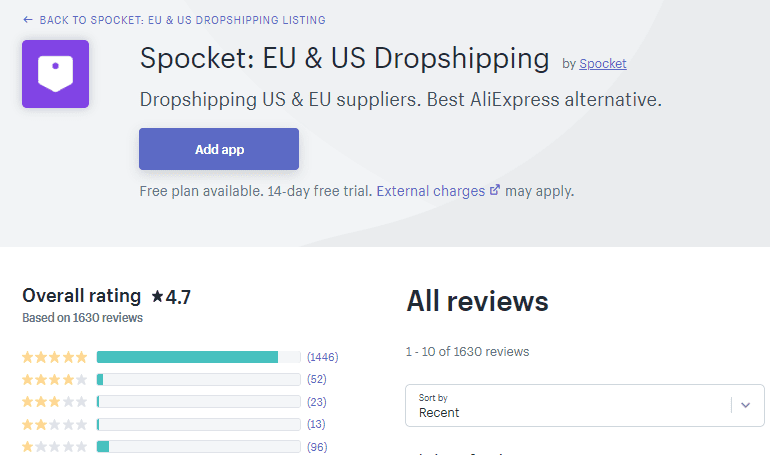 Learn More: