AliDropship Premium Store Review: [My Experience 2023]
In today's AliDropship premium store review, we're both going to take a look at the premium dropshipping store to see if it's worth your time and money.
To do this, I'm going to share my experience and results with the premium store after I bought my own from AliDropship.
I'll share with you the whole process from setting up the store to how I got my first sale with the AliDropship premium store.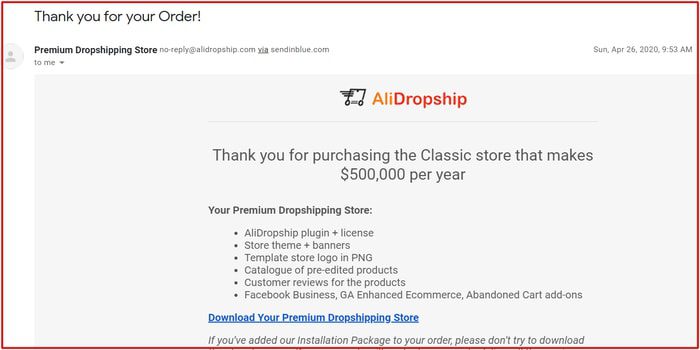 I understand that starting a new dropshipping business from scratch can be overwhelming and time-consuming at the same time.
You'll have to go through the stress of niche research, winning products, test adverts, and store customization to appeal to your potential customers.
What if all of those stress are taken away, and what you have is an exact copy of a successful dropshipping store with products ready to start making sales?
Think about it… literally copy and paste!
You won't have to do any niche research, because what you have already is a catalogue of tested and proven winning products.
Not just that, you also have access to the same promo materials as these successful dropshipping stores. Materials like pre-created ad copies, visuals, Facebook audiences, targeting, etc.
Sounds great, yea?
This is exactly what the AliDropship premium dropshipping store is all about!
And I'm going to walk you through the whole process and show you how you can be successful about it.
Purchasing the store only does not guarantee your success.
There are other steps and actions that need to be taken and I'm going to show you how I went about my own premium store after I purchased one from AliDropship.
So stick around as I unveil this
In this AliDropship premium store review, we'll be looking at everything you should expect, what's included and what's not and equally, its pros and cons.
Let's dive straight into it!
What Is AliDropship Premium Store?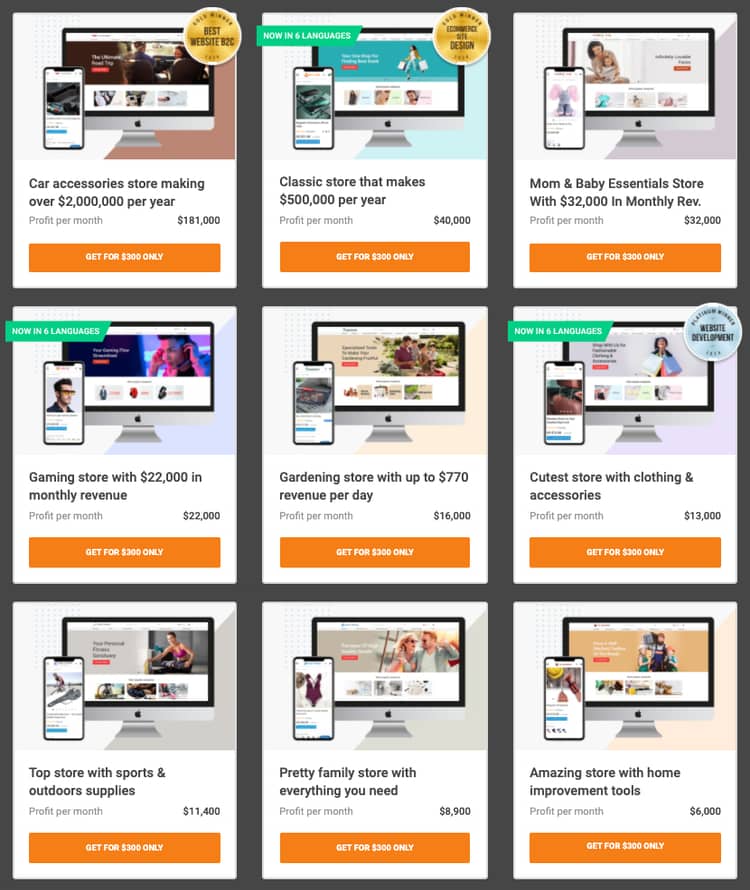 The AliDropship premium dropshipping store is an exact replica of some of the AliDropship top-performing dropshipping stores.
When you purchase one of the premium stores, you'll get an exact copy of one of the 9 available premium stores. Depending on which one of the stores you want.
This includes the store's theme, website structure, imported products, design elements, product data, etc.
Basically what you'll get is an exact copy or duplicate of one of the highly successful dropshipping stores.
It is more like a "kick and start" business, you basically have everything needed to be successful with the dropshipping store.
This includes features like; bestselling products, products from reliable suppliers, premium themes, and promotion strategies to replicate.
Initially, when I first got the AliDropship premium store it was around April 2020.
And for one reason or another, I couldn't follow up on it because I was busy with another project at the time.
The first one I got was the classic store that generates a $500,000 annual income.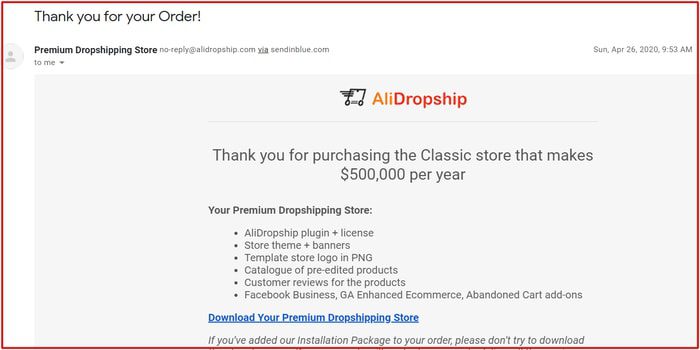 At that time it was recently launched and the installation process was very complex.
I did a video on how to install the first version in 2020 before the new installation process they now have.
Eventually, I was ready to promote the store in late 2020 but then I was having issues with the activation key so I contacted them at AliDropship and I was provided access to another one.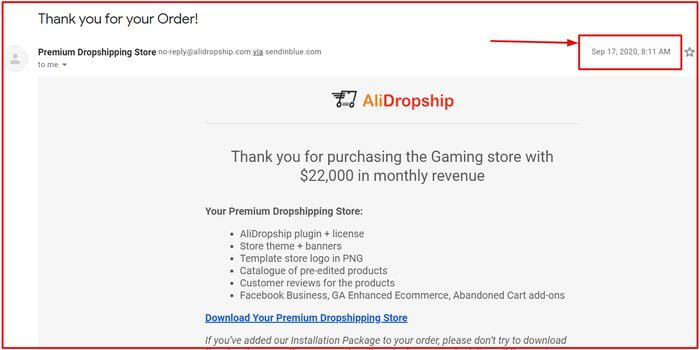 This time around I went with the gaming store duplicate that was making around $20,000 a month because love the gaming niche.
The installation process was way easier than the first one and I'd advise you to install it yourself to save the extra cost.
How Does The AliDropship Premium Store Work?
Currently, they've listed 9 among their successful dropshipping stores for anyone interested to make a purchase.
And among these store includes:
[Buyitcarl.com] A classic store that generates a whopping $500,000 annual income
[Otakujoy.com] The gaming dropshipping store that generates $18,000 monthly revenue
[unicornwave.com] A clothing and accessories dropshipping website with $12,000 monthly revenue
[Mrinstruement.com] An amazing instrument collections store with home improvement tools that make $6000 on a monthly basis.
[Theautomerch.com] Finally, Auto Merch is an all-men essentials store with $4000 monthly profits
After choosing any of the above stores, you're going to get the exact copy of the website, same-store customization, images, product descriptions, winning products, suppliers, etc.
You, on the other hand, will have to download the website files and upload it on your own web hosting and finish the installation process.
And Yes!
You're going to need a domain name and web hosting after you've purchased one of the premium stores.
But if you want the AliDropship team to handle the installation process for you, you can as well add it to your order.
You can host any of the premium stores on any web hosting you like but make sure the hosting server supports Ioncube Loader.
Bluehost comes with a free domain name, free SSL certificate, and 30 days money-back guarantee and it supports Ioncude Loader.
So I feel Bluehost is a good match!
Once your store is up and running, you can also use the same promotional strategy used for the successful dropshipping stores to promote your store.
These include:
Facebook and Instagram Audience
Targeting
Demographic
Text Copies
Visuals
Etc…
You just need to replicate or even create something better than that for your own store creation more on that later.
My AliDropship Premium Store Review and Experience
In other to make this AliDropship premium store review unbiased I'm going to share my experience with the one I got.
As I said earlier, I got a duplicate of the gaming store that makes over $20,000 per month because I personally love the gaming niche.
So after making the purchase I was redirected to the download page to download the store files.
I also got the marketing package alongside my order but I didn't go for the installation package.
The installation process is quite easy because you'll only be required to install a few plugins to get the job done.
But for the marketing package, it comes with winning products and targeting strategies you can use to promote the products on Facebook and Instagram.
The Marketing Package

The marketing package includes chosen few among dozens of tested products by the AliDropship team.
Based on their research, these are the best products doing well for the choosing store you want to buy.
So the products are currently in high demand, their landing pages are optimized for high conversions, targeting details are clear, and creatives and ad copies are also created to attract a maximum number of visitors to your store.
The marketing package comes with information you can use to set up your Facebook ad campaigns.
The Marketing Package information includes:
Product name: Since the winning products are included among the product on your store, you can use the name provided to find it on your website.
Ad Creatives URL: This links you to the best performing creatives that you can use in your various ad campaigns.
Recommended Audience: This contains targeting information or data about the audiences that are truly interested in the particular product you're about to promote. Here's an example below from one of the ones provided for me.
Recommended Placements: This includes the best placement to show your ads according to their experience based on their previous promotion.
Product Ad Copies: These are Ad copies that proved their efficiency and showed the best performance among the others.
I found the whole process very easy as a result of the marketing package I got alongside the premium product.
Because everything I did with my ad campaign was literally copied and pasted.
I tested 2 of the winning products from the package, One outperformed the other and I was able to make sales the first day running the ads.
Initially, I was getting like an order per day until I stopped the campaign and then start with another targeting interest.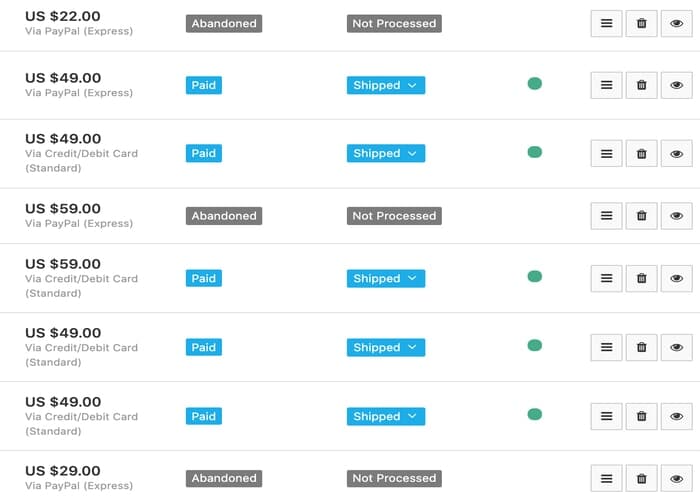 Within the first 3weeks of promoting the store which is around November 2020 to December 2020, I was able to generate around $1900 in product sales.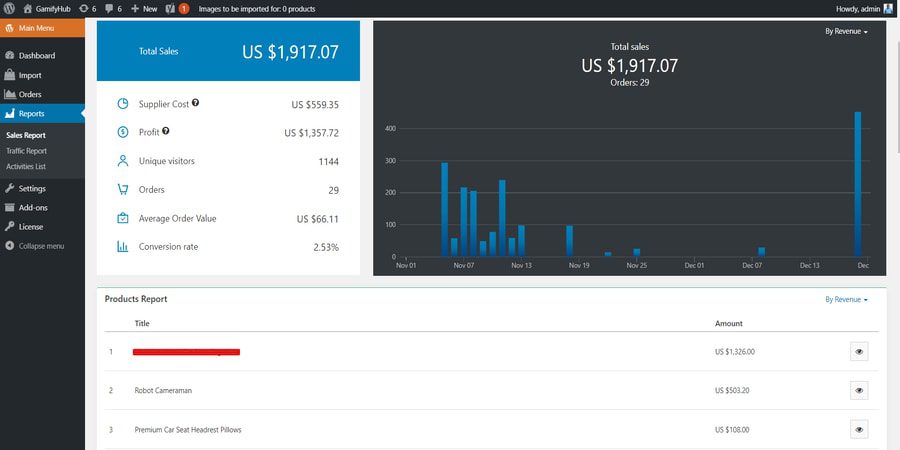 The ad campaign was actually a crash campaign because the whole idea back then was to test the AliDropship premium store and most especially the marketing package.
I equally did a video on the AliDropship Premium store review about my sales on the YouTube channel, you can also check it out.
The Installation Package
As I said earlier, I didn't purchase the installation package with my premium store. Instead, I installed it myself.
From my experience, I think the installation process is pretty much straightforward to do.
Once you've set up your WordPress site, you'll need to install the premium replica plugin which will be used to import products to your newly created website.
I did a walkthrough video on how I installed my premium dropshipping store, you can check it out and use it as a template to install your own.
Again, if you're worried about not being able to install the store yourself or scared about messing things up and you later want to go for the installation package, you can also do that.
As you can see from the image above, I got a mail from the AliDropship premium team manager 'Tatyana' with links to purchase the installation package perhaps I change my mind.
Sellvia Product Shipping
The Sellvia package is a recent product by the AliDropship company. It's an ideal solution for dropshippers that are looking to target the US market.
This package allows you to ship your products within 1-3 days across the united states using their US-based fulfilment centre.
With Sellvia, you can expect the following:
Enjoy 24 hours order processing time
1-3 days delivery across the United States
200+ best sellers in stock and growing
keys for up to 10 stores where you can use the Sellva add-on.
Other than the fast shipping, Sellvia products come with professionally designed product pages and a ready-to-go marketing campaign coming soon.
Finally, you will still be able to ship from AliExpress if you want to sell worldwide.
How Does Sellvia Work with Your Website?
Sellvia is an installable plugin that lets you import products from the Sellvia store catalogue!
All the product catalogues are kept in their California warehouse which makes them ready for quick US shipping.
When a customer places an order for any product, you'll be able to fulfil the product via Sellvia instead of AliExpress.
All you need to do is make payment on the Sellvia website and once your order is received they'll process it within a day, unlike AliExpress products that take up to 7days for processing.
After the product is processed, the Sellvia warehouse then delivers the product within 2- 5 business days.
However, you should know that the package costs $39 every month to keep using it.
To find more information about Sellvia I'll suggest you read my in-depth Sellvia Review.
Other AliDropship Add-ons I Use on My Premium Store
This isn't compulsory or necessary because it only going to be an additional cost in your own case.
But if you can add any AliDropship add-ons to your store I'll suggest you go with the following:
Social Rabbit: The Social Rabbit plugin is a WordPress Plugin that promotes your website on social media automatically. You just have to set up a template for it and it runs according to it.
Upsell: The upsell plugin allows you to triple your sales with catchy and complementary products based on your customer's tastes. It encourages your customers to buy more products from your sales and makes them happy with each of the products they've gotten.
Countdown timer: The Countdown Timer Add-on is a promotional tool that helps to create urgency and scarcity in every possible way.
Recent Sale POP: The sales Pop-up works by giving your online store the traditional brick-and-mortar feelings. It does this by showing evidence that there are many happy customers already buying your products.
Abandon Cart Plugin: The abandoned cart add-on gets the details of your potential customers. This is done to later forward email notifications to remind and encourage them to come back to your store.
The addons plugins are basically to help increase your product sales conversion on your website.
You can find the add-ons and other amazing ones here.
What's Included in the AliDropship Premium Store?
These include the exact items that you're going to get immediately after you purchase the AliDropship premium dropshipping store.
And what you're also going to upload to your web hosting server.
Let's go through them so as to be sure of what you're going to GET before making a purchase!
An exact copy of your chosen premium store
Store design and customization
Mobile responsive and SEO-optimized website
Ready to sell winning products linked to suppliers
Catalogue of pre-edited products
Nicely written product description
Well-written customer reviews for the products
3 add-ons with license key (Facebook business plugin, GA Enhanced Ecommerce plugin, Abandoned Cart plugin)
Covers, Avatars, and Bio texts for your social account design
Finally, the AliDropship automated plugin
Going through the AliDropship blog itself you'll find tons of valuable info and tutorials for free that you can use to supercharge your dropshipping business.
This includes paid marketing guides and free marketing guides you can use to market your products after you must have installed the website.
What's Not Included in The AliDropship Premium Store?
These are the list of what you need to make the store live after your purchase, but not included in the AliDropship premium store.
Additional items you'll need but not included in the package. They include:
Hosting and Domain Name
Store logo
Social Media Accounts
For the store logo, you can use the one included in your purchase, it comes with the file you download after making a purchase.
Or better still; design a new one for yourself!
My AliDropship Premium Store Discount Coupon
I understand that $300 may be much when you're tight on budget, which is why I request a discount coupon from the AliDropship team.
So instead of paying $300, you can save $45 and pay $255 instead.
The discount is just for you if you've decided to go along with the premium dropshipping store.
Based on my experience, anyone ready to put in the time and effort should be able to get a better result than I did.
So if you're interested, you can use my coupon OLUSOLADAVID15 and save 15% on your order.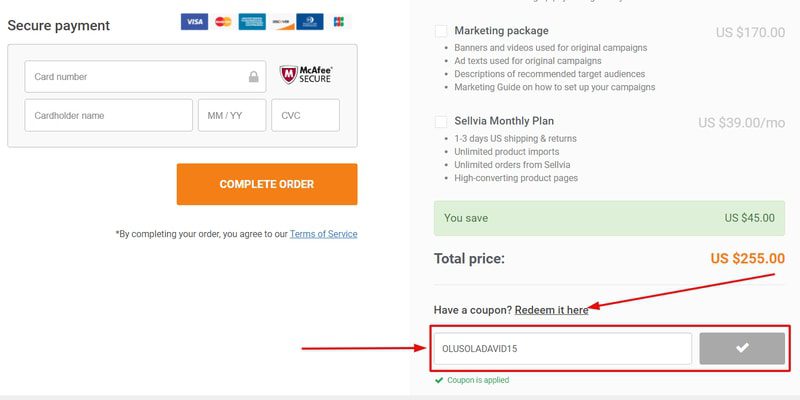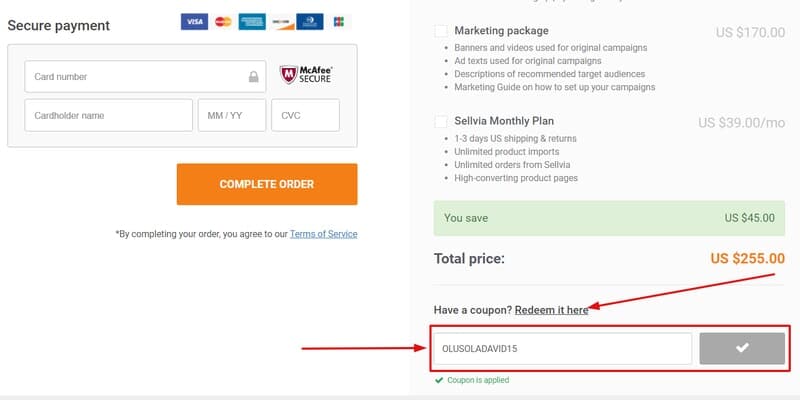 Before you check out, on the right-hand side of the checkout page, you'll see a coupon box below the price of what you're buying on AliDropship.
So once you're there enter the coupon code OLUSOLADAVID15 to save 15%.
AliDropship Premium Store Review: Features
Let's take a look at some of the features of the AliDropship premium dropshipping store and see if it's worth the HYPE.
#1: Best Products from Reliable Suppliers
The AliDropship premium drop shipping store comes with a catalogue of winning products handpicked by the AliDropship team themselves.
If one thing is certain, it's that they've been in business for a while and they sure know how to pick their products and suppliers.
The products you'll be getting are linked to the supplier already with the help of the AliDropship plugin that comes with the premium store.
Once you start receiving orders, all you'll need to do is process the orders via the AliDropship plugin.
#2: Kick & Start Dropshipping Store
This simply means everything is done for you, there's no need to start from scratch again as everything is already made available.
You don't have to go through the stress of finding winning products, niche research or store customization.
Everything is already handled by the AliDropship managers; your only work is to handle your store orders and process them as well as promotion.
However, before you start selling you do need to integrate your preferred payment gateways to receive payment from your customers.
#3: One-Time Payment
This is also one thing that's certain with AliDropship and its one-time payment. There's no recurring payment or any hidden fee.
Everything it's going to cost you is made obvious on the order page.
The two additional costs on the order page are optional, which is the Installation Package & Marketing Package.
If you want the AliDropship team to handle the store installation on your web hosting, you can add the installation package to your order.
And it's also a one-time payment.
The same thing goes for the marketing package.
#4: Choice of Niche Store
You can choose from any of the 5 successful niche stores as there's no need for you to do any niche research again.
Each of the 5 premium stores is very successful in its chosen niche and you can replicate the success of any of the niche stores.
Everything is included; niche products, suppliers and promotional tools and plugins to further promote your store.
#5: Full Ownership
Once you made your purchase you'll have full ownership of the store and it comes with LIFE-TIME support from AliDropship.
All profit made on your store belongs to you and you can decide to add additional plugins you feel you need to enhance the store for more sales and functionality.
Who Is The AliDropship Premium Store for?
The AliDropship premium store is basically for EVERYONE that wants to make money with dropshipping.
And most especially for those that have no idea how to start.
It's for those that are afraid to lose their hard-earned money on winning product experimentation with less to little knowledge on ads campaign.
It comes with a marketing package that can give you a head-start as to how to promote the store on social media.
However, you do need to have a basic understanding of how to run an advert or must have run an advert before.
This is because you'll be the sole person to promote your store!
The marketing package is just a guideline or blueprint on how to do it properly by replicating the success of the AliDropship campaign ads for their successful dropshipping stores.
AliDropship Premium Store vs Custom Store
Perhaps you've been wondering what could be the difference between the AliDropship Custom Store and Premium dropshipping store.
The AliDropship custom store is developed from scratch and it's tailored to suit your needs and preferences.
It's going to take 12 – 25 business days to get done depending on the package you choose.
The Premium dropshipping store, however, is a copy of your chosen store from the 5 existing successful dropshipping stores listed by AliDropship.
Unlike the custom store, your premium dropshipping store is made available the same day you purchase it.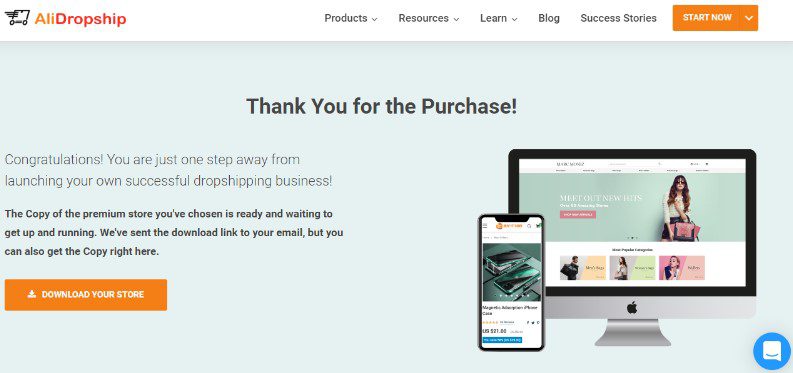 You just need to download the files after your purchase and upload it to your hosting server and start selling the same day.
Cons of AliDropship Premium Store
Well… I must say!
Just like every business out there, not all is sunshine and roses when it comes to purchasing the AliDropship premium dropshipping store.
Just as it has its good sides, so also the cons and we're going to be exploring them in these AliDropship premium store reviews.
#1: You Need To Know How To Run Adverts
You're required to have a bit of an understanding of how to run promotions to start generating sales.
If you don't know how to run an advert or you've never run an ad before, you'll have to learn or go through their materials (Free Resources) on how to promote your store.
The Marketing package is just a template of what's working already and what you can replicate.
So, it's not like they will be the ones to run the adverts on your behalf.
You're solely responsible for how you promote your store.
The good side, however, is that they have several materials you can explore to polish your ad skills.
#2: Installation Process
You need to have basic WordPress skills to be able to install the premium store on your hosting server successfully.
If you don't, it could be stressful. Again, there's a package for the installation process for those that might find it difficult.
But it comes with a fee, which I'll be discussing in the next heading.
Other than that, I've created a video on how I installed my own premium store.
#3: Niched Stores
The majority of the AliDropship premium stores are niched stores which usually restrict you to certain types of products except if you use a generic domain name.
Take for example my own case, there was a time I was looking for more products to add but the majority of the winning products I saw is out of my store niche.
But if your domain is not restricted to a certain niche you can easily sell more products.
All you need to do is add another category for the new product.
AliDropship Premium Store Price
What's it going to cost you to get the AliDropship premium store?
First, you should understand that it's a one-time fee with no hidden charges.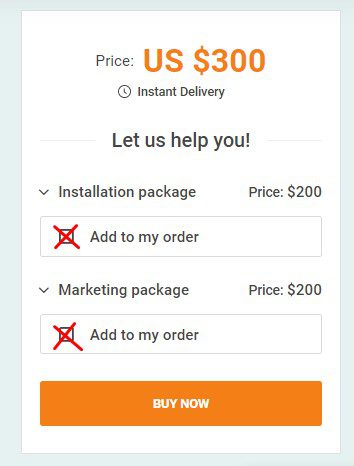 The AliDropship premium store costs a one-time fee of $300.
This is just for the store alone, the installation and marketing package cost the following:
Installation Package: $200
Marketing Package: $200
Sellvia: $39/month
Why the store alone without the installation and marketing costs $300 but including the two packages it's going to cost a $700 one-time fee!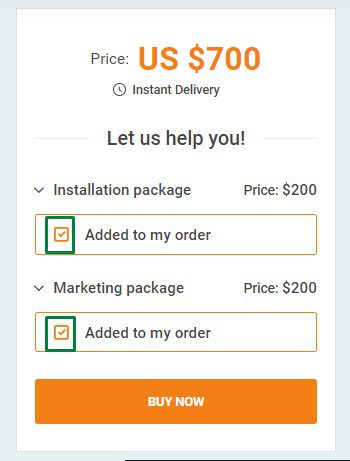 AliDropship Premium Dropshipping Store Examples
Are you having a hard time selecting the right store for yourself?
Let's explore them together and check if anyone will catch your attention.
They all come with unique products ready to start selling.
#1: Car Accessories Store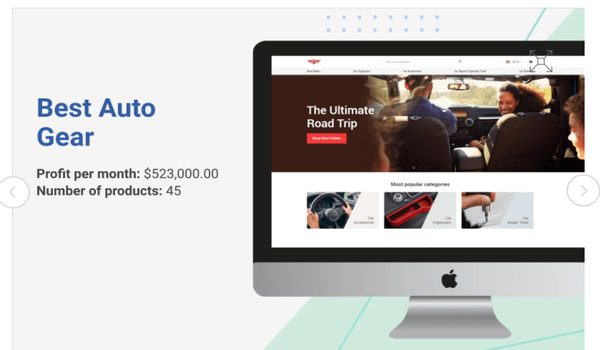 First of all, the Car niche is a wide niche that offers so many profiting opportunities.
The car comes in different types like Luxuries car etc.
So also are the kind of products you can sell in this niche.
As a matter of fact, the best-selling product in my dropshipping store happens to be a car-related product.
Even for AliDropship, this happens to be their best dropshipping store making the largest money for them from the listed store.
So I believe this will make a good ROI for anyone that plans to invest in it with a good marketing plan.
Monthly Profit: $523,000
Store Product: 45
#2. Classic Store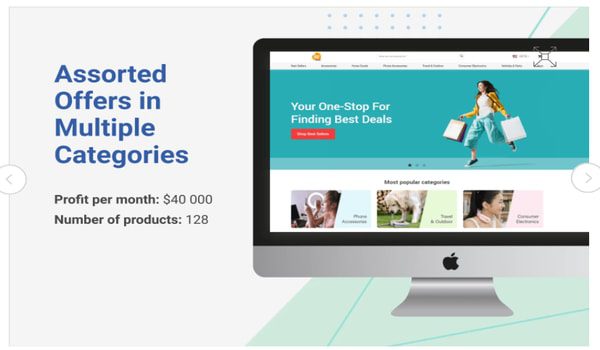 The classic store is a perfect store for anyone looking to start with a general store that allows you to sell any kind of product.
The store comes in 5 different languages, meaning you can get it for any specific location within the available language.
I believe if you're not sure of which store to go for among all the stores, this classic store will be ideal for you.
Also looking at the profit margin I believe this is something you might want to look into.
Monthly Profit: $40,000
Store Product: 128
#3: Mom & Baby Essentials Store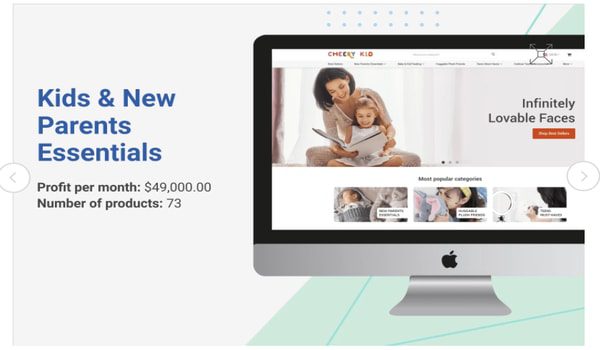 This is another dropshipping store with a wide audience that you might want to look into.
The store happens to be around the parental niche which is quite lucrative too.
Looking at the store profit per month, we can quickly deduce how profitable the store can be. Moreso, if we have the right marketing template.
For anyone that loves babies or a parental niche, I think this might be worth looking into for a good investment.
Stores like this will specifically do well with Pinterest marketing coupled with winning products and a good plan.
Monthly Profit: $49,000
Store Product: 73
#4: Gaming Store
This is an authoritative niche among techs. Apart from that, this niche also enjoys quite a number of audiences with varieties of products to choose from.
I chose this niche for myself because I love games personally. I eventually did well with the niche because my campaign was profiting.
The only but here is that I find it difficult to add generic products to the store because even my domain name is customized to the game.
If you would go with this niche, make your domain generic so you'll be able to switch products easily.
Monthly Profit: $22,000
Store Product: 52
AliDropship Premium Store Bonus Package ( Free Dropshipping Course)
This is the bonus that comes with the premium dropshipping store.
When you purchase the store, you'll also be granted access to the valued packed dropshipping course by AliDropship.
This is particularly good for those that are new to the business model.
The course covers the basics of dropshipping and emphasizes how to use Facebook to market your dropshipping store.
Let's have a preview of what the course looks like:
#1: Introduction: Dropshipping Basics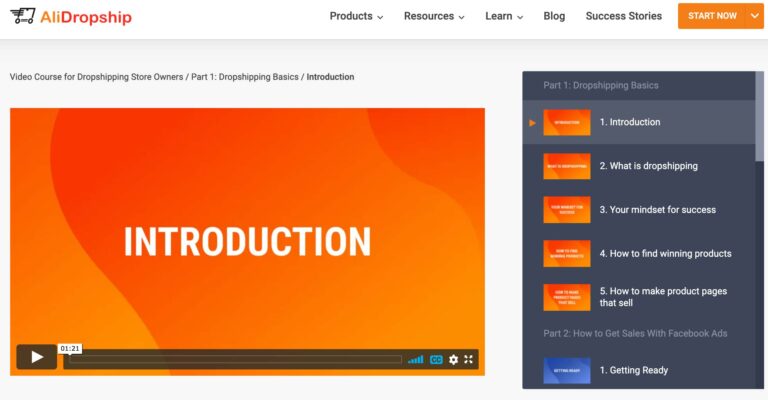 This focuses on dropshipping for beginners and setting your mindset straight for success.
The latter modules explain how you can source additional winning products for your dropshipping store.
And finally, how to optimize your product page for more sales and increase your conversion rate for your dropshipping store.
#2: How To Get Sales With Facebook Ads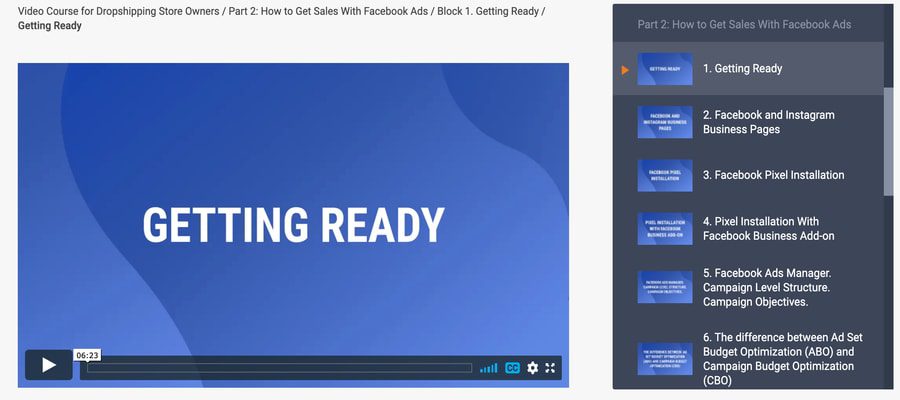 This part focuses extensively on Facebook Ads since Facebook is a huge marketing resource for eCommerce as a whole.
Using this lesson, you will be able to set up your Facebook ad manager and create your ad like a pro!
It includes basic processes like setting up your pixel code and understanding common terms like "Ad Set Budget optimization and Campaign Budget optimization.
It also includes advanced Facebook marketing where you get to scale your product marketing to even get more sales.
This is some cool stuff you shouldn't miss out on if you're having little experience with dropshipping.
#3: Managing Your Store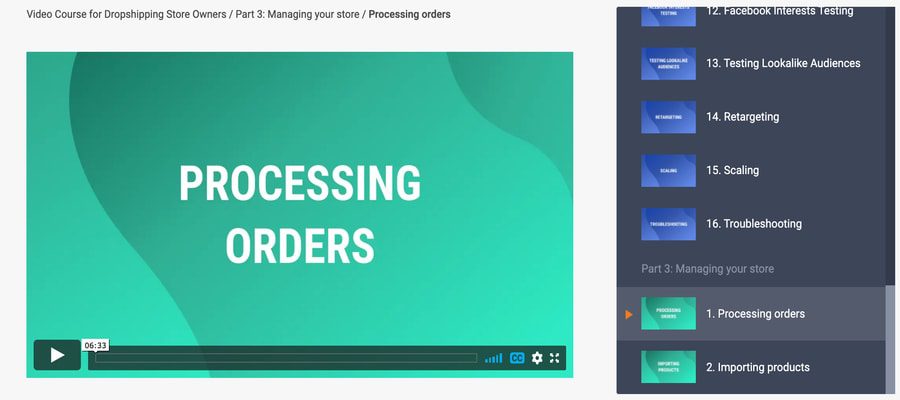 The final part focuses on managing your store and how you can process your orders and import more products once you start generating sales.
I believe this alone will cut weeks of learning and paying for an additional drop shipping course.
However, getting the premium drop shipping store gets you the course for free which I believe is a win-win.
Frequently Asked Questions about Alidropship Premium store
Below are some of the frequently asked questions about the Alidropship Premium store;
What Do I Need To Get My Store Running?
You need to get a domain name and a hosting service to upload and install the premium store. After that, you'll need to integrate your payment gateway to start receiving payments from your customers.
Will AliDropship Provide My Domain Name?
When you purchase the AliDropship premium store, it doesn't come with a domain name. You'll be the one to buy your preferred domain name and hosting to host your website
How Soon Will I Get My Store?
All the necessary files needed for your store installation will be made available immediately after you made a purchase. Your work, however, is to download and install on your domain name for you to start selling. They've also provided several free resources on their website on how to promote your store for maximum efficiency
Will AliDropship Help Me With Marketing?
The marketing package is a template or blueprint you can replicate to generate the kind of result they did with their successful dropshipping stores
Final Thoughts
I feel the AliDropship premium store is worth the price as I have one myself.
If you think about the value you'll get for that price alone, you'll understand it is worth more than that.
The marketing package lets you know the exact audience to target when you decide to promote your store, which could have cost you a lot on test adverts.
You won't have to waste your money on test adverts or winning products or searching for reliable suppliers. Everything you need is made available to you.
Ready To Give It A Trial? ==> Get a 15% Discount Using My Coupon Code [OLUSOLADAVID15]
So what do you think about the AliDropship premium store review?
Do you think is worth it or not, do let me know what you think about the stores using the comment section.
Learn More