List of BEST Dropshipping Suppliers In Europe [2023]
I understand you are looking for the best dropshipping suppliers in Europe, and trust me, we've got the perfect list for you.
When it comes to dropshipping, the hardest task is the initial stage of securing a supplier for your product, and obviously, dropshipping in Europe isn't left out.
You need a good supplier to dropship your products for you if you want to run and grow a successful store. But here's the problem.
There are a lot of dropshipping suppliers and directories (like SaleHoo) to find suppliers. The question is, which one of them is suitable for you?
The Dropshipping model is quite straightforward. It usually occurs between suppliers or manufacturers, retailers otherwise the middleman and customers.
It's a business model that allows you and me to sell products without having to invest in product upfront. As such, all you have to do is forward orders to your supplier whenever you made a sale and he or she will have the fulfilment process taken care of.
With this, it allows new product ideas to be tested without no up-front payment, and of it all, delivery is legitimate.
However, different suppliers offer variant services but the foremost essential factors to be centred on in dropshipping is their:
Dependability
Reachability
Time-manner approach
And of it all, their fabulous after-sales service.
To this effect, I've come up with these step-by-step guides in choosing among the top best dropshipping suppliers in Europe.
Which invariably brought about our guide to choosing from the top best dropshipping suppliers in Europe. That been said, let's get started, shall we?
Quick Overview of best Dropshipping Suppliers In Europe
| Suppliers | Pricing | Shipping | Rating |
| --- | --- | --- | --- |
| Spocket | $24/month | 1-3 Days | 5.0/5 |
| eSource.co.uk | £20.00 | 1-5 Days | 4.9/5 |
| WholesaleDeal | £14.99 | 1-5 Days | 4.9/5 |
| Brandsgateway | €295 /mo | 5 Days | 4.8/5 |
| Printful | No Upfront fees | 2–12 Days | 4.8/5 |
| Bigbuy | €45 | N/A | 4.7/5 |
| BrandDistribution | N/A | 4-8 Days | 4.7/5 |
| Chinabrands | N/A | 7 to 25 | 4.7/5 |
| E-nuc | No Upfront fees | N/A | 4.5/7 |
|   |   |   |   |
Table Overview of Best Dropshipping Suppliers In Europe
What To Look For In Best Dropshipping Suppliers
Before choosing a supplier for your Dropshipping business you should try and assess the high-risk approach involved when the product fails to get to the customers.
And as a result, you want to carefully look over the suppliers before settling down with one because your decision will definitely affect the overall success of your business.
On this note, this part of the post will assist you to get some answers to your questions on what to look out for in the top dropshipping suppliers in Europe.
This is a serious and broad concept that can not be underestimated when checking out for the best suppliers in dropshipping.
It entails professional relationships during which several terms and conditions must be reached and upheld.
This relationship includes continuity and consistency in manufacturing products that suit you and your customer's expectations.
And the other part of this is the years of experience your supplier has. Choosing a supplier that has only been in business for a month or six months could be a really risky thing to do.
And in order to protect yourself from scammers, you need to look into a supplier that has long-existed alongside good reviews.
But it isn't without an exemption. If you're going to work with a new supplier, you need to do your own assignment.
And don't only do a test order once, do it continuously in the middle of the business.
You should order your products in order to know what your supplier sells to your customers. This is very important and you shouldn't wait till you get lots of product returns.
When it comes to e-commerce, good logistics cannot be underestimated or overemphasis. A lot of customers tend to buy products from eCommerce stores with flexible shipping methods.
And talking of good logistics, fast delivery cannot be exempted too. Another concept to look out for in dropshipping suppliers is the fee charged whenever an order is placed on a product.
Knowing fully well that this is often essential to put into consideration, as high fees will affect the margin of profit of the merchandise.
As a result, dropshipping supplier with a flexible and not outrageous fee should be considered.
In order to maintain a high profile of product reviews, suppliers with high-quality products must be looked out for.
This helps to reduce market returns and broadcast the name since that is the priority set before dropshipping is taken into consideration.
And of it all, it enables you to make more profit on every demand made on the product. If your dropshipping supplier ticks the rest of the criteria but not this, then it's of no use.
What's the point of delivering a bad product on time at an affordable fee? Or perhaps having a supplier with years of experience but with bad products?
In essence, you can't remove quality products from the criteria for choosing a good supplier.
Top Best Dropshipping Suppliers In Europe.
At this point, I believed the air of mediocrity about dropshipping is cleared which we now know the full potential of dropshipping.
But before you agree down with a specific supplier, it is necessary you read this to the end.
While a number of them handle a particular product, others have a large collection of products which could just be the right tools you are checking out for.
In order not to waste your time, I have curated the top best dropshipping suppliers in Europe to assist improve your dropshipping business.
Let's get started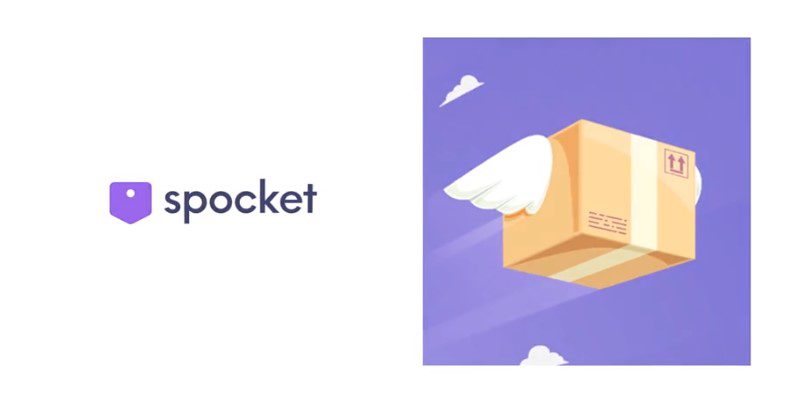 Spocket is a modern drop shipping solution for retailers and suppliers. Founded in 2017, Spocket is one of the latecomers in the dropshipping industry
However, since then Spocket has grown to be one of the major suppliers from the United States, Europe, United Kingdom, Germany, New Zealand, Australia, Bulgaria, and many others.
They literally ship their products all over the world and this qualifies Spocket as a global dropshipping platform.
Here's the best part. Spocket doesn't just help you find a supplier, it makes it easy to automate your store using Spocket and the Shopify platform.
So it explains the reason why Spocket has a 4.5 rating from over 1700 reviews on Shopify.
Features of Spocket
To begin with, Spocket offers an advanced solution to dropshipping.
You can do more than just finding a supplier, this tool allows you to set up a store and automatically sync your store with your suppliers using the Spocket marketplace.
In that case, you don't have to manually place your products on your dropshipping store. It allows you to automatically forward your product listing on their platform to your own dropshipping website.
Below are the key features of Spocket:
Unlike the usual long time delivery with AliExpress, Spocket allows you to enjoy much faster delivery of your product between 3 – 5days.
Since most of the suppliers are based in Europe and the US, this makes it easy for them to ship the product faster to your customer.
This feature allows you to brand the product you're selling. You could have a customize logo and even send a personalized note to your customers.
With this, you can easily build trust and customer loyalty within a short period of time by enhancing your customer's shopping experience.
If there's one thing Spocket is good at, it's customer support. They offer a reliable customer support service via mobile phone, live chat and email address.
Pros of Spocket
Spocket is understood for its high-quality products.
Spocket allows suppliers to rebrand your merchandise by adding a store invoice alongside your name, log, and a personal note to the package right before shipping.
It saves time
A free plan is available.
Spocket ships all over the world, which means there's no restriction to your target market.
Cons of Spocket
The cost of shipping to customers outside the US, UK, and EU is high.
Shipping outside the US, UK, and EU will take time.
Communication is not direct to the suppliers but only to the Spocket's central team

eSources is the directory that comes to mind when referring to the best dropshipping suppliers in the UK.
The directory consists of wholesalers, suppliers, manufacturers, trade leads and other distributors across Europe and the United Kingdom.
Notably, eSource has paved its way becoming one among the largest dropshipping platform in Europe also as the UK with it dating as far back as 2005.
With more than 170,000 verified suppliers. Besides that, eSource allows you to sort of merchandise from trusted suppliers.
Features of eSource.co.uk
To start with, eSources offers the largest dropshipping directory and their directory is known for being a verified list.
However, when it comes to automation, eSources lack automation but focuses mainly on linking you with a supplier, by selecting a supplier, you would be given full access to their contact details.
Needless to say, you'll need to manually reach out to suppliers. And keep in mind that you'll need to manually place every single order with your suppliers.
Below are the key features of eSources:
eSources has over 150,000 verified Wholesalers & Dropshipping suppliers from Canada, United Kingdom, The United States, Asia, and across Europe. And about 3,000 verified suppliers across Europe. 
eSources does a thorough check on suppliers before their products are listed, hence the verified status quo. Once you become a premium member, you enjoy access to verified wholesalers and Dropshippers.
When you become a premium member of eSources, you'll get direct support from expert traders in your niche on the best strategies and processes to succeed. Saving you about £1000 to learn the secrets of reselling
With eSources, there's a maximum guarantee that you'll get wholesalers and Dropshippers sources you need
Pros of eSource.co.uk
eSource gives access to unlimited suppliers.
Guaranteed to search for suppliers within the niche.
Access to daily email updates.
Access to resources like eBay business handbook
Cons of eSource.co.uk
Can be challenging in handling membership account packages.
You'll have to manually place orders
Services better for UK buyers only.
WholesaleDeals is the most popular wholesale and dropshipping service in the United Kingdom.
It features profitable deals in reselling of wholesale products particularly gadgets and electronics to retailers of all kinds and eBay suppliers on eBay and Amazon.
Interestingly, WholesaleDeals was launched far back in 2004 and started as a wholesale dealer of all sorts of toys and novelties eBay power sellers.
But today, wholesaleDeals innovations over the years within the marketplace have brought it into the sunshine as the fastest growing service of its type in the UK.
A throwback of its achievement in 2009, reveals that it was the first-ever website to unravel a chain of dropshipping scams which to this day is a stigma to the UK dropshipping.
Remarkably, today its services are recommended for starters to find merchandise at a profit on sites like eBay and Amazon.
Features of wholesaleDeals.co.uk
Similar to eSources, wholesale deals gives you full access to suppliers on their database. You can easily get in contact with any of the suppliers through the contact details displayed on the platform.
Providing you with basic automation, you'll need to manually place orders with your supplier. And needless to say, WholeSaleDeals only connects you with suppliers and you have to take responsibility from there.
However, WholeSaleDeals automatically displays the profit on each product by comparing the wholesale price with the price of similar products on eBay and Amazon.
While it's difficult using wholesale deals to sell on a personal store, you can easily sell your products on eBay and Amazon.
Below are the key features of WholesaleDeals:
Wholesale deals offer a wide range of top-selling products to buyers. 
Some of the product categories include toys and games, baby products, fashion, clothing and fashion, home and garden, health and beauty, leisure and entertainment, consumer electronics, and others.
The wholesale deal tracker feature allows you to capture mouthwatering wholesale offers.
You enjoy access to top-selling products at a 45 per cent to 95 per cent profit margin when you sell for the retail price on Amazon and eBay.
It offers a money-back guarantee if you buy a deal tracker product at a discount or it's no longer in stock, or fixed at a higher price than was advertised—contact customer support for help. 
The first thing the website will do is to contact the supplier and see if the cost can be reverted or the product can be made available. 
Pros of WholesaleDeals.co.uk
It provides an estimate of profit on each good
Access to licensed goods like Disney
It has the largest database of suppliers in the U.K
It's one of the oldest directories with verified customers.
It offers both free and premium access
Cons of WholesaleDeals.co.uk
It is not easy to communicate with suppliers.
Its customer support service is difficult to deal with.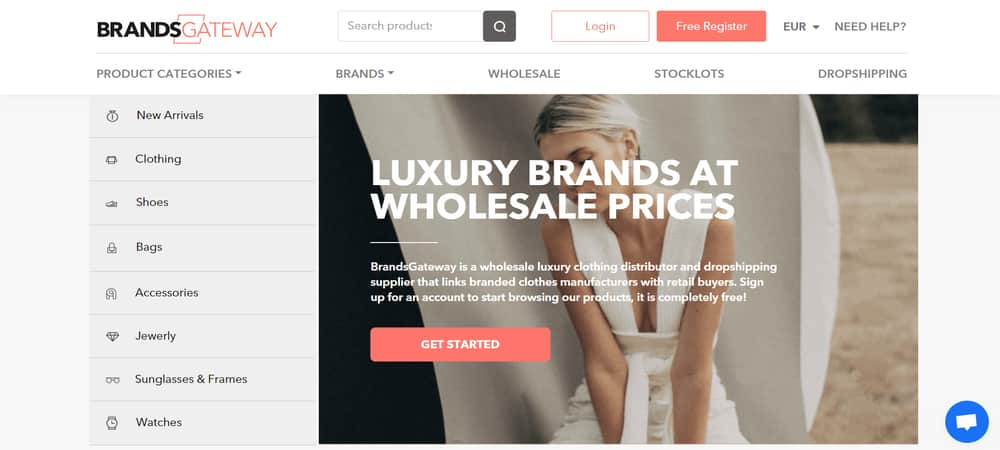 BrandsGateway is a B2B marketplace that specializes in luxury fashion. With offices and warehouses at several locations across the globe, including Italy, Sweden, Estonia, Finland, Germany, and the USA, the company has been delivering superior wholesale and dropshipping services since 2017.
BrandsGateway's portfolio of products features a wide range of high-quality fashion items from premium brands.
Whether you are interested in women's or men's high-end clothing and accessories, you can team up with this supplier. What's more – BrandsGateway ensures fast and secure shipping to any location in the world and provides customer support 24/7.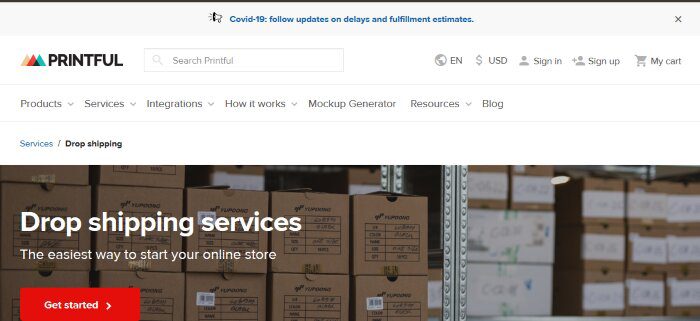 Printful is a dropshipping service agent who stores, packages and sends the ordered products. Interestingly, this platform offers up to 200 products like T-Shirts, leggings, bathing suits, and lots more.
With printful, your business can easily be integrated knowing that all processes are automated.
Where Printful shines is in its packaging. You can design your own shirts, caps, mugs, and other products for dropshipping. And that makes Printful a perfect dropshipping solution to build a brand.
Building a brand through Printful isn't difficult. And the fact that they have a large offering is impressive. However, you might not find your chosen niche product in their store.
Simply put, Printful is best for retailers in the fashion niche.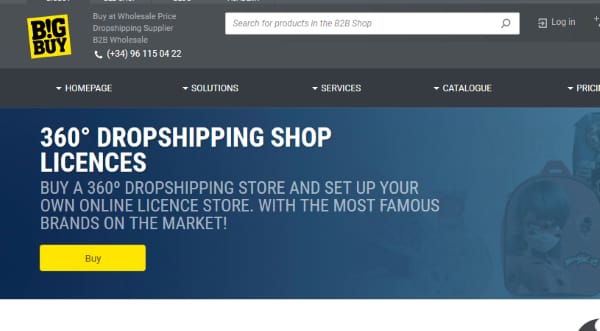 BigBuy is a Europe-based dropshipping wholesaler capable of handling all inventories of ordering and packaging of products.
With its headquarters in the UK, BigBuy offers a wide range of merchandise like television, gadgets, electronics, kitchen appliances, health products just to mention a few.
BigBuy has branded itself as an all-in-one solution when it comes to sourcing wholesale supplies. It supports both offline channel commerce and eCommerce channels which makes it different from other wholesaler directories.
With their built-in dropshipping shop solution, you can easily integrate BigBuy with other eCommerce platforms including Shopify, eBay, Amazon, Prestashop, and other platforms.
Besides, it also provides a blog functionality that enables you to add a blog to your store. Needless to say, the package also comes along with automated order processing.
With BigBuy, you can rest assured that you are getting quality dropshipping service done for you.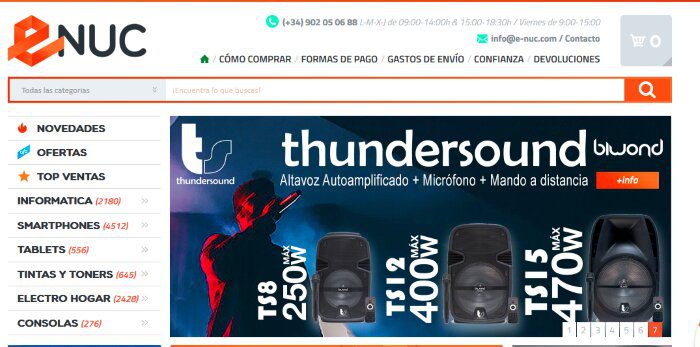 E-nuc is considered one of the best dropshipping platforms related to electronic accessories in Europe.
E-nuc is as simple as just register at their website and has all products of your choice shipped directly to your customers.
As with other top dropshippers, the delivered products carry your company's name and logo. However, the delivered merchandise has an added cost of 0.95 EUR+VAT as the cost of shipping service.
To wrap it up, the ordered products are delivered directly to your customer with the exception of delivery notes, stamp invoices, and neutral boxes.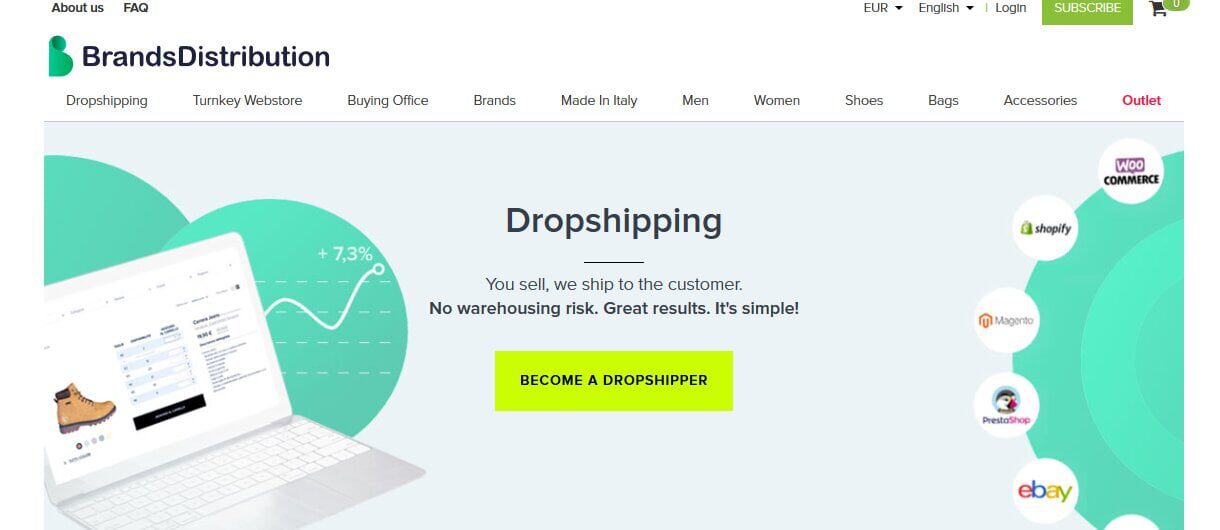 Brands Distribution is a leading platform related to fashion accessories like Italy men clothing accessories and footwear.
Having its deals from more than 120 reliable fashion stores, especially the Italian most top manufacturers, Brands Distribution is considered a reliable platform for fashion brands.
Interestingly, the platform runs on a free subscription to have access to their catalog before deciding on the most suitable plan for your business.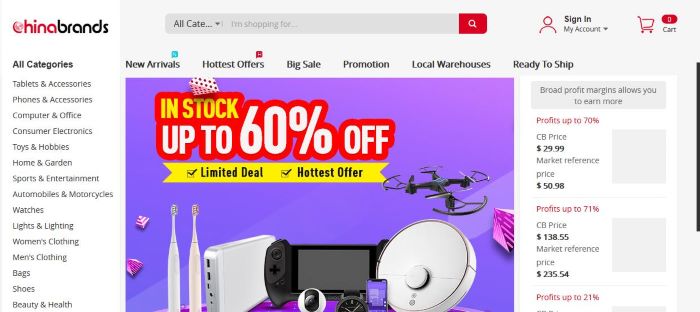 Chinabrands is a global dropshipping platform known for its fast delivery, timely approach and overall efficiency.
Ranked as one of the best, ChinaBrands offers a large catalog of products to dropship while still sticking to a wholesale price.
Besides, Chinabrands has direct links with manufacturers and wholesalers in China. And that explains why the products on ChinaBrands are cheap and provide a good profit margin.
Absolutely, the ability to ship all over the world makes ChinaBrands a global brand for dropshippers.
How To Avoid Dropshipping Suppliers Scams
Absolutely, dropshipping isn't without its own glitches and cons. And the most noticeable is the scams that come alongside.
Besides, not just dropshipping, eCommerce generally comes along with a high risk of scam. However, dropshipping comes with greater risk and uncertainty.
Here are some of the ways to avoid suppliers scams:
#1:Avoid Sites that Do Not Accept Credit Card or Checks
That's the first line of action to protect yourself from supplier scams. If a supplier would not accept credit, then go for another supplier.
And the joyful aspect of dropshipping is the abundance of suppliers to choose from. So I see no reason for sticking to a supplier that does not accept credit cards.
Any transaction made via credit cards is traceable. But if a supplier requests that you make payment using any of digital currencies (bitcoin), it is a pointer that it might be a scam.
And that's because you cannot traceback or recover payments made via digital currencies.
#2:Avoid Sites Requesting a Monthly Fee.
A supplier shouldn't request a monthly fee aside from the retail price and shipping fee you pay for each order you send to them.
Aside from that, any supplier requesting a monthly fee in order to fulfil orders is a cheat. Obviously, the case is different from suppliers providing eCommerce software solutions like store alongside the products.
However, as a beginner, you should avoid any supplier requesting for a monthly fee. The dropshipping agreement shouldn't be more than paying per order. You shouldn't pay ahead for orders you haven't received.
#3:Avoid Sites Without Address.
A supplier without a physical address is not worth buying from. You should be able to trace the supplier based on their address.
If you visit a supplier's website and you cannot find any physical address added alongside, then that's a pointer that it could be a scam.
Likewise, a supplier should have his phone number and other contact details attached alongside the address.
#4:Check Their Domain Age
The domain age is not the real deal when it comes to detecting scams, but it can be a confirmation to your doubts about a supplier.
A new domain that's below a year can confirm the elements of doubts. If you're choosing a supplier, go for a supplier with years of experience.
These suppliers are already experts in dealing with some common dropshipping problems and they'll make a perfect match for a beginner.
Checking their domain age is a way of estimating how long they've been in the industry. And to check a site's domain age, you can make use of Whois.net
#5:Make a Small Order to Test the Process
Product quality cannot be fully ascertained by going through the domain age or the above checklist.
You need to make a small order in order to crosscheck what the quality of their product looks like. Mind you, when doing this you shouldn't use the same information to do that.
Simply make a small order using a different detail different from the details submitted to the supplier.
Here's why. If truly, the supplier is a scammer and you ask for a test order, he'll obviously deliver a quality product to you.
However, to make a cleaner purchase, use a different detail to make your sample orders.
Conclusion
Obviously, the struggle in finding and securing a supplier for your dropshipping product is similar to finding a soulmate.
However, by choosing any of the above dropshipping suppliers and also taking heed to the precautions listed above, you should definitely find a supplier that meets your needs.
Based on our dealing we've found much success with Spocket, we've discovered esources.co.uk and wholesaledeals.co.uk to be amazing suppliers.
So it's over to you.
Which of the dropshipping suppliers have you used before? Or perhaps which one are you going to try first? I would love to hear from you below.