11+ Best SaleHoo Alternatives For Dropshipping 2023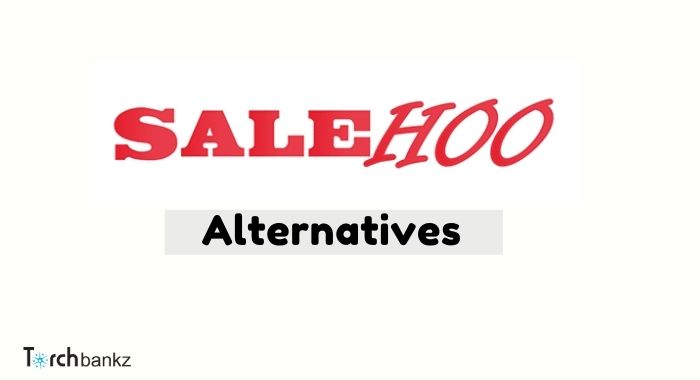 In this post, I'll be sharing the best SaleHoo alternatives for dropshipping. To begin with, according to dropshipping statistics, 84% of dropshippers find the initial stage of securing a good supplier the hardest.
And the reasons are not far-fetched, there is a lot that comes into play when starting a dropshipping store.
And among many others, the ability to find and secure a supplier is priceless. When choosing a supplier, you need to find a supplier that can provide goods at a cheaper rate, support global delivery, and can also scale with you.
Needless to say, if you're going to do this manually, you would be putting your business at an early risk.
And that's where tools like SaleHoo come in. Absolutely, SaleHoo is one of the best tools for finding and securing a good supplier for your products.
However, Salehoo isn't the only tool in the industry. There are other alternatives that can also fit in for you. Besides, there are both paid and free SaleHoo alternatives.
So let's dive into the best SaleHoo alternatives that you can choose from.
List of SaleHoo Alternatives
Below are the lists of best Salehoo alternatives you can use to source dropshipping suppliers for your business irrespective of being a beginner or not.
#1 Spocket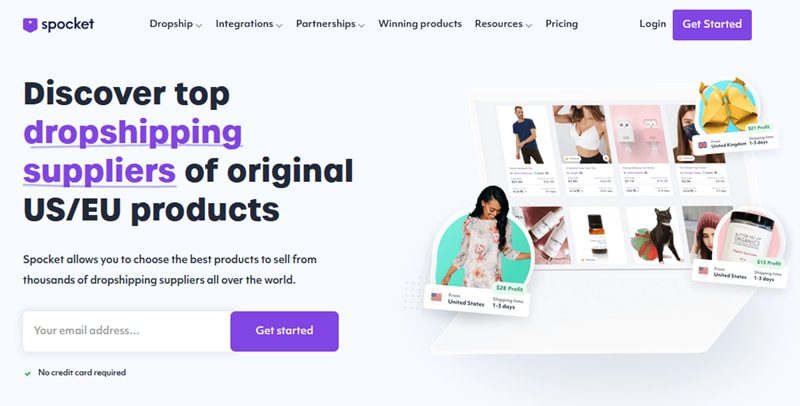 Similar to SaleHoo, Spocket is a dropshipping tool that helps you to find products from different suppliers and then ship to your customers. Having a large database of suppliers from the US/UK, Spocket allows you to dropship US/UK products to customers all over the world.
You can easily integrate Spocket with Shopify or WooCommerce. And this means that you can use Spocket on WordPress using the WooCommerce plugin.
On Shopify, Spocket has a rating of 4.5 from over 1700 reviews. Needless to say, that's an excellent performance. Having their own suppliers directory, you don't need Aliexpress to source products from suppliers.
Spocket is an alternative to not just Salehoo but Aliexpress. Besides, they also have a chrome extension that works with Aliexpress.
The chrome extension, AliScraper, imports products from Aliexpress into your store, copies everything including the product images and description.
However, Spocket processes payment using Stripe and also restricts the payment to credit cards alone. And that means debit cards are not allowed for orders.
Offering four pricing plans (starter, pro, empire, and unicorn plan), its least pricing plan costs $24per month while the most expensive plan goes for $99 per month.
Sign-Up Here
#2. InventorySource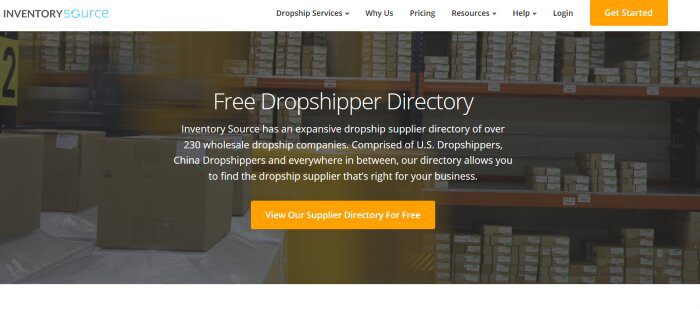 InventorySource is an automation software built for dropshipping. So it comes as no surprise that it's one of the best tools available in the dropshipping industry and a close Salehoo alternatives.
Regarding InventorySource as an all-in-one dropshipping solution is not an exaggeration. The tool provides a free suppliers' directory where you can get supplies from.
And aside from that, InventorySource makes it possible to sync suppliers' products directly to virtually all eCommerce platforms.
In that respect, you can easily integrate InventorySource with:
Shopify,
BigCommerce,
WooCommerce,
Amazon,
eBay, and many other eCommerce platforms.
Although InventorySource has a small database of suppliers (over 230), they allow you to manually add your own supplier to their database.
Needless to say, InventorySource is powerful, and it's simple to use for beginners.
However, it doesn't go without saying, that there's a catch. The catch here is none other than the pricing. InventorySource charges a hefty monthly subscription fee to use their suite of dropshipping tools.
They offer three plans. They offer a free plan for their directory, inventory automation plan that costs $99 per month, and the full automation plan that costs $150 per month.
However, they are one of the best tools. But the price makes it too expensive for beginners who are just trying stuff.
Sign-Up Here
#3. eSources

eSources is just another old-fashioned dropshipping platform that looks like a forum. However, it's one of the best places to secure a supplier and also find products.
To be candid, the design doesn't really mean much, so far the need is met. And for eSources, it's obviously a great resource for dropshippers looking for suppliers.
eSources connects dropshippers with suppliers. And the best part is that eSources offers a free plan for dropshippers to use.
Notwithstanding, you have more to enjoy by upgrading to their premium plan. Using the premium plan, you have unrestricted access to their directory.
For the premium plans, eSources offers three payment plans. And the best plan is the yearly plan which would come at €75 per year.
And that's the best offer you can get from eSources.
Sign-Up Here
#4. WholeSaleDeals
Here is another interesting Salehoo alternatives, WholesaleDeals. Which is currently  the most popular wholesale and dropshipping service in the United Kingdom.
It features profitable deals in reselling of wholesale products particularly gadgets and electronics to retailers of all kinds and eBay suppliers on eBay and Amazon.
Interestingly, WholesaleDeals was launched far back in 2004 and started as a wholesale dealer of all sorts of toys and novelties eBay power sellers.
But today, wholesaleDeals innovations over the years within the marketplace have brought it into the sunshine as the fastest growing service of its type in the UK.
A throwback of its achievement in 2009, reveals that it was the first-ever website to unravel a chain of dropshipping scams which to this day is a stigma to the UK dropshipping suppliers.
Remarkably, today its services are recommended for starters to find merchandise at a profit on sites like eBay and Amazon. Quite similar to eSources but more advanced.
Sign-Up Here
#5. Wholesale2B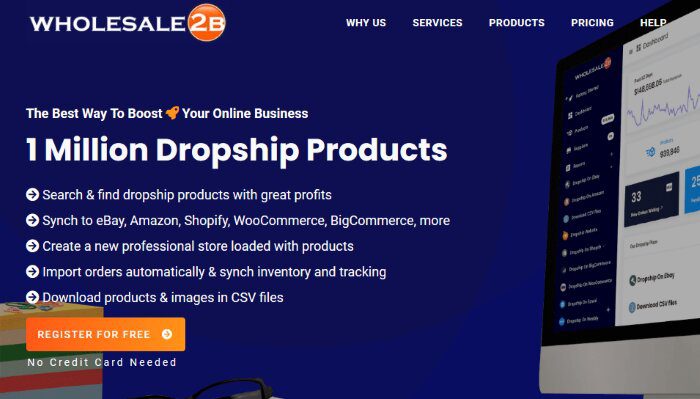 Wholesale2B can be regarded as an all-in-one solution to dropshipping. Offering different dropshipping services, the software allows you to search for profitable products from their database.
Finding a suitable supplier from their directory of suppliers is quite easy. Their suppliers are vetted by appropriate standards to ensure you're getting the best.
But where the tool beat the competition is the ability to integrate with many eCommerce platforms.
To be exact, Wholesale2B integrates with:
Shopify
BigCommerce
WooCommerce
eBay
Amazon
Weebly
Ecwid
And many other eCommerce solutions.
Plus, if you want to sell through your own custom eCommerce store, you can do so using Wholesale2B. And the best part is that Wholesale2B builds you an eCommerce store at a lower cost.
As expected, Wholesale2B offers different pricing plans for its solution. The pricing plan for Shopify, Bigcommerce, and woo-commerce stores costs $30 per month.
While Amazon and eBay dropshipping stores come at $38 per month.
However, you won't be charged any drop shipping fee aside from the payment processing fee and the monthly subscription based on your plan.
Without a doubt, Wholesale2B has its shortcomings too. Their contact support is lacking. There's no phone number listed, you have to go through the support ticket system.
Absolutely, they're still one of the best in the market because of their wide range of dropshipping solutions and flexible pricing plans.
Sign-Up Here
#6.Worldwide Brand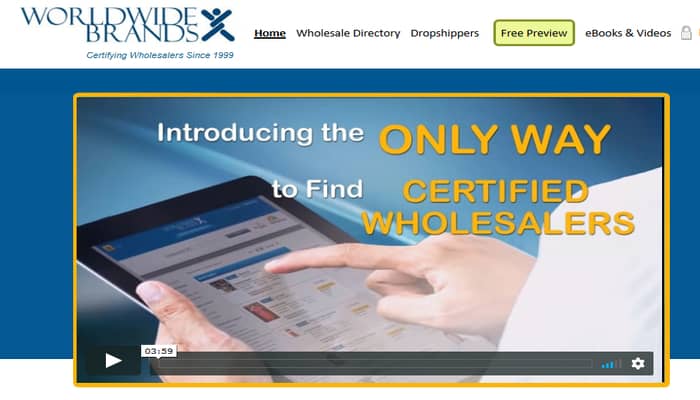 Worldwide Brand is one of the oldest wholesaler directory listings, dating as far back as 1999.
The directory boasts of manually vetted wholesalers and suppliers offering millions of products. You can easily search the directory by using the product name, brand name, and business location.
Plus, Worldwide Brand offers a mobile app to search and find suppliers for your products. There is a mobile app for both android and iOS. And needless to say, this makes the process of finding a wholesaler simpler.
Most of the suppliers and wholesalers on the platform are verified businesses in the USA. Only a small percentage of their suppliers are non-US based.
Their product offerings are basically in thousands of categories.
And the best part is that you don't need to pay a recurring subscription fee like most other dropshipping supplier directories.
All they charge is a one-time fee of $299 to unlimited access to their directory and products. However, this can be expensive at first, but over time it appears to be way cheaper than their competitors.
But the tool isn't without glitches too. Their website is outdated looking very old-fashioned, making it look like their directory has not been updated for a long time, while it has.
While its' best for Amazon and eBay dropshipping, it isn't good for individual eCommerce store platforms.
And not the best for beginners, Worldwide Brand only goes as far as getting you a supplier alongside handling all the essential details you need to know about the supplier.
In essence, you would be working directly with the supplier. While this would give you some reasonable discount, you would need prior experience of dropshipping in order to go this route.
Also, the ability to import products from a supplier directly to your store doesn't work here.
Sign-Up Here
#7. Alibaba/AliExpress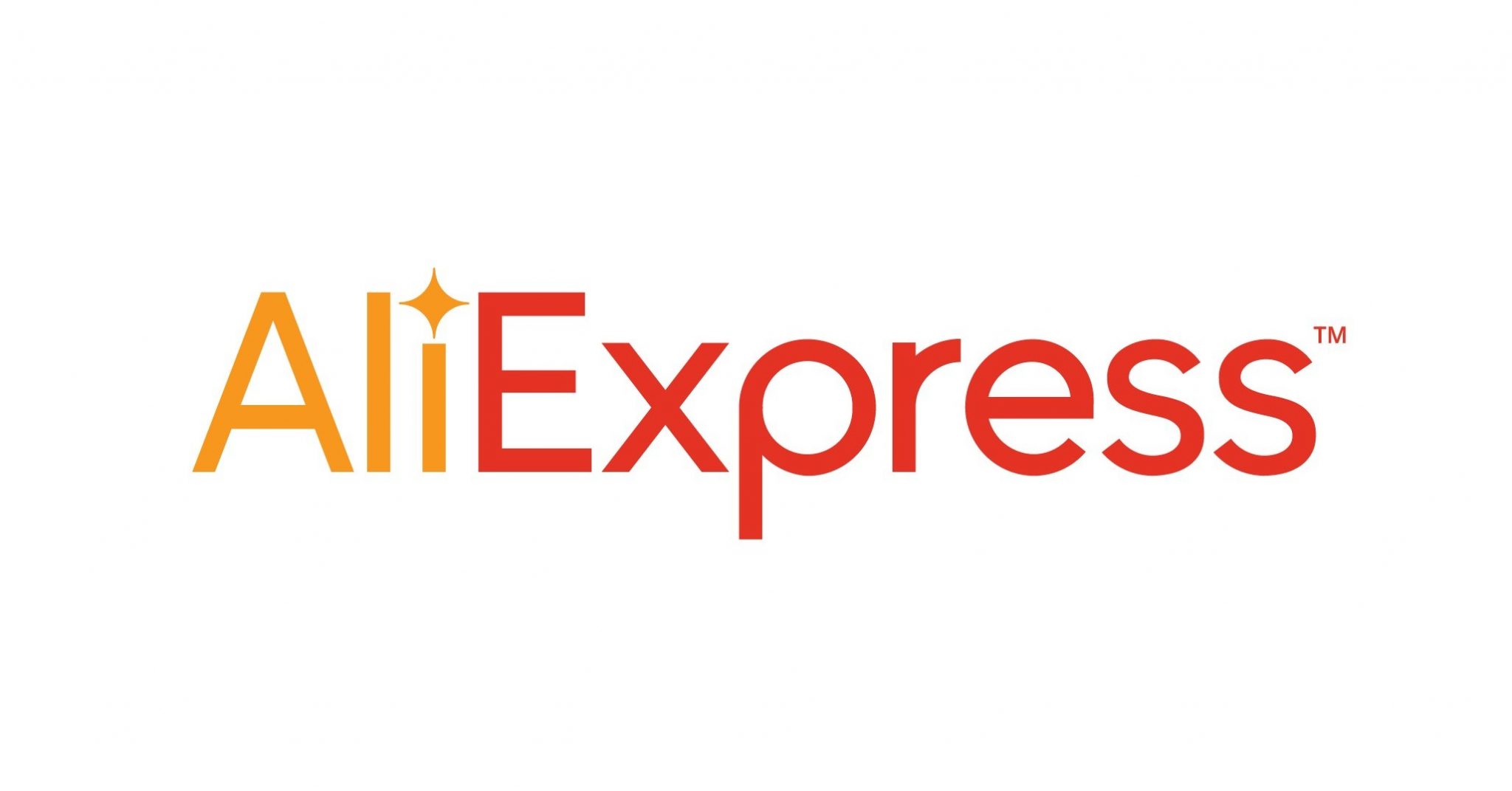 Alibaba is the largest marketplace that makes it easy to find product manufacturers in Asia. Needless to say, most of the listings on Alibaba are from manufacturers based in China.
And that's what makes Alibaba a very complicated marketplace to find product suppliers. And not having prior experience, can make it a difficult platform to use.
Also, most of the communications are done in Chinese and this makes it a difficult platform to use for dropshippers. You cannot guarantee, you're going to get the exact product as listed on Alibaba.
However, as risky as it is, the ability to navigate your way around the platform will give you one of the best discounts. For beginners and to play it safe, the best solution to sourcing products from the Alibaba group is Aliexpress.
Aliexpress is the C2C and B2C marketplace for China. Also owned by Alibaba, Aliexpress connects retailers to their customers.
However, it's also a perfect place for product sourcing for dropshippers.
Aliexpress has created a large pool of dropshippers because of its cheap and low prices products. Needless to say, it's a free platform. But, finding a product supplier is a tedious task given how large the marketplace is.
And the advantage is that you have buyer protection and the flexibility of ordering a single product from the sellers.
Sign-Up Here
#8 Wholesale Central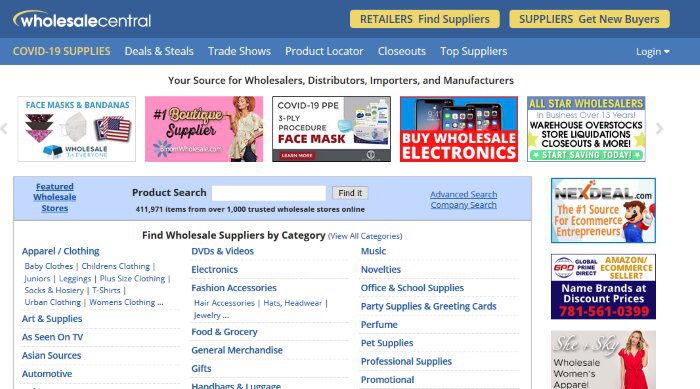 Wholesale Central is also one of the old wholesale supplier's directories. Having a clunky old-fashioned interface, the tool offers a free solution to finding dropshipping suppliers.
Being one of the old directories, the platform has thousands of wholesalers and suppliers that you can source your product from.
However, it doesn't offer any advanced solution to simplify the process of dropshipping. It's just like any other forum or listing site.
And you would agree with me that a tool that easily integrates with a store is simple to use for beginners.
Absolutely, if you have prior experience in dealing with suppliers, you should be able to find your way around the directory.
Sign-Up Here
#9. Sunrise Wholesale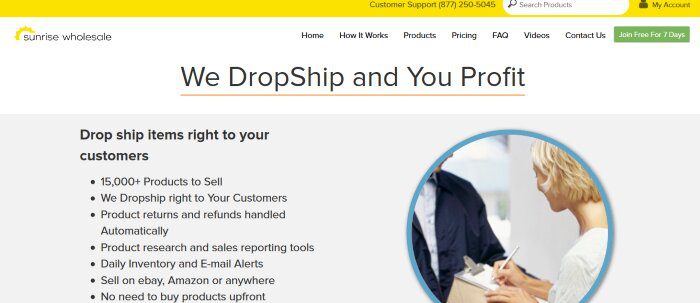 Sunrise Wholesale is one of the best product directories for dropshipping stores. Unlike many others on this list, Sunrise Wholesale isn't a directory for suppliers.
They are the supplier and they house over 15,000 products that are available for dropshipping on different eCommerce platforms including BigCommerce, Shopify, Amazon, eBay, and many other stores.
The catch here is that you do not have the flexibility of bargaining with different suppliers in order to know which is best for your business.
Also, the profit margin can be low because you're dealing with a single wholesaler that has to cover everything. Plus, they only support a few countries.
However, using Sunrise Wholesale provides you a secured means of sourcing your products. And they also offer some built-in tools to facilitate the selection of products.
Their pricing starts from $49 per month.
Sign-Up Here
#10. National Dropshippers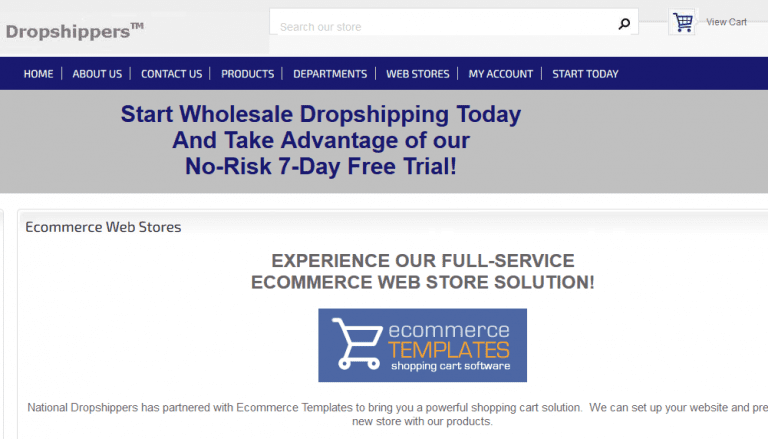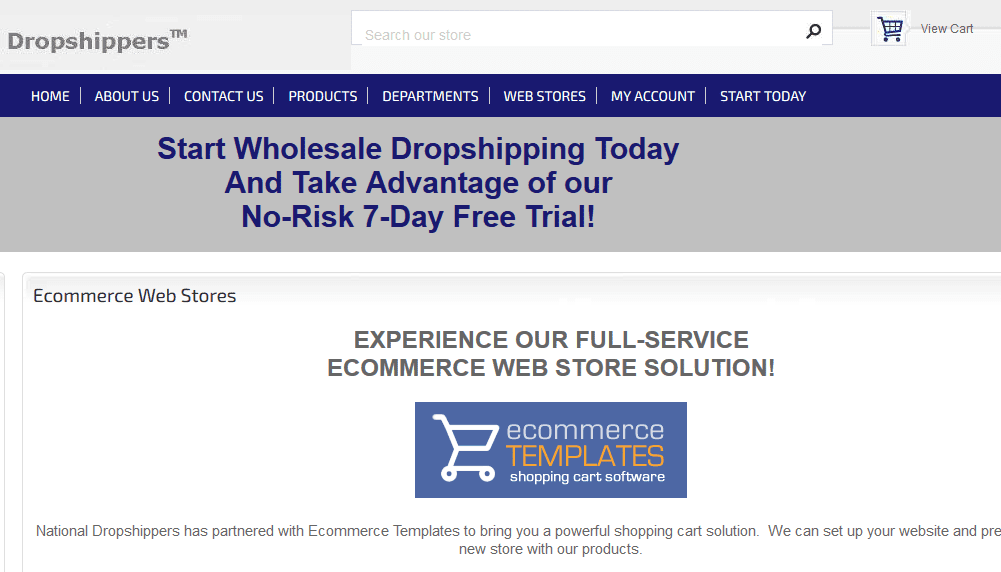 National Dropshippers is also another dropshipping software that has been in existence since the early 2000s.
Founded in 2002 by Joe J Khoury, National dropshippers have been one of the earliest dropshipping software.
More like it pairs, National Dropshippers has a clunky old-fashioned interface that makes the site look outdated.
And there has not been any major improvement on the platform. The site still uses old technology to connect suppliers to dropshippers.
You have to take the orders on your store and then manually place the order on National Dropshippers. Absolutely, this is the old and tiring way of doing dropshipping.
And using National Dropshippers restricts your business from scaling. Because you'll need to always manually place the orders.
Whenever there's a change in the product price, National Dropshippers may or may not alert you or send you a notice.
However, National Dropshippers provide tracking details for you to forward to your customers in order for them to know the progress of their goods.
So far, that's the most attractive feature of National Dropshippers.
Sign-Up Here
#11. Dropshipper.com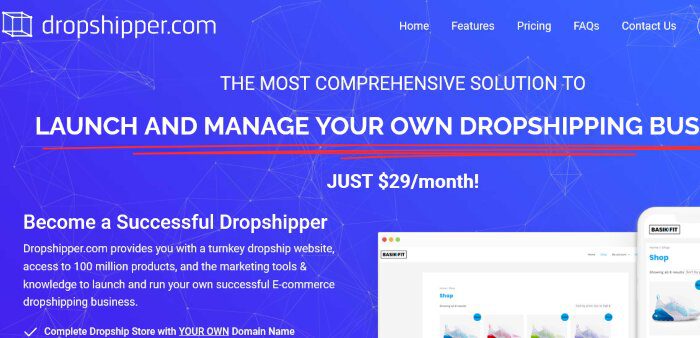 Dropshipper.com is an all-in-one solution for dropshipping.
Provides you the website, dropshipping list, suppliers, and the required knowledge to build your dropshipping store.
Your dropshipping store carries your own custom domain name and also gives you the flexibility of choosing a design and customize your store to fit your brand.
Plus, Dropshipper.com allows you to easily import Aliexpress products into your dropshipping store easily.
And here's what it means. The tool does the work of both Oberlo and Shopify together.
This means that you don't need any other tool apart from Dropshipper to start and run your dropshipping.
In essence, Dropshipper.com has a built-in affiliate management tool, email marketing tool, live chat tool, SEO tools, and Facebook accelerator tool.
And the best part is that the tool isn't expensive. The tool costs $29 per month which is quite fair considering the features provided.
Sign-Up Here
#12. TheWholesaler.co.uk
Another SaleHoo alternatives is TheWholesaler, a product listing and wholesaler directory that has been in existence since 1999.
The directory isn't a global listing but focuses on listing verified and genuine wholesalers from the UK to the web.
Using TheWholesaler as a directory is quite simple and easy and does not require any payment as a dropshipper looking for a supplier.
Having a whole range of products to choose from, you can easily find a good product and supplier from the platform.
However, the platform looks just as old as its age, old-fashioned and outdated.
As expected from an old-fashioned site, there's no special tool or advanced tool to enable you to select a trending product and also suggest a supplier for you.
You have to do this research all by yourself. And as a beginner, this isn't the right fit.
You need a sophisticated tool that will assist you with choosing a trending product and also tracking your sales from a dashboard.
Although an experienced dropshipper can easily navigate and use the platform, there are better sophisticated dropshipping tools out there.
Sign-Up Here
#13. Toptenwholesale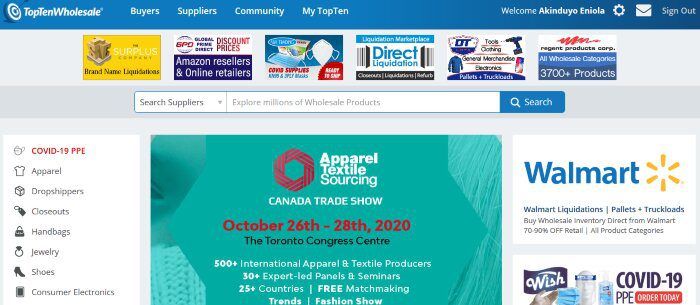 TopTenWholesale is one of the oldest wholesale sites that still has a decent look. Founded in 2005, Toptenwholesale has expanded its list to include manufacturers, importers, and distributors.
Based out in Los Angeles, Toptenwholesale started out with the USA as the focus but has now spread out to support a lot of countries around the world.
Using the platform does come at no cost. It has a free plan for both suppliers and buyers. However, it still offers a premium plan for suppliers.
The premium plan starts from $99 per year for the basic plan and costs $799 for the premium saver plan.
Although Toptenwhole sale now supports nearly all countries, there are still restrictions to the countries accepted as suppliers.
As a matter of fact, the majority of the suppliers and manufacturers on Toptenwholesale are from the USA.
Aside from the pricing and the restriction to the USA suppliers, the platform is quite good for securing suppliers.
Sign-Up Here
#14. Global sources

GlobalSources is a Chinese wholesale site to source out wholesale products and dropshipping products for customers.
The platform is a Chinese platform that connects Chinese manufacturers and suppliers to the global world, where they can sell their goods to wholesalers and dropshippers all over the world.
Absolutely, you can get products at a cheaper price from the platform.
Where Globalsources stands out is that you get to request a sample of the product, in order to know what the supplier will be shipping to your customers.
Also, there are some suppliers with a low minimum order, and these are the suitable ones for dropshipping.
Sign-Up Here
Conclusion
There you have it, my recommendation on the best SaleHoo alternatives for dropshipping. If you're still confused about which supplier to go for, you can checkout Spocket which has similar features to SaleHoo.
And if you're looking for a free platform to start with, eSources has got you covered. Besides, they have the largest database of suppliers for virtually all niches.
If you're never tried SaleHoo before, it isn't a bad tool at that. It might be worth giving it a shot because of its affordable plan.
In the end, it's up to you.
So, which of the SaleHoo alternatives are you going for?