Ultimate Guide To WordPress Dropshipping [2023]
Looking to start a low-cost dropshipping business? Then look no further as WordPress dropshipping is what you actually need.
As opposed to Shopify dropshipping, with WordPress/WooCommerce you don't have to worry about those annoying monthly fees. But instead, focus on how to grow your business and generate more sales on a daily basis.
Complete Guide To WordPress Dropshipping
So in this article, I'm going to walk you through the full course of starting your own profitable dropshipping business using WordPress.
After everything is set and done, the major cost you might incur will be for running adverts for your dropshipping products.
And you don't have to worry, your overall cost should be minimal if you know your onions around the business.
Dropshipping itself saves you some cost because as a seller, you don't have to worry about keeping inventory.
Instead, you promote products online and when you make a sale, you forward the order to your supplier, who in turn forwards the product to your customer.
The cost you incur is the amount you paid your supplier and the cost of shipping the products to your customer location. Which can be less or free through the help of ePacket shipping.
Your profit, however, is going to be the difference in the cost of the product and how much your customer pays you for the products.
So as you can see, the risk involved is minimal.
This is because you can test how well a product is doing through advertisements without having to buy the product in bulk.
Once again, in this article, I'll hold you by hand and walk you through everything needed to set up your dropshipping business from scratch using WordPress.
But before we proceed, for those that still don't understand the full concept behind drop shipping, let's dig a little deeper, shall we?
What Is Dropshipping?
The dropshipping business model is a branch of eCommerce that lets you sell products online without keeping inventory of the product.
This means you can easily set up an eCommerce website or online store with catalogues of products. Not only that, it will drive traffic to your website.
But before setting up the website there should be a supplier having the products already that you'll be working with.
This is because the supplier will be the one to ship the product to your customer whenever you have an order on your website.
Here's how it works…
A customer visits your online store and he or she purchases a product on your website. And on checking out, the customer enters his or her contact address to receive the product.
You on the other hand will then have to forward that contact address to your supplier. The supplier then ships the product to your customer after you must have paid for the products
In most cases, I list products on my website as free shipping. But mind you, the product cost will include the shipping fee.
And you can also set aside the shipping fee and let your customer pay for it when checking out. But most times it increases conversion when you list the product as free shipping.
So basically that's what dropshipping is and how it's being run. Now let's talk about the common myths of dropshipping and most importantly the pros and cons.
Common Myths About Dropshipping
Now before proceeding, there are several myths about dropshipping flying all around the internet that isn't true. And today I'm going to be shedding more light on it.
Let's debunk these myths, shall we?
#1: Dropshipping Is Dead or Saturated
This is like saying the whole eCommerce market is dead and if this is true, the popular Amazon won't be in business anymore too.
So this is very far from the truth. Dropshipping is alive and will be for a very long time.
You should understand that dropshipping isn't a trending business idea that just came to be, it has been around for a very long time and it still is going to be.
There could be a change in pattern, like sourcing products from AliExpress could change to other manufacturer websites.
The idea is to find a winning product and look for a reliable supplier that's willing to work with you as a dropshipper. Since it's cost-effective, it attracts both startups and manufacturers.
#2: Customers Don't Buy From New Stores
This is totally not true because, at some point, all the popular eCommerce stores out there started as new stores. So why would your own be different?
Customers buying on impulse don't care if your store has been available for centuries. They just want to buy a product that catches their attention.
I can't possibly remember the names of stores I have purchased a product from before. This is because there are many stores out there based on several product niches.
So instead of thinking about the popularity of your website, look for a really good product that customers will find difficult to resist.
#3: Dropshipping Is Easy
See, I'm not here to sugarcoat you or anything. You should ask yourself if dropshipping is easy why is everybody not doing it?
Because like every other business out there it requires dedication and consistency if you really want to see results.
But the truth is, it's a profitable business when you know what you're doing. So take time and gather all the necessary information you need before you jump right at it.
Most people believe that since you don't have to keep an inventory of products, all you have to do is market the product and forward orders to your supplier.
There are so many factors to consider while setting up your dropshipping business. A good example is a supplier you're working with.
You should understand that the quality of your supplier equals the quality of your business.
So you have to take your time when choosing your supplier or manufacturer. Another example is your choice of product. You have to do your diligent research on any product you're going to sell.
Pros and Cons of Dropshipping
Since we've been able to unravel some of the common myths about dropshipping, now let's talk about the good and bad sides of the business.
This will help you to know what you're getting into. It will also help you to use them to your advantage to run a better dropshipping business.
Pro of Starting a WordPress Dropshipping Store
Starting a WordPress store requires a low start-up fee compared to other platforms out there
You can test as many products online to find a winning product without incurring much cost
You can work with multiple suppliers and sell different kinds of products in your store. All you need do is create a new category for the product and you're good to go
There's no need to buy the product or stock inventory with dropshipping
Your supplier handles the shipping of products and all you do is receive and forward orders to your supplier
Cons of Starting a WordPress Dropshipping Store
You're responsible for your customers
Customers can be annoying when you delay their products
You are not in control of your product quality your supplier is
The easiest way to get traffic is to run adverts
Profit on each product can be small compared to buying them in bulk
The key to success here is finding a good product and finding the right interest of buyers. Thereafter, scaling your marketing to make the most of it.
But keep in mind, that there could be one or two failures along the line. However, once you're determined and consistent you'll have a profitable result for your business.
Having said that, now let's proceed to how we can start the business the right way. Majorly by using WordPress to build our website.
How to Start a Dropshipping Business with WordPress
Dropshipping itself is very straightforward, the only stress with starting one is creating your website.
The good thing is I created an article on how to set up a dropshipping website with WordPress from scratch.
Click and open the link on another tab and read. Once you're done, it means you are ready to create your dropshipping website.
There are several ways in which you can start your WordPress dropshipping store. This is because there are several AliExpress dropshipping plugins for WordPress.
This, however, makes the whole installation process very easy to do and straightforward. But before we start, there are other easy ways in which you can get started.
This includes getting a "DFY (done-for-you) dropshipping website" built on WordPress. Another way is to get a duplicate of an already successful WordPress dropshipping store.
Which includes the same winning products on the website, product ad copies and also an installation package to install the site for you.
This is super great if you want to save time and stress from customizing and installing the new website yourself. Even great when you're having little or no experience with WordPress customization.
Interested in getting a duplicate of the successful dropshipping website? You can learn more about that here!
Other than that, let's begin with how you can start your dropshipping business with WordPress.
Requirement For Starting Your WordPress Dropshipping Business
For starters, you'll need a self-hosted website on WordPress.org which entails a branded domain name and a web hosting account.
For this, you'll need the following:
Domain Name (The name of your website)
Web hosting account (This is where your website data is housed online)
SSL certificate ( To secure your website and makes it easy to accept payment online)
WordPress Dropshipping Plugin (This is what makes your website a dropshipping website. More on this later)
A Website Theme (This is what makes your website beautiful)
Winning Products (This includes the products to sell on your store)
Reliable Supplier (This is the supplier that owns the products you'll be selling and they'll be responsible for shipping of products to your customer)
Everything I listed above is categorized into TWO things which are the WordPress Platform and the Dropshipping Plugin you'll be using.
#1: WordPress Platform
For this, you'll need the first three requirements which are;
A domain name
Web hosting account
And SSL certificate to set up your website on WordPress.
For more details, check my article on how to install WordPress on your website
Luckily for you, you can get both domain name and SSL certificate for free when you buy web hosting with Bluehost.
The Domain name usually costs around $12 upward and SSL certificate around $20 upward. But both are free when you buy your web hosting account with Bluehost which is usually less than $3 per month.
Why Bluehost?
Well, Bluehost is a large reputable hosting company that has been in business since 2003 and they are currently hosting over 4 million websites across the world.
They also have a special package with WordPress.org and WooCommerce which makes their one-click installation very seamless.
Bluehost has a 99.9% uptime guarantee, which means you can forget about your website slowing down.
Using Bluehost is going to save you time, money and a whole lot of stress. Below is the list of other reasons you should consider Bluehost as your hosting company:
Great customer support 24/7
Established hosting company
Officially recommended by WordPress.org
Free Domain name
Pre-installed WordPress
Free SSL certificate
30 days money-back guarantee
Now that we have that out of the way, the next step is to set up your domain name and web hosting account with Bluehost and use the one-click installation button to install WordPress on your site before we process to the next step.
For more details, check my article on how to set up your domain name, web hosting & install WordPress on your website
#2: Dropshipping Plugin (For Transforming Your WordPress Site)
The remaining requirements like;
Your website theme
Winning product to sell
And reliable suppliers…
Can all be categorized under the dropshipping plugin I will be introducing, which is no other plugin than the AliDropship Plugin For WordPress.
With AliDropship, you can create a full-fledged WordPress dropshipping website that is automatically integrated with AliExpress.
The AliDropship plugin helps you automate your dropshipping business by giving you access to winning and tested products that are killing it already in the market.
Not just that, they equally provide ad copies and interest targeting to promote the products on Facebook.
I mean… what could be easier than that?
And once you start making sales, the platform links your products to a few of the top reliable suppliers on AliExpress.
Finally, the plugin also comes with free & paid themes that you can easily use to customize your dropshipping website.
For more details, check my article on how to install the Dropshipping plugin on your WordPress website

It includes how to install and customize your store theme for beautifying your website also. You can also see our lists of WordPress Dropshipping themes here…
Now that we now know how to set up our dropshipping website with WordPress the next thing to do now is to start adding products to your site and fulfilling them on AliExpress.
But before then, let me walk you through the process of spotting and finding winning products that are HOT in demand in the market.
How To Find Winning Product For Your Dropshipping Store
I believe you hear this often that the product you choose to sell determines how successful your store can be. But how do you know that winning product?
Well, this has been the most common dropshipping question of the year and I'll be providing an answer to it in this article.
To start with, there are two ways to do this. The first is via manual product research while the second option is using winning product research tools, some free and some paid.
Now let's talk about the two options.
#1: Manual Product Research method
There's actually no need to reinvent the wheel, and I personally go with something that's working already. The same thing goes for winning products.
Most people say it's bad to sell what everybody else is selling but what they fail to realize is that, why is everybody selling it if they are not making profits?
There's no need to be a product pioneer because most times you'll be losing more money than you ought to make pushing a new product to the market.
But with already selling products, you can quickly plug in and get your own share of the market real quick.
So how do you find what's selling already?
It's very easy…
Just look for popular eCommerce store bestseller lists and you'll be provided with goldmines worth of products.
Here are a few examples of popular e-commerce stores with a public bestseller list where you can use a winning product for your store.
Amazon Best Sellers
This should obviously be the number one on your list because Amazon happens to be the number eCommerce store out there.
Amazon has a huge list of best sellers literally for any category you could think of and the best part is that they update them on an hourly basis.
This list includes branded and unbranded products you can explore as inspiration to find winning products to sell on your eCommerce website.
Wish Winning Products
Wish is another huge eCommerce platform you can use to explore winning products to dropship on your website.
One of the best ways to do this is to look for products with extremely high numbers of orders. Now, you shouldn't need anyone to tell you that a product is doing well when they are having a huge amount of orders.
Let's take a look at the product below. "Stainless Steel Grater" this product is over 300,000 orders already and counting.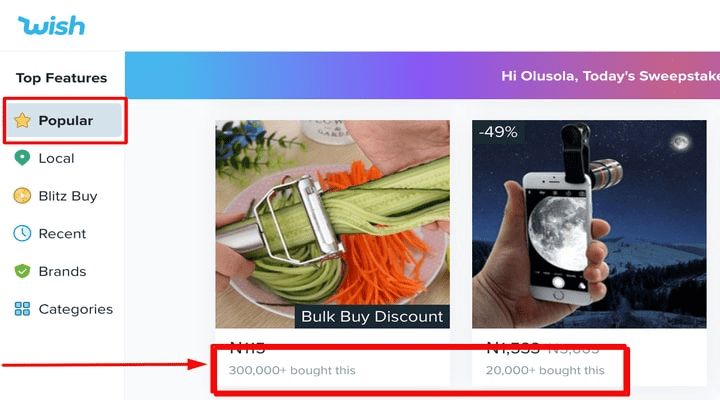 This obviously is a great product to sell. So while browsing through the popular list on Wish be on the look for products with high numbers of orders and review.
AliExpress Dropshipping Center
The AliExpress Dropshipping Center is created for the main purpose of dropshipping. Inside the centre, you'll have access to top-selling products on AliExpress.
From there, you can also find products you've found on other platforms like Amazon and Wish using the image of the product.
You can also analyze products by the seller and their logistic rating. This will provide you with metric of how well a supplier on AliExpress is doing before you start selling with them.
#2: Winning Product Research Tools
This research method involves using winning product tools to find products that are hot in demand. What they do is curate these products and provide it access to their users.
The most important thing here is they save time and most of them also provide ads insight on how to promote the products via social media.
Let's talk about few of them;
AliDropship Premium Products
The AliDropship premium products are a list of hot selling products tested by the AliDropship team on their own dropshipping stores.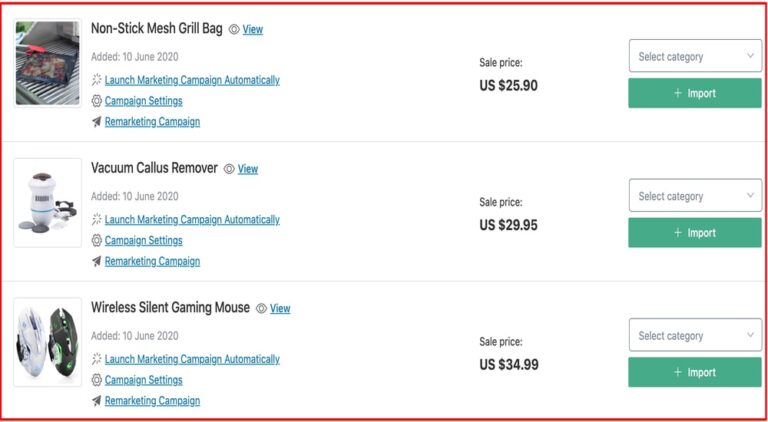 They pick potential winning products and run test adverts to find winners amongst these products using different ad copies.
Once they find the winner they then add it to their premium products list on a weekly basis. So users subscribed to it will be provided access to the products and the winning ad copies to promote the product.
Finally, these products are made available inside your WordPress dashboard, so you can easily publish them with a push of a button.
Ecomhunt
Another popular dropshipping product research tool is Ecomhunt. Unlike AliDropship, Ecomhunt allows auto import of these winning products to Shopify stores while the former works with WordPress.

Ecomhunt also provides a list of hot-selling products for its users on a daily basis. They provide at least 2 winning products on a daily basis.
And these include ad videos and ad insight like interest, and demography on how to promote the products on Facebook.
Dropship Spy
This is another winning product tool that provides products to users on a daily basis.
It also provides a tool that lets you download real user reviews of products on Amazon. You can then upload them as product reviews on your website.
Dropship spy pretty much works the same way with Ecomhunt. They are both similar tools that can be used to hunt for products to sell.
Adding Products To Your WordPress Dropshipping Store
Now that your website is set up and created on WordPress, chances are you might want to add products to your website yourself.
Since AliExpress is one of the biggest platforms to source cheap products and almost all dropshipper use the platform. This makes it easier to get started with, unlike other wholesale websites.
However, for this to work, you'll need the AliDropship plugin and its chrome extension. These two will make the whole process an easy one.
Before you begin to start adding products from AliExpress you'll need to install the AliDropship Google Chrome Extension to your browser.
The chrome extension will allow you to import products directly from AliExpress and also update them. You can also collect tracking IDs and process your orders automatically.
Here's What You Need To Do…
Once the extension is installed you need to start importing your products. To do that login to your WordPress =>> AliDropship =>> Import Products.
Click the "Direct Import" button to add products directly from AliExpress. Once you click the button you'll be redirected to AliExpress in a new tab.
However, make sure you don't close the AliDropship importing section. This is because it needs to be opened all the time while you import products.
The chrome extension settings can be found on the black bar on top of AliExpress. You can set search filters by shipping country, shipping method and product description type.
You can also select the category you want the product to be imported to on your website from the chrome extension.
While on AliExpress category page, the chrome extension will show you the processing time and shipping method available for each product.
To import products, simply click on the AliDropship orange logo to import products one by one.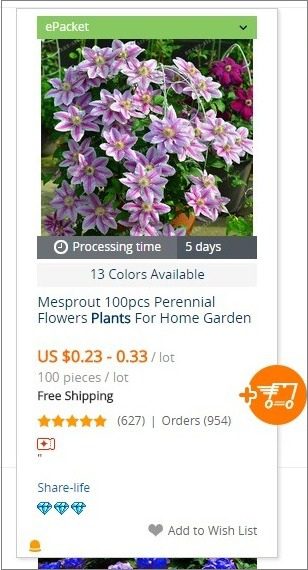 You can use this process to import as many products as you want, it's free and it's unlimited, once you're using the AliDropship plugin.
Fulfilling Orders on AliExpress
The next thing to do after adding and promoting your products is to start fulfilling orders on AliExpress.
The good thing here again is that the AliDropship plugin makes the process easier.
All you need to do is click on the "place order automatically" and the plugin will redirect you to AliExpress and all the shipping details for your customer will be added automatically.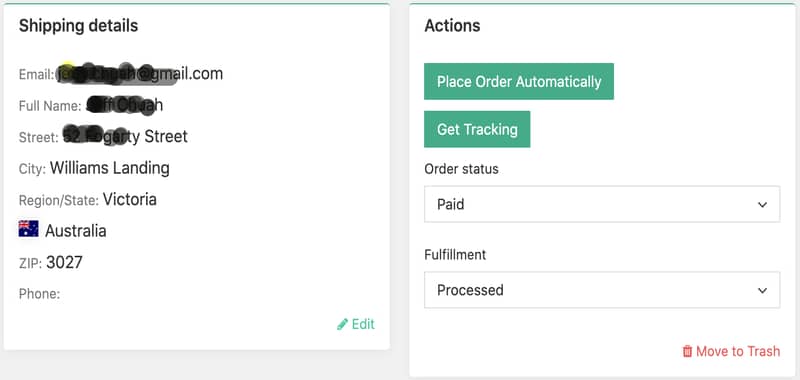 From your dashboard, you can also monitor your orders and see the ones that are already processed and the ones that are shipped.
You can also get their tracking details directly from the order and see how the product is being shipped to your customer.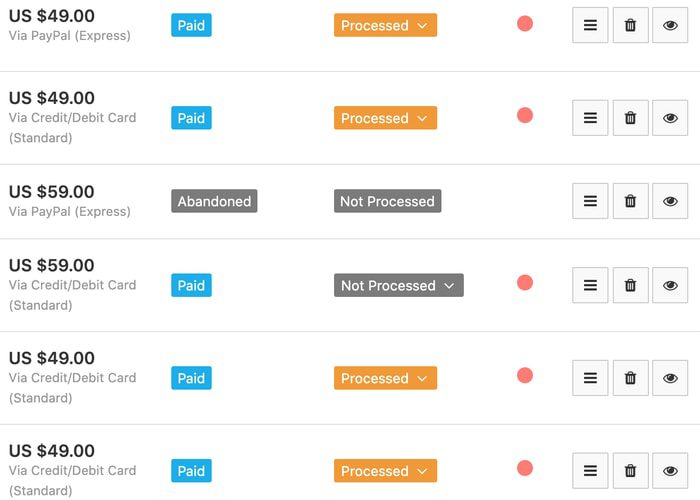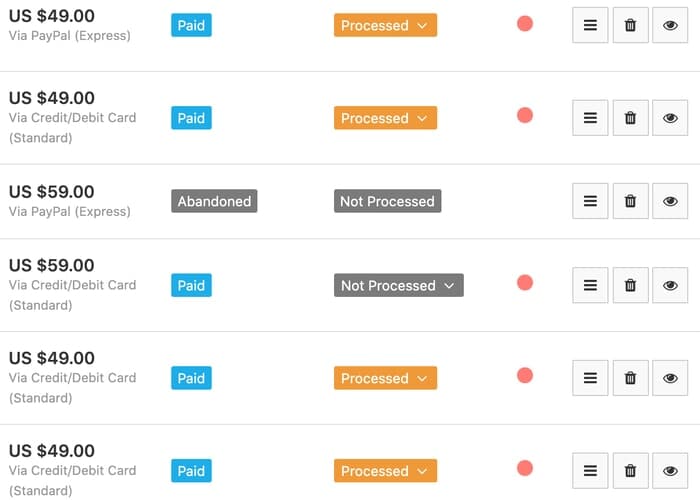 The AliDropship plugin will save you time, stress and energy that you would have exhausted if you choose to do it manually.
Finally, once your products are shipped, the orange round dot will change to green colour and the process button will also change to "shipped".
Marketing Your Products For More Sales
After you must have created your store, the next time you need is traffic and lots of it.
Getting traffic for free is going to take a longer time and the best and easiest way, for now, is to run ads.
I've listed a few of the best ways to get started:
#1: Facebook Ads
One of the key factors that make a Facebook ads campaign a successful one is by having a clear understanding of your budget or how much you're allocating to promote a product.
Make sure your advertising budget is proportional to the product you're selling. This is because the more expensive your product, the more you should expect to spend.
Nonetheless, Facebook is still one of the best platforms to promote your dropshipping products to a bunch of buyers ready to buy on impulse.
But the best rule of thumb here is to start with a test advert, then use the data you get to run a more streamlined advert for the product on Facebook.
You'll be saving yourself unnecessary costs when you've gathered enough data to scale your advert.
#2: Google's Ads
The difference between Google and Facebook is that Google places your adverts in front of people that are ready to buy already. While Facebook leverages interest and impulse purchases.
There are a few ways in which you can promote your product with Google ads, this includes; Google AdWord and Google shopping.
Adwords shows your product keywords as an Ad to people searching for the particular product keyword you're trying to promote.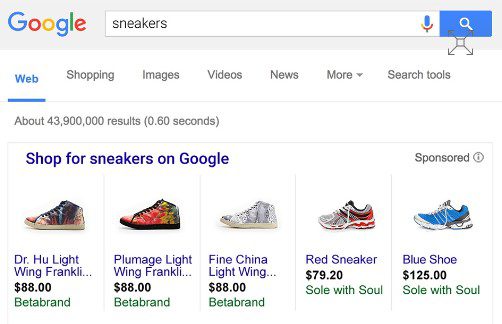 While Google shopping is also similar but this shows the full image of the product alongside the keyword they are searching for.
#3: Pinterest Marketing
Pinterest is a visual search engine and this has been gaining more popularity lately.
You can as well promote your product pins on Pinterest or grow your Pinterest account to the stage where you can enjoy free buyer traffic on a daily basis.
The AliDropship plugin also has an addon (Social Rabbit) that helps in automating your Pinterest account by sharing product images automatically on your behalf.
This can help grow your follower within a short period of time and at the same time generate more traffic.
Must-Have Tools & Resources For Your WordPress Dropshipping Store
Starting your dropshipping business is just the first part of the whole process and that alone won't sustain your business.
You'll need lots of traffic and strategy to convert them into buying customers and keep them coming over and over again.
Unfortunately having just a website won't guarantee that, you need other tools, resources and add-on to help achieve your business goal and keep you in business for a long time.
Luckily I was able to curate the best few you'll need to start. The majority of them are add-ons to the AliDropship plugin you need for building your website.
#1: Google Analytics
Google Analytics is a free tool by Google to monitor site stats like traffic, conversion and how well your website is performing compared to your visitors.
With this, you'll be able to know where and when most of your conversion is taking place and also where the majority of your traffic is coming from.
This is also needed for SEO because it is basically how well your website is performing. This is a must if you want to take your business to the next level.
#2: Ecommerce SEO
You need SEO for the long-term value of any e-commerce website. It allows you to gain more organic traffic and boost sales for your business.
Luckily for you, the AliDropship team has an SEO Starter Pack for new dropshippers trying to optimize their website for SEO
The SEO starter pack includes SEO-friendly articles for blogs on your store or even your homepage. It also comes with diversified backlinks to rank your website higher.
An SEO optimize store will allow Google to index your website faster and equally allows internet users to find your store quicker.
#3: AliDropship Recover Abandoned Carts
The AliDropship abandoned cart helps by collecting emails of your potential customers. This is done to later forward email notifications to remind and encourage them to come back to finish their purchase.
It's a powerful call to action tool that is aimed at recovering back your considered lost customers or revenue.
In fact, research shows that 67% of online shopping carts are abandoned before the customer completes the sale.
Automating your abandoned cart workflows makes it easier for you to reconnect with customers who left their shopping carts.
Best part? The plugin is free so far you are using the AliDropship Plugin.
#4: Recent Sale Pop-Up
Recent Sale Pop-Up is another awesome tool that you need for your dropshipping website. The plugin allows you to humanize your online store and build valuable trust with your customer.
The Pop-ups will keep your visitor engaged with the recent pop-ups of other people who bought from your online store.
This will, however, give your online store the traditional brick-and-mortar feeling of a busy store. Since there is evidence of other people buying from your store, sales will keep multiplying.
This tool is mostly recommended for your store since you're just starting out with less trust from customers.
It will keep the atmosphere busy, thereby making them think their favourite products are selling out quickly.
#5: Social Rabbit Plugin
The Social rabbit plugin is a Social Media Marketing (SMM) tool that automates your social media accounts thereby generating free organic traffic to your website from the social networks.
This tool helps to create awareness by spreading the word about your store over various social media platforms, like Facebook, Instagram, Twitter, and Pinterest.
It also allows you to enjoy automatic human-like posting, following and commenting on your account across several social media platforms.
The plugin will save you time and money and equally make your store social media accounts look like you've spent hours planning every post.
FAQs About WordPress Dropshipping
Let's quickly go over some of the most commonly asked questions about dropshipping and provide answers to them. Perhaps you have one yourself.
Is Dropshipping Legal?
When people think about how easy the dropshipping concept is, they easily believe the whole business idea might not be legal. But that's very far from the truth. Dropshipping is just an eCommerce business whereby the supplier fulfils the shipping of products.
How Much Do Dropshipper Make on Average?
The average income of every dropshipper varies from one seller to the other. Depending on different factors like products, market size, season etc. However, in general, you should expect to make between 20% – 60% profit on each product sale and also make around $1,000 to $100,000 on a monthly basis.
Can You Dropship With No Money?
Technically, you can start on some platform with a free trial to set up your dropshipping website. But they are not forever free. So my blunt answer here is NO! You'll still need money to run ads and maintain your website, customers can even charge you for a refund, so you need to be prepared.
Who Pays For Shipping In Dropshipping?
"Most times we list the products as free shipping but technically the customers are the ones paying for it. This is because the shipping fee has already been included in the product's actual cost and it is passed over to the customers.
Is Dropshipping Dead?
Dropshipping is not dead and will not for a very long time. This business model isn't just a trend that comes to be. It has been around for a very long time. Dropshipping is just a form of eCommerce that allows you to promote products and your supplier fulfils the shipping.
Conclusion
If you really want to start a low-cost dropshipping business, then starting with WordPress dropshipping will help reduce the unnecessary cost you might have incurred.
There are several free tools on WordPress that you can start with and paying for your hosting is just once per year as opposed to the monthly recurring fee on platforms like Shopify.
Dropshipping is a real business that can make you lots and lots of money if you really know your way around it.
However, like every other business, it requires consistency and determination for you to see your desired results.
Quick recap of what's needed;
So that's it, I hoped you were able to learn how to start your own WordPress or WooCommerce Dropshipping business.
Over to you now, what's your biggest challenge when it comes to setting up your WordPress dropshipping business?
Let me know this in the comment box!