EcomHunt Review 2023 – Winning Product Tool [Is It Worth It]?
Looking for a complete unbiased Ecomhunt Review? Don't worry, I've got just the right content for you!
I bet you hear this often! You can start a dropshipping business with zero-cost investment.
But what you don't often hear is that the profit doesn't always come flying.
You need to invest in social media marketing, and do lots of e-commerce SEO and after that you still not guarantee that your chosen product is actually going to sell fast!
I've seen several people start a dropshipping business and quickly give up along the way!
Why? Because instead of making a profit they ended up paying countless recurring fees at the end of the month.
Well, you wouldn't blame them, would you? It's simply business, you either win or lose.
Actually, did you know In 2017 alone, 23% of All Online Sales were fulfilled through the dropshipping model, which is equal to roughly $85 Billion Dollars Per Year…
I often say this, dropshipping is a serious online business that could really make you some extra cash. But you need a detailed plan to actually make a dime.
You see, gone are the days when it takes months to actually make a decent profit while doing a dropshipping business.
Now, with the advent of fast-selling product-searching tools, you can actually start making your money back in the first week of starting your dropshipping business.
The good news is that these searching tools for winning products cost little or nothing to afford.
While the bad news is… more and more are popping up every day, so making it difficult to choose the right tool from the wrong one.
As a result of this, I've decided to handpick a few I actually used and reviewed it.
Hence the EcomHunt review!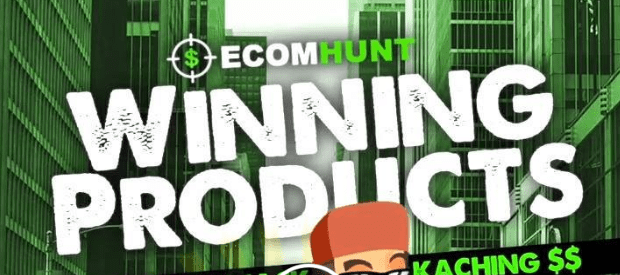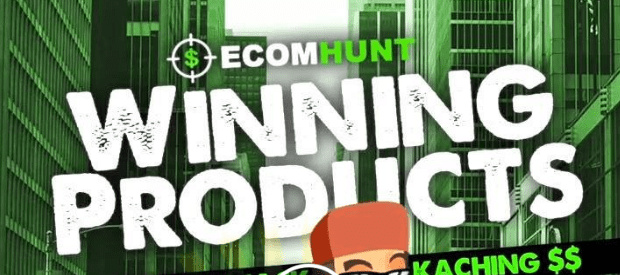 Ecomhunt Review: Tool Overview
Currently, Ecomhunt is a winning product tool that helps with the curation of winning products for any eCommerce business owner willing to sell hot products online.
Basically, each product is specially handpicked by e-commerce experts by making sure it's new and has high social media engagement with hot sales on other top eCommerce stores.
However, these products update are based on the product quality available on the market and rather not on product quantity.
I believe focusing on product quality will help reduce bad products and invariably increase product conversion rate as a result of the availability of top-selling products.
How does EcomHunt Works?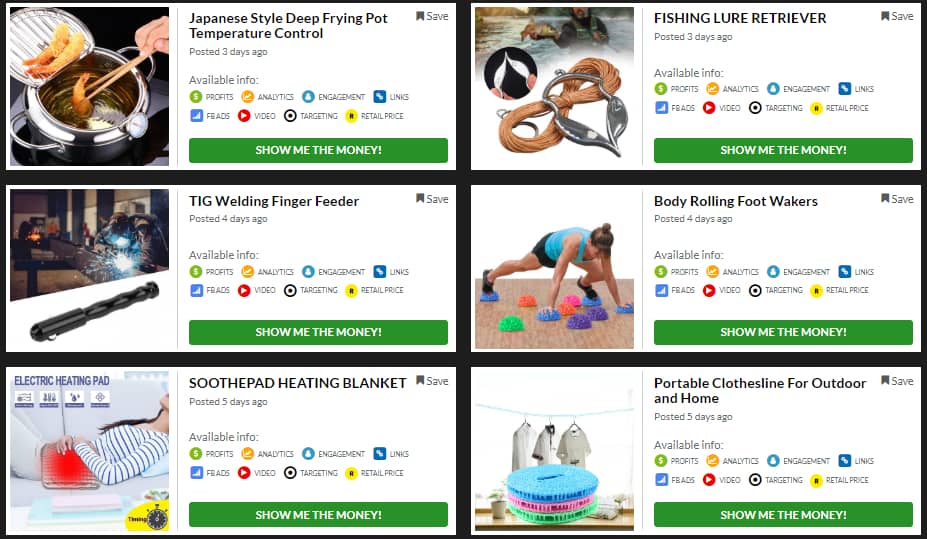 Simply put, EcomHunt saves you the stress of searching for hot and fast-selling products online. Instead, you can focus on other things that matter for your e-commerce business.
EcomHunt updates several products on a daily basis for its users and which of course are specially handpicked by experts. The products updated  include the following data:
Profit
Analytics
Engagement
Links
Facebook Ads
Product Video
Facebook targeting etc.
While having access to the winning products, users can virtually sell the product on any e-commerce platform such as Shopify, WooCommerce, eBay, Amazon etc.
EcomHunt gives its users access to new selling and winning products on a daily basis.
Another interesting thing about Ecomhunt is that once you have links to stores selling these winning products already, you can also from there have access to other trending products or their best-selling products that you can add to your online store.
With this, you are simply getting more than the intended value.
The best part about EcomHunt is that they also offer a 30-day money-back guarantee for their service.
With this, you can rest assured that if your expectations are not met within 30 days you can simply get your refund.
What's Included In Ecomhunt Winning Products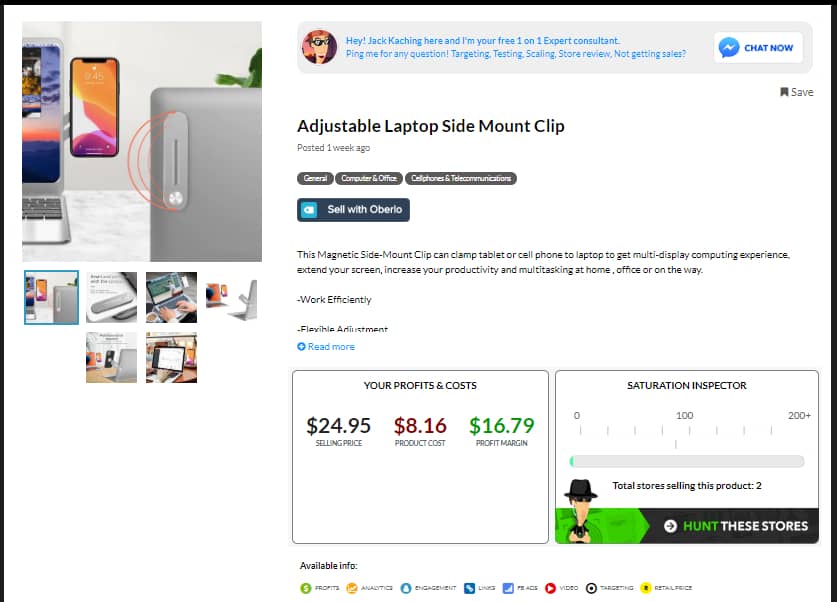 Below is the breakdown of everything you gain access to with every winning product provided on Ecomhunt:
Keyword Product Title
This is the actual product name and the SEO title of the product. That is, what people will search for while looking for the product.
With a well-written product title, your products will have the chance of ranking higher for the product keyword on search engines and invariably boost your traffic and conversionProduct Image
All product images provided alongside the products on Ecomhunt are clean high-quality images that can be downloaded and re-used on your own eCommerce store.Product Description
Ecomhunt also provides a well-written product description that's optimized for search engines. However, copying the product description might be a bad idea since everybody else has access to it.
You could instead use it as an inspiration to write better product descriptions on your dropshipping store for your products.
Oberlo Button
The Oberlo button allows you to automatically push the product directly to your Shopify store without having to do anything manually.
This is particularly good for store owners using the Shopify platform, as this is going to save a lot of time and resources.
Product Save Button
This button allows users to save any product they like on Ecomhunt to their favorite and come back to check them later.
Ecomhunt Expert Consultant (Jack Kaching)
Jack Kaching is also always available on Facebook messenger as your one-on-one product consultant on any question you would like to ask.
This is one of the features that made Ecomhunt stand out as you won't see something like this on other winning product tools.
Product Saturation Inspector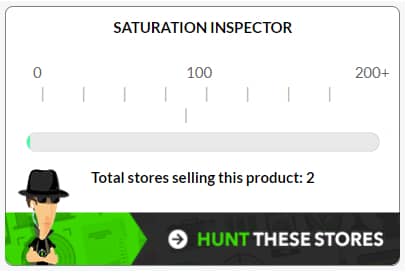 The saturation inspector lets you know how viral the product has gone among other sellers selling the products.
It shows the total number of stores selling the product already. The higher the number the more saturated the product is and vice versa.
Your Profit & Cost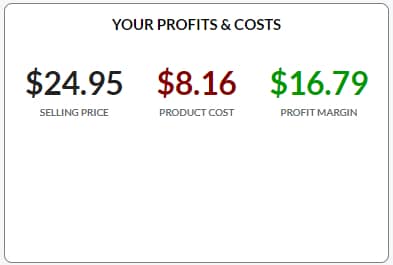 The profit and Cost indicator also lets you know what the product is going to cost from the supplier and the potential profits to be made on the product.
Product Analytic
The product analytics is generated from the supplier website on AliExpress and it includes all data about the products. (More on this later…)
Product Engagement on Social Media
The product engagement includes all social media reactions to the product. This includes the total likes, shares, comments etc.Links To Supplier
Links to suppliers are the links that lead you to the actual product from the supplier. This feature is however limited to paid users only.Facebook Ads & Targeting
This is another paid feature of Ecomhunt and this is specifically good for those with little to no experience with Facebook ads. (More on it later…)Instagram Influencer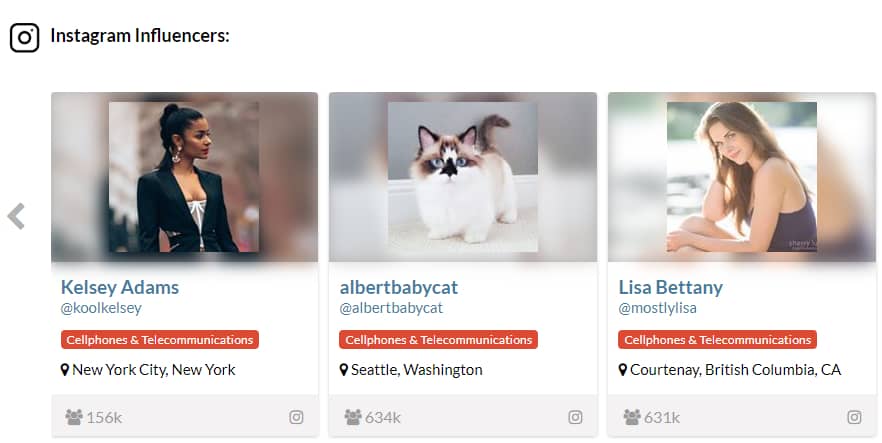 These are potential Instagram influencers that you can use to promote your dropshipping product at a more affordable price compared to Facebook ads.
This is usually good for those just starting out with dropshipping and who do not really want to spend more on marketing.
Using Instagram influencers definitely saves money and usually converts much faster when you do your influencer niche research well.Real Buyer Reviews From AliExpress
This includes previous reviews of real buyers on AliExpress which is used to access the product or also used as a review on your own eCommerce store.
EcomHunt Membership Plan & Pricing
The EcomHunt pricing plan comes with four membership plans which are the free, basic, Pro, and suite plans.
Ecomhunt Free Membership Plan
The free membership plan gives you access to;
10 live trending products
3 product tracker sessions
With the free plan, you won't be able to gain access to the following:
Targeting
Ads
Product Links
Stores already selling the products
Engagements
etc.
For full access, free members will have to upgrade if they want access to the full product data being released on a daily basis.
Ecomhunt Basic Membership Plan
However, the Pro membership plan on the other hand gives you access to better features than the fee plan. But it is going to cost you $29/month 
Some of the features include;
50 live Trending Products
Product data and analysis
10 tracker sessions
2 years of Ecomhunt winning products and services
Ecomhunt Pro Plan
This goes for $49/month. Here, you have access to all the features in the Basic plan, including;
80 live trending products
100 product tracker sessions
1-on-1 e-commerce expert consultant
Unlimited access to all Ecomhunt features
Ecomhunt Suite Plan
This is a $89/month plan. However, you will be charged $69 in your first month. The suite plan grants you access to all features in the Pro plan, including;
120 live trending products
500 tracker sessions
Access to content library and course training
EcomHunt Pricing Discount
The Ecomhunt pricing discount allows you to enjoy discounts on the pricing plans.
69% annual discount when you opt-in for the annual subscription plan of $23 per month instead of the usual $29 per month.
20% discount on the Pro plan when you opt for the annual subscription of $39/month instead of $49/month. You get to save about $120
45% discount on the Suite Plan when you opt for an annual subscription of $49/month instead of $89/month. You get to save about $480
And of course, the free plan is forever free! So users can sign up with the free plan and upgrade whenever they want to.
An additional cool feature you will have access to as a member or user is the Ad Hunter extension which I will explain subsequently.
Try EcomHunt
EcomHunt Review – The Key Features
This is probably the selling factor of EcomHunt, as its features make it a point of attraction for every drop shipper trying to make some fast cash easily.
Knowing the winning product itself is just the beginning but being able to know how to sell it fast is the real deal.
Thanks to EcomHunt, with their product data you can start selling these products almost immediately.
Below are the key features and product data EcomHunt offers its members. They include:
Selling/Trending Products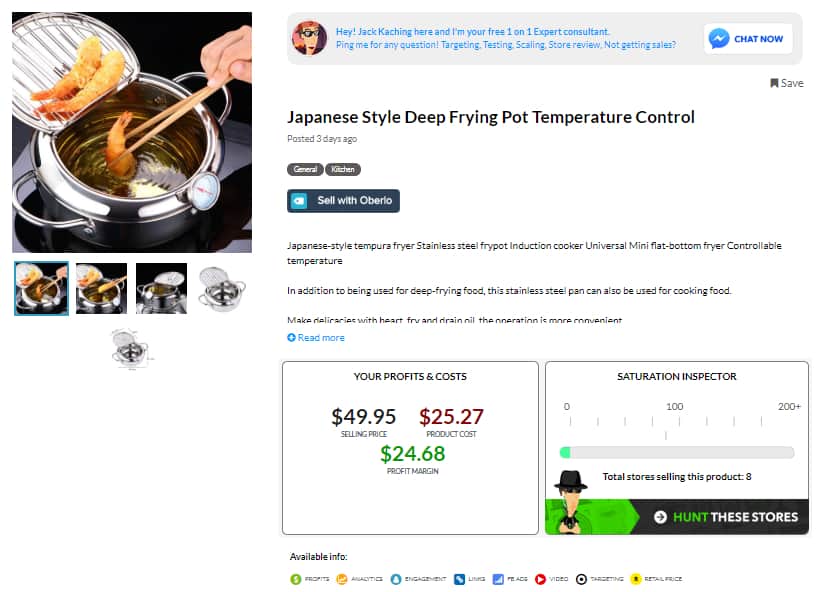 With EcomHunt you can rest assured that you are getting access to trending products. In their words (EcomHunt), "they are a curation of the best new products, every day".
Trust me, the hardest part is finding the products that people want to buy, and EcomHunt has done this part.
Being a pro member you will have access to the winning products and not just that, how you can easily sell them through Facebook marketing.
Using the data that comes with the products, you will be able to set up a Facebook ads campaign that targets the actual audience that wants to buy the products.
What could be easier than this? That's why EcomHunt is one of the top notches.
Product Profits & Analytics
This feature allows you to know the actual price you will be getting the product from AliExpress and as well as the potential profit of the products.
With features like this, you will be able to plan how much you are ready to spend on ads and the potential returns before you add the product to your online store.
Additionally, you will know how well the product is doing on social media. In the sense that you will have access to the total number of shares, the product is having as well as total comments and likes.
Knowing the total engagement a product is having already will let you know how viral the product has gone or how far it's going to go.
Lastly, you will also be provided analytics from where the product came from (AliExpress). I particularly like this aspect as it lets me know how good and genuine the product is before dropshipping it.
It will clearly state the number of orders, ratings, reviews, and the total votes the products are having. With this, you should know if the product is adding value to the actual buyers.
Facebook Ads & Targeting
This feature gives you access to Facebook ads that are already running. Meanwhile, you will also be given a free product video you can either display on your store or use to run an advertisement for your product.
This part is perfect if you don't have an initial idea of how to advertise your product. Using the existing ad titles and information will prove to be a good start for you.
About Facebook targeting, it's more like a done-for-you research tool. Being a pro member you will have access to Facebook-specified targeting.
If you have some experience with Facebook ads yourself this is more like a plus bonus and you could simply modify it to convert even more.
Having no clue about Facebook ads? Then go with the targeting done for you, but I'll advise you to do some Facebook insight on the product yourself, with this you'll be more enlightened on how to run a specified Facebook ad targeting for any of your future products.
If you are the lazy type just like me, then I think you will find EcomHunt a very interesting tool.
Links to Suppliers & Existing Selling Stores
This feature makes drop shipping so easy that you can scale it up to any extent.
As I said earlier using the free membership plan is going to limit your benefits from EcomHunt as all the good features are available for the pro members.
This one is exclusive to pro members, with this, you will be given links to the actual supplier of the product on AliExpress.
While from there you can easily import the product either using Alidropship Plugin for WordPress or WooCommerce or simply using Oberlo if you are on the Shopify platform already.
Additionally, you will be given links to stores already selling these products and with this, you will have access to additional winning products you find in the stores.
To do this, simply browse through their top-selling products and you will have access to other winning products.
This is actually killing two birds with one stone.
AdHunter Tool
The AdHunter tool is a very interesting tool that allows you to monitor your competitor's ads on Facebook.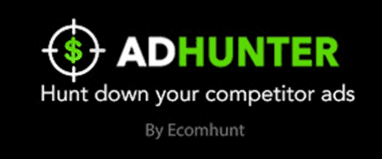 It actually the first Chrome extension of this kind. The app will give you the power to hunt down any sponsored ad on Facebook and also allow you to see the performance of the Facebook ad.
You will be able to see the Facebook ad engagements like traffic amount, targeting the country, how long the ads have been running, and a few other useful data.
Best part? The app is absolutely free for both free members and Pro members. This means you need to be a member to have access to the app. You can create your account here.
Webinar and tutorials for Newbies
Another feature that makes EcomHunt stand out is the free webinars and tutorials they offer their members.
Most people who engage with EcomHunt are probably newbies interested in dropshipping because it offers great potential.
As a result of this many will make more mistakes along the line and to avoid this as much as possible EcomHunt provides tutorials and free webinars that make you rooted in the dropshipping business.
The downside to this is that most of the webinars and tutorials are only available to the Pro members. A free member has limited access to this.
However, these webinars are totally worth it, and as a beginner, you might want to avoid wasting time and mistakes along the way by getting access to the EcomHunt webinars and Tutorials.
EcomHunt Facebook Community
Ecomhunt also has a large Facebook community where like-minded members can rub their heads together and share common ideas.
The Facebook group link is automatically sent to all users' email addresses after signing up for Ecomhunt. Or simply search for Ecomhunt Official on Facebook to gain access to the Facebook group.
They also provide support via the Facebook group and users with any similar issues can help out since it's a community.
EcomHunt Review Pros & Cons
As every other product out there comes with its good and less favored sides, EcomHunt has its own Pros and Cons.
EcomHunt Pros
Using EcomHunt comes with a lot of advantages. Some of these are;
Facebook ad insight
EcomHunt gives its members Facebook targeting and insight into their daily selling of products. With this, you will know the country to target, gender, age, etc. They are literally doing all the hard work for their members
Hot Products
One thing you can ever be sure of with EcomHunt is having access to selling products. The good part is you'll know these hot products before they go viral.
Niche Products
I thought EcomHunt only finds popular and competitive products, but little did I know that you could also find your hot-selling niche products. There are a variety of niches, so all you need to do is browse through and find the appealing product for your store.
Facebook AdHunter
This Chrome extension is a big deal. Yet, they make it a free tool for their members. With this tool, you can spy on your competitor's ads on Facebook and modify the ads to sell better.
Cons
Some of the few cons that have been associated with EcomHunt include;
Free Membership
It has limited features in its free membership plan. That is to say, the cool features allowed are available for the Pro members
Limited Products
The daily products are too few. They need to be increased.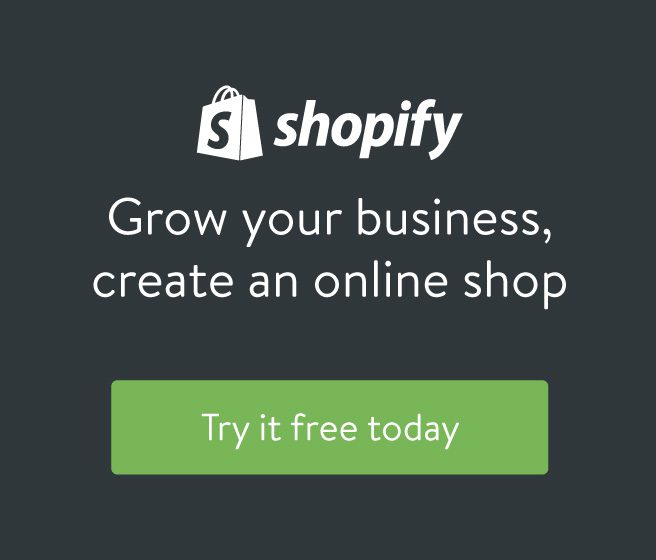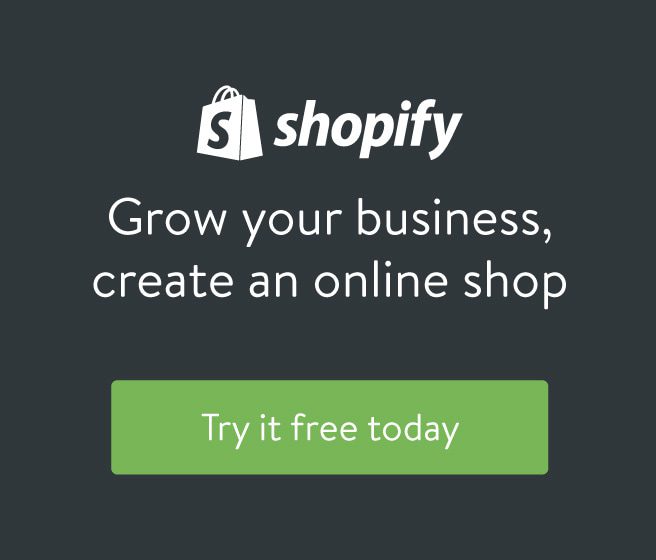 FAQs about EcomHunt
Here are some of the frequently asked questions about EcomHunt;
How much does Ecomhunt cost?
Ecomhunt pricing plans are very flexible. They offer a free plan with limited features and a paid plan of $29 per month. However, with the ongoing 30% discount, new members can gain access for a $20 monthly fee.
Does Ecomhunt Have a Refund Policy?
Yes! Ecomhunt has a 30-day money-back guarantee for every new user. If by chance you want to get your full refund within 30 days of joining the platform, you'll be eligible to get your full refund. TOS applied.
What Payment Method is accepted on Ecomhunt?
Currently, PayPal is the only accepted payment method on Ecomhunt, this means potential users can only make payments via PayPal.
Ecomhunt Alternatives & Competitors
I do have to be honest with you here; there are tons of EcomHunt alternatives out there in the market with some of them having a very nice feature.
But what matters here, at least to me is having a tool that provides value at a very affordable price and most of all with a higher ROI on every penny spent.
Let's have a look at some of the alternatives below:
#1: Ecomhunt vs. Dropship Spy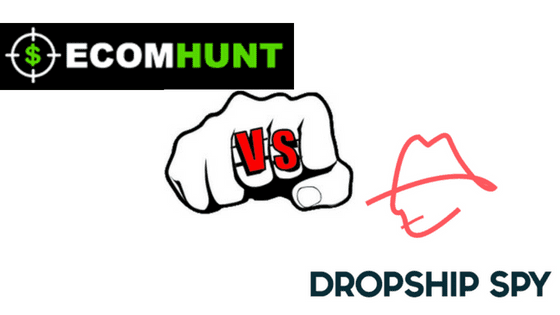 Dropship Spy is another top-winning product tool in the market when it comes to sourcing the right product to sell.
They also provide their users with unique features such as:
Facebook Audience Builder
Amazon Review Downloader
Ecomhunt is on the fair side when we consider its pricing plans compared to what Dropship Spy is charging on a monthly basis.
#2: Ecomhunt vs NicheScraper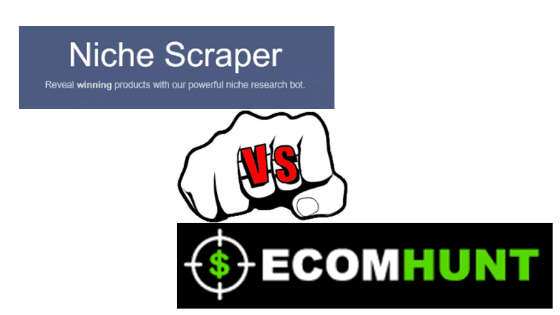 NicheScraper is another dropshipping product research tool that basically hunts winning products for both experienced and inexperienced merchants.
The basic service provided by NicheScraper revolves around three features:
Store Analysis
Winning Products
Video Ad Maker
With NicheScraper you can mix product pictures together to create a video ad for your product. And this is a feature that happens not to be available on Ecomhunt.
However, Ecomhunt still comes as an affordable tool when it comes to pricing compared with NicheScraper.
#3: Ecomhunt vs AliShark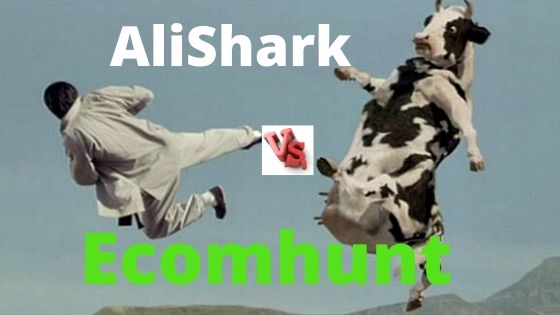 AliShark, just like the rest of the winning product tools has a focus on AliExpress winning products. It gives you access to product info like:
Product with ePacket shipping option
Price of the product
Product Reviews
The total amount of orders
Top selling countries
Top dropshippers that are making money off this product
Sales history over the last 2-6 months
Shopify stores and other online stores that are selling the product
Unlike the rest, AliShark doesn't have a free plan but comes with a $1 two-day trial to test the platform if it's working.
EcomHunt Review Conclusion
The EcomHunt searching tool for winning products is actually good for every dropshipper just starting out.
This is because it provides a means to make quick cash through Facebook marketing by the product data provided already by EcomHunt.
Using the tool is very promising, you don't have to worry if you are a newbie they equally provide webinars and tutorials for members and the knowledge you'll be getting along from this could keep you going if eventually, you stop using the tool.
I'm not saying EcomHunt is 100% but the membership fee you will be paying is far less compared to the profits you'll be making. So I think it's a win-win situation.
What are your thoughts on this Ecomhunt review? Already using the tool or you will like to share your experience? Or perhaps you have a question you'd like to ask. Please use the comment box