GetResponse AutoFunnel Review: Sales Funnel Builder Tools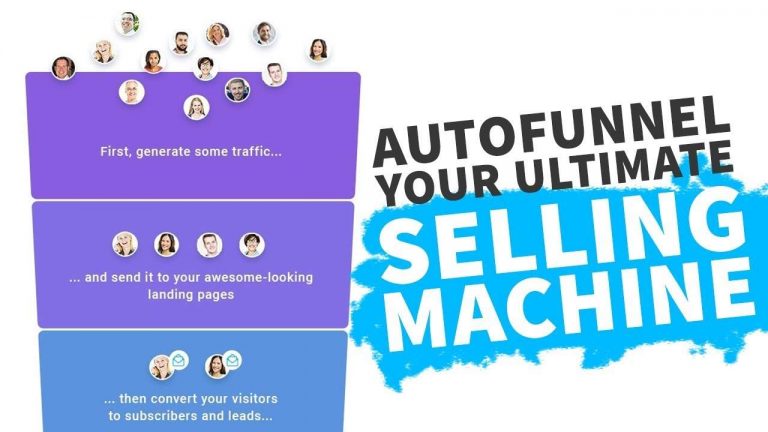 In this post, I'll do the GetResponse AutoFunnel Review and how you can use it to create your perfect sales funnel to promote any product or services.
You'll agree with me, selling products and services online isn't always easy!
Most people feel all you need do is list your product online and BOOM you're selling already!
Nah…
If it's that easy you won't be here checking the GetResponse AutoFunnel review.
There are so many factors to be considered before you can be successful at it. Even a beautiful website with tons of traffic still don't guarantee your profitability.
You can pay so much for a beautiful website set-up and pay for tons of traffic and yet they might still not convert.
Why?
because:
Websites come with lots of exits and distractions
Your perfect website isn't designed by default for conversion
There is no back end sales automation on your website
No marketing follow-up in place for captured leads
And so many other reasons…
However, in line to tackle this is the sole reason we're looking into the GetResponse AutoFunnel Review.
Which is a Sales Funnel software that does more than you can imagine by helping you acquire leads, turns them into customers and automate the entire sales process for you.
If you're looking for ways to skyrocket your business to a whole new level, you might as well want to check out the AutoFunnel tool.
In this GetResponse AutoFunnel Review, I'll be breaking down its functionality and as well as how it can be of great advantage to every business owner out there.
Let's dive in!
Autofunnel GetResponse Review
Before we get started, here's a quick summary of what we're going to cover and a jump link to give a head start!
GetResponse Autofunnel Overview
What is GetResponse
What is Autofunnel
Understanding Sales Funnel & How It Works
Sales Funnel Stages & How it Typically Works
How to Use AutoFunnel (By GetResponse) To Create Your Sales Funnel
Creating A Sales Funnel With AutoFunnel By GetRespomse
Adding Product To Store In Autofunnel
5 Steps To Creating Your Sales Funnel With Autofunnel
What Are The Features?
GetResponse AutoFunnel Pricing
Autofunnel Review Conclusion
GetResponse Autofunnel Overview
Before we go in-depth on Autofunnel by Getresponse I think it's proper we understood the relationship between GetResponse and Autofunnel.
What is GetResponse
GetResponse is one of the oldest email marketing software on the internet with almost 20 years' online reputation and over 350,000 active users currently using the platform.
What it does is that it allows you to create an email list for your business and as well as newsletters that can be sent to the same list.
With GetResponse you can automate your email subscribers via the use of "autoresponders" and easily monitor every statistic of your email marketing campaigns like:
Email Open Rates
Click-Through Rates (CTR)
Bounce Rates
Unsubscribes
And many more…
What actually made GetResponse a unique platform is the fact that they encompass so many marketing features (All-in-one) Solution like:
Landing Pages
Webinars
Sales Pages
CMR
Sales Funnel (Autofunnel)
Product Stores
Ecommerce Integration
And many more…
Autofunnel, on the other hand, is one of their recently added feature which we're going to be looking into shortly.
What is Autofunnel
Autofunnel by Getresponse is a ready-made sales funnel software that helps you:
Build your landing pages
Automates your emails
Sell your products and services
Recover your abandoned cart
And most importantly makes you money.
It's a pre-made sales funnel tool that helps you achieve so much online with their all in one tool solution.
It comes with so much flexibility that you can test several landing pages and email sequence to avoid the guesswork and hit the nail by the head.
With Autofunnel you'll gain access to 40plus conversion-optimized templates written and designed by various industry experts.
Which will allow you to sell, build your list and showcase your product and services online.
Each template features high-quality designs, images and unique sales copy that are perfect for several businesses like:
Coaching/consulting
Agency/Freelancer
Local Business
Affiliate Marketing
eCommerce
Designers
Event planner
Photographer
Online marketing
Info marketing
Real estate
Webinars
Fitness and wellness
And so MUCH MORE…!
The GetResponse Autofunnel is available to all plan on GetResponse besides the basic plan. This means you can even test out the tool with the 30days free trial to check how it works.
Understanding Sales Funnels and How It Works
In other to fully understand how Autofunnel works you need to as well understand the basis of Sales Funnel and how it can drastically turn your business around.
Sales funnel is simply the process a prospect visiting your page take on the way to buy your products or services.
Some of these prospects will never leave the top of your Sales Funnel while some walks all the way to the very end.
However, the good news is that you have influence over as many people that you want at the end of your funnel.
But back in the days, this used to be more of a difficult task walking customer/prospect through your business funnel via offline methods.

The good news is you don't have to anymore, all thanks to the internet.
These days with the help of sales funnel tool like Autofunnel, you can have your Sales Funnel up and running within a few minutes.
Sales Funnels Stages and How It Typically Works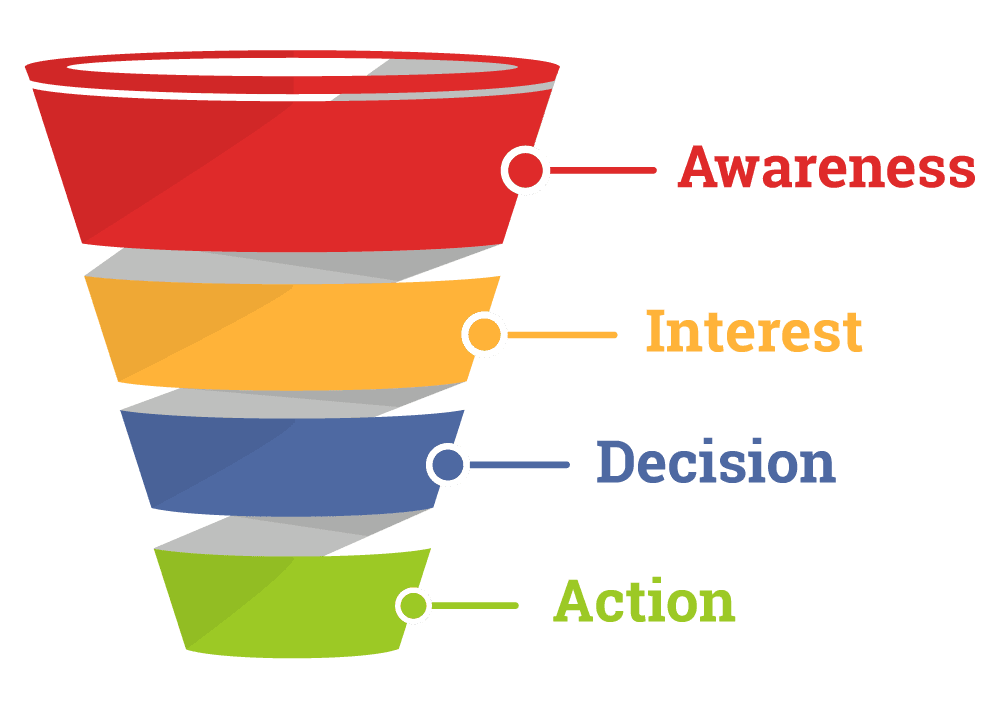 Let's imagine you're selling a dropshipping product with Sales Funnel, and your products happened to be a pet transparent carrier.
You then run a nice Facebook ad that drives targeted traffic to your landing page. On your page, what you'll want to do is ask your prospect to sign up to your email list in exchange for an irresistible offer.
This could be a free plus shipping offer or 60% coupon code and once they signup, you now have leads instead of prospects.
After that, for the next few days or weeks, you can start sending out contents via email to educate your subscribers about the products.
This content could be on how to use the product or the benefit of having the products and in the end, you offer a discount to get the product.
And BOOM!
Your leads start turning to buyers from 1 to 10 and the figure keeps increasing.
After this, you introduce another product and you start all over again!
Now let's look at each of the stages in the sales funnel.
Stage 1. Awareness
Every Sales Funnel on the internet start out with the awareness stage. This is when your traffic (prospects) first sees your offers. It could be through:
Facebook Ads
YouTube ads
Google Ads
Pinterest
Instagram
Stage 2. Interest
After interacting with your offer (Products or services) you then offer them a leads bait (something of value) in exchange for their contacts.
Stage 3. Decision
Once they take your offer and subscribe to your mailing list you then begin to nurture then with educative content that'll make then informed and trust you enough to buy your products.
You're simply preparing them to buy from you!
Stage 4. Action
You introduce another irresistible discount to make them finally buy from you and once they do, you introduce another product.
And the process keeps going in a circle.
How to Use AutoFunnel (By GetResponse) To Create Your Sales Funnel
Now, that you've understood the basis of Sales Funnel it's time to create one using Autofunnel by GetResponse.  The good thing about the software is that you can test run it for complete 30Days without paying a dime.
All existing GetResponse users equally have 30-day free access to the software also. If you're an existing GetResponse User, simply login to your account and look for Autofunnel in the navigation bar.
For new users, this thing applies to them also, They'll get 30-days free access to Autofunnel and the default email marketing tool on GetResponse.
Now, let's look at how you can create a sales funnel with Autofunnel by Getresponse.
Creating A Sales Funnel With AutoFunnel By GetRespomse 
What you have to do now is go over to your GetResponse dashboard and look for Autofunnel by clicking the navigation bar.
After clicking it, you'll see the image below. Now, you'll need to give your new Sales funnel a name and proceed to the next page.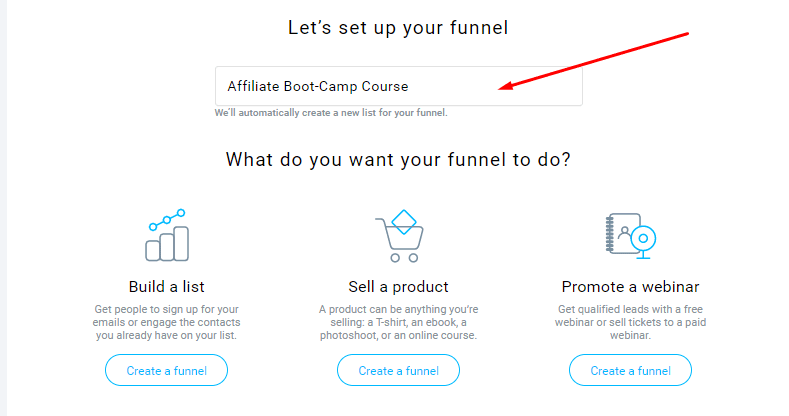 As you can see from the image above, your sales funnel could be about any of the three:
Build a list
Sell a product
Promote a webinar
In my case, I choose the "sell a product" funnel.
Next, you'll need to choose your Sales Funnel type, which can either be Full Sales Funnel or Quick Sales Funnel.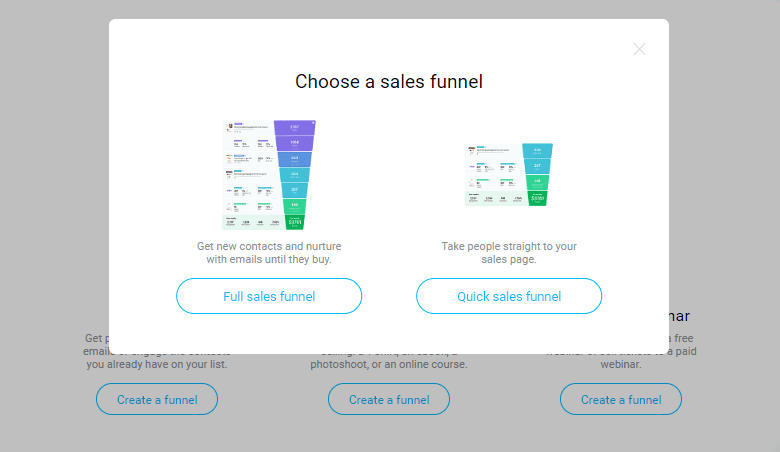 The Full Sales Funnel covers the entire process of a complete funnel while the Quick Sales Funnel skipped some part and take your prospect to the sales page immediately.
I recommend the full funnel because it's going to help you nurture your contacts through the entire process until they buy your products.
After choosing your funnel type, the next page is going to prompt you to create your store.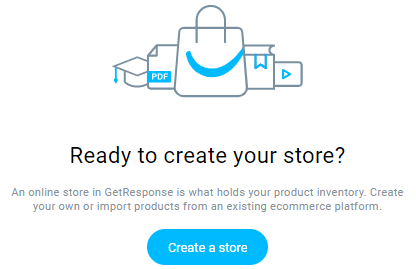 Hit the "Create a store" button to continue.  After this, you'll need to give your store a name and set the default currency.
Your store is going to be the place to list your product online and this could either be a digital, services or physical product. However, if you have an existing store already, like:
Esty
Shopify
BigCommerce
etc…
You can easily connect with them from your GetResponse account.
Adding Product To Store In Autofunnel 
The next thing to do now is to add your product and connect your preferred payment processor.
Click on the "let's do it" button to get started. After this, you need to select the kind of product you want to sell. It could be any of the following:
Downloadable File (This could be an eBook)
Online Course (a good example is a video course)
Service (Graphic designer etc.)
Physical Product (like a book or T-shirt)
Once, you've chosen your product type you'll need to give it a title and proper description.
Next, give it a price and upload your product image.
Finally, you'll have to make known how you want to deliver your course and what will be done with your subscribers.
If it's an online course, you can choose "I'll redirect them to site that host my course" and enter the URL of the site. For the subscribers, you can choose to them to another list then specify the list.
The funnel name is by default the buyer list, and this is where they will automatically opt-in to.
The last step here will be to connect your payment processor. Simply click on your preferred one to receive payment from your customers.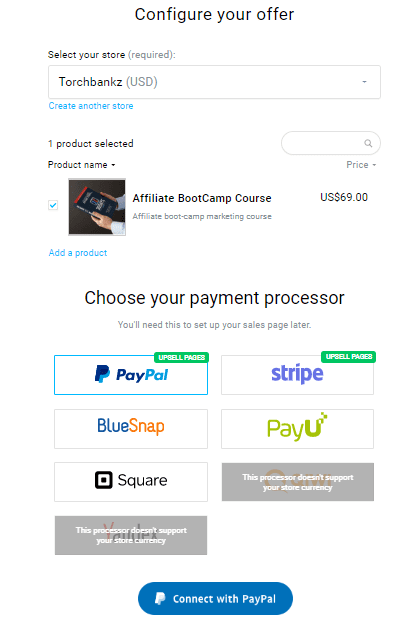 Once your payment processor is connected, you'll need to save it and proceed to the main set-up where you'll choose and edit your sign-up template to begin the sales funnel process.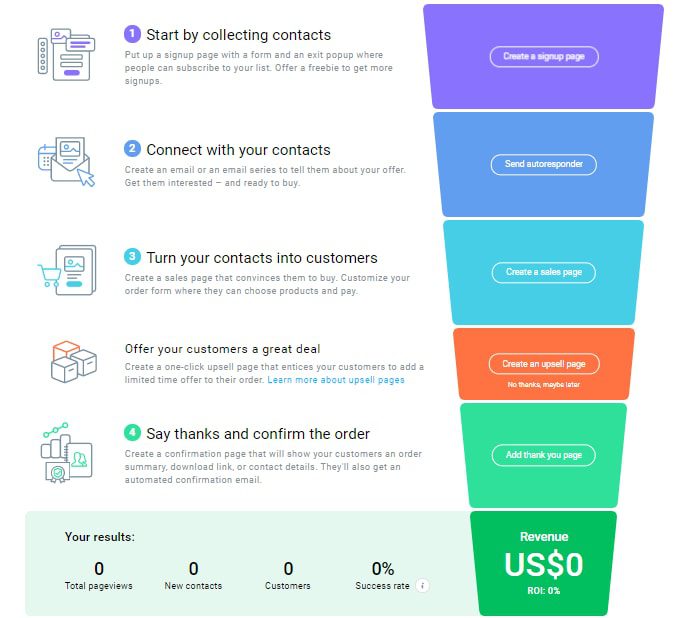 5 Steps To Creating Your Sales Funnel With Autofunnel
These steps include the sign-up process from the sign-up page to the confirmation page. This is where the magic happens, from educating them to the point they finally take action.
Creating Your Sign-Up Page
Set-Up Your Auto-Responder
Add an Upsell Page
Thank you and Confirmation Page.
Step 1. Create Your Sign-Up Page
This is the first step from the visual Autofunnel. To begin, you just need to click the "create sign up page" to set up your opt-in page.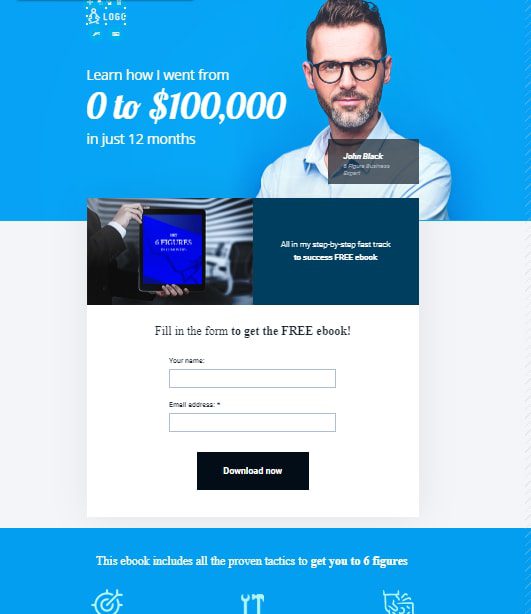 Your opt-in page is where your prospects are converted to leads.
This is where you offer something in exchange for their email address. A good example is a catchy eBook with an attractive title.
As mention earlier, you can choose from several templates available inside your Autofunnel. And after choosing one, you can then proceed to edit it to further meet your needs.
Each of the sign-up pages comes with two variant and a plus icon that can be used to add another variant.

This will allow you to be able to create various variant if you want to do AB Testing for better conversion of your ads while running one.
Step 2. Create Your Auto-Responder
Your auto-responders are the automated emails that will be sent to your leads when they start signing up for your offers.
You can create as many emails as you want that can keep following up your leads for several months.
What's even great about this is that there are handfuls of templates you can choose to rewrite your email copies.
They also have personalization features that will allow you to increase your email open rates and conversion rates.
Step 3. Create Your Sales Page
After setting up your Auto-Responder, the next thing is to set up your Sales Page. Your Sales page is where you market and turn your prospect into an actual buyer.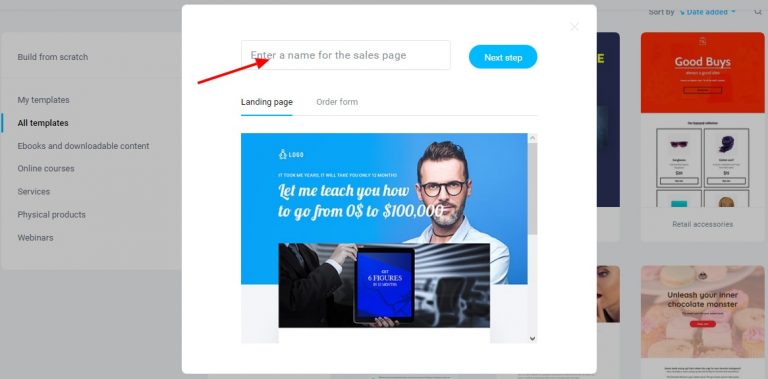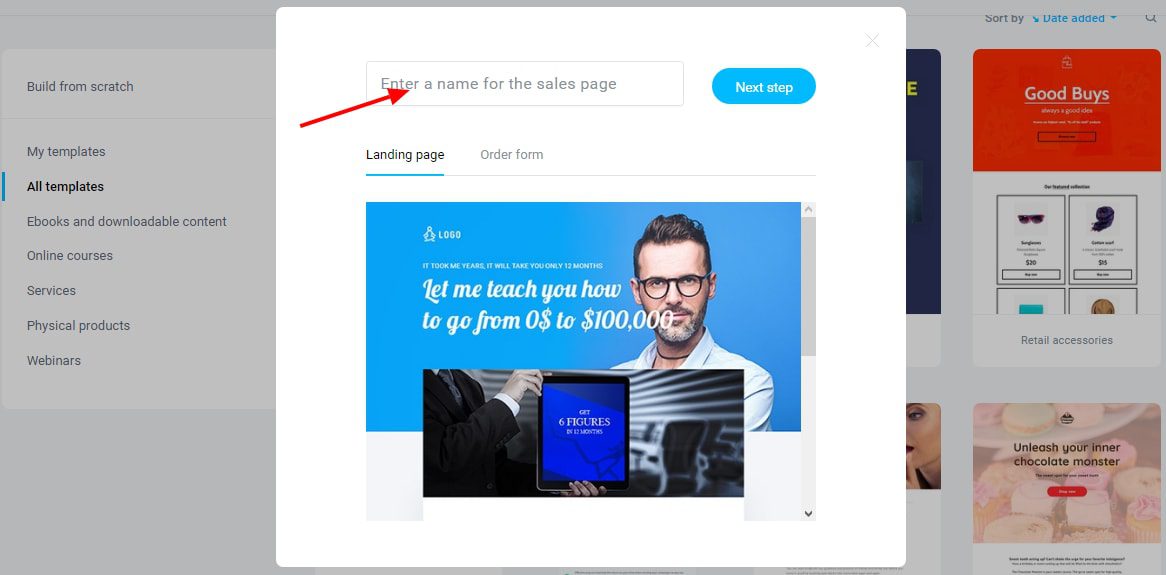 It includes the copy page and the order page. For those with no experience or time when it comes to writing copies that convert, you'll need to check out this tool.
Its helps you generate copies that can be used for your sales pages as well as your email copies.
Step 4. Upsell Page (Optional)
This is for creating an additional offer or complimentary offer to what your lead as gotten before. It allows you to make more from a single buyer.
However, this isn't always necessary. If you don't have any complementary products you don't have to add the upsell.
Step 5. Confirmation & Thank You Page
Finally, the confirmation page, this is the final page where your customer will be redirected to either download or gain access to your products.
This is also the page you say "Thank You" to your customers for doing business with you. There are equally ready-made templates available for this.
You just need to choose edit and save to have it set up. And that's it. Your complete Sales Funnel is up and running.
The Autofunnel Analytic will show you a visual display of what's literally going on inside your sales funnel.
You'll get to see your conversion rate and the total income from your funnel.
What Are The Features?
Let's go over the basic features that made Autofunnel a unique Sales Funnel tool.
#1. Facebook & Instagram Ads Creator
This feature allows you to create your Facebook and Instagram ads inside your GetResponse account without having to switch account.
You'll be able to set up every aspect of your ads from placement, target audience, budget and text copy.
Once your advert is up and running you can equally optimize and monitor every bit of the ads from your GetResponse account.
#2. Social Ads Creator
The Social ads creator is a GetResponse social ad tool that can help you create amazing ad copy within a few minutes.
It comes with ready-made templates tailored for several businesses, most especially for those having little experience with designing.
Best part? It's for free!
#3. Landing Pages
With Autofunnel, you'll gain access to brand-new landing page templates that are optimized for conversion. The templates are created for several business industries to suite your perfect need.
This means you don't have to pay extra cost using additional landing page tools, as everything can be done from inside AutoFunnel.
#4. Email Marketing
This is the primary purpose of GetResponse and it comes alongside your Autofunnel plan. Now, you can easily create auto-responder and newsletters for your contacts.
Automating your email is very important as it's going to give you time for other pressing tasks. This feature allows nurturing your subscribers to the point of conversion on complete automation.
#5. Webinars
There's no point using third-party Webinar software like EasyWebinar. You can run your free or paid webinars to your audience without an additional third-party tool.
This feature is seamlessly integrated with your pages and emails which give you ease and access to perfect webinar set up.
#6. eCommerce Integration
Autofunnel equally allows you to easily integrate with a third-party eCommerce platform like WooCommerce, Magento, Shopify and Esty to sell your products.
This allows for the easy importation of products from any existing store you have already.
#7. Abandoned Order Emails
With these features, you can convince people to finish the orders they left behind by sending them reminder email to finish their order.
#8. Payment Processors
To make it easy to sell your product and services, Autofunnel integrates with the popular payment processing gateways like:
PayPal
Stripe
Bluesnap
PayU
Square
GetResponse AutoFunnel Pricing
Autofunnel comes with 30Days free trial including all existing GetResponse Users. This means you can equally use Autofunnel for 30Days free if you have an existing account.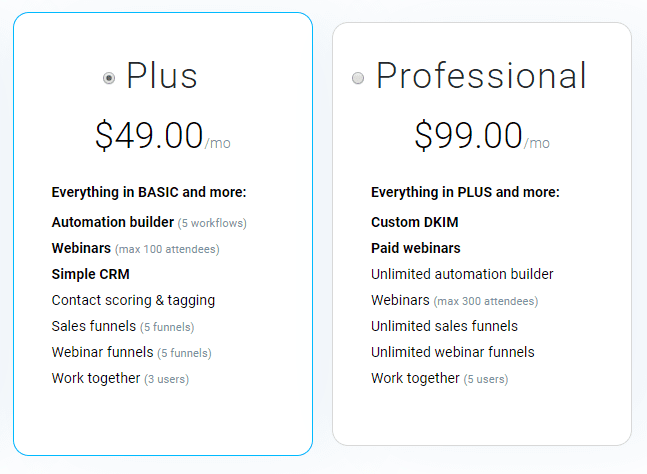 The actual pricing for Autofunnel start from $49/month and it includes the following:
Automation builder (5 workflows)
Webinars (max 100 attendees)
Sales funnels (5 funnels)
Simple CRM
Contact scoring & tagging
Webinar funnels (5 funnels)
Work together (3 users)
Autofunnel Review Conclusion
Autofunnel is quite a unique sales funnel tool.  Plus, it comes with an amazing 30Days free trial. If you want to try out sales funnels for the first time I'll suggest you go ahead with Autofunnel.
It comes with a free course on how to master list building and sell like a pro!
Irrespective of your products, be it digital or physical products if you're not using sales funnel, you're literally leaving money on the table.
And Autofunnel happens to be one of the best affordable tools for this purpose. Give it a try with the 30Days free trial and see how it goes.
If you don't like it you can then cancel your account with no question asked.
That's it on GetResponse Autofunnel Review! Let me hear your thought on this.
Learn More