ClickFunnels Dropshipping [Guide To AliExpress Sales Funnel]
Dropshipping is another crazy hack to making more money via AliExpress sales funnel. You've probably known the secret behind the dropshipping business model already.
This business model allows you to source for products as low as $0.50 on AliExpress. Market them on your store and sell for 10 – $15.
At times, you could import product around $10 with a shipping fee of $4 making a total of $14 and have them sold for $30.
This way you're keeping $16 profits on each of the products you sold. A hundred successful sales of that product is going to earn you a total profit of $1600.
Let's say excluding the cost of running adverts, at least, you're still going home with $1200.
Mind you, you only pay your supplier after your customer must have paid you first. No risk involved or anything like product inventory.
Your major concern should be on how to market the product successfully. This covers the basics for the dropshipping business model.
The AliExpress sales funnel via ClickFunnels is a next-level drop shipping business model.
It comes with a heightened marketing strategy to increase your sales conversion and maximize your profit as much as possible.
If you're making a $500 turnover of sales from a particular product on a normal store, using the sales funnel strategy could be making you over $1500 from the exact same products.
However, there is no certain guarantee because there are always loopholes and most times it's always easier said than done.
But there's always a formula to this, which is; Winning Product + Right Audience = $$$
In this article, I'll walk you through the basics and everything you need to know about Clickfunnel dropshipping with the AliExpress sales funnel.
From choosing winning products to setting-up your sales funnel for AliExpress products.
Without any further ado let's get down to it!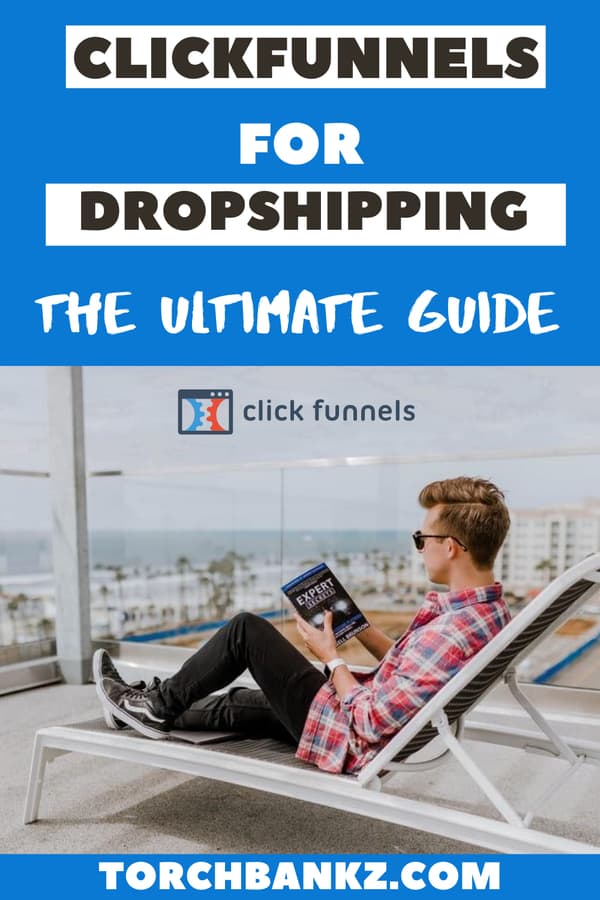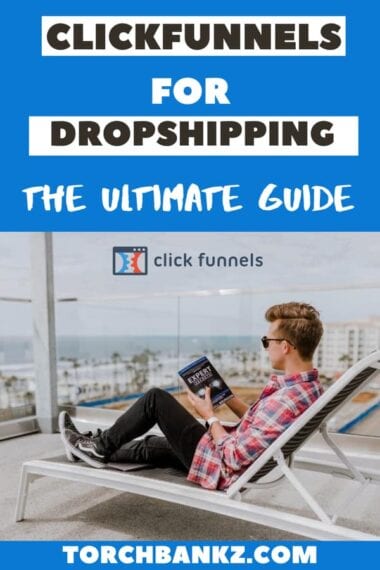 How To Use Clickfunnels For Dropshipping
Now let's get started with everything you need to know using Clickfunnels for Dropshipping.
But before we proceed, did you know that dropshipping is excepted to reach a market value of of $557.9 billion before 2025 according to the statistics on dropshipping?
This is just to show you the profitability of this business model!
What is Clickfunnel?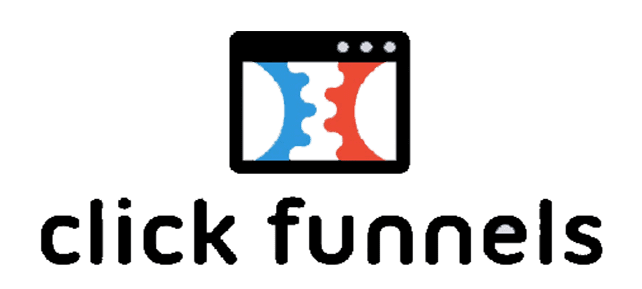 ClickFunnels was created way back 2014 by the famous Russell Brunson behind the book 'DotCom Secret'. A powerful book that any company can use to geometrically improve their website traffic, conversions, and sales online.
Basically, Clickfunnel is a drag and drop software that allows you to easily build a sales funnel for any kind of business online.
It could be used to create a membership site, webinars, squeeze pages and many others.
Clickfunnels provides you with everything you need to market and sell your products online without having to know much about web development or hiring a developer.
On the other hand, Sales Funnel simply refers to a marketing process you lead your customers through.
This could be from squeeze pages to landing pages, up-sell, and down-sell and finally email marketing.
The same thing goes for AliExpress sales funnel. Creating an AliExpress sales funnel is simply having several sale funnels around several products you choose on AliExpress.
This way, you'll be able to lead them through the entire funnel process from squeeze page to up-sell and down-sell of several products and finally put them through your email sequence.
This, however, works mostly for niche products on AliExpress.
You wouldn't want to have subscribers of different interest in your sales funnel. It better you have several subscribers related to the same interest.
This will allow you to easily launch as many products as possible, so far it within the same niche.
So, how can you pull this off successfully?
I'll walk you through the required steps to successfully set up your AliExpress sales funnel using the Clickfunnel software.
Below are the necessary steps to follows while building your AliExpress sales funnel. They include:
Finding your niche Products
Creating Your AliExpress Sales Funnel
Marketing Your Sales Funnel
Fulfilling orders on AliExpress
Step 1: Finding Your Niche Products
The most important aspect while building a sales funnel is choosing a niche for your funnel. AliExpress sales funnel isn't the typical dropshipping model whereby you can sell random products of different niche.
The reason for this is because of your list. You need a list of subscribers with similar interest.
This way, you'll be able to launch new products with an available audience to buy the products. Additionally, this will allow you to easily recycle them with as many interesting products as possible.
There are various ways in choosing a niche a product to sell. You may want to determine if the niche is what you're passionate about.
This way, you'll probably be interested in what you're doing instead of thinking overly about how to make fast bucks.
You could also determine to choose a niche based on hobbies.
This hobby could be what you like yourself or because there are plenty of products around that hobby that could fetch you more money.
A good example is fishing. There are various products around fishing that could fetch you money.
Not only that, the audience around fishing is quite much and highly profitable. A good place to check out is Wikipedia list of hobbies; you'll find a handful of them there.
Finally, you can also choose a niche as a result of the fan around that niche. You yourself could be a fan of that niche. A good example is sport.
Now that we have that out of the way, what we need to do next is to look for winning products inside that niche.
Choosing Your Winning Products
For this to work, you need an initial product, then other complementary products that will be used as up-sell and down-sell for the initial products you are using as bait.
This initial product could either be used as a Free Plus Shipping or a massive discount like 70% or 80% off. The free plus shipping is you offering the product for free then asking them to handle the shipping fee.
While the massive discount, just like the free plus shipping model, is a way of luring them with the huge discount to buy the product then up-sell and down-sell them with the complementary products.
To save the stress of finding hot products to sell, here is a tool I use. This tool is called Ecomhunt. It provides you with winning products everyday but mostly random.
You can also search the platform based on your niche.
Here's a review on Ecomhunt to learn more about the tool. Other than that, below are the requirements for choosing winning products to sell online.
Requirements for Choosing Hot/Winning Products
Light-weighted products
Best Sellers
Products Around Hobbies
Pleasure/Stress Reliever Products
Cheap Products
#1: Lightweight Products –
Products with lightweight will usually make you more money compared to heavy products. This is because the bigger the weight the costlier the shipping fee. With this, you'll be able to spend less and make more money.
#2: Best Sellers –
These products are the best sellers because people are actually buying them. So, chances are you can sell them and make a whole lot of money. Best way to find this is by going through Amazon best sellers or search for products on AliExpress based on orders.
#3: Products Around Hobbies –
These are products that help in fulfilling a hobby. For example, products around cooking, fishing, camping, sporting etc. products like this most time are always profitable.
#4: Pleasure/Stress Reliever –
This is another factor you should consider while searching for winning products. Most people won't think twice before paying for pleasurable products or a stress reliever.
#5: Cheap Products –
Your products shouldn't be too expensive. Most especially if you're going to be engaging the social media to drive traffic. The majority of sales on social media are driven by impulse. So, expensive products will mostly stop them from taking action.
Now let's talk about the initial and complementary products for your AliExpress sales funnel. The initial products are going to be the bait products, while the complimentary is going to be the up-sell and down-sell for making more money.
Choosing Your Initial & Complementary Products
The initial products should be catchy since this is the first products they will see to take action. Once they've taken action, chances are they've will keep converting after seeing the up-sell and the down-sell.
Here is an example of the initial product page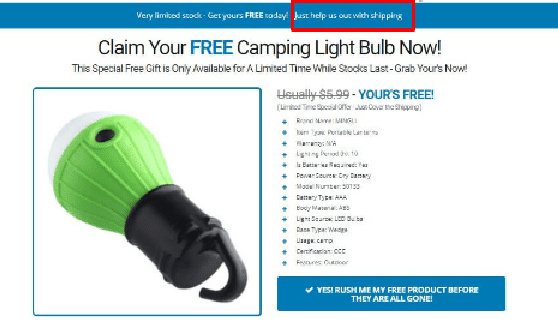 Since you want your initial product to be very appealing, then you need something that is doing great already.
You can use the Google trends to validate how trendy the products are or check Amazon best sellers for ideas then also check them on AliExpress.
What to put into consideration while choosing your initial products on AliEpress:
Make sure the price is below $4: you'll want to make sure you can still make your profits even while using the free plus shipping strategy. Even while offering a huge discount, your profits should still be guaranteed
Products with ePacket shipping: also make sure any product you're choosing is ePacket enabled. This way you'll be able to avoid the AliExpress long shipping time.
Seller Score: this is for the supplier, make sure the supplier seller score is at least 95% and above. This is to avoid the story that touches the heart.
Check Product Reviews: you might also want to be sure of the product by checking the product review for any customer complaints or product defects before selling it.
Once all that has been checked, the next thing to do is look for the complementary products. This shouldn't be difficult because you only need products closely related to the first products.
That is, products you think the customers is going to want in addition to the first product.
It could even be products that complete the first product etc. The more products you're able to find, your more chances of making more money.
However, try as much as possible to make sure you source all the products from one supplier.
This will avoid the chances of your customer getting the product separately and you paying a different shipping fee on each product.
If it's from the same supplier, you're only going to pay a one-time shipping fee. This will even cost you less and make you more money.
Step 2: Creating Your AliExpress Sales Funnel
At this stage now, you need a Clickfunnel account to create your AliExpress sales funnel. The best part is you have a 14 days free trial to test-run the platform. If at the end you don't want to continue you can then cancel your account.
To walk your customers through the sales funnel, you need to create an irresistible offer to capture their interest at first sight.
For this to happen there's a two approach to do that. First is using the free plus shipping strategy and the other is offering a huge discount on the products.
The Free plus shipping Strategy
This way, you showcase your product for free but only charge for the shipping fee. Even at this, your profit will still be guaranteed.  Let say the product cost + shipping fee is $5. You can then list the product as free while you make the shipping fee $9.99.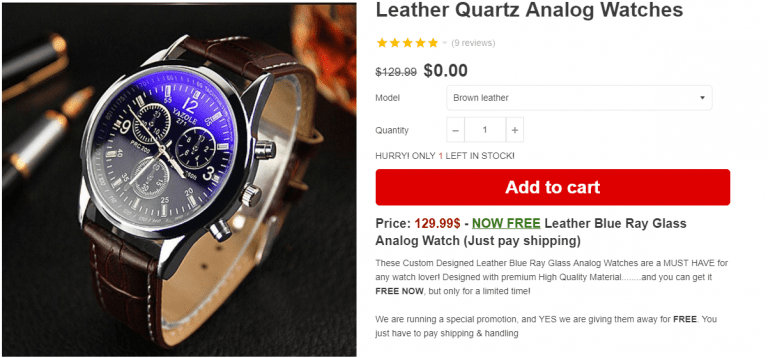 You'll still have a profit of $4.99 on every piece you sold. However, this doesn't always turn out good. Because most time people will question the motive behind the free products, and if the reason isn't convincing they'll tag it as a scam.
Huge discount plus free shipping
by using this strategy, you'll be offering a discount on the product plus free shipping.  Let say the product cost with the shipping fee is $5.
You can then offer a 50% discount and free shipping for the products at a sale price of 10%.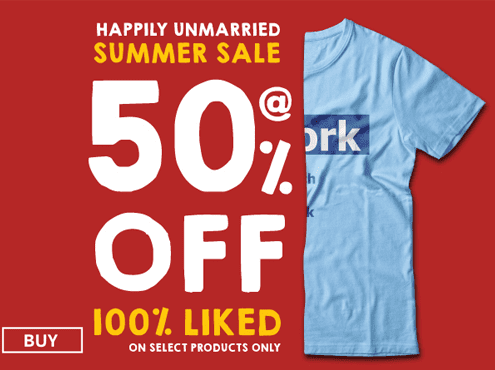 This will make the actual price $20 while the sale price is $10 including the free shipping.
The 50% discount is just an example, you could decide to make it a 75% discount plus free shipping on the product. The higher the discount the more attractive it is.
The sales funnel is very effective and it should look something like this…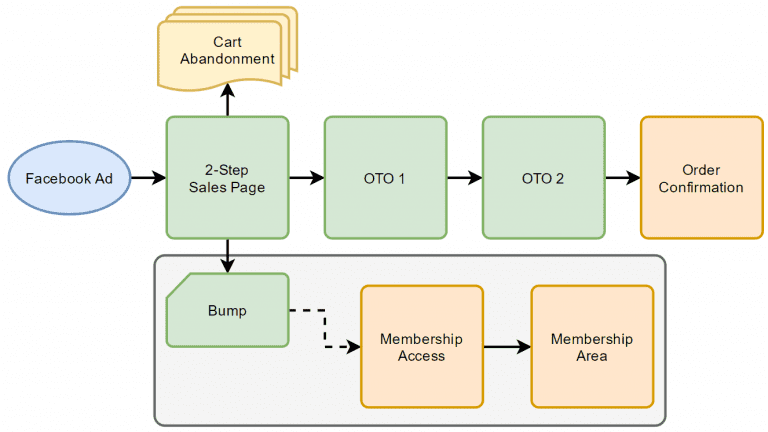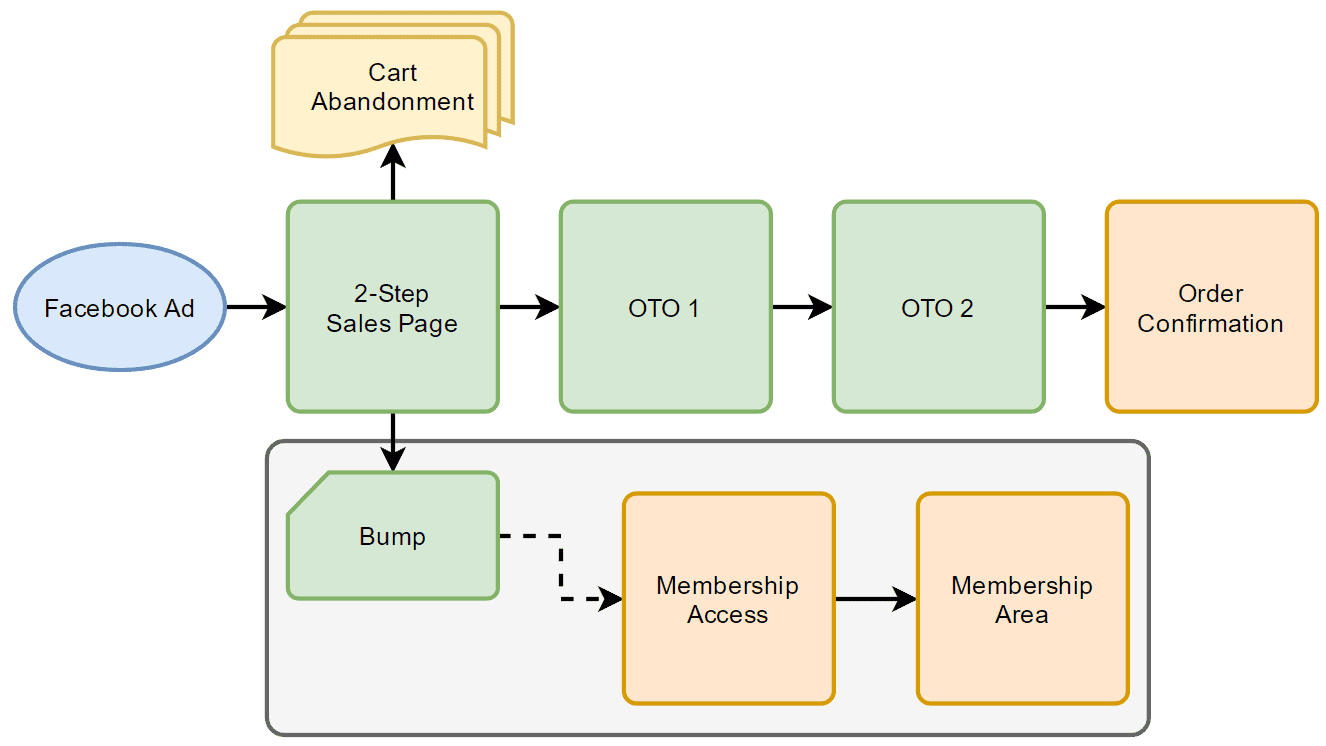 That is, your potential customers are expected to go through the following process in other for you to make most of their actions on your funnel.
Let's Take a Look At The Sale Funnels Stages a Step at a Time:
# 1: Facebook/Instagram/Google
The first step is going to be the advert page. Let's say Facebook, mind you, it could be on Instagram or Google depending on your choice of platform.
Facebook has, however, be the most preferred platform for running ads especially for e-commerce. This is because they pretty much convert.
But do keep in mind that if you're running a Facebook ad for your "free plus shipping products" you have to be very careful.
Because Facebook might block your ad account for using words like "free products". Below are few scopes to keep your account from getting banned.
Avoiding overusing the word "free" in your ad
Be sure to mention that they have to pay for shipping/handling cost
Finally, avoiding using $0.00, Facebook will count this as misleading.
Try as much as possible that your ads is compelling and very attractive. Because this what's going to trigger them into taking action.
#2:  The 2-Step Sales Page
The 2-step sales page is a simple page that showcases your product and a brief description of your product and the checkout form on the right-hand-side of the sales page.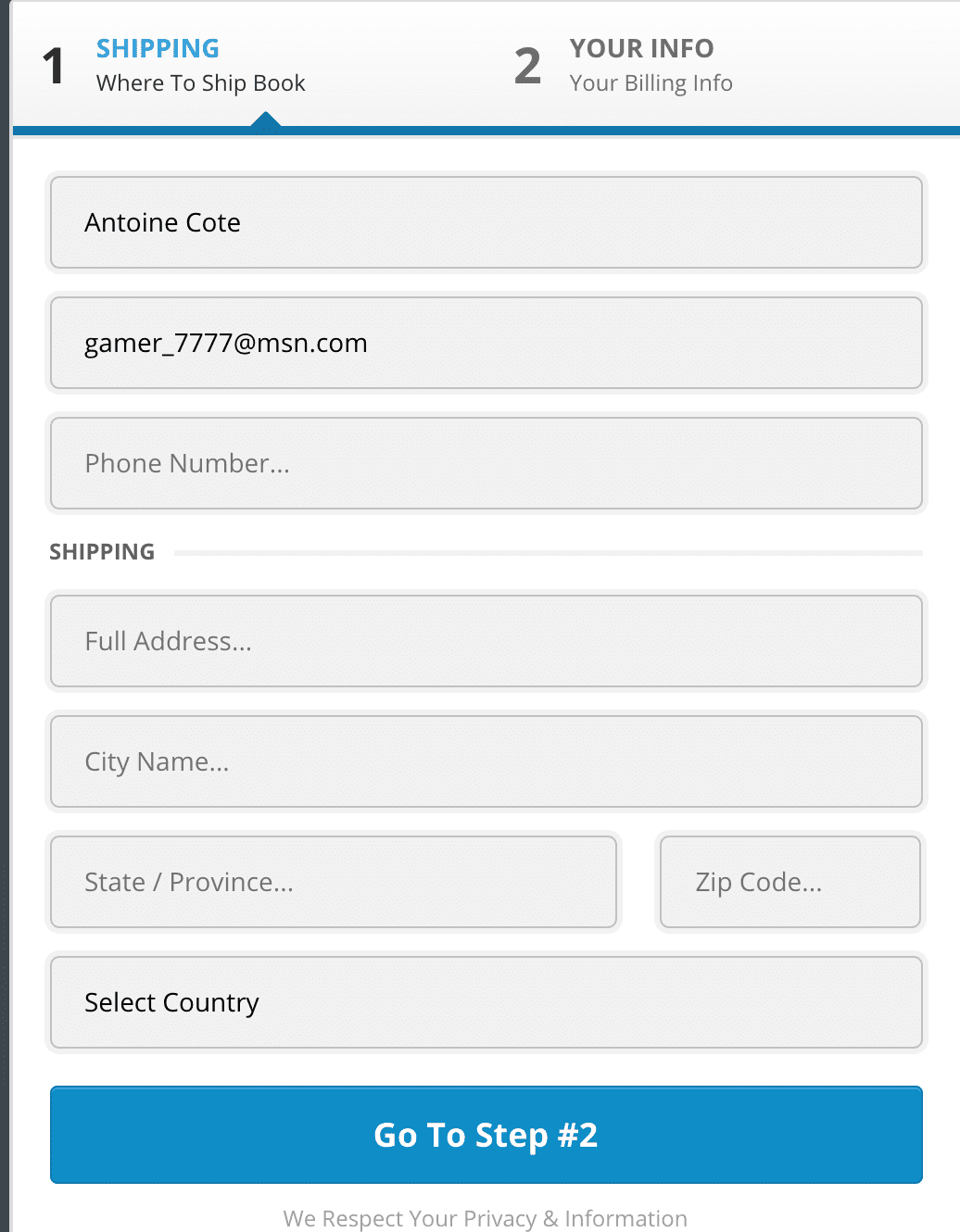 This page is built to help reduce cart abandonment and drastically increase your sales conversion.
Immediately any of customers fill the form with their contact details and proceed to step 2, their email address is automatically forward to your auto-responder tool for further re-marketing.
#3: The Bump Offer
The bump offer is usually a membership plan, where you sell additional informational products related to your initial product.
This could be a "how-to video's", Youtube video, PLR etc. For this, you could decide to charge a one-time fee for the membership site.
Those that upgrade to the membership plan will able to login to your membership site and have access to the informational products.
The member offer is right under the 2-step Sales page at the payment info page.
This is just an additional way to make more money from the current buyer on your sales page. However, it's not compulsory you have one.
#4: OTO 1 & 2 [One-Time-Offer]
After purchasing the initial product and luckily the membership plan too, the next page is the first OTO. This is a one-time-offer and a means to add an additional complimentary product to their cart as an up-sell.
If they buy fine, and they didn't, there will be an additional one-time-offer to down-sell them before reaching the final page which is the order confirmation page.
#5: Order Confirmation Page
This is the final page in your sales funnel and it lets them understand that their order has been completed.
Below the order confirmation page are other related products that the buyer may like and also take them through another sales funnel if they click on it.
Step 3: Marketing Your Sales Funnel
There is nothing much to talk about here again. However, once your AliExpress sales funnel is set up you need to keep sending traffic to the funnel. For this, you need to run adverts.
Google Ads
this mostly effective as people seeing your products are mostly going to take action because they are interested in the products already.
I do recommend installing your Facebook pixel before running any ads, this way you'll be able to re-target them through your Facebook ads.
Instagram
this is another good platform to promote your products. You can take advantage of instagram influencer to market your products at a very cheap price.
Facebook ads
Once your traffic is 'pixeled' you can then optimize your Facebook ads for site conversion. This can be very effective when it went well.
Step 4: Fulfilling Orders on AliExpress
Since your AliExpress sales funnel is completely set up and you've started driving traffics to it. The next thing is to start fulfilling orders on AliExpress.
How To Integrate Clickfunnels with AliExpres
Unfortunately for this, Clickfunnels is yet to be integrated automatically with AliExpress, unlike AliDropship. Well, at least, as at the time of writing this article.
But that doesn't mean there isn't a way around that. There's a new tool that does it automatically for you; Dropton (more on this later)
To fulfil your orders on AliExpress manually through Google spreadsheet integrated with Clickfunnels. I'll advise that you save your products on AliExpress 'wish-list' while sourcing products for your sales funnel.
This way, it will be easier to locate your supplier and fulfill the orders as quickly as possible. And again, you could even outsource the process for someone else for a few bucks.
Below is a quick rundown of how to integrate Clickfunnels with AliExpress using Zapier and Google spreadsheet:
First thing you'll need to login to your account and go to the funnel you want to use.  So, from there, you'll need to click on settings.


After clicking on settings you'll need to scroll down and look for "add new clickfunnels order to Google sheets". Then click on the "use this zap" button.
The next step is going to prompt you to create an account with Zapier if you don't have one already. You don't need to use the paid plan a free account will do!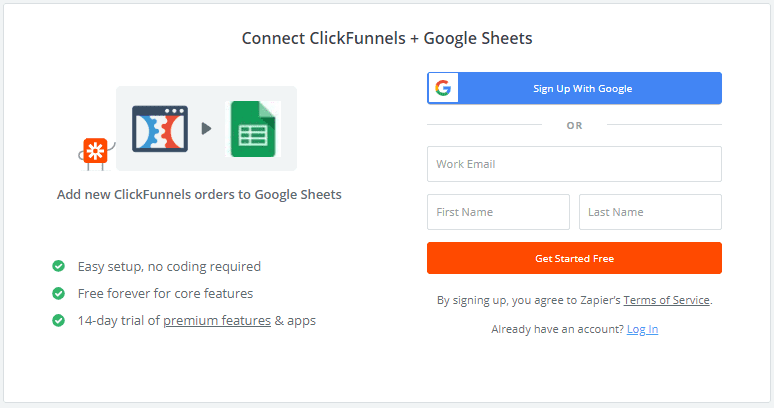 All you need to do now follow the simple set up procedure one step at a time.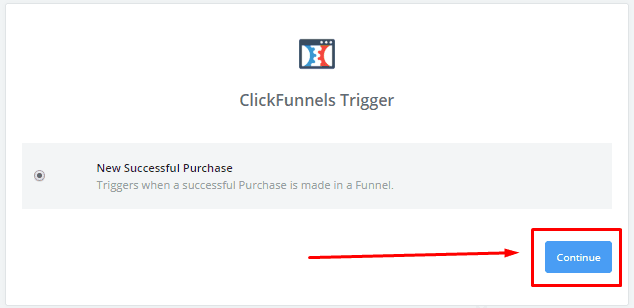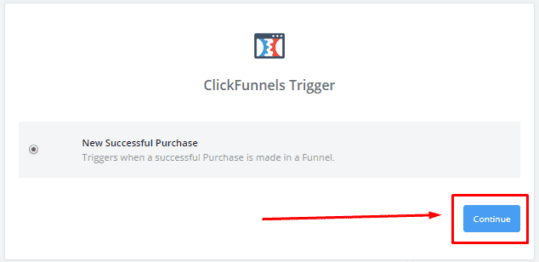 The subsequent page is going to ask you to authorize the third party app which is Zapier. This will allow Zapier to successfully integrate your clickfunnels account with Google spreadsheet.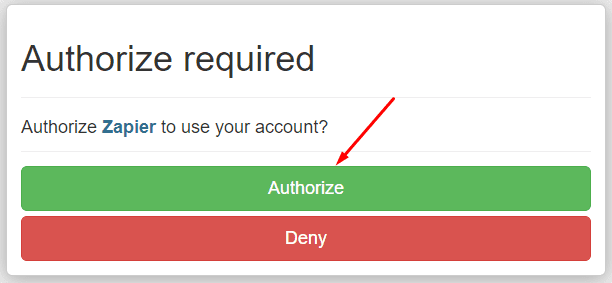 Once everything is set-up successfully, Your customer orders will automatically populate the Google spreadsheets. So from there, you can easily monitor your orders and fulfil them on AliExpress.
Fulfilling Clickfunnels Order on AliExpress Automatically With Dropton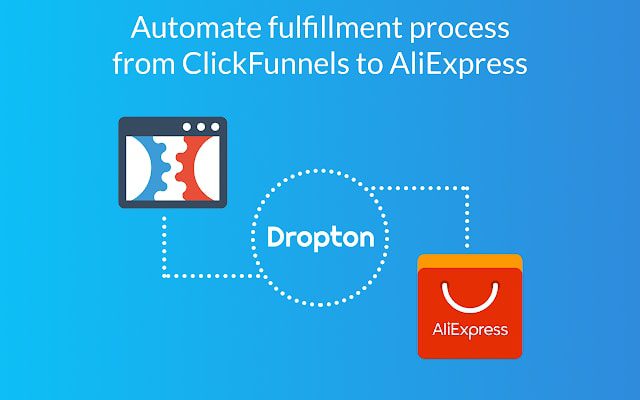 The Dropton software is a third party tool that can be connected with your Clickfunnels account and help you fulfill orders automatically on AliExpress.
Once you have it connected, every order placed on your funnel will automatically appear on your Dropton account.
So from there you order the product on AliExpress with a single click and you can also place multiple orders at once too.
With Dropton, you can easily do the following the following:
Save time
Track order automatically
Validate customer data
Easily add bumps and upsells to order
Create product bundles
Order management
Send email notification with tracking codes automatically
And so much more…
Learn More About Dropton
In Conclusion  
Using the AliExpress sale funnel for dropshipping is just another approach into the dropshipping business model. This business works, but then you should know at times it's hit and miss.
You might find a product doing well and after a while, it's not.
Truth is, you have to set up funnels for several products. This will allow you to make more money other than investing in one funnel.
A few words of advice, for any business to work out real good, you have to treat it like a real business. This means you have to take this seriously. Engage your social followers and be consistent with your email marketing.
Ready to get started?
Try out ClickFunnels for free with their 14 days free trial.
There it is, I just showed you how to use clickfunnels for dropshipping! find this interesting? Share and let me know what you think using the comment box.
Learn More