Ecomhunt Pricing: [Cost Breakdown & Features]
Are you looking for Ecomhunt pricing and its details? If yes, you are in the right place.
Ecomhunt is a product research tool; therefore, searching for Ecomhunt's pricing details means you are about to launch your e-commerce business and want to know which products to begin with.
No doubt, starting your e-commerce business with the right products will go a long way in determining the success of your e-commerce business.
There is no point in selling products people don't want. But then, manually researching these products will be a tough row to hoe.
That is where Ecomhunt comes in handy as your product research tool. I have written an in-depth review of Ecomhunt. You can read more about it
However, in this article, I will be sharing with you the pricing information of Ecomhunt and the features of each pricing plan.
With that, you can make an informed decision on which of the plans you would prefer to opt for.
Ecomhunt Pricing: How Much Does Ecomhunt Cost?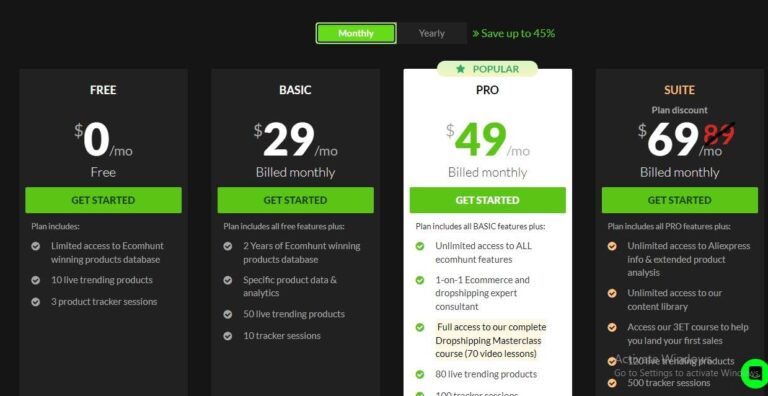 Ecomhunt comes in four pricing plans – Free, Basic, Pro and Suite plans
#1. Free Plan
As the name implies, you don't have to pay anything to use this plan. You have access to these features monthly.
10 Live Trending Products.
In the live trending session, you get to see the top 10 trending products in the market. On each product, you can see the last 30 days' engagement and in what country the products trend the most.
This will help you know what locations to target for your ads and what products are in demand in your region.
3 Product Tracker Sessions
The tracking feature works with AliExpress. There is a promise to include Shopify and Facebook Ads soon.
To track any product, you paste the product's links and then you can track the sales performance of that product and monitor the sales.
Being a free plan, you cannot access most of the tool's features.
#2. Basic Plan
This is the first paid plan with a monthly subscription of $29/month. In this plan, you have access to all the features of the free plan including;
50 Live Trending sessions
10 product tracker sessions
Specific product data and analytics
2 years of Ecomhunt winning products database
#3. Pro Plan
This is the most popular subscription plan, with a monthly payment of $49/month. In this plan, you have access to all the features of the Basic Plan, including;
80 Live Trending sessions
100 tracker sessions
Unlimited access to all ecomhunt features
Personal consultation with an e-commerce and dropshipping expert
Complete the Dropshipping Master class course (70 Live video sessions)
#4. Suite Plan
This plan comes with a monthly subscription of $89/month. However, as a first-time subscriber, you pay $69. In this plan, you have access to all the features of the Pro Plan, including;
120 Live Trending sessions
500 tracker sessions
Access to a 3ET course to help you land your first course
Access to a content library
Ecomhunt Pricing Discount
You can get a huge discount on Ecomhunt Yearly Plans.
On the basic plan, you save $72 when you switch to an annual subscription. You get to pay $279 yearly rather than $348 that the monthly plans would have accrued to.
On the pro plan, you save $120 when you switch to an annual subscription. You get to pay $468 yearly rather than $588 that the monthly plans would have accrued to.
On the suite plan, you save $480 when you switch to an annual subscription. You get to pay $588 yearly rather than $1068 that the monthly plans would have accrued to.
Ecomhunt Basic Plan vs Pro Plan
Whether you subscribe to the basic plan or the Pro plan, you have access to amazing features that can assist with your dropshipping business.
However, there are many features you can access when you subscribe to the Pro Plan.
With the Pro plan, you can access a detailed masterclass course on Dropshipping. Therefore, even if you know little or no dropshipping, the courses will help you set the balling.
The course contains about 70 videos. This is not an access you can have in the basic plan.
Also, in the pro plan, you can speak to a dropshipping expert and consultant in a personal conversation.
With this, you can ask questions from the courses and on any other confusing aspect of the e-commerce business.
All these coupled with the fact you have more tracking and live sessions than the basic session.
Ecomhunt Free Trial
Ecomhunt does not offer a free trial on its paid plans. Rather, you have a Free version which is a free forever plan.
Once you subscribe to that, you can access all the features the plan provides. Therefore, you can explore the tool as much as you can until you eventually decide to subscribe to any of its paid plans.
This will also help you to generate some measure of results that might provide the financial means to upgrade.
However, when you switch to the paid plans, you have to pay immediately. There is no room to try out the plans first.
Is Ecomhunt Pricing Worth the Cost?
Ecomhunt is one tool you should invest in if you plan to scale up your dropshipping business. Undoubtedly, it is a product research tool, but beyond that, Ecomhunt helps you set up your store.
With Ecomhunt, you can track different products that you have put up in your store. You get to see real-time analytics of sales on those products.
Also, Ecomhunt understands the importance of having an in-depth knowledge of the e-commerce and dropshipping business.
Therefore, it has put together a complete master class on dropshipping without an additional charge to your subscription.
Not only that, this is one of the product research tools that offers you an opportunity to speak to an e-commerce expert.
Therefore, it is safe to say that whatever amount you invest in Ecomhunt as a winning product tool is worth the cost.
However, here are some things you should consider when determining which of the plans to go for
Cost
This is the first thing to consider before deciding on what pricing plan to choose. Ecomhunt provides a wide range of pricing plans depending on the needs of your business.
Look at each pricing plan and check which of them you can afford at the moment. If you are starting out, you can pick the lowest plan first and gradually scale up as the need arises.
But if your business can afford to go for a fuller package, there is no point playing small. Go for it!
Read further to see the pricing details and their costs.
Features and Benefits
Evaluate the features and benefits of each Ecomhunt Pricing plan to know if they resonate well with your goals and company's needs. You can start by making a comprehensive list of what your e-commerce business needs.
Then, compare with each pricing plan's features to see which offers the best solutions to these needs.
Aside from that, you might also want to check the ease of usage. One of the goals of anything you are investing in should be how easy is it to use. Not only that, is it relieving you of any tedious work?
Looking at Ecomhunt, you don't have to manually research products that you can bring into your store.
By simply entering the right filters, you have a list right before you to choose from. You can also see the details of each of the trending products.
User Feedback and Reviews
This is also important while considering whether to opt for a product or not. Check out what other users are saying about it. Read their reviews and feedback to know what they think of the platform.
This will help you determine if it's worth the money and is as reliable as promised.
To see what customers are saying about Ecomhunt, you can check popular review sites like TrustPilot, Capterra, and Ecomhunt's website itself.
Ecomhunt Pricing Pros & Cons
Here are some of the pros and cons
Pros
Access to trending products before they go viral
Access to courses and training
There is a free forever plan
Availability of Chrome extension
30-day refund policy
Access to real-life updates
Cons
Very limited features in the free plan
It works better with AliExpress
Does not support teamwork
FAQs about Ecomhunt Pricing
Here are some frequently asked questions that people have about ecomhunt pricing
Is there an Ecomhunt free trial?
No, Ecomhunt has no free trial. Instead, there is a free plan that grants you access to some of its features freely till you are ready to upgrade
Does Ecomhunt have a refund policy?
Yes, Ecomhunt has a refund policy of 30 days money-back. This is especially if you are a new user. You will receive your full refund within 3o days. However, if you are a returning user and you want a refund, you will not be getting a full refund.
How do you cancel an Ecomhunt subscription?
To cancel your Ecomhunt subscription, visit your account profile and you can follow the instructions from there. Alternatively, you can contact support@ecomhunt.com. Only ensure that you do this ahead of the next renewal date. After canceling, you will still have access to the features till the end of the current month. But there will be no renewal afterward.
How to upgrade Ecomhunt Membership
To upgrade Ecomhunt Membership, simply click on the plan you would love to upgrade to and you are immediately upgraded to the new plan.
Final Thoughts on Ecomhunt Pricing
Now, you have detailed knowledge of the Ecomhunt pricing plans and details. You have also seen reasons why investing in Ecomhunt is the right idea for your e-commerce business.
It does not matter if you do not have the right knowledge of how dropshipping works, with the master courses and consultations, your business is bound to thrive.
With Ecomhunt, you can monitor your sales in real time. What other tool would you have wanted?
The pricing plans are in different categories for you to go for the one you can afford at the moment.
This is not to forget that there is a free forever version where you can check out the tool's functions before deciding to upgrade.