ShopMaster Vs AliDropship: Best AliExpress Dropshipping Tool ?
Starting a dropshipping business is one of the easiest online business you can start and earn a reasonable amount of income with. It's a great way to get started with e-commerce as you don't have to invest in stock inventory or shipping logistic.
All you do is sell products while someone else handles the product inventory and shipping. Drop shipping has actually been around for a while now but increased over the last few years. Yet, online shopping increase even the more.
With drop shipping, you can test the market with several products without the fear of losing your money. It has so many benefits that reading success stories of others will completely blow your mind. Some of its benefits include:
You don't have to carry inventory
Never run out of products
Low start-up cost
Test product easily
Easy to start up
Few skills needed
Sell thousands of products
Easily become a niche authority etc.
To cut the story short, chances are, you've thought it through yourself and you'll like to start your own dropshipping business. But like everybody else you want to make the right decision. What is it going to be ShopMaster or AliDropship?
The bad news is, there are more and more dropshipping tools popping up every day making it difficult from choosing the right one. While the good news is we've handpicked a few and can easily tell you the sophisticated ones among this tools.
ShopMaster Vs AliDropship  
When it comes to dropshipping both ShopMaster and AliDropship is quite a player in this business. You can be rest assured that you can create a perfect dropshipping store with either of the tools.
Like I said before, there are many options for creating your dropshipping store, but like everybody else, you'll need to narrow it down to just one and that's what am here to guide you through.
This time around, it's between ShopMaster and AliDropship and they're both an awesome tool for dropshipping.
What is ShopMaster and how does it Work?
ShopMaster is a ready solution for drop shippers who likes to dropship across multiple platforms and at same time use different suppliers around the world. It's more like a software you create an account with to use their service usually based on monthly subscription.
ShopMaster allows you to import products easily from AliExpress, 1688, Amazon and over 26 more sites directly to your online store. This could be Shopify, eBay, Wish or a WooCommerce store.
Once your account is set up, you just need to head over to your dashboard and connect your store.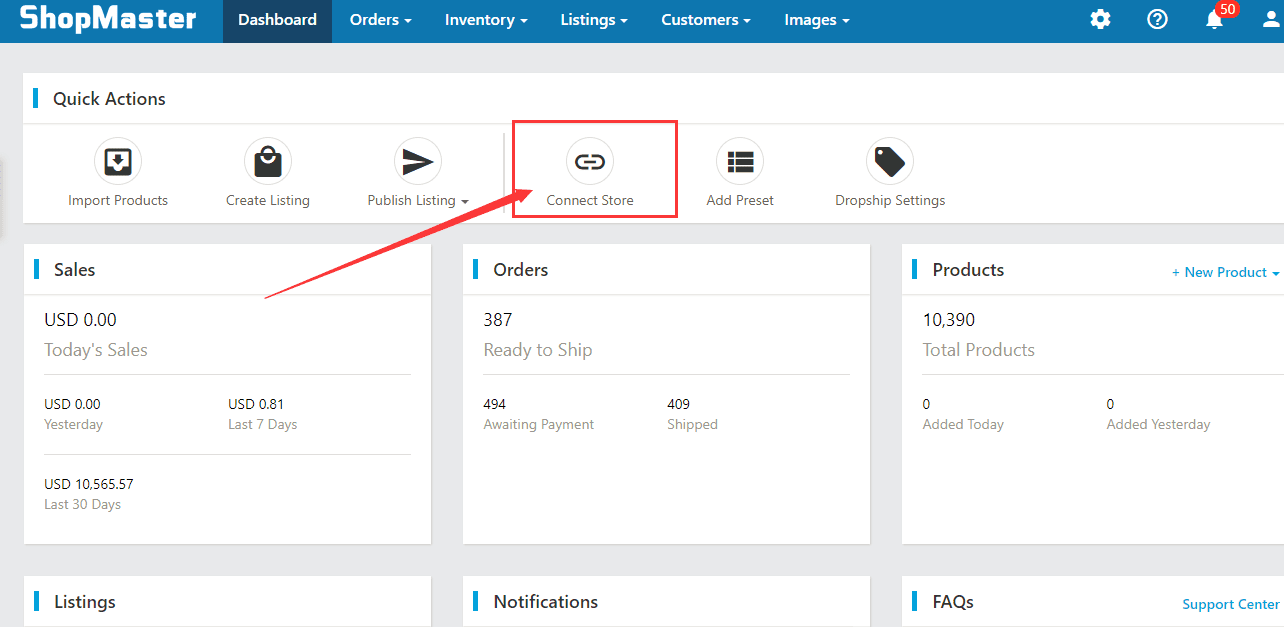 You have the ability to connect eBay, Shopify, Wish and WooCommerce.
Features of ShopMaster
Let's take a look at the major features of ShopMaster
Import Products from AliExpress and over 20 other suppliers – ShopMaster allows you to easily add product images from AliExpress and other various websites with just a few clicks.
Auto Translation – you can easily translate the Chinese text into English by just hitting the translate button.
Sell Across Four Different Platform – with ShopMaster you can integrate you WooCommerce, Shopify, eBay or Wish and sell on the platform of your choice.
Auto Price Update with AliExpress – ShopMaster auto-update your store whenever there is a change in the price of products on AliExpress. This will help keep your store up to date.
All in One Dashboard – the dashboard allows you to monitor all activities going on your website. From sales to order stats and the entire products available of your store.
Integration – Shopmaster is automatically integrated with AliExpress, CJDropshipping and Banggood. This means you can easily import products from inside of your account from any of these websites.
Hot Selling Products – Shopmaster also give you access to hot selling products that you can easily import and sell on your dropshipping website.
ShopMaster Pricing
The membership plan for ShopMaster cut across four different plans.
They include the following:
Starter plan (Free membership with limited features)
Basic plan – $19.90/month
Business – $39.90/month
Enterprise – $79.90/month
The Enterprise plan carries the majority of what ShopMaster offers without leaving anyone out.
Pros of Using ShopMaster
Integrate with Four Different Platform – you can choose either of these platforms to dropship and integrate it with ShopMaster. Shopify WooCommerce, Wish, and eBay.
Multiple Suppliers – if you would like to import products from multiple suppliers across different website around the world, then ShopMaster has got you covered.
Ease of Dropshipping – Shopmaster is integrated with multiple websites. so you can easily import products and fulfil orders at the same time.
Con of Using ShopMaster
Recurring Fee – the monthly fee can really add up and not just for ShopMaster, you'll also need to pay a monthly fee depending on the platform you choose to run your store e.g Shopify, eBay etc…
Brand Issue – Dropshipping Amazon products will carry Amazon brands on the package compare to when you can easily have your own brands using AliDropship with AliExpress. Though based on negotiation.
Extra Registration fee – dropshipping with several suppliers comes with its own cost as most of this website will require a certain fee before you can start dropshipping with them.
Exposure to Inferior Products – these other Chinese websites like 1688 can really expose you to dropshipping inferior products compared to sourcing products on AliExpress.
You don't have full control – using third-party tools like ShopMaster, eBay or Shopify where you have to pay a monthly recurring fee doesn't always give you full control of your business.
What is AliDropship and Does it Works?
AliDropship is a Software Company that offers an effective automated business solution for WordPress dropshipping with AliExpress. Through the help of AliDropship plugin, you can launch your online store or even transformed your pre-installed WordPress site into a fully functional drop shipping store with AliExpress.
You can either choose to run your online store with full control using WordPress or WooCommerce through the help or AliDropship plugin. If you don't even know where to start you could contact them for a custom store, they go way far by finding a niche for your online store with different mouth licking features.
Unlike ShopMaster, AliDropship is solely integrated with AliExpress because of its significant advantages.
Using AliExpress you can easily find suppliers using ratings, reviews, and customers' feedback. This will allow you to know reputable supplier while avoiding inferior products.
A little About AliExpress
AliExpress is a sister website to the popular Alibaba worth over $400billion. Alibaba is known for wholesales while AliExpress is known for retailing in which anybody can buy from, even a single product.
Just like Amazon and eBay, AliExpress is also a marketplace for sellers of a different kind listing their products for sale. AliExpress is quite popular because it's known to have over 100million products listed on the website.
Not just that, with also free shipping on almost their entire products worldwide plus their new dropshipping center.
On like other Chinese websites AliExpress has good customer service with Buyer protection system and money-back guarantee. Their product price is so favorable that they are known to have dropshipping headquarter.
Finally, they even became more popular because of the ePacket shipping delivery. This method of shipping has drastically reduced shipping time with AliExpress as customers now receive their products on time.
These and more are the reason why AliExpress is a good place to start a dropshipping business.
Features of AliDropship  
Auto Updates – the plugin notifies you whenever a product is out of stock on AliExpress as well as when there is a change of price.
ePacket Shipping Filter – through the help of the plugin you can easily spot product with ePacket shipping option. This way, your customer will be able to receive their products quickly and enjoy your service even more.
Auto Fulfil Order – the plugin visit AliExpress whenever you have an order, you just need to click the order button to confirm the order.
Cashback System – AliDropship plugin allows you to make additional profits with AliExpress affiliate program whenever you order a product. You can earn up to 12% commission per product.
Auto search & Import – you can easily search and import products automatically from AliExpress using various preferences.
Lifetime Support – you'll have a life–time support with free updates on the plugin whenever it's been updated without paying any extra fee.
Free marketing Plugin – the plugin comes with a free marketing plugin to enhance your business. Discount coupon, Abandoned cart etc.
Unlimited Products – unlike other tools that limit your product ordering capacity based on your monthly plan. AliDropship offers unlimited product order from your online store for just a one-time fee.
AliDropship Pricing
The AliDropship plugin is sold for a one-time fee of $89.00 with full lifetime support and updates. Plus you have a full ownership of it and can do as you like with the plugin.
The AliDropship Custom store for those that will like a ready-made dropshipping store start from $299 and they are all a one-time fee without extra charges.
The Pros of AliDropship  
Below are the benefits attached to using the AliDropship plugin for dropshipping.
One-time fee – It amazed me how the plugin with all its feature is sold for the one-time fee of $89.00. Trust me with no hidden charges. You won't have to worry about the monthly recurring fee, instead, the money can be channel into marketing your business.
100% percent Ownership – unlike platforms like Shopify or eBay that determine the kind of products you can sell. AliDropship gives you the total freedom to sell unlimited products and any kind.
Maximize Profits – your profit margin is usually unlimited using the AliDropship plugin. Reading through their success stories will show the kind of monthly income others using the plugin generates. Plus various features like Cashback System to earn more money with AliExpress.
The Cons of AliDropship
When it comes to AliDropship not all is Sunshine and roses it has its own setbacks too.
Requires WordPress experience – users might need to have a little experience with WordPress to be able to use the plugin seamlessly.
A single Marketplace – Unlike ShopMaster Alidropship is only integrate with AliExpress. Which means your suppliers are limited to AliExpress. 
Which one is better?
In my opinion, they are both wonderful software for dropshipping. ShopMaster can easily integrate with four different platforms. But mind you, most of them are third party e-commerce software which will require an extra fee to keep your store running.
AliDropship on the other goes for a one-time fee and only works on a free platform which is WordPress and WooCommerce. But you do need to get yourself a domain name and hosting account usually less than $70 for a year.
Getting it with Bluehost gives you the domain name for free!
AliDropship is more sophisticated in my opinion since they've been around since 2015 and they themselves are into the dropshipping business.
If you love the idea of sourcing products from different websites and supplier. Then ShopMaster will be the right tool for you.
ShopMaster is not limited to AliExpress unlike AliDropship so you have the control on the type of website you chose to dropship with.
However, you should be prepared to fulfil orders manually across these websites except AliExpress which might not totally be a bad thing too.
If you think you're ready to stick with AliExpress then AliDropship is your best plugin.
Over to you now!
Which is one is it going to be:
or
That's it on Shopmaster vs Alidropship, let me know what you think about the two tools