Peeksta Pricing: Cost Guide and Pricing Plan
Are you looking for Peeksta pricing and what it entails? If yes, then you have come to the right place.
Checking through Peeksta's pricing details means you are about to launch your e-commerce business, and you want to know which products to begin with.
No doubt, starting your e-commerce business with the right products will go a long way in determining the speed of your success.
In this article, I will be sharing with you the pricing information of Peeksta and the features of each pricing plan.
With that, you can make an informed decision on which of the plans you would prefer to opt for.
Peeksta is one of the most affordable product research tools.
Peeskat has three main pricing plans.
Peeksta has a refund policy of 3 days money-back
Peeksta offers no free trial
Peeksta Pricing- How much does Peeksta cost?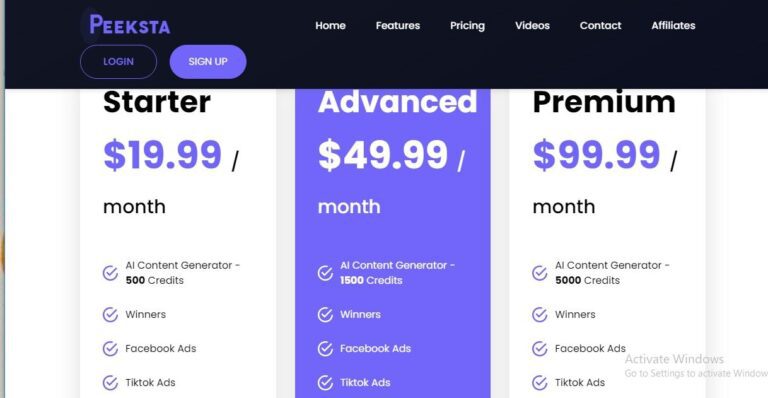 Peeksta comes in three pricing plans: Starter, Advanced, and Premium.
Read Also: Peeksta Complete Review
#1. Starter Plan
This plan comes with a subscription of $19.99/month. These are some of the features of this plan;
10 Shopify stores. You have access to track and check out the details of 10 Shopify stores. There, you can track the best sellers and how much revenue they make monthly.
10 product researches per day. On this plan, you can research 10 products. You get to see the best-selling strategy for each product and how you can leverage the knowledge to improve yours.
30 store research per day
500 credits for AI content generator
PPC insights for up to 2 sites daily. The PPC insights offer you in-depth knowledge of how paid ads work. You learn about Google Ads, keyword targeting, campaign strategies, and so on. This will help you to ensure that you make maximum ROI on your ad investments.
Video and Thumbnail Ad generator. Even with little or no design knowledge, Peeksta can create stunning thumbnails with a professional look. This will help to project your products right before your audience.
Facebook and TikTok Ads. This is where you see which products dominate the market on these platforms. Then, you use that knowledge to run ads on the individual platforms. You can link your e-commerce store to these social platforms.
And many others…
#2. Advanced Plan
This plan comes with a subscription of $49.99/month. You get everything in the starter plan, including;
30 Shopify stores
Unlimited product researches
Unlimited store researches
1500 credits for AI content generator
PPC insights for up to 5 sites daily
And many others…
#3. Premium Plan
This plan is suitable for bigger and more established businesses. It comes with a subscription of $99.99/month. Here, you have access to everything in the Advanced Plan including;
100 Shopify stores
5000 credits for AI content generator
PPC insights for up to 10 sites daily
Peeksta Pricing – Starter Plan vs Advanced Plan
Looking at the three pricing plans, the starter plan and the advanced plan are the options users go for the most.
As much as it sounds safer to begin with the starter plan, it can be a bit restricting.
As an aspiring e-commerce business owner, the goal is to start strong. This is because you are trying to get into a niche that some people have dominated already.
To begin with a level of dominance, you might need to compare many stores and research several products. This will help you to have enough resources to make your decision finally.
When you opt for the starter plan, you only have access to
10 Shopify stores research.
10 product researches per day.
30 store research per day
Compared to the Advance plan that offers
30 Shopify stores
Unlimited product researches
Unlimited store researches
To be able to cover several product types of research on the starter plan, it will take you a longer period of time since you can only access 10 per day.
But in Advanced, you can dedicate a day or two to run through the research process since it is unlimited.
However, the most important thing is ensuring it is worth the cost. I have shared some ways you can decide on the pricing plan to opt for above.
If you are still in doubt, you will see some of the Pros and Cons of Peeksta as you read along.
Also Read: Peeksta vs Dropship Rabbit
Peeksta Free Trial
When a product offers a free trial, it enables users to be able to try it out for a few days without charging any amount. Then, the payment is made on the expiration of the free trial.
But unfortunately, Peeksta does not offer any free trial. As much as it is desired, Peeksta has filled up that void by making its pricing plans very affordable.
There is a plan for every business level. The lowest plan is $19.99 which is a fairly low risk to take.
Going into business requires some level of risk-taking. Seeing some of the features and benefits we had earlier talked about, Peeksta is a good risk.
Therefore, even if you cannot afford to go for the advanced or Professional plan yet, you can begin with the Starter Plan. From there, you can upgrade as you desire.
Is Peeksta worth the cost?
Peeksta is one of the most affordable product research tools. Does that make it sub-standard? Absolutely not.
It is safe to say that Peeksta offers more than its cost. With Peeksta, you don't just research tools and get winning products, you can use them to track the success of your store.
Peeksta provides all the relevant insights you need to determine whether your e-commerce store is performing well.
You could compare your store with the competition's and see if you are on track. you can also see the strategies used and then adopt and improve on them.
Peeksta helps you with every form of research you need, starting from the niche you should go for.
You can check out different stores and see the niches they operate on. With that, you can determine which niche is in high demand in the market.
To cap it all, Peeksta understands each social platform's peculiarities; therefore, you can discover top-rated products on Facebook and TikTok.
Cost
This is the first thing to consider before deciding what pricing plan to choose. Peeksta provides a wide range of pricing plans depending on the needs of your business.
Look at each pricing plan and check which of them you can afford now. If you are starting, you can pick the lowest plan first and gradually scale up as needed.
But if your business can afford a fuller package, there is no point playing small. Go for it!
Features and Benefits
Evaluate the features and benefits of each Peeksta Pricing plan to know if they resonate well with your goals and company's needs.
You can start by making a comprehensive list of your e-commerce business needs. Then, compare with each pricing plan's features to see which offers the best solutions to these needs.
Aside from that, you might also want to check the ease of usage. One of the goals of anything you are investing in should be how easy it is to use.
Not only that, is it relieving you of any tedious work? Looking at Peeksta, you don't have to research products that you can bring into your store manually.
By simply entering the right filters, you have a list right before you to choose from. Also, the fact that the stress of creating content is removed makes it worth the investment.
Peeksta Pricing: Pros
What do you gain when using Peeksta for your product research? What advantage does it have over other product research tools?  Some of the benefits of Peeksta include;
Peeksta offers a thumbnail and video generator which is not very common with most research tools
There is no restriction on the type of niches you have access to.
It works with three of the most popular social platforms – Facebook, TikTok and Pinterest
Comes with an AI content generator
Peeksta Pricing: Cons
No tool is perfect and so is Peeksta. What are the limitations that we have noticed with peeksta?
It has no Chrome extension. This means you need to have the software on your device before usage.
It does not offer real-life data updates.
You can only integrate with Shopify stores
FAQs on Peeksta Pricing
Here are some of the frequently asked questions about Peeksta.
Is there a peeksta free trial?
No, Peeksta has no free trial. However, its pricing plans are super affordable with the starter plan at just $19.99/month.
Does Peeksta have a refund policy?
Yes, Peeksta has a refund policy of 3 days money-back if the product you purchased through the platform has any issues. This is only if you bought digital products, and they should still be in their original state. 
How do you cancel Peeksta subscription?
To cancel the Peeksta subscription, you will need to write a notice to support@peeksta.com. Only ensure that you do this ahead of the next renewal date. It will take 3 business days for your request to be processed. After canceling, you will still enjoy it till the end of the current month. But there will be no renewal afterward.
How to upgrade Peeksta Membership
To upgrade Peeksta Membership, click on the plan you would love to upgrade to and you are immediately upgraded to the new plan.
Peeksta Pricing: Final Thought
We have been able to critically analyze Peeksta Pricing- the cost of each plan and what benefits you stand to gain from each pricing plan.
Dropshipping is a very lucrative business if you know how to play the game right.
Playing the game begins with dropshipping the right products using the right strategies. What could be more relieving than having a tool to help you achieve this with minimal stress?
Rather than spend weeks without end manually researching all these things, $19.99 starter plan, $49.99 Advance plan, or $99.99 Premium plan speeds up the process for you.