What is YouTube Cash Cow? [Everything You Need To know]
Today, we will be exploring what is a YouTube cash cow and everything you need to know about it.
If you are looking into making good passive and recurrent revenue, having a YouTube channel should be one of your plans.
YouTube is the second largest search engine after Google.
Imagine that you are ranking on Google and at the same time ranking on YouTube. What kind of impact do you think that will have on your business?
Sporadic progress I believe.
Some people learn by visuals and they would rather a video educating them about a subject than a compilation of texts.
That is why having a YouTube channel alongside your website is like digging out some goldmines.
However, the major challenge most people have with YouTube is the rigor of having to sit in front of the camera and talk.
This is especially prominent with people who are quite introverted. A long-lasting solution has come to that.
We now have what we call a YouTube cash cow that enables you to share videos with your YouTube audience without showing your face.
In this article, I will be sharing with you all you need to know about a YouTube cash cow and most importantly, how you can make good money from it.
Shall we?
What is a Cash Cow YouTube Channel?
A cash cow YouTube channel is a type of YouTube channel that you can operate without showing your face or getting directly involved.
In other words, you can call it a faceless YouTube channel.
It is very easy to run since you do not have to set up any equipment, dress up, light up the environment, and record yourself.
They can be outsourced.
This means that you can hire someone to handle the whole process of the YouTube channel from the creation of the channel to the video editing and uploading.
Generally, when you talk about a cash cow, it refers to a type of business or product that generates a steady source of income.
That is why this type of YouTube channel is referred to as a cash cow YouTube channel. With a cash cow YouTube channel, you can generate a steady source of income.
We will talk about how you can generate income with it as we progress.
A cash cow YouTube channel is similar to owning your personal YouTube channel.
On the cash cow YouTube channel, you can post videos as frequently as you can since the process of getting them up is a piece of cake.
In summary;
Now, let's talk about the most important part which is making money from the YouTube cash cow.
How Does The Cash Cow Channel Make Money?
What is the essence of a YouTube channel that is not profitable? At the end of every business endeavour, the revenue generated matters a lot.
That is why we will consider the different ways by which you can generate money from your YouTube cash cow business.
Before we go into that, you should note that the revenue generated from your YouTube cash cow channel is largely dependent on its growth.
Therefore, in the initial stage, pay more attention to the growth of the channel.
But if the cash cow YouTube channel has acquired a large number of subscribers, it's time to make cool cash from it using the following ways;
Adsense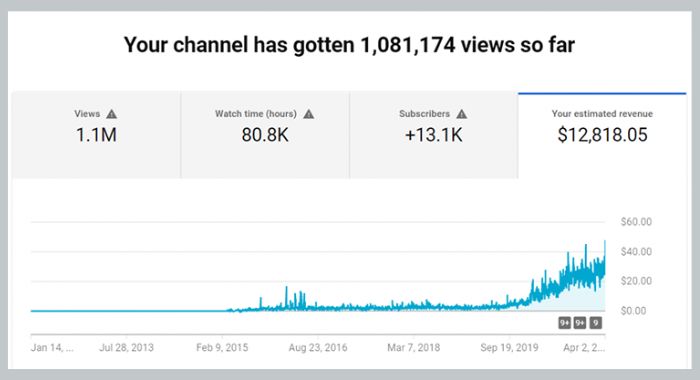 It is one of the ways you can earn money from online content.
This, you can do in just three stages: You make your Ad space available by clicking on "monetization" from the settings.
Then, you create an Adsense account. You indicate the kind of ads you want to be displayed.
In choosing the ads, you should consider ads that are high-paying and in a way relevant to your target audience.
It is free of charge way of making money through a displayed ad next to your online content.
Adsense connects the publishers and the advertisers.
For example, when you have a website or you post a video, people watch your videos and an ad pops up, you generate money through that just the same way YouTube was paid.
There are basic requirements every YouTuber needs to adhere to while opening an Adsense account.
First, you have to be 18 years old.
Log in to your YouTube settings and click on Monetization.
Sign up for the Google Adsense card
Have an email account that is not linked to an Adsense account.
Ensure you comply with the Google program.
Once the account is approved, you will be notified via email
Affiliate Marketing

Affiliate Marketing is the process whereby you advertise other people's products and you earn a commission in return for each sale.
You have to choose an affiliate niche that resonates with yours.
This is because you want to ensure that what you advertise to your audience is what they will be interested to buy.
Use a Google keyword planner, after you have discovered your niche.
This makes you discover the important terms for your campaign that will make it rank.
When choosing your keyword analysis, you also have to understand there is a lot of competition and you just have to search keywords that are not too competitive but are also ranking.
Personal Product
This is similar to affiliate marketing only that in this case, you are going to work with your products.
The truth is that if you build your cash cow YouTube channel to large followers and subscribers, you have just created for yourself a ready-made market.
Once your audience has come to love the valuable information you dish out on your channel, they will begin to trust everything you say.
That includes the product you advertise as well. That is why just as earlier said in affiliate marketing, market products that resonate with your audience.
You cannot be selling food-related products to an eCommerce audience. It might be a futile effort.
Note that when we talk about products, it does not only mean physical products. It could be software, tools, or any other digital product.
If you sell a product that can help a dropshipper build his custom store from start to finish without stress, don't you think they will buy it?
It's your channel so you can sell as many products as you can. However, be strategic about it so as not to sound salesy all the time.
Sponsored ADS
This is another way to make good money from your cash cow YouTube channel.
Sponsored ADS is a powerful tool used to enhance a business or to unlock greater audience reach, increase conversion rate, and better return on ads spent.
It also improves the customer experience by offering more relevant and improved recommendations.
Sponsored Ads unlock high-margin revenue streams that will be a win-win situation for the publisher and the advertiser.
The advertiser tries to make money by running more Ads.
It is an advertisement that targets a specific audience or location, that is, you are trying to reach new customers, trying to grow the brand, increase the awareness of the brand, and also try to make sales.
When you increase your conversion rate brands tend to connect directly with customers who are already expressing interest in their products boosting the likelihood of their conversion.
When you run ads, customers only pay when they click on the ads not when they view them without taking action.
These are some of the reasons why sponsored Ads can never go into extinction.
Understanding the Term "Cash Cow"
In business, the term cash cow is used to describe any type of business that generates a steady and recurrent source of income.
It does not require large capital, to begin with. In other words, the cash required to begin the business is less than the yield and returns.
The term cash cow is a metaphoric statement and was coined out of the typical cow that produces dairy milk.
A dairy cow produces milk on a consistent basis which is a steady income for the cattle farmers.
More importantly, it only takes little to maintain such cows.
That was where the terminology was invented for business. Cash Cows require little investment to flourish or expand.
The money realized is enough to start other revolutions by the company. Hence, you can use the profit to fund other activities executed by the company.
That is why you see businesses trying to have a side cash cow business.
Beyond the major activity of the company, they want to have another arm of the business that brings in a steady income.
The same thing you should do.
The more reason I strongly recommend a youTube cash cow business.
If your major business focuses on Automobiles, you can have a YouTube cash cow that shares relevant content on how people can buy the right automobiles with ease.
Pros and Cons of YouTube Cash Cow
Why should you begin a YouTube cash cow business today? Is there any challenge with having a YouTube cash cow?
These are what we will discuss here.
Pros of YouTube cash cow
Let's examine the benefits of having a YouTube cash cow.
1. You don't have to show your face
This is one of the greatest benefits because some people are introverted and therefore might be shy to put their faces out there.
So if you fall in this category and you love the idea of making good money online, you should leverage Faceless YouTube videos.
Also, the awesome advantage is that you can turn your presentation into a video by using either: PowerPoint, Google Slides, and Keynote.
Moreover, this depends on what you talk about in your content, you have to include a voiceover or create an animated voiceover to explain your story.
This is one of the easiest ways to create content on your YouTube channel without showing your face and still making cool cash.
2. Can be Fully Automated
You can fully automate your cash cow YouTube channel.
Apart from the fact that you can hire freelancers to get the channel up and running, you can make use of video editors. This will help you with the editing part.
With the video editor, you can remove unwanted parts, and background noise, add intro, and outro, and also create short versions.
This will provide the highest quality of video and audio for a podcast.
In all, a cash cow YouTube channel involves minimal physical activity. After editing the videos, you can schedule the upload times.
That is, you can upload as many videos as possible and set different times you want them to go live.
While you are busy with other activities, your videos are going live.
3. Highly Scalable
People are always searching for how to do something on YouTube s you can take advantage of that.
When they search for the topics your channel will pop up regardless of the size and they will engage on the post.
That is why you must be very intentional about what you dish out. A time will come along the line that demand will get higher.
You will have to create more content as frequently as you can.
There is nothing to worry about seeing that there are a lot of video editors that can help you get your videos up within a short time.
Another good thing about a cash cow YouTube channel is that you can create as many channels as possible.
You can own different channels and run them successfully.
4. Passive Income
Every YouTuber needs a cash cow channel to make money.
You make money through your video with a little capital investment as long as people keep watching your videos.
You have to be sure and also keep track of the video with the highest view, then make more videos on the related topics.
As they engage in this, you make money.
Use the power of YouTube to make a fast income online. There is no universal model for what works and what doesn't work on YouTube.
The ability to derive sales from certain user populations is a growing business which is a great advantage of the YouTube cash cow.
Cons of YouTube cash cow
There is only one major challenge with having a YouTube cash cow which is;
1. Not Brandable
YouTube cash cow is not brandable because there is no face attached to it.
In this situation, you have to invest greatly to achieve the brand awareness expected to obtain an important share of the product.
You don't get much trust from your audience because your face doesn't show.
As a result, sales conversion is quite low for the affiliates, products, and courses to be sold.
That is why your uploaded content must be creative enough and view-worthy to attract viewers and subscribers.
Final Thoughts on YouTube Cash Cow
By now, you must have had a full grasp of what the YouTube cash cow is all about.
You also know how you can make money from it because that is the real deal.
One thing you should know about this YouTube cash cow is that it is still an untapped business model.
Therefore, it is highly promising and the competition is low.
When you start a business that has a low competitive rate, it is very easy to grow rapidly in it.
People quickly switch to what you do because there are a few people rendering that service.
Therefore, if you want to begin the YouTube cash cow, the best time is NOW!
Would you love to sign up for our YouTube cash cow course for more detailed tutoring on how to thrive well in this business?
Remember, the best time to start was yesterday. The next best time is now!