WordHero Pricing: Discounts Breakdown And Lifetime Deal
Are you looking for the complete breakdown of WordHero pricing? Don't worry; you are in the right place.
In today's article, we will be discussing WordHero pricing, discounts, and lifetime deals.
Exploring WordHero pricing indicates that you want to leverage the use of artificial intelligence in writing your sales copies.
In a digital world where you regularly have to churn out content to keep your business & brand afloat, you need an AI writing assistant that can do the job rapidly & accurately.
If you would like to know more about the WordHero AI tool itself, we have written a comprehensive review for you to learn more about it.
However, the question is which of the WordHero pricing plans and packages should you opt for?
In this post, I will show you the pricing package of WordHero and its breakdown. I will also show how you can access the discounts available.
That being said, let's get started.
WordHero Pricing (Monthly Cost, Features, And Breakdown)
Are you tired of composing boring content that your audience finds unimpressive?
Well, copywriting can be difficult at times.
But have you considered writing compelling website copies in instants? This is achievable with WordHero AI.
WordHero will make your content generation procedure much simpler and more rapid.
Here, we'll be discussing the WordHero pricing plan. The WordHero pricing plan contains two plans which are monthly and yearly plans.
WordHero Monthly Plan ($49/Month)
This plan is currently available at $49 per month.
Some Of The Unique Features Include:
Create limitless content.
Access to every future writing tool.
Compose content in over 100 languages.
Long-form editor & keyword support.
Access to all the over 25 writing tools.
24/7 priority support.
Lock in low costs permanently.
Cancel your subscription at any time.
Compose remarkable product captions and illustrations.
Find subject ideas and compose engaging blog articles.
Compose compelling sales and marketing emails.
Discuss viral marketing and startup suggestions.
WordHero Yearly Plan ($348/Yr)
This plan is currently available at $348 per year.
If you want to make a yearly payment, then your payment will be calculated as $29 per month paid yearly.
The features include everything in the monthly plan.
WordHero AI writing tool comes with a 14-day money-back guarantee.
Because WordHero is a new AI writing tool, it is presently being offered at an elementary price that may increase shortly.
Once the price goes up, signing up now locks you into this low price forever.
WordHero Payment Procedures
Presently, WordHero only supports expenses through Credit Cards. We hope to see additional payment alternatives in the future.
Payback Policy
WordHero has a 14-day money-back guarantee. This enables you to assess its features.
WordHero teams will refund your cash if you're not convinced with it or don't want to subscribe to it again.
WordHero Lifetime Deal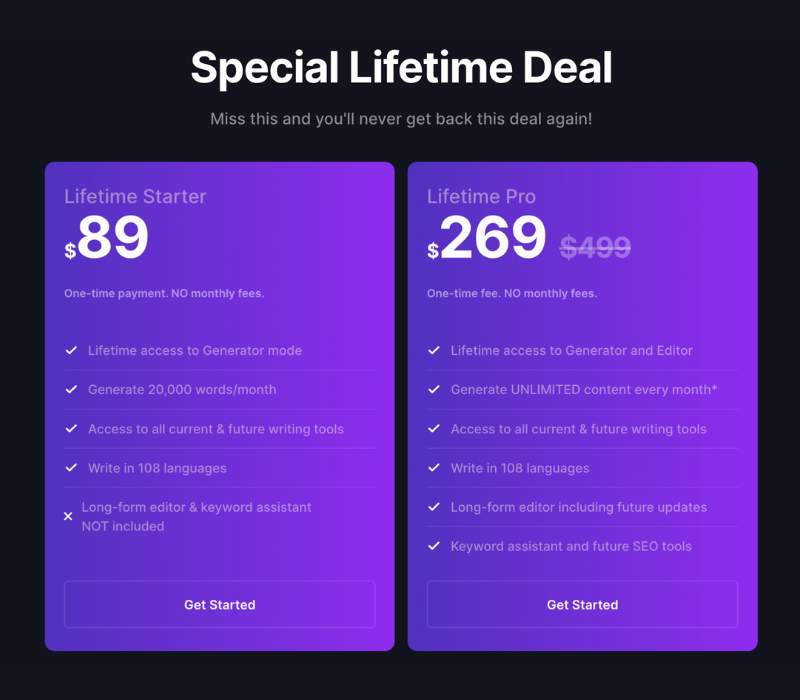 Here, we'll be discussing the WordHero Lifetime Deal. The Lifetime Deal contains 2 plans which include;
Lifetime Starter
This plan goes for $89.
It's a one-time payment and has NO monthly charges.
The features in this plan include:
Lifetime ticket to generator mode.
Compose content in over 100 languages.
Generate 20k words per month.
Access to every existing and future writing tool.
Long-form content editor and keyword assistant are NOT included in the lifetime starter.
Lifetime Pro
This plan goes for $269
It's a one-time fee with NO monthly payments.
The features of this package include:
Lifetime ticket to generator and editor.
Create unlimited articles every month.
Write in more than 100 languages.
Access to every existing and future writing tool.
Long-form content editor containing future updates.
Keyword assistant & future SEO tools.
Payback Policy
WordHero has a 60-day money-back guarantee when you purchase the lifetime deal.
Obtain an instant ticket to WordHero and use it for yourself for 60 days.
And if you're not pleased with it for any reason, you just let the team know within 60 days of your purchase and you'll be refunded your money immediately.
No questions asked!
WordHero Features: Explained
Let's take a look at some of the features of WordHero
1. 100+ Languages
With WordHero, you can write in over 100 languages! Note that the Languages selection is in the beta phase presently. So, you may notice occasional inconsistencies.
WordHero company always includes fresh languages. So you can easily reach a wider scope of clients worldwide.
2. Tones
Tone plays a crucial part in communicating written information. It assists in arousing the exact effect in your readers.
There are no predefined tones with WordHero unlike other artificial intelligence writing tools like Rytr or WriteSonic.
WordHero AI gives an open text space where you can input the tone you prefer for your article. However, the tones are unrefined, and some of them do not modify the article at all.
Since this feature is still in the beta phase, let's expect it will release with advancements when it is eventually installed.
3. Automated Editor & Proofreader
WordHeros editor and proofreader can point out surface errors like grammar & spelling mistakes & fix the errors.
The editor mode recognizes & rectifies mistakes in your grammar & also makes creating content faster.
Furthermore, the editor mode rephrases & restructures your article.
4. Bullet Points Expander
WordHero's bullet points expander feature helps you input your points in bullets. This will help you to obtain the exact paragraph that you can use.
So the extra details you give to the tool for creating the content, the better outcome you can anticipate.
With a small knowledge in mind, you can utilize this to compose just anything, say product illustration, social media content, an email copy, etc.
5. User-Friendly Interface
WordHero has a super easy and elegant interface. It possesses a wonderful and unique color scheme & layout that appeals to the eyes.
The major screen shows a catalog of artificial intelligence tools you can utilize to create content.
All the additional selections, like profile, settings, affiliate program & roadmap can be utilized from the true hamburger menu.
The long-form content editor is available on the $89 Lifetime subscription plan of WordHero.
Altogether, WordHero has a user-friendly interface that is helpful for amateurs. Also, it does not possess a knowledge curve.
6. Text Rewriter
The tool functions nicely. WordHero's text rewriter rewrites your text content.
Also, it can make content out of bland paragraphs and paraphrase them uniquely & captivatingly.
If you have doubts about your writing abilities, this software will assist your sentences to flow well jointly.
7. Ideas, Catalogs, And Other Additionals
WordHero enables you to generate endless ideas for your brand, company, products, services, marketing, etc.
If you are into marketing, you can deem it as your AI writing pal that can assist you in drafting engaging marketing copies for your campaigns.
There is the provision of several tools for marketers to generate their promotions. These comprise schedules, and promotion generation templates such as Google ads, Facebook ads, etc.
The platform further gives analytics, this way users can recognize how beneficial each campaign was in feelings, clicks, conversions, etc.
8. Clarifying Expression
With this tool, your content can be rewritten and made even better clarified.
You can utilize the tool when you're stuck in a place and hope to compose more about a paragraph in a clarifying manner.
Also, you can use this tool for your social media promotion copies, caption content, or promotion tags.
9. Grammar Corrector
With WordHero's Grammar Corrector tool, you can handily input your grammatically wrong sentence and obtain accurate results immediately on the right.
However, the character has a limit of 200 copies that can be amended using this short-form composing feature.
10. Sales Copywriting
Sales copywriting is one of the most crucial aspects of any business. Yet composing a sales copy is difficult.
This is the reason why there is an AI writer that ensures that all text composed by you has been reviewed against thousands of data points before they will be released on your site.
This tool can also be used to examine if your existing landing page or product illustration is converting adequately & requires advancement.
It guarantees that every customer receives premium-quality & engaging copy without having to bother about spelling or grammar errors.
11. User-Friendly Interface
WordHero AI tool has an automatic user-friendly interface which makes it easy to run effortlessly.
The interface is minimal & you can naturally get running within the early few instants of signing up. Good thing is, you do not require much training.
You can find and navigate the several features handily. WordHero's easy-to-use interface favors both the professional and the amateur.
12. More Than 60 Templates
Operating from a template makes your writing easy because the AI tool understands what format you require.
You can select from the over 50 templates that WordHero comes with when you use the tool.
You can choose options like:
Amazon product listings.
Blog abstracts.
SEO illustrations.
Cover notes.
Facebook promotions.
Email tones.
WordHero Annual Discount: How To Grab A Huge Discount
If you purchase WordHero yearly plans then you will save $840 per year.
Follow these simple steps to get this huge discount on WordHero yearly plans.
STEP 1: Click on this special link. It will take you to the special discounted pricing page of WordHero.
STEP 2: Now, click on the Annual Discount Tab.
STEP 3: Grab a huge discount on both!
How To Use WordHero
When you log in to WordHero, the screen will display the whole AI writing tool.
You can access this home screen when you click on the WordHero tag on the left side on the top.
The next screen is the editing mode. When you click 'editor' on the top left side of the screen you get the chance to write longer-form content like blog posts, emails, etc.
Click on the history to watch everything that you have created so far. This is located in the top left corner.
What Distinguishes WordHero
WordHero concentrates on output excellence & usability aside from offering endless usage of short-form copywriting tools.
WordHero fine-tunes its artificial intelligence machine and always attempts to enhance user adventure.
This enables you to accomplish your task easily & rapidly. Also, the period you spend on online study and writing will be largely decreased.
Employing the services of a professional copywriter can be costly; plus you can even allow your writers to utilize WordHero to lessen their writing period.
It assists you in writing premium-quality content.
WordHero has a Facebook community that is an outcome of love from people obtaining incredible results using the AI writing tool.
Furthermore, you can use this tool to expand your sales, marketing, site traffic, etc.
WordHero Pricing FAQs
Is There A WordHero Free Trial?
Yes. However, Free Trials are exclusively accessible to users that have not formerly gotten a paid Subscription.
How To Cancel A Wordhero Subscription?
To cancel your WordHero subscription, you can send a mail to support@wordhero.co. You will be accountable for every subscription price including any applicable charges and other fees incurred for the then-current subscription duration.
Can You Switch From Monthly To Yearly During The Subscription Plan?
Yes, you can switch from a monthly subscription after your current billing duration expires. And it will be performed at the prevailing prices.
What Is The WordHero Payment Method?
Presently, WordHero only supports expenses using credit cards. We hope to see additional payment choices in the future.
Is There A Built-in Plagiarism Checker?
No. There is no built-in plagiarism checker for WordHero AI at this period. Plagiarism is mostly not a problem as the AI is established on a generative language category & does not lift articles from online citations.
WordHero Pricing: Conclusion
In today's article, I discussed extensively the WordHero pricing plan, and the discounts available including the special offer which is the lifetime deal.
With this information, you won't find it difficult to know which is the suitable & best version for your business or brand.
WordHero AI writing tool is a competitive tool that contains an archive of amazing tools.
Some of the WordHero tools & tone settings require plenty of improvement to create authentic and convincing content.
However, I believe with their rapid rate of advancement, I am confident they will initiate more effective tools & even enhance the existing tools shortly.
If you're looking to leverage the strategy of AI in creating your marketing copies, then you should explore the WordHero AI tool.
Amazingly, WordHero is currently offering a huge discount of up to 50% when you purchase the monthly plan and up to 70% discount when you purchase their yearly plan.
Also, WordHero is offering a lifetime deal. This lifetime deal is very desirable, particularly if you're on a very tight budget.
You should grab this opportunity now to assist you to find the accurate words for your copies, improving your vocabulary, and taking your brand or business to the next phase.